Micro braids with curly hair can hide the fact that your hair is curly. You can wear them in various styles including updos. And since micros are so small, you have a lot of hair left out after the braid. Therefore you want nothing but good quality hair, which you can maintain by regularly using high-quality hair products and taking your vitamins.
Micro Braids for Curly Hair
Another reason for micro braids to be widely popular is that they can be styled in infinite ways that best reflect each girl's personality. However, we have saved you the trouble of time – consuming design searching and narrowed it down to the top seven options.
#1. Summer Vibes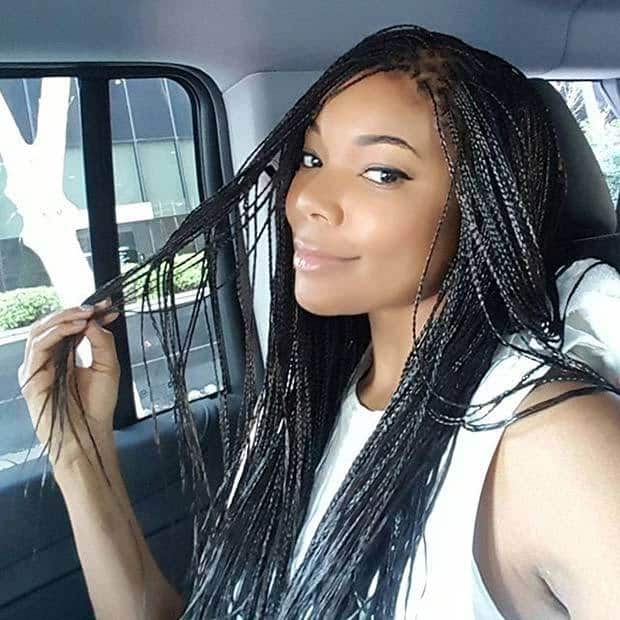 Summer vacation is just around the corner, and there is not much time left to waste searching for a good summer look. So, if you're looking for a design that will guarantee that you stand out in the crowd then go with this design.
It has got summer vibes written all over it. It also needs minimum to none maintenance ensuring you have fun all the time without needing to worry about how your hair is holding up under all of the heat and humidity.
#2. Going Simple
Sometimes going simple is the universal key to all of your styling problems. Because other than salvaging your self from the excessive over-thinking, you will guarantee to look formal yet sporty at the same time. Thus, it is a style that would suit a businesswoman and a party thirsty teen simultaneously!
Tip: Add some headwear like a black hat to render your contrasting outfit even more complete.
For African American women who don't want anything plain, here's an idea outside the box. Even though the concept completely relies on the all time ponytail hairstyle, this design strives to give you the best of both worlds. Because it mixes up the practicality of a ponytail by getting the hair out of your face on a windy and provides you with a complex beautiful factor.
Tip: Ombre dying your hair will only make your micro braids with curls and weave look even more attractive and dangerous.
#4. Minnie Mouse Style
Following in the footsteps of the legendary Disney's one and only Minnie Mouse, we give you the style illustrated in the above picture. So, other than being inspired by all-time favorite childhood characters, this look works for casual everyday style for school or a sexy hairstyle for a sassy party with your gal pals. Thus, all you need to do is wrap them up in the shape of two buns
100 Top Braided Styles for Women
#5. Wet And Curly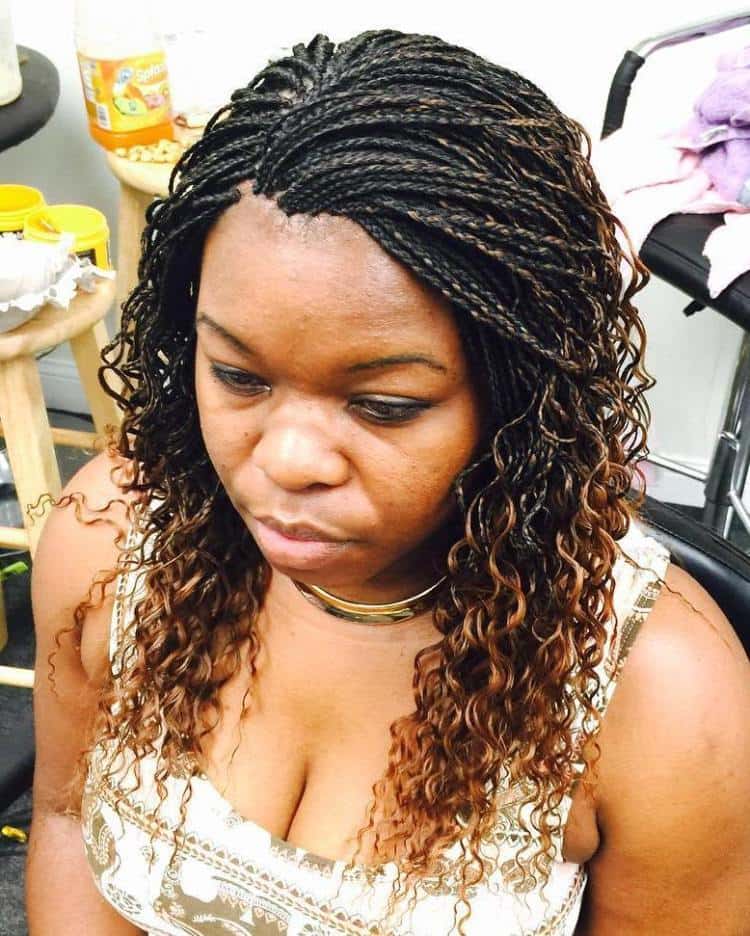 When wet roots meet naturally curly hair, braids have got to be included in that equation. So whenever you decide to go with this idea make sure you start braiding a few centimeters off the roots. Because that way you will allow your hair to lie flat on top as it maintains that voluminous look you have always opted for.
Shaving half of your hair might seem as scary at first. After all, these micro braids with curls and weave are not for the weak-hearted. Because they are designed for those with a daring personality, try out this edge undercut to raise your style by a factor of 10.
#7. No Rules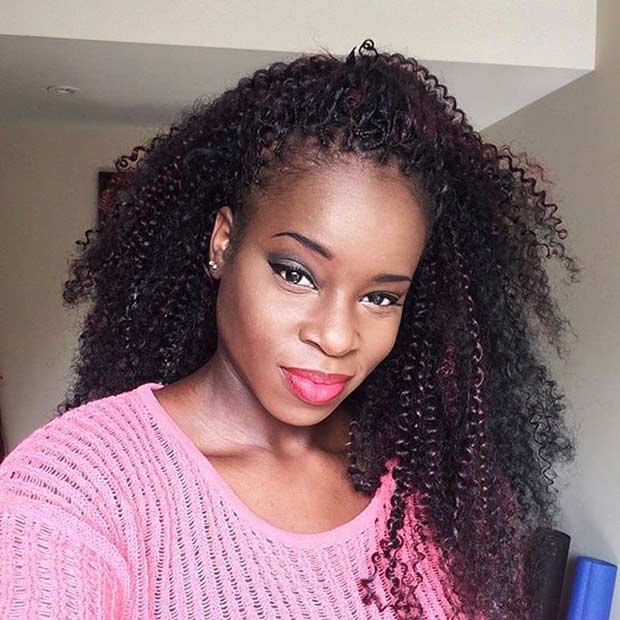 Another great advantage of micro braids is that there are no strict rules for styling them. You can go all the way from the fuzzy Afro to the curled up buns without any restrictions whatsoever. So, the attractive girl in the example above chose to braid the front section of her hair while letting loose of the sides to stand out of the crowd.
Moreover, this way will save her a lot of time because now she doesn't need to sit down for hours to braid her whole hair. Because one section is enough to do the trick!
Only The Best: Short Curly Hairstyles for Women
How Long Should I Keep Micro Braids In?
Avoid keeping your curly micro braids with curl for a duration of more than 3 months. But, you might ask 'why'? Because you need to let your natural hair breathe and settle. Otherwise, it would be difficult to take them out with ripping or damaging your hair.
Natural Hair Or Synthetic Faux Curls?
Since micro braids, from the definition of their name, are relatively tiny and require a lot of tight weaving, natural hair might not be able to maintain that kind of stress and pressure. So, unless your hair can make thick ropes for the military army we suggest you go with synthetic faux curls. Moreover, going with your natural hair will only cause you more and more problems like hair getting entangled and growing in between the braids.
Do You Need Professional Help?
The bottom line is that your stylist will probably need 6 packs of synthetic braiding hair. Moreover, only a skilled and trained hairstylist can help you get beautifully woven micro braids while still protecting your hair and maintaining its quality intact. So, don't go cheap and pick out any random local hairstylist. Because that can affect your hair design for a really long time.
Finally, finding a hair design that will both control your frizz and help you use it as an advantage rather than a weak point is something that you don't come across every day. So, instead of being ashamed of your frizzy hair, go with the micro braids with curls and weave to flaunt your natural beauty.