Are you confused about one length bob? Well, it happens to the best of us, but you don't have to worry. There are many ways that you can style your short hair and look stylish. Here we have described great ways to style your one length bob that will bring you back into the fashion game in a jiffy!
One Length Bob Haircuts
The following are the 7 of the most trendy one length bob haircuts for women that they can try this year around.
You like to go for something new every once in a while. The tight curls are just a tighter version of the soft curls that will completely change your look.
Ideal for: People with thin faces can carry this look effortlessly. It also goes well with people daring enough to support an extremely short hairdo.
How to style: Get your power curls with your curling iron. Roll your hair into tighter corkscrew curls that bound back to your scalp. Your one length bob cut will shrink in size but in return, you will have a chic updo.
This formal take on the messy look is eye-catching. The one length bob styles your hair by giving you a well-put-together stylish and stunning look.
Ideal for: This look is made for the red carpet. Looks ideal on triangle and diamond face cuts giving you the full effect of the style.
How to style: The style aims to tease your hair on the crown and then style them back into a side part. Hair spray and hair gel help to secure the look for a long time.
3. Twisted Bun
Another great style for the formal occasions is the twisted bun. Although it may be difficult to pull your faded purple hair into one, if your long one length bob is of adequate length, this style is a must try.
Ideal for: Women seeking a fancy look would love this style. It is perfect for formal occasions and events. The style needs some time to make but the look is worth the effort.
How to style: Prep your hair with hair gel. Start by teasing the hair at the crown and separate the hair at the front into waves. Secure the waves at the back into a twisted bun for a stylish updo.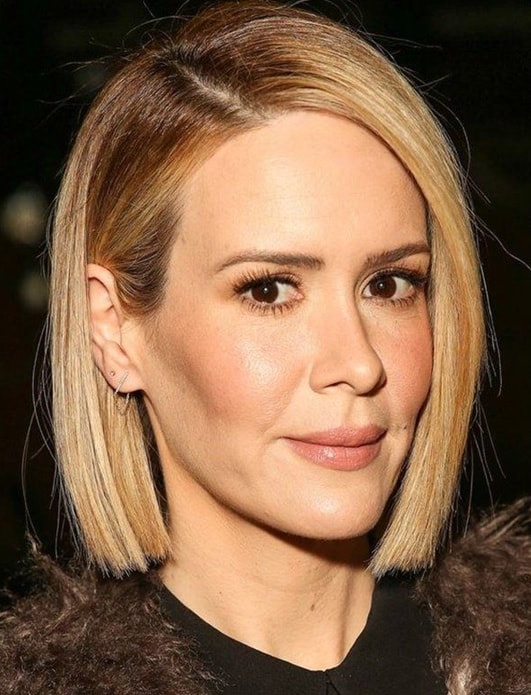 Another way about your bob with side part is to make it sleek and straight. Channel the vibes and nail your one length bob haircut perfectly.
Ideal for: You can carry this look on the go. The versatile look helps you look formal and casual at the same time according to how you dress.
How to style: Use a straighter to straighten your locks. Comb them into a perfectly straight hairdo. Tame any stray hairs with hairspray for that perfect look.
One way you can add some texture to your bob is by introducing some curls. This is the pet way of celebrities to manage their short hair stylishly.
Ideal for: This short one length bob style is great for everyday wear and on formal occasions and events. The style suits most face cuts and are easy to pull off at a moment's notice.
How to style: Prep your hair with some styling gel and get a curling iron to add short beachy waves. The messy curls will give you a swept look, ideal for any occasion.
Looking for the perfect balance between royal and chic? This one length bob style tied into pony look is the one for you.
Ideal for: The bob haircut suits long face cuts and are perfect for you if you are looking for a daring look. The slicked back hair makes it insta-worthy and great for events and celebrations.
How to style: Comb your hair backward at the sides too and work in hair gel to raise the hair to create a bouffant if you want and pull all hair into a high or low pony. Lastly, secure them with a rubber band. Add a coat of hairspray to finish the look.
Style your one length bob style like Kristen Bell. She has the perfect everyday style with soft girls equally grazing her hair, giving her an effortlessly stylish vibe.
Ideal for: Busy mornings call for this style. Simply style your hair in a short while and you are ready to meet any formal event and still look poised.
How to style: Blow dry your hair after a shower. Get a curling iron to put in soft curls or wear curlers overnight for that soft, curly look.
So which one of the one length bob hairstyles are you gonna try? Let us know.