The ponytail bob hairstyle is versatile and convenient. You get the ease of having short hair that is easily manageable, with the luxury of hair long enough to style and put into a ponytail.
Bob ponytail haircuts are popular for women in their thirties but can also be stylish for younger and older women because of the versatility that comes with the style.
How to Do a Ponytail on Bob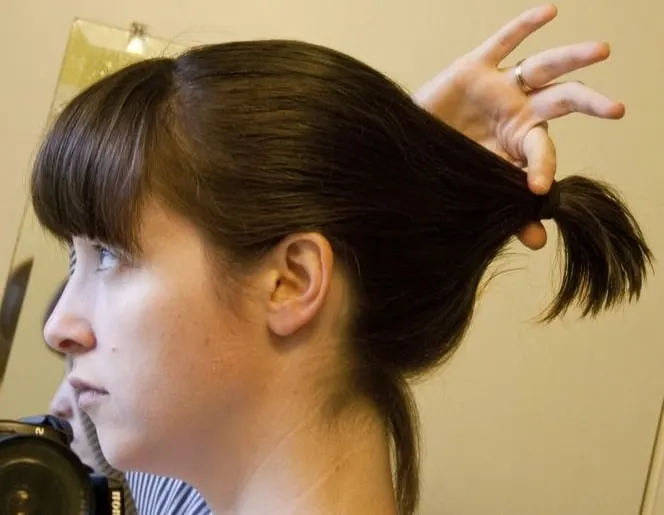 There are many types of bobs and not all are ideal for ponytails. The simple bob shape is blunt cut all the way around and tends to look shorter.
Asymmetrical bobs are a great choice for ponytail bob hairstyles for women because the hair is cut longer in the front. When the hair in front is shorter, the bob is called a pageboy.
Layered bobs can also work well for doing a ponytail on a short bob. Layered bobs add volume and texture to a short hairstyle. Half-up ponytails are often a cute option for bobs that is spunky and fun.
Steps to tie a ponytail with bob haircut:
Step 1: Depending on the length you desire for your bob ponytail, decide whether you will use a weave or not. If you are not using weave and are doing a full ponytail, use a comb to smooth your hair to the back of your head and gather it in your hand at the back of your skull.
Step 2: If you are using weave and want to do a half up ponytail, use a comb to smooth the top half of your hair, above your ears away from your face and gather it in your hand at the back of your skull.
Use a ponytail holder, rubber band, or scrunchy, wrap the tie around the hair pulling the hair through the tie, twisting it, then pulling the hair through again until the tie is tightly secured around the hair.
Step 3: If you are using weave, now you will secure the weave to the ponytail using another rubber band or the one attached to the ponytail weave.
Use a tract of hair at least 1 in wide, wrap the hair around the ponytail and weave rubber bands so that they are disguised and secure with bobby pins.
Watch The Following Video and Learn 10 Different Ponytail Styles for Bob Haircut
Latest Bob Ponytail Hairstyles
Bob is a popular haircut among women with ponytail it comes edgier. We have compiled a list of 12 trendy ponytail bob hairstyles for women to bump up their look. Go through the styles to have a suitable one for you.
1. Messy Pony for Older Women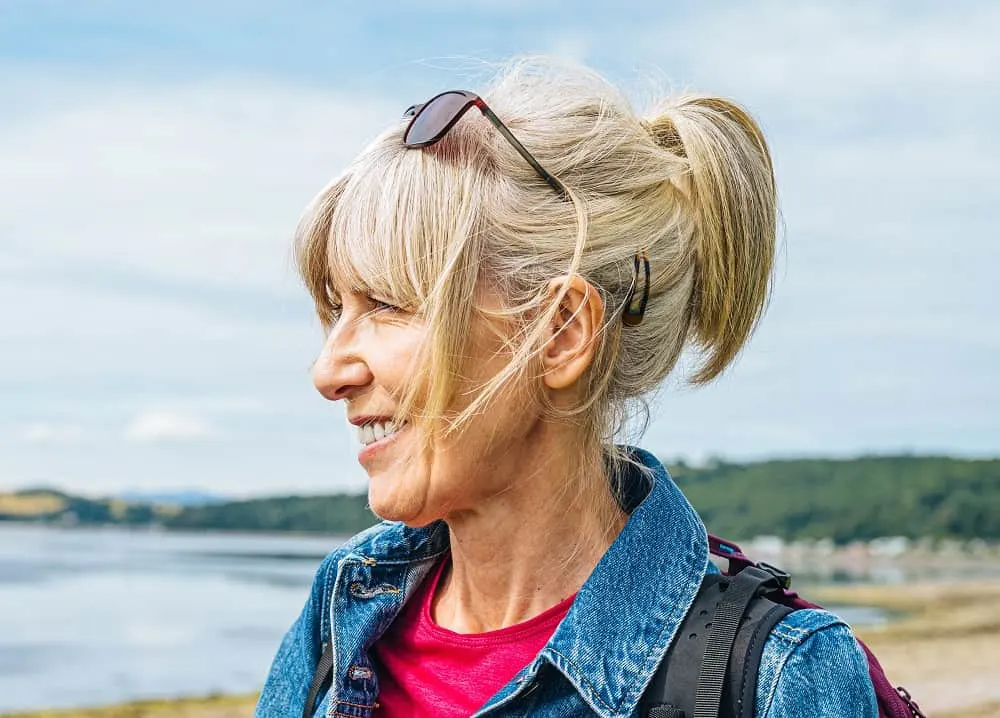 This ponytail bob hairstyle is a perfect choice for women of all ages who want to look cool when going for a hike, to the gym, or having a busy day.
Messily tie the hair up in the back and pick a few longer strands from the corners of the forehead. Keep these loose.
2. Faux Blonde Pony
If you have short hair and want to make this hairstyle look brilliant, you will need a faux pony. The color of the hair must be similar to your natural pieces.
Use wax and a comb to glue the hair to your scalp and attach the extensions. Create gorgeous waves.
3. In-house Pony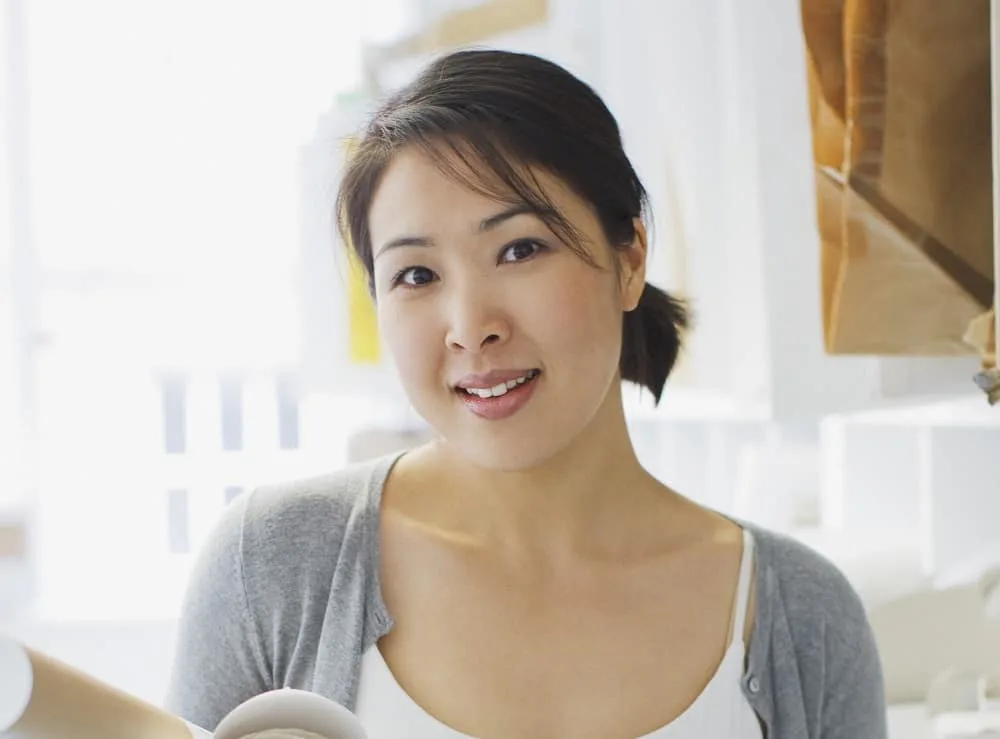 Ponytails are one of the easiest hairstyles to pull off when you want to get your hair out of the way. When you spend your day at home and need a simple look, grab a hair elastic, flip your bangs on one side and tie the hair in a low back ponytail.
4. Curly Ponytail
Are you looking for the best bob hairstyle ponytail? Then this is probably the one! Comb the hair and use hair wax to pull it to the back flawlessly.
Tie it down and use an elastic to build the pony. Get your curler and style those fabulous waves. Using your baby hairs, pull off those Latina rolls.
5. High Ponytail for Older Women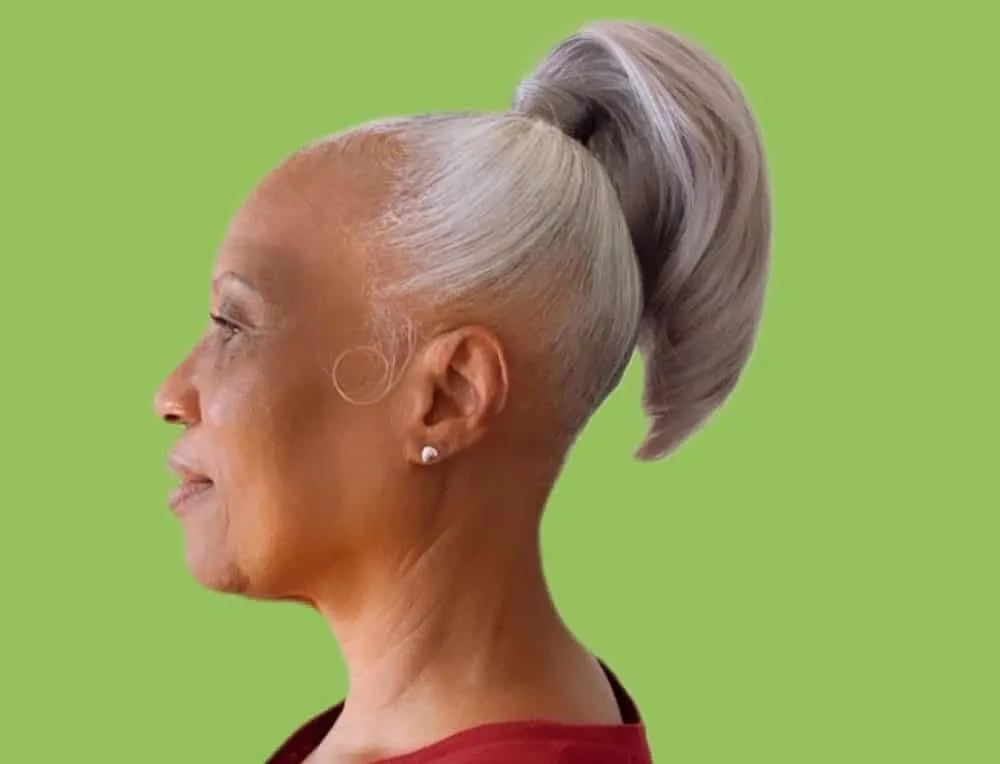 A look like this is a classic hairstyle that older women will absolutely love. Using a comb with dense teeth, get all your tresses to the top of the head. Tie the mane with a hair elastic and use a thin strand of hair to wrap it around the base.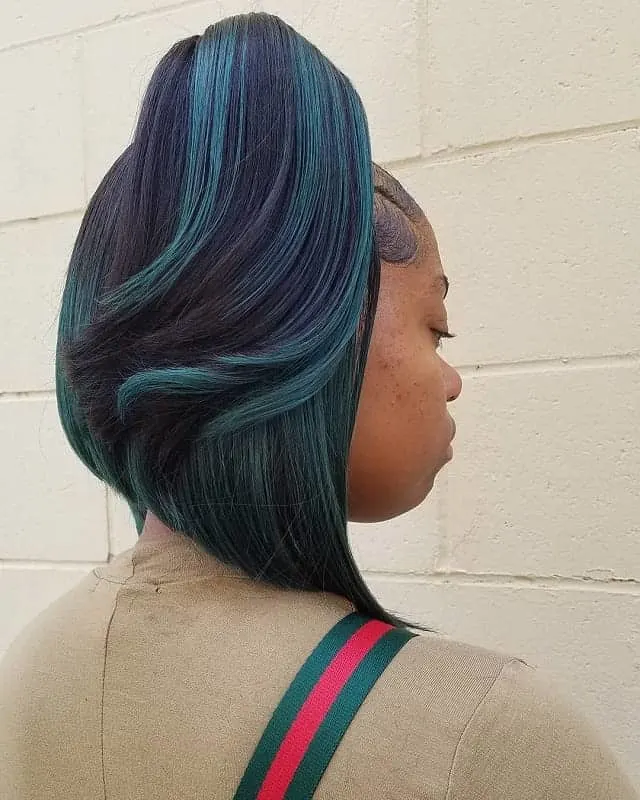 The asymmetrical ponytail bob hairstyle shown in this picture uses fun colors and a curl to create a fun and flirty look.
This model is wearing a half-up bob ponytail achieved by putting micro twists in the front and gathering the top of the hair into a top side ponytail.
7. Slick Bob Ponytail with Side Part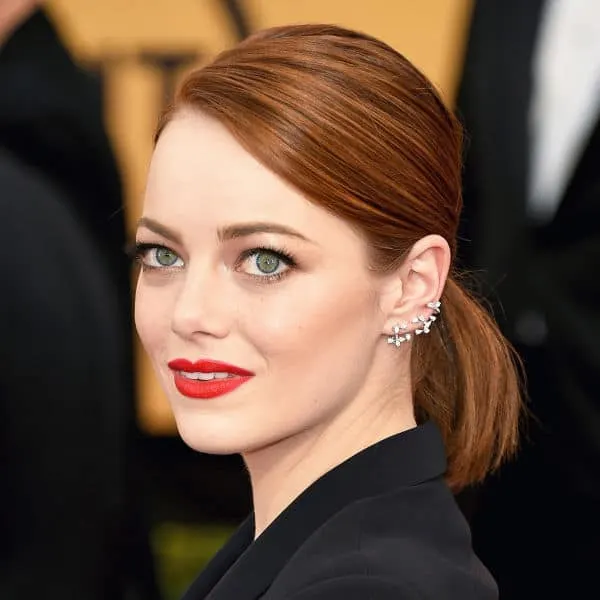 This is another example of bob ponytail hairstyle that works great for medium length bob hairstyles. This style began by parting the hair to one side and then gathering all hair into a low ponytail. A thick band of hair can be wrapped around the ponytail creating a sleek and modern look.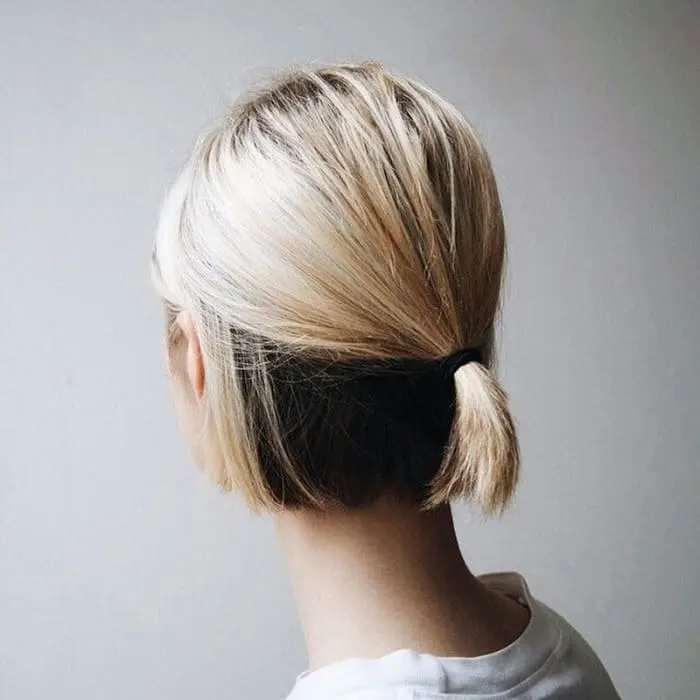 A short bob can be put into a ponytail hairstyle too! Low, half-up ponytail bob are generally best for this short haircut. Gather the hair that starts just above your ears, this should be about half.
Sure is near the base of your skull with a rubber band. This look usually allows short bands or face-framing pieces of hair to hang in front of the face.
This classic lob achieves the high invisible ponytail through adding weave to the top ponytail and thick band of hair is also wrapped around the bob ponytail to hide the weave. The ponytail on bob is decored with Fulani braids to create an elegant style.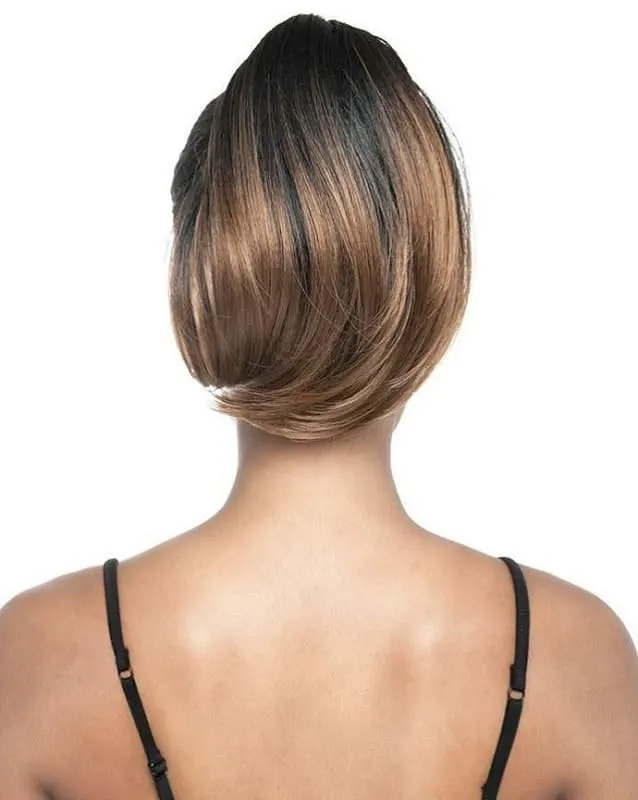 Bob can be pulled into a luxurious ponytail by gathering the hair at the crown of the head. Use bobby pins to pin up any loose hairs. Secure a ponytail with a rubber band and wrap a band of hair around the ponytail .
This bob ponytail style allows you to have flexibility in the length and volume of your hair. A ponytail bob can also be the base for other updos.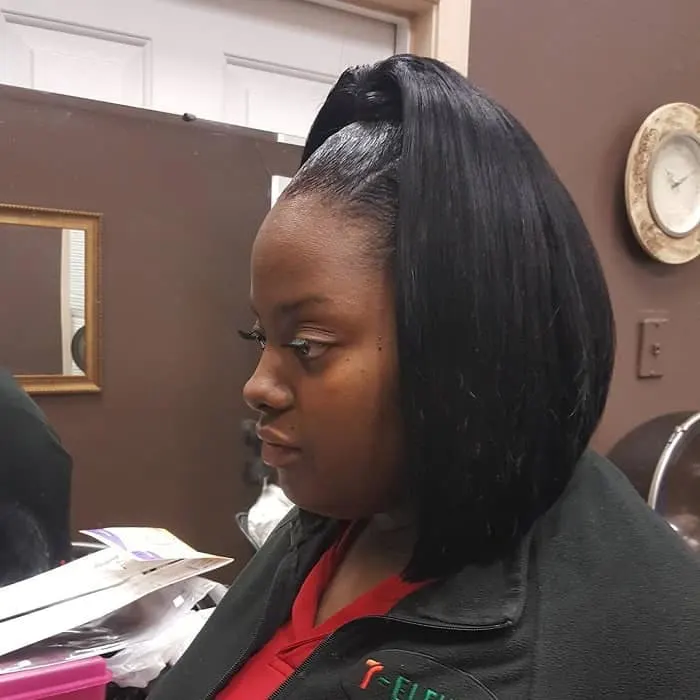 Bob ponytails are chic and elegant when secured at the top of the head in a half up ponytail with a weave piece. The weave is fanned out around the top of her head to create a voluminous asymmetrical look.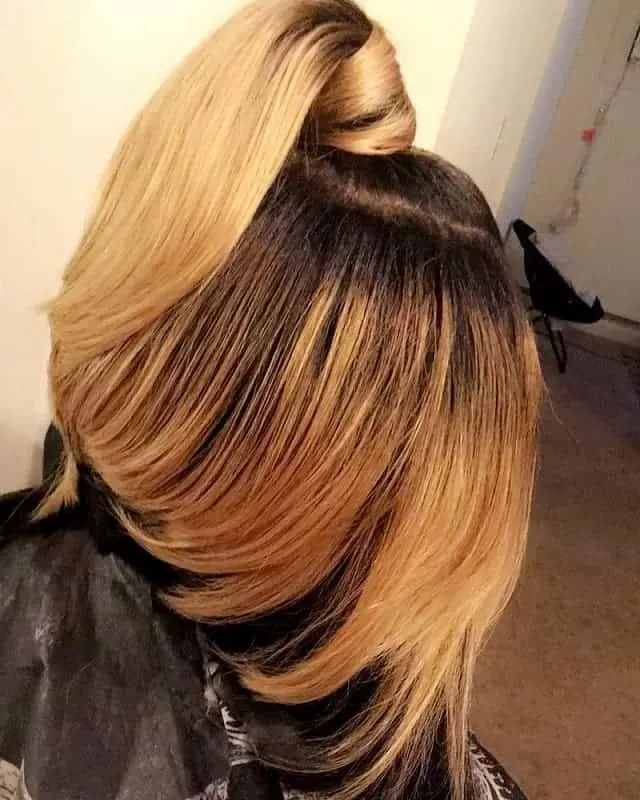 A genie ponytail bob style can work well with long angled bob, especially when the incline of the cut is dramatic like the one in the figure above.
This ponytail with bob can be done by using a piece of weave to add a bit of volume to the ponytail secured at the top of the head in the center.
Frequently Asked Questions
Emma Stone or Cameron Diaz who slew the ponytail bob best?
Emma Stone and Cameron Diaz are both style icons that slay the ponytail bob. Both actresses add their own personal flair to the bob ponytail.

Cameron is known for embracing the bob as part of her signature style for many years though, so best bob ponytail would have to go to Cameron Diaz.
Can I put my short bob into a ponytail?
Short bobs can be put into a ponytail easily. Bobby pins and ponytail holders can help you achieve a short bob ponytail and hair weave can add length and dimension.
Ponytail bob hairstyles are a popular choice for busy working women, moms, or anyone who doesn't want the fuss of long hair but still seeks the versatility to try new styles. Trying new hairstyles has never been easier than with a bob cut and ponytail. This style is the best for working with hair weave or extensions.