If we had to make a list of hairstyles that will look timeless and trending despite the era, then long bob balayage will be on the top of the list. This super chic, sassy, and beautiful style looks stunning. The versatility of the hairstyle can be further jazzed up if styled properly using the appropriate products and styling tools. Are you ready to find out which one will look sensational on you?
How to Do Balayage – Step by Step Process
If you see the fashion world as we do, then you would probably want to mix up the latest trends and play around a bit then this is the hairstyle for you. Balayage is all about sun-kissed, multi-toned, and natural style that is seeing a rise in popularity. Try this tutorial to create balayage on your long bob hair at home.
You will need -Plastic gloves. A gentle lightening formula, DIY comb applicator, Conditioner petroleum jelly. Hair clips, Old towel.
Step 1: Start by parting your hair in equal sections. Do this by running the comb to the center parting as well as from one ear to the other. Make four partitions of the hair and clip it together. You can make further smaller sections in each of the sections. This is a more methodical way to apply the hair color.
Step 2: This is an absolute must. Apply some petroleum jelly all over your ears and hairline to protect your skin from getting stained.
Step 3: Keep in mind balayage is all about creating the contrast between blonde and dark. Apply the dye from the middle section of your hair all the way down. You must avoid the roots at all costs. If you want to look more natural, make the most of your fingers (wearing gloves, of course). Work the dye by blending the color into the tips.
Step 4: For a natural and subtle look keep the dye on for half an hour and not more than that. If you want it to be more intense, then it needs around 45 minutes. Refer to the instructions on the package of the dye.
Step 5: Wash with warm water and then apply the conditioner on it. It will help to give your hair a gorgeous and glossy look.
Watch The Following Tutorial of DIY Balayage on Long Bob
Best Long Bob Balayage Hairstyles
There are quite a few reasons why long bob hairstyles look iconic. If you are a passionate and high-spirited woman then don't wait to give your long lustrous hair this look.
Do you have fine, straight, and fast growing hair? Then, this is the hairstyle for you. This Lob balayage hairstyle is perfect for several reasons. The natural look that the ombre adds to your look and the way you can be carefree about this style. All you have to do is let your roots grow.
Go ahead and play around with the style, cut, texture, and color of your long bob balayage. This is the perfect look for every face shape, which is another great reason why you should give this style a try. Don't make the mistake of giving this hairstyle a try at home. Trust professionals to give you this stylish look.
3. Lob with Balayage Highlights
Add life to your thin and dull hair with this exceptional look. Boost your bob haircut with highlights. This will add depth to your hair and enhance your look further. Make the most of shampoo and conditioner that boosts the volume of your hair.
Long bob balayage on a woman with thick hair looks equally stunning. The layers of tousled waves in this rich and enticing color are to die for. If your layer is styled at different lengths, then this style will look more fascinating.
Your stylist can thin out your hair a little bit before adding the touch of lowlights with a combination of few highlights in dark.
5. Caramel Balayage on Curly Bob
If you are not so sure about the intense look that sharp long bob with balayage brings then this is the style for you. The blunt edge, rounded bob is extremely popular.
This curly and long angled bob haircut with caramel balayage will look complete. This look is not only extremely feminine but also sassy at the same time.
6. Peachy Copper Balayage Look
The best part about this haircut is the flattering length of the hair. Then, comes the second best part about this lob balayage hair which is the charismatic and outstanding color in which the balayage is done. Who can ever say no to peachy copper shade?
Well, no one. This look will frame the front of your face while adding volume to the back. The length of the hair at the front is kept longer to make you look extra sensational.
One look at this balayage on long bob hairstyle is enough for you to go crazy over it. The blend of the two most exciting colors creates an exotic look. The long layered hairstyle further magnifies the look. If you have waited too long for the perfect hairstyle then this is it for you.
Make the most of this look everywhere you go. The look is eye-catching at different levels.
What can be more attractive than the combination of balayage and the perfectly cut hair in long bob style? We can answer that question for you. There is absolutely nothing that will make you look more for gorgeous than this trending and ultra chic hairstyle. How about giving it a try?
9. Dark Brown Balayage with Wavy Lob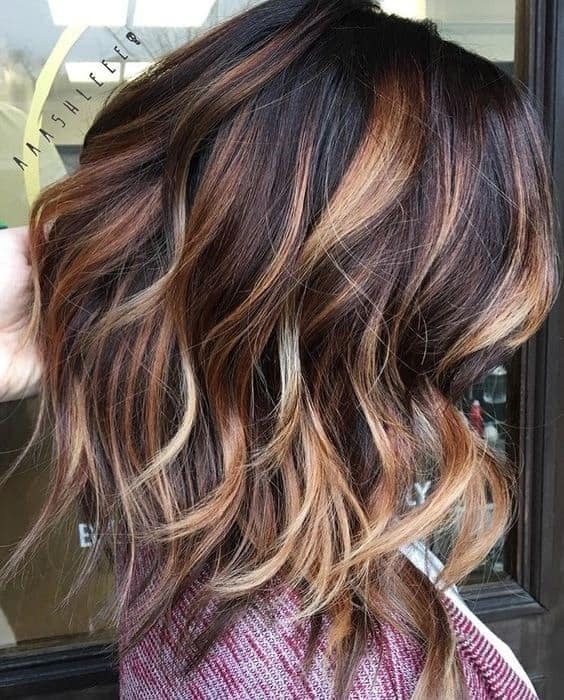 Stunning! The blend of the rich colors creates this beautiful long bob balayage. Not to mention the layered bob haircut that adds texture, volume, and unimaginable style to the whole look.
Alluring Light and Dark Brown Hairstyles for Women
Straight bangs is the best choice for women with long bob hair. The simplicity of the orange balayage style makes the lob look amazing. There is really nothing extra here. The soft style looks great on women of any age.
11. Messy Bob with Golden Blonde Balayage
This just-out-of-bed messy long bob with side bangs style is always a hit. It will fit any hair and face type. The style requires little maintenance, however, it is important not to overdo it. Otherwise, it will lose its special flavor.
12. Dark Copper Balayage on Blunt Lob
Cropping the bangs just above the eye line makes for a special bangs with bob hairstyle which always stands out. Keeping the long bob balayage neat is a little harder when they are cropped this way, but the result is so cute it makes it worth all the effort.
Long Bob Balayage vs Long Bob Ombre
Balayage stands to paint or sweep. It is currently the most common style that women reach out to. It doesn't need any touch-up or conventional highlights after its done. Balayage looks phenomenal in a straight, layered, blunt cut, and curly look.
In ombre, all of your hair is bleached at the bottom. The tips have a lighter shade than the roots. Balayage doesn't have any clear fade line but in ombré one can clearly see the fade line separating the shades. Balayage looks way more natural than ombre.
How to Maintain Long Bob Balayage Hair
Once you are done with the balayage with long bob hairstyle it is time to take care of it.
Post balayage care, don't forget to use a gentle brush on your hair.
You must try to get your hair trimmed every now and then to maintain the look.
Use shampoos and conditioners that boost your hair volume and add shine to your hair.
Make the most of deep conditioning hair treatment.
Never use shampoos that have silicones and sulfates in them.
This is the complete guide for each one of you ladies to look stunning in a long bob balayage hairstyle.