Rose gold ombre is the new black when it comes to hair now. This is such a rejuvenating and lovely shade of hair that you can go for this season since its aura is so positive and soft. There are softness and delicateness to this hair color which makes you fall in love with your hair even more.
No matter if your hair is long or short, you can proudly rock this peachy pretty hair color without any reservations. This is such a hot trend nowadays that everyone will soon be seen sporting different variations of rose gold ombre in your surroundings and on your social media timelines.
But before that happens, you should try it so that you are among the trendsetters of this highly fashionable and feminine hair color. This is going to be one of the best style choices that you will make this year if you do it thoroughly.
How to Dye Your Hair Rose Gold Ombre
Dying rose gold ombre hair is slightly tricky as you need to get that perfect shade otherwise you will not be able to enjoy the hair colorfully.
Here is an easy and effective way of dying your hair rose gold ombre which can try at home to get that lovely shade that everyone loves.
First, you need to understand that you will not be able to dye your hair in a rose gold ombre shade on dark hues like black or brown. It must be golden at least for you to have it colored in this lovely shade.
You need to bleach your hair to get a lighter tone which is compatible with the dying of rising gold ombre. For this, you need to get a nice and good quality bleach from a supplies store near your home. Now change into a worn-out shirt and put on gloves.
Now mix bleach and developer in a bowl in proportions as instructed on the product card that you buy.
Clip your hair in four sections and begin applying bleach to your hair section wise. Once you are done applying the bleach on your hair let it sit for the time duration specified by the company.
After the required time wash your hair thoroughly and re-apply bleach if you need to lighten your hair further.
Now again clip the sections of your hair and start applying the rose gold ombre hair dye to your hair section wise. Let it sit in your hair for the time that the product demands and then wash off your hair with a nice shampoo and condition it.
Watch The Following Video to Learn DIY Rose Gold Ombre Hair
How to Maintain Rose Gold Ombre Hair
Maintaining rose gold ombre hair color does not need any extra efforts on your part. You just need to take care of a few things and your hair color will last for a long while.
Here are some tips for you which you can use to make sure that your hair color stays as fresh and lovely as new for as long a time as you want.
Limit the number of washes as washing your hair makes the color lighter each time. Rather than washing your hair that frequently you can use hair care serums and dry shampoo to keep it fresh and clean for a long while without having to wash it.
You can add a little rose gold ombre dye to your conditioner so that each time you shampoo and condition your hair, you can refresh the dye. This way the dye which fades off on washing can be instantly replaced.
Washing your hair with cold water can help you keep the dye around for a long while too. It seals off the pores and closes the cuticles to lock in the dye which helps your hair retain the dye for a long while.
Rose Gold Ombre Hair
Rose gold ombre is a lovely and popular trend which you can try for your next hairstyle update. Here are some amazing hairstyles which go well with this hair color.
This lovely long wavy rose gold ombre hair is a hot fashion trend nowadays. You can rock it with your own natural black hair as the base for your ombre. The longer the hair the better the overall look and feel of the ombre.
2. Pink and Orange Hues
Why have only one color for ombre when you can go all in with different shades of pink and orange?
Try different soft shades of these colors and it is better to get professional help for this as managing so many colors at once can be a little tricky for you.
This feminine and chic bob hairstyle with rose gold ombre is going to have all heads turned in your direction wherever you go. It has a very innocent and refreshing feel about it so give it a try and look as young and as you want to be.
Most Stylish Ombre Bob Hairstyles for Women
4. Metallic Rose Gold Hair
Metallic and chrome hair colors have made it big on the market and fashion trends too since they are very appealing and attractive.
You can have a metallic rich rose gold ombre hair color on your hair too which gives more life to the natural texture of your hair.
5. Rose Gold Ombre Highlights
This rose gold ombre on wavy long blonde hairstyle is exquisite for girly ladies who know that age is just a number and they can try as many youthful and endearing hairstyles as they want to.
The natural waves are fun to see and manage as they do not take much time.
6. Pink and Gold
This gorgeous blend of pink and gold makes the curls look more defined and lovable even when they are not frequently brushed and have rough rings. A lovely rose gold ombre hair idea for ladies.
7. Beautiful Updo with Flowers
Blonde hair looks so good with a rose gold ombre that they seem like they are made for each other.
You can try this with a nice updo to show the world how classy and elegant you truly are. Some flowers added to this hairdo can be magical in uplifting your whole charm.
8. Rose Gold Roots
If you do not want to go all in with rose gold ombre then you can go for a subtler and more stylish look.
Have the roots of your hair dyed rose gold and see how it makes your hair look prettier and you will feel more confident with reverse ombre hairstyle too.
9. Pink Love
No matter how old we grow our love for pink never dies, does it? This love can be transformed in this lovely and delicate pastel pink hairstyle which adds a greater feminine touch to your appearance. This goes equally well for both short and long hair.
10. Rose Gold Ombre for Brunettes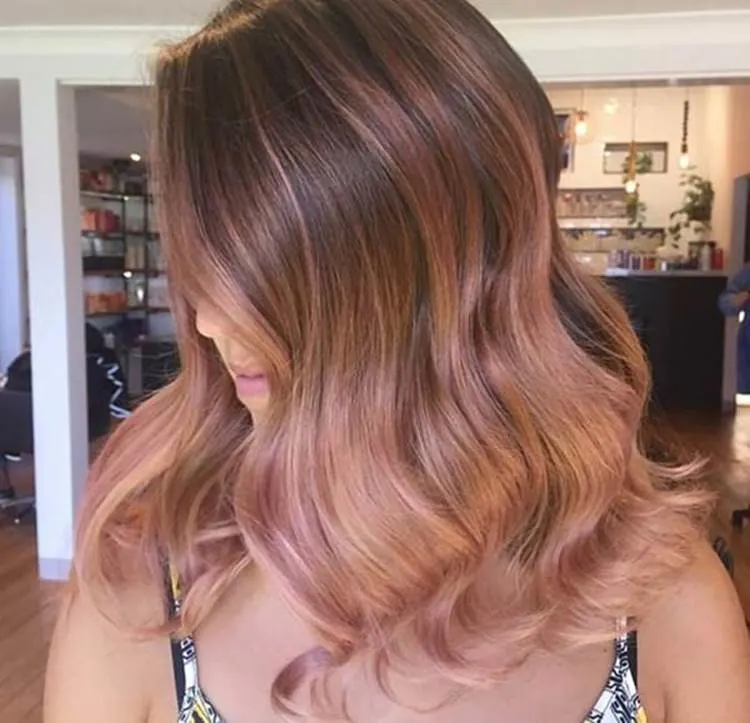 Brunettes can rock rose gold ombre too since their natural hair color complements this lovely shade so well. The sombre at the bottom of the hair is truly beautiful and adorable as it presents a stark contrast with the brunette base of your hair.
All that pink in one hairstyle? Of course, yes! This is one of those rose gold ombre hairstyles where you can try as many shades of pink as you like.
This subtle rose gold ombre balayage is for ladies who do not want something too showy.
13. Highlighted Ends
This is the perfect way of adding a dramatic touch to your hair since it pops up so well.
Major Differences between Balayage and Ombre
This braided rose gold ombre hairstyle is adorable and it is sure to make you a center of attention wherever you go.
15. Ombre Rose Gold Ends
This lovely and refreshing rose gold ombre on dark hair is as easy to manage as lovely it looks.
FAQs
Ombre or balayage which looks better?
Ombre and balayage both have their own lovely attraction and charm which makes you look and feel prettier. Ombre gives a subtle blending of shades while balayage stand out more so, it really comes down to your choices.

Go for ombre if you want a delicate and decent look, but if you want something more pronounced then go for balayage.
Which skin tone suits the rose gold color?
Rose gold ombre looks great on all skin tones, but each skin tone needs a specific type of hairstyling. Warm or neutral undertones suit rose gold color the most so you can pair them up to see some really nice results.
How long does ombre last?
Ombre hair color lasts for 6 to 9 months on average, but it depends on the products that you use and the natural type, color, and texture of your hair.
Can I dye my hair ombre permanently?
No. Ombre hair colors are not permanent rather you can get semi-permanent ombre but it needs only minor touch-ups to get fresh.
Rose gold ombre has made it big on the fashion scale and ladies are going all gaga over it. So, why don't you go ahead and try it too?