Many women are embracing the retro glamour of the '50s. When it comes to hairstyles, the decade was one of the first to totally embrace shorter lengths, which made wearing and styling much easier. Thanks to their durability, these hairstyles took over. Of course, they were always neat and tidy.
Unique 50s Short Hair Looks
Below are 20 gorgeous short hairstyles from the 1950s to help you embody that mid-century style.
1. Rose Gold Victory Rolls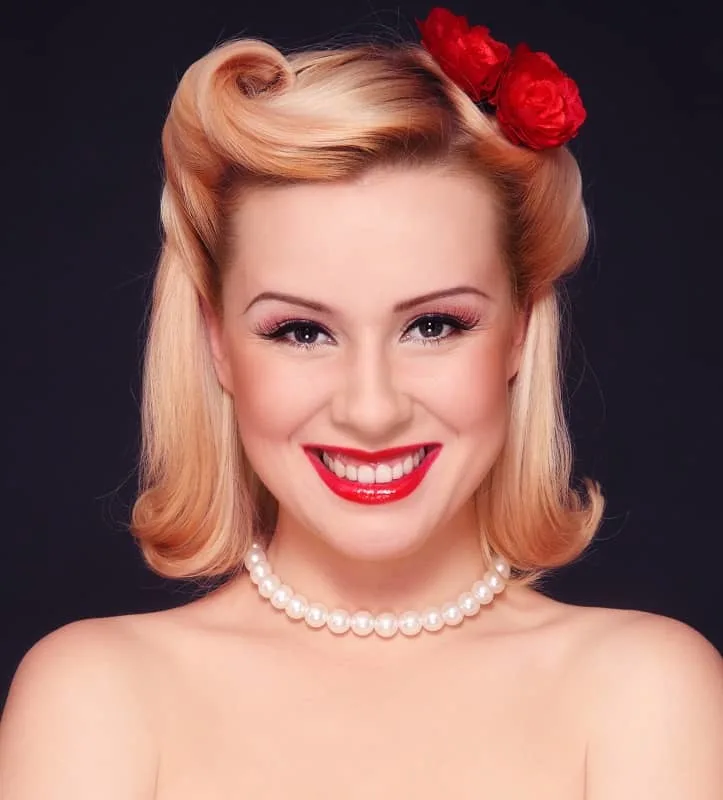 Part your hair in two sections and create victory rolls. This 50s short pin up hairstyle is still fashionable in 2023 and you can adapt the hairdo and give it a modern touch. If you like retro looks, accessorize your hair with some roses and wear a pearled necklace.
2. Finger Waves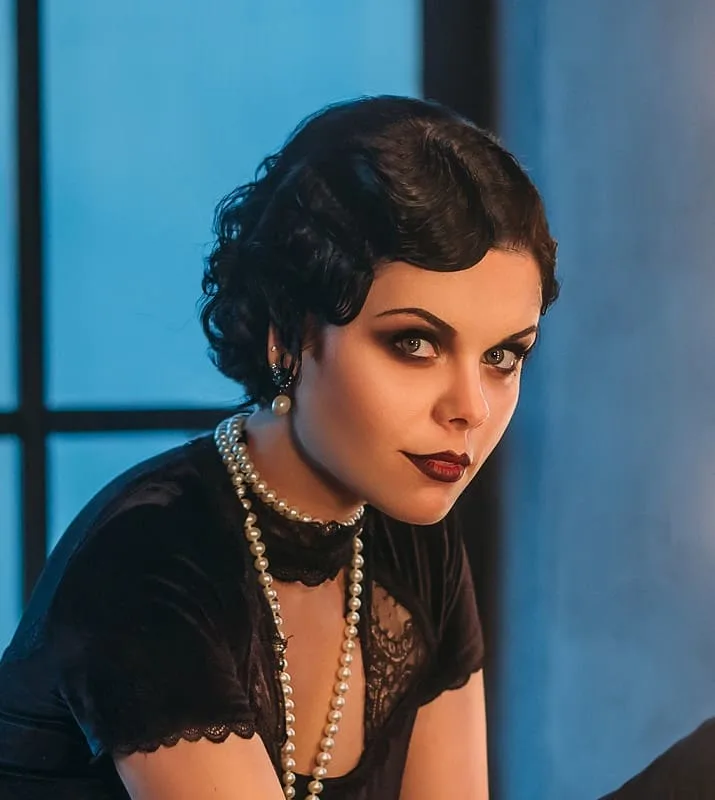 Among the most iconic 50s hairstyles, you'll find these short finger waves that are elegant and sassy. If your hair is dark, go for smokey eyes, black eyebrows and a red burgundy ombre for the lips.
3. Rockabilly Rosie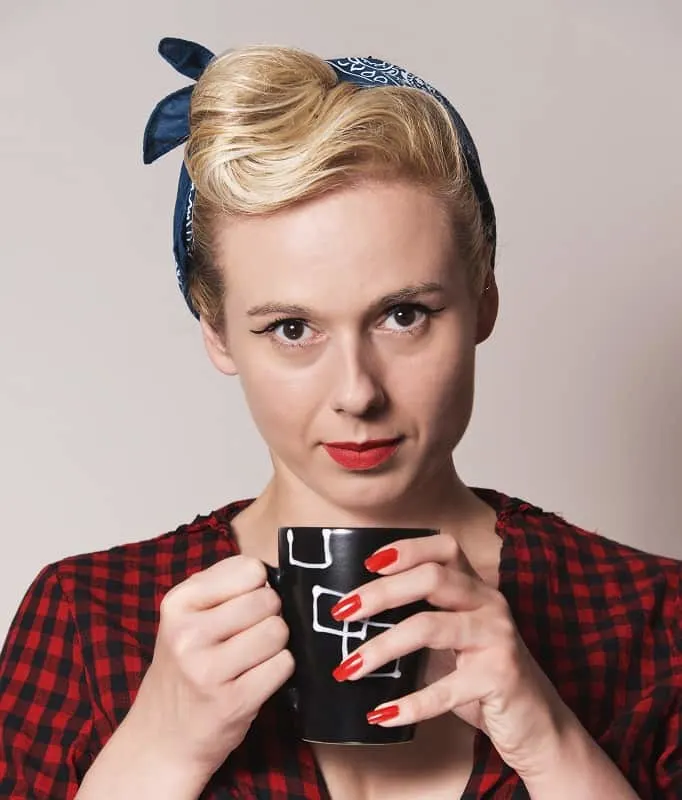 50s short hairstyles with a bandana are also called Rockabilly Rosie hairdos, and they are a true inspiration for women all over the world. Style a curly bun in the back and use a wrapped scarf. Give your bangs volume and texture.
4. Ponytail with Rolled Bangs
This 50s short ponytail hairstyle will make you feel like an American sweetheart. Use your bangs to style a big roll and pin your mane in a ponytail. Use a scarf to wrap it on your head and make a voluminous bow.
5. Upright Pin Curls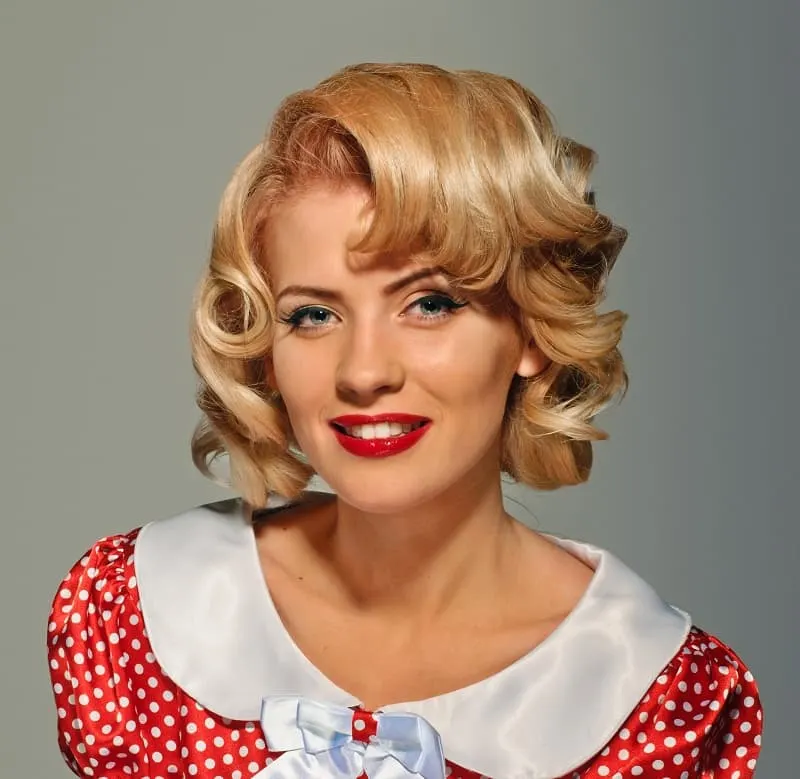 There are a lot of 50s short hairstyles that deserve your attention, but these curls with bangs will instantly place you in the spotlight. A honey blonde color will suit you like a glove and you can pair it with an eye-popping red lipstick.
6. Tucked Up with Bandana
A popular accessory for 50s hairstyles was the bandana. Use a fun printed bandana to wrap your short hair up loosely and keep it out of the way.
7. Large Victory Rolls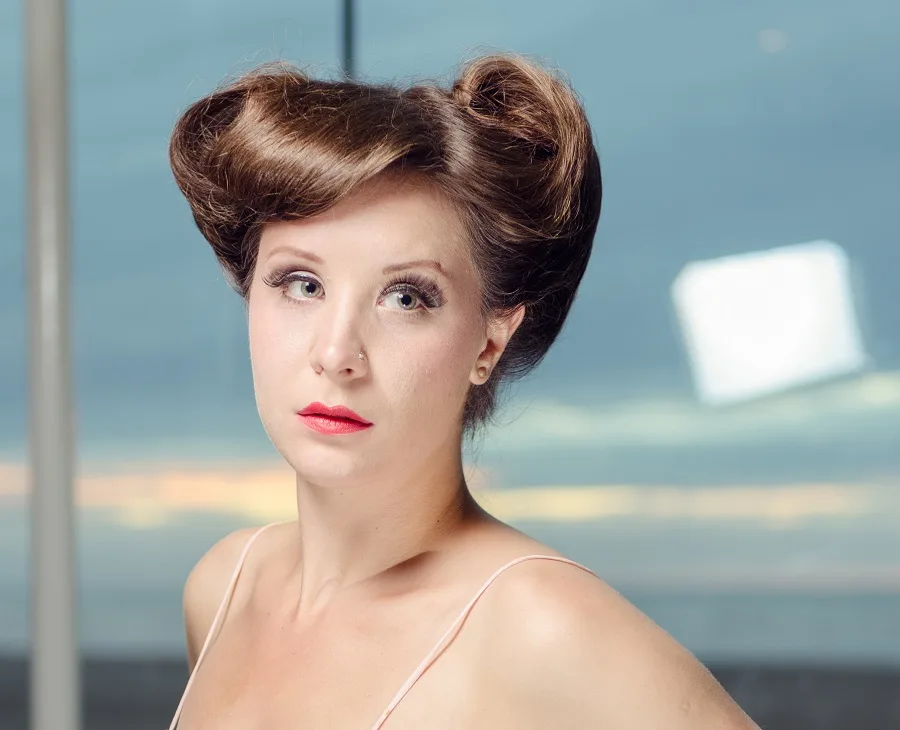 Victory rolls are the epitome of 50s hairstyles. Add them to short hair in seconds by making two large rolls, one on either side. If you have side bangs, roll them up too to complete the look.
8. Short Waves with Beret
Feeling a little Paris chic? Take that vibe to short hair by parting it off center, then styling it with medium-sized waves. Top it all off with a cute beret.
9. Tight Waves with Side Bangs
A roller set will help you get these tight waves. If you have bangs, comb them to the side and roll them up as well. You can make your 50s style edgy with a little dark hair color.
10. Vintage Curls
To dress up your look for the evening, part your short hair off center and load up the ends with tight springy curls before securing a low half ponytail or just pinning back the sides.
11. Short Pin Up Hair
It may take a little more time to get a 50s bob this coiled and curled, but the final look will be worth it. After making a heavy part for volume, add tight curls along the hairline and at the ends. Tuck in a flower on the side for accent.
12. Retro Ringlets
Even black hair deserves to look its best in a 50s hairstyle. This short hairdo features a heavy off center part to create luscious volume and the hair is filled with tight ringlets.
13. Short Curly Hair
This 50's short curly hair was popular among housewives who needed a look that was easy to style yet always appeared polished. To create this look, curl short to medium length hair and brush out for shine. The lower tendrils can be pinned to maintain their shape.
14. Pin-Up Style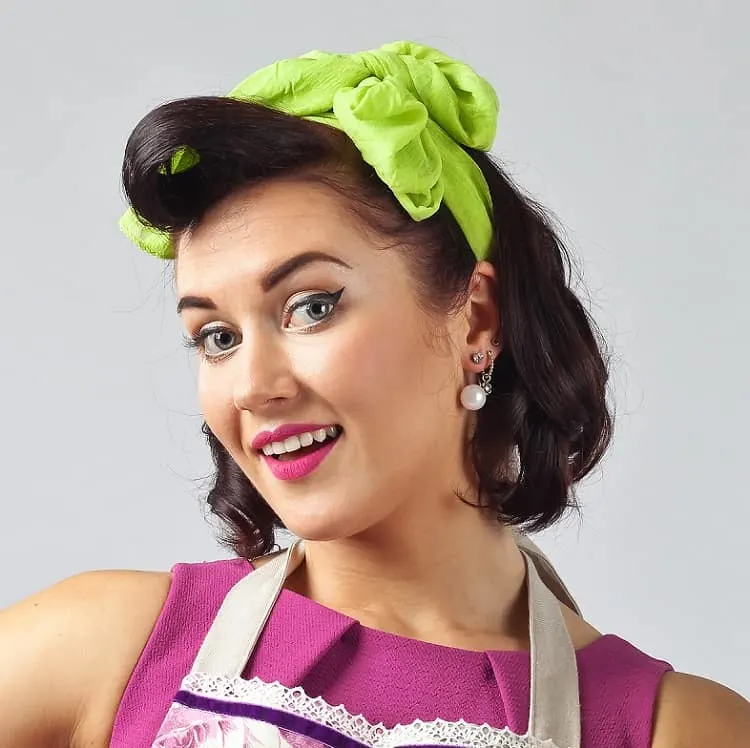 Try out a 1950s short pin-up hairstyle for a retro style that is actually rather functional. Create a small victory roll over the forehead and wrap your favorite scarf or bandana around the crown of the head for this super cute look.
15. Pin-Up Up-do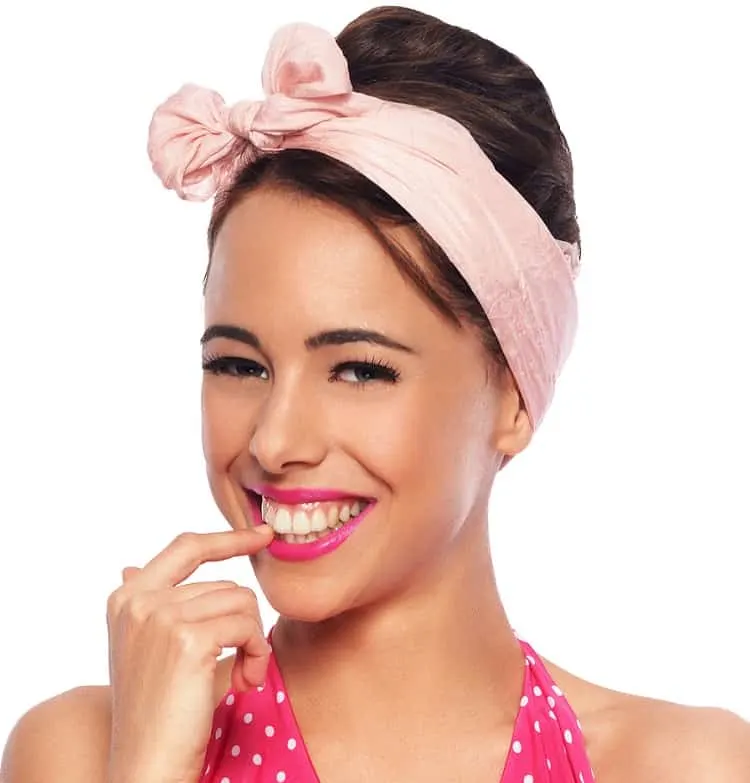 Looking for a casual way to pull up your hair? Try this vintage short updo on a hot day or for a lovely picnic. Create height at the back of the head with a french twist. The bow of your scarf should be slightly off-center to compliment your face shape.
16. S-Waves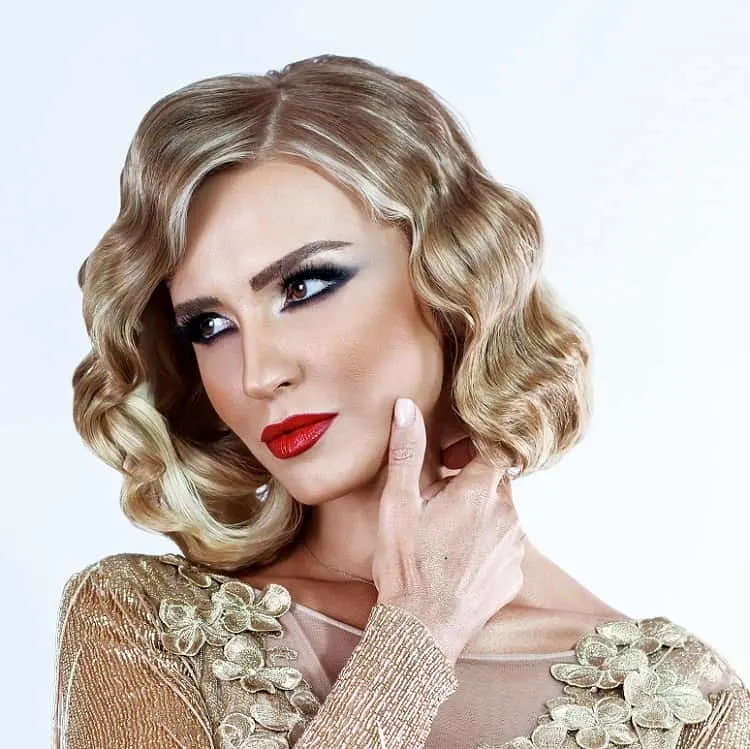 These highly glamorous waves not only maintain their shape over several days, but they symbolize old Hollywood glamour that has now become iconic. All curls should be seamlessly done in the same direction to create that 'S' shape.
17. Bright Medium Bob
Give your curly bob a modern twist by choosing a fun color for your hair. This long-lasting bob is symbolic of the era, but this bright green color makes it relevant today.
18. Medium Curls
Like the previous style, this medium-length bob hits at the base of the neck. However, this look has added height at the top of the forehead and is pushed back farther on the opposite side. This will give symmetrical face shapes, like oval, more dimension.
19. Short Hair Updo for Bangs
This is another vintage hairstyle with a bandana that women love today. Instead of pushing any bangs back, though this style turns longer side bangs into one large curl that creates the perfect complimentary detail.
20. Pixie with Flowers
Bring on some Copacabana vibes and add vibrant flowers in pink and red to your short pixie cut. This style is more free-flowing to make it modern, but the wisps of hair are intentionally brushed to create a beautiful shape.
Wearing your short hair in a 50's hairstyle is pretty easy to do and has such a luxe and pulled-together feel. Try pin curls, S waves, or go for a curled and glossy bob. Which look will be your next?