Most famous in the 1940s and 50s, pin up hairstyle is a retro look that is sexy and overtly glamorous. Today, many women still style their hair this way while others use the look as inspiration for approaching pin up in a modern way.
How to Do a Pin Up Hairstyle
Before styling, make sure the hair is freshly washed and brushed.
Start by separating about three inches of hair from the hairline to the ear from the remaining strands.
Choose a middle or side parting depending on your choice.
Add curls to the sectioned chunks and secure them with pins.
Remove the pins at the front and tease the lower part for a nice volume.
Smooth out at the front before wrapping the hair around two fingers and rolling inward or outward towards the head. Secure with pins.
Style the remaining hair at the back in a bun or ponytail or leave it loose.
Seal the pin up hairstyle in place using some hairspray and the retro look is done.
Modern Pin Up Hairstyles
Have a look at the following 35 hairstyles popular this year and choose the one that suits you the most. You can also add a personal touch to any look making it one of a kind.
1. Pin Up With Long Ponytail
This 50s vintage hairstyle is highly glamorous yet surprisingly easy to create. Set hair with curls first, and then use round shapes to pull hair away from your face and pin it back in a style known as victory rolls. Your ponytail should be done as one singe curl.
2. Modern Rainbow Twist with Bangs
Even this trendy rainbow hair can achieve a sexy style. This pin up hairstyle with bangs creates height at the top of the head and uses bangs instead of curls to frame a delicately feminine face.
3. Center Part Style
The center part provides a current twist on this long pin up hairstyle. Soft curls still frame the face and the front pieces of hair are pinned back in the iconic round fashion.
4. Natural Hair Pin Up
Natural hair makes creating a pin up hairstyle for black hair easy. Gather your hair on the top and back of the head to create height and long, polished lines. A scarf accessory provides the perfect compliment.
5. Casual 60s Style
A 60s pin up hairstyle is ideal for a casual occasion. The front pieces of hair should still be rounded and pinned away from the face while long loose curls can be worn down your shoulders.
6. Rolled Updo
Here is an elegant pin up hairstyle for a new summer look. Tease the middle-parted front hair before wrapping the chunks inward towards the head. Style the remaining strands in a rolled updo at the back, securing them with pins. Top off with hairspray.
7. Voluminous Top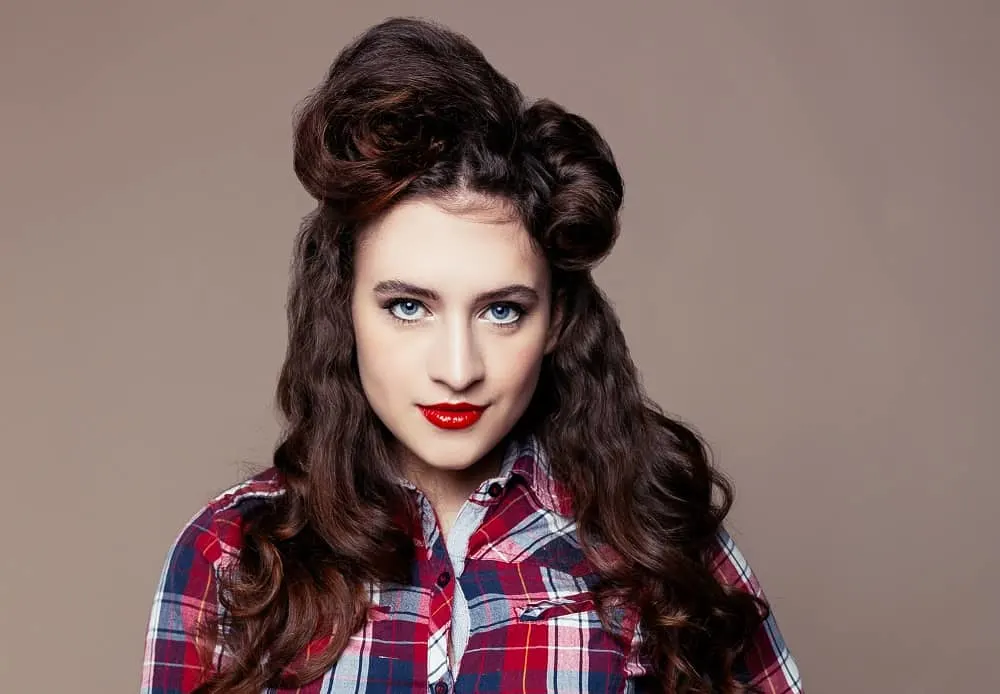 Stand out from the crowd with this look. Separate about four inches of hair from the hairline to the crown and give it a good tease before rolling the strands in opposite directions. Accentuate the fluffy top with loose wavy hair.
8. Blonde Beauty
Look like a chic Madame from the 1940s by styling the blonde locks in vintage victory rolls. The side-parted front is rolled away from the face and secured with pins with curly waves on the remaining hair creating a half-up hairstyle.
9. Undone Look
Those who like to keep it carefree can opt for a deep side parting with the rolls folding towards each other. Tease and tousle the remaining loose strands at the back for an undone appeal.
10. Chic Side Bun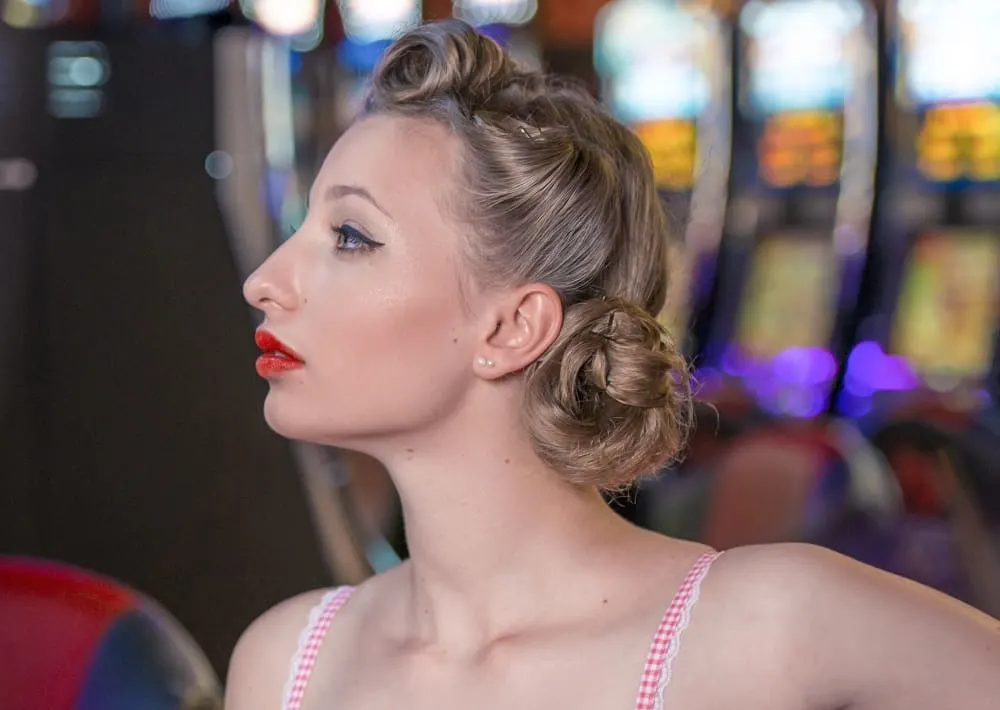 Turn around some heads with this retro look keeping all the hair away from the face. The front rolls are secured with pins on the underside, making them invisible, while the remaining locks are styled in a side bun for a chic finish.
11. Jumbo Victory Roll
Keep it simple by teasing the front chunk before wrapping it away from the deep side parting, creating a single jumbo victory roll. Top off with a flower and bouncy curls making this look ideal for weddings.
12. Oppositely Rolled
Keep all the eyes on you with an unconventional pin up hair look that is easy to achieve. Divide the hair into two parts and wrap it around two fingers in opposite directions continuing to the back creating two giant rolls on the head.
13. Side Ponytail
This hairstyle is suitable for the laid-back ladies out there. Roll the front chunk away from the side part and secure it with pins to sit on the hairline. Style the remaining hair in a low side ponytail and the look is done.
14. Short and Sassy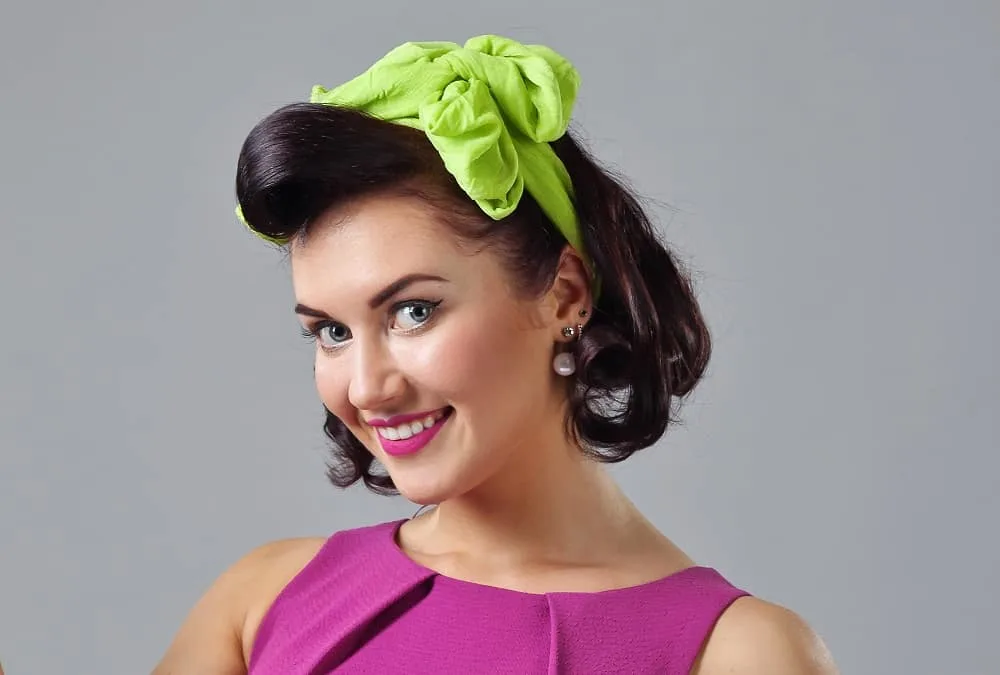 Consider a sassy style for your short locks that instantly reminds of the 50s' short hair fashion. Curl the ends of the short bob, separating them from the single victory roll at the front with an oversized bow headband.
15. Side Swoop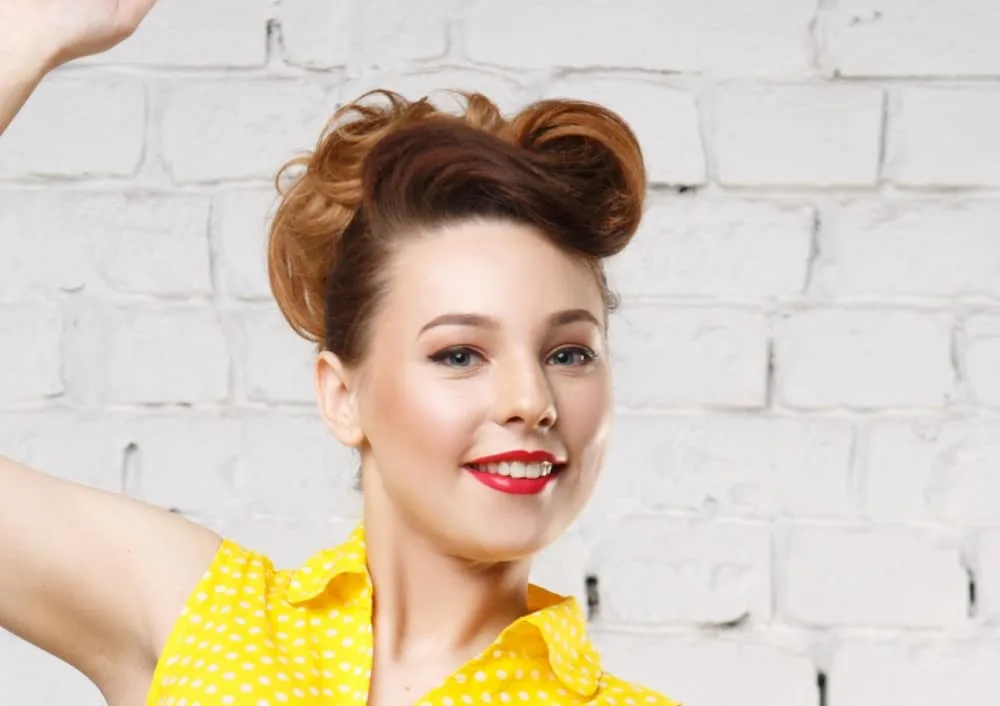 Instead of conventional victory rolls opt for this stylish look. Slick back the sides into a curly updo while sparing the front central chunk. The front strands are then swooped from one side to the other while twisting them back to be secured with pins.
16. Flipped-Out Bob
A bob haircut is perfect for trying out a retro hair look. The side-parted front is pinned up away from the face while the ends of the remaining hair are flipped out. Top off with red roses matching the lips.
17. Cute Bubble Braid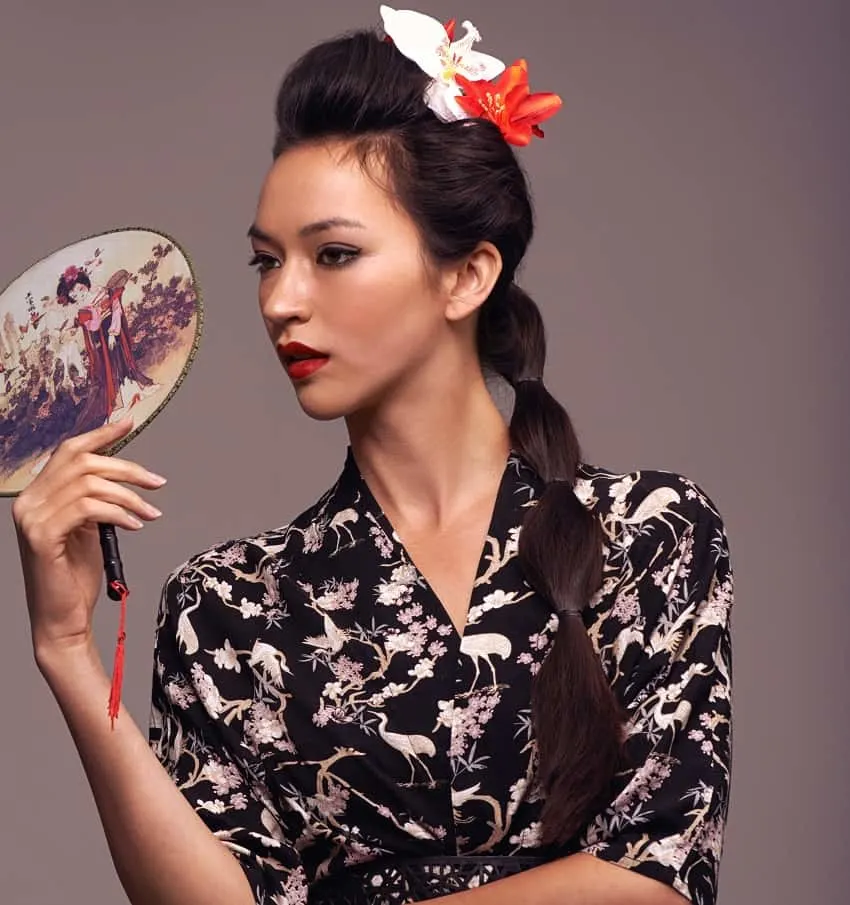 Bubble braids are an ideal hairstyle for lazy girls. Section the front into three parts and wrap it away from the face creating three bubbly puffs that are accentuated with a long bubbly braid falling at the front. Finish off with flowers.
18. Futuristic Appeal
Here is another pin up hairstyle for ladies who want a futuristic appeal. Tease the front puff before rolling it inward on the head. The remaining hair is wrapped inwards on one side creating a rolled side updo behind the ear.
19. Bumper Bangs
These retro bangs create a jaw-dropping hair look. Curl the bangs inward and wrap them around fingers into a ringlet shape to be secured with pins. Fan them out while pinning the side locks away from the face with the remaining hair loose at the back.
20. Pin Up Bob
It's easy to equate pin up with long, sexy styles, but a short pin up hairstyle can be just as attractive. In fact, it's less difficult to get curls to stay in place when hair is shorter. Create height at the top of the head for extra oomph.
21. Half-Up Curls
This pin up hairstyle for curly hair certainly has a modern twist. This style focuses on the half-up nature of pin up hair and wears long, soft curls down the shoulders for that bit of sexy flair.
22. Pin Up With Accessory
Even when pink, this pin up hair with a bandana has the right idea! Adding an accessory is not only cute but can be functional, too. A bandana or clip should be focused on one side of the head and pushed back enough to keep your face in focus.
23. Wedding Look
More brides are embracing retro hairstyles for their big day. A wedding pin up hairstyle will give your hair tons of curly style and keep it all set in place so you can dance the night away.
24. Bumper Bangs
To achieve a pin up hairstyle with bumper bangs, you must get your hands on a hair form to fill out the bangs. There are plenty of tutorials online to help you create this sexy, crowd-pleasing style.
25. Simple Pin Up Style
This natural pin up hairstyle should be your go-to. It doesn't involve tons of prep work, as your hair is simply, yet neatly, pulled back and secured with a clip. Focus on soft lines, a side part, and curled under ends.
26. 40s Pin Up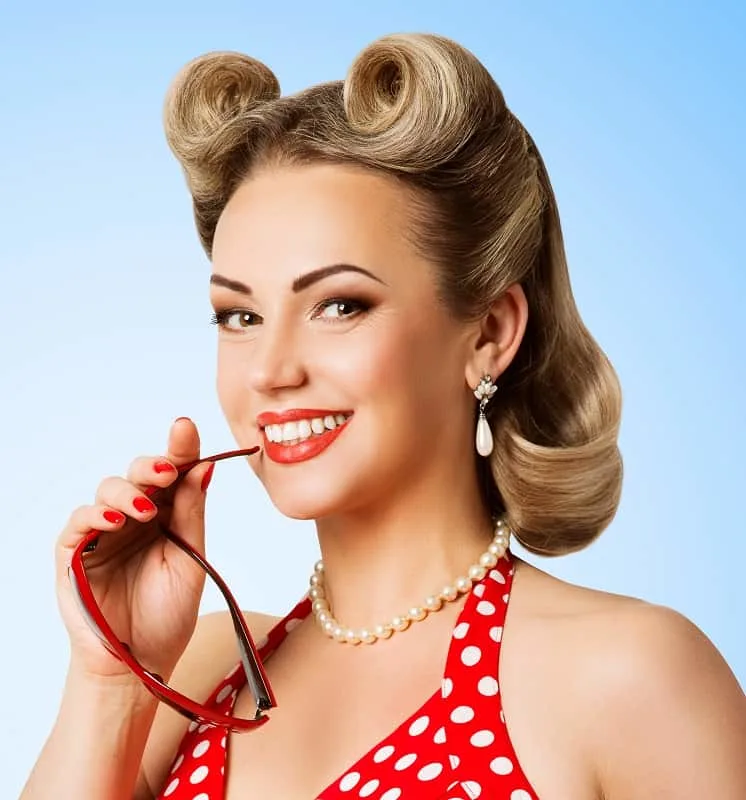 40s pin up hair can be bold, but this look is for the babe who wants to go for it! You'll have to set your hair in curlers before beginning to give hair plenty of shape.
27. Sexy Blonde Pin Up
Whether you're working with black or blonde pin up hair, this medium style is a classic. We love the way the romantic side part opens up her face, especially if your features are pretty balanced.
28. Modern Pin Up For Medium Hair
This medium pin up hairstyle has elements both modern and retro for that perfect, easy to wear style. Give your hair lovely curls and pin hair back in a victory roll on one side of the head with a beautiful vintage clip.
29. Pin Up with Flower
Even retro babes need to head to the beach sometime! This pin-up vintage hairstyle with flower is perfect for sunny occasions. Just remember, bigger can be better when it comes to the size of your flower. Focus it on the side of your head.
30. Bandana Up-do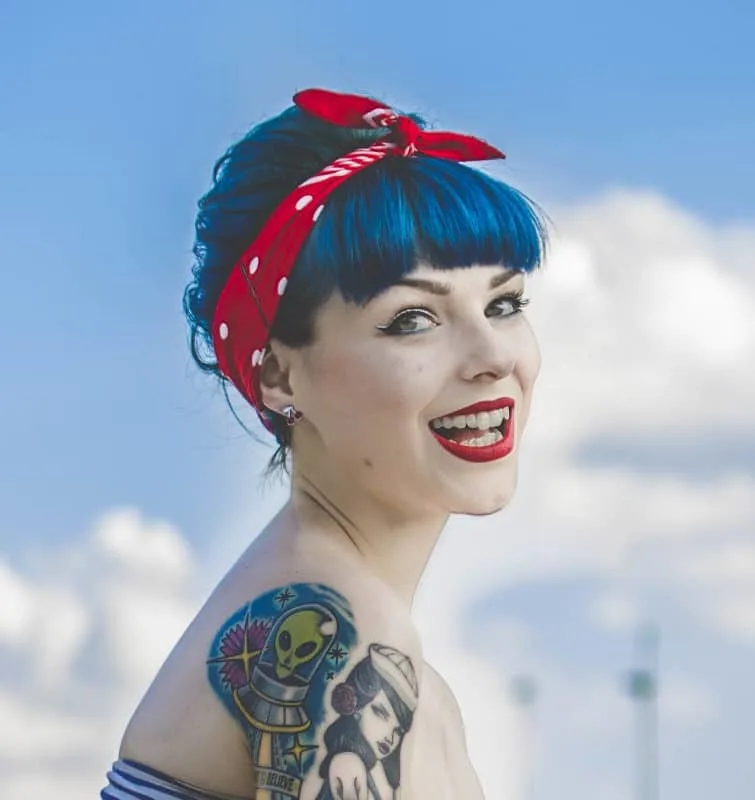 Bring out your inner Rosie the Riveter with this glam pin up updo style. The look involves creating height at the back of the head and tying the bandana or scarf around your crown. A swipe of red lipstick doesn't hurt, either!
31. Long Modern Pin Up
The soft, swooping lines of this style was clearly inspired by pin up. This pin up hair down style lets you wear your hair down your back while securing it back and out of your face. Add a few charms or a brooch.
32. Voluminous Victory Roll
Take a retro element like a victory roll and make it modern. This pin up style with victory rolls focuses on one roll at the top of the head and leaves the rest of the hair down in a trendy way. Add a bow for a feminine touch.
33. Bob Pin Up With Hat
Long gone are the days when women wore hats when leaving the house, but bringing the look back with your pin up style is a fun way to express your retro style. Prep, set, and pin your short curls and apply a tiny pillbox at the back of the head.
34. Pin Up for Brunette Hair
Brunette stars like Dita Von Teese have popularized the reemergence of pin up style. This classic look involves medium-length hair and two victory rolls with a side part, so one roll is more prominent than the other.
35. Ombre Pin Up
Ombre is definitely a modern hair style, but it pairs well with a retro look like pin up to create a wearable yet sophisticated style. A soft side victory roll is classic, yet straight hair keeps this look in the present.
Modern pin up hairstyle is all about taking retro elements and making them your own in today's world. It's easy to see why soft glamour from curls and rolls is a time treasured style that enhances all kinds of natural beauty.