Short hairstyles are your best friends when you have fine hair and are over 70. Unfortunately, after a certain age, your hair starts to lose not only its pigment but also its volume. And in this case, you need a hairstyle that doesn't keep your hair from falling flat and without any shine or life.
As a woman over 70 with fine short hair, you might think there are not too many options to enrich the aspect of your hair. However, we are here to help you get a look that suits your age, and face shape and regains the vividness of your hair.
Fashionable Short Hairstyles for Fine Hair Over 70
Consult these examples and follow our guidelines if you are aiming to improve your aspect! Let us know in the comments section which of these short hairstyles for fine hair over 70 were suitable for you.
1. Short Permed Hair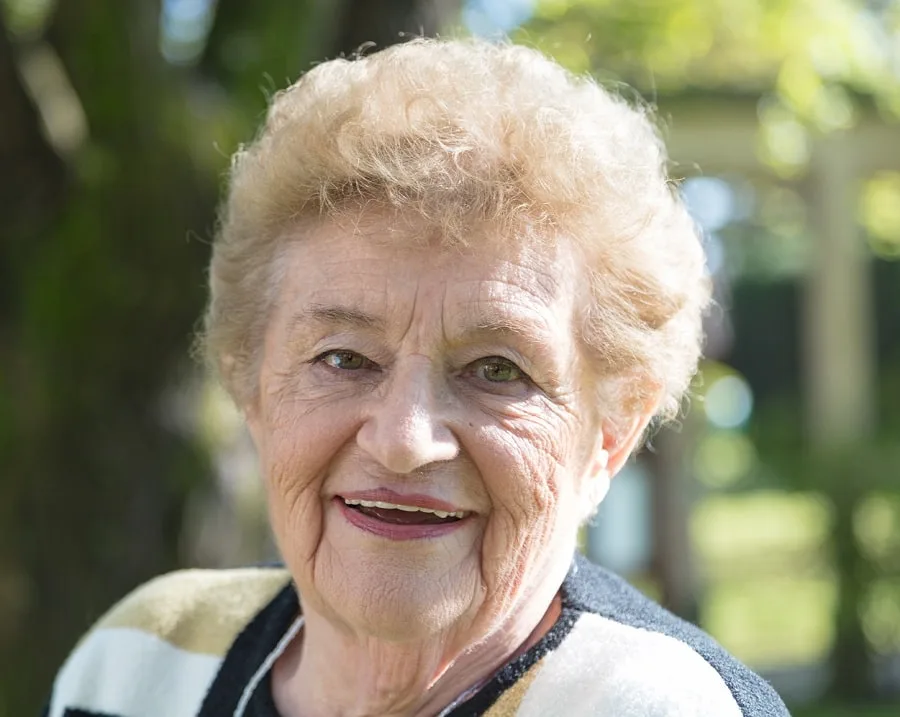 If your hair is looking flat and without any shape, it would be a great strategy to get a perm. You will have all the volume you craved and give your hair the shape you wanted.
Also, for the moment your roots start to show up, it would be best to choose a warm blonde color.
2. Teased Top
A short choppy hairstyle will definitely match any woman over 70 who wants a fresh new look that requires just a little bit of styling.
Opt for short bangs, tease the top and the sides to build more volume. You can even make some waves with a thick curling wand.
3. Short Bangs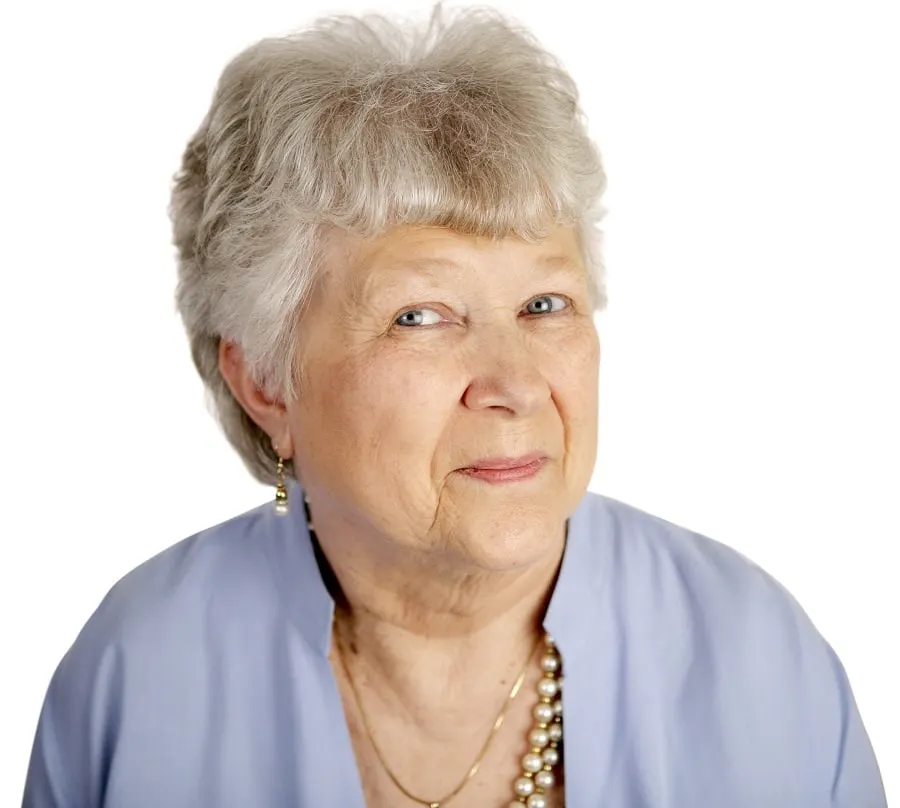 Short bangs are not for any face shape, but if you have an oval shaped face, you can try almost every hairstyle you want. Using a curling wand, turn that fringe inwards and even style a few strands.
4. Short Bob with Bangs for Fine Hair
Bob haircuts are the most common short hair options for women over 70 who struggle with fine hair. Cut them in a straight blunt line so the hair gets that thickened aspect, and go for short bangs that frame your face.
5. Ulta Short Hair
Over 70 women with fine curls will love this short trim. It is so practical and low maintenance and shows off the texture of your white hair.
6. Blonde Layers
A brown-blonde hair color will provide a warm tone that magnificently matches green or blue eyes. Go for a long pixie cut with a side part, and also paint your eyebrows, especially if that hair is depigmented.
Use hair spray to build more volume and keep your hair in this shape for a longer period.
7. Asymmetrical Short Bangs
Short bangs with longer sides which are styled and combed to the back will highlight your facial features. Create layers and toss your sideburns over the ears. Build more volume for the apex area.
8. Wavy Blonde Bob
The best way to hide white strands is to choose a very bright hair color that will help you better blend those roots and pieces. Get a medium bob haircut and carelessly curl the ends for a more feminine and elegant touch. Pick a hair color that'll suit over 70 woman's personalities.
Wear your bangs on one side, covering half of the forehead, and use dark eyeliner to draw all the attention to your green eyes.
9. Jet Black Hair
Curls are a great idea when your hair is fine and you need to make it look thicker. Also, choosing a black hair color might also help diminish the aspect of rare hair at over 70.
10. Salt and Pepper Hair
First, you will need to get a tight perm that gives you dimension and volume. Do a side part and keep the wider section longer. Trim the sideburns and give that hair a round shape.
11. Side Parting
Who said that if you're a short-haired woman over 70, you can't look fancy? So get a short haircut and dye your hair a burgundy red. At this age, your eyebrows are also white, so you should paint them also when doing your hair.
12. Layered Pixie
Pixie looks great on seniors over 70. A short pixie cut with a middle part will help you achieve a great hairstyle that suits a woman over 70 with fine hair. Build layers and tease the roots to give your hair more dimension and height.
With a rotative brush or a thick curler, style the apex layers.
13. Short Puff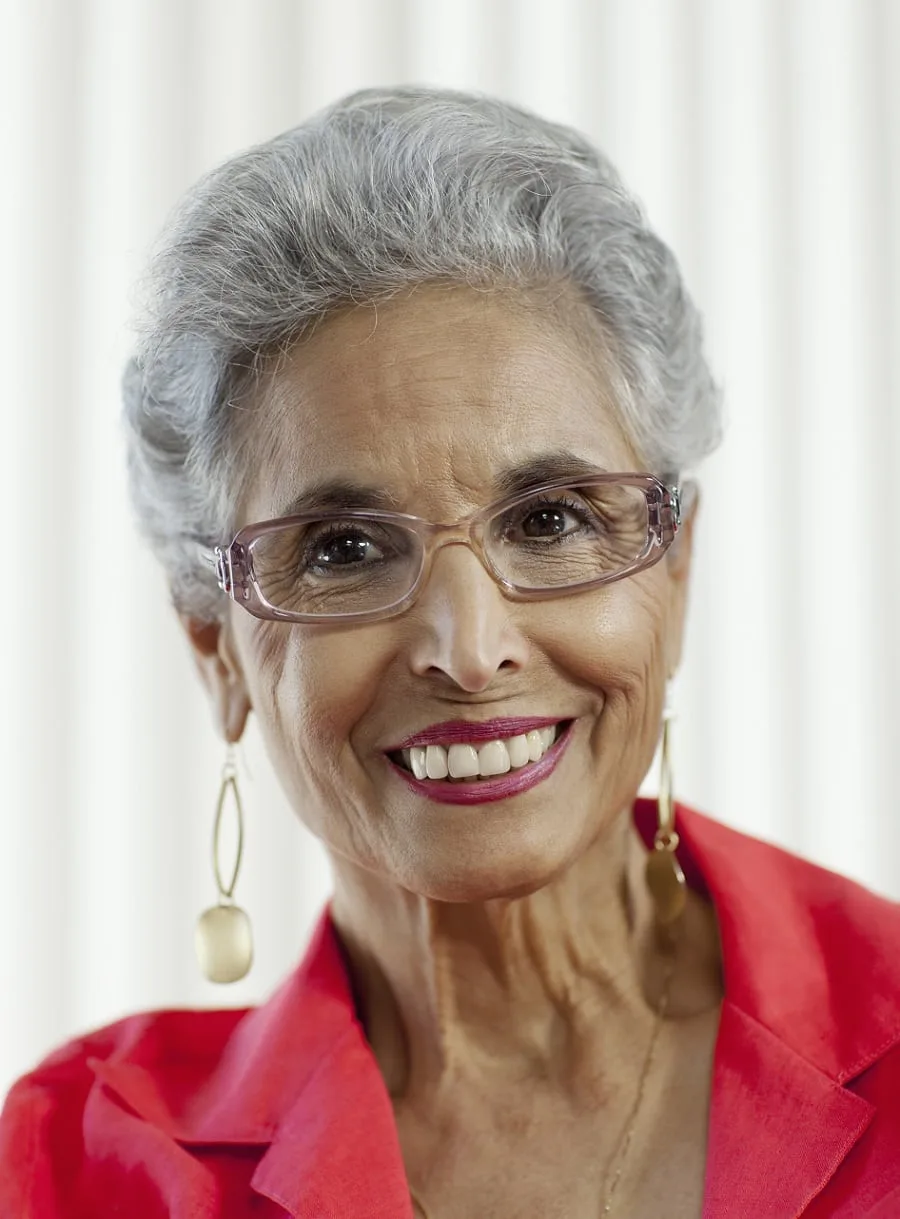 Most of the time, when hair becomes white, it gains fine texture and seems to have a mind of its own. However, it can be easier to create height since it tends to grow up.
Get a short haircut that maintains the top volume and features a shorter back and sides. Tease to create a puffy look.
14. Blonde Ringlets
As you get older, your skin might seem paler, so you should consider changing your regular hair color. Also, white strands start popping out, so choosing a platinum blonde hair color will work to your advantage.
That happens because it can easily blend and hide fine hair. To gain more volume, do a light perm or curl your strands.
15. Elegant Waves
If you're a woman over 70 with glasses and also are dealing with a small forehead, then you should definitely consider building more height. Use a rotative brush, and pull your hair up, then secure it with some clippers.
Abundantly spray and blow dry. Then create those waves by using the same technique as the one for retro finger waves.
16. Messy Frizz
If you're overweight and considering an elegant cut, this one can be a great pick. Most senior women don't love frizzy hair, but some search for techniques that give them that thicker coarse look. You can get it by doing a perm and combing with a brush.
However, we recommend dyeing your roots if you have full white hair. Otherwise, it will look like this.
17. Pixie Cut with Bangs
A short pixie cut is a fabulous idea for any over 70 woman with fine hair. Create layers and give your pixie more definition by giving your sideburns a blunt straight cut. In the back, shave or shortly trim the nape hair.
You will achieve a hairstyle that is quite low maintenance and doesn't need regular daily styling.
18. Side Parted Bangs
Sometimes, when hair becomes whiter, it might affect a whole section. And if this piece is from your bangs, then you can transform it into the centerpiece of your side-flipped bangs. You can also create a little bump, so it gains more height.
19. Feathered Ends
Choose a short bob haircut with short bangs that you can swipe to the sides. Layer your bob and use a rotative brush or a curler to twist the ends and build a feather shape and some volume.
20. Delicate Curls
When your hair is naturally curly, it is almost mandatory to get a layered hairstyle. Your ringlets will beautifully fall one over the other and create a nice gorgeous shape.
Choose a natural color like this warm brown and swipe your bangs to the side.
21. Modern Waves
Such a short hairstyle will look great on fine-haired ladies over 70. This hairstyle can be modernly styled with a simple heated device like a curler or even a straightening iron.
Get a medium-length bob haircut and asymmetrical bangs that amazingly suit a square face. Once you have your hair texture, use a fine tooth comb.
22. Blunt Bob With Bangs
A blunt cut will definitely help your hair strands look thicker when your hair is fine. This also applies to your bangs, so cut them short, two fingers above the eyebrows. Your bob should fall over your ears and cover them.
23. Choppy Layers
A short hairstyle for women over 70 with choppy layers in the back will add much volume. If your fine hair is naturally wavy, even better because you can flip the top towards the back, building some height.
Don't worry about those front white strands. They will look wonderful, just like highlights that you intentionally have created.
Women over 70 who are daily struggling to style fine hair have plenty of options that include layers, short bob haircuts, and perms.
Also, the color of your hair is very important because you might want a nuance that hides and beautifully blends white strands. That's why the lighter the blonde, the better your look will become.