You're entering your Platinum years, the 70s, by now, you have lived a lot of life and seen so much in the world, but by no means does that mean life is over and you can't be stylish.
And yes, perhaps some extra pounds have made their way onto your body, but finding the right hairstyle to frame your face can make all the difference.

You're a true beauty, and 70 years old is practically the new 50! So here are the most suitable hairstyles for women over 70 who are also overweight that'll match you on the inside.
Ideal Hairstyles for Overweight Women Over 70
Even though you've had many hairstyles over the years, By the age of 70 and being overweight, it's not too late to still look your best. Check the below styles to get ideas.
1. Heavy Layers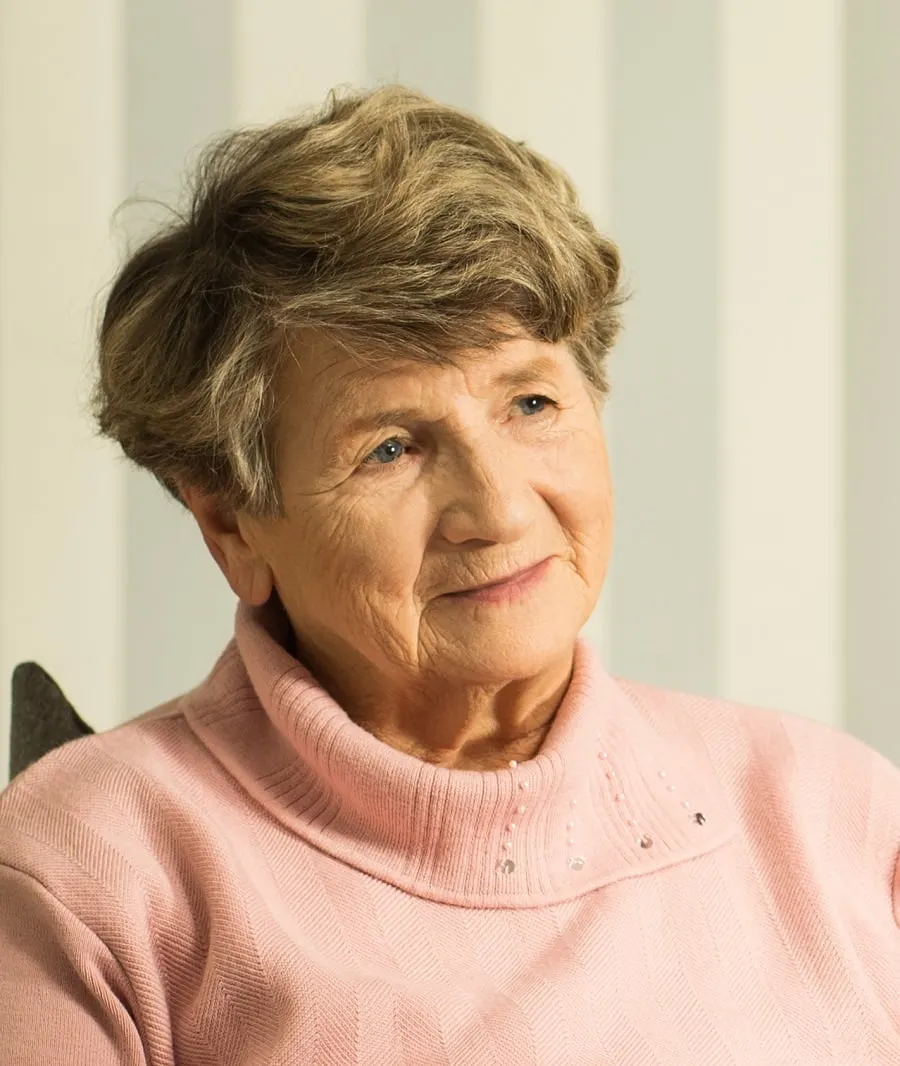 Heavy layers in a short haircut will give excessive volume, which is an excellent style for thinning hair. It is a simple wash-and-wear haircut for over 70 women who are slightly overweight.
And it will provide the idea that the locks are full and flattering. With wavy or curly hair, you will get more height. However, straight hair will still achieve a body with heavy layers.
2. Black Fluffy Hair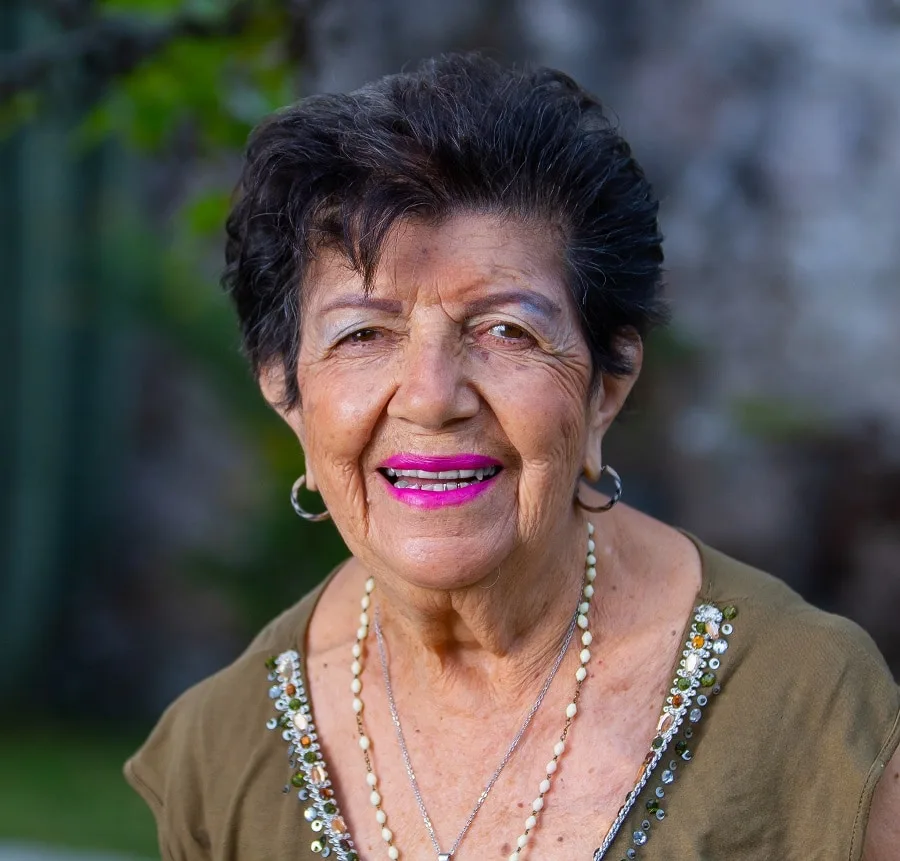 Don't be afraid of dyes and rinses after 70. This gorgeous head of black hair is a statement look that says age is just a number.
Adding a volume shampoo or spray to your hair routine can provide a high-volume pixie that will look stunning for any event.
3. Wavy Lob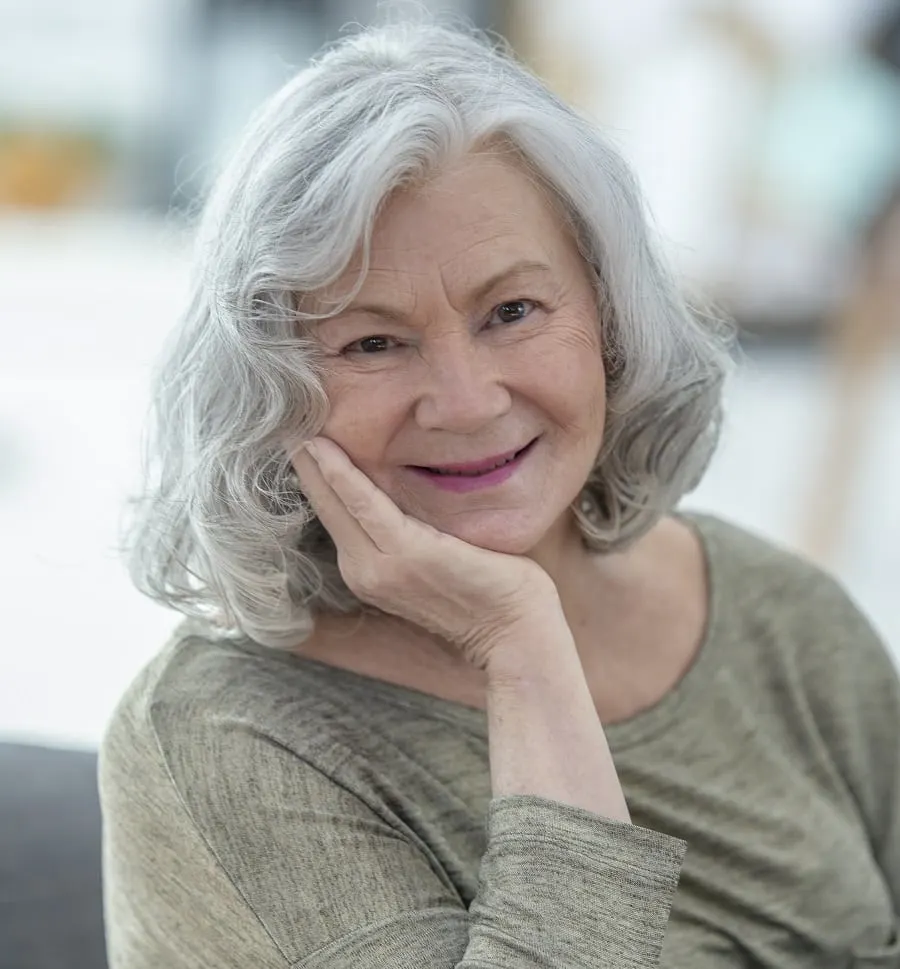 This gray beauty look is never the wrong way to go at any age. Wearing a long bob is attractive on all face shapes since it has more length past the chin.
The lob can be worn with all hair textures. Yet, it's gorgeous how wavy hair contours around the plump face with natural curls.
4. Half-up and Bangs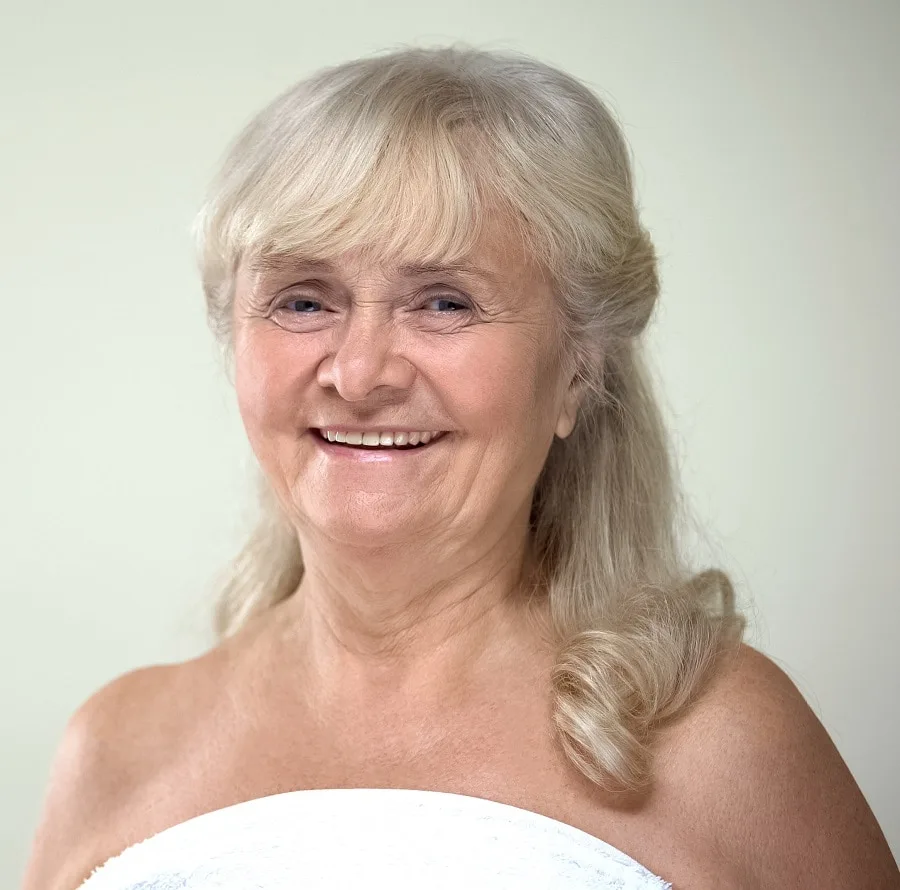 Wearing your hair long with a bangs can bring a youthful look to your face. If your hair is thick and silky, long strands can be an attractive hairstyle for women over 70 and overweight to take advantage of.
Wearing a bang just above the eyebrow allows you to wear them down or give a slight side swipe.
5. Shaggy Mullet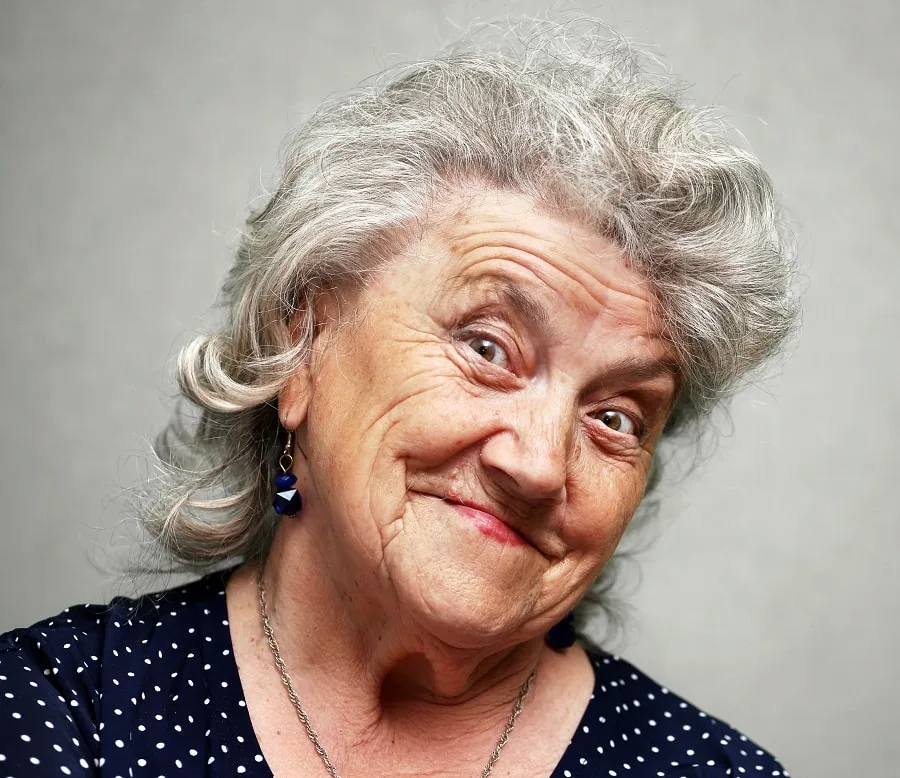 Don't confuse the modern mullet shag with the classic mullet. This combination is a great solution for a rounder, chubby face shape. The loose curls are fun and sophisticated, adding a touch of ease.
It's great for the minimalist who doesn't want to spend much time or product on their hair. You can simply scrunch, dry, and go.
6. Brushed-Out Curls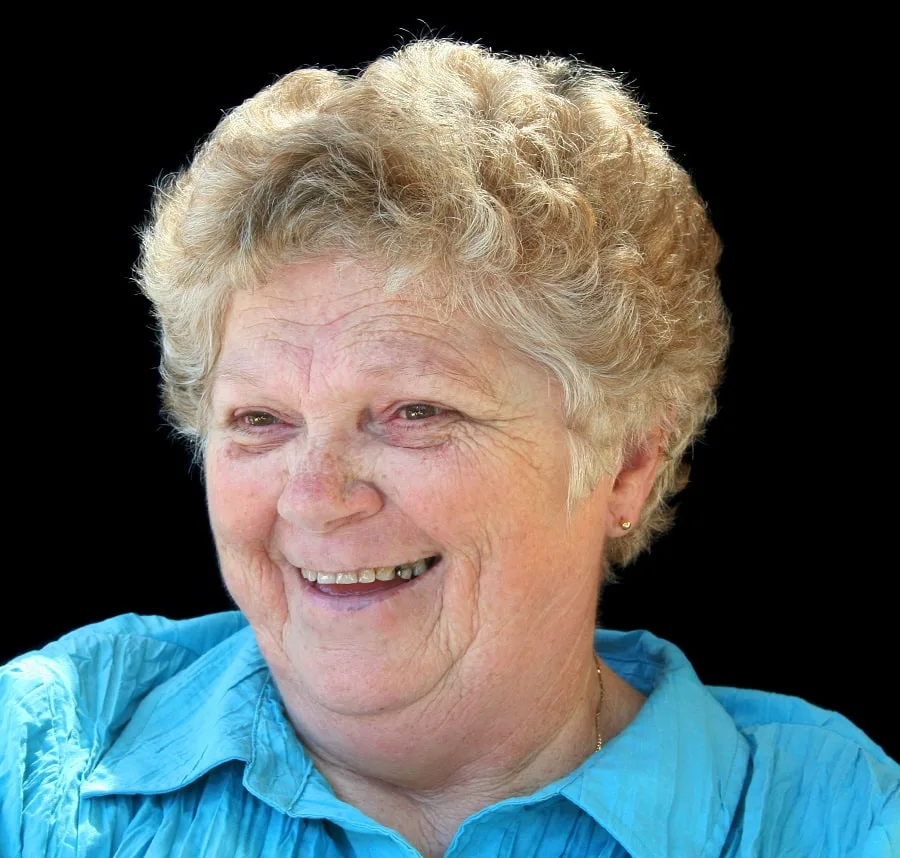 After 70, short haircuts are easy to take care of, and that's why they are so popular with the platinum population. However, you can add your twist to own the style.
The brushed-out curly haircut is a great way to get more volume on thinner hair to overpour your overweight.
7. Sleek Bob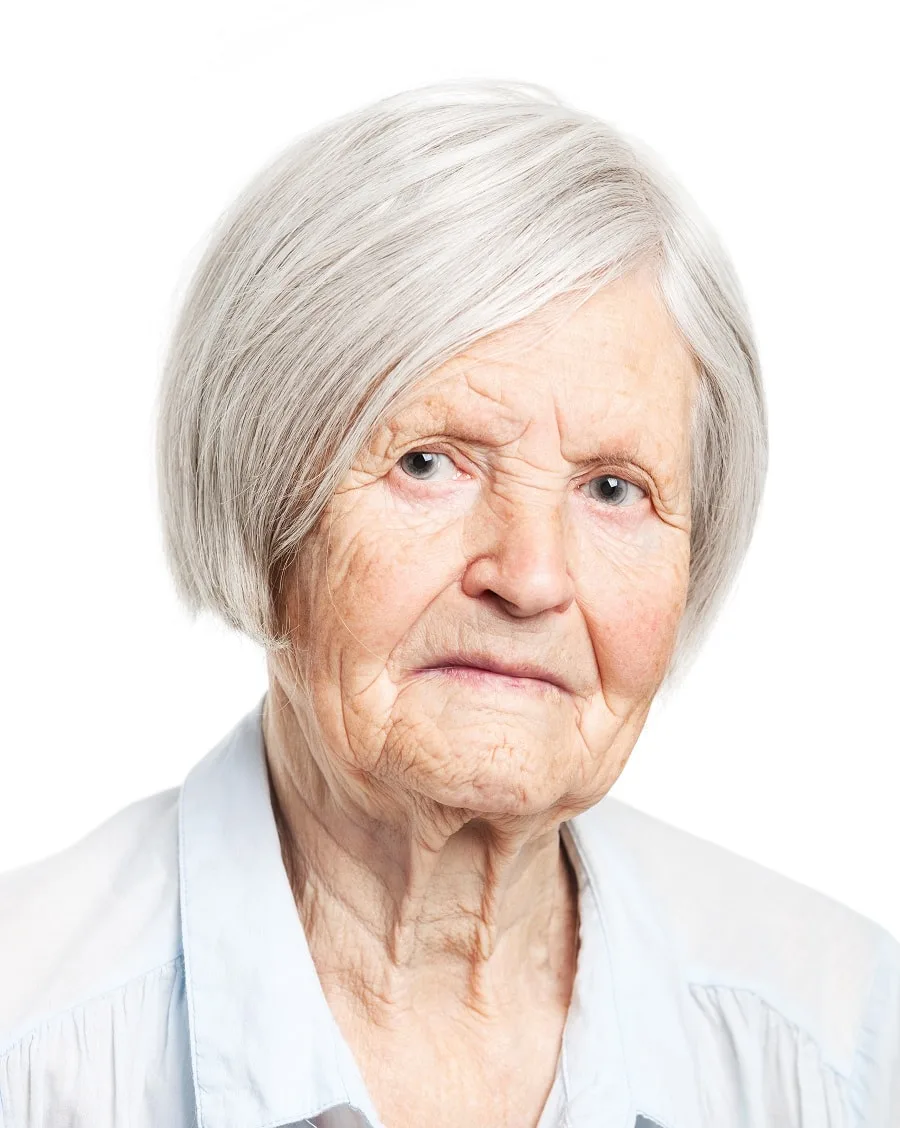 The roaring silver bob is a look that is straight from the 1920s. It's a super-sleek bob that lays above the jawline.
The part can be on the side or placed in the middle, depending on how you feel. The best part, this heavy-weight classic for senior women looks beautiful with any hair color.
8. Salt and Pepper Hair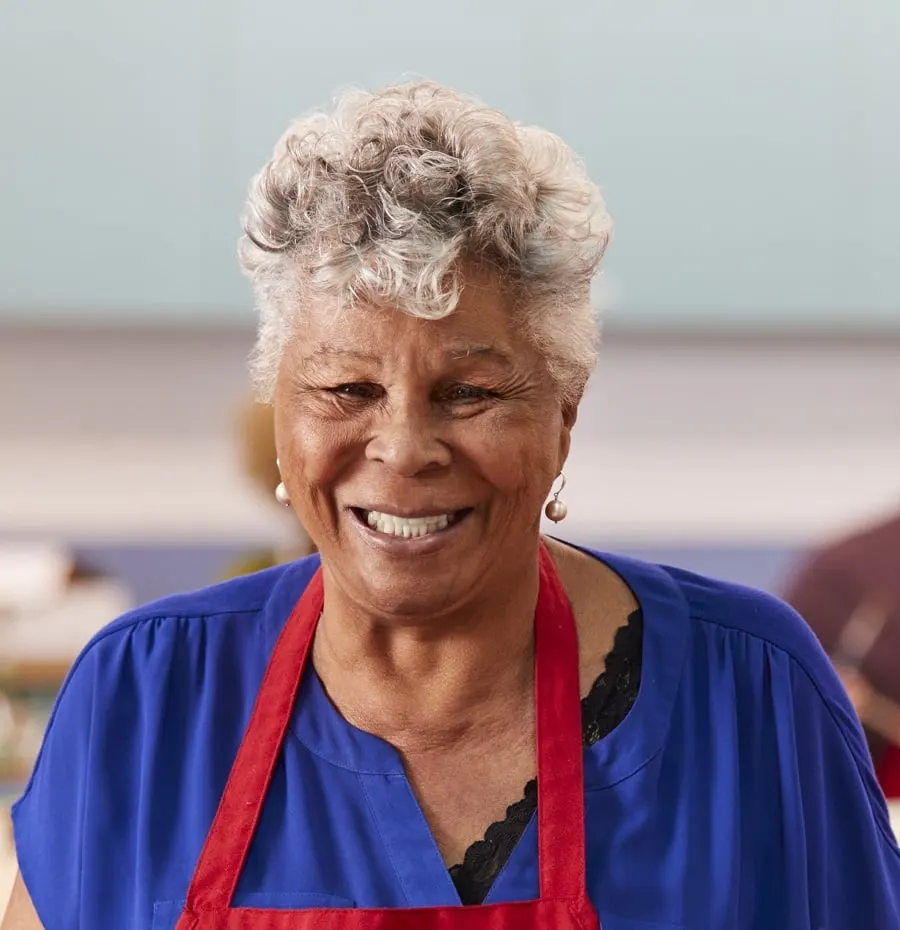 Salt and pepper coloring is a gorgeous blend of dark and silver hair that is super beautiful on many faces.
Keeping a high-top pixie takes a bit more effort since the length on the sides is tightly cut or shaved. It's a fabulous look for overweight women over 70 who enjoy the style and putting in a bit of effort.
9. Bixie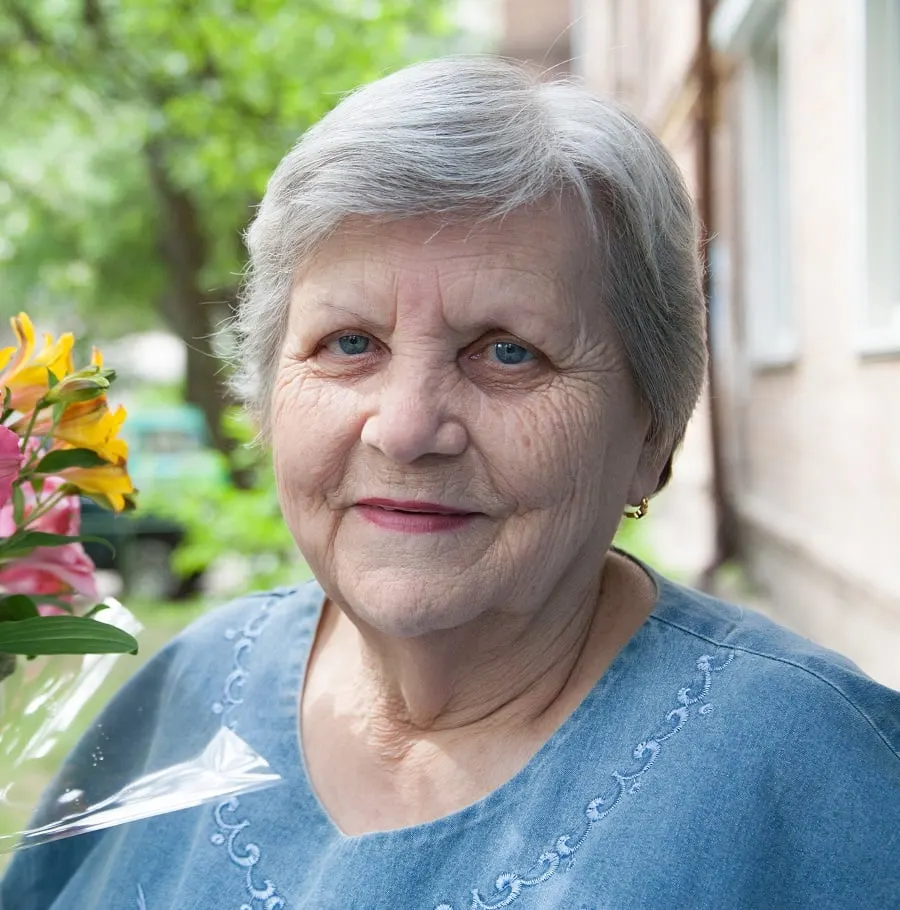 The long pixie resembles a Bob since it covers the ears ever-so-slightly. It is a versatile look that can be pushed around from a side part to a middle part.
This gorgeous look is easily achieved, so it's a low-maintenance style for older women.
10. Bob with Bangs
A bob with bangs is a trend that goes back centuries. It is an attractive look on most face shapes and hair textures.
Bangs that frame the face and blend into the bob will give a thicker appearance to thinner hair. If your hair is thicker, a blunt bang can be more attractive in giving proper dimensions.
11. Pixie with Baby Bangs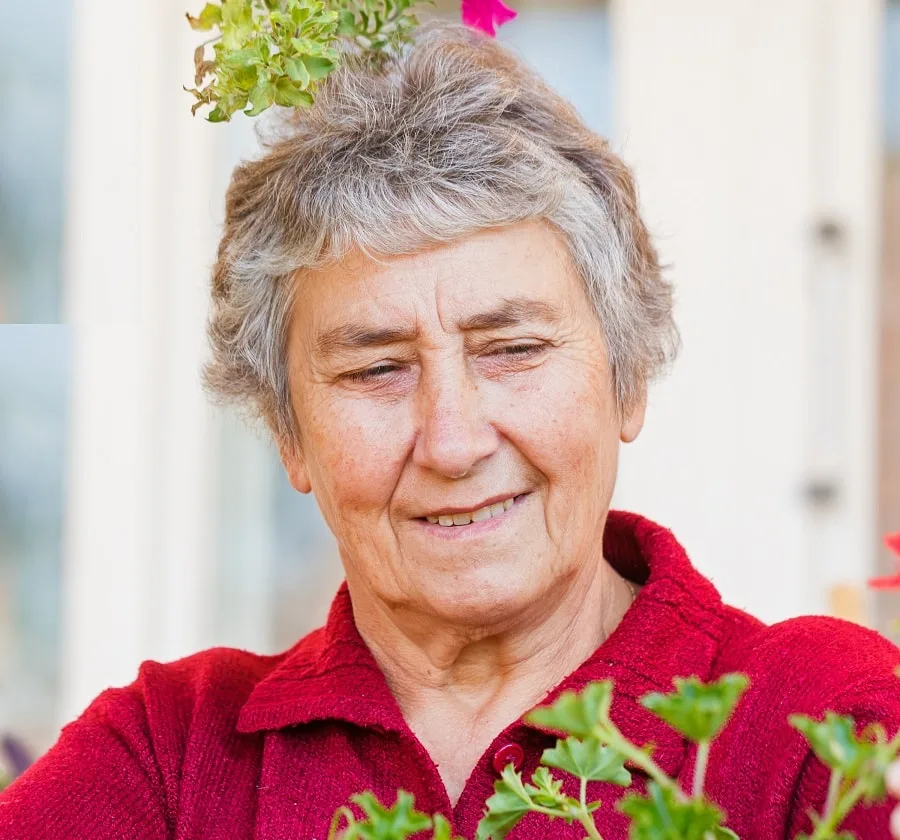 Going short is a great style for women over 70. Show off your style by adding a baby bang to the cut. It will frame the chubby face and cover a more prominent forehead.
The baby bang is a super short bang that can fall across the forehead or be pushed back into the fun pixie.
12. Blown Out Bob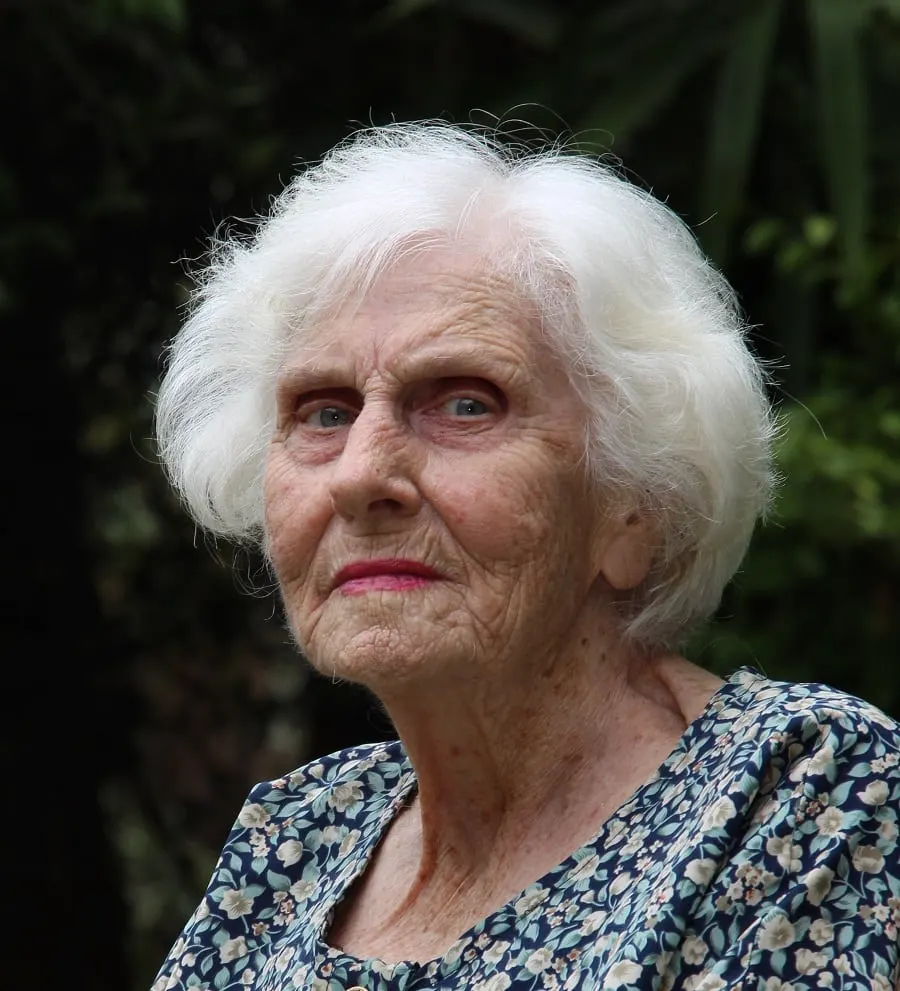 The Bob is a classic short style with the illusion of length. The natural texture of your hair can change the look of a Bob.
If you have natural waves, blow out the Bob to create the impression of bigger, thicker, and fuller hair. Long layers will give more texture to the style.
13. Shaggy Bob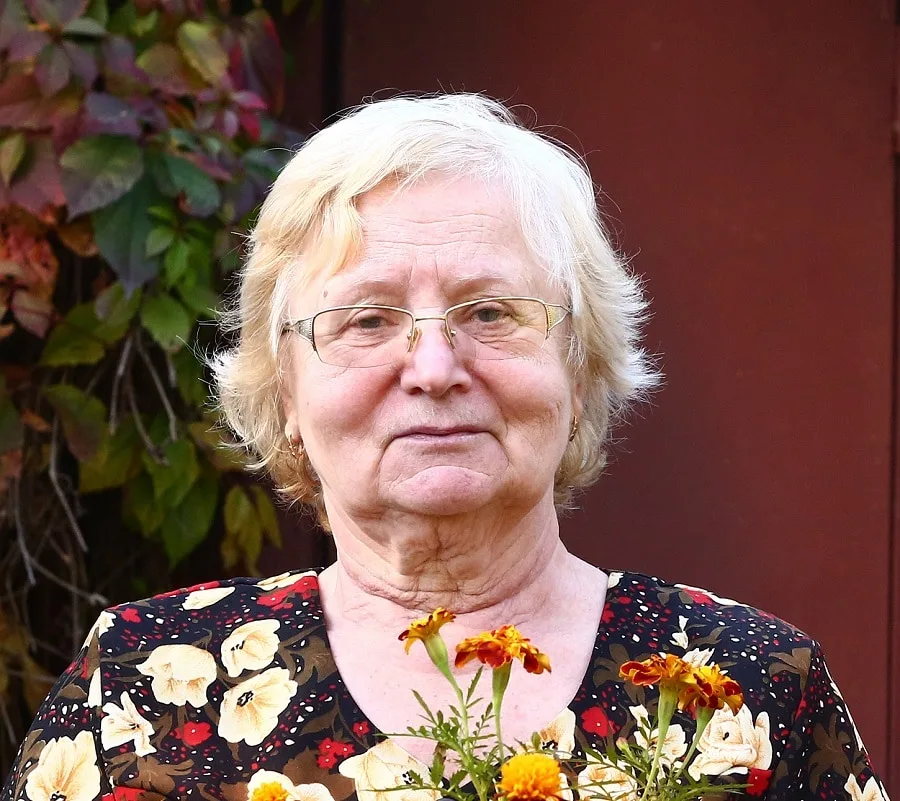 The Shag, one of the most fantastic hairstyles from the 90s, has gotten a recent reprise. Combine the Shag with the classic Bob, and you've got a winning look that is fresh and flattering on most face shapes.
It's a well-maintained look that styles with simplicity if you seek a brush-and-go look.
14. Subtle Highlights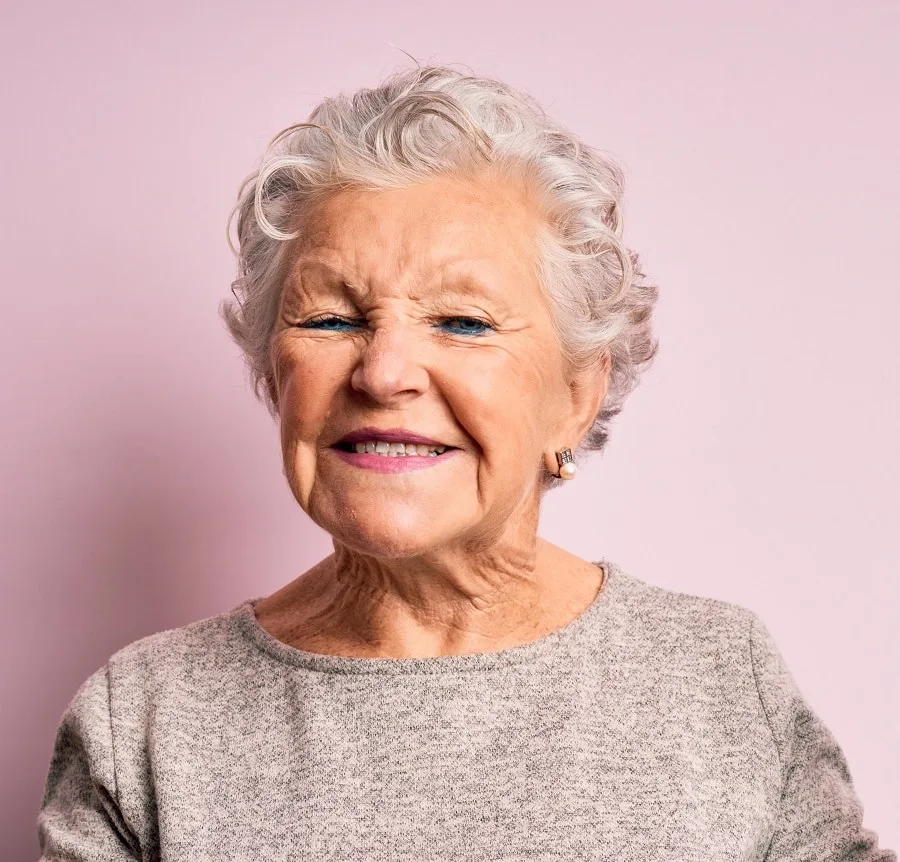 The chic, sophisticated, highlighted look of the tight-curled haircut is timeless. It works great with naturally curly, permed, or rolled hair. It's a beautiful look for special events or as an everyday style.
Layers of long and short give the stunning dimension of tight and bouncy curls around the hairline and ears, making the head bigger to keep the focus away from your plump face.
15. Grown Out Pixie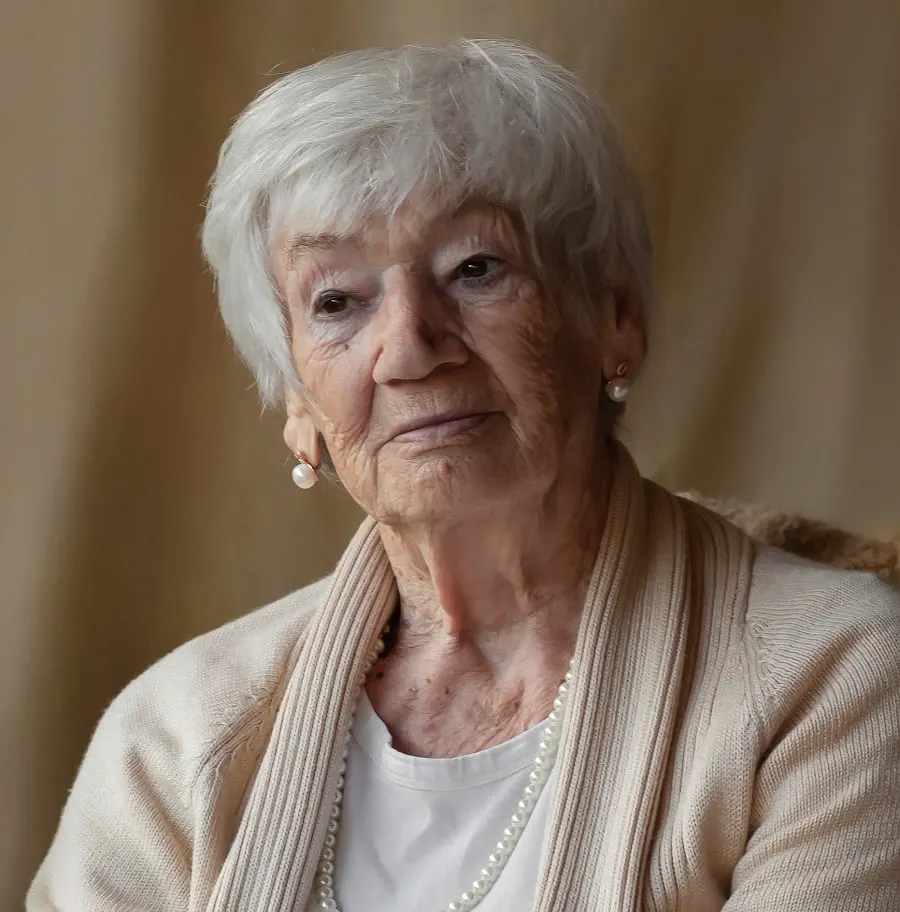 The sterling silver pixie is a gorgeous hairstyle for women over 70 and overweight. The longer strands over the ears give more dimension to the loo.
It's an excellent style for those who are starting to thin and want to appear thicker. It provides a significant amount of body as you let your natural color shine.
16. Textured Dark Mane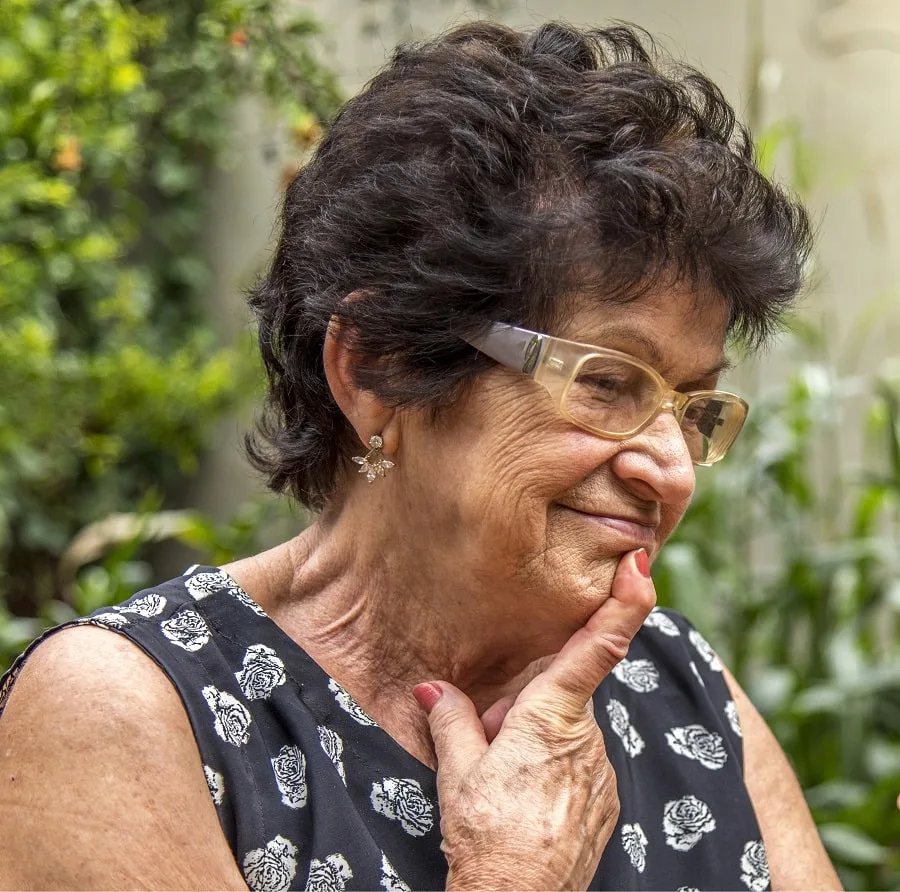 A short haircut with lots of layers will give your head of hair a lot of texture. It works on naturally curly and wavy hair very well. Fashionable eyeglasses can give you the bold look you deserve when you're at your 70s.
Having natural curls can be challenging to maintain, but this easy cut makes it effortless to run your fingers through your hair and go.
Be proud; you've made it to your Platinum years. Platinum is because you are more valuable and shine like no other. Just because you're over 70 and slightly overweight, remember, you're still fabulous!
Being over 70 is monumental, and it should be applauded. You've led a great story, and you're still living your best life, no matter if you've put on a bit of weight over the years.
So why not find the beautiful hairstyle that flatters you? These 16 styles will help you achieve volume, thickness, and confidence as you take on your day.