Short A-line bob is far away from traditional bob hairstyles because they are not the same length all of the way around the cut.
These bobs are normally shorter at the back than they are at the front. The difference in length can be slight or much greater. Choose a length that suits your hair type and face shape.
Short A-Line Bob
Just like any other women's haircut, a short A-line bob can be styled in different ways. Many women choose to enhance their haircuts with interesting or unusual hair colors.
Highlights and lowlights also help to add more texture and depth to bob hairstyles. These colorants are particularly good for women with thinner natural hair.
1. Short A-Line Bob with Bangs
Adopt an unconventional hairstyle by getting a short A-line bob haircut with baby bangs. Keep the fringe perfectly combed and tousle the rest of the mane to create a messy appearance. To add some flare to this style, you can ask your stylist for an undercut.
2. Short Curly A-Line Bob
Ringlets have so much bounce when cut shorter, and some weight has been reduced in the hair. A short bob with bangs swept on one side will give them such a high definition.
Layer the curly strands and maintain the nape area with a short trim. Those stacked layers will provide the hair with tremendous volume!
3. Short Layered A-Line Bob
A short feathered A-line bob is modern and fashionable and can be styled on one side. The edges will be sensually defined, and that beautiful platinum color will certainly make you stand out. Even if it's a messy look, it is fabulously stylish!
4. Short Wavy A-Line Bob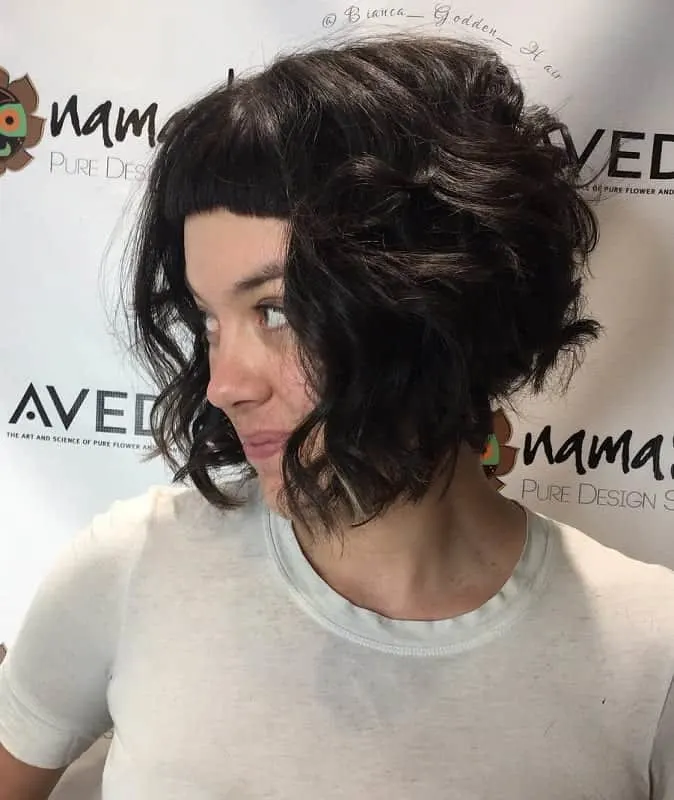 Baby bangs undoubtedly complete this short A-line wavy hairstyle! Stacked layers in the back, long strands in front, and you have all the tools for a fabulous way to frame your loving face features.
5. Short A-Line Bob for Thin Hair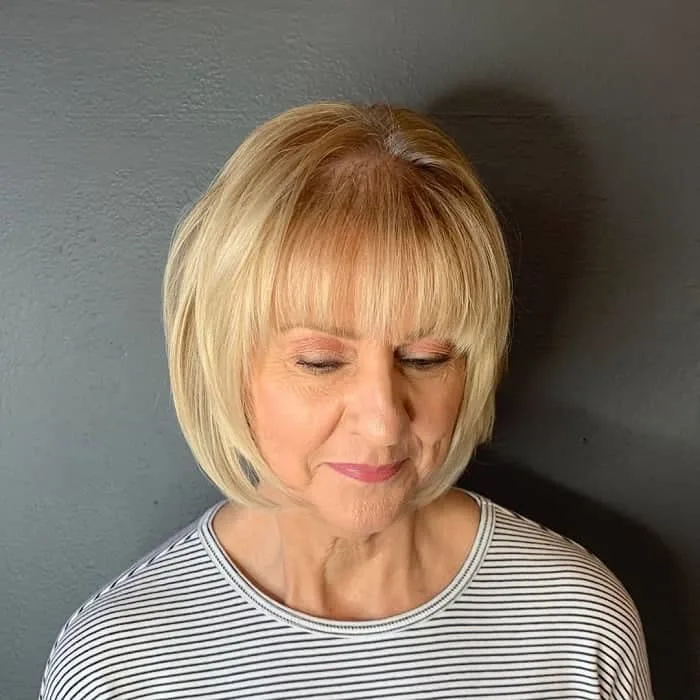 If you are a woman over 50 who struggles with thin hair, here's a fantastic opportunity to change that! An A-line bob haircut with wispy bangs will mesmerize and add a lot of value to your look!
6. Very Short A-Line Bob Cut
To make this very short A-line bob look even more impressive, you can style it with a ravishing undercut. Choose a ginger-red color to create an ombre, and cut your bangs very short.
Longer strands in front and short coverage for the back, and you are ready to rock!
7. Short A-Line Bob with Undercut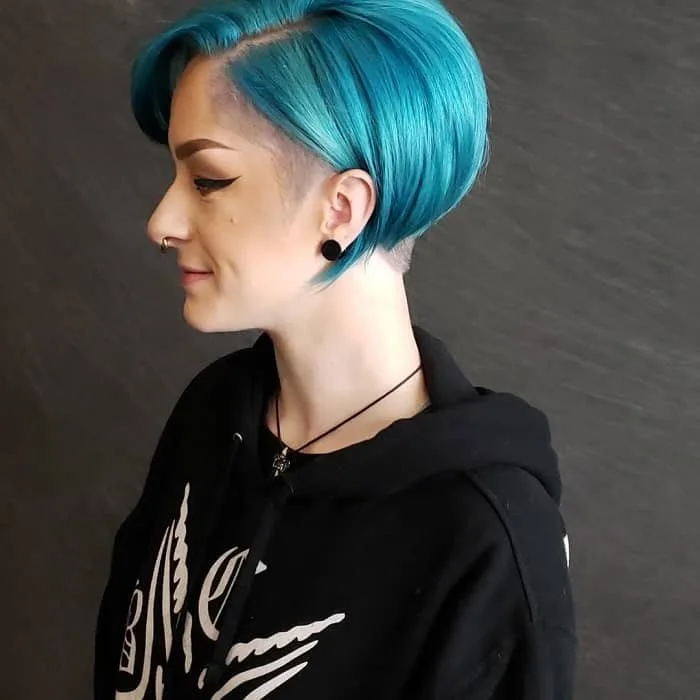 Temple undercuts look astonishing, especially when you opt for an exciting color such as bright teal blue. Keep the hair in a short A-line haircut and also trim the nape hair.
Toss the bangs on one side and flip the fringe over the ears to reveal the short cuts from the temples.
8. Short Blonde A-Line Bob
If you want to give your hairstyle a twist, make a razored V-shaped design for the back hair and keep the area in its natural nuance.
For the rest of your mane, you can beautifully build a marvelous short A-line bob and choose a champagne blonde shade.
9. A-Line Short Bob + Side Bangs
Draw all the attention to your beautiful green or blue eyes by choosing a short A-line haircut. An amazing blonde hair dye with purple tints will give you a modern, trendy look. You can toss your bangs to one side, slightly covering the eyebrow.
10. Short Stacked A-Line Bob
Every time you want to obtain more volume for your back hair, a stacked bob haircut is the answer you were searching for!
Also, if you need to give your hair more definition, some wide blonde highlights are certainly the right choice. Keep the front strands long and the bangs tossed to one side.
11. Soft Waves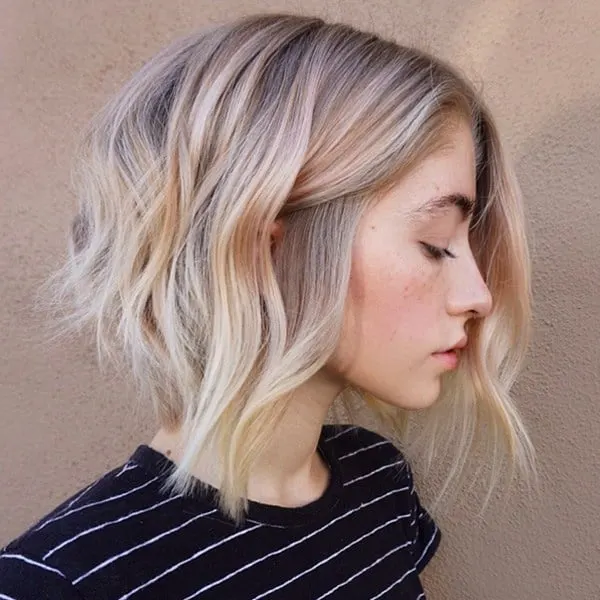 Waves are a beautiful way to soften up an A-line bob hairstyle for short hair. Put your hair into rollers for a little while to give it a very light curl.
Hottest Hair Color Trends for Women
12. Spice Bob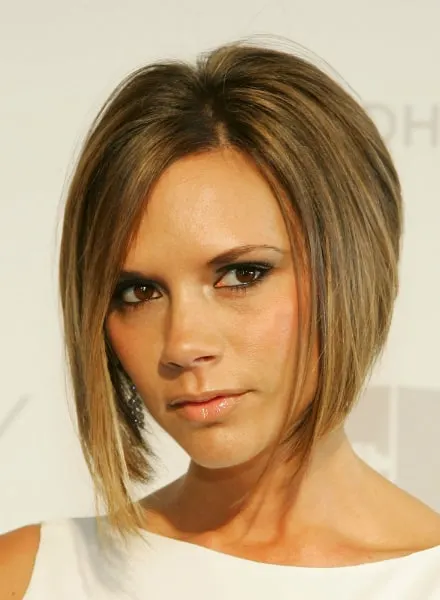 Victoria Beckham is the queen of the short A-line bob hairstyle. She made the A-line hairstyle famous during the mid 1990s and she has returned to it many times since.
13. Big Curls

Add some extra volume to your hairstyle by adding some big bold curls to your look. Heated rollers are a great way to create strong lasting curls on your bob.
14. Dusky Pink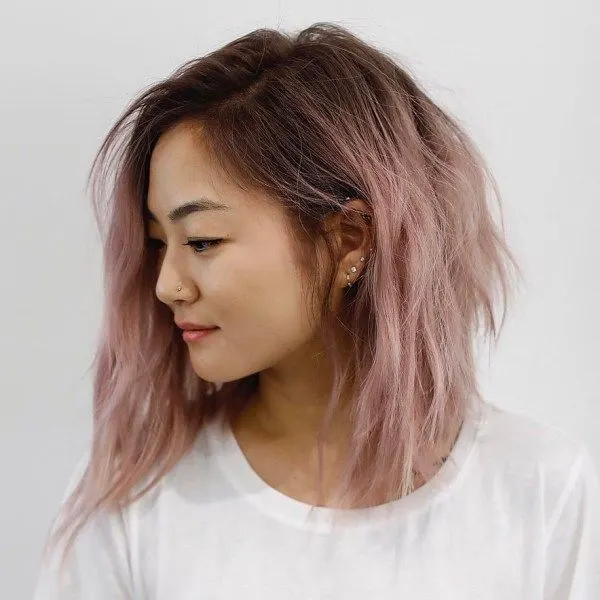 For a subtle yet colorful hairstyle, why not try out a dusky pink hairstyle? This light shade is complementary for women of all skin tones.
15. Intense Black with Feathered Fringe
An A-line bob on short hairstyle can look really dramatic and intense when it is a dark color. Enhance your look even further with a feathered dark fringe.
16. Black and Bronze
Black and bronze colors are very complementary, so highlights and lowlights in these colors look fantastic. It creates a regal and elegant look.
Magenta or violet look fantastic on black hair. This shade is a wonderful way to stand out from the crowd and turn some heads.
18. Shaggy Bob
Giving your hair a shaggy cut can help to create the illusion of volume. Tousle your hair in the morning with a little styling product to keep your hair looking great all day.
19. Curls on Lovely Long Hair
You can really make a big impression with A-line lob. Curls help to enhance your look even further, so be sure to set your look with a strong hairspray.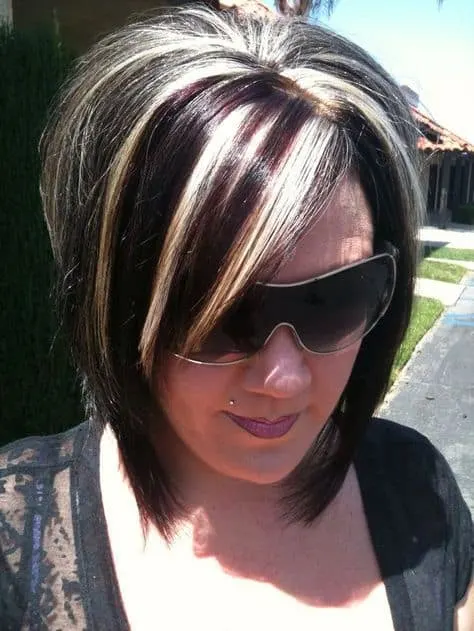 Chunky highlights look fantastic as part of short A-line bob hairstyle. Choosing contrasting colors for your highlights really helps them to stand out from one another.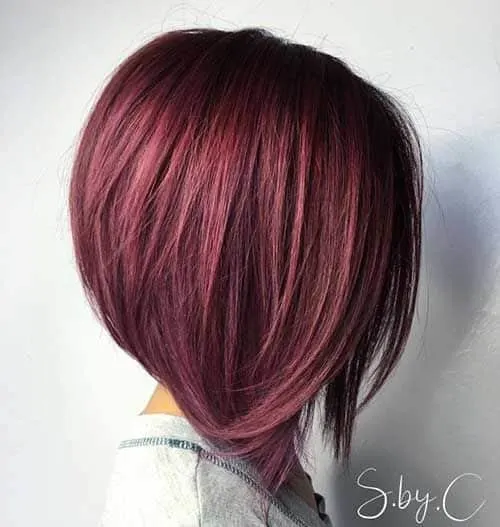 Red hair is amazingly bright and colorful, but it can also have a deep and rich side to it, like in this style. It is great if you want to turn some heads. Keep the look straight and sleek to improve your color intensity.
22. Straight and Sleek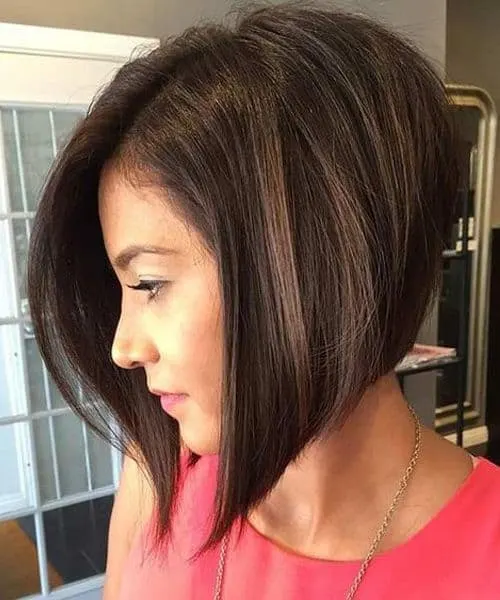 Sleek hair always looks healthy and shiny. Keep your hair sleek with styling products and anti-frizz products which will prevent flyaway ends.
23. Short at the Nape
One of the main benefits of a short A-line bob is that it will allow you to show off the nape of your neck.
24. Long A-Line
A long angled A-line bob on short hair is a really distinctive look which is much longer at the front than it is at the rear. It lets you wear your hair both short and long.
25. Fiery Orange
A fiery orange color is fun, flirty and feisty. Copper, ginger, and orange colored hairstyles can be further enhanced with complementary highlights and lowlights.
26. Pastel Roots
Rather than choosing a really intense color for your whole head, why not team pastel roots up with platinum or white blonde hair? This look is very effective for people with paler skin tones.
27. Black and Red Style
Black and red is a classic color combination that is very popular for both men and women. Keep your A-line short bob sleek and straight to show off this brilliant color combination.
28. Asymmetrical A-Line in Mystic Green
An asymmetrical short A-line bob is a funky and futuristic choice. The gray color is full of mystery and intrigue, whilst the pastel green coloring adds to the off-world allure.
29. Long A-line in Dusky Gray
Dusky gray is an exciting color for women who want a refined yet unusual look. If you do not want to have completely gray hair, dusky highlights look cool too.
30. Angular A-Line Bob
An angular bob is a great style for women who want to look strong and sharp. It is a good look for people who want to find a fashionably business haircut.
Short A-line bobs are the best style for women with mid-length hair who want something that is a little bit different. These styles are great because they are so versatile.