If you come to think about it, it's in your 30s when you are truly young because you've established your values, lifestyle, and career, and you still feel energetic and zealous about things.
The haircut you had in your 20s may not cut it anymore, you must pick a hairstyle that fits your personality. That's why we've handpicked 25 hairstyles for men in their 30s.
While some of these hairstyles are a bit subdued and go with your personality, others can be quite bold and actually "give" you a new personality. Let's take a look.
Stylish Hairstyles for Men in Their 30s
If you are a man in your 30s that doesn't mean you'll have to give up on your hairstyle. Do you have some gray hair? Own it confidently!
A cool haircut can make all the difference for men in their 30s. So get a fresh haircut, and you'll feel confident and younger than ever. Getting a fresh look can not only boost your confidence but also have you stepping into this exciting chapter of life with flair.
Let's take a look at some trendy haircuts and styles for men in their 30s.
1. Spikes and Low Fade with Wayfarer Glasses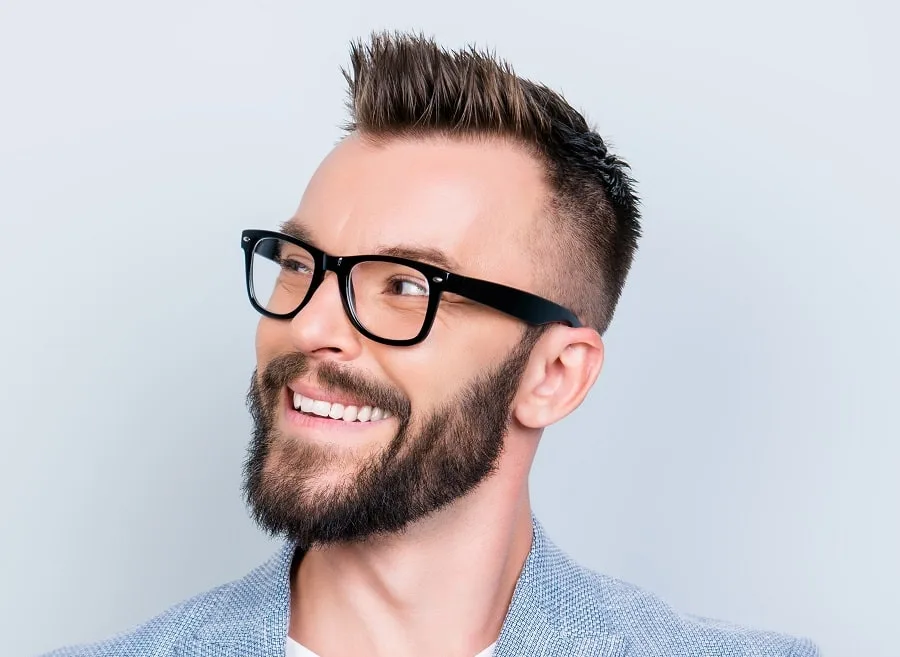 Believe it or not, spikes remain a popular and ideal choice of hairstyle for men in their 30s mainly because they look good with the window's peak.
The front is spiky whereas the sides are mildly faded to make it look like an executive hairstyle. The wayfarer glasses seal it as a look that's suited to those working in traditional job roles.
2. Soft Parted Wavy Hair for Receding Hairline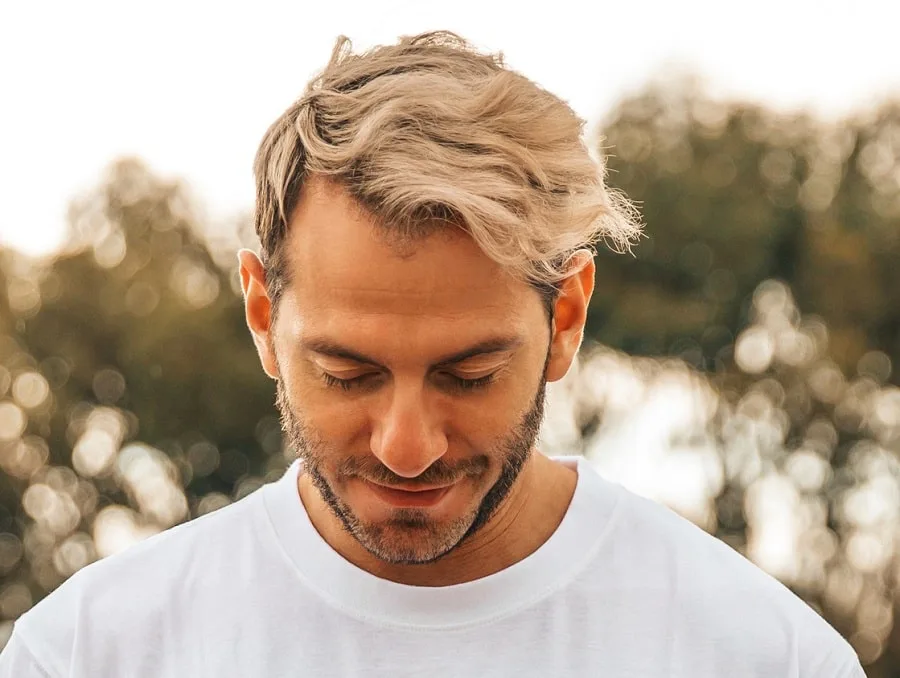 Here is another hairstyle that can work for a man over 30 if he has started to lose hair. A hard part can worsen the look of a receding hairline, so you'll go with a soft part.
You'll comb the hair to one side so the hairline on one side gets covered. It works well when you have long and wavy hair because those elements become a part of the style.
3. Low Ponytail with Short Beard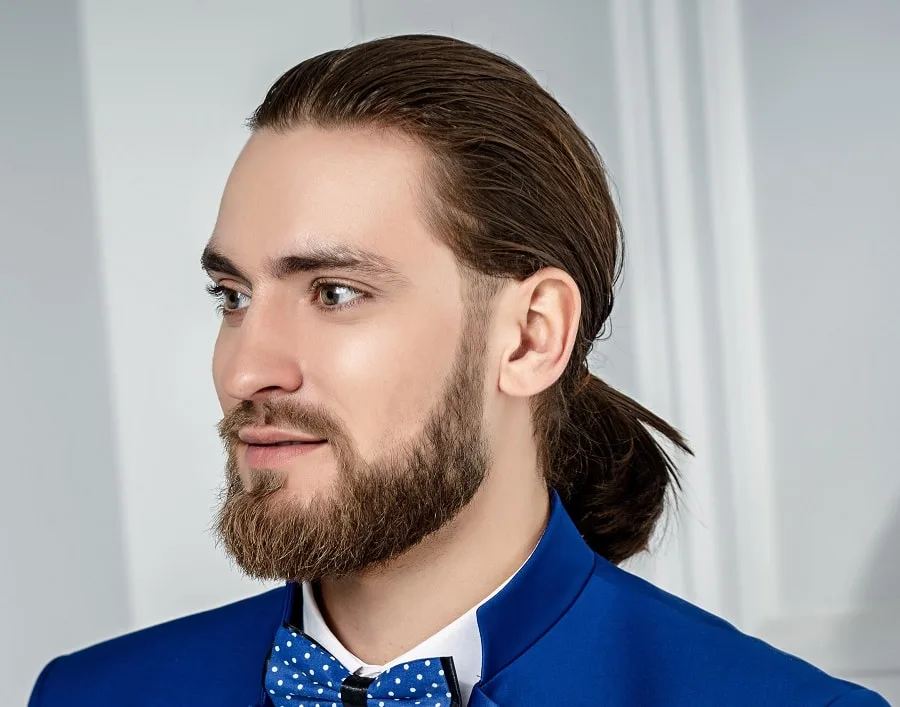 Call it a modern businessman look because of the long hair, which is long enough to be in a ponytail in the back. The position of the ponytail is quite low on the nape, probably to keep it inconspicuous.
Of course, how can you go wrong with a short beard in modern times? Keep the beard short, and well-trimmed, and go for a clean cheek line and neckline for a cleaner look.
4. Pompadour with Faded Temples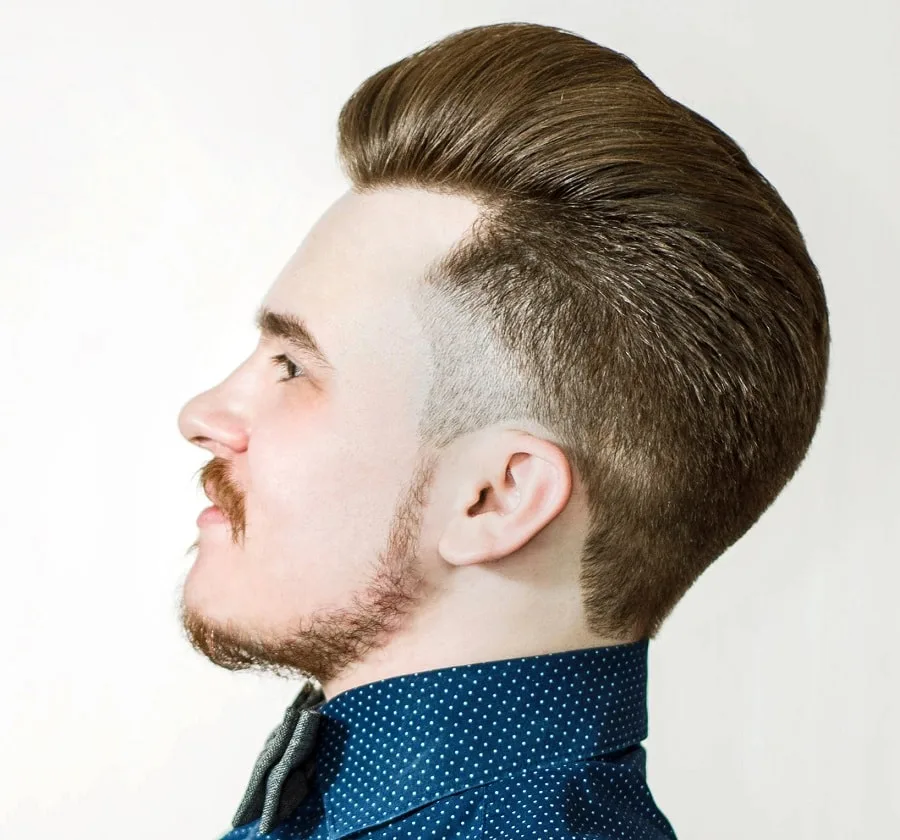 It's one of the most popular professional hairstyles for men in their 30s and even 20s. Though the style is old, you can make it trendy with other elements, such as fading and tapering.
The pompadour is quite beautiful here—almost like several minutes were spent to get it to look like this. The faded temples are a unique yet welcome touch because they help the pomp shine more.
5. Casual Crew Cut with Grey Sides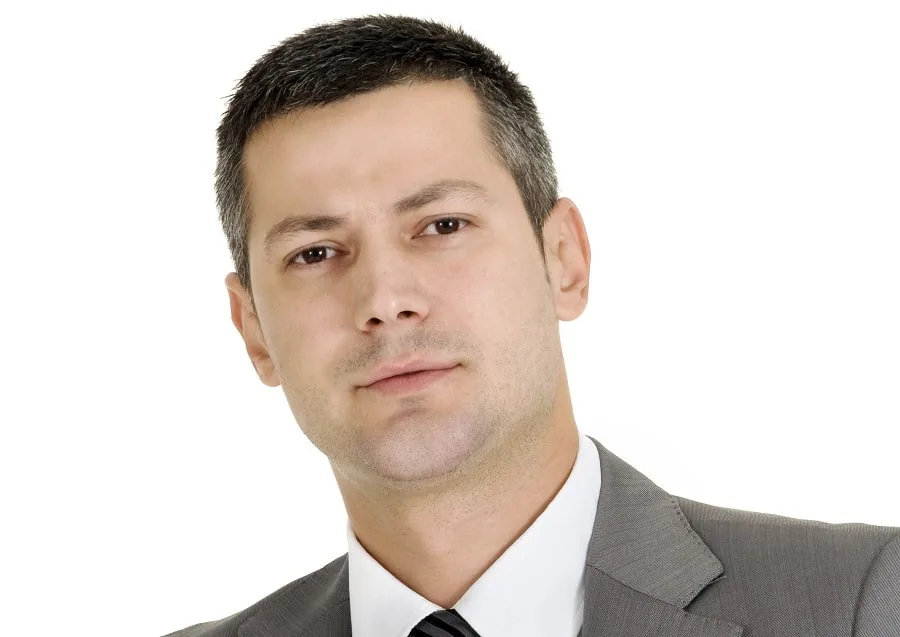 Do you notice a lot of grey on the sides of your head when you cut your hair short? Well, you can turn them into a style with a crew cut like this.
Interestingly, the sides aren't tapered at all. They are quite aligned with the length of the hair on top. Short hair with salt and pepper is definitely a go-to style for a businessman look.
6. Long Curly Curtains with Soft Part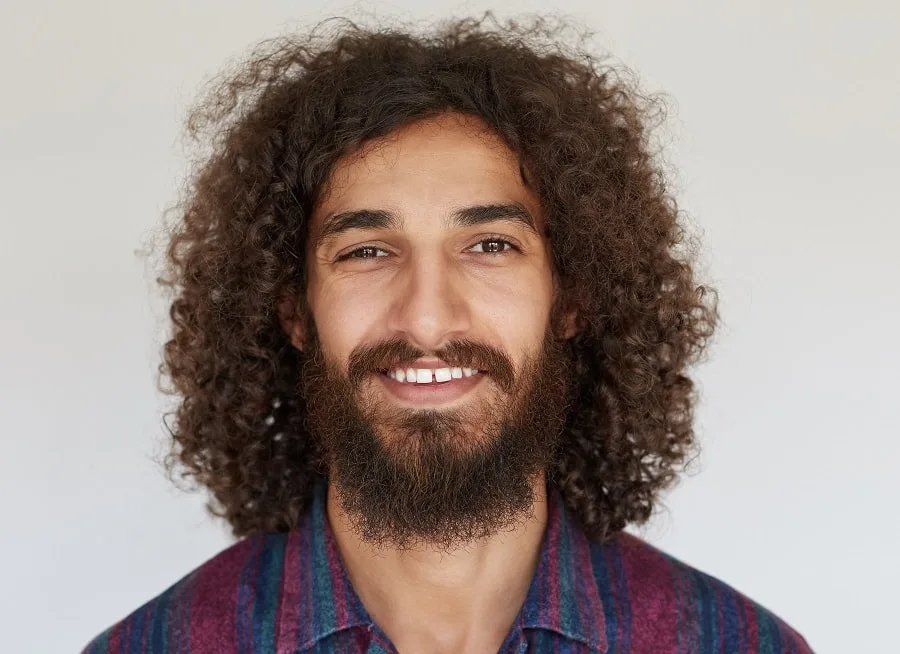 One of our favorite classy long hairstyles for curly-haired men in their 30s. The long curly hair covers both sides of the face.
Seemingly, the thickness of the hair makes it difficult to part them so a soft part can do the job. Grow a full curly beard if you want to aim for a completely untamed look.
7. Bowled Buzz Cut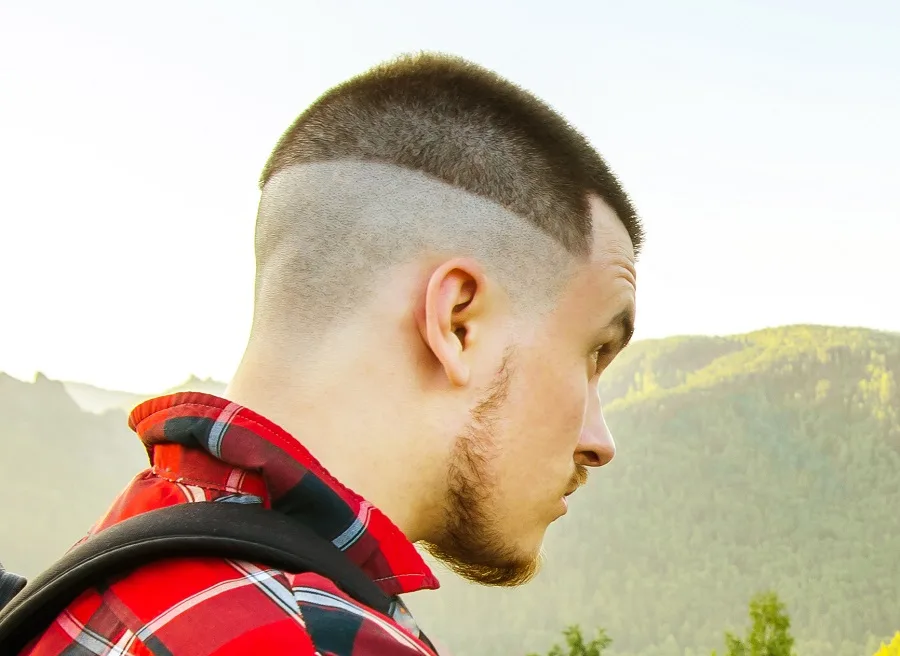 You wouldn't imagine combining these two styles, but that's exactly what you see here. As you can tell from the length of the hair, it's a proper buzz cut with the length of the hair only a few mm.
At the same time, you can see that the sides and the back are completely shaved. It seems someone put a bowl on their buzz cut and shaved the rest of it.
8. Braided Afro Hair with Embellishments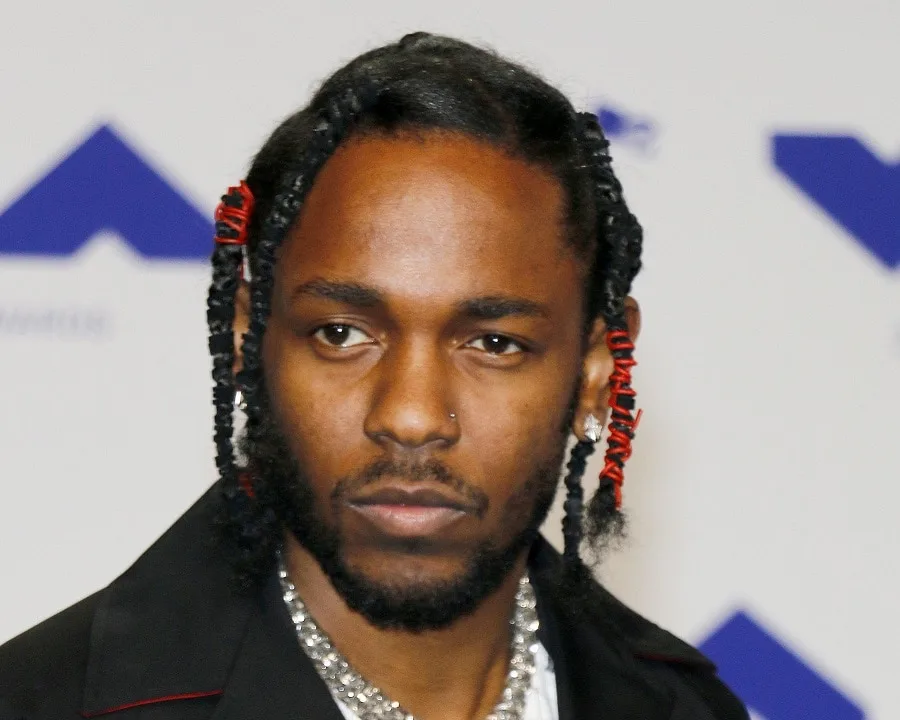 When you have afro hair, you need to find unique ways to keep it all collected. A great way to do that is to tie them into several braids for a finer look.
However, it wouldn't look so cool and exciting if you just braided them. So, how about you use fancy ribbons and strings to tie them and make it look like a proper celebrity-inspired style?
9. Asian Style Loose Man Bun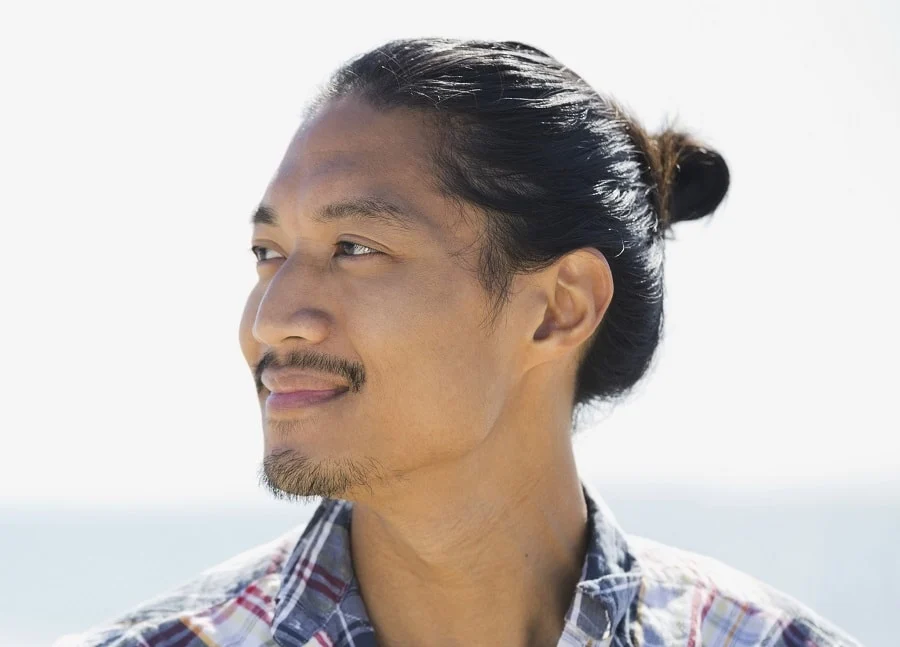 You have to look closely to realize that there are subtle details to this man bun. If you want this hairstyle and you're in your 30s, you'll first have to get your hair to be silky smooth like this.
You can then tie them into a bun and keep the position of the bun just below the crown. The more important detail is the puffy part under the bun due to it being loosely tied.
10. Blonde Undercut with Textured Hair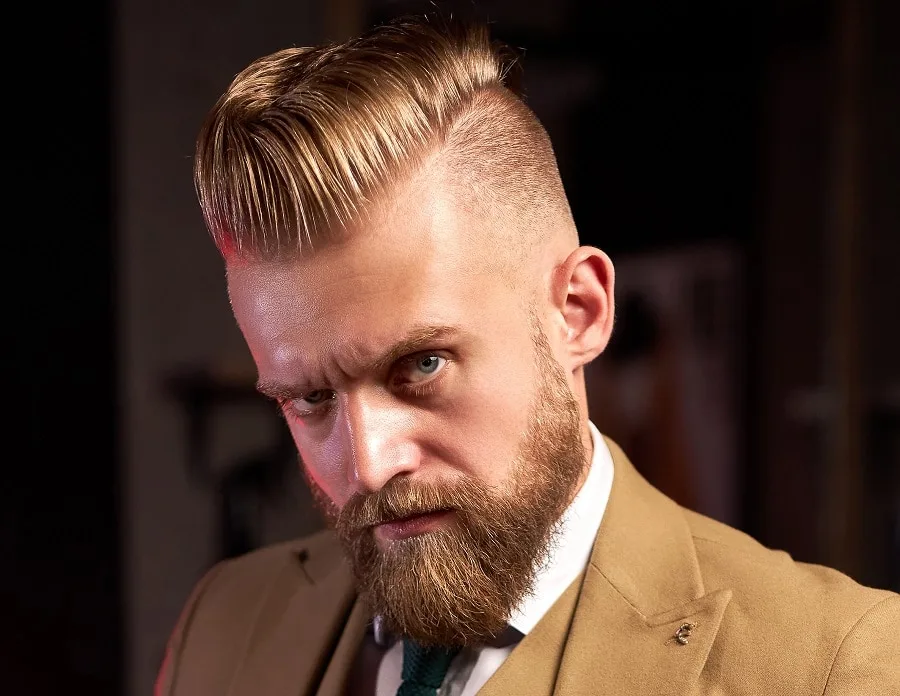 An undercut is visible from many meters away, and you can see this one from a mile away due to having very high faded sides.
The hair in the middle isn't too long but it's all brushed upwards to make them stand straight. With a use of gel and a special brush, you can also make your hair look textured like this.
11. Faded Ivy League Cut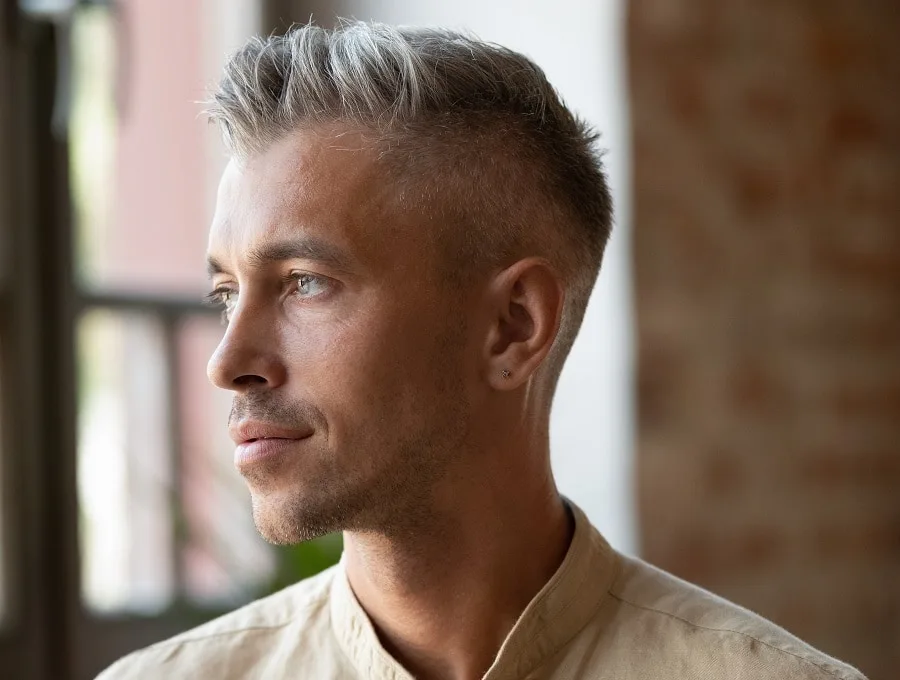 The high fade on the sides is quite obvious, but what's interesting is the front part of the hair. When it's curved and swept to the side like this, you know it's the famous Ivy League cut.
No doubt the grey hair makes the style look very cool, and that's exactly what makes it a great hairstyle for men in their 30s.
12. Long Wavy Curtains with Layers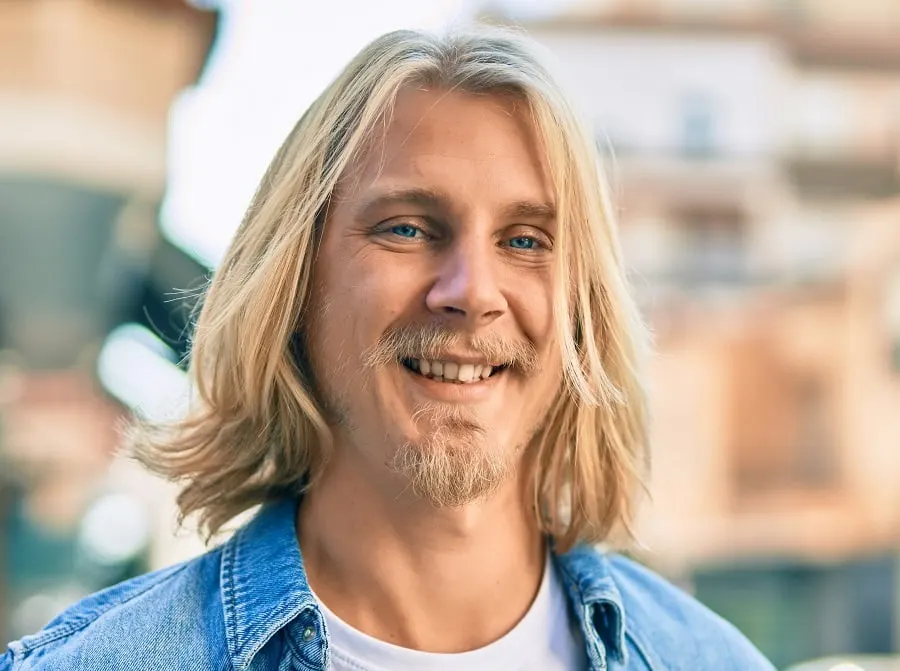 Show the world your love for your blonde hair with this style. The hair is long and it gets support from the fact that it is mostly straight but then wavy after a few inches.
The wavy quality of the hair makes this style very attractive. You can also see some layering happening on the sides, which is a detail that adds depth to the overall look.
13. Short Afro with Tribal Patterns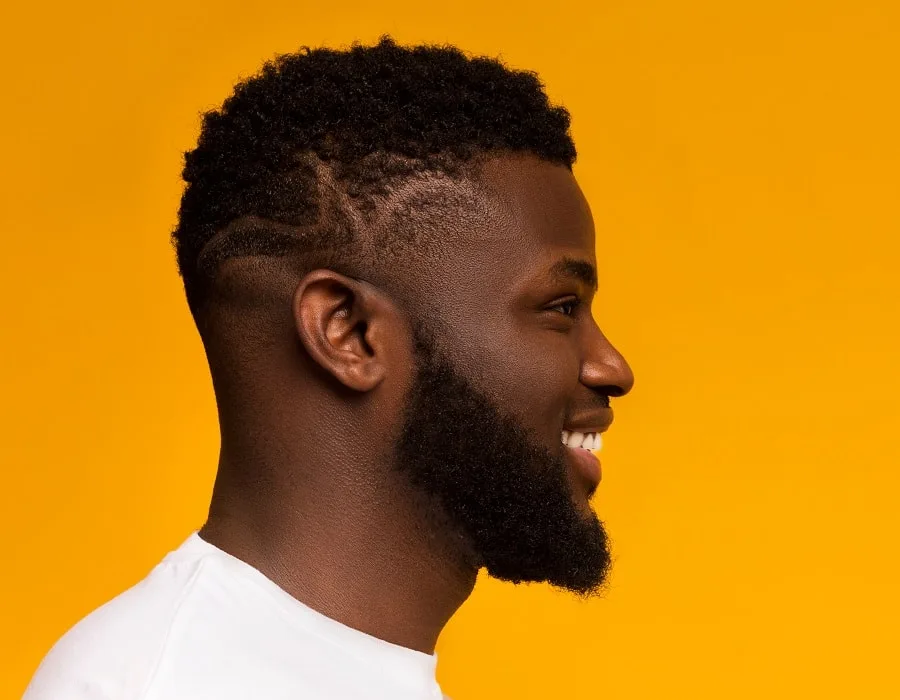 There is something about short afro hair that no other hair type can match. It looks beautiful and makes up for a decent hairstyle that can work in any profession or industry.
Now, if the hair looks too boring and conforming to you, a great way to bring some panache would be to get those tribal patterns on the sides. Now you will stand out for sure.
14. Princeton Clip with Pink Dye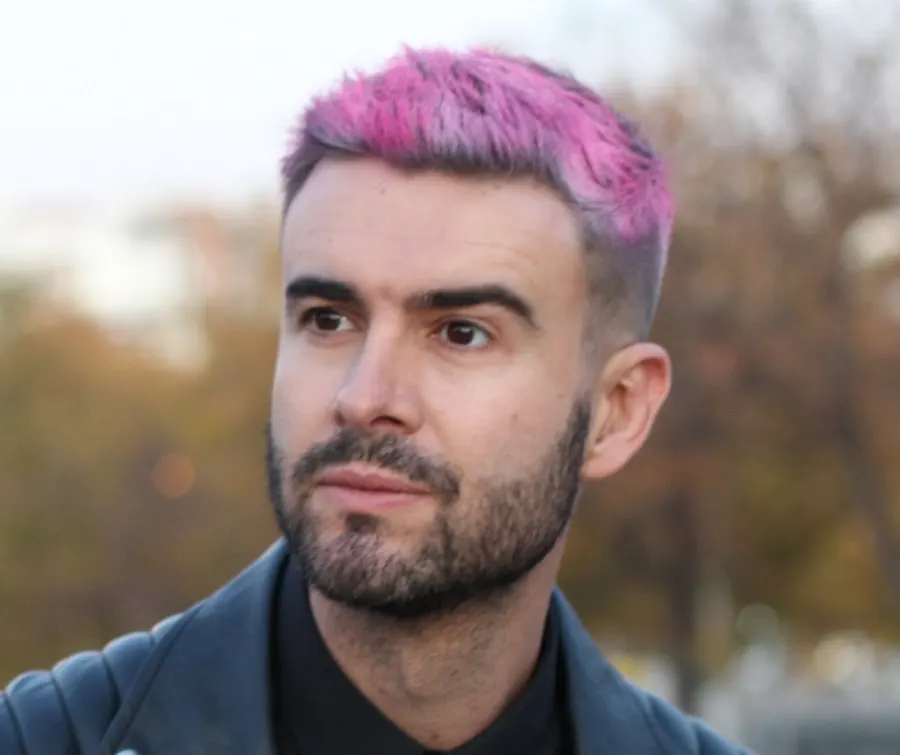 If you're looking for a colorful hairstyle for men over 30, try this bold hairstyle. If you look at the hairstyle, it's quite business-y or what you would otherwise call professional.
However, you can make your Princeton Clip stand out by dyeing it your favorite color. In this case, it's the pink color that's doing its magic.
15. Messy Soft-parted Fringes with Pantos Glasses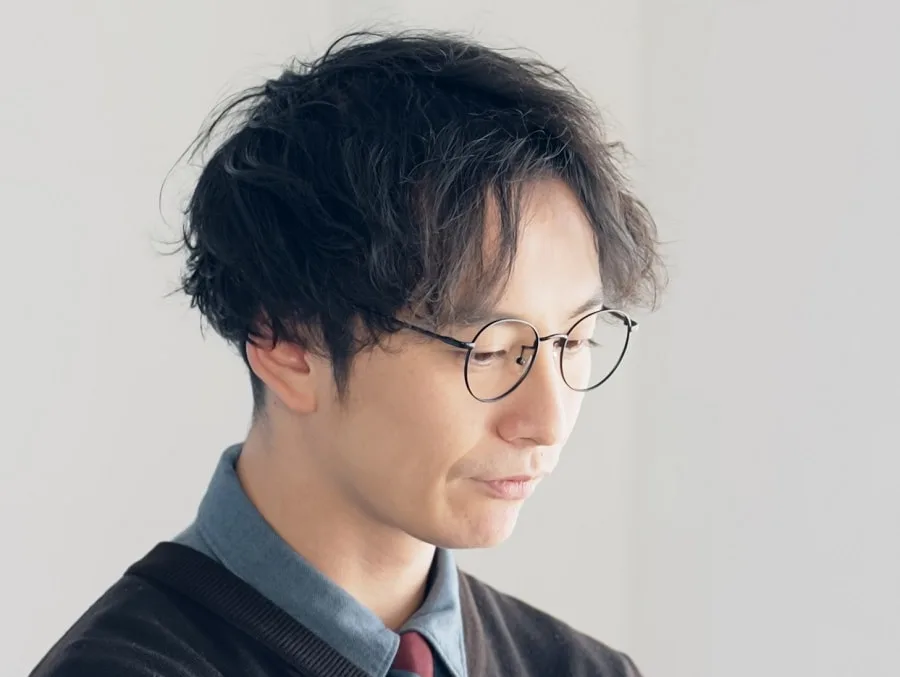 When you have slightly rough hair, it makes sense to go with something that doesn't require too much maintenance. The rough hair is finger-combed from back to the front.
The fringes are rough and wavy, and fall on both sides of the face because of the soft part in the middle. A clever way to create a point of interest on the face is to go with Pantos glasses that contrast with your skin complexion.
16. Disconnected Undercut with Top Knot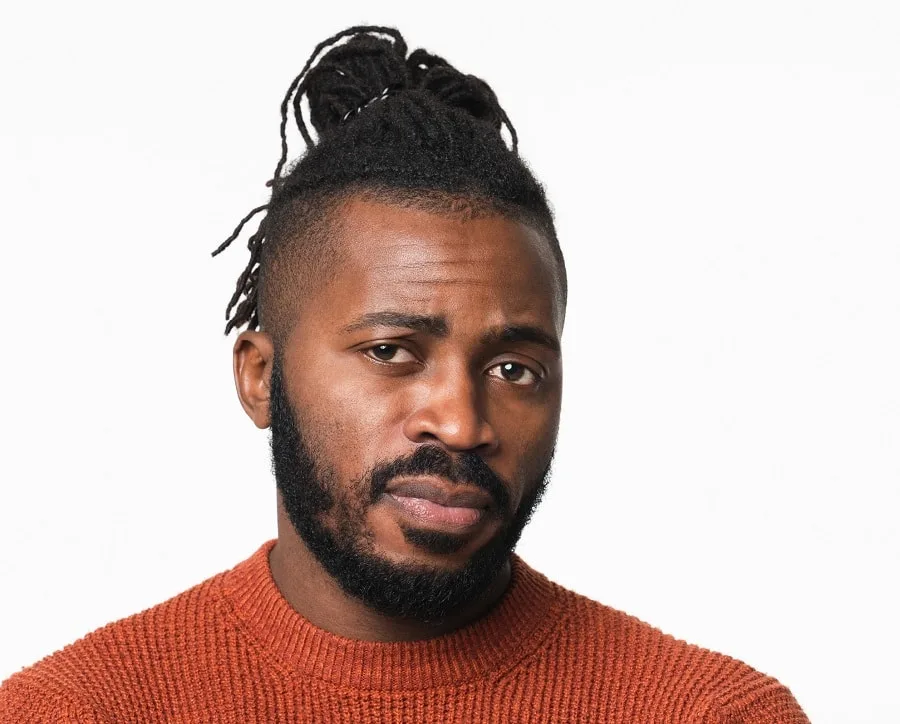 You have a good example of a disconnected undercut here with sides being quite short and the top being quite long. This style is quite suitable for black men in their 30s who want to look trendy despite their long hair.
The top knot is a perfect way to keep your dreads under control and look neat enough to join an executive position in any office.
17. Red Bangs with Short-boxed Beard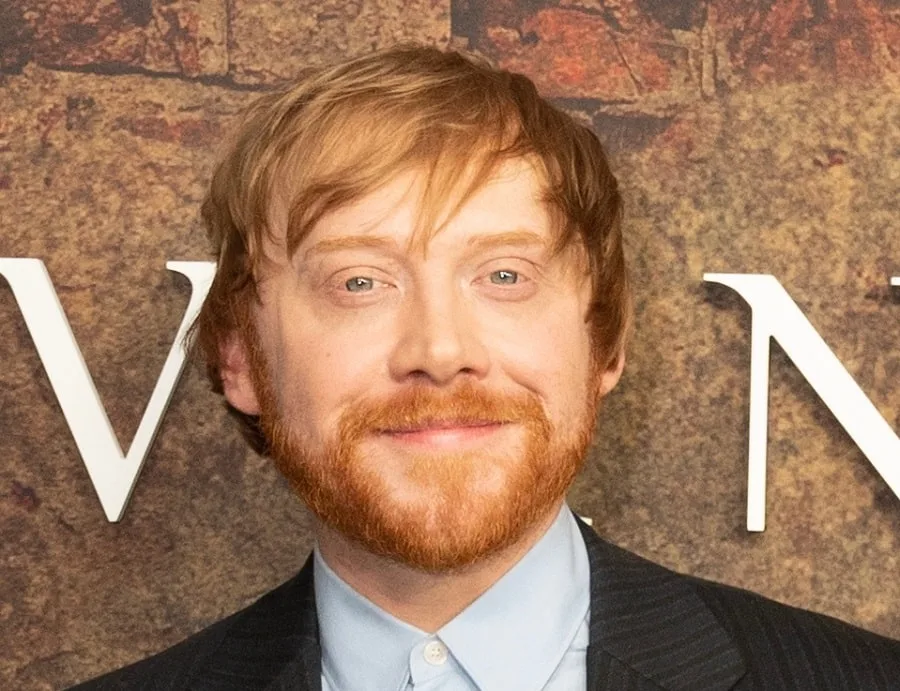 When you have red hair, you have to find reasons to show it to the world. The haircut is quite funky hair with bangs spread all over your head and covering the forehead too.
You don't have to be shy to show the same red hair on your face. A short-boxed beard that's completely red shows the rare quality of your hair and also suits anyone in the C-suite position.
18. Long Dreadlocks with Knotted Ponytail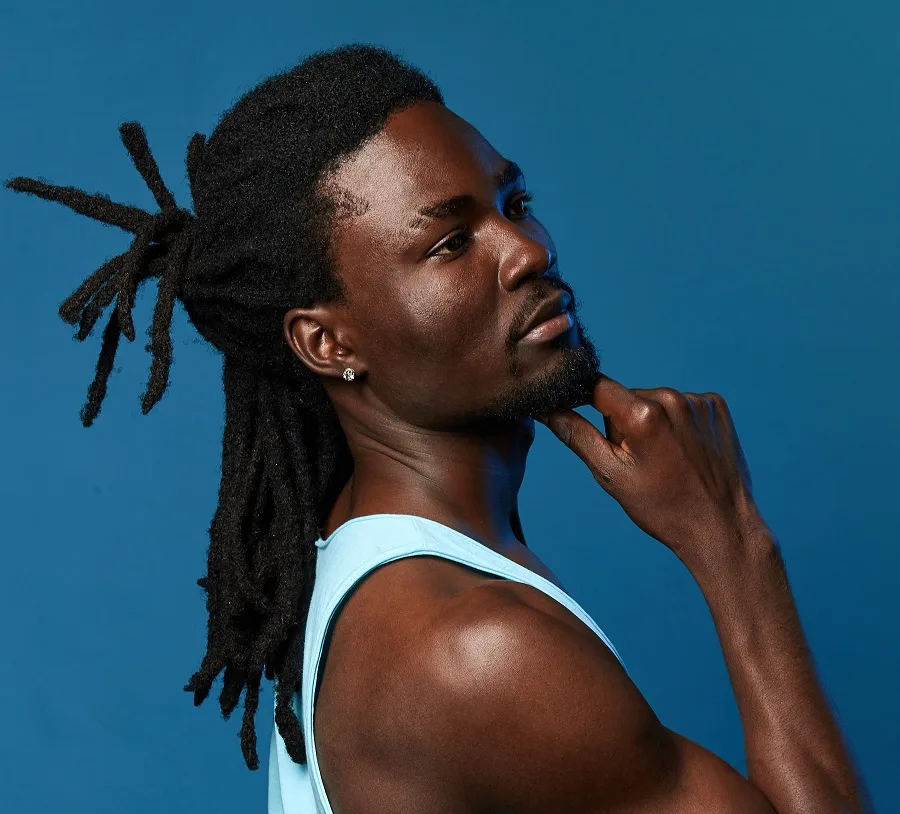 One way to keep your dreadlocks looking neat is to put them all behind your head. If they are long, you can easily keep them in the back and they will not be noticeable so easily.
However, if you want "some" attention to your hairstyle, you can do it with a knotted ponytail. The knot can be fancy or simple, but it must be visible even if someone's looking at you from the front.
19. Greasy Spikes with Texture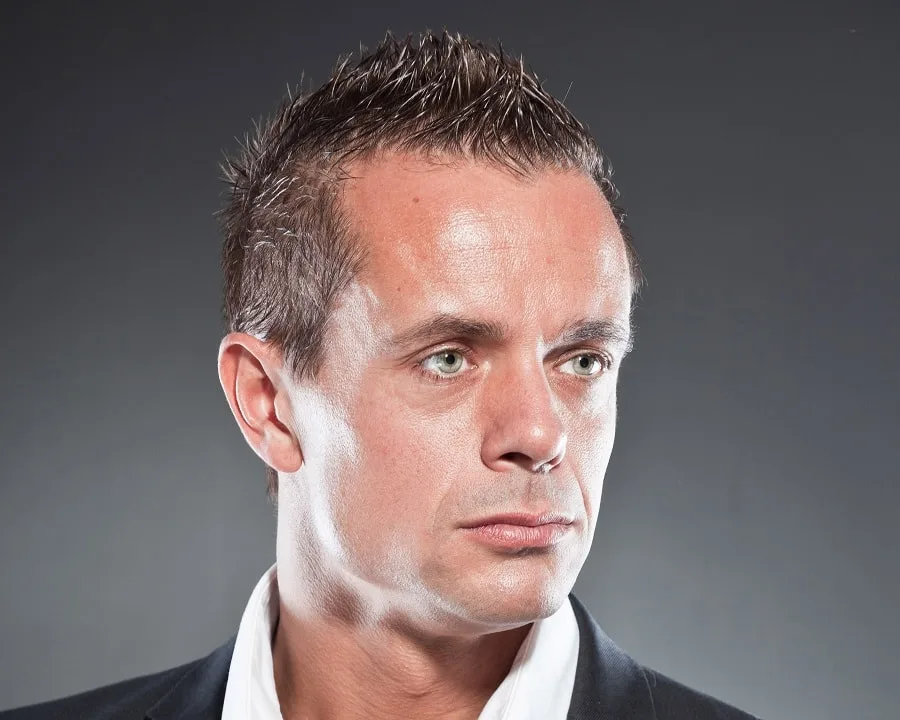 There are multiple things for you to notice in this hairstyle for men in their 30s. Firstly, the use of a lot of gel is making the hair look greasy, but that's what's keeping them looking like spikes too.
At the same time, there is some texturing happening, which is quite evident in the hair on top of the head.
20. Brushed Back Hair with Purple Dye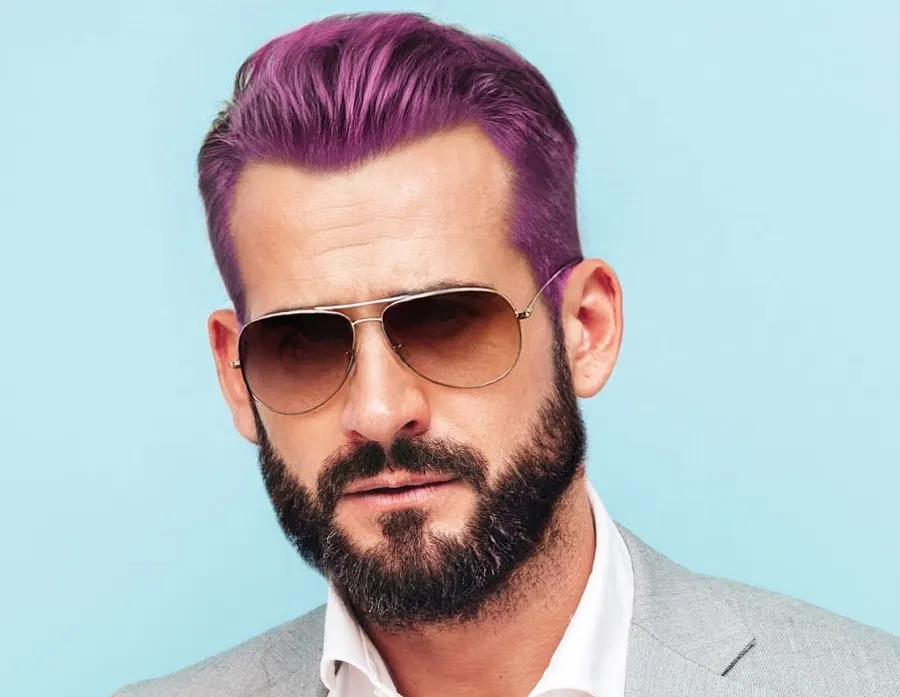 You think the traditional beard and hair are making you look too serious and bland? If that's the case, you can solve that problem with a small move i.e. dyeing your hair purple.
The brushed back style suits many types of faces but works wonders on a rectangular face. If you combine it with a short-boxed beard and don a pair of aviator glasses, you'll look like a celebrity.
21. Long Dyed Braids with Short Sides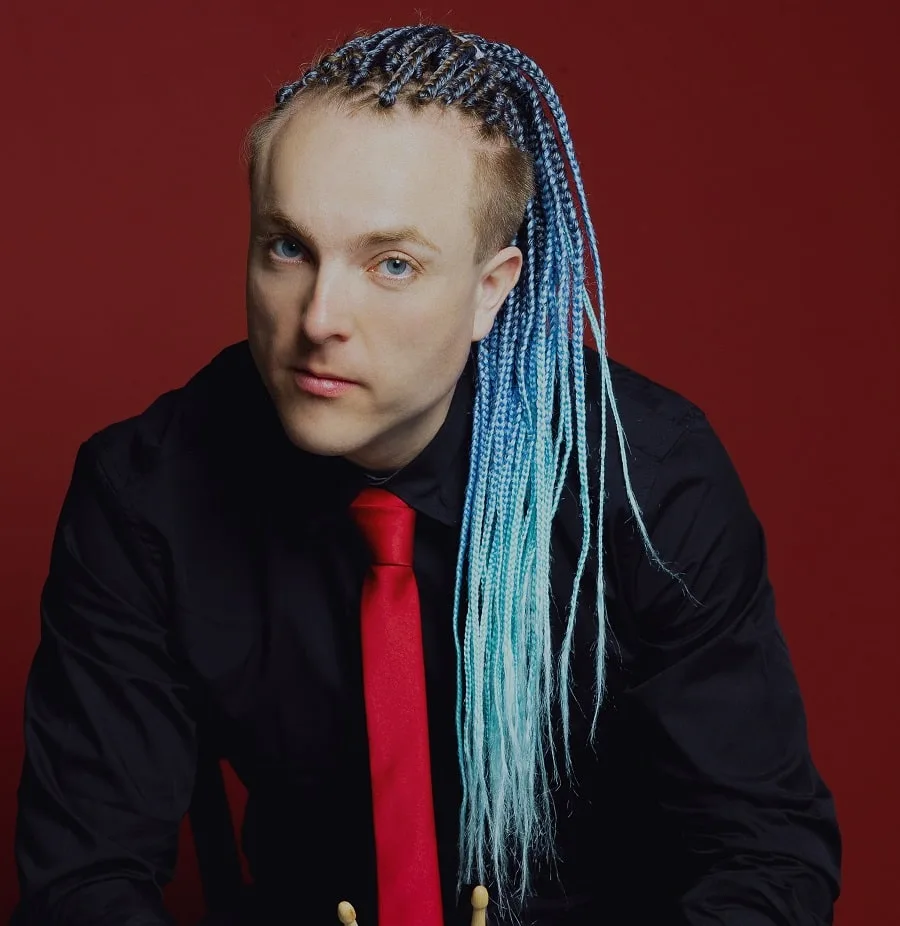 Do you like braids? Are you an admirer of many colors? If yes, this is the style you should be going for because it has lots of braids and lots of color.
The braids are long, but if you notice, the sides have been kept short. It's a great contrast since the sides are in natural color whereas the braided hair is dyed blue.
22. Military Haircut with Five o'clock Shadow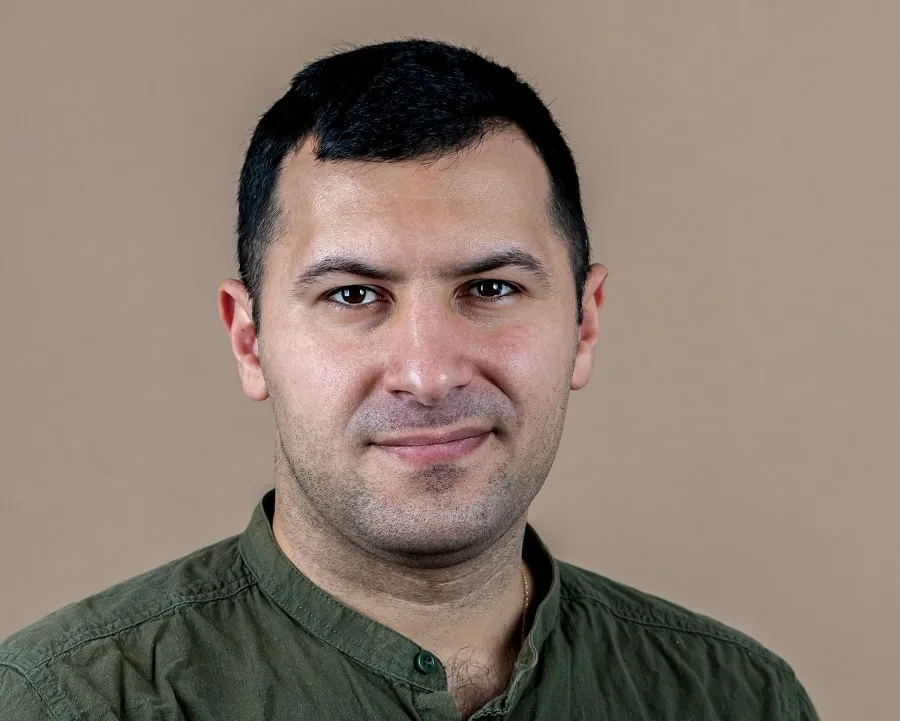 You could call it one of the most appropriate hairstyles for black, white or just about any race of men in their 30s. The hair is short, which might look like you've been in the military.
At the same time, the 5 o'clock shadow on the face is not only a great way to aim for the rough outlook, but also a look many men prefer.
23. Frosted Quiff with Tapered Sides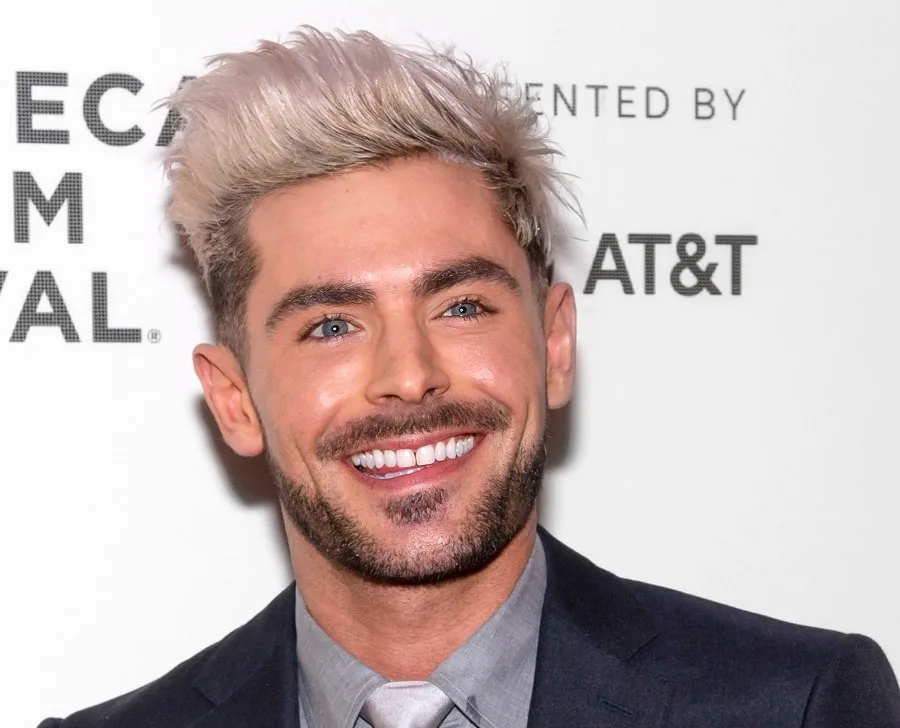 A quiff stands tall on your head and makes you known from far away. To make it more prominent, you can always get the sides of your head tapered or even faded.
However, if you really want your quiff hairstyle to shine in the biggest of crowds, you might want to consider getting them frosted. A contrasting beard will make this look more than complete.
24. Comb Over Hair with Short Sides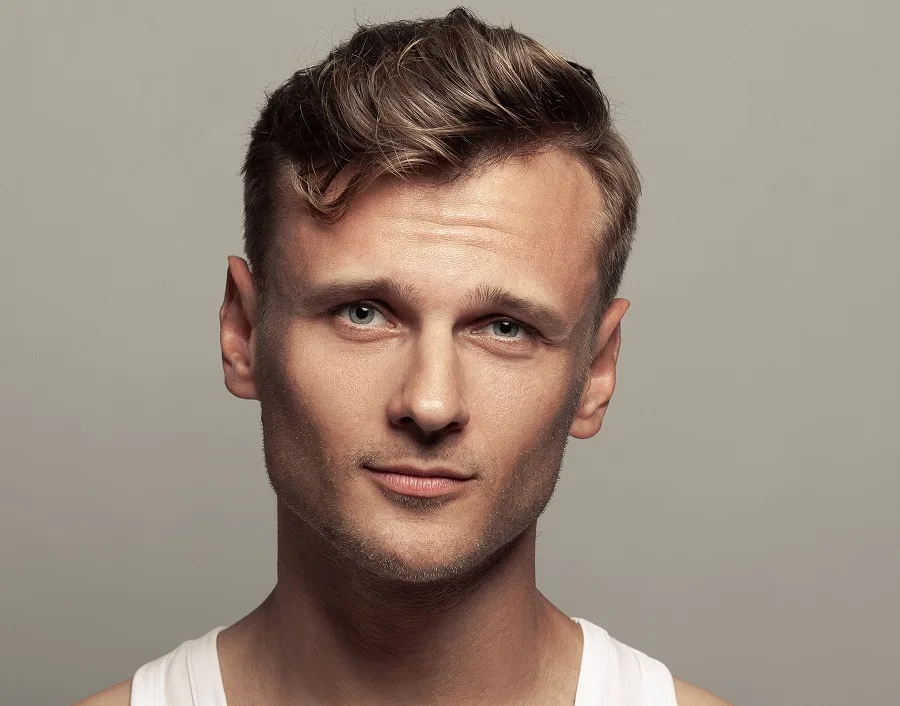 If you have a square face, no one should be able to convince you not to go for this perfect haircut for men above 30. It involves combing your hair to the side, which is often a choice that men with receding hairlines make.
The tapered sides bring the shape of your face in light whereas the combed over hair turns your receding hairline into a hairstyle.
25. Hard Part with Petit Quiff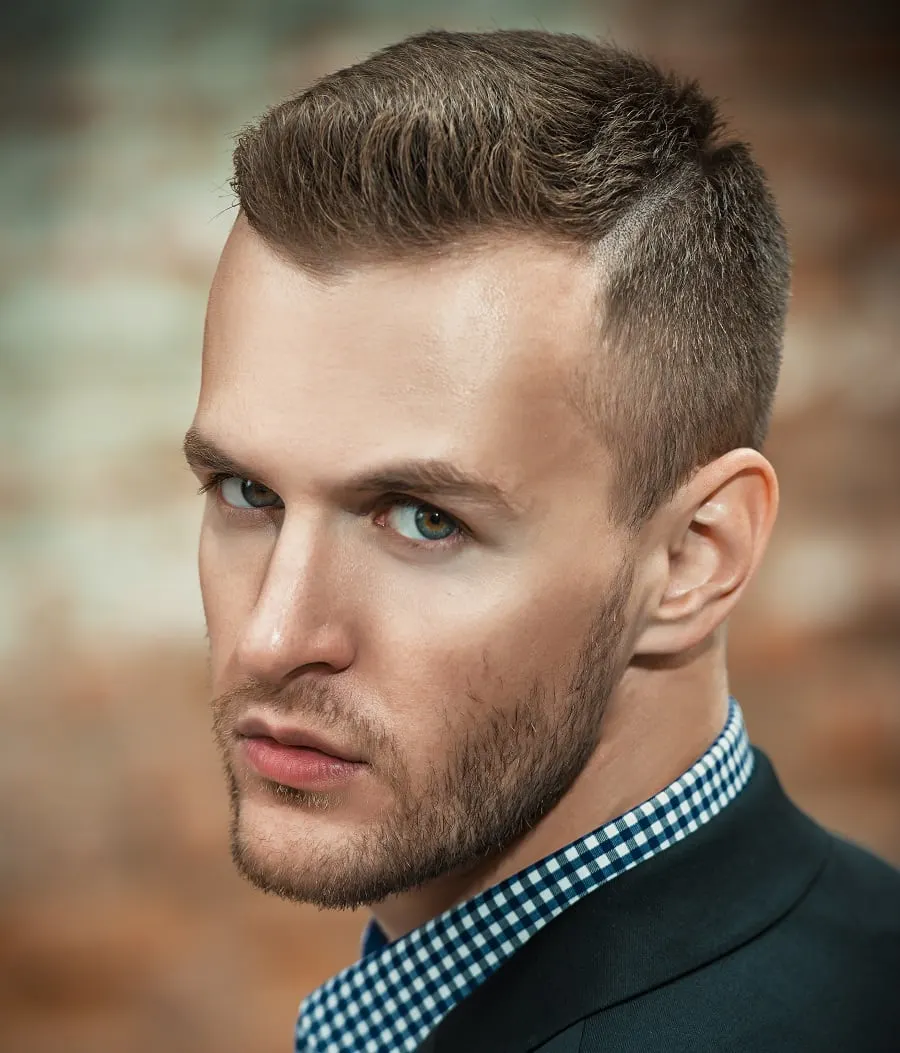 A short quiff will suit you whether you are a businessman or the CEO of your company because it's subtle and looks clean. However, it may make you look too traditional, which isn't always a choice for every man.
To modernize the traditional style, you can go with a hard part. Even the hard part won't stick out too much if you have fading or tapering on the sides of your head.
You can't say that there are only a limited number of hairstyles for men in their 30s that they can try. We've shown you with this list that you can try just about anything. However, it makes sense you pick a style that doesn't become a hindrance in your professional career.