If you're a fan of coloring your hair but you've never tried silver and purple hair, you're missing out! This duo of edgy colors combines for a smoky and somewhat metallic result.
It's definitely a statement color on any length and texture of hair, no matter how much or how little you add the combination.
From dark to light purple, when mixed with silver, it's a truly fashionable and unique look every woman should try at least once.
New Styling Ideas With Silver Purple Hair Color
These 10 gorgeous silver and purple hairstyles will have you changing your favorite color and looking more stylish than ever.
1. Short Silver Purple Hair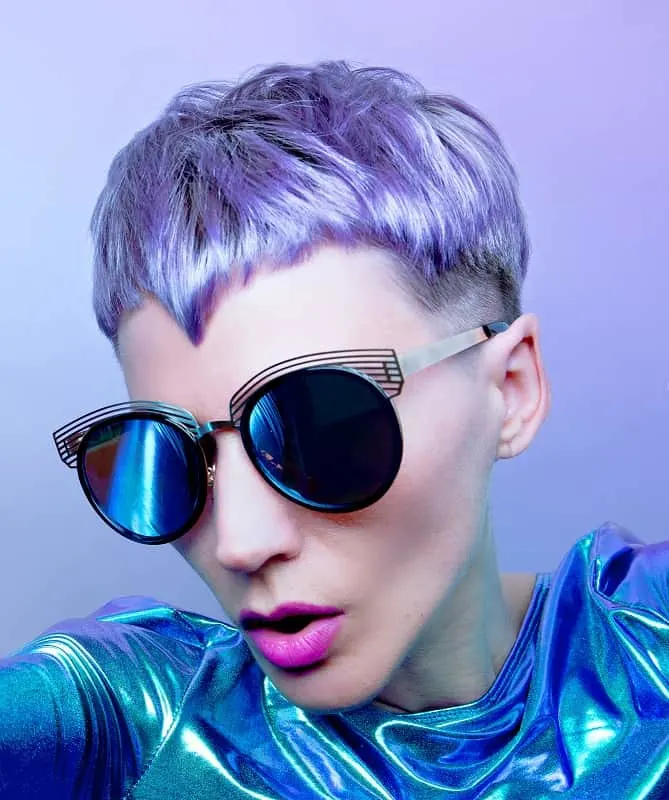 Prefer a short haircut with unique colorful flare? A pointed pixie blends silver and purple on this choppy do. The fade and an undercut make this a great low-maintenance choice for women on the go.
2. Silver Purple and Pink Hair
If you're feeling bold, try a gorgeous color combination of silver, purple and pink! The bubblegum pink up top is very feminine and stuns on hair filled with large waves.
3. Silver Pastel Purple Hair
A few streaks of baby blue at the front of the face make for the perfect color choice on a short straight bob with a center part.
4. Silver Purple Ombre Hair
Dark silver and purple melts into light purple on a side-parted short haircut for women with thin hair. Layering helps the colors stand out even more while also adding shape.
5. Silver Purple Hair on Black Woman
Silver isn't just for when you're aging and this Black woman proves it! She wears silver and purple hair color beautifully on her long wavy hair parted in the center.
6. Light Purple Silver Hair
When you still need to maintain a professional hairstyle at work, this soft and flattering shade of silver & purple is a great choice. Add it to long or short hair and give some lift to your look with an off-center part.
7. Mermaid Silver Purple Hair
Mermaid hair is one look that will always be in. Copy a mermaid's love of color by choosing dark silver purple hair color to grace the top of your hair while the bottom fades into light.
8. Curly Silver Purple Hair
For women with naturally curly black hair, rock this stunning hair color while growing your locks out. This short style will show off curls perfectly.
9. Midnight Silver Purple Hair
A dark grape shade graces the roots on a medium-length hairdo. The bottom is where silver and purple hair color comes in, showing off soft waves.
10. Silver Purple Updo
For those days when you're heading out and need to look a little nicer than usual, pull your hair up into a soft updo secured with a unique clip. Fill the rest of the hair with soft waves.
We're quite sure you've fallen in love with at least one of the above silver and purple hairstyles. Your next step is to decide which one you love the most! You can help your hair look shiny and vibrant with regular use of conditioner for color-treated hair. Which one will you choose?