You have short thin hair, and you're looking for ideas to style it? This is the ideal post for you, then. Throughout this post, you're going to learn more about styling your hair, and we're going to give you 21 ideas for short hairstyles for thin hair. Scroll down to see them all.
How to Choose Suitable Haircuts for Fine & Thin Hair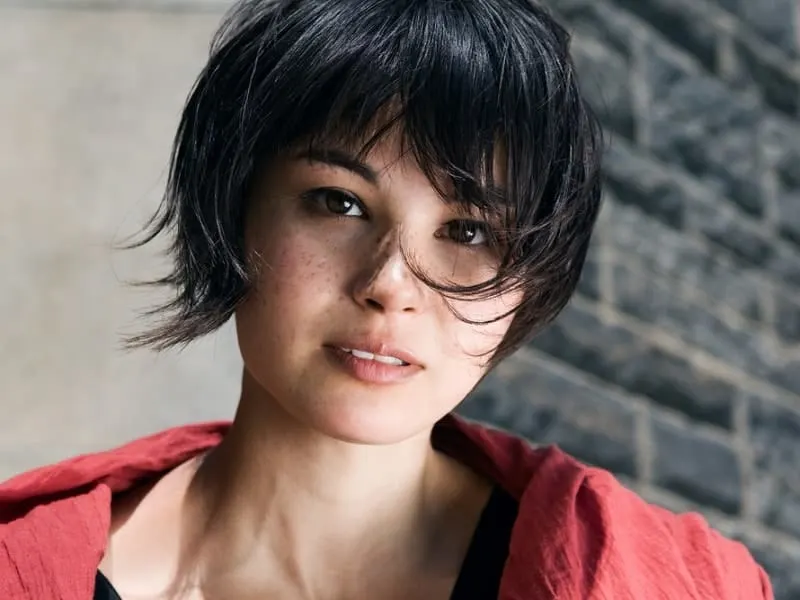 Women and girls with fine and thin hair often feel bad because they tend to think there aren't many haircut options out there. You want more volume but aren't quite sure how to achieve it. The good news is that there are plenty of short haircuts for thin hair options you can choose.
Probably the most practical women's haircut for thin hair is the shoulder-length blunt cut. Short and medium-length hairstyles are more practical for your thin hair because longer hair weighs down any look. Blunt and short cuts make your hair appear thicker.
If you still want to rock longer hair, then the deep side is the answer. When more hair is on one side, it creates the illusion of a bigger volume. Of course, when we're discussing short fine hairstyles, it's impossible to avoid pixie cuts. This classic hairstyle makes your hair appear thicker.
Let's see some of the most suitable haircuts for your hair texture:
How to Style Short Thin & Fine Hair
When it comes to styling short haircuts for women with thin hair, there are some things you need to bear in mind. First, make sure you do not overbrush your hair. Why? The reason is simple: too much brushwork can make your hair appear limper.
When you're blow-drying your hair, try to use hands and fingers as much as possible. Additionally, it's useful to get quality products that are specifically created to add texture, grit, hold, and thickness.
Many women with thin hair think hair conditioner is their enemy, but the reality is that it can be incredibly beneficial. Conditioner replenishes and restores hair strands, thus preventing breakage. Avoid washing your hair every day, but try to do it twice or three times a week.
Suitable Bob Hairstyles for Women with Fine Hair
How to Make Thin Hair Look Thicker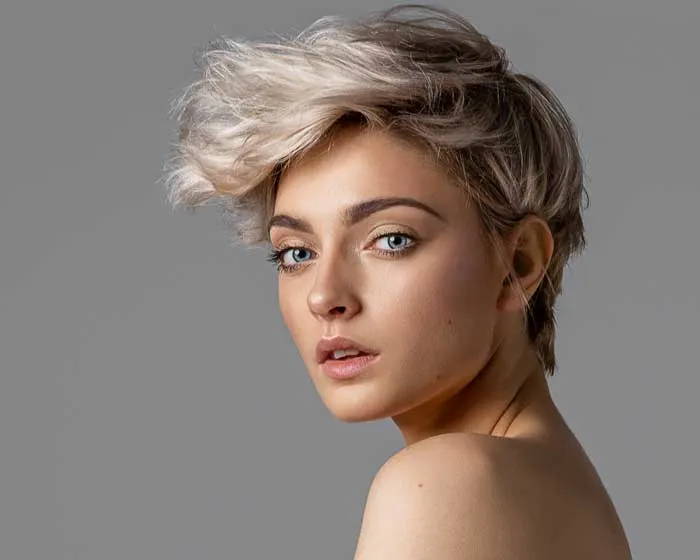 Want your hair to appear fuller and thicker? Then make sure you follow the tips listed below:
Use an egg-sized amount of mousse and apply it roots to ends
Use your fingers first instead of brush or comb when you're blow-drying your hair
Switch your part for instant lift e.g., if you tend to go for the middle part hairstyle, try switching to a side part
Condition your hair before shampooing to give it more texture
Tease hair in small sections and spray it with hairspray
Twist your hair in small sections and pin it up while sleeping
After styling hair, flip your head upside down and blow-dry it once again
Fill in part or areas where hair appears to be thinner with a matching eye shadow
If you don't have enough time to blow dry your hair let it air dry and apply dry volume spray then
While the texture is good as it gives your hair thickness and volume, avoid over texturizing your hair
Latest Short Hairstyles for Thin Hair
Ready to see some of the best short haircuts for thin hair? Scroll down to see all of them, and you're bound to get inspired.
1. Gentle Waves to The Side
It's not that difficult to find perfect short platinum blonde hairstyles for women with thin hair. The pixie cut is always a good idea as it makes your hair visibly thicker. One way to style your new look is to brush most of your hair to one side, and you can also opt for undercut, shaved sides, pattern, whatever you like. Make gentle waves to make your hair bouncy.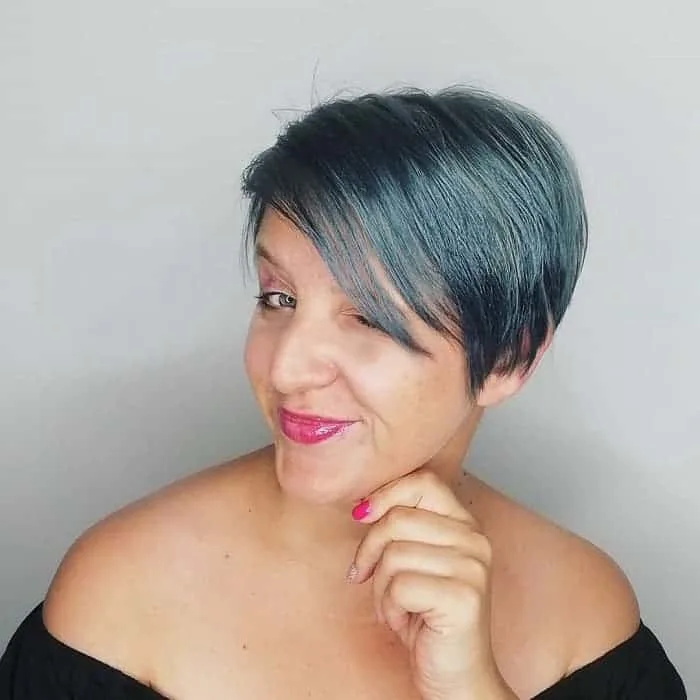 Bangs can add more fullness to thin hair, and the best thing about them is that there are tons of styling choices. For instance, you can keep your hair straight and sleek, get longer bangs, and sweep them to one side.
The diagonal bangs will also frame your face perfectly. This is also one of the easiest short hairstyles for fine thin hair to maintain.
3. Layered Pixie
Layers give your hair more volume and fullness thanks to texturized appearance. However, you shouldn't overdo it because it would lead to the opposite effect. The photo below is a great example of how you should rock your layered pixie with thin hair. Check it out.
Are you more into edgier looks? Perfect! Make your hair appear visibly thicker by combing or brushing it upwards and use a great hair-styling product to keep it straight. When styled upwards, as seen in the photo below, your hair will look full, thick, and quite edgy all at the same time.
5. Dash of Lavender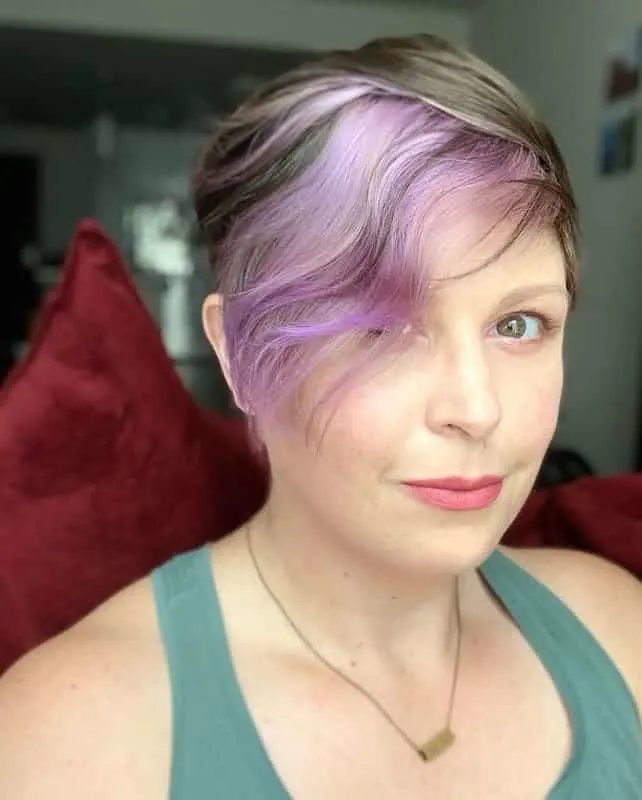 Great styling hack that every woman who is looking for short thin hairstyles should know is that a two-toned look can add instant fullness to your hair.
Instead of changing the hair color entirely, just dye a few sections. Two entirely different colors such as lavender and brown or sandy blonde can take away the thin look and give you more volume.
Choppy bob is one of those short haircuts that you can easily rock informal and casual situations alike. Choppiness gives your fine hair more texture and boosts its volume. At the same time, you also get the effortlessly chic look that every woman strives to achieve.
One of the biggest lessons we can learn today is that women with thin hair should not stay away from bangs, including blunt bangs. The reason is simple and obvious – these bangs can create visually thicker hair. Pair your bangs with a pixie or, even, bob, and you're going to hit the jackpot.
8. Simple Texture
Simple pixie with a dash of texture belongs to the group of the most elegant short haircuts for fine haired women. If your goal is to rock a hairstyle that's considered a timeless chic, then this is the one. As you can see, it contains a bit of texture, but not too much.
Want to try something else rather than a pixie cut? Then we've got a perfect hairstyle for you to rock. Style your medium-length hair in gorgeous locks that will make your hair bouncy and more voluminous. Make sure to avoid long hair as it could weigh you down and make your hair appear even thinner.
10. Simple Cut
As we age, it's natural for hair to get thinner. Of course, it doesn't mean we have no options to boost volume. Simple, minimalistic cuts can sometimes be everything you need to enhance the volume of your hair.
Short haircuts for women over 50 with thin hair are all about those precise cuts and styles that eliminate the unnecessary weight in your hair and provide playfulness, more volume.
Is punk rock your style? If that's the case, you'll love this look. Ultrashort thin hair is combined with a few longer strands for asymmetrical style. The whole look is even better with the addition of various vibrant and unusual hair colors. This is a must-try for all edgy girls and women.
Grey hair is an absolute hit in the last few years, and we love it. Jump on the bandwagon in style with short, textured fine hair that will chase away the thin appearance effortlessly.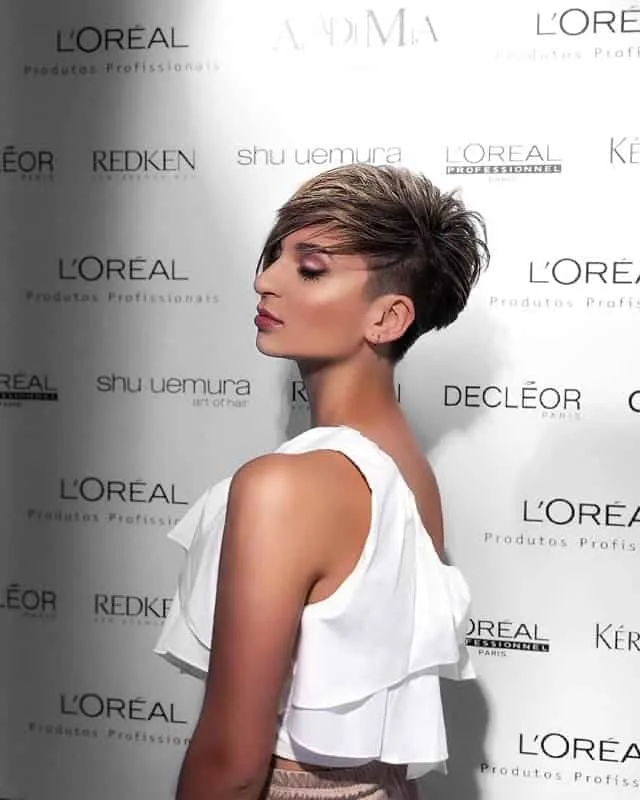 When the word undercut comes to mind, we usually think of edgy hairstyles, but it doesn't have to be that way. You can opt for classy, elegant undercut combined with a stylish pixie and look fabulous.
14. Bangs and Asymmetry
Asymmetry is an important aspect of many short haircuts for straight fine hair. That way, two dimensions are created, and the result is a more voluminous appearance. Rock asymmetrical bangs for an edgy, yet demure look.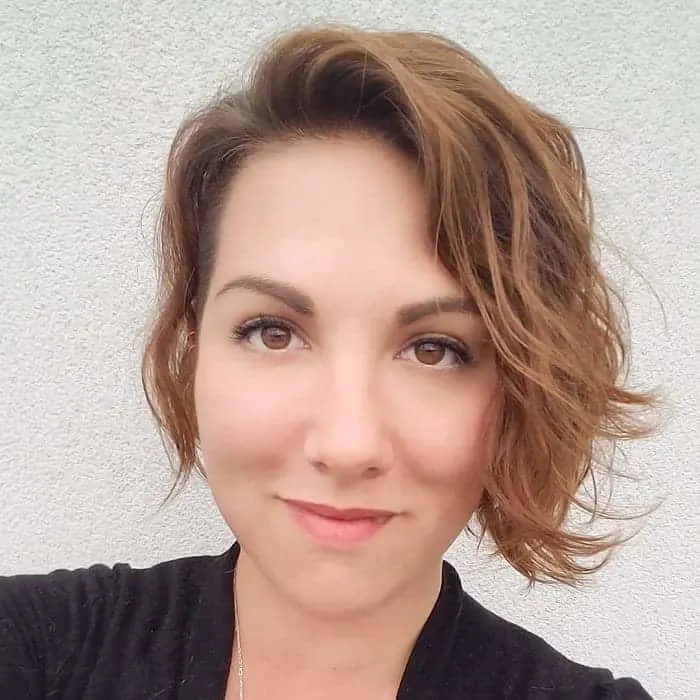 Use mousse and tousle your thin hair with fingers to achieve the messy or, should we say, effortlessly chic short hairstyle. This hairstyle is easy to create and looks absolutely gorgeous.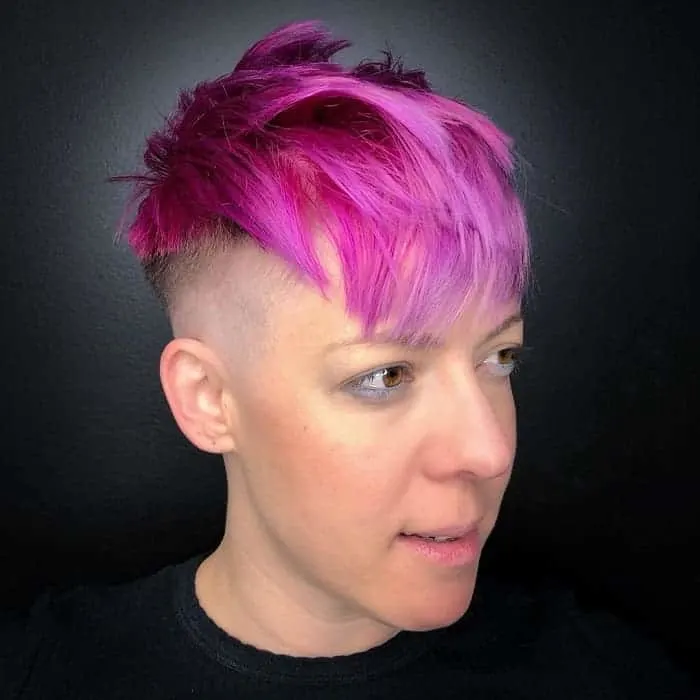 Are you a fan of unusual hair colors? Then electric pink or purple will help you stand out and visibly create the fuller look. Sport a short pixie cut with shaven sides for extra edginess.
17. Short and Cute
A great way to combat hot summer days and also to tackle thin hair is to sport a short, yet cute haircut. This short & thin hair look is ideal for girls and women who prefer a minimalistic approach to fashion and style.
Bangs don't always have to be at eyebrow length or longer. You can rock shorter thin bangs just as easily and still achieve the same face-framing and volume-boosting the effect.
19. Elegantly Textured
Shorter cuts are incredibly elegant, and you can take a look at a whole new level through a textured style. Take a look at the photo below; fine hair is elegantly textured for a sleek, yet somewhat layered appearance.
Introduce more playfulness to your pixie cut by making it choppy. The choppy look adds to asymmetry, and it ensures your thin hair appears fuller.
21. Face-Framing Look
Go for a longer pixie cut with face-framing longer bangs in order to create the illusion of more volume. This short hairstyle for women with thin hair look frames your face perfectly and accentuates your cheekbones and eyes.
Fine, thin hair is delicate, and it's known for the lack of volume and fullness. That's exactly why many women and girls feel insecure because they want bouncy locks and fuller hair. Good news is that you can boost hair volume with the proper choice of hairstyle. This post delivered 21 short hairstyles for thin hair, and now you just have to choose your favorite.