Short pink hairstyles are the newest trend, and you may have come across teens rocking the pink hair look with utmost confidence. Regardless of age, you too can join the bandwagon because pink hair looks feminine and channels your inner girl power. If you're confused regarding which styles to go for, then look no further as unveil the 15 amazing pink short hairstyles just for you that will turn heads.
How To Dye Your Short Hair Pink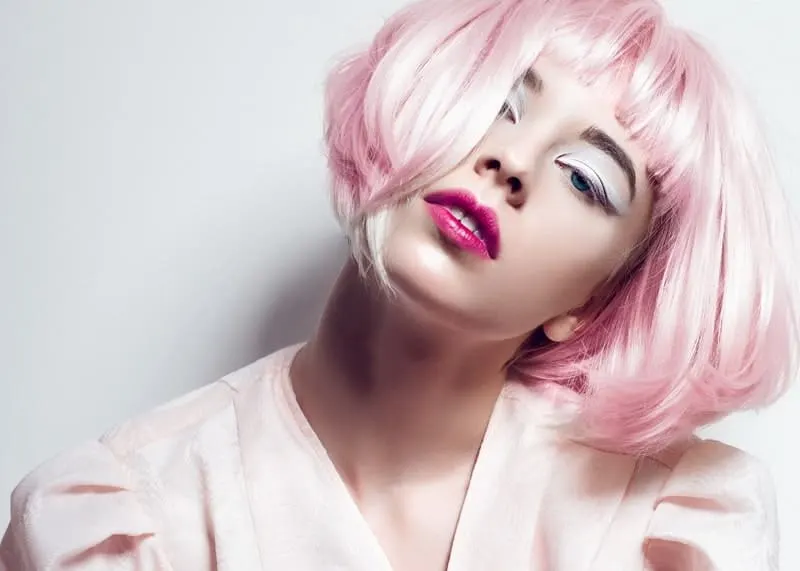 Many of us are afraid of going for permanent hair dye because it leads to long-term hair damage as harmful chemicals such as bleach can definitely ruin your hair. However, if you're fond of changing your hair color every now and then, why not simply go for inexpensive ways to dye your hair temporarily? Here's the easiest way using hair chalk you could dye your short hair pink with ease and at the comfort of your home:
What's good about hair chalk is that they are easily available and doesn't pose any damage to your hair. The color lasts until you wash your hair with shampoo.
You'll Need
Teeth Comb
Spray bottle
Hair Chalk
Step #1: Comb your hair to remove any tangles or knots.
Step #2: Use a spray bottle to wet the area where you wish to dye. If you want to dye the tips of your hair, wet it with spray or use your fingers to dampen the areas. Wetting your hair is effective for smooth application of the hair chalk.
Step #3: Divide your hair into different sections and apply the hair chalk on individual sections.
Step #4: Apply hair chalk in the vertical direction and then finally twist your hair to ensure that the dye is applied evenly on the intended areas.
Step #5: Style your hair with a hair straightener or curler. Don't worry about the dye sticking to your equipment. It can be easily cleaned.
And voila, you're all set to rock and roll your colored hair! In the end, you want to lock up the moisture of your hair with a hair mist so that the hair dye stays for long.
Another method you could try is using a spray-on color. It gives the same finish as that of color chalk and there are plenty of hair color sprays to choose from. The process is the same. With sprays, you have to use it 10-12 inches away from your hair on the desired area.
At the end of the day, wash your hair with shampoo. However, the pink hair dye that is darker than your natural hair color will take time to fade. It will take at least 3-4 washes till it starts to fade.
Watch The Following Video on How to Dye Short Hair Pink Using Hair Chalk
Top Pink Short Hairstyles for Women
Here's a list of amazing short pink hair ideas to flaunt your hair length.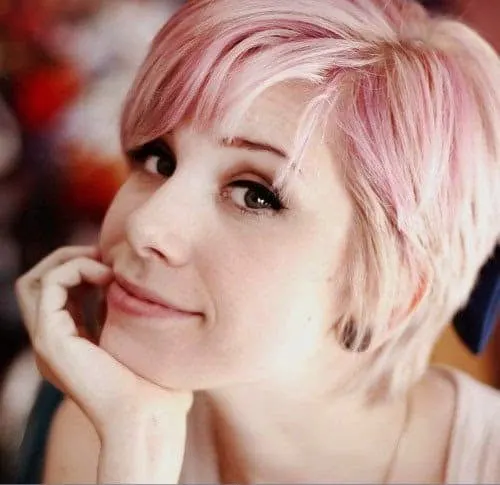 Pixie hairstyles never fail to make you look absolutely adorable. This haircut is low-maintenance which is best suited for summers to beat the heat. If you love short hair with a tint of pink, you can't go wrong with this style. The pink color looks subtle and blends well with the natural blonde color.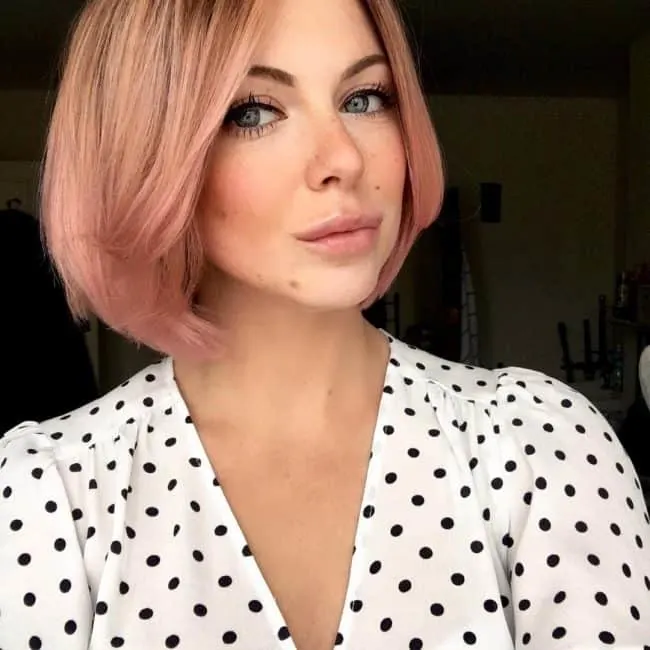 Bob haircut is going to stay for a very long time. The pink color gives a soft and neat look to your hair. It isn't always necessary to go for a bright pink color dye. You can look amazing with faded pink as well! This pink short haircut perfectly frames your face.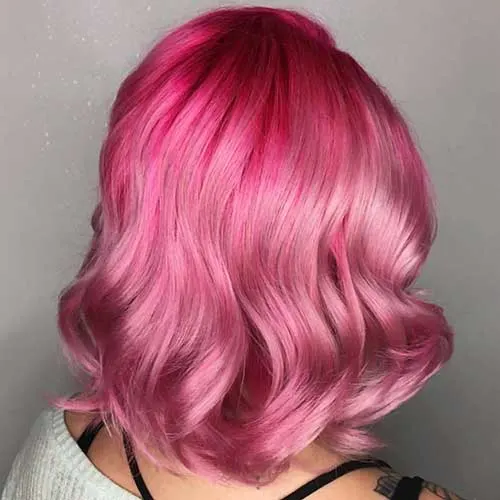 Ombre colored hair gives a very versatile look to your hair. If you want to mix and play with more than one pink shades, try this short hairstyle that transitions of light & dark pink hair color combo.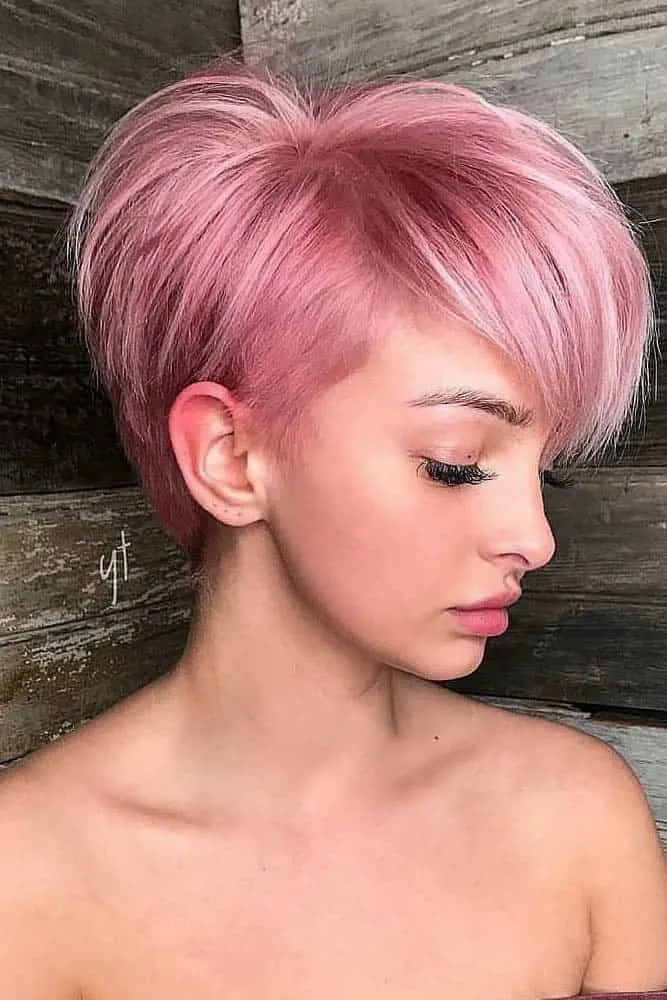 It's up to you whether you want to go for a simple pixie style or add some layers to your pink short haircut to make it look voluminous especially if you've got thin hair.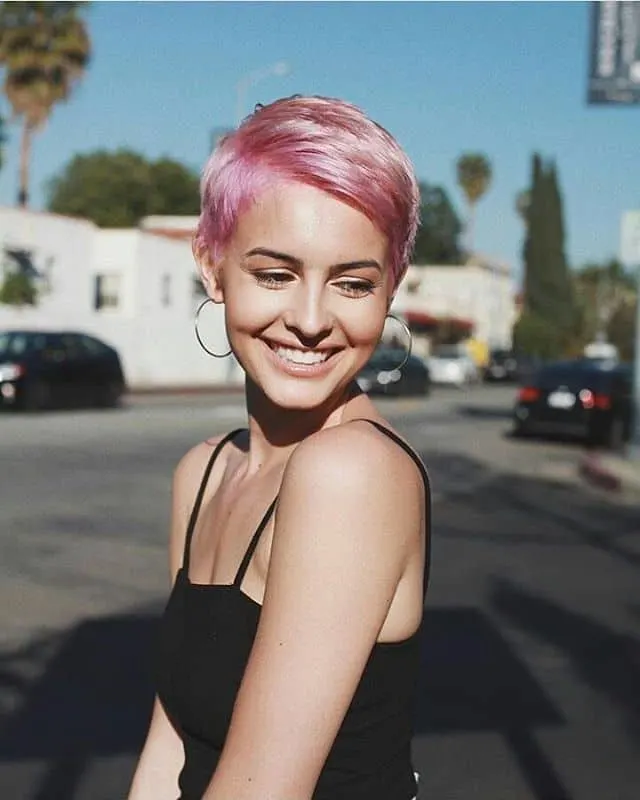 Inspired by Lisa Cimorelli's hair? Her chic short pink hairstyle gives us major goals. It's one of the care-free hairstyles that makes you look absolutely stunning and whatnot.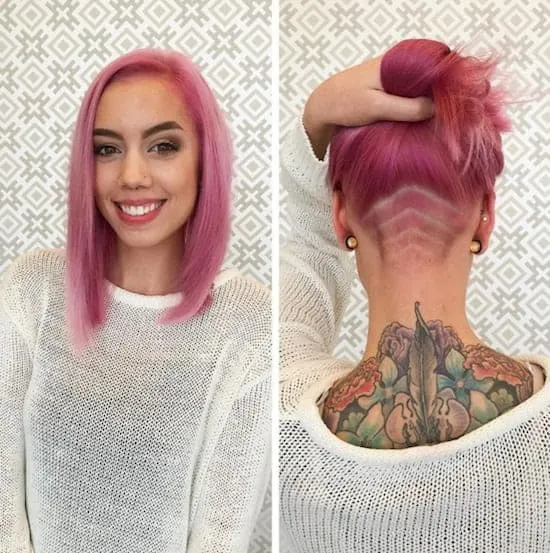 Whether you want to flaunt your tattoos around your ear or you like zigzag patterns underneath your hair, the pink undercut gives off a retro vibe and transforms your ordinary hair into an iconic short length pink haircut.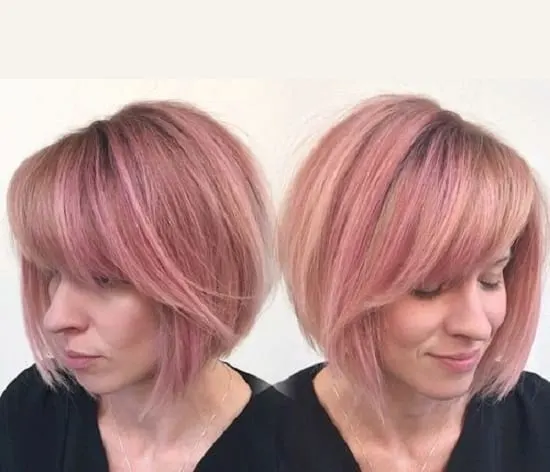 A two-toned pink short hair looks aesthetic. The pastel pink highlights complement the peach colored hair. For this hairstyle, go for thick bangs swoop to side that complete the entire look.
8. Orange Pink Lob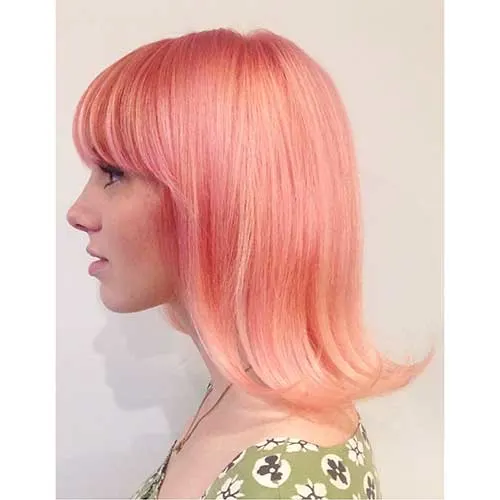 There are different shades in the pink spectrum and orange-pink is one of them. It not only looks regal but it also gives off a Barbie vibe. You should give this look a try along with full front bangs.
This pink short hair is what you should die for! It's a perfect hairstyle for ladies who want to dip all of their curly hair in pink. You can get some of the strands highlighted with light pink and look glamorous.
10. Candy-Colored Hairstyle
Show some love to your hair with this cotton candy hair that you can't help resist eating it. Under the sunlight, the hair strands look tempting and eye-captivating for all the cotton candy lovers. Style your hair with eye-grazing French bangs and look beautiful.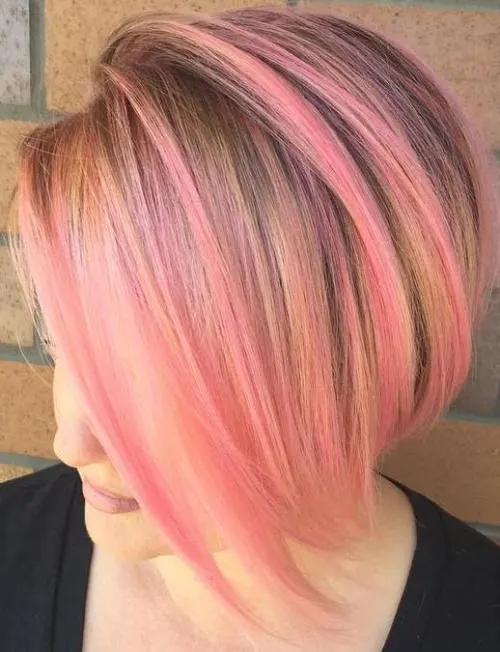 This short pink hair look would make you remind of all the pink sweet treats like bubble gum and cotton candy. The Coral pink highlights mingle beautifully with light brown hair.
12. Purple-Pink Hairstyle
Who says that pink and purple aren't made for each other? This short hairstyle with pink hair color is going to prove you wrong otherwise. Look how purple fades into the pastel pink hair and gives a flattering look. We have our heart on this ombre look.
Blonde hair looks stellar with pastel pink ombre. With this vintage and eye-popping pink shade, all eyes will be on you while you're on the go.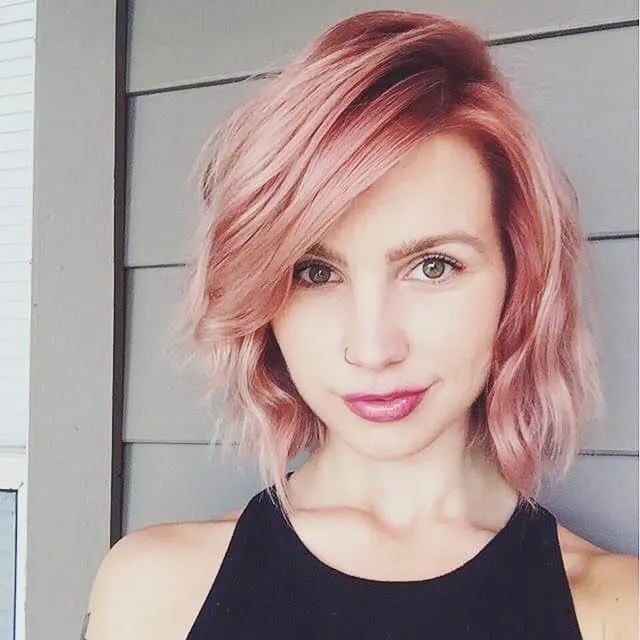 Rose gold ombre hair is one of the hottest pink short hairstyles that looks sultry. You can see various hues of pink that makes your hair look alluring yet versatile.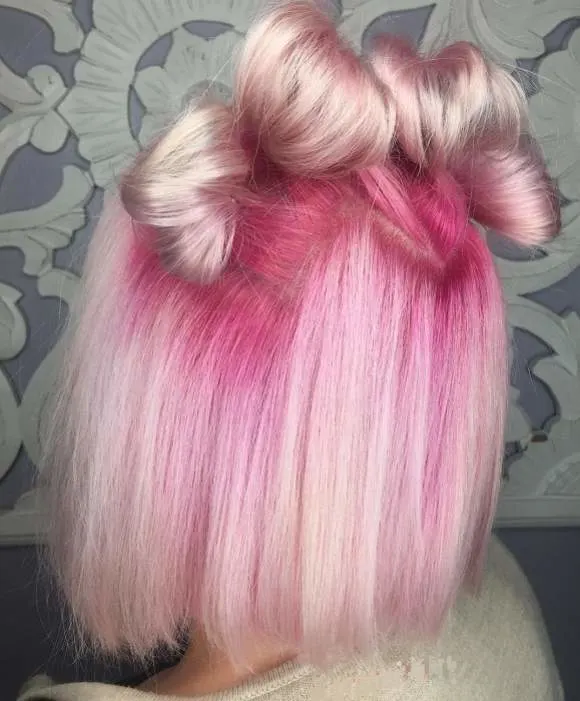 Pink and white is a perfect combination. If you've got short platinum blonde hair and want to experiment it with a completely different shade, you won't regret going for this look. The neon pink diffuses into the white hair that neutralizes the pink highlights and looks effortlessly chic.
Permanent versus Semi-Permanent Pink Hair Dye
There is a fine line between permanent and semi-permanent hair dye. The difference lies in the fact that permanent hair dyes contain chemicals like Ammonia and Hydrogen Peroxide that strips of the natural color of your hair whereas semi-permanent dye doesn't use any harmful chemicals, but it doesn't last for very long.
You can achieve the best results with permanent dye because the color tends to stay for 2-3 months. However, it comes with a responsibility i.e. you need to use shampoo and conditioners made especially for dyed hair. Your hair can get easily damaged if you don't take care of it once you've dyed it permanently. As for semi-permanent hair dye, they fade in three weeks, and they are mainly used for hair glossing or glazing treatment.
If you're thinking of going for a permanent or semi-permanent pink short hair, you might want to consult a hairstylist who will help you in taking the right decision.
Short pink hair really does look dazzling. If you're on the road to becoming a pink head, try out these hairstyles and be under the spotlight.