How often have you thought about getting thin dreadlocks and backed off because you weren't quite sure? Well, think no more. We have collected some fantastic pictures of dreadlocks that will make you go all gaga and willingly drag your heart to the world of dreadlocks.
Fixating you with their uniqueness and extraordinary looks, these dreadlocks are sure to make you fall in love with them. These thin hair dreads are the next best thing to try with your looks.
How to Make Thin Dreads
You can use rollers or plait your hair to make thin dreads. In either case, make sure you use a very little portion of your hair and also dampen your hair while doing so. For thinner curls, use a soft sponge. Cover your hair in a skill cloth overnight, and you will have your amazing set of dreadlocks in the morning just as you want them to be. Try this very easy hair maintenance look by using these simple procedures.
Watch The Following Video to Learn How to Make Dreads for Thin Hair
Thin Dreads vs. Skinny Dreads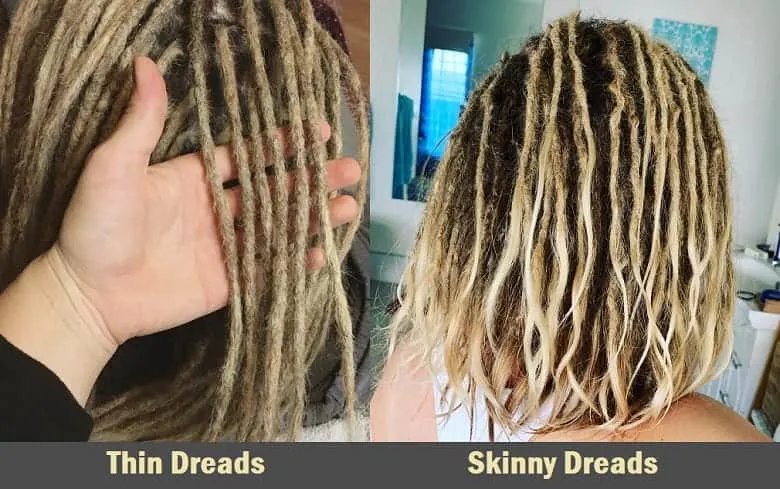 How thin can one's dread get? The dilemma of this question is huge. Well, your hair can have the kind of dreadlocks just as you want, whether thin, skinny, or thick. The deal with dreadlocks is how you braid them that's going to make all the difference.
The skinny dreadlocks are braided by using an extremely small amount of hair. It is to be noted that if the quantity of hair is large and you are going for skinny dreads, then they will be extremely difficult to maintain because these dreadlocks add volume to your hair.
On the other hand, thin braids are made by taking a little bit more hair and, depending upon the thickness of your hair, braiding them out. Skinny dreads are usually for people with extremely thin hair on the other hand, people with a fair amount of hair should definitely go for thin dreads. Your dreads really depend on the thickness of your hair.
Spectacular Short Dreadlock Hairstyles for Men
Tips and Maintenance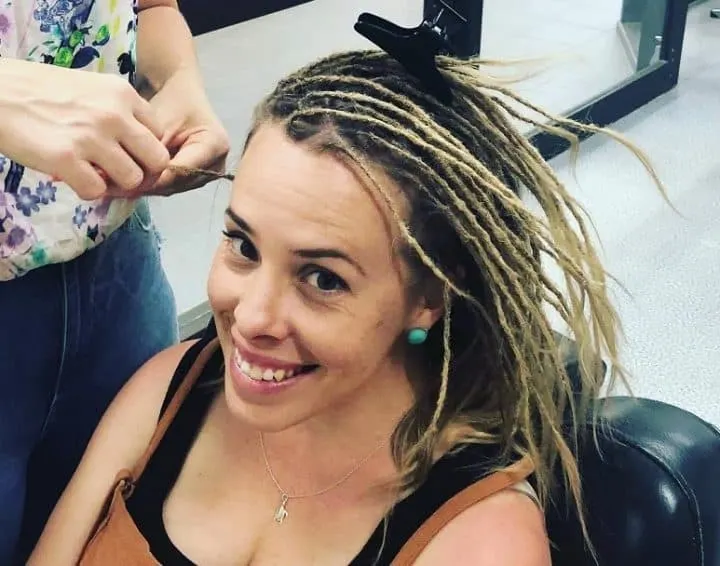 Your new hairstyle is easy to maintain, but there are some precautions that one needs to take. You can wash your dreads by simply soaking them in water; make sure that the dreads are never left wet. One healthy habit of maintaining dreadlocks is to use a scarf while you are sleeping or something.
Also, use your rubber bands on your dreadlocks very loosely, as tying a tight rubber band might cause breakage and hair pull. Never ever re-bleach your thin dreadlocks. These are a few tips to keep in mind while having dreadlocks. Thin dreads have been an in-fashion trend.
Their look on a person can vary from a wanderer to a gentleman, to a fun guy at the party, and basically, however you want them to be. The initial period of maintaining your dreads can be quite difficult, but later on, it just becomes a part of you naturally. You can be off-combing as long as you want to. The entire look of dreadlocks is pretty vibrant.
Coolest Thin Dreadlock Styles
Here are some thin dreadlocks that can be worn by both men and women. Check out the below styles:
Amazing Thin Dread Styles for Women
These are 11 most ravishing thin dreaded hairstyles for women to copy now.
1. Layered Locs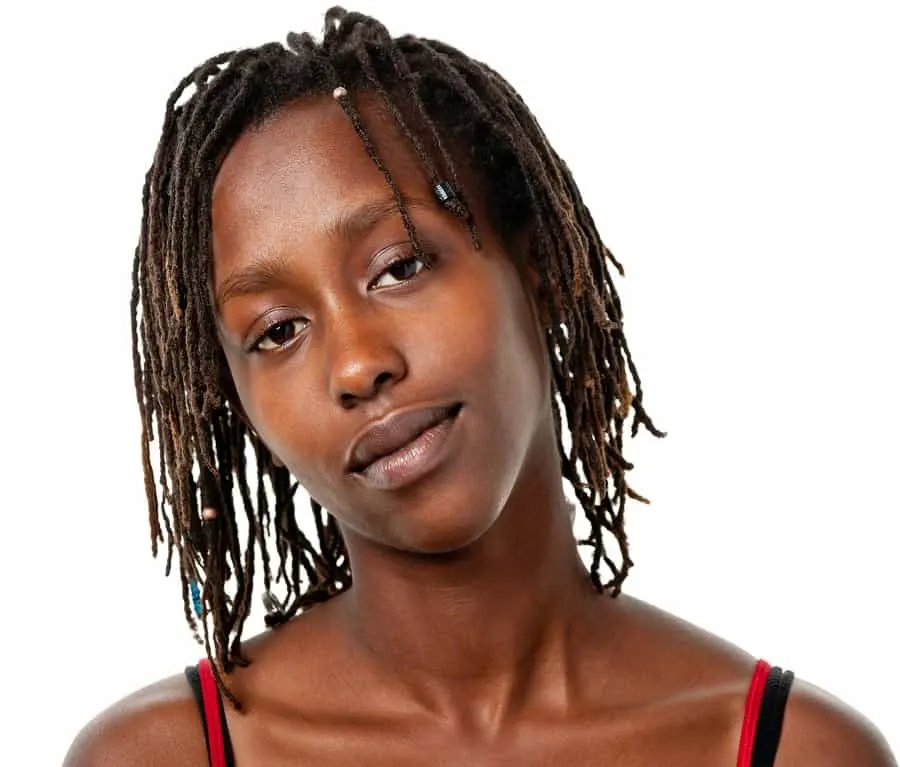 Layered lob haircuts are trending this year, and African-American women can turn them into a bold dreadlocks hairstyle too. Take thin sections of hair and dread them to fall at varying lengths above the shoulders. Finish off the look by adding beads on some strands.
2. Cotton Candy Vibes
Go for a girly appeal by adding hair extensions in the lightest lilac shade while dreading the dark roots transitioning into a lighter hue while reaching the ends giving off cotton candy vibes. Add a touch of baby pink in between the thin lilac strands for a more detailed look.
3. Ginger Magic
Dread the hair into small and medium locs while adding light ginger extensions to turn around some heads. Braid some of the chunks while adding light blonde strands on others for a highlighted appeal. Finish off by styling the hair in a chunky high ponytail.
4. Hipster Appeal
Show off your hipster personality by rocking this semi-dreaded hairstyle. The hair is knotted into clumps halfway while sparing the ends. Top off the funky look with a headband pushing the medium-length strands away from the face.
5. Half-Up Style
This look features a blonde balayage on a light brown mane. The front fringe is spared to frame the face while the remaining hair is styled into thin dreads leaving the ends un-dreaded. Secure half of the locs in a hair tie creating a chic half-up hairstyle.
6. Fiery Orange Hair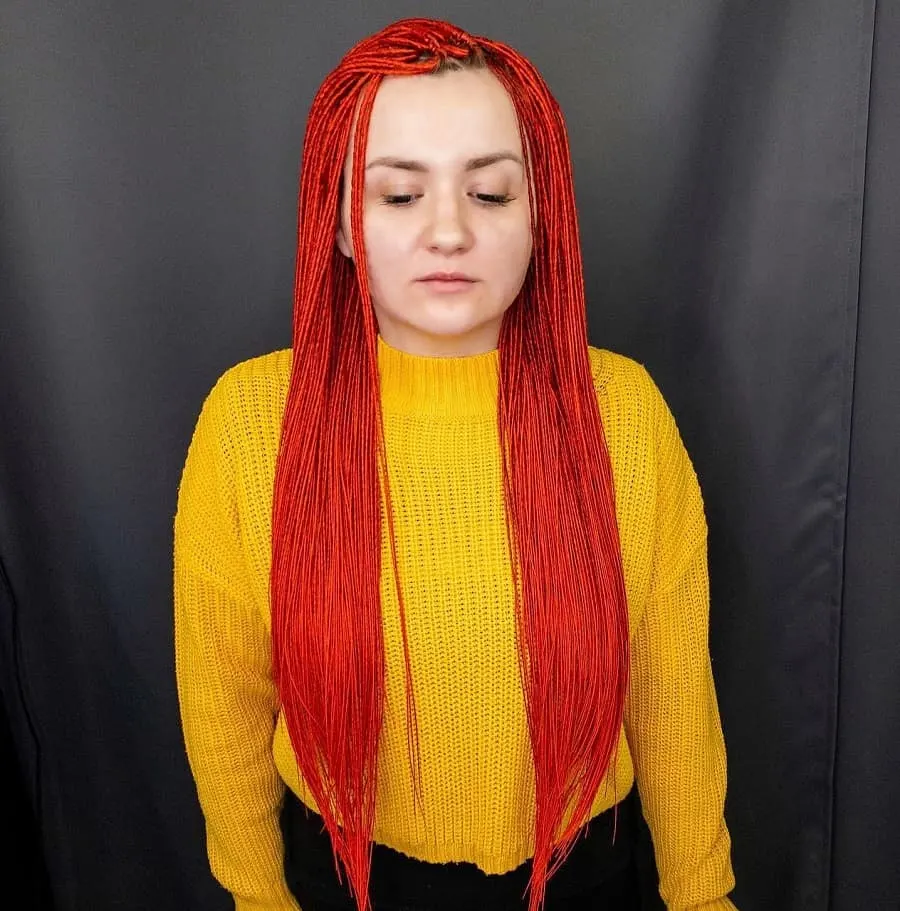 Here is another fantastic thin dreadlock hairstyle for women who want to stand out from the crowd. Ask the hairstylist to add fiery orange hair extension as close to the roots as possible while dreading and continue to hip length creating a stunning side-parted mane that won't go unnoticed.
These carefully plated braids have been left loose towards the end. Let the wind play a little with your hair while you tuck a major part of it in tight thin braids. Color your hair to give thin dreads a more dramatic look.
Retro Red Dread Hairstyles for Women
Dreadlocks look amazing on thin blonde hair too. Plait it in an upstanding manner and let them make you look even more gorgeous. Give the ancient hairstyle a taste of your modern looks.
It is often noticed that dreadlocks are being pulled off by women who have long hair. Well, that's really not the thing, and here we are to change that; you can style your short hair with amazing dreadlocks and make people stare dead into you.
Pull this thin dreaded hair look how you want to and churn it with colors to add more fuel to the rebel look.
A bob cut, too, can be compacted into the dreadlock look. Mate, or braid your hair just like you would for long hair for these thin dreads look. Give your already short looks a notch more of less maintenance by trying this out, and if you don't like it, you can always go back to your original hair. Honestly, a little exploration hasn't hurt anyone.
Enhance your long hair even more by curling your thin dreadlocks. It just adds so much variation and style to your look that it is incomparable to anything else. It's very simple. Braid your hair for the dreads as you wish to, and follow the required procedure.
Once this is done, curl the dreadlocks individually by rolling them with the help of some curlers after some time loosen them up to give this look. If you further wish to make this look funkier, you can go for partially coloring your thin curly braids.
Latest Thin Dreadlocks for Men
We have listed 9 top thin hair dread styles for men to explore too!
12. Extra Thin Dreads
Asian men can take part in the dreadlocks trend too by buzzing their sides and keeping the top significantly long. Twist and re-twist the hair to create extra thin dreads with the strands falling over the sides and forehead for a punk finish.
13. Jumbo Man Bun
This jumbo top knot bun is among men's latest thin dreadlock hairstyles. The afro curls are clumped together while adding extensions to achieve the length of your choice. Finish off by wrapping the strands around to sit flawlessly on top of the head.
14. Pink and Purple Hues
Who says purple and pink hair colors are restricted to women only? Men can rock them equally with confidence. This hairstyle features dreadlocks and braids with ultraviolet and muted raspberry pink hues popping on the head. Complete the look with a hairband covering the forehead.
15. Long Dreaded Top + Faded Sides
Another bold hairstyle to experiment with is this long dreaded top falling over the head onto the neck. The sides are neatly faded to contrast against it creating a mohawk silhouette. Accentuate the look with a ducktail beard and mustaches for a masculine appeal.
16. Cool Style with Beads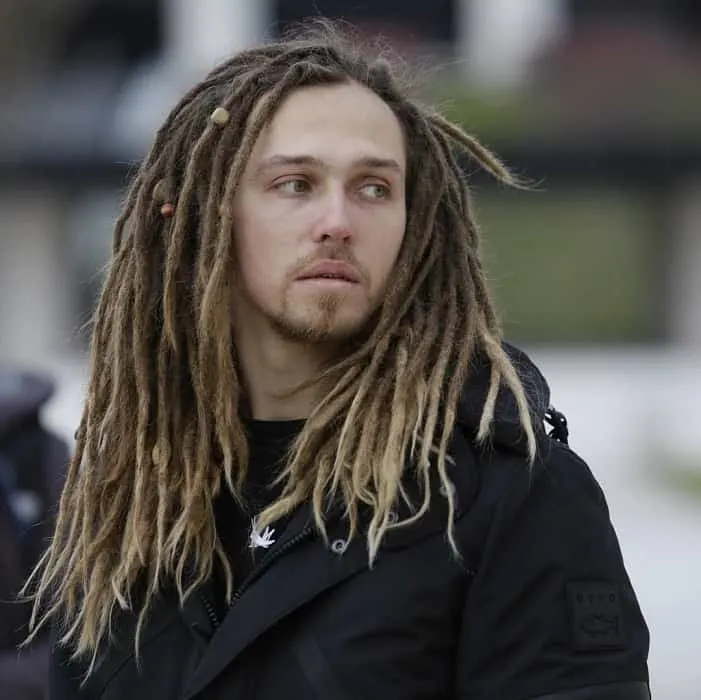 We all are aware of how hot a man looks in braids. These simple dreadlocks for men add charm to your look and make heads turn around. The thin dreads easily make you look most different from everyone. If you are fond of long hair, then go lock them up in dreadlocks and rock the look.
17. Afro Dreadlocks
Make extremely compact braids to get a look like this. The right hair size and arrangement add you to the shows charmer list. Steal hearts by putting in minimum effort and practically wearing anything yet rocking this hairstyle.
Inspiring Mohawk Dreads for Men to Sport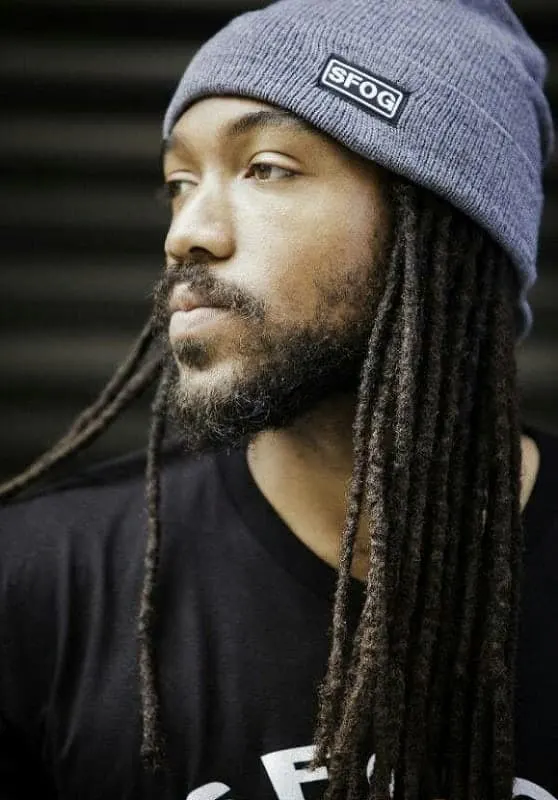 Dreadlocks have been existing for a very long time. It has been observed that there were some sacred things that a group of people followed. After a long time in human growth, these dreadlocks has received recognition and been picked up as a hairstyle. The thin hair dreads are low maintenance and an easy way to keep your hair in place.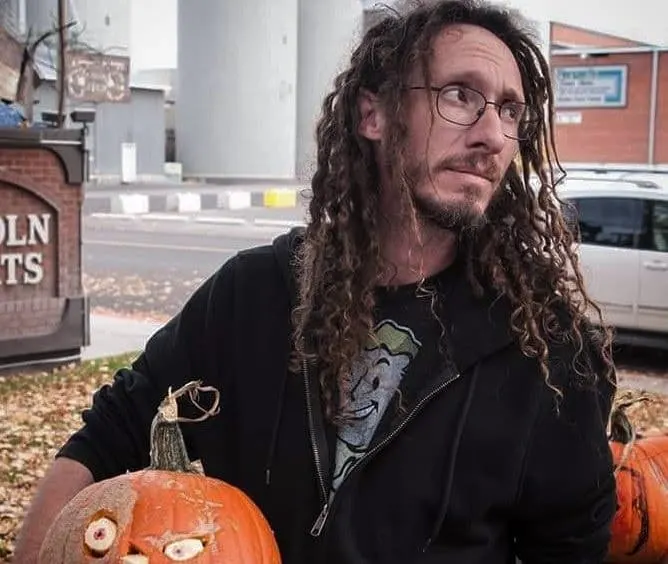 Dreadlocks for thin hair are lightweight and don't require much nurturing. Be it any age, you are never old to try these dreadlocks. Create your own vibe by braiding or mating your hair into thin dreads. Dreadlocks look incredibly vibrant and are a good way to do something different with your hair.
Your dreadlocks are going to leave an impression about your vibe on people; make sure you do it right. This easy and friendly manner of styling your hair has its own quirks. Moreover, the dreadlocks on men look quite friendly.
If you are a wanderer or a traveler, then you should definitely try this thin dreadlock look. The dreadlock can always be tied in a rubber band. Explore your looks with the dreadlocks and look like an amazing young self. It is to be noted that long dreads can get fairly heavy.
FAQs
Here are some of the most common questions regarding thin dreads.
Can I grow dreads with thin hair?
With thin hair, the dread needs to be bigger than usual to have enough hair to grab onto. If you end up with only 12-20 dreads, this will likely accentuate the thinning. If your hair is barely thinning, you should be able to grow dreads without a problem.
Do thin dreads fall out?
Dreads can fall out due to a lack of maintenance, regardless of the thickness of the dread. Thin dreads are more likely to fall out than thick dreads. If you wait too long between twisting your locs, you might notice the dread becoming thin and falling out.
Can I add hair to thinning dreads?
Yes, you can add hair to your dreads. If you notice your locs thinning towards the end, try the knot method to add hair. With dreads that are thinning towards the middle, use the afro hair method. If you need to add hair to the root, use the sewing method.
Do dreads thin out my hair?
Dreads can thin out your hair due to excessive pulling and stress on your scalp, also known as traction alopecia. With proper maintenance and care, you do not need to worry about them thinning your hair.
Go explore your looks and check out the thin dreaded hairstyle that suits you best. Because now is the right time. If not today, then when? Got a knack for dreads? Go get yours and flaunt it like you've owned it forever.