Guess what the newest trend in the hair and makeup industry is? Undoubtedly, the trend in the market today is the white girl dreads style! The unique style and quirkiness of the dreadlocks make for a beautiful and attractive hairstyle for white women.
How to Do Dread for White Girls
Dreadlocks for white girls can be a little tricky, considering the texture of hair. However, it can be done well if done right. Here's how to go about it!
Ensure you wash your hair with a residue-free shampoo and dry it properly. The first step is to section your hair from the middle at first. And then, into the top and bottom sections. Create small squares of about 1-2 inches for dreads. Begin forming dreads from the bottom hair at the back.
Take the section in between your fingers, rub a little. Keep the comb near to the scalp and start pushing upwards. Roll up the hair section with your fingers to get a perfect twist for the dreads. To finish up the white girl dreads look, use good hair wax to fix up the dreads perfectly.
Watch The Following Video to Learn How to Do Dreadlocks on White Girl's Hair
Tips and Maintenance for White Girls Dreadlocks
Maintaining dreads for white girls is not n easy task! With a fine and smooth hair texture, dreadlocks tend to loosen up easily. Hence, here are a few maintenance tips to help you out with the dreadlocks:
Make it a habit of rolling the dreads at the start of every day. This keeps them in shape throughout.
Use hair wax on the dreads where you feel the dreadlocks loosening up a little to secure them.
It is advisable to wash your dreads once every three days, that is, twice a week to maintain them well.
Rubbing in the clockwise direction at the roots makes the newer hair growth to roll up well too.
You could even crochet your dreadlocks up once they start opening up a little. However, excessive crocheting isn't a healthy habit. It would lead to knots in the hair.
These were the best tips to maintain the white girl dreadlocks well. Keep these things in mind for healthy and fine looking dreadlocks for white girls.
Gorgeous White Girl Dreads Styles
Try out the trendiest dreads for white girls looks in the industry. Listed below are a few of the most popular looks for you to try on!
1. Braids and Dreads
Braids and dreads are such a great mix and match and the resulting hairstyles are fabulous. Use dark, blonde and blue hair to create the knits. Part the top hair into two pieces to style two voluminous space buns on top of the head.
2. Green Dreadlocks
There are so many types of dreadlocks that are easy to attach without using your hair for the whole procedure. If you have green eyes and fair skin, go for several nuances of green. Use them to create a stunning dreadlocks mane.
3. Copper Ginger Dreads
Having white girl dreadlocks doesn't require spending so many hours to get a stunning hairstyle. Use your natural hair to braid the deadlock extensions. Choose a color that suits your complexion and decorate the dreads with hair rings.
4. Bangs and Dread Buns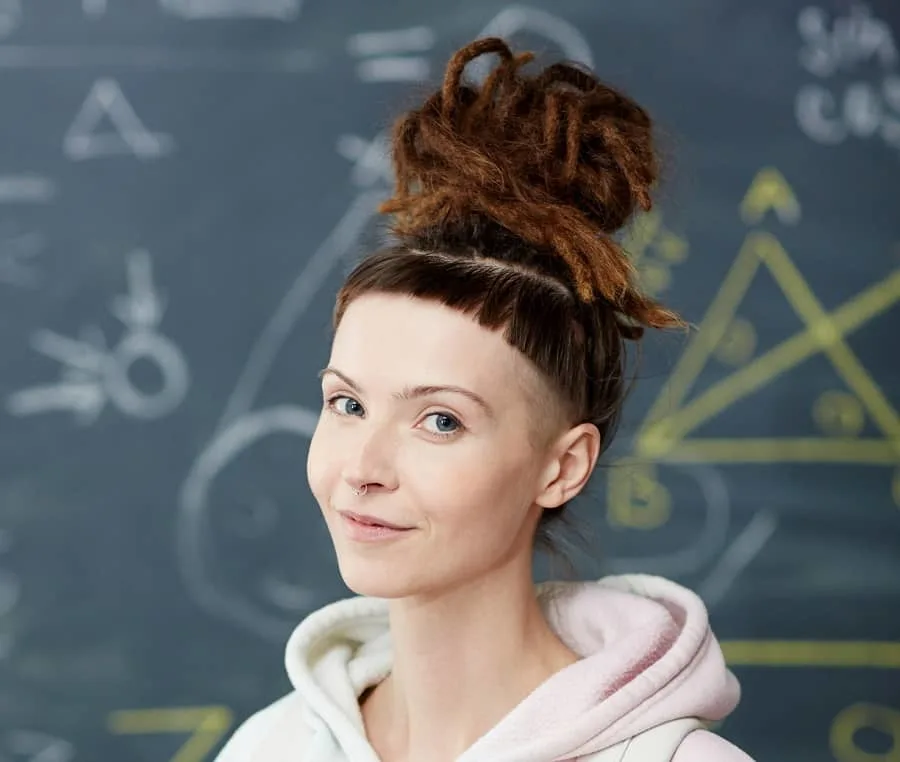 If you want a unique hairstyle, this is probably an option you'll fall in love with. Get very short bangs and style an undercut for the temples. Use the top to createthe dreadlocks and roll them in a bun on top of the head.
5. Gray One-Sided Dreads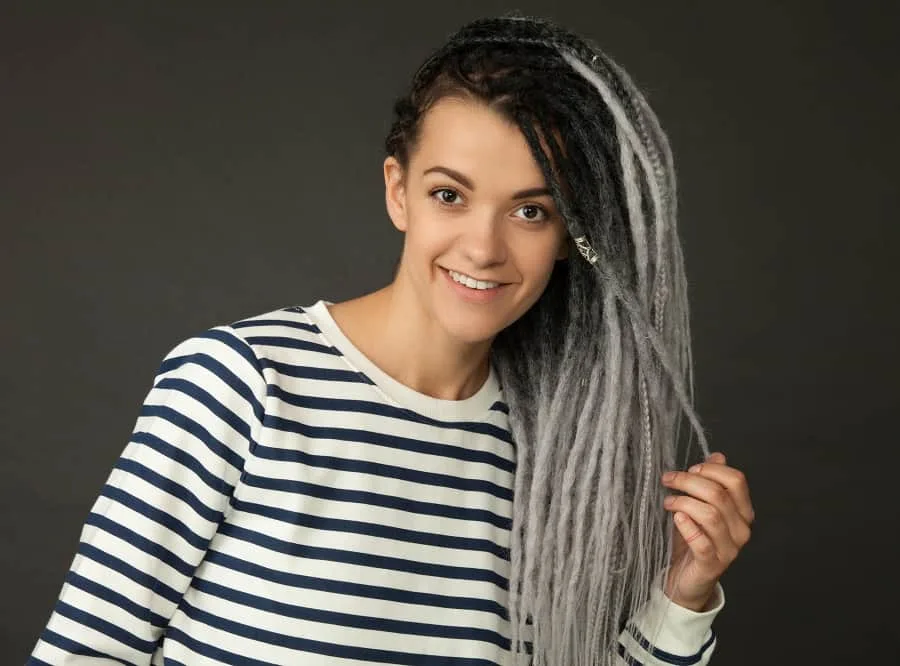 White girl dreadlocks require a commitment and are not an option for those who quickly get bored of their hairstyle. If you're not ready for such a transformation, you can always replace creating dreadlocks out of your hair with hair extensions. This way, you'll extend your hair and create a stunning hairstyle.
6. Pale Strawberry Braids and Dreads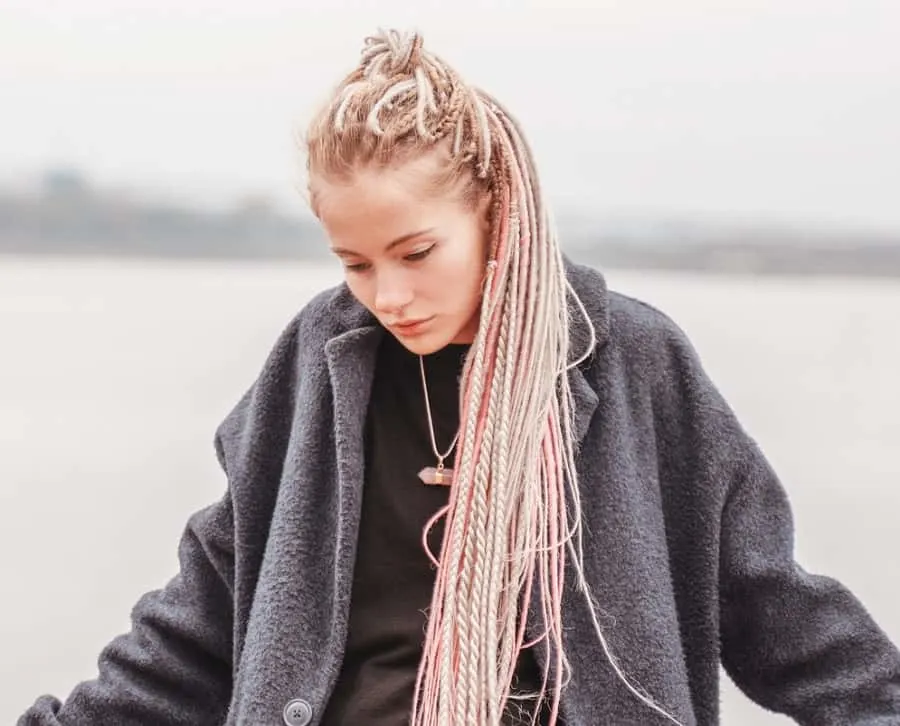 Paying with different types of bradids and dreadlocks will help you build gorgeous white girl dreadlocks. Use already braided extensions, rope braids and dreads and attach them close to the roots. You can also give the hairstyle a romantic look by blending pale strawberry knits into the construct.
7. Multicolored Dreads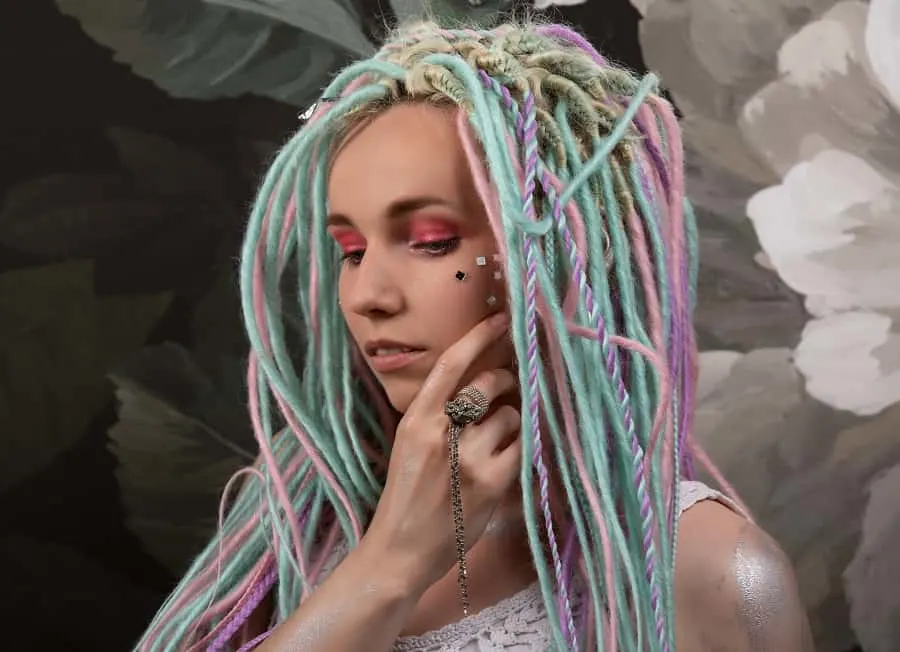 If you don't want to create any damage on your hair or you don't want the commitment that dreadlocks require, you can always use hair extensions. White girl dreadlocks can be bought online and come in a great range of colors. Attach them at the base and mix different pale nuances of teal purple and pink.
8. Fiery Ombre
These half dreads are used only for half of the hair, including the roots. Go for a platinum blonde color for the upper part of the hair. For the rest, dye the hair in an electric red tone. If it's short, you can extend the dreadlocks with red hair strands.
9. Turquoise Dreads
Go for a gorgeous warm blonde color and create turqoise highlights. You can also use the same vivid nuance to dye the nape hair. Once you are done with the coloring, create semi dreadlocks that you can later untagle.
10. Dark Purple Dreads
White girl dreadlocks can be so fun and colorful. Before creating the actual dreads, bleach half of your hair to create an ombre. Maintain the top in a dark color that will provide great contrast. For the other half, use a pale purple nuance. Wear the mane on one side and decorate the base with hair jewelry.
11. Simple and Sober Dreadlocks
If you like it simple and elegant, these white girl dreadlocks look is meant for you! The simple dreads in medium orange brown hair add charm and cheer to one's appearance. All you have to do is dread your hair up and leave them brown and free to create magic with their charm.
12. Dreadlock Bun
Why settle for usual when you can try out unique dreadlock hairstyles too? If you have fine hair that is light brown in color, go for these dreadlocks for white girls style. Make your beautiful dreadlocks into an elegant bun and be the talk of the event you decide to attend your beautiful hairstyle.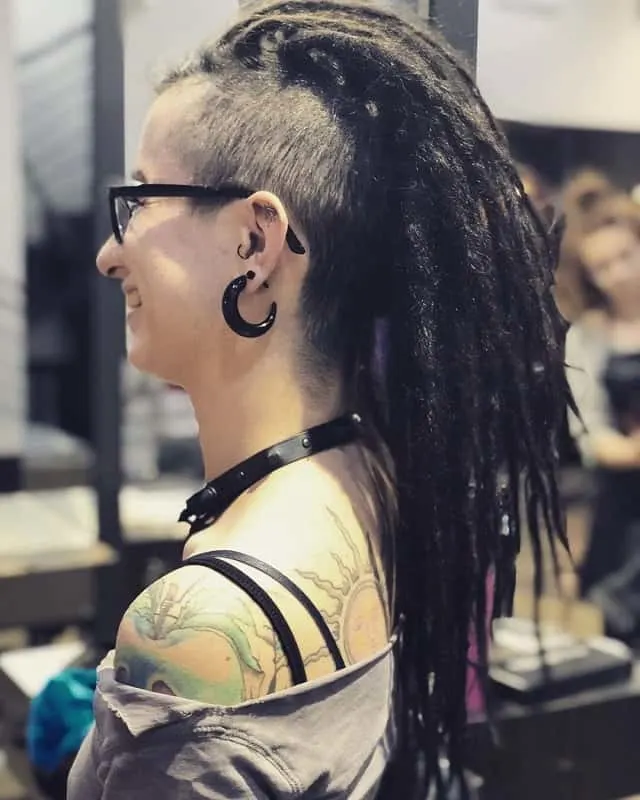 Give your hairstyle a new twist with this unique mix of 2 hairstyles. For the sides, try the undercut look and for the top and back part of the head, go for dreads for white girls look. This will give an appearance of a beautiful Mohawk ponytail of dreadlocks at the back.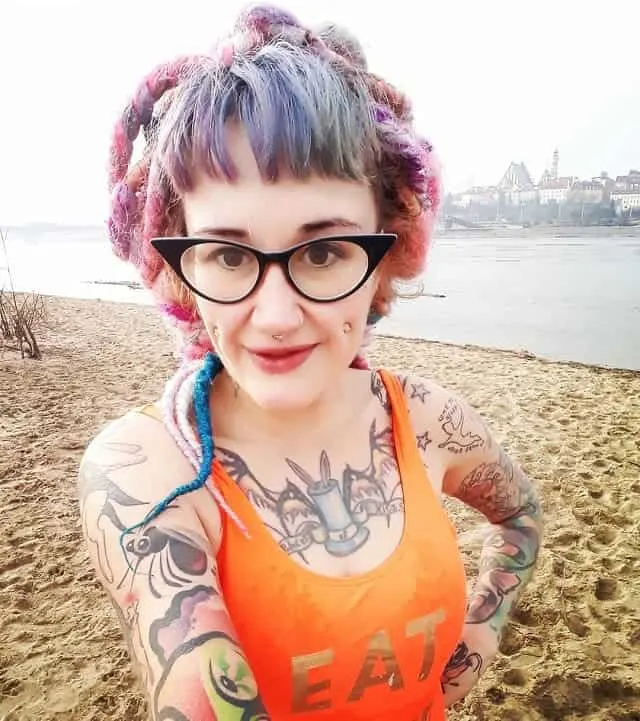 Give your short hair a new look with dreadlocks for white girls. Keep medium or long length bangs in the front if you have a relatively broader forehead. At the back, turn your hair into dreadlocks. If you have light colored hair, the look will be more enhanced.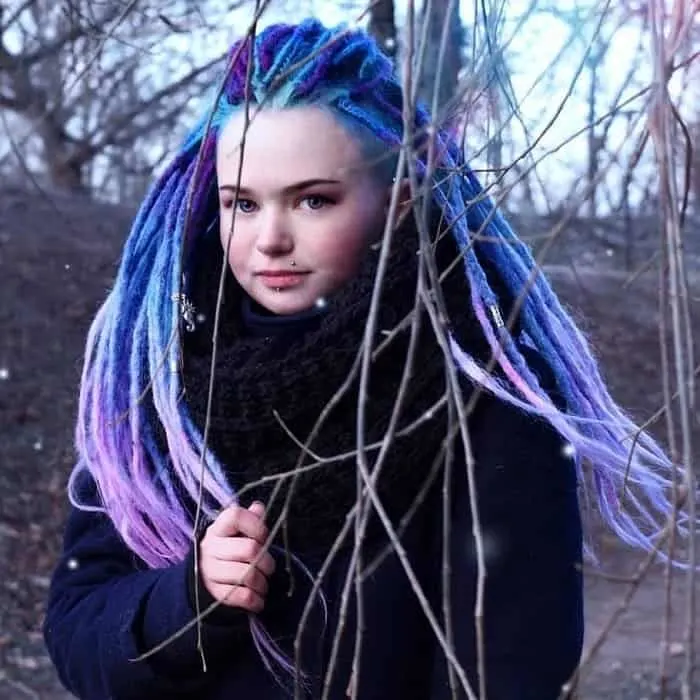 This unicorn colored white girl dreads is one of the most unique styles listed out here. The gradual color change from hues of purple and blue hair as we move up the length of the hair tied in dreadlocks looks magical. Let your hair create an impression of fantasy.
If you have medium or long length hair and you wish to try out dreadlocks, pick this style! The half up style looks very trendy in dreadlocks for white girls. Having dreadlocks makes the hair more voluminous. Hence, the outlook of the half bun is even prettier.
17. Quirky Brunette Dreadlocks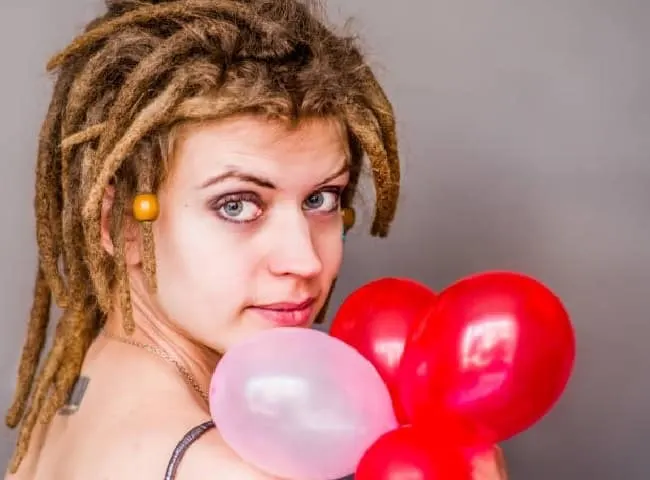 For those of you with medium length hair, this quirky brunette balayage hairstyle is one of the best white girl dreadlock styles. The hair length is shorter in the front and increases gradually as we move towards the back. This brings out a naughtiness in the look.
18. Funky Aqua Shade
This white girl dreads hairstyle looks best on hair with a fine texture. Color your hair with ice blue or aqua shade and make dreadlocks out of it. The fringes in the front just add more beauty to the hairstyle. Because of the aqua shade, the dreadlocks come out very prominently and look stunning.
19. Fairy-Like Dreadlocks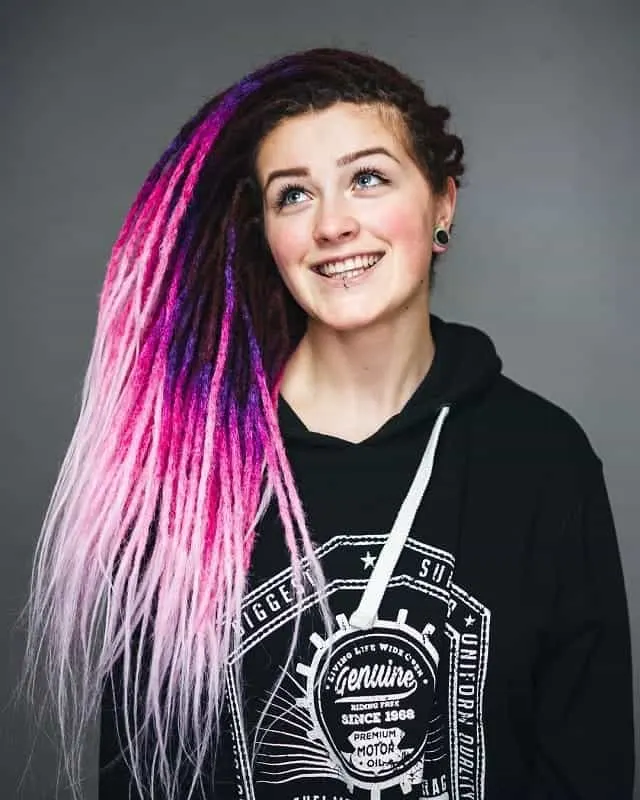 The varied hues of pink and white ombre hair color in this dreadlock style for white girls bring out the feminine touch in a girl. If you like it all girly and magical, try out this fairy-like dreadlocks hairstyle for white girls. Add vibrancy to your looks with this unique style.
20. Nature Inspired Dreadlocks
White girl dreadlocks look pretty in any and every color. It is all upon you as to which one suits your personality the best! If you like the shades and aura of nature, dye your dreadlocks in shades of dark and elegant teal hair tips. Enhance the hairstyle with flicks or fringes at the front.
21. Golden Brown Messy Ponytail
To create a look inspired by independence and freedom, try out this simplistic dreads style for white girls. The gold-brown shade of the hair adds elegance and feel to the dreadlocks, and the messy look just spices it up.
Look like a queen in this braided dreadlocks style for white girls. The voluminous look of the dreads on white girls makes the braid look classy and adds richness to the overall appearance. A few highlighted strands of dreadlocks hair would be a cherry on the top to create the perfect look!
If you have a hair color that resembles that of a lioness, choose this white girl's dreadlocks style. Carry yourself with pride. The ombre shade of the hair combined with dreadlocks makes it stunning! The straight bangs in the front add a happy and cheerful look to the appearance.
24. Cotton Candy Look
How about stepping outside the box and trying something extraordinary and beautiful? If you think you can carry bold and create a statement, you have to try this cotton candy dreadlocks look out! The pretty pink hair color looks super cute, and the white girl dreadlocks style paired up with it is an excellent choice!
If you have chocolate colored hair and you wish to try out dreadlocks, go for this white girl with dreads look. Have long length bangs in the front and dreadlocks in the rest of the hair. Dye the tops of a few strands in ombre shade to complete the look.
26. Creative Dreadlocks Look
If your hair is light in color and long in length, this creative white girl dreads hairstyle will look lovely on you! The hairstyle talks of subtlety and class with every dreadlock! Bring out the modesty in you with this dreadlocks look. If you wish to dress up gracefully at all times, this should be your pick from the list here!
27. Magnificent Baby Pink Highlights
Highlight a few strands of your long blonde hair with baby pink color. Then, get them made into dreadlocks. This magnificent white girl dreadlocks looks cute and is perfect for every girl aiming to get a stylish and passionate appeal.
28. Blonde Dreads with Dark Roots
Combine your dark roots with blonde dreadlocks on white girls. The dreadlocks style looks fantastic and quite prominent in the light hair shade. It is one of the finest dreadlocks styles one could opt for!
Give your white girl's dreads style a new twist, figuratively and literally! If you have dreadlocks in long hair, twist it up as shown in the picture above and create a fine and unique look for yourself. Never stay out of fashion! Pair it up with the outfit you like and the appeal will be perfect.
30. Fairy Dust Dreadlocks Style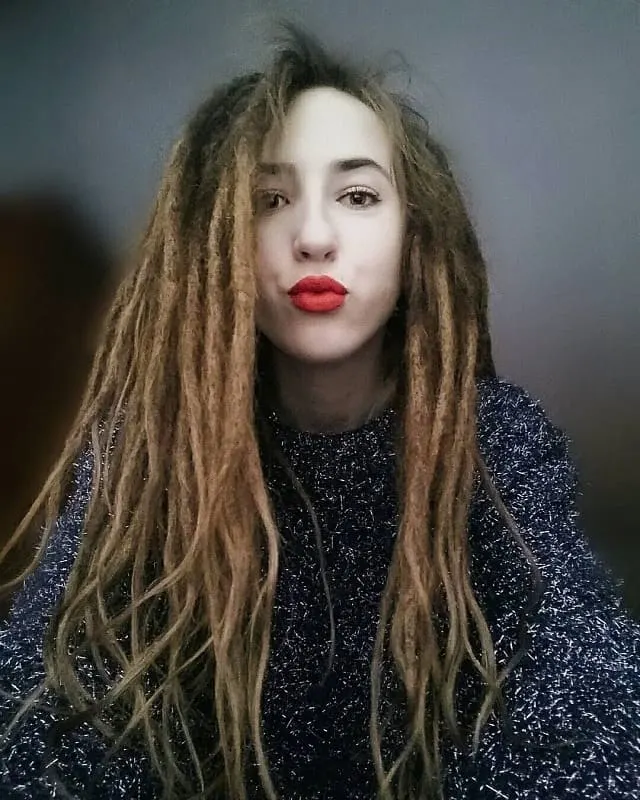 If you have got a natural hair color that resembles that of fairy dust, make them into dreadlocks and try this style out! The color just suits perfectly with the dreadlocks style for white girls. The darker hue towards the top adds more depth to the hairstyle.
Dreadlocks for white girls are becoming highly popular these days. If you wish to try out a newer look, consider getting dreadlocks done for your hair. Select your favorite white girl dreads from the list above and get your hair styled today! Hope this article helped you in learning on how to do dreads for white girls. The maintenance tips mentioned just add to your ease of carrying dreadlocks!