Dreads are a style that many women are afraid of and want to stay away. However, there is some special beauty in the red dreads particularly. As they are a specific hairstyle and look like a crown on your head, the red gives them special vibrancy and hotness. The red hair is always considered as ultimately sexy and seductive, and the red dreadlocks are nothing less.
The unique retro vibe they present easily creates the looks that a nice sight in this modern world. No matter if the dreads are thick or thin, long or short, there are certain styles you can pull off to look like you have come out straight from the '70s and '80s.
How to Dye Your Dreads Red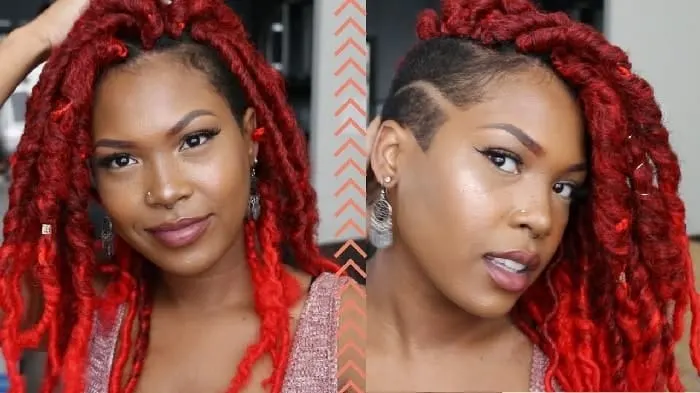 If you decide to color your dreads red, you have to be sure that this is a long-term decision. Red is a color that is very difficult to remove from locks. You will be stuck with red and different shades of red. The red is a color that requires a more intense formula for the hair color to stick longer, especially when applied to dreads.
Colored dreads should be done at your hairstylist's salon and there is a procedure to follow. The dreads should be separated into 4 sections. With the use of a tint brush, the color is applied to each dreadlock. Once applied, the dye should be left to settle deep into the dreadlocks. Leave it under a cap for 40-45 minutes. After then, wash it twice, apply conditioner and re-twist your dreads for special style and look. dry them out with a hairdryer.
Watch The Following Video to Learn How to Dye Dreads into Red Color
How to Style Red Dreads with A Weave
Styling red dreadlocks with a weave is easy. The weave is an additional part of your hair, similar like extensions, but refers to a braided hair. This means that hair weaves are an addition to the actual dreadlocks and they can be applied with needle and sewing the weave into dreads.
This is a long process but extends your hair to your desired lengths. The care is the same as for the dreadlocks, and styling goes together with the dreadlocks.
Trendy Red Dreadlocks Hairstyles
Following are top 12 most red dreads hairstyles for every woman to give a try this season.
1. Long Dreads with A Twist
The street style of the past is what describes this look. The bun of the top and the rest of the dreads let down – easy, relaxed and wonderful look! If you do not want to experiment much, then go for the regular long dreads with red hair. With them, you will get a present the afro-vibe!
An advanced version of the dreads is the long box braid with a twist. Create a bun which will be discreetly covered under rest of the dreads. You will get volume and let down hair at the same time.
2. Not So Casual Bun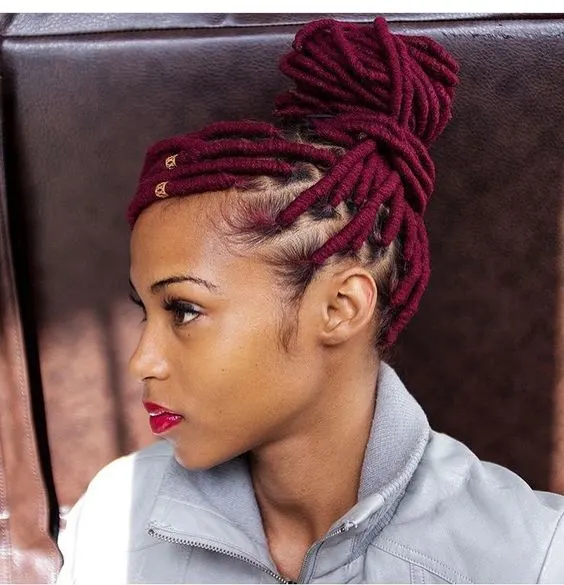 This bun is different because the dreads are thicker and as they start straight from the root, they make square parts on the head and show some skin!
This is another cool hairstyle. Twist your front red dreads and put it all together into a beautiful updo. The upgraded look of the casual bun is the extravagant reef. Each dread is styled individually, creating a final look that resembles the vivid coral reef.
The ruby red dreadlocks hairstyle is a totally cool look that involves additional accessory – headscarf or headband. The dreads are separated into two parts. The first part is styled to look like bangs, the second is wrapped up in a bun. In between, tie up the scarf with a bow on top!
Like the old Hollywood glam waves, this is the same look but with tiny red dreads. They are divided by side part and styled in big voluminous waves. This looks better suits those with shorter dreads.
Another super cool look is the vintage dread wraps. Divide your red hair dreads into three parts, wrap each other in a circle roll and fasten them.
The short red hair in dreadlock is the most basic hairstyle. Depending on the amount of your hair, you can choose whether your dreads should be thicker or thinner. From afar, they look like tiny braids.
8. Red Weave Bun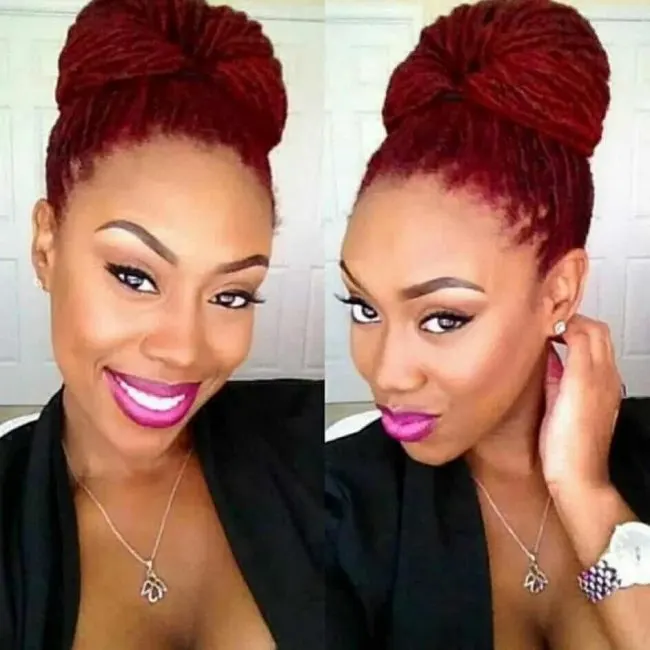 If your dreads are long then you can try out the bun. Put all of them together in a ponytail, and create a huge voluminous bun at the top of your head. It does not have to be the regular bun, every option is possible.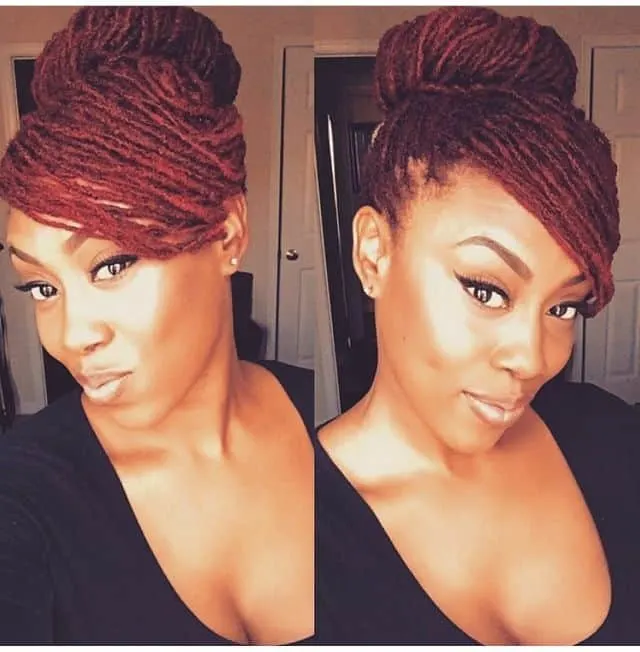 Another cute retro style can be achieved into styling your dreads over your forehead and ending in the bun. This cute and at the same time elegant look is very trendy for those with thin braids.
The slightly thicker and curlier braids can create a magnificent look. Start the process backward, live a reversed ponytail, and let the curly red dreads fall over your face.
If your dreads are short and wavy, then style them like a bob. It is a unique and eye-catching look that does not require special treatment.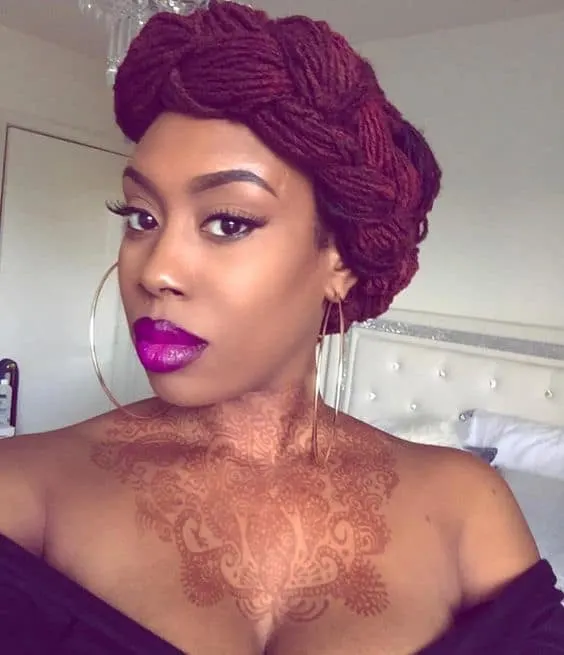 Red dreaded hair, all in a braid that goes all over your head like a crown – top notch look! It is extremely elegant and stylish.
Red dreadlocks are unique and eye-catching hairstyle. If you are certain at your choice, then go for it. It is rare, beautiful and colorful. If you decide to wear your dreadlocks in some of the above-mentioned hairstyles, then you will be the trendiest girl among your friends.
Be different, try something new and don't be afraid. With this color and hairstyle, you will leave an impression like with no other hair look. Take good care of your red dreads, do the regular touch-up as and keep them moisturized so that the hair does not look dry and unhealthy!