Ulta Beauty is a household name for a reason: it's an easily accessible, affordable spot to find all the makeup, skincare, and beauty supplies you could ever want.
The staff includes knowledgeable people who will help you find what you're looking for and offer product suggestions. And the check-out line is always stocked with irresistible mini products for a bargain.
But Ulta is more than just a makeup store. Each location features a hidden gem toward the back of the store that you might have missed: Ulta Salons!
They offer many beauty services, like facials, hair treatments, lash applications, haircuts and colors, waxing, and more.
If you're wondering what the prices are like for all these services located in one place, you're in luck. Ulta Salons' pricing is just as affordable as the products sold at the front of the store.
About Ulta Salons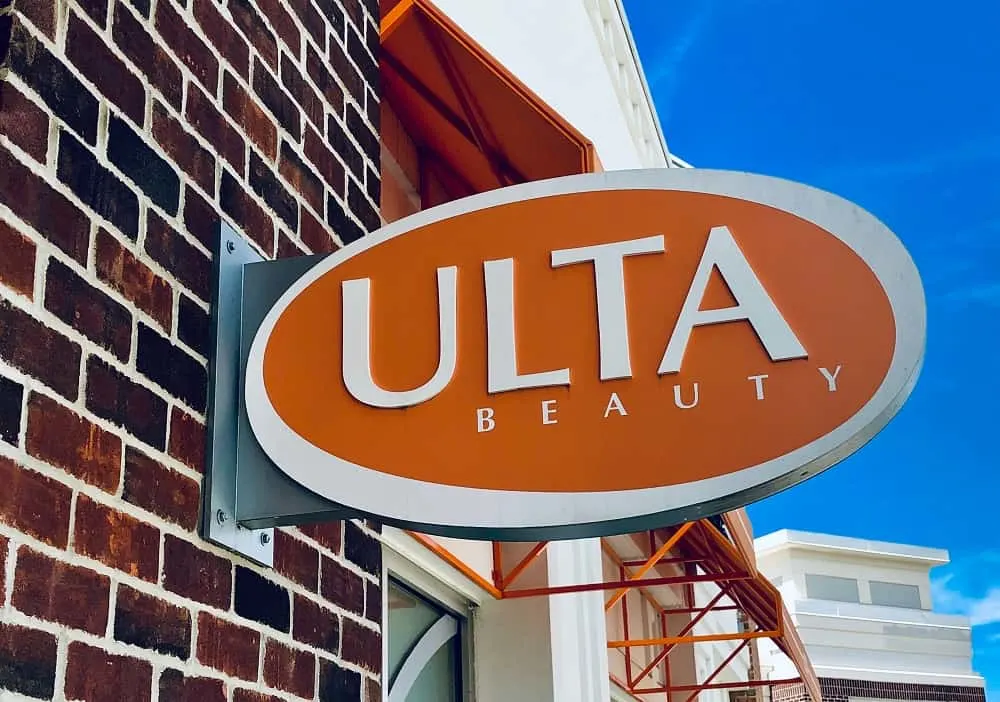 At Ulta Salons, you'll find a wide range of professional beauty services performed by a staff of licensed experts. No matter what services you have in mind, you'll receive a complimentary consultation with a licensed professional.
Although access to some of the best professionals in the beauty industry is a draw for Ulta Salons, the best part is the accessibility. As of 2023, 1,308 Ulta stores are open across the United States, which means that there's a location near you.
No matter where you are, there will be access to the consistent, reliable quality of Ulta Salons' services. Along with the affordable products offered in the store.
Plus, Ulta Salons offer salon-quality professional hair products that can be hard to come by if you're not a hair professional. That's the good stuff!
Ulta Salons Services and Prices List
Ulta Salons have a variety of services available. Below you will find a list of services and the price for each.
All Hair Services
Ulta salon prices for their wide range of hair services, including haircuts, beard trims, hair coloring, and more, are listed below.
Haircut / Trim / Shape
Ages 10+.
Stylist: $40
Master: $55
Elite: $65
Signature Haircut / Trim / Shape
Plus, a deep conditioning treatment to nourish and strengthen your hair.
Stylist: $50
Master $65
Elite: $75
Kids' Haircut
For kids 10 or younger.
All Stylists: $25
Bang / Neck / Beard Trim
Does not include shampoo/conditioner or scalp massage.
All Stylists: $10
Full Hair Color
One single color.
Stylist: $75
Master: $85
Elite: $95
Multiple Color Treatment
Full application of more than one color.
Stylist: $85
Master: $95
Elite: $105
Gloss
Full application of demi-permanent color, which helps to add shine to your hair.
Stylist: $55
Master: $65
Elite: $75
Total Blonde
All-over application (or just a touch-up) of lightener to reach the blonde tone you've always wanted.
Stylist: $110
Master: $120
Elite: $130
Partial Root Touch-up
Color application focused on hairline and part areas only.
All Stylists: $45
Color application to roots only.
Stylist: $55
Master: $65
Elite: $75
A subtle application of color to disguise graying hair.
All Stylists: $40
Whatever color services you need to correct a color mistake and achieve your perfect look. Price determined by length of appointment.
Stylist: $40
Master: $50
Elite: $60
Accent Highlight
Up to 10 balayage or foil highlights.
Stylist: $70
Master: $80
Elite: $90
Partial Highlight
Your choice of foil or hand-painted balayage highlights on half of your hair or less.
Stylist: $100
Master: $120
Elite: $140
Highlights all over, with your choice of foil or hand-painted balayage for a natural look.
Stylist: $120
Master: $140
Elite: $160
Root Blend
A treatment to soften the contrast between roots and highlighted areas.
All Stylists: $40
Smoothing treatment to reduce frizz for roughly 3 months.
Stylist: $200
Master: $220
Elite: $240
Texture Wave
A permanent treatment to turn straight strands into extraordinary curls.
Stylist: $80
Master: $100
Elite: $120
Relaxer
Permanent straightening treatment.
Stylist: $80
Master: $90
Elite: $100
Relaxer, Wave, or Keratin
A texture treatment on just one area of the head, i.e., bangs.
Stylist: $60
Master: $70
Elite: $80
Includes a wash, massage, and custom blow dry to achieve your style of choice.
All Stylists: $40
Accent Braid
One braid, either on one side of the head or worked into a ponytail.
Per Braid: $10
Curling or Straightening
Professional styling to achieve your desired curly or straight look– does not include shampoo & conditioner.
All Stylists: $30
Silk Press / Wrap & Curl
A smoothing treatment using a straightening comb or flatiron. It includes shampoo, conditioner, and scalp massage.
All Stylists: $65
Custom styling for events, including braids, twists, pin-ups, and curls. Shampoo and conditioner not included.
All Stylists: $75
Twists, Locs & Braids
Professional styling, charged by the half-hour. It does not include shampoo & conditioner.
Per Half Hour: $50
Clarifying Treatment
Get rid of buildup from chlorine, hard water, etc., to improve your hair's health.
All Stylists: $20
Deep Conditioning Treatment
It helps to moisturize, nourish, volumize, and strengthen your hair.
All Stylists: $20
Scalp Renewal Treatment
Improve hair growth, remove buildup, and prevent breakage and hair loss.
All Stylists: $20
Restorative Treatment
Professional restoration, using heat to penetrate the cuticle.
All Stylists: $25
Anti-damage Color Additive
It can be added during a color service to keep your hair looking and feeling its best.
All Stylists: $20
Protective Treatment
It protects from damage during color treatment in addition to restoring hair from existing damage.
All Stylists: $35
Extensions
The possibilities are virtually infinite– our experts will work with you to achieve your perfect style. Appointments are by consultation only.
All Skin and Face Services
In addition to hair services, Ulta provides a variety of skin and face services. The Ulta beauty prices for those services are stated below.
Consultation
A licensed and experienced skin specialist will meet with you to discuss your specific concerns and goals, helping you to determine a plan of action. Consultations are free!
10-Minute Express Facial
Using the latest products and trends to give you flawless skin fast.
$10
20-Minute Brow Lift
A non-invasive and nearly-instant eye and brow lift.
$20
20-Minute Mineral Infusion
Smooth skin texture and wrinkles with oxygen and serums.
$25
20-Minute Facial
A custom treatment based on your skin concerns.
$30
30-Minute Facial
A more involved custom treatment for your skin concerns.
$45
30-Minute Ultamate Skin Resurfacing
Use ProPower Technology to exfoliate your way to bright, refined, smooth, and healthy skin.
$60
30-Minute Microdermabrasion
Using DermaRadiance Technology for a safer, more natural method of microdermabrasion.
$60
60-Minute Customized Facial
Personalized treatments, including deep cleansing, exfoliation, and hydration, based on your skincare needs.
$60
90-Minute Ultamate Facial
A personalized facial treatment, with added Microdermabrasion or your choice of Hand or Eye treatments.
$90
Complimentary Touch-up
Work with a professional to try a new product or enjoy a quick makeup touch-up.
FREE
Makeup Lesson
A licensed professional will help you learn how to achieve your perfect makeup look on your own.
$30
Everyday Makeup Application
Leave the salon looking your best with a professional makeup application to go about your day.
$45
Formal Makeup Application
Perfect for special occasions, like proms and weddings.
$60
Additional strip lashes: $10.
Strip Lashes
Purchase your ideal lashes, and a pro will apply them for you.
$10
Cluster Lashes
We'll apply your purchased flair or cluster lashes across the lid for a temporary lash enhancement.
$35
Lash Extensions (Full Set)
A longer-lasting lash solution.
$200
Skin Experts Only
Lash Extensions (Refill)
If your lash extensions have "shed," we'll be glad to refill and refresh them.
$50
Skin Experts Only
Lash Extensions (Removal)
Permanent eyelash extensions professionally removed (because it's best to leave it to a pro!)
$20
Skin Experts Only
Brow & Lashes
| | |
| --- | --- |
| Services | Prices |
| Brow Wax | $22 |
| Brow Tint | $20 |
| Brow Wax & Tint | $34 |
| Brow & Lip Wax | $30 |
| Individual Lashes (Half) | $10 |
| Individual Lashes (Full) | $15 |
| Non-Benefit Strip Lash | $10 |
Brow Mapping
A three-step process to determine what brow shape is perfect for your facial structure.
FREE
Ulta Salon Stylists
Ulta Salons employs three levels of beauty professionals with different levels of experience– and different pricing.
Stylist
Stylists have completed the requisite Ulta Beauty training and are familiar with hair cutting and styling plus color and texture treatments. Although Stylist prices are typically the cheapest, the quality is up to Ulta Beauty standards, and rigorous training is required.
Master Stylist
Master Stylists have completed the basic Ulta Beauty training, plus a further level of master's education in all of the services Ulta Salons offer. They're also committed to continuing education, keeping them on top of the newest trends and developing technologies in styling and processing.
Elite Stylist
Elite Stylists have completed both the basic and master levels of Ulta Beauty training, plus top-tier special training and ongoing education. They also often mentor other Stylists, sharing the knowledge they've learned.
Ulta Salon Hours
Ulta Salon hours might vary according to location, so double-check online before your visit, but typical store hours are 9:00 AM to 11:00 PM on weekdays. On Sunday the salon hours is 9 AM-10 PM.
FAQs
Find the answer to your questions with these frequently asked questions.
How do I make an appointment at Ulta Salons?
Visit https://www.ulta.com/stores to find the closest store and book an Ulta Salons appointment.
Do Ulta Salons provide ear piercing services?
Yes. Ear piercing services include piercing, earrings, and aftercare products. The cost is $55.
Do Ulta Salons accept hair donations?
No. Ulta Salons don't accept hair donations, but they will cut your hair for donation and give you the hair to send to Locks of Love or another charity.
How should I tip at Ulta Salons?
Tipping at Ulta Salons is consistent with most hair professionals: you should tip at least 20%– more if you're especially happy with the service.
Are Ulta Salons closed on holidays?
Ulta stores are open 364 days a year– every day except Christmas Day. However, your local store's Ulta Salon might differ in hours, so be sure to double-check.
Do Ulta Salons provide any sort of reward or discount?
Yes, Ulta Beauty stores offer the Ultamate Rewards Program, which allows you to collect points when you purchase products. You can also get and use points by purchasing hair, skin, and brow services in Ulta Salons.
What payment methods are accepted at Ulta Salons?
Ulta Salons makes it easy for you by accepting virtually every type of payment out there, including Apple Pay, Paypal, and Afterpay.
Can I get a beard trim or a fade at Ulta Salons?
It's never a bad idea to check with your stylist, just to be sure, but Ulta Salons professionals are familiar with contemporary hair cutting and styling, including fades!
What products does Ulta salon uses?
Ulta Salons employ highly-trained beauty experts, which means that it is qualified to offer salon products that are typically only available to professionals.

This fact means that the selection at Ulta Beauty is a step above other beauty stores– the products offered are the best on the market.
Professional, Affordable Beauty Services Performed by Experts
Ulta Salons is proud of its wide selection of beauty services, allowing customers to leave the salon looking and feeling their absolute best. No other beauty store offers such a wide selection of products and professional services under the same roof!
You May Also Like: