Finding the right hairstyles for a small face can be a very challenging task. While most women are trying to make their faces look slimmer, there is a group that was blessed with a small face. Since the hair has a lot to say in the final appearance of a person, it is very important to choose a haircut that will flatter your face shape.
If you are on the smaller side, there are plenty of hairdos that will help you achieve a fake illusion of a wider, longer, bigger appearance. Most of them are short, trendy and approved by celebrities.
Hairstyles for Women With A Smaller Face
Small face shaped women can try versatile hairstyles. The following are the top 30 hairstyles for women with a small face we recommend you to give a try.
Just by having an asymmetric haircut, the whole attention will be not be focused on how big your face is. That is why this cool asymmetric bob is among the ideal hairstyles for a small face. Next time you visit the hairdresser you can give this do a try.
You'll love it so much that you'll keep it for a long time. Another thing that we have to share is that it works for ladies of all ages. Keep the hair straight or add some waves, the choice is yours.
2. Short & Voluminous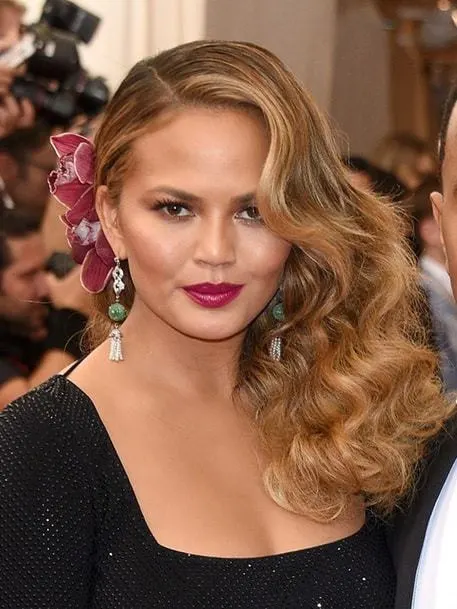 The added extra volume has the ability to make faces look larger. If you are planning on getting retro curls, we recommend that you set them free on only one side. If you do a middle part, your small face might get lost in the hairdo.
When the curls are less voluminous, then you can choose a middle part. This is one of the most popular red carpet beauty choices at the moment.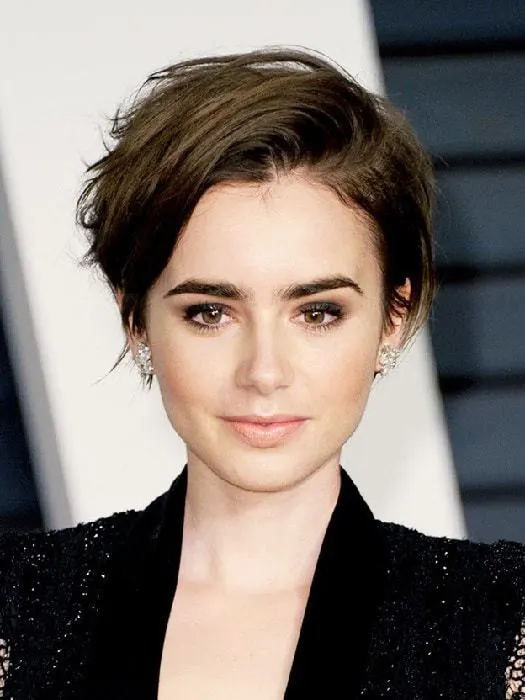 It doesn't matter whether you'll choose a shaggy, deconstructed pixie cut or a perfectly styled one. As long as you are rocking short hair, you're on the right track. It is also the top trending haircut among women with small face and stars at the moment.
It is very easy to maintain, without the need of visiting a hairstylist too often. When you need a product to style it, use hair wax or spray for a natural look.
Don't be afraid to experiment with bangs ladies. A short, sassy bob with fringe is one of the best hairstyles for a small face. All the popular stars tried rocking the fun short mane in the past year or so.
Once you add a new dimension to the look with bangs, your face will appear a bit bigger. The parts where the fringe ends on the sides will frame the bone structure and give an illusion of a wider face.
5. Topknot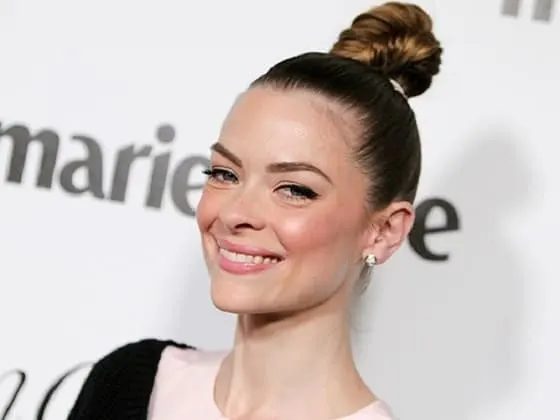 Nothing beats the good old topknot. It is such a versatile updo that every single woman out there can rock it. Even the ones with a smaller face size should give this hairstyle a go. You will only need a hair tie, comb, and hairspray.
Make everything sleek and smooth. Just make sure that the topknot is not too big. This gives an illusion of a longer and bigger face.
The half-up, half-down are the best option for ladies with long hair. The whole point is to add some volume to the look, without making it too much. The face should not get lost in the hairstyle. You can opt for either curl of funky beach waves.
7. Hairstyle for Small Round Face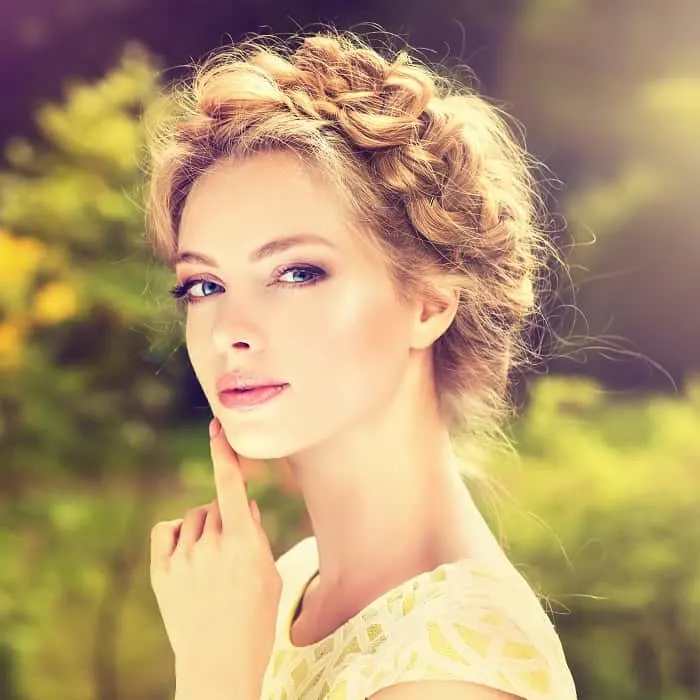 If your face is small and your hair has some body to it, form a gorgeous crown braid starting from one side and winding up around the other.
8. Hairstyle for Small Face and Big Forehead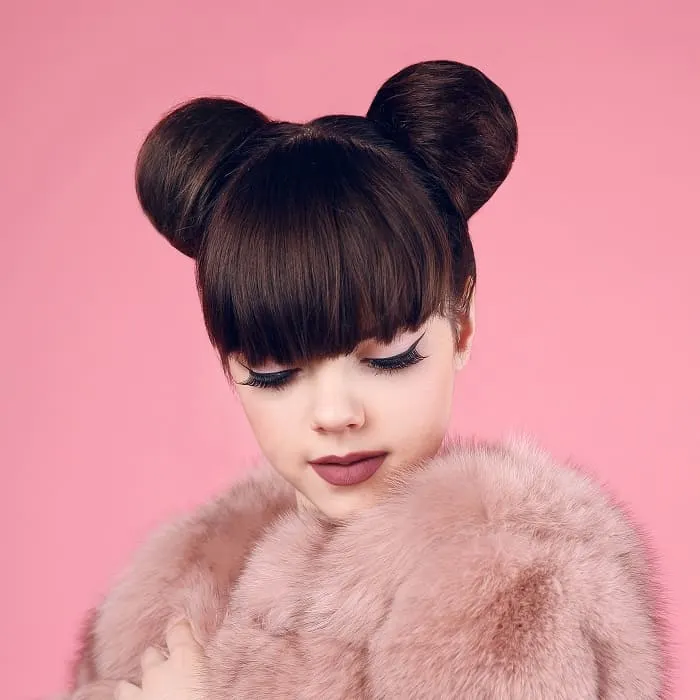 The best way to cover up a large forehead is with long straight bangs. These come past the eyebrows for a dramatic statement on two high space buns.
9. Long Hairstyle for Small Face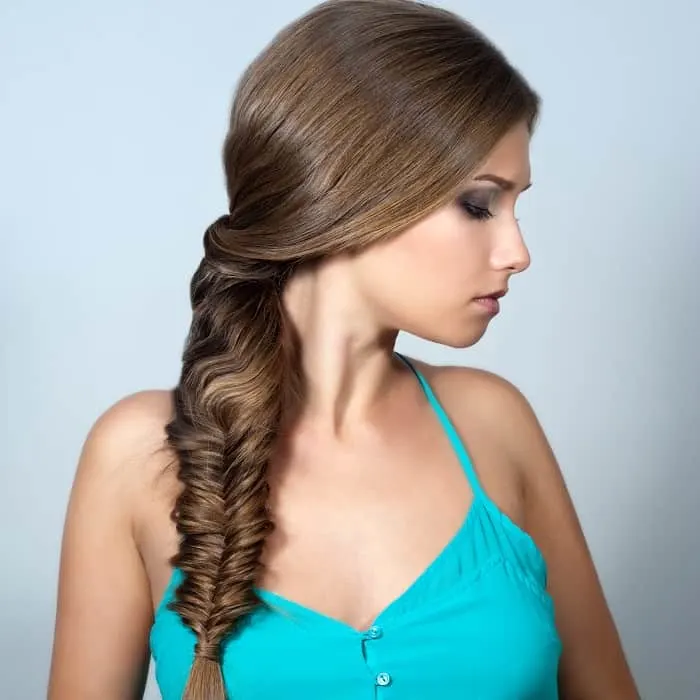 A small face looks great with a super long side fishtail braid. Just brush the hair straight beforehand to make it easier to work with.
10. Hairstyle for Small Oval Face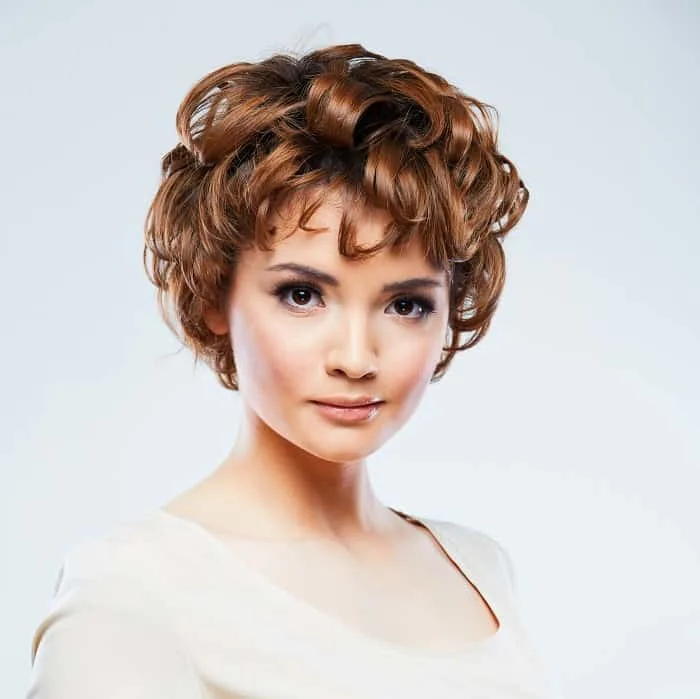 Oval faces are the perfect shape for pixie cuts. This one has lots of layers that help with creating the wavy and piecey texture.
11. Hairstyle for Small Face and Big Nose
To flatter a small face but offset a large nose, draw the attention up to your hairline. A thick braid looks beautiful with a wavy hairstyle.
12. Hairstyle for Small Face and Long Neck
With a high ballerina bun, you can be proud of your long neck. Sleek it up with hair product or leave it slightly loose for casualness.
13. Curly Hairstyle for Small Face
A small face peeks out in a flirty way on a short bob loaded with luscious curls. Make sure the bangs are curly and long enough to cover eyebrows.
14. Hairstyle for Small Face and Forehead
Distract from a small face and forehead with an extra long hairstyle of dreads. Their alternating colors and accenting beads are a beautiful distraction.
15. Thick Afro
Another choice for Black women with small faces is this thick gorgeous afro. Two long braided sections of hair are the unexpected detail that fall over shoulders.
16. Wedding Updo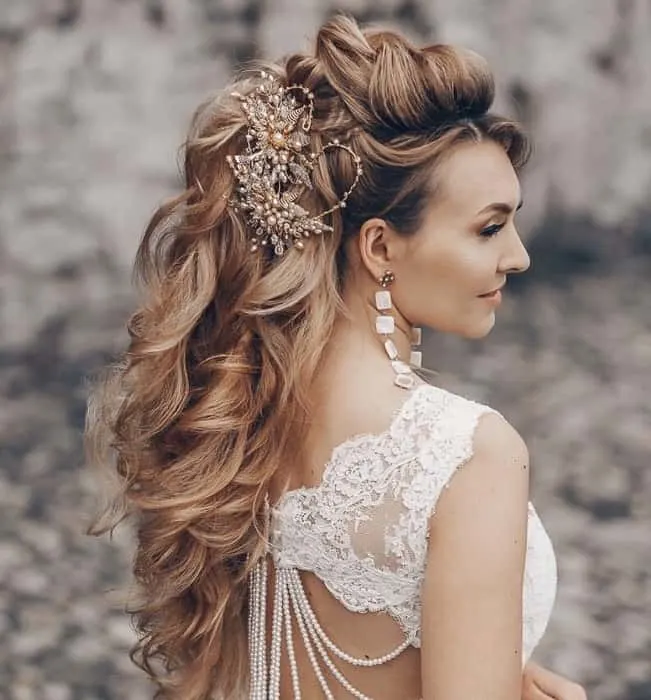 When you're searching for that statement wedding hairstyle but have a small face, go big and dramatic. Super long hair is braided into sweet waves in a half updo.
17. Thin Hairstyle for Small Face
As you age, you may find your hair thinning. To help your small face out, try a short bob whose body is helped with a bit of mousse and scrunching.
18. Simple Straight Ponytail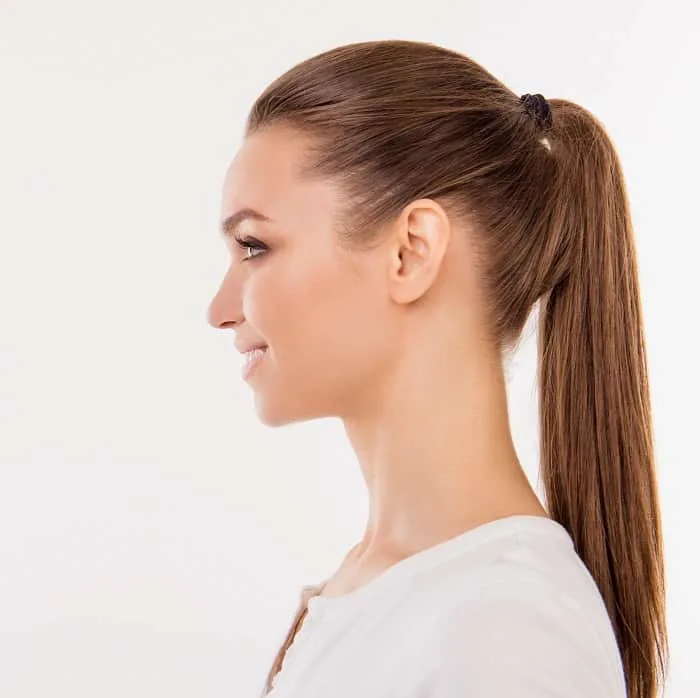 All face shapes, not just small ones, look great with a classy ponytail. Flat iron it straight for sleekness.
19. Balayage MicroBraids
For Black women, long microbraids are gorgeous and perfect for flattering small faces. Try them in a balayage combo of dark brown and caramel or blonde.
20. Pixie with Fade
When your goal is an edgy hairstyle for a small face, you can't go wrong with a black pixie with a fade. Whether it's a high fade or totally shaved, neither will disappoint.
21. Long Waves
What woman doesn't want a long luscious hairstyle to run her fingers through? Whether you have natural curls or you use a curling iron to get them, give hair a heavy part for beautiful dimension.
22. Cornrows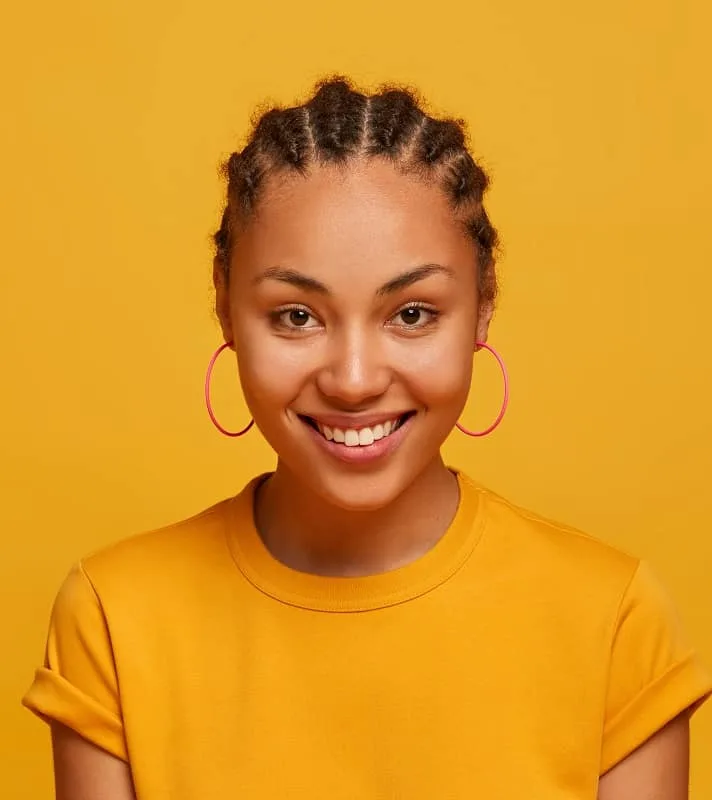 If you're a woman with natural black hair, try cornrows. They're flattering for small faces and are also a beautiful protective hairstyle.
23. Straight and Centered
The face-framing layers on this short straight haircut distract from a small face in a flattering way. Just add a center part and you're done!
24. Half Updo Bun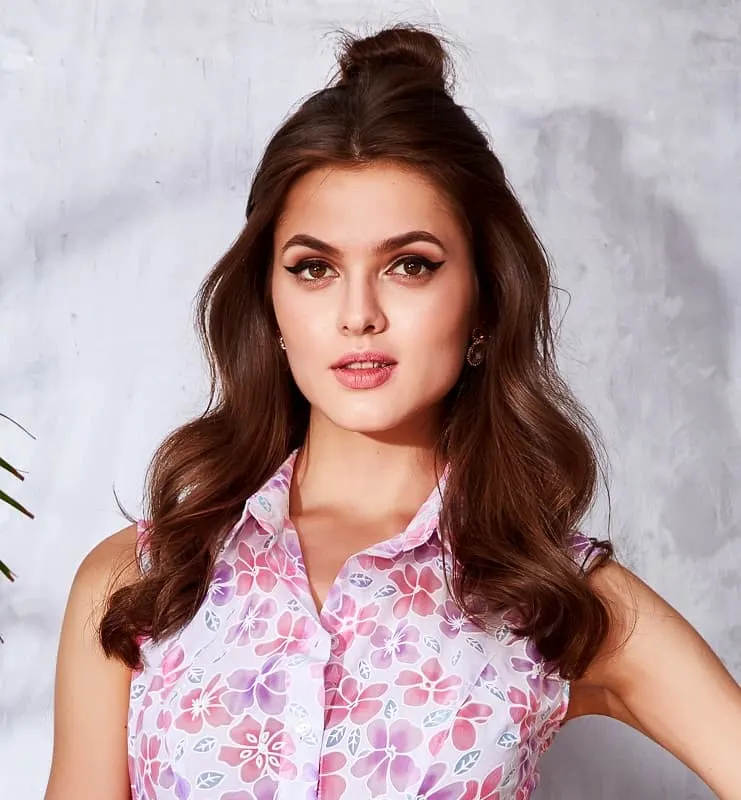 A half updo bun will narrow your face instead of emphasizing its smallness. Instead of combing hair straight back into the bun, part it first. Leave the rest of the hair natural or add curls.
25. Layered Pixie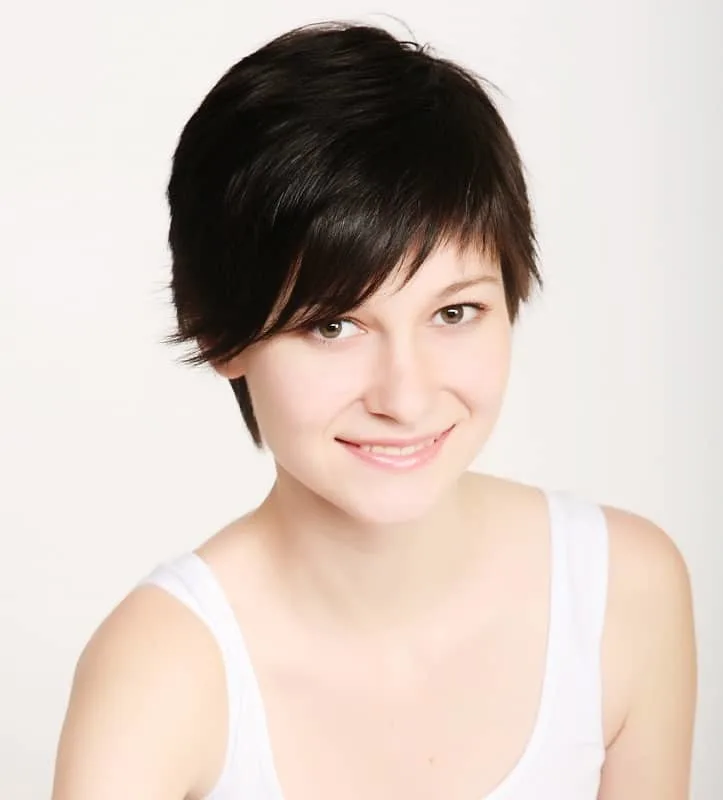 For women who prefer short haircuts, a pixie is always a flattering choice. The bangs on this straight hairstyle are layered so they fall nicely across the forehead.
26. Curly Ponytail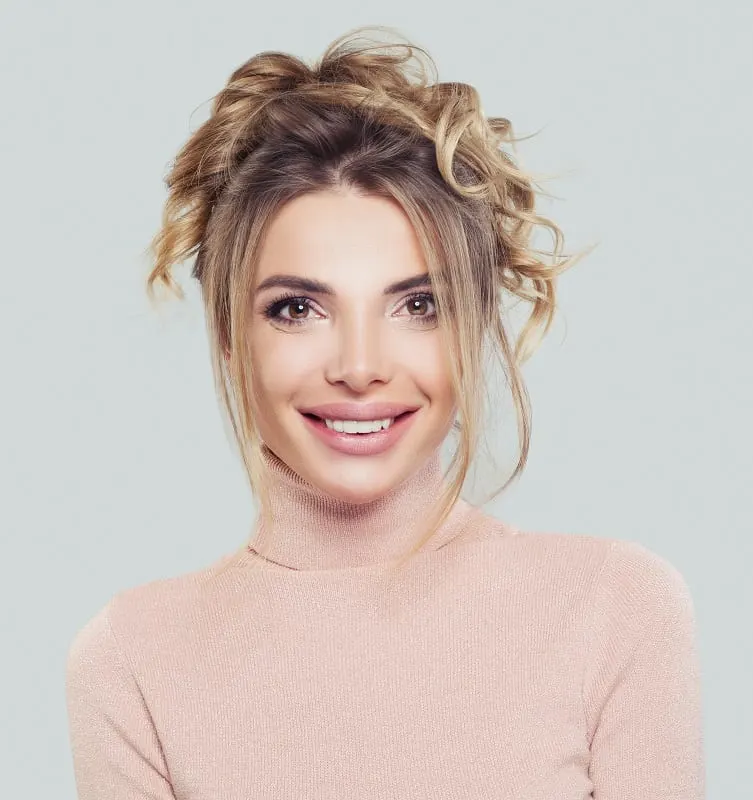 Straight face-framing sections of hair frame this woman's small face. It's a nice contrast to the high curly ponytail. Get these spiral curls with a curling iron or wand.
27. Super Curly Long Hair
For women who are a natural redhead and have a small face, feel free to leave your wild curly hair loose. A few shorter pieces up front create a soft bang.
28. Straight Pixie with Long Sides
While the majority of this woman's pixie is short, there are two sections along the face that are noticeably longer and cover the ears. Bangs are cut short above the eyebrows. For special occasions, use a cute pin to clip back bangs.
29. Heavy Part on Thin Hair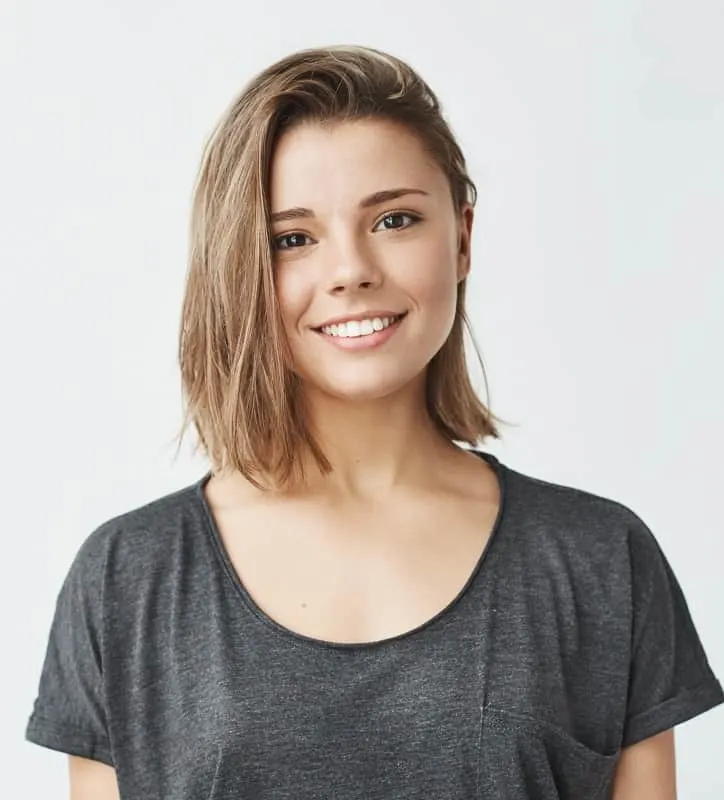 This woman may have a small face, but our eyes immediately go to the lovely voluminous body created by a heavy part. It's also a great style for straight thin hair. With or without short layers, it's a winner!
30. Two Low Braids
The traditional pigtail hairstyle for girls becomes sophisticated when they're left low to hang over shoulders on this woman's small face. Create a center part first and then spritz with hairspray for no frizz.
This is an easy, versatile and perfect hairstyles for women with a small face. The ones that are struggling with the thin type can feel free to try this mane as well.