Thankfully, because of the courage of natural loc'd brides who paved the way, more brides of color are opting to rock their gorgeous natural hair on their special day.
But, some consider dreadlocks to be less elegant than other hairstyles, making them not the ideal hairstyle for weddings.
However, we disagree. Wedding hairstyles for locs are incredibly fashionable and stylish and have a long cultural history and meaning.
Whether you fancy high buns, loose open hair, or very formal styles, there is something in this locs hairstyles for brides list to appeal to everyone's taste and hair length.
Fashionable Wedding Hairstyles for Locs
Locs, also known as dreadlocks, can be styled in various ways to suit any bride's taste. From classic updos to loose curls, locs wedding hairstyles offer versatility and a bohemian vibe.
You can choose to leave locs down, styled in an intricate updo, or adorned with flowers or accessories. Check out the below wedding hairstyles with dreadlocks that can add a touch of authenticity to your bridal look.
1. A Regal Side-Swept High Bun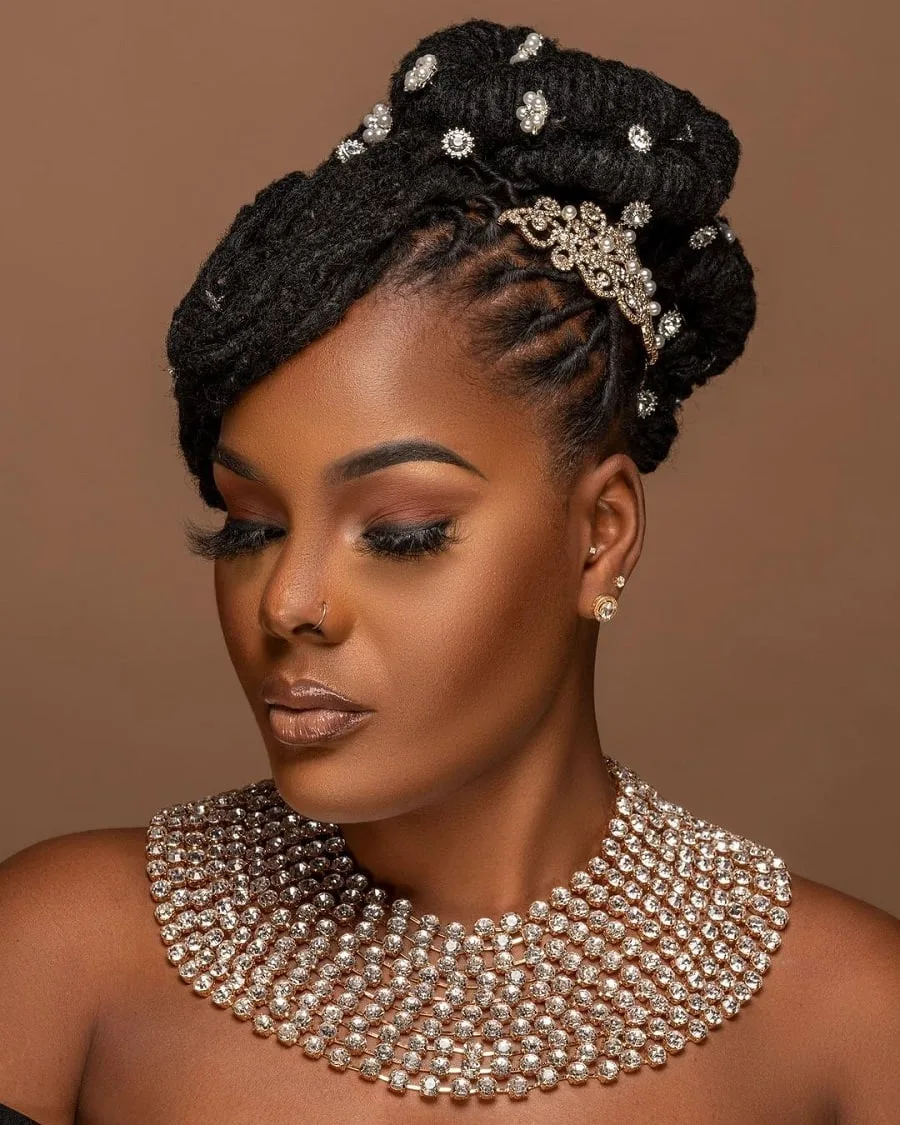 Looking like a queen is best personified by this elaborate, regal hairstyle that combines a high scraped-back bun with a Dutch braid style at the side.
You can side-comb them and sweep them behind the ear if you have bangs. Finish off with adornments of your choosing from gems and pearls instead of flowers for that sophisticated, dazzling look.
A jeweled barrette is also an excellent choice, especially if you wear other jewelry bits like a diamond necklace or studded earrings.
2. Rocking The Beanie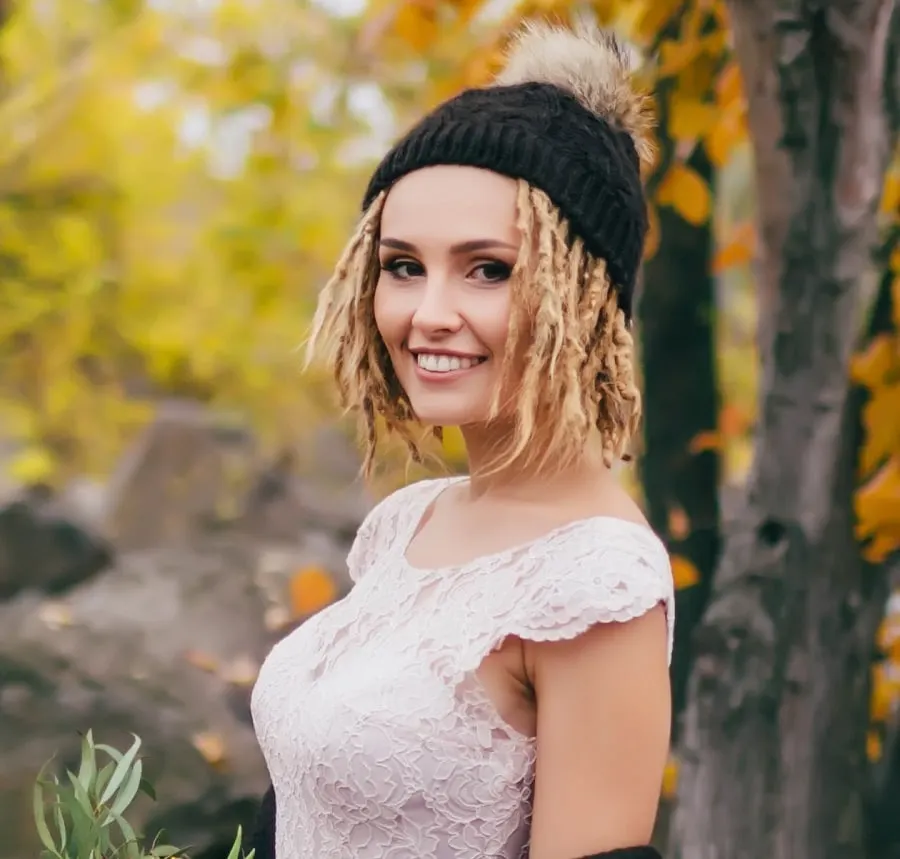 Wedding hairstyles do not need to always be prim and proper. For brides getting married in remote, outdoor locations during the colder months, this beanie hairstyle with short dreadlocks is an appropriate and cute one to go for. Some brides even wear sneakers on their big day for purposes of comfort!
3. Classic Dreadlock Beauty
This black bridal hairstyle is a play on enhancing the beauty of long dreadlock hair. If you have long, beautiful locs, you can braid them with hair ornaments and also pin up both sides while leaving the rest open.
The effect is casual yet impactful and emphasizes the beauty of going 'au naturel.' Not to mention classic open-pinned hair suits every kind of wedding dress, from round to V-necked to off-shoulder.
4. Neon, Bohemian Weaved Locs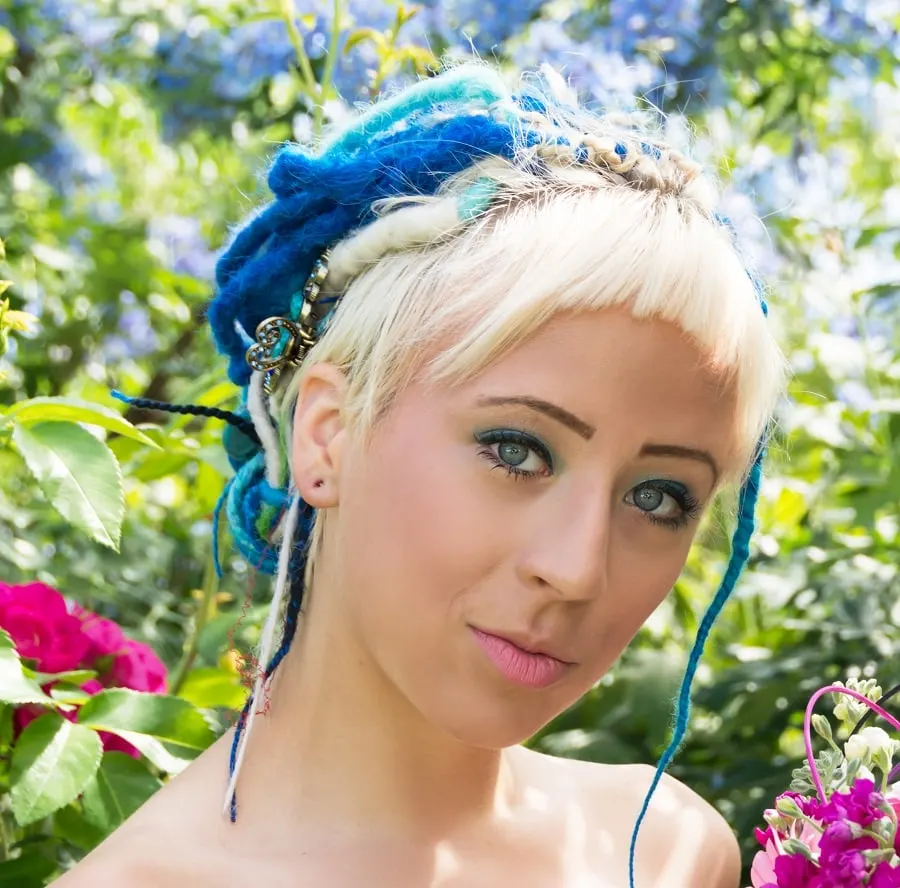 Dreadlocks do not always need to be natural; with hair that has been dyed bright colors, you can have a high bun or a loose bun with colored locs showing through. The effect is all the more impressive for outdoor weddings where the natural light can reflect the beauty of the colored locs.
Throw in some hair flowers or vintage hair accessories for a bohemian, slightly wild, but incredibly aesthetic wedding hairstyle.
5. The Nordic Natural Dreadlock Style
Gentle dreadlocks are a beautiful style to emulate, especially in this laid-back Nordic design with gypsy flowers or any other type of wildflower woven in. A side parting suits most face shapes, and the hair left open imparts a naturally alluring vibe.
6. Jeweled Locs With Veil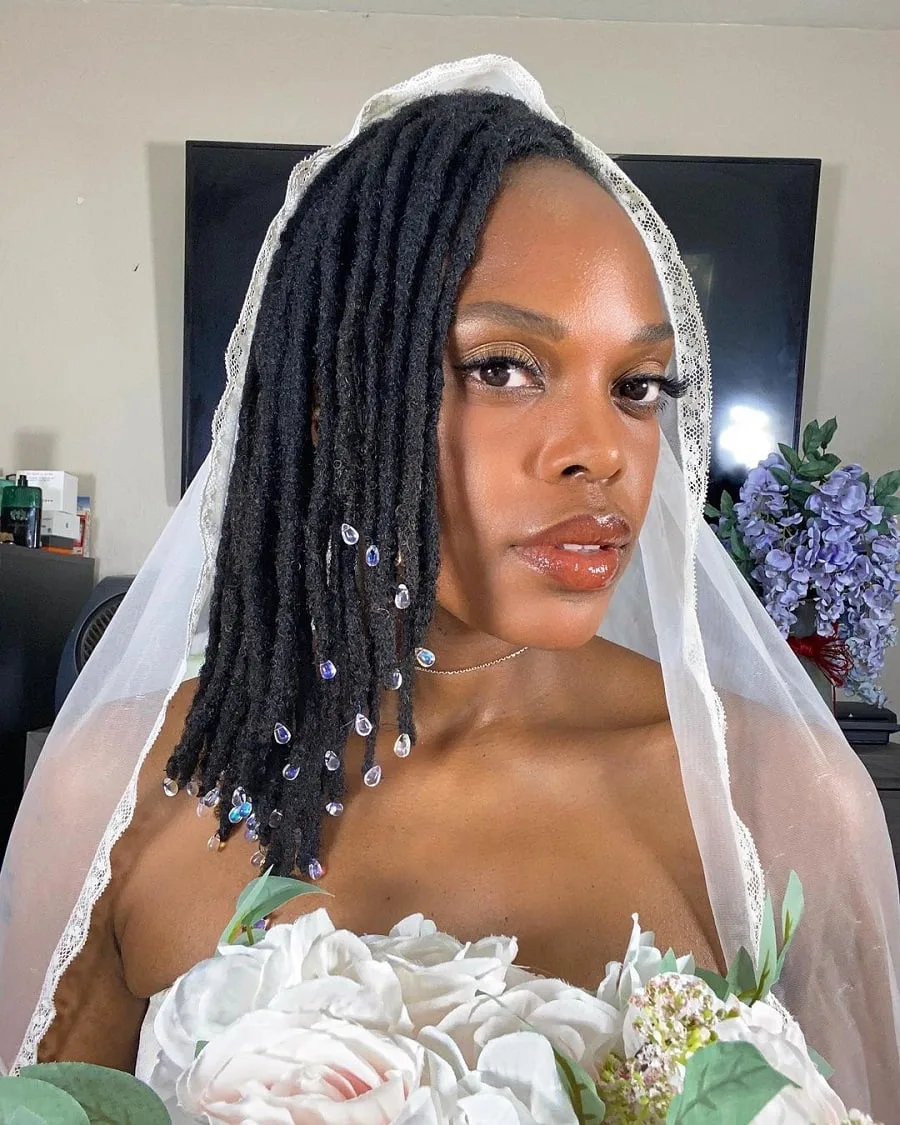 A wedding veil is a magnificent addition to the bridal attire, although every bride does not opt for it. If you have gone for a bridal veil, then this locs wedding hairstyle that uses tear-drop-shaped gems at the end of each lock of hair is a complete stunner.
It gives the illusion of longer hair, and the dangling gems affect photographs particularly well, even if you are wearing little other jewelry.
7. Greek Wedding Look With Locs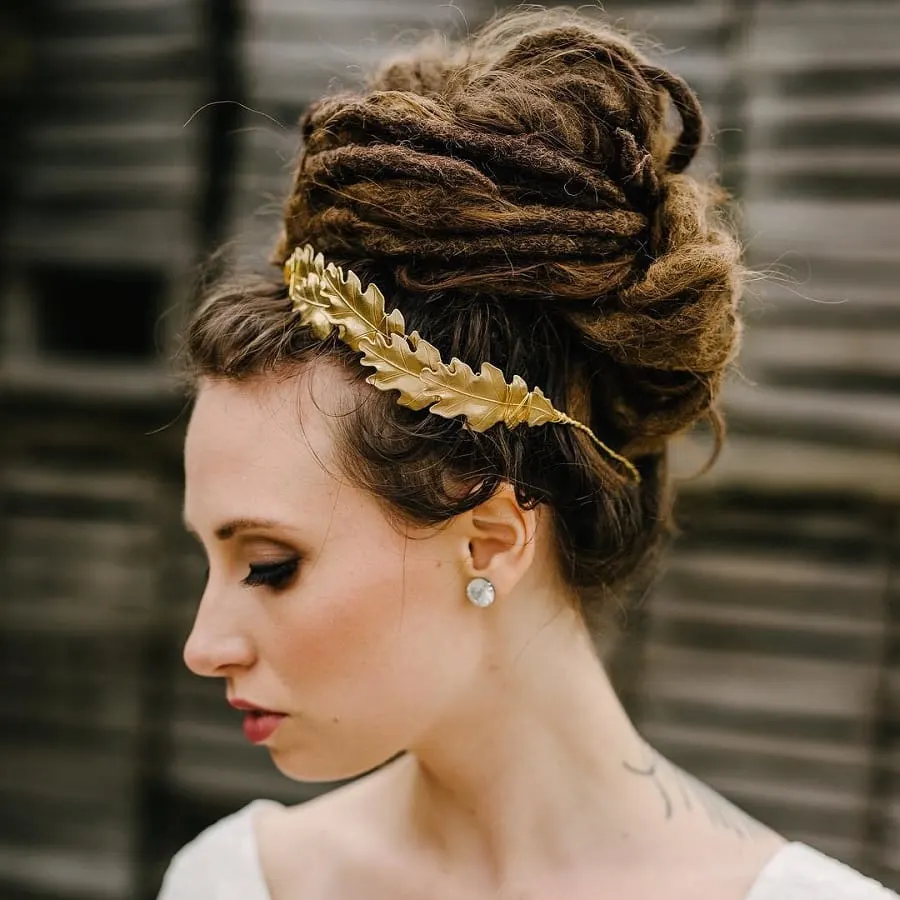 Are you a white girl who wants to incorporate locs into your wedding look? Try this vintage bridal locs hairstyle!
This wedding hairdo is from Roman times or historical narratives. It showcases beautiful locs to spectacular effect by piling them on high in a semi-perfect top bun with some messy strands secured with a statement Greek headpiece. For a blast of history, this hairstyle is one to impress and baffle.
8. Curly Dreads With Hair Jewelry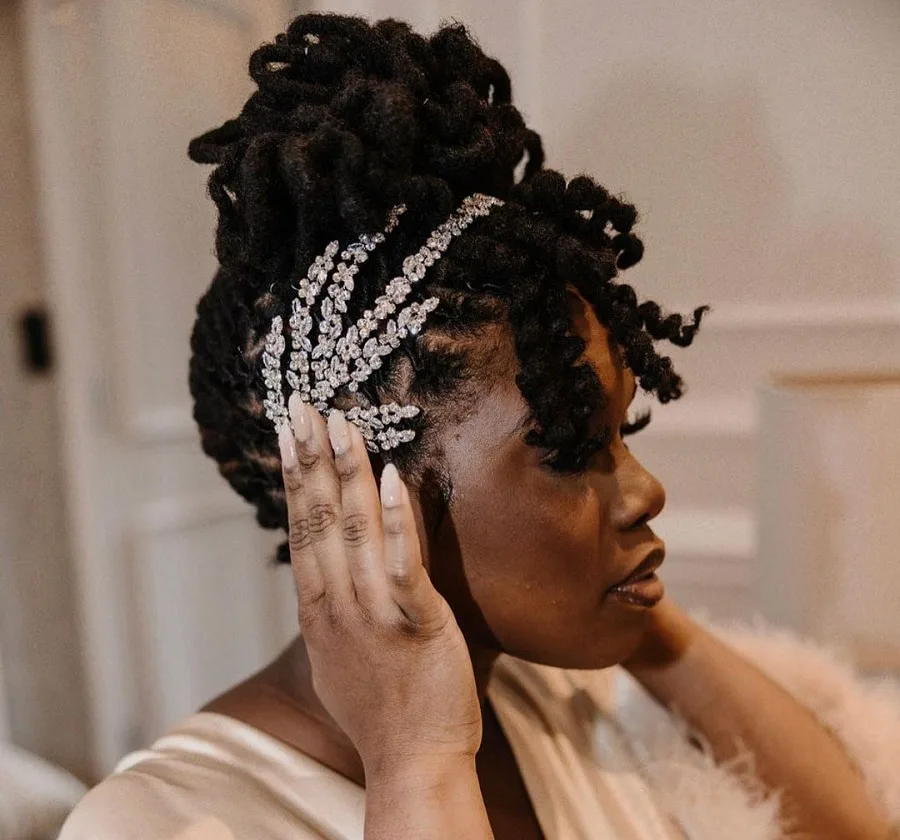 Curly dreads, especially in a messy pin-up style with some curls falling toward the face, are naturally beautiful and prevent a wedding hairstyle concept from becoming too formal and perfect.
A well-positioned jeweled barrette ties the whole look together, giving it that fashionista flair.
9. Medieval Half Up Half Down Hairstyle
In recent years, wedding attire and styling have been returning to more vintage or medieval fashions that have been redesigned for modern brides.
This half up half down hairstyle is very 'olden' and stunning, and the use of jute or twine string to secure certain locks of hair adds that ancient touch.
Lace and gypsy flowers tie together look wonderfully to exude the aura of a forest nymph or an elven maiden.
10. Magnificence Complete With A Tiara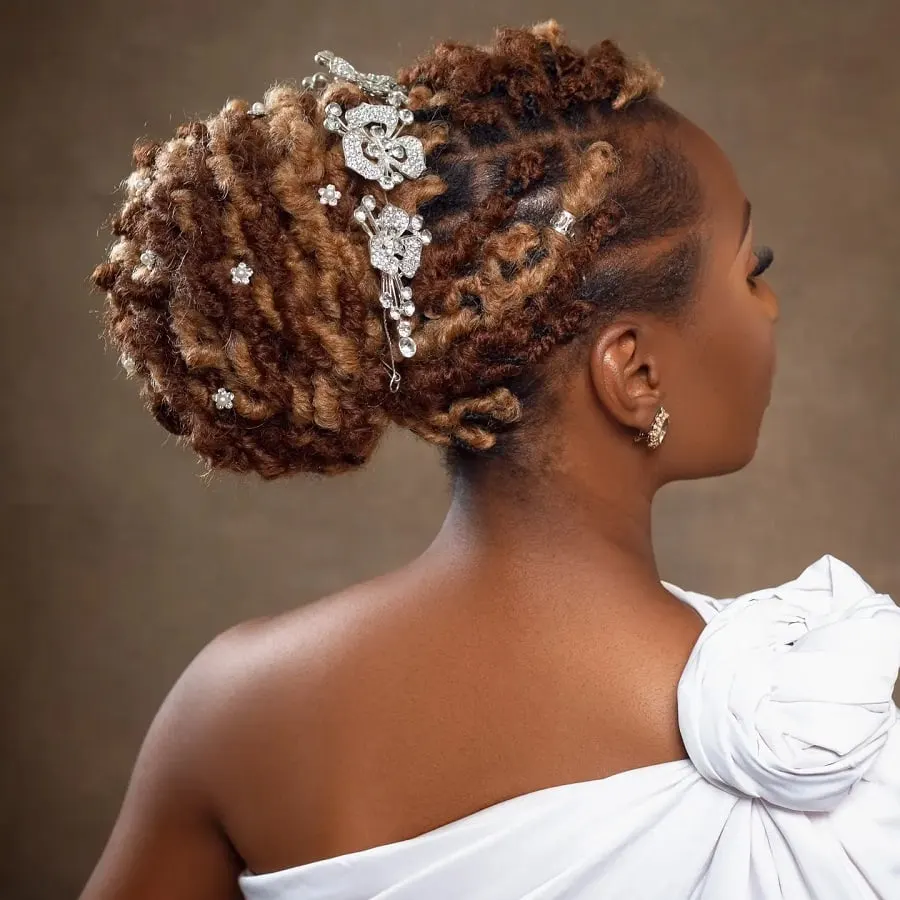 Jumbo locs wedding hairstyles can rarely be bigger and bolder than this magnificent large bun with an abundance of smaller gems and one large statement tiara secured right in the middle.
If you are trying to recreate this wedding style with shorter or thinner dreadlock hair, consider using a hair donut.
A hair donut is a similar bun-making accessory or even a weave or extensions to get that fuller, voluminous look.
11. A Princess Low Bun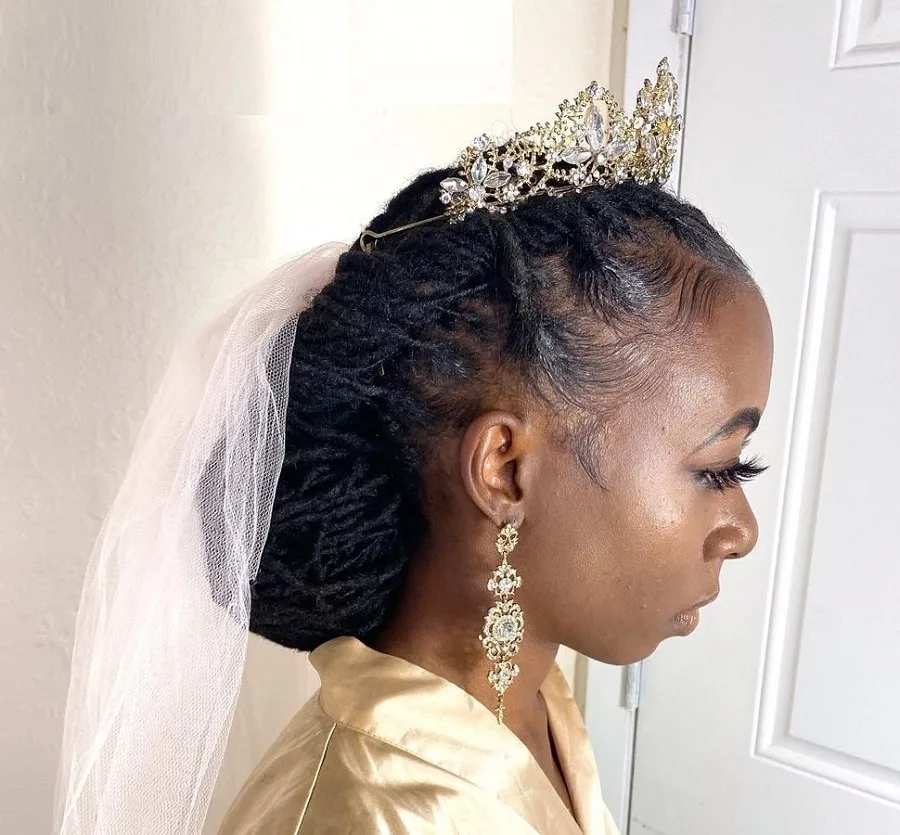 Buns are classic wedding hairstyles. This low-loc bun with slicked-back hair and a spectacular tiara is a gorgeous example of a hairstyle if you aren't sure what suits you.
Since the bun is low, you can make the tiara as large and gorgeous as you want and secure a veil in the middle of the bun to finish the look.
12. A Victorian Gothic White Dread Dream
For lovers of theatricality and artistic impact, this hairstyle is about as unique as it gets. It uses a white dreadlocks wig, hair dyed peroxide blonde or platinum blonde as the mainstay.
It incorporates Victorian gothic lace flowers, pearls, gems, and any other hair accessory that could be found on dolls or women of that time. The effect is staggering beyond words.
13. A Stunning Pocahontas Wedding Hairstyle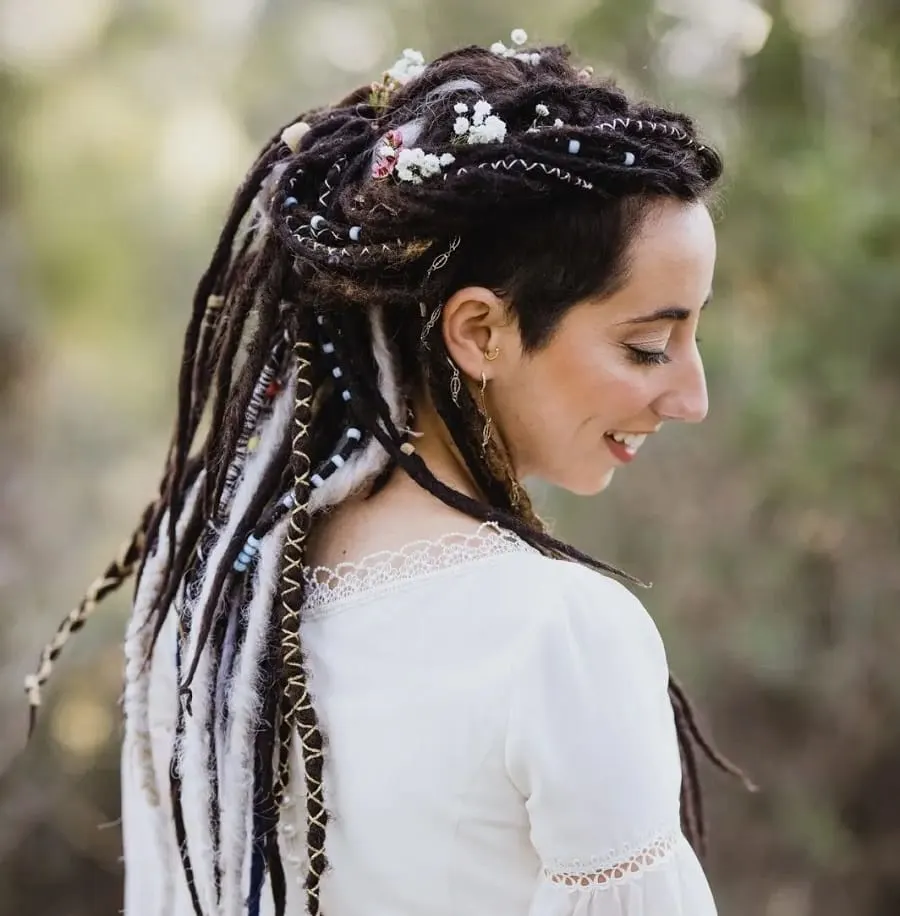 Hairstyles like this take from the Native American tradition of binding the hair with beautiful strings and leather and enhancing its beauty with wildflowers and sometimes stones as well. It is the perfect look for an outdoorsy wedding or a less-than-conventional bride.
14. The Simplicity Of A Perfect Bun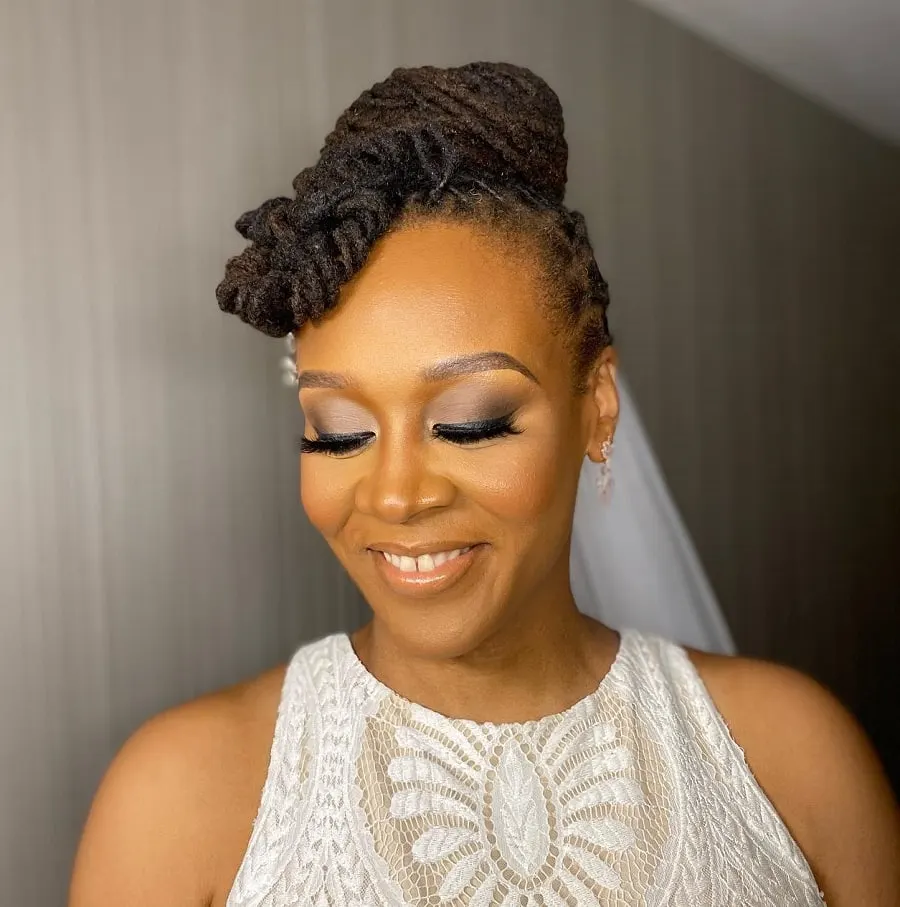 A perfect and simple wedding bun is classic, goes with all manner of wedding attire, and can be styled up or down depending on the personal preference of the bride. You can add gems or hair flowers or leave it neatly as it is and attach a veil to complete the look.
15. A Braid In A Braid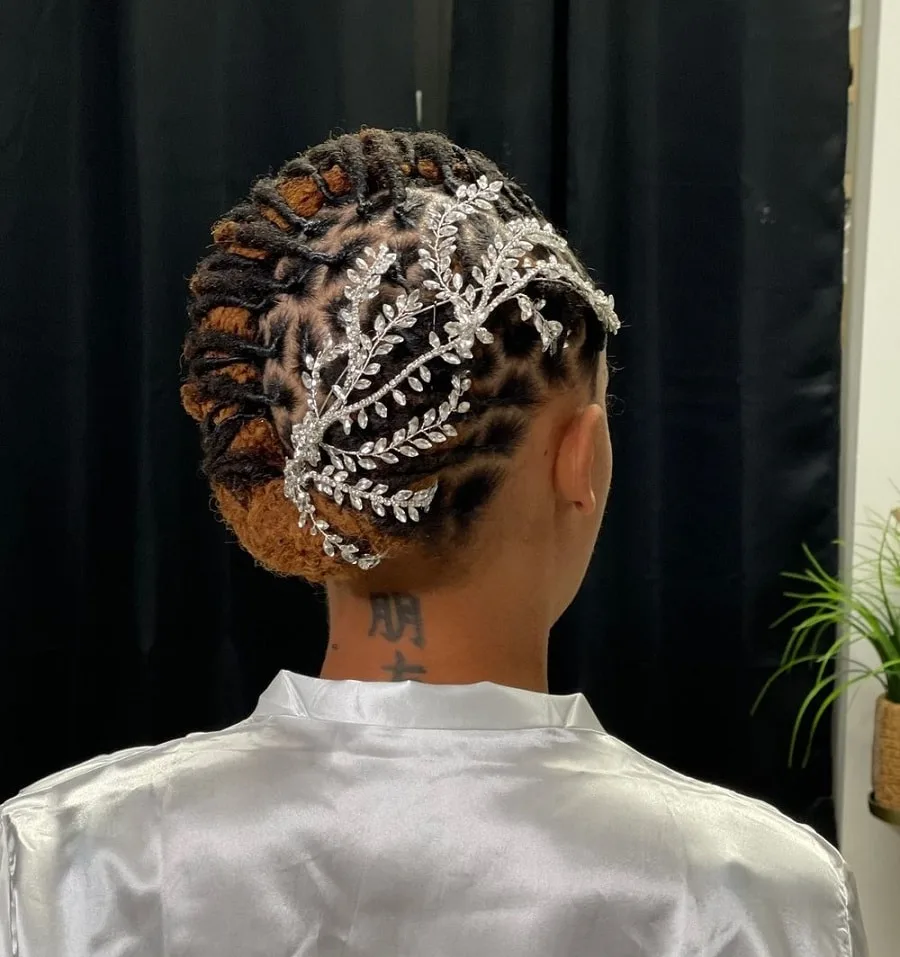 One of the most creative wedding hairstyles for locs on this list! An intricate hairstyle like this is very powerful, especially if you have chosen a simpler wedding dress. It sweeps the locs to one side and creates a braid within a braid leaving half the head for a statement jeweled headpiece. The effect is modern, elaborate, and undeniably stylish.
This hairstyle works particularly well for shorter or thinner hair, as weaves, extensions, or other volume-adding hair accessories can be used.
16. Top Bun With Elaborate Curls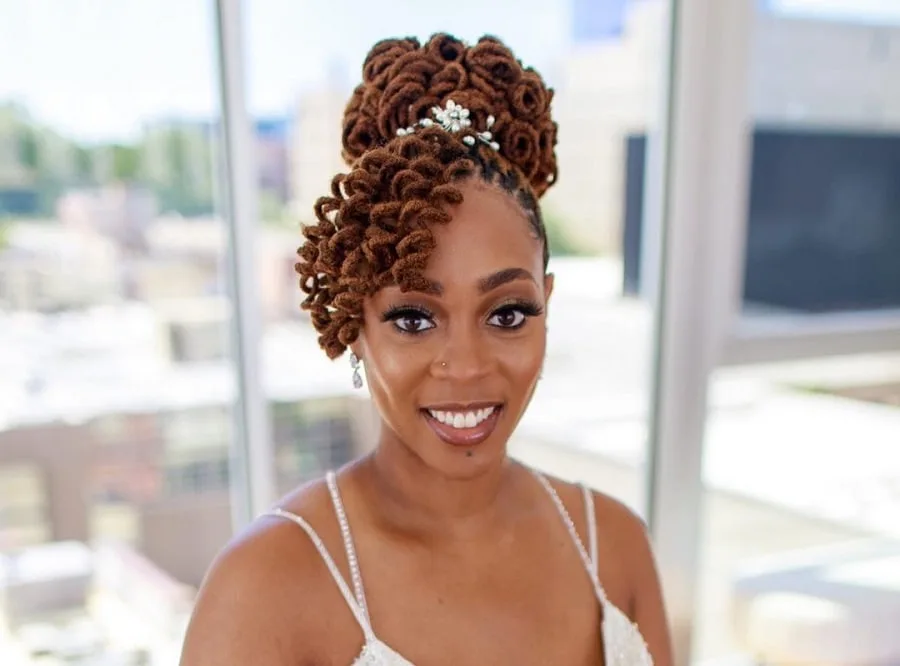 Brides with thick, volume-filled hair can work wonders with this elaborate curly top bun with loose curly strands framing the face. Adding a small tiara or similar jeweled headpiece really elevates the look to super regal.
Use a thin barrel tong to get ringlet-like curls and pin them in place to maximize their lasting power. Finish with a supreme hold curl spray so that they last well through your ceremony and reception.
17. A Period Queen Wedding Bun With Jewels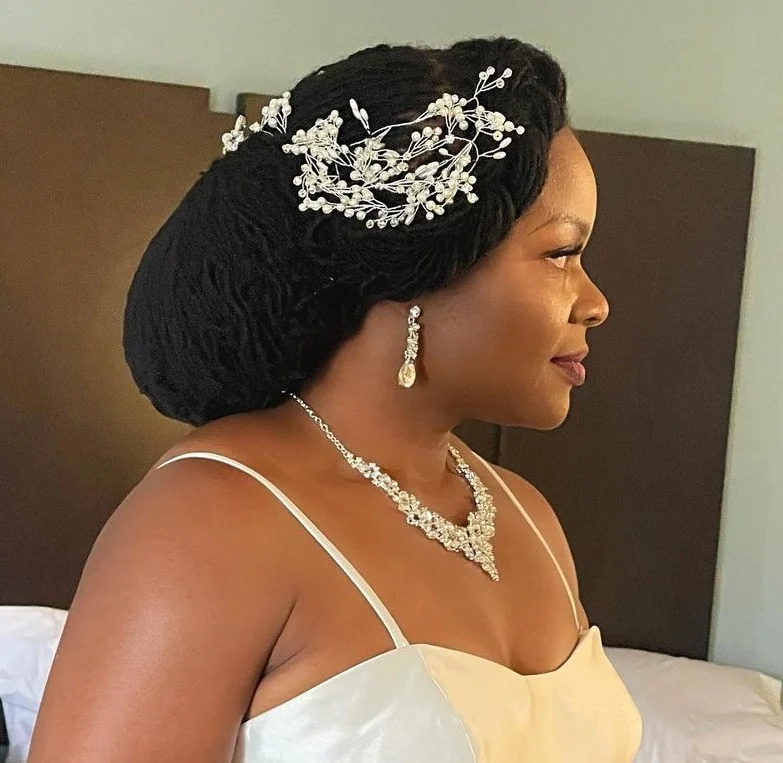 For a bride looking to go all out, this hairstyle is a Queen bun. It's created with a hair donut or similar volume-adding bun filling to increase the size and embellished with a gem and pearl statement headpiece. You can adapt it to include pearl hair pins or flowers instead of a tiara. But this hairstyle promises eye-catching and mind-blowing.
A wedding hairstyle is ultimately about the look the bride is trying to achieve. It also needs to blend in with the styling of the whole attire, from the dress to the makeup. If you have locs, incorporate your dreadlocks into the wedding look and create a unique look for your special day.