White highlights present an amazing way to make your dyed or natural hair look interesting. You can wear them in both light and dark hair without any worries about how it will look.
White hair highlights are fabulous and so fashionable. Many women try them without regret. If you're following the Instagram feeds of supermodels, actresses, and influencers, you'll see that many of them have tried and loved white hair highlights.
This is not just about regular ombre hairstyles. White hair is something really extraordinary, but you need to let a professional do it. You will need to bleach your hair strands in order to get platinum hair.
So what are you waiting for? Let's get inspired for your next hairdresser appointment.
Best White Hair Highlighting Ideas
Do you need inspiration for your next haircut? Start with any of these styles of white blonde highlights.
1. Layered Bob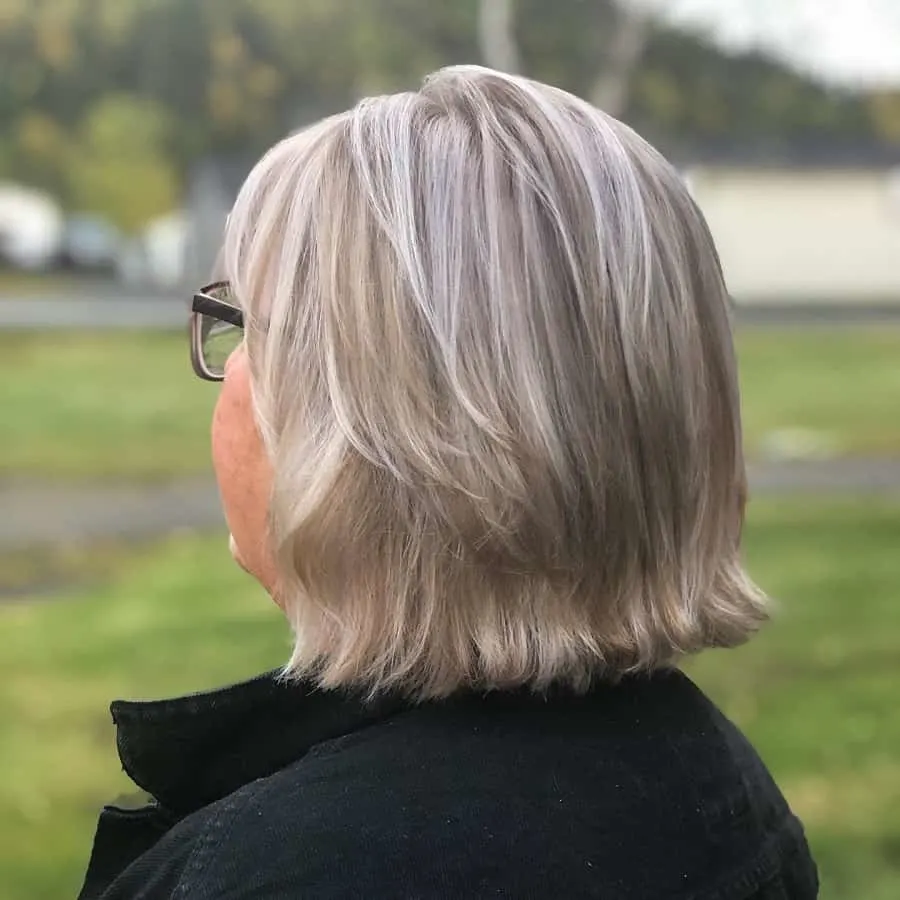 If you're an older woman rocking short hair these days, we recommend this cute bob featuring white highlights in short layers. Opt for thin highlights in the main body and thicker face-framing ones.
2. Face Framing Highlights
This shoulder-length haircut uses a dark brown base to make face-framing highlights pop. Just part your hair in the middle and ask your stylist to color those first two thin pieces in white.
3. White and Teal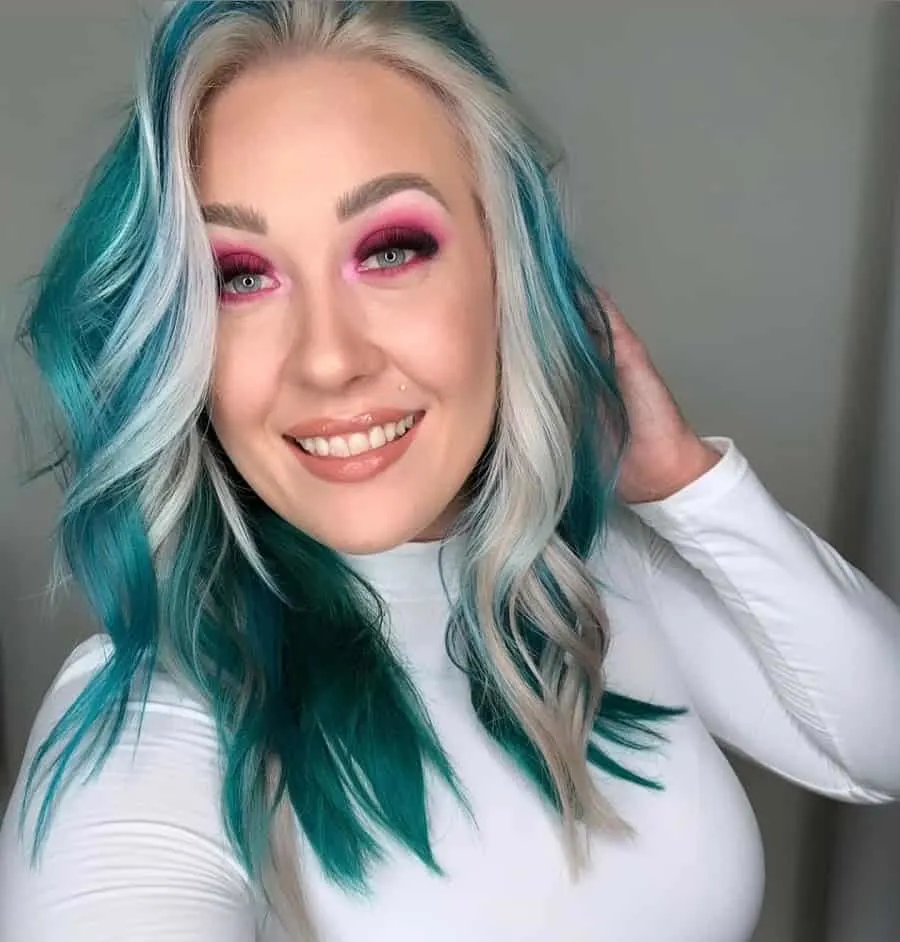 Looking for a colorful summer hairstyle? This combination of white and teal is stunning on long wavy hair and perfect for those days spent at the beach.
4. White Highlights on Thin Hair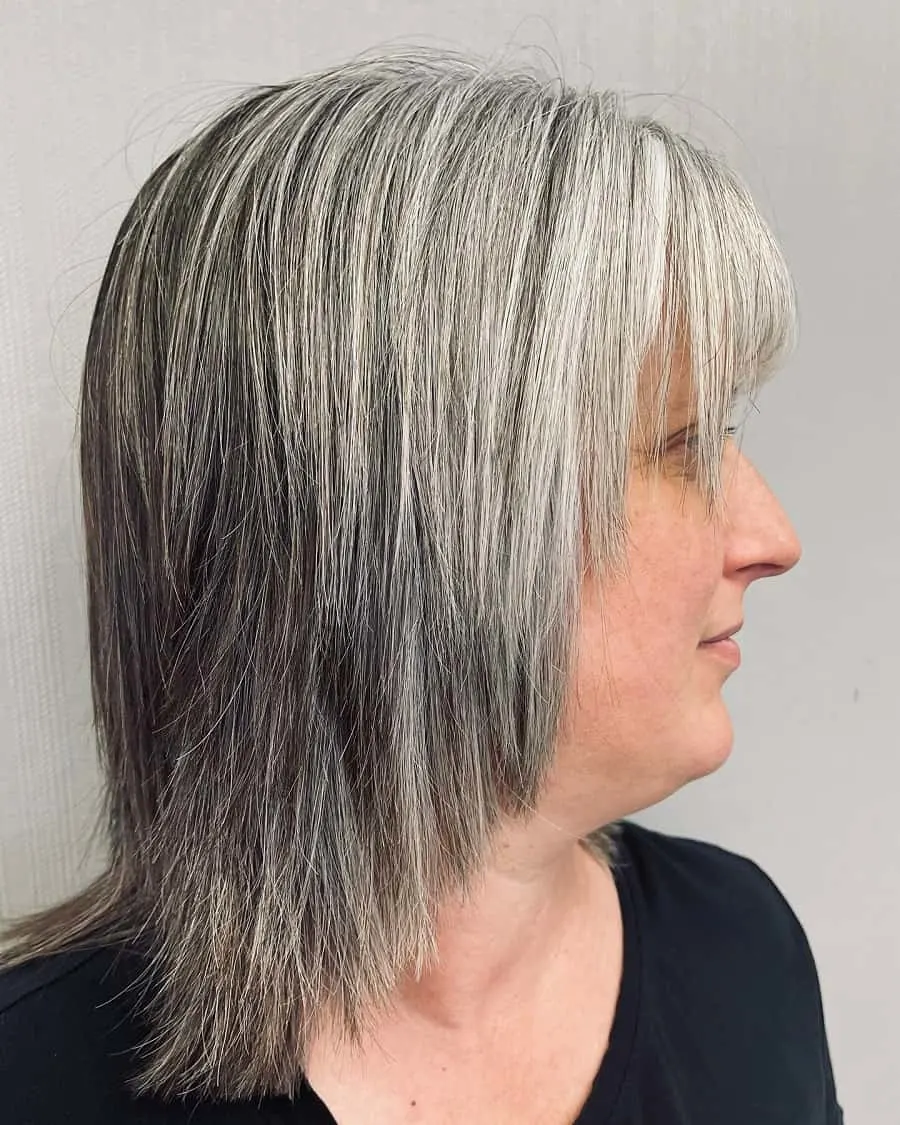 Give your thin or fine hair new life with thin white highlights spaced evenly throughout your mane! A short, straightened, and layered hairstyle demonstrates the beautiful effect.
5. White Blonde Highlights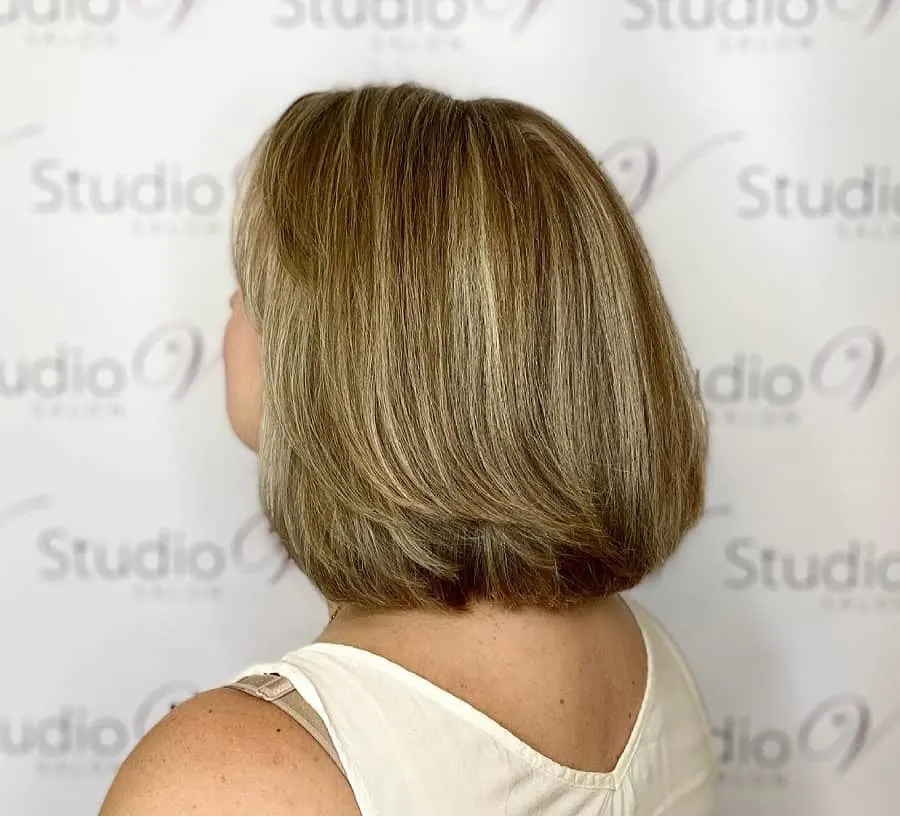 Looking for a more subtle color effect? Ask your stylist for white blonde highlights. This color is great on lighter-colored manes, like medium or light blonde.
6. Chunky Highlights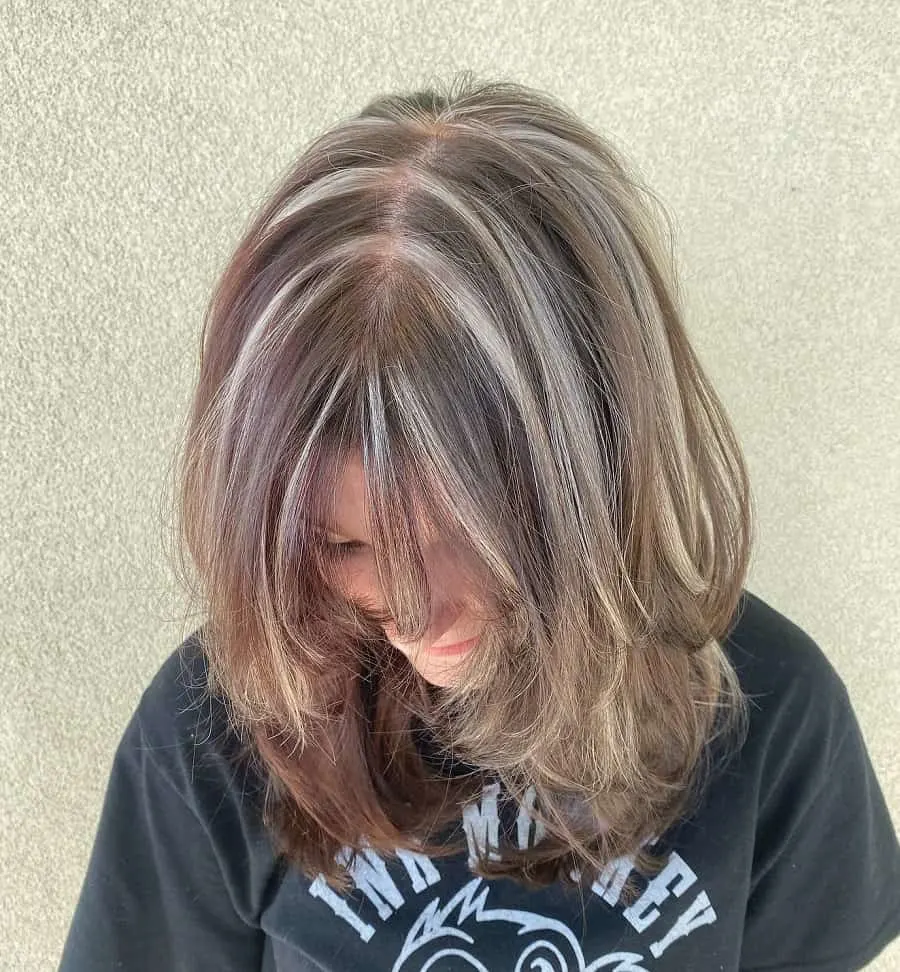 Remember when thick highlights had their moment in the 90s? Well, they're making a comeback! Try them in the white blonde in your medium brown or blonde hair for this cool piecey look.
7. White High Contrast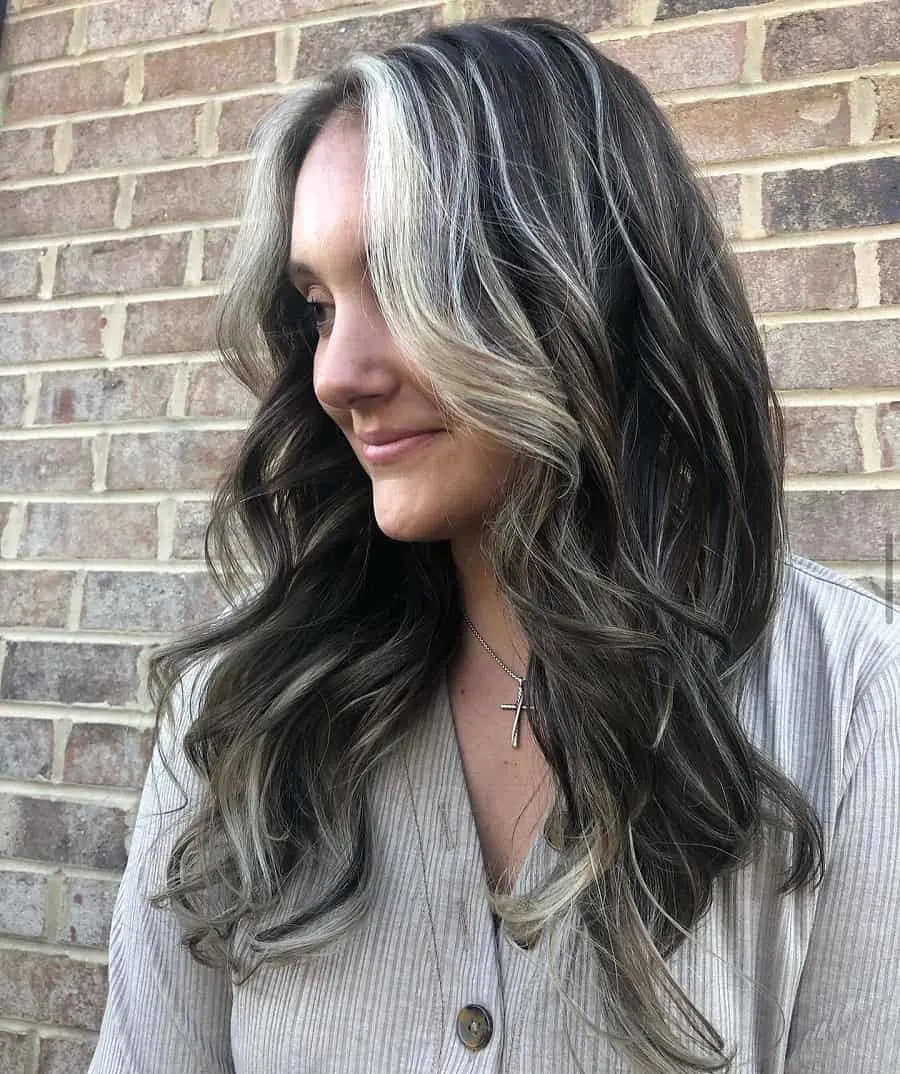 A statement hairstyle can easily be created by rocking thick highlights on very dark hair. Just take a look at how gorgeous these face framing highlights are, with thinner ones going toward the back of the hair.
8. White on Light Blonde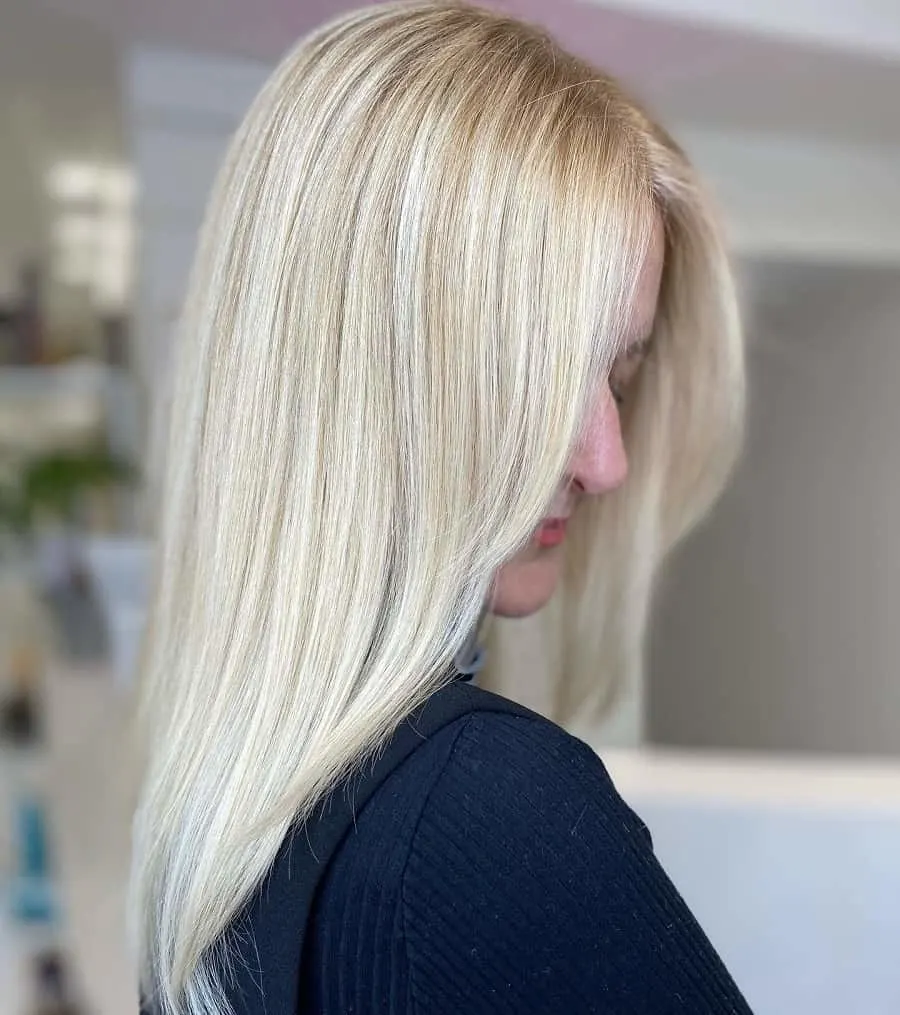 White highlights are great for covering grays. The gray hairs in this long blonde hairdo don't stand a chance with light highlights to cover them up.
9. White and Silver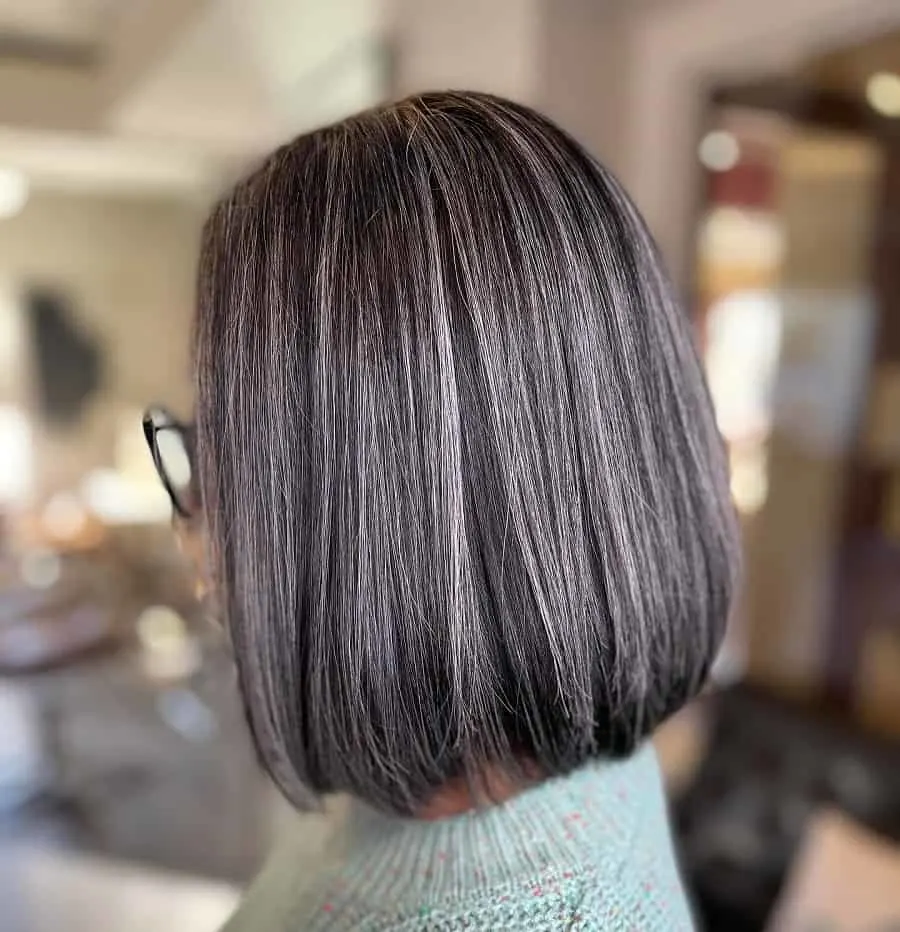 Another way to embrace older age and the silver hairs that come with it is by adding white! This short bob takes on a youthful feel with the light highlights to help it shine.
10. Balayage Highlights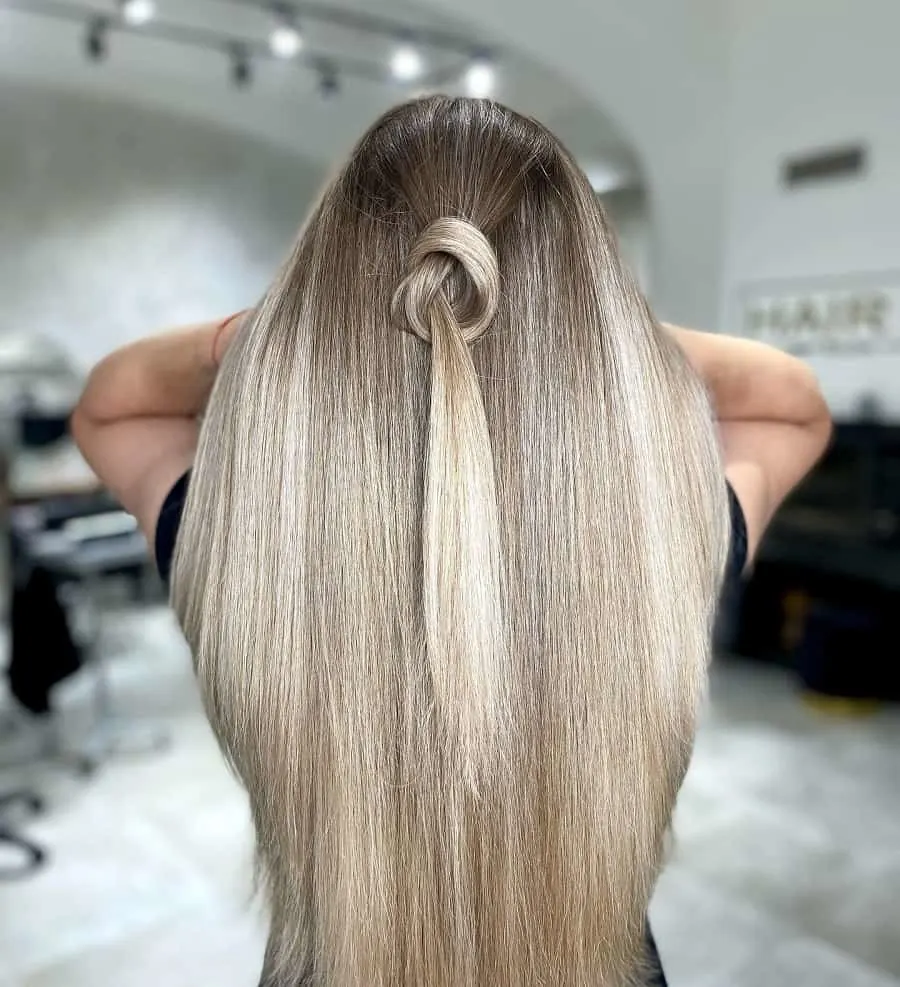 Get a natural-looking color job by asking your stylist for balayage highlights. This extra long blonde mane glows with white naturally blended in.
11. White and Grey Highlights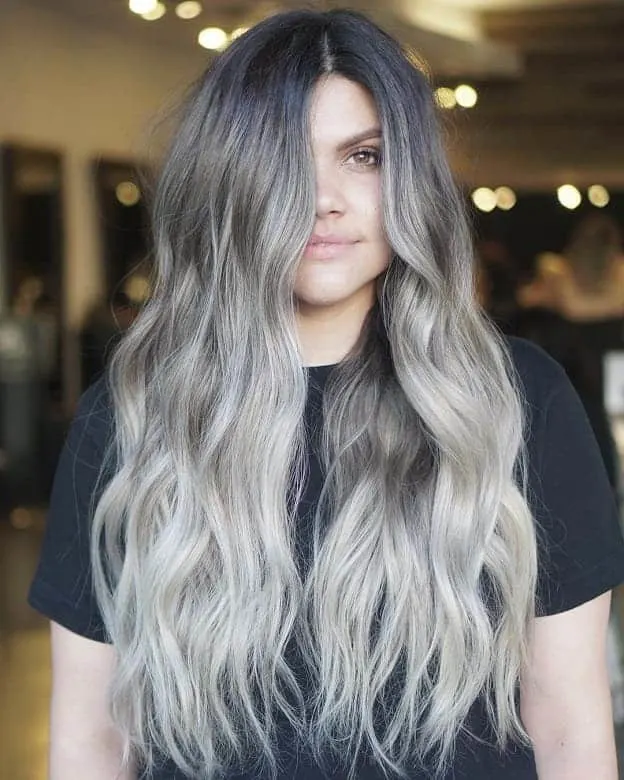 White highlights on dark hair looks exquisite. If you were ever in doubt if you should do really light highlights on your natural black hair – now you know. It is more than possible to do it. You can style your hair with a curling wand for these perfect messy long beach waves.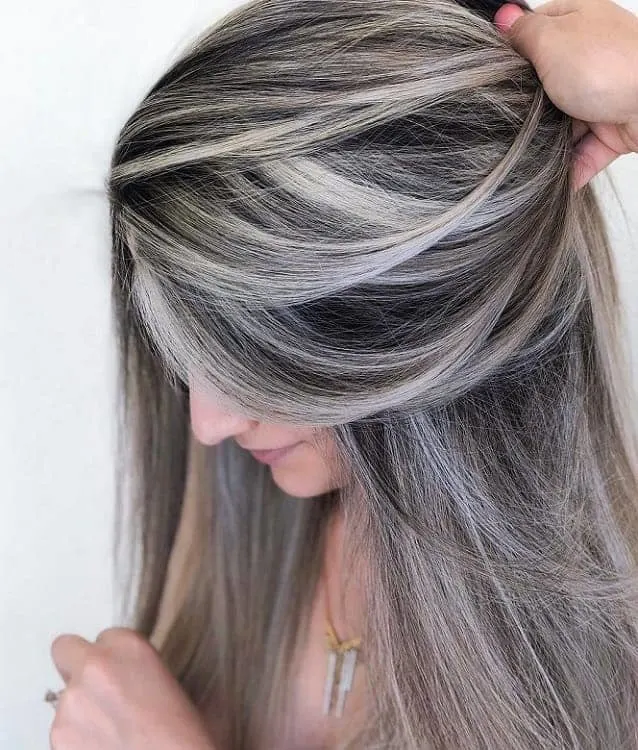 Grey hair didn't pass over some famous Instagram stars. Grey hair with white hair highlights will blow everybody away. It not only looks beautiful and unique but also very practical to maintain. You will just need the right products.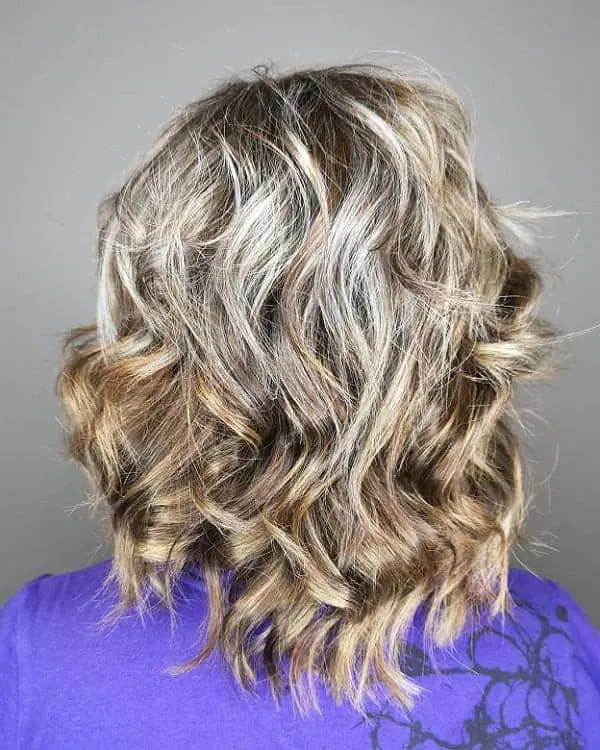 Blend of brown and blonde can't be anything less than perfect. These two shades are a compliment, so it's not a surprise why many women opt for this combo. However, white color highlights on blonde hair will give it even better look.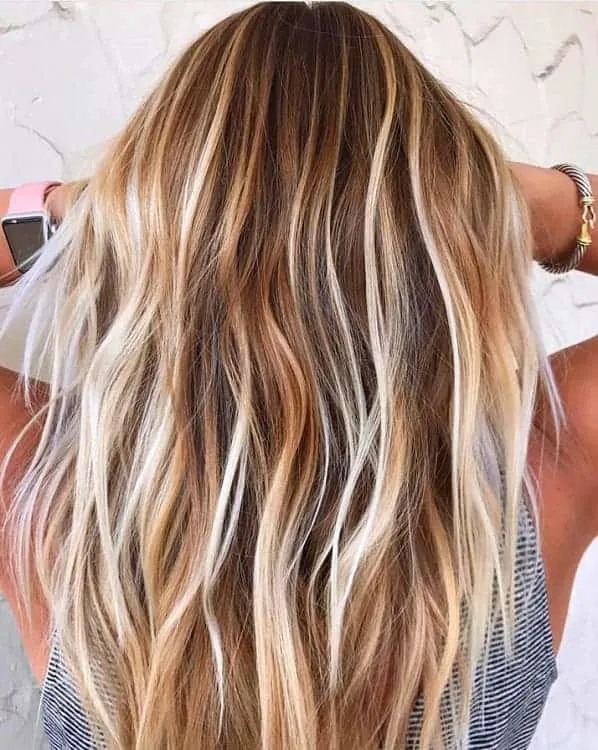 A beautiful blend of a few colors such as honey blonde, light brown, and the white dye will provide you with an amazing hairstyle. You can be sure this hairstyle will make you popular all summer long, as long as you keep it healthy.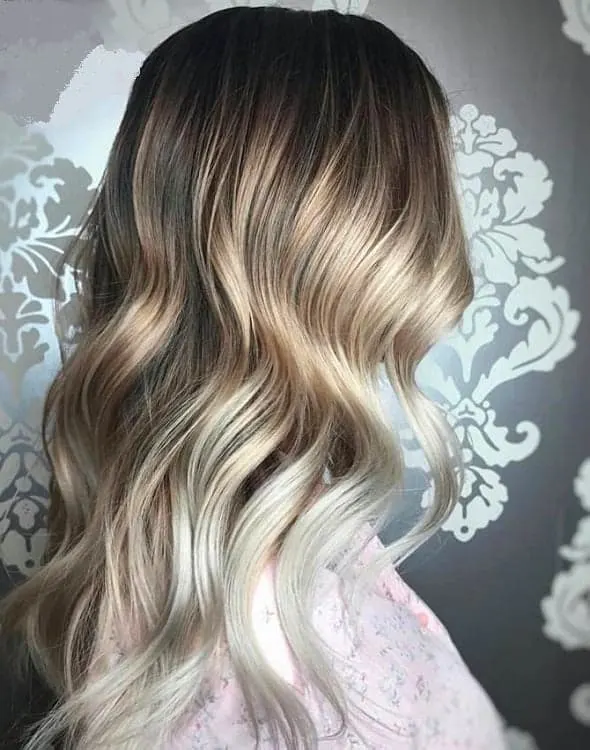 Highlights don't necessarily have to be on your whole hair. You can follow this girl's haircut and do it only at your hair ends. White highlighted ends will make your hair look wonderful and so eye-catching.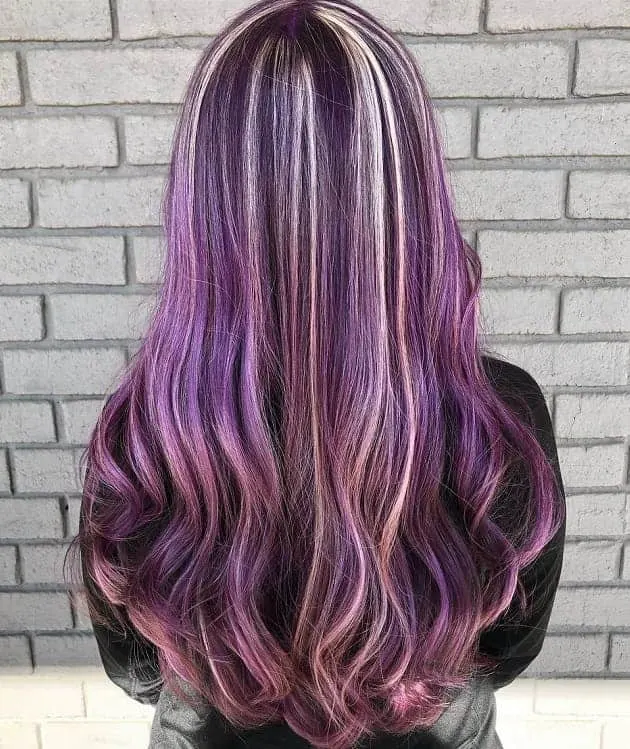 Platinum white hair highlights on your hair will absolutely blow everybody away. They look amazing and match perfectly with those purple roots. This is one of those haircuts that you can wear all the time.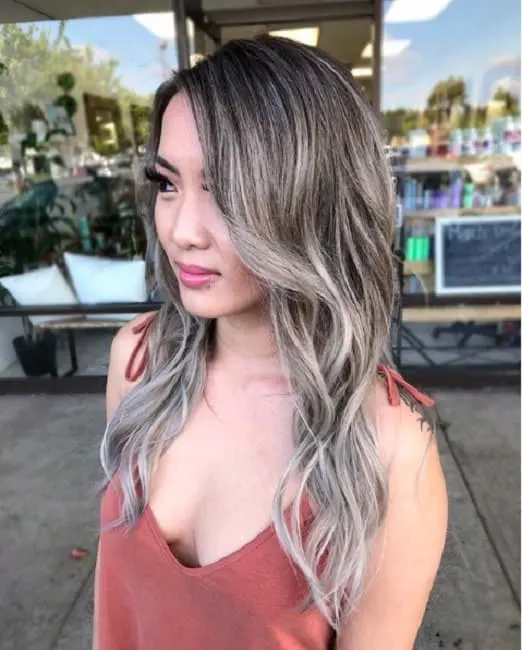 You can leave your roots dark, or in your natural hair color. For those who would like to try white hair trend, but don't want to overdo it, highlights are a wonderful solution. The unique blend of shades will definitely draw all attention towards you.
18. Platinum White Highlights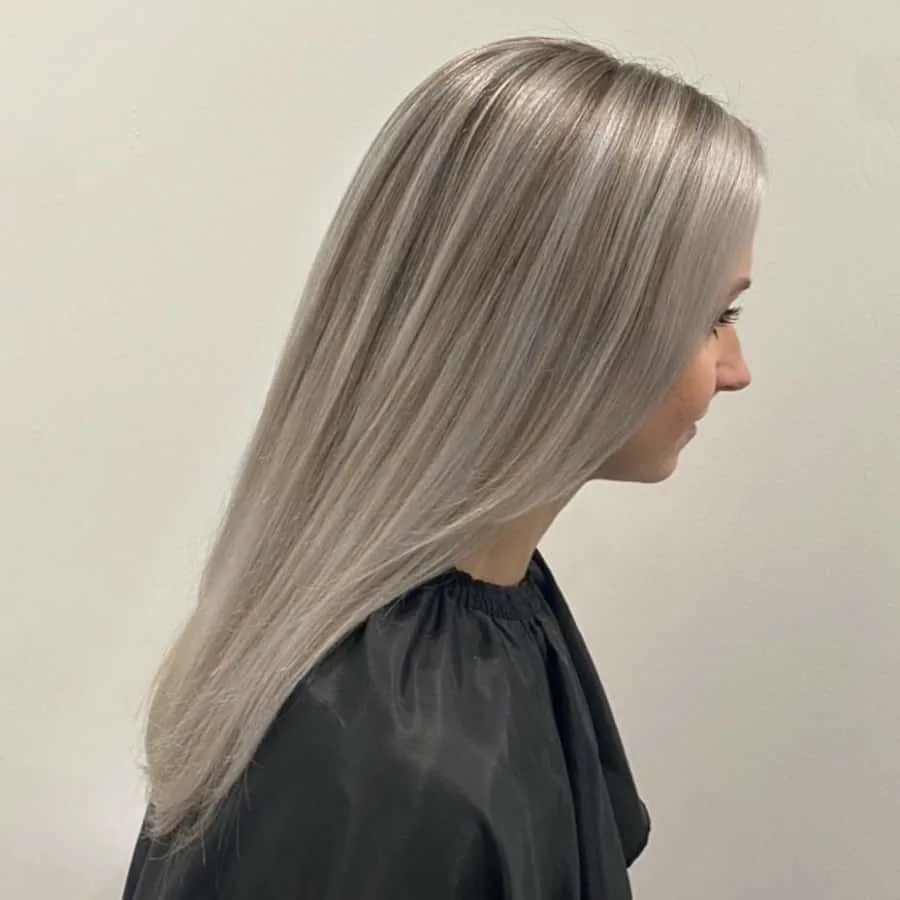 You won't make a better contrast than by dying your roots in brown and the rest of your hair in white platinum highlights. If you have long hair, even better – you will catch all the attention wherever you go.
Do you think that highlights won't look that good on your curly hair? That is not true, my dear. As you can see, even on dark curly hair, white hair highlighting looks amazingly good and eye-catching.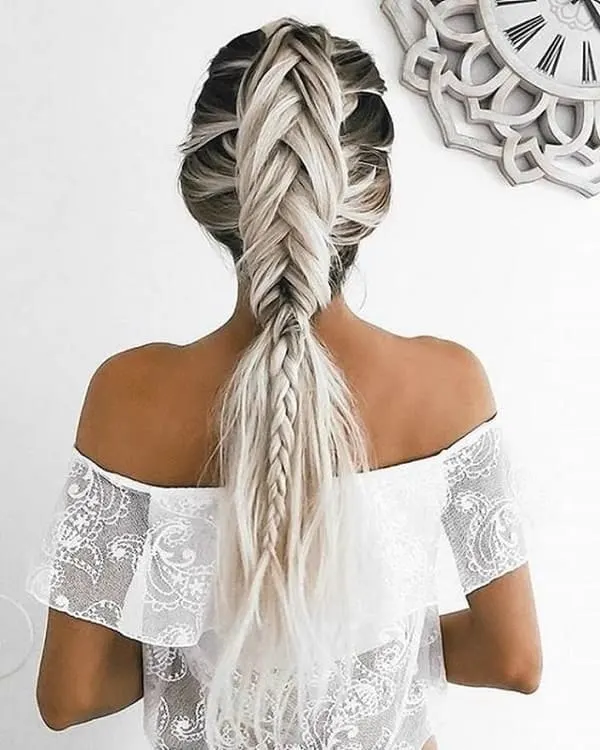 As you can see yourself, your hairstyles will have an upgrade with white highlights on long hair. While your roots are in your dark, natural hair color, the rest of your hair is done in platinum highlights. They just take the breath away.
21. White Highlights on Dark Hair
They might not be as attractive as they are on blonde hair, but white hair highlights on black hair are something special. They give a special vibe to your natural hair, making it look even more pretty and fashionable. You should definitely try it.
How to Stop White Highlights from Getting Brassy
Even if you opt for highlights only, they should also be maintained. There are some tested-and-proven ways on how to stop white hair highlights from getting brassy. And we have gathered them for you.
This rule can be applied to the general hair dyeing. When you wash your hair every or every other day, you should expect your hair to be brassy soon. However, if possible, you should prolong the time between every hair wash.
Sun can seriously dry your hair and make your color fade. When you are overexposed to the sunlight brassiness will occur faster than you usually think about it. Always wear a hat, or oversized fedora to protect your hair. The other solution is using products that have UV protection, such as hair spray.
Avoid washing your hair with warm water. Instead, make sure to finish off washing with cold water. It won't only protect your dye but also seals the hair follicles and leave your hair shiny, without frizziness.
Chlorine is one of your biggest enemies, remember that. It is known for striping natural oils from your hair, leaving your hair look like a broom. And we know that the more your hair is damaged, the more it will be brassy. If you like going to pools, make sure to bring your shampoo and wash your hair immediately after you finish swimming.
Yellow and violet are opposites on the color wheel. That is why purple is used to protect you from brassy shades. However, don't overuse this shampoo. Use it every other week, or once a month.
Dry shampoo can help you a lot with your yellow brassy tones. Not only it will prolong the time between you wash your hair, but it will also tone down brassy tones.
FAQs
How can I fix highlights that are too white?
It depends on the color of the parts of your hair that you did not highlight. Color-safe shampoo that evenly distributes color can help fix your highlights if you have blonde hair.

Another way to fix too white highlights is to get a toner containing golden or blonde tones to make them look a little more natural. Otherwise, you may need to redye the hair.
Do white highlights look good on dark or light hair?
White highlights look good on dark and light hair, but they have different effects. In dark hair it looks bold and purposeful. While in lighter-colored hair typically add dimension and life to the hairstyle.
Can Black people also try white hair highlights?
Of course! White color highlights look great on natural curls as well as on black hair. Highlights create a perfect contrast that you can only love to see on your hair. White hair on dark skin looks quite sensational.
Can I do white highlights on grey hair?
If your hair is less than 25% grey, you can add more texture and dimension by adding some highlights. You should ask a professional, though. This is not something that you can pull out on your own.

However, if you dye your hair in grey, as many girls were seen on Instagram do, you can absolutely opt for a few platinum or white highlighting.
White highlights are something that every girl can achieve. Whether you have blonde, brown or black hair, you can count on highlights to be a perfect finishing touch.