Among many ways to style your beard, mutton chop is one of the hippest and coolest ways. Mutton chops sideburns are a style of beard that started in the early times and is still in fashion as of today.
Facial hair has always been a help in creating a statement-making and bold look. Even though the name might sound a bit amusing, this style is one badass beard style for those who prefer a bold look.
Mutton Chops Origin/History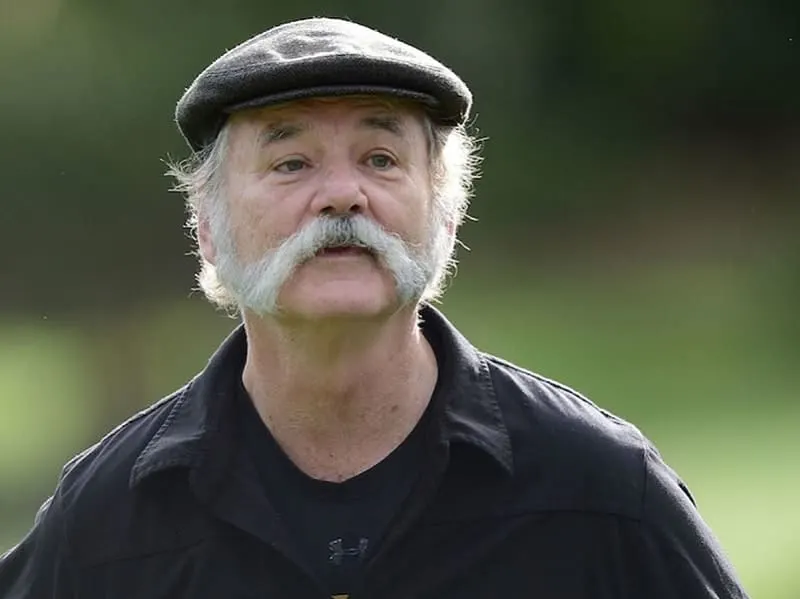 The chops sideburns look originated in the 19th century, named after the American Civil War General Ambrose Burnsides, who's a different and unique style of facial here caught the eyes of many. The beard style carried on for years and years, going around even today.
How To Get Mutton Chops Beard
Styling a chop beard requires some particular attention and focus so you can get it just right according to how you would like your facial hair to be. To do so, start with combing your sideburns downwards, choosing a comb according to how dense your facial hair is.
Then, shave the hair on your cheeks in a slant angle, keeping the thickness of the burns that you prefer, keeping them narrower near your ears.
A pork chop sideburns can be modified to many different variations, depending on your face shape, so we have compiled here 20 beard styles so you can be inspired to choose the best one according to your face.
Watch the following video to make Mutton Chops by Yourself
Different Beard Styles with Mutton Chop Sideburns
If you are looking for a different than usual style for your facial hair which looks a little funky and cool, then mutton chop might probably be what you are looking for.
Find here different mutton chop beard styles and choose the suitable one for yourself!
1. The Classic Mutton Chop
This classic version of a chops gives off that old sheriff kinda vibes, doesn't it?
Ideal For: Square face shapes.
How To Style: This Letterman inspired beard style has sideburns thick all the way to the top and go best with a well-trimmed mustache.
2. Paired With A Little Twist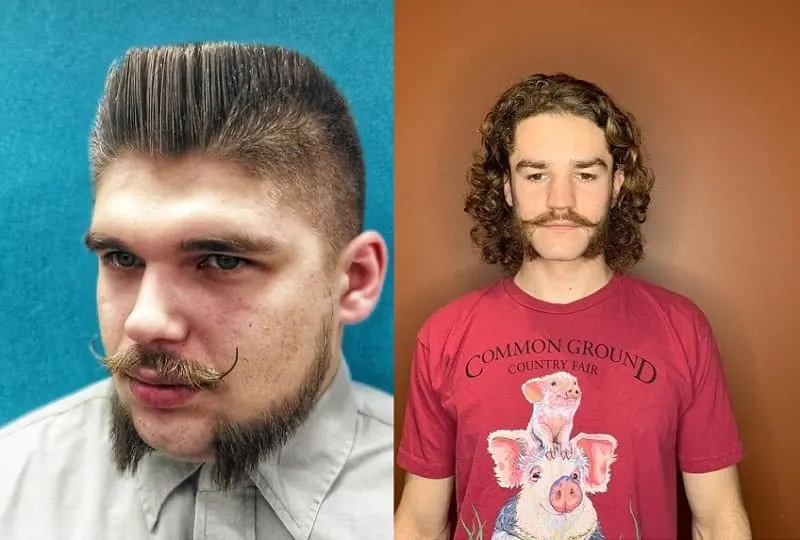 This style for a mutton chops beard is particularly sharp and has a different touch to it, due to the curled mustache.
Ideal For: Oblong face shapes.
How To Style: Grow your sideburns out until they go past your jawline and match them with a handlebar mustache twisted at the ends.
3. The Clean and Sophisticated
Here is a style for mutton chop sideburns that is more towards the clean and sophisticated type, making it the ideal choice if you are looking for something suitable for a professional look.
Ideal For: Square face shapes.
How To Style: Keep a light mustache and sideburns, with the chop beard slightly tapered and a little bit of stubble on the chin.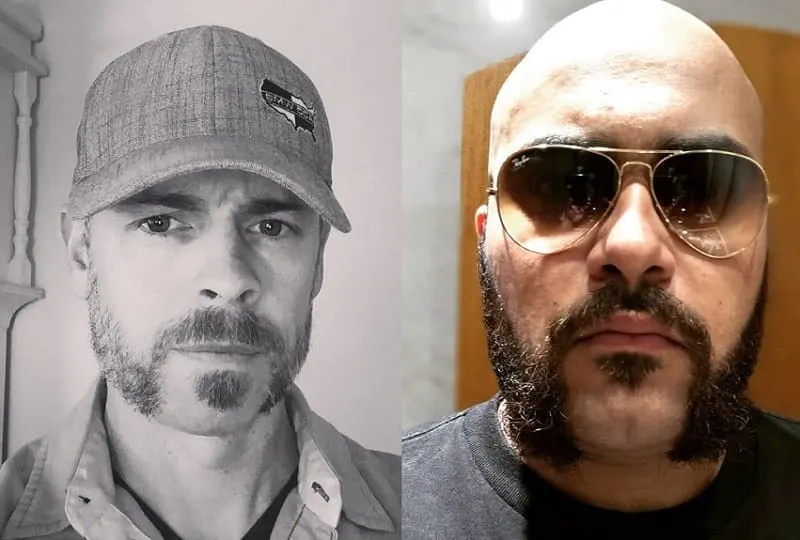 This one is close to the look mentioned above, only that the sideburns are a bit thicker and it includes hair below the lower lip which is what gives it a bolder look while keeping it simple.
Ideal For: Oval face shapes.
How To Style: Shave them like the classic chops sideburns but bolder, with a clean chin and a bit of mustache below the lower lip.
These pork chop sideburns have a sharp touch to them along with the well-trimmed mustache, which you might wanna choose if you want a punk sort of look.
Ideal For: Oblong or Square face shapes.
How To Style: Keep your sideburns and mustache close cut and properly brushed to give a sharper look, with little or no stubble on the chin.
6. The Messy Look
If you like to keep your scruffy beard like you haven't got a care in the world and you like to live freely, then this is the one for you.
Ideal For: Oval or Inverted Triangle face shapes.
How To Style: Long grown messy sideburns and a thick mustache usually does the trick.
7. The Light Burns Look
When you're looking for something eye-catching but still want to keep it light, then this mutton chop is just might be the answer to your search.
Ideal For: Oblong or Oval face shapes.
How To Style: Just pay attention to keeping the sideburns properly styled and neat, this look works well without a mustache or any hair on the chin.
8. The Strong and Bold Look
Rock a powerful and bold vibe with these badass thick sideburn, bushy beard and make a statement just with your beard.
Ideal For: Square face shapes.
How To Style: Grow the mutton chop sideburns to the length where your jaw bone ends, make sure to keep them thick. Keep a thick mustache joined to it and grace the chin with stubble.
9. Show The Wild Side
By keeping your ginger beard in this funky style, you can let your crazy and wild side show and stay lively.
Idea For: Oblong face shapes.
How To Style: Just let your sideburns grow out in a crazy flare kind of way.
These burns bring all attention to the burns which are wide but are not all over the place, which gives them the controlled yet bold mutton chops beard look.
Ideal For: Oval face shapes.
How To Style: Keep the burns wide but properly trimmed, clean the mustache and chin area.
11. The Wide Burns
The angular shape of these wide sideburns brings particular light to them and is a nice combination with the light hair below the lower lip.
Ideal For: Oval or Inverted Triangle face shapes.
How To Style: Shave the burns in a sharp, slanted angle and shave the mustache off except for under your lower lip. Clear the chin as well.
12. The Thin Burns
These burns are thinner in comparison to the usual mutton chop style, but keep the mustache under the spotlight, which gives it a powerful look, kind of like an Eastern royal.
Ideal For: A defined Square face shape.
How To Style: Keep the burns not as wide as the usual chops, but make sure the mustache has enough strength. Don't leave the chin out.
13. Grow 'Em Out
If you want all heads turning because of your eye-catching mutton chop sideburns on Amish beard style, then try this one out.
Ideal For: Round face shapes.
How To Style: The key to this one is to grow the burns at least 2 to 3 inches past your jawbone, and clean the mustache and chin area.
14. The Burns With Intervals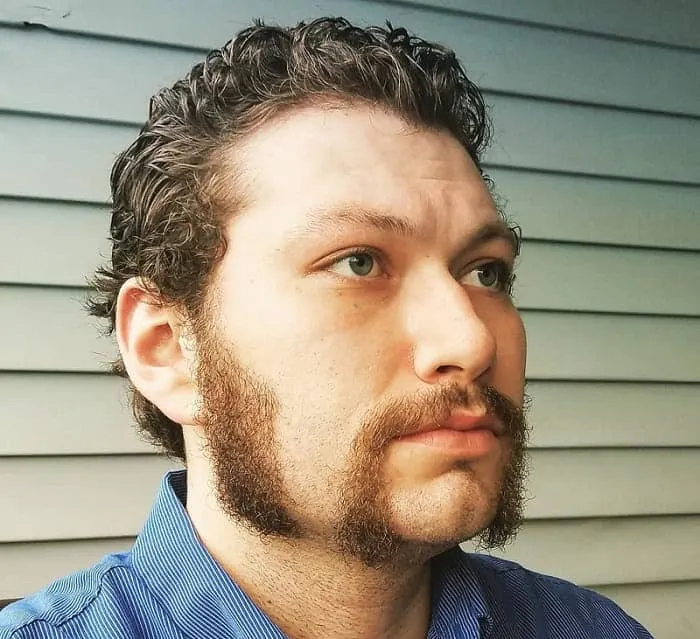 If you want to achieve that Texas Cowboy looks, then this is the style you have been looking for.
Ideal For: Square face shapes.
How To Style: Start with the wide sideburns and a thick Fu Manchu mustache, but shave away the burns from the middle part connecting them to the length of your mustache.
15. Attention On The Mustache
The sideburns in this chinstrap beard style are a very thin line, which is the factor bring all the attention on the mustache. So, you can have the mutton chop style without having to manage all that hair. This buzz cut with beard look is a cool one to have!
Ideal For: Round or Diamond face shapes.
How To Style: Shave the most part of your beard till there's only a thin strip of hair left on your jawbone, along with a thin mustache with its tips joining the end of the sideburns.
16. Long Beard for Dumbledore Effect
Your beard is all yours, and you can experiment with it however you want. This Viking beard one, in particular, will help you achieve that wizard vibes.
Ideal For: Diehard Dumbledore fans.
How To Style: Surely just keeping it growing will do the trick.
17. The Neat and Friendly Look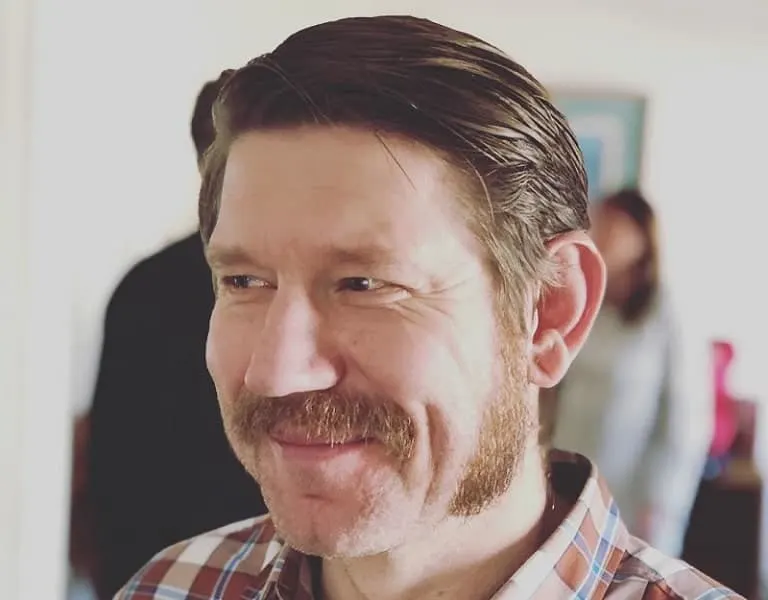 The classic old proper walrus mustache and short mutton chop sideburns usually give off a friendly vibe due to it being clean and hassle-free.
Ideal For: Face shapes with round and softer edges.
How To Style: Keep the chops' length to the middle of your jawline, and keep that classic style of mustache. For the remaining jawline and chin, just a bit of stubble will do.
18. The Classic Sideburns Look
This one is an Elvis inspired one. Go for this mutton chop beard style for a retro look.
Ideal For: For all those Elvis fans.
How To Style: Grow them out like the classic 80s era style, and trim accordingly. Keep your chin area cleaned with a little partition in the mustache.
19. Something A Little Funky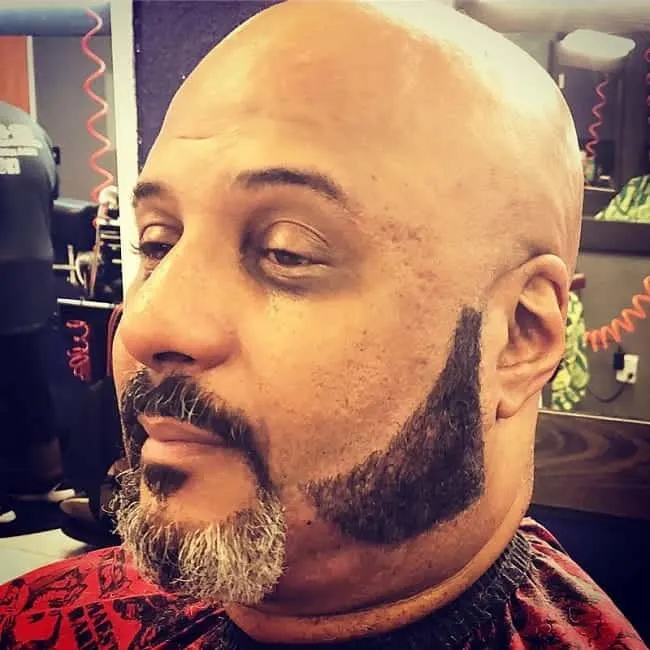 This an interesting mix of a French beard with mutton chops, and you should go for this if something oddly amusing is what you are looking for.
Ideal For: Circular face shapes.
How To Style: Keep thick, sharp bordered sideburns that end in the middle of your jawline, and keep your lower beard connected with the mustache in a classic goatee.
20. Just A Hint Of Sideburns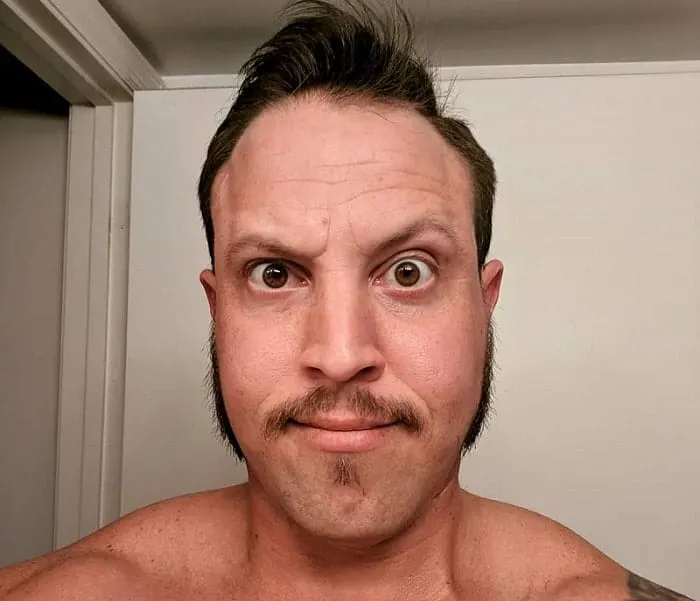 This is nothing too bold or wide, but definitely something out of the ordinary. So if that's what you are aiming for, then this is the pork chop sideburn style you should most definitely go for.
Ideal For: This style would look best on obviously oval face shape.
How To Style: Keep a regular light mustache, a little hair below the lower lip, light, and short beard on the side of your face that end almost as soon as they start, and voila, you're done!
FAQs on Mutton Chop Sideburns
Are mutton chops a beard style?
Even though the name would remind you of a savory dish, the name is also used to indicate a particularly interesting beard style.
Why sideburns are called mutton chops?
The particular beard style got its alternative name "mutton chops" because, well, the sideburns that create this beard, look like mutton chops, as you must have already noticed.
Is mutton chop beard cool?
Mutton Chops are a cool beard style, especially if you are looking to bring back a classic look.
A mutton chop beard style can be achieved perfectly with a little bit of effort and care, and since there are so many variations of it, there are so many options for you to choose from, based on what will suit your face best.
With this list that we have gathered containing multiple styles of chop sideburns and which style will suit which face shape, along with how to style it, choosing the right mutton chop style for you has become easier than ever.