If you are a woman with medium length hair trying to find some hairstyle inspiration for your thin hair, wish you good luck! Not that all of these gorgeous women have thick, voluminous and beautiful hair right? Women can look blissful even with their thin hair if they know which hairstyle would suit her face and which one to skip!
Inspiring Medium Length Hairstyles for Thin Hair
Women with thinner hair can usually find themselves at a disadvantage, that's a fact. Adopting a haircut which they like while not making their hair look completely flat can be a hard thing to do. Well, we've made the task easier for you by providing you with 45 medium hairstyles for thin hair that can even make your hair look vibrant.
1. Tousled Medium Haircut
If you're looking for volume and style, to make your thin hair look better, tousled locks can easily help you achieve that in no time. With minimal effort, your thin hair can look twice as voluminous. The tousled look makes the hairstyle look thicker, especially adding volume to the upper part of your hair!
2. Parisian Shag
The Parisian long shag is an incredibly stylish and retro look! With a longer fringe from the front and a cascade of layers at the bottom, this mid-length haircut for thin hair ensures that it will leave your hair looking thicker and more flamboyant than ever before!
Bangs are quite unarguably one of the most famous haircuts of all time. Keeping the hair shorter from the front and longer from the back, makes the hair look thicker and fuller than they are. Not only do the bangs contribute extra volume to the hairstyle for thin hair, but they also add a certain level of vibrancy to the haircut!
4. Layered Shoulder Length Bob for Thin Hair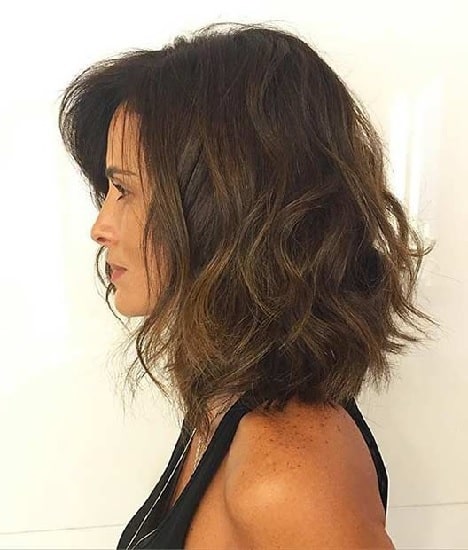 Layers are one of the most perfect and popular mechanisms used to cope with thin hair. The layers added to your hair can make them look more voluminous and can also add a certain life to the hair. In such haircuts, highlighting the different layers accordingly can give an even stronger illusion of thicker hair!
5. Face Framing Highlights
A recurring issue faced by most people with thin hair is how they lie flat from the top. The lower region can be curled or blow-dried to look more stylish but the upper part is what concerns most women. This medium haircut is a great solution to this problem!
The medium length layers on thin hair surrounding the face ensure that no matter how you choose to wear your hair, you look chic and classy!
Beach waves are another comparatively more rugged look that can make you vigorous and sprightly in the most natural way. Allow your curly hair to flow naturally and let your waves and layers do the job of making your thin hair look vivacious and beautiful with this medium hairstyle!
7. Flipped Out Fringe
If you're a fan of the fringe but feel like it may take away too much volume from your hair, then worry not! The flipped out fringe is an easy and simple life hack for a problem like this. Simply adding a touch of curl to your hair can make your hair look twice as good!
Now you get to carry your fringe without worrying whether they suit you or not!
8. Subtle Medium Shag for Thin Hair
People with thin hair usually find themselves styling their hair excessively in order for it to look more vibrant and lively. If you're tired of constantly using styling products and are looking for a more natural and to-go look, this medium cut for thin hair is a perfect look for you. You can now bid the curling iron goodbye and still manage to look flawless!
We all know that layers are one of the easiest solutions for a girl with thin hair to allow them to look bouncy and vibrant. However, if you're willing to go an extra mile to add a special touch to your hair, adding a balayage to your layered bob might be the perfect way to go! The highlights actually play a very important role in enhancing the texture and volume that the layers add to your hair!
10. Carefree Waves
If you're looking for straighter, less layered hair, waves would be a suitable alternative. A sharper cut would enhance the waves, allowing them to frame your face and fall in a more graceful manner. Rather than leaving your hair lying flat, the waves would add an air of liveliness to your cut!
11. Shaggy Lob
The shaggy lob is a simple yet chic medium length haircut for women with thin hair, perfect for an easy going and ready-to-go look! It is noticeable how this haircut requires almost no styling and can be worn easily just as it is on any day, without having to worry about how your hair will look.
12. Cheekbone Highlights for Thin Hair
For someone who has a sharper jawline or more defined facial features, thin hair can feel like a major drawback if it takes away from the beauty of your face. The cheekbone highlight is a classic solution allowing you to make your hair look flawless while simultaneously drawing attention to your beautiful features!
13. Voluminous Curls
If your someone who has curly hair yet has always hated them because of their high maintenance or the difficulty you face in styling them, you've been handling your curls wrong. Curls are a perfect illusion used to mask hair that is thin. The naturally add more volume while looking effortless!
14. Messy Waves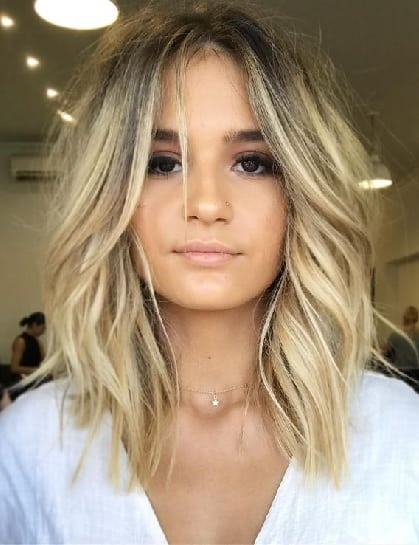 Waves are the next best thing to curls when it comes to thin hair. Leaving them flowing naturally can make them look even more pronounced. Girls with thin hair know that excessive brushing only amplifies their problem. A messier look allows for lesser brushing while still allowing your hair to look natural on point!
15. Mid-Length Curly
Curls are undoubtedly one of the easiest ways to make your hair look more voluminous. For someone who has naturally curly hair, this would be an ideal medium length haircut for thin hair. Rather than wearing your curls lower as most people do, medium length curls can easily be worn higher making your hair seem fuller by concentrating the volume around your face.
16. Stylish Waves
For someone who's looking for something more stylish and put together than simple natural, if your hair is medium length, stylish waves should definitely be on top of their list. Simply gather together your hair and add a bit of curl to them to make them look more bouncy and fashionable!
17. Side-swept Winder
Another medium hairstyle for women with thin hair who wants a hairdo that will add definition to your face and will frame it flawlessly. Not only does the side-swept winder ensure that no attention is taken away from your features! Gathering your hair together at one side can also concentrate volume, making it look fuller.
Straight hair can generally be even a bigger problem for people with thin hair, making it look flatter than usual. This chic hairstyle can make your hair look bouncy and lively even with perfectly straight hair!
19. The Middle Part
Although side parting is trendier these days, the above women's medium hairstyle for thin hair can make you look good even with a middle part. The middle part evenly distributes your hair allowing it to look voluminous and wholesome!
20. Straight A-Line Bob
If you want to keep your straight hair looking straight, yet add volume, the straight A-line bob is an effective way to go about it! The A-line shape rather than letting your hair look flat allow your hair to look vigorous and dynamic!
No matter what occasion you're dressing for, thin hair won't ever be a problem! With this wide variety of medium hairstyles for thin hair to choose from you'll look stylish and chic wherever you go!