The choice for wedge haircuts for over 6o years age old group is slowly getting prioritized for the spotlight. These haircuts are easy to manage and look adorable. The perfect choice that suits you will be the crown for your appearance. Looks are a part of the first impression we make, and after such a long journey, you never fail at enjoying a day at the age of 60 with grace.
Best Wedge Hairstyles for Over 60 Years
Here are a 7 of the most trendy wedge haircuts for women over 60 years old to rock short hair like a pro.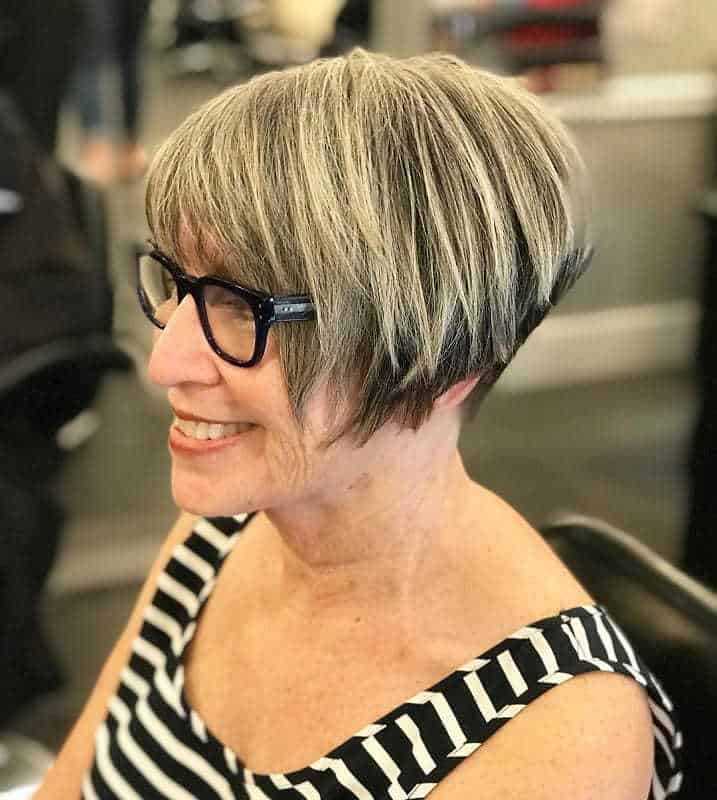 This wedge haircut has pop like highlights and layers with bangs.
Ideal for: This haircut will smoothly fit any face with sharp features. The bangs nicely finish the look of a round mushroom-like cut. Well known from wedge haircuts for women over 60.
How to style: You can smoothly brush the bangs and curves to keep a natural bounce to the hair. It is a mix of dark and light highlights of a sophisticated and sporty look.
2. Short Puffy Curves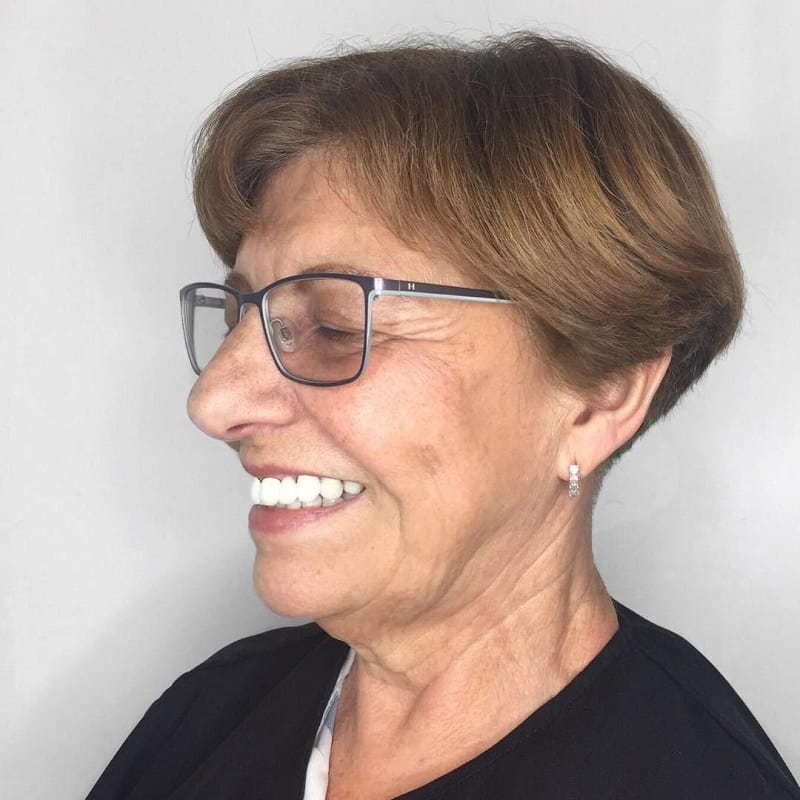 This is a classic choice that is taken for short bob hair.
Ideal for: This is a very popular choice for people who have busy schedules or family duties. This is manageable and smart.
How to style: You can use hairstyle protection gel to set your hair. It looks the best with short hair, so it also gives an organized and fresh look.
3. Messy Layers Pixie
This is an out of bed look for short hair. This look Is done through wavy layer curls.
Ideal for: This hairstyle gives a messy and fashionable look. It looks chic while going along with any outfit.
How to style: You can brush the hair one way and set it up. You can often use the messy look to create an image by just running your fingers through your hair. You can even tie it up into a bun. This is easily the trendy wedge hairstyles for the women over 60 years.
4. Classic Curved Cut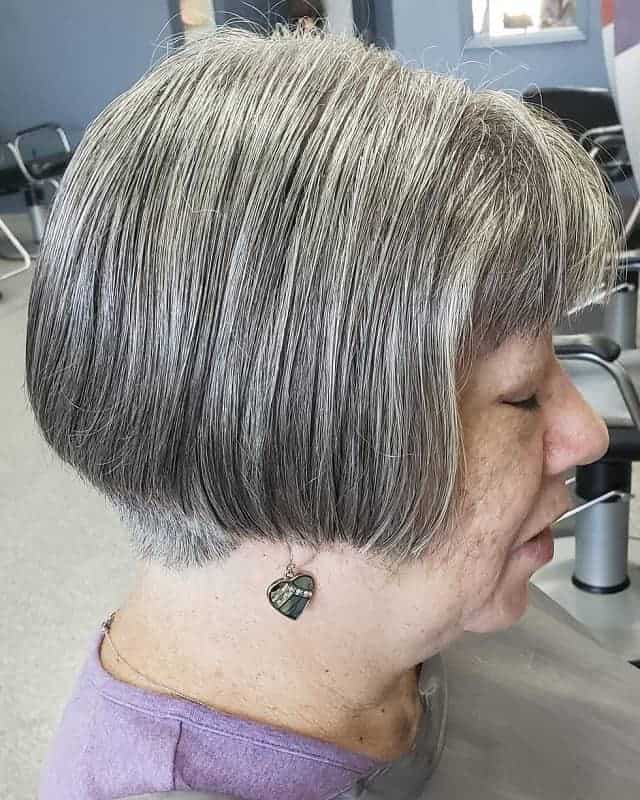 This haircut is one of the most opted wedge cuts for over 60 years old or for the women in their early seventies. Even television stars always portray this haircut as a classic choice for that age group.
Ideal for: This hairstyle smoothly sits on any face with a small nose. This hairstyle looks neat and organized. It is a quick social kind of hairstyle.
How to style: You can heat the curves to make them curly. The ends are usually curved inwards. Adding a band or clip on one side can be an elegant addition to this hairstyle.
5. Punk Layers and Highlights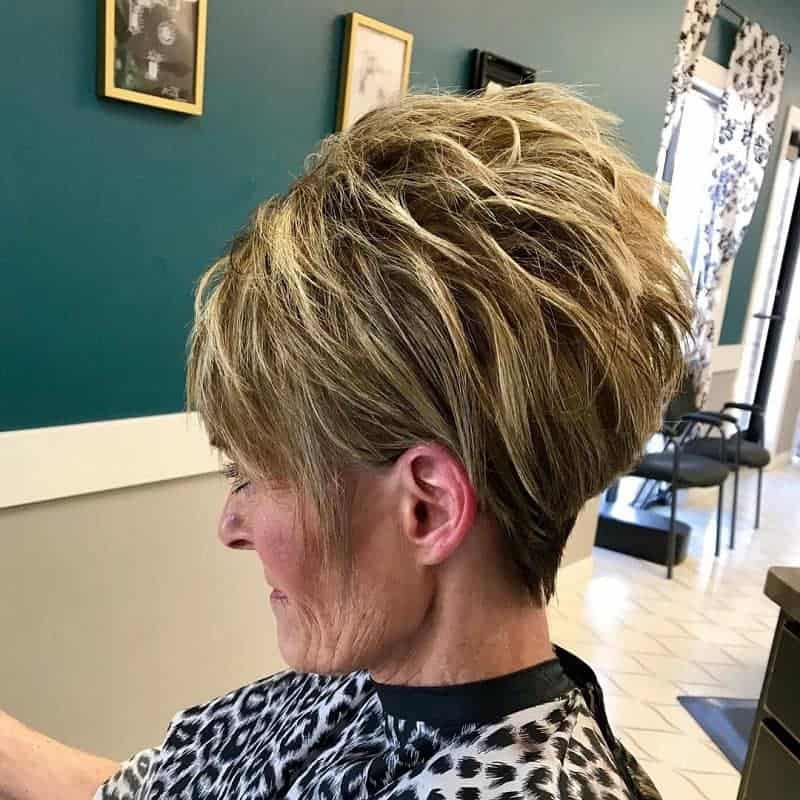 It is a haircut with short layers. It is arranged majestically with intricate highlights.
Ideal for: This hairstyle will fit people with angular features. It makes a unique and modern appearance as a hairstyle. This is a hipster addition to wedge haircuts for over 60 years old ladies.
How to style: Brush the hair at the tip while pushing it behind to set it perfectly. You can quickly run your fingers upwards through the layers to get a powerful look. It makes the person look and feel very young.
6. Puffed Up
It has the ends shaved and the volume of the hair increasing upwards. The hair is parted at the top to give a mushroom look.
Ideal for: Ideal for oval or square shaped faces. It is a bold and dramatic hairstyle that creates a presence.
How to style it: It looks more powerful in dark colors. Brush the backside from beneath and create an airy and puffy look. A rare choice from wedge hairdos for women over 60 years age group.
7. Magical Wave Cut
It's around a layered cut of short hair.
Ideal for: It suits square faces or round. Highlights the edges of the face.  It is a colorful and modern look for a curved cut of short hair.
How to style: You can change the colors of the highlights and style the curve of the hair. It is round and can be easily set by combing it. Set it properly on one side.
We hope you liked our pick of the seven best wedge haircuts for over 60 years old women. These hairstyles are evergreen and will suit you for all the occasions.