Punk will never die and neither will short punk hairstyles. Why the 'short' specification? Because during the heyday of punk, it was still seen as rebellious for burgeoning riot girls to cut their hair short.
Short Punk Hairstyles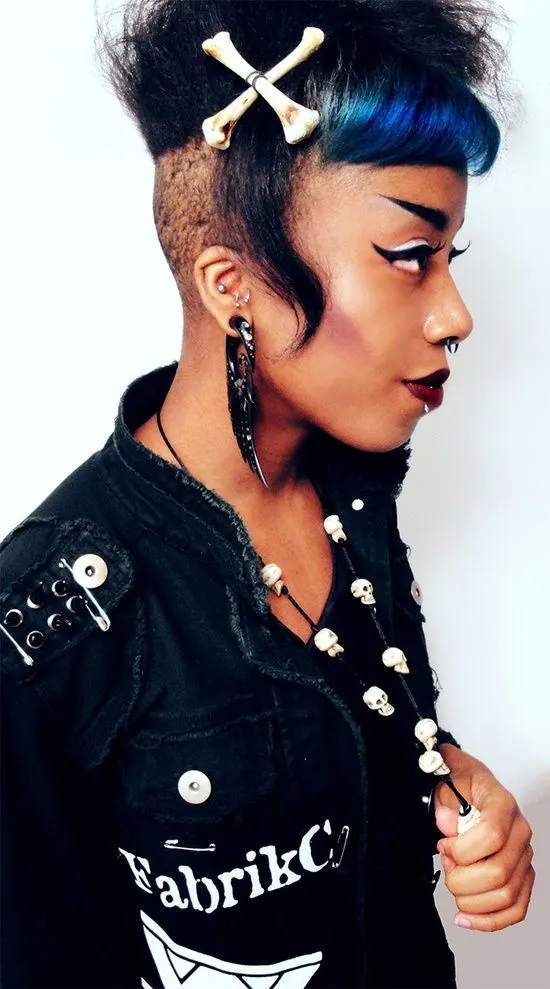 From the style and color of those baby emo bangs to the long sides and that bitchin' crossbones, this is one of our favorite short punk hairstyles. Her eyeliner is hell on-point, too, but the hair is the icing on this gorgeous punk/goth cake.
In Style: Braided Mohawks for Women
2. Jagged Little Coif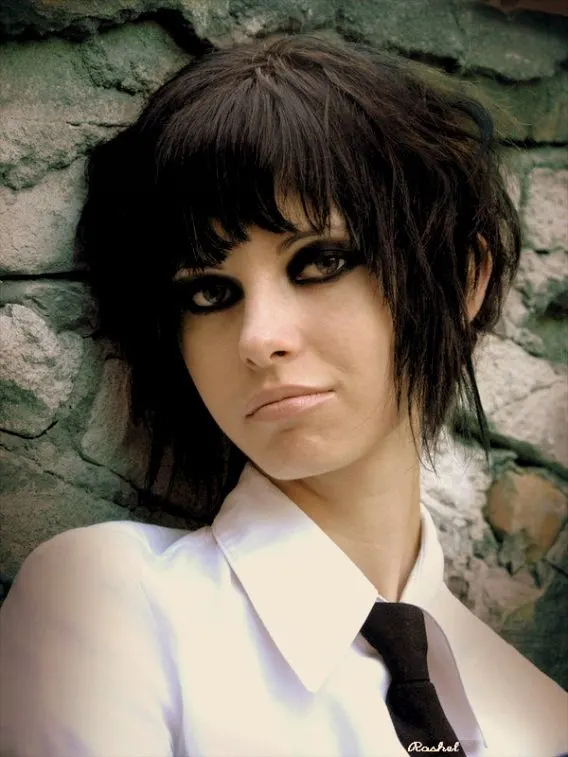 Punk is messy. It's chaos. It's more concerned with sharp edges than straight ones. Everything about this short shag hairstyle is tousled and unkempt—and those details make it fabulous. Top points for the tie, too.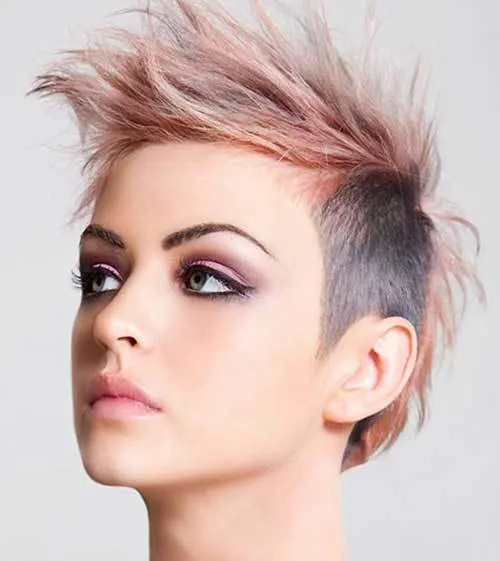 The Mohawk is one of the most significant short punk hairstyles for women and men. This veers close to a faux hawk since the sides and back aren't clean shaven, but we love it, so we're not being picky. The colors are to-die-for, too—the peachy pink is modern and feminine, and it contrasts beautifully with the gray.
4. Avant Garde Punk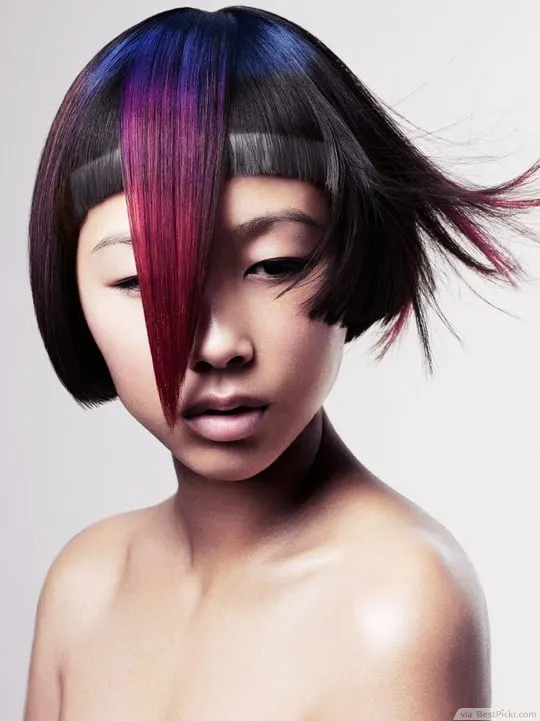 This is the kind of look you see in the style look at the salon. Once upon a time, these haircuts were scoffed at and giggled over, but now that punk style is on-trend, they're the go-to coifs for extreme inspiration. We shudder to consider the upkeep involved here with regards to the colors, but that sharp point is easy to recreate. You can probably do it now.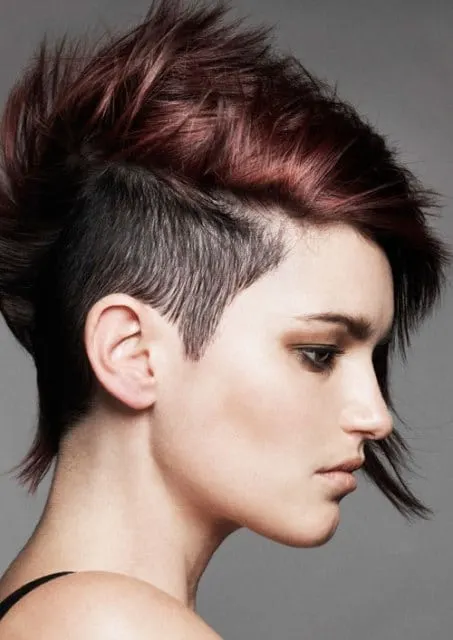 You don't have to go for the extreme short punk hairstyles. If you're brave enough to crop your hair and play around with a laid-back tousled style, you can rock a punk coif that appears "straight" when necessary. Let your riot girl come out at night.
Exotic Half Shaved Hairstyle Ideas
6. Long Mohawk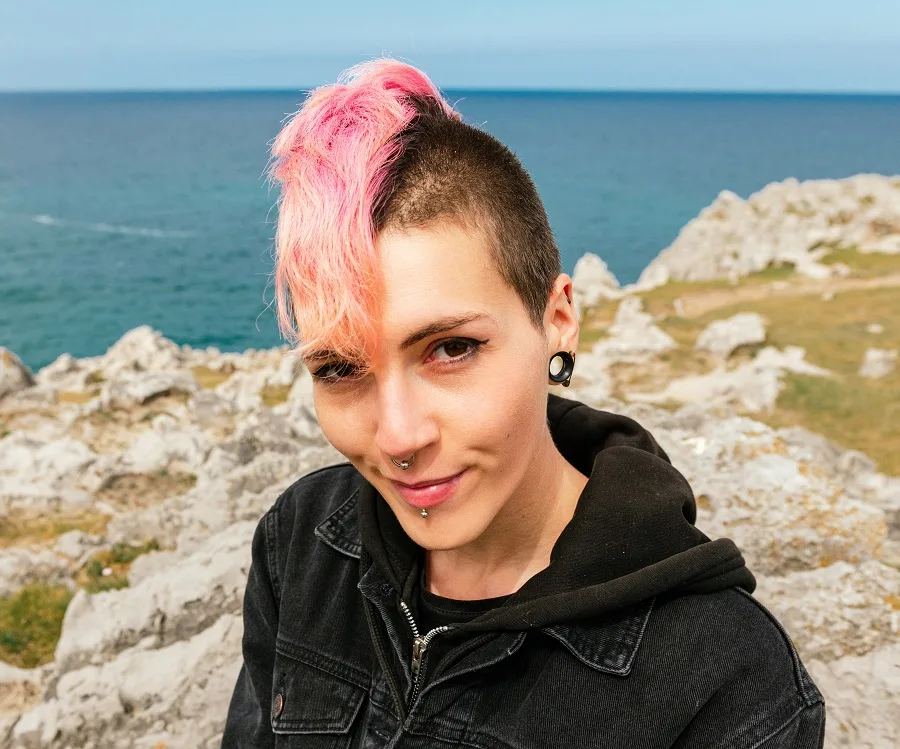 Mohawks are traditionally spiked, unless they're short. This women's faux hawk features long hair framed by two shaved sides and stands out in a bright color combination of pink and orange.
7. Faded Blue Short Hair
Any short hairstyle can instantly be given a punk touch with color. This faded blue livens up a bluntly cut short haircut with bangs. A cute half ponytail is always in style.
8. Magenta Pixie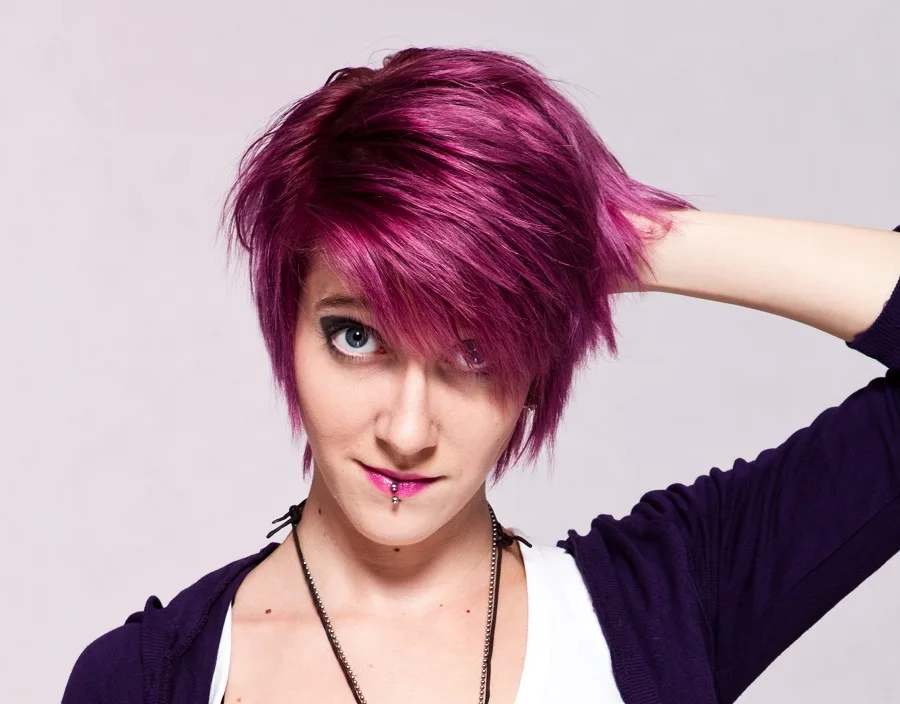 For riot girls who love playing with color, don't be afraid to try a bold magenta. On a long layered pixie or short bob, your mane's thick body will look flawless.
9. Messy with Highlights
Black women always look amazing in blonde, caramel, and brown hair colors. Try the magnificent color trio on a short messy pixie. Get this cut's texture at the crown by working in a hair gel or creme with your fingers and shaping hair up.
10. Curly Platinum Undercut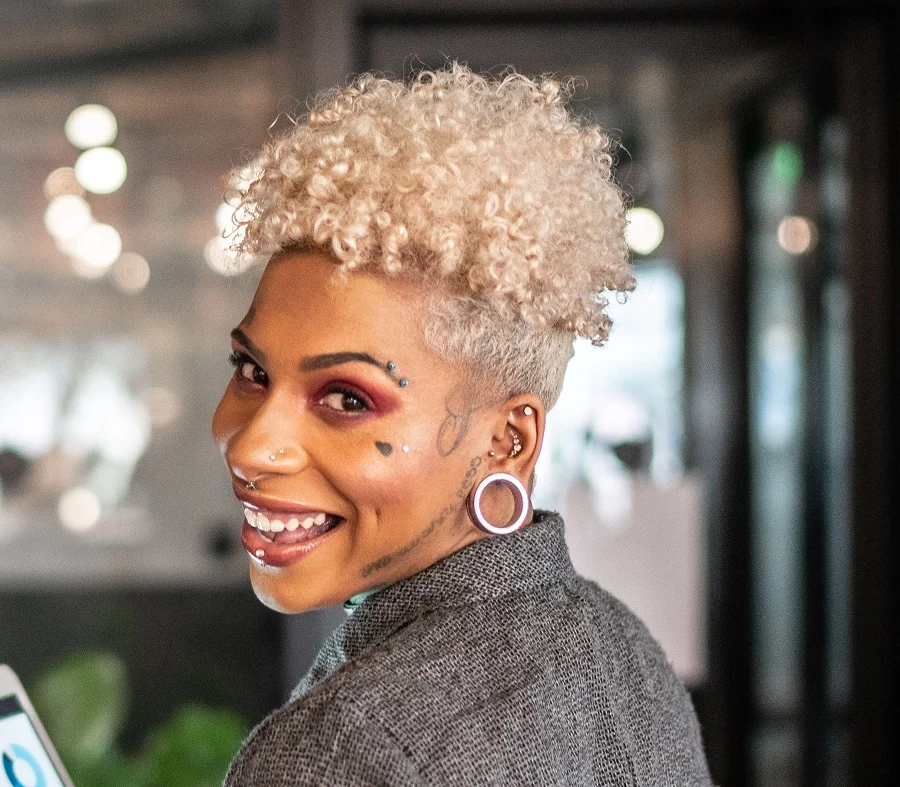 No riot girl would doubt the efficacy of an undercut on short hair. Give your curly hair the perfect blend of femininity and edge by shaving the bottom half of your hair and coloring it all platinum blonde.
11. Messy Dreads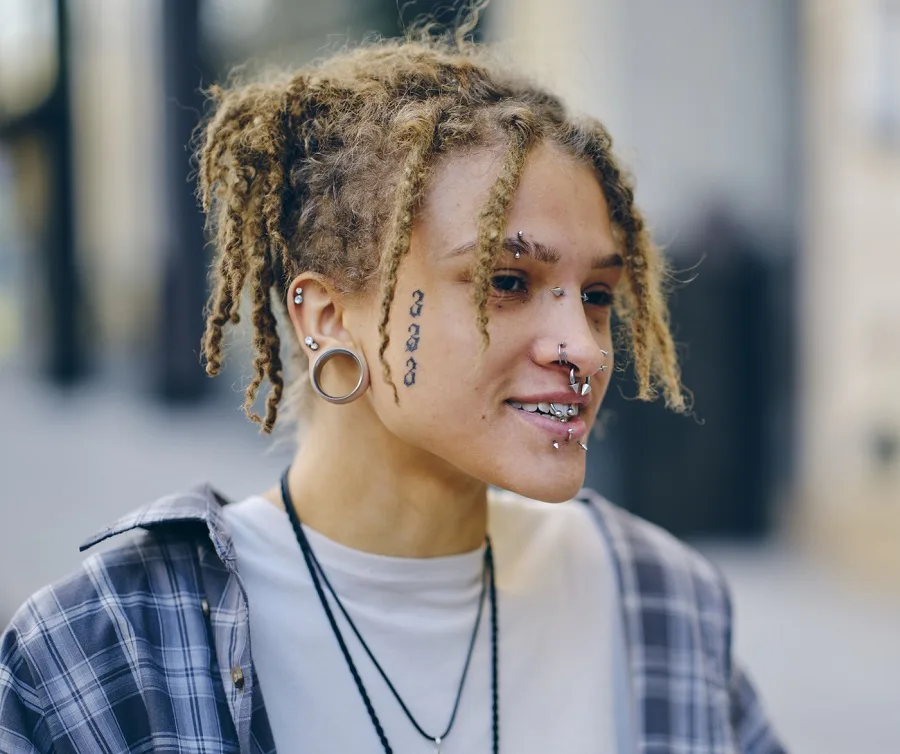 Whether you have braids, dreads, or twists, style up a short 'do in a cute half ponytail or in two ponytails at the back of your head. Leave a few strands loose near the face.
12. Red Asymmetrical Pixie
With an electric red detailing up your nails, lips, and hair, you'll have one fierce riot girl look. This short asymmetrical pixie stands out amazingly with its straightened tresses and baby bangs.
13. Buzz Cut with Shaved Lines
A buzz cut is the quintessential riot girl haircut. The badness it radiates will be even stronger with two straight shaved lines on the sides of your head.
14. Reverse Braids
Even short-haired women can wear braids and make them punk. Just flip the traditional style and start from the bottom. When you get to the top, connect them and wind it around one side of your head to pin back.
15. Kinky Curls with Undercut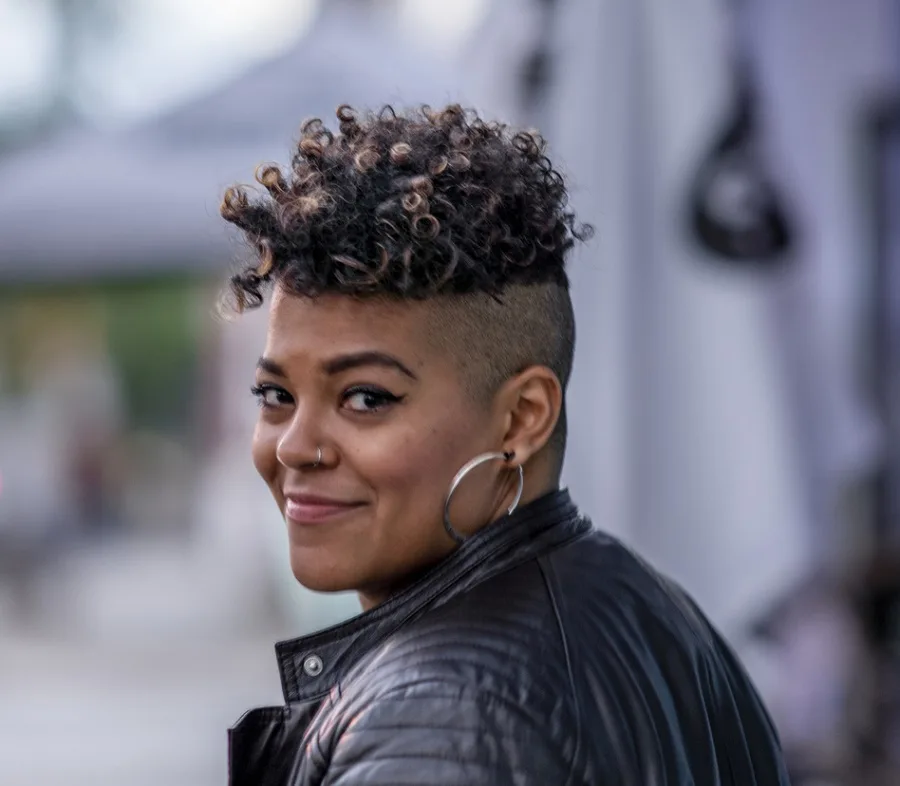 Is your hair naturally curly to the point of being kinked or coiled? Show off that amazing texture in a punk pixie with an undercut. If your base color is naturally dark, add a couple highlights for accent.
16. Brushed Up Pixie
If you're willing to spend a little more time to get the perfect riot girl hair, consider this straightened pixie. Straightening it will give it longer length that will look better when brushed up to one side and spiked up in the back.
17. Messy Short Layers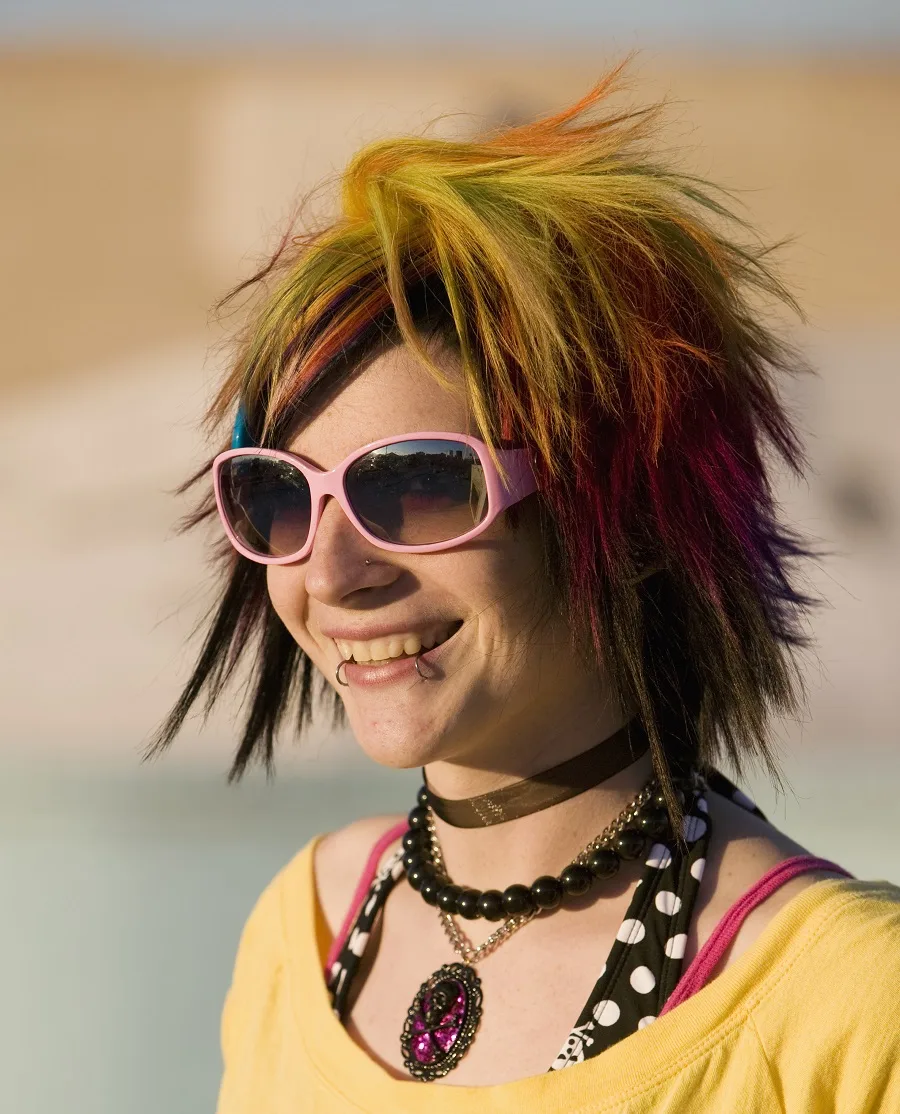 Not afraid to use multiple colors in your hair? Consider this short layered haircut. To get sexy messy texture, straighten your hair, then spritz with hairspray before using a comb to part hair unevenly.
18. Wavy Faux Hawk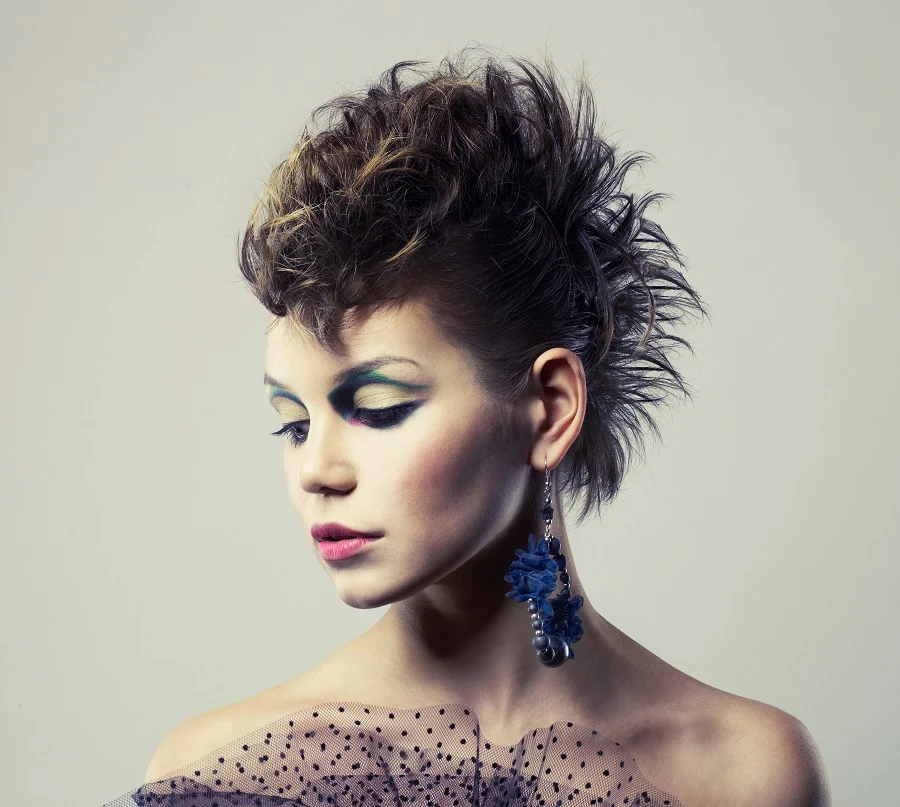 When you're going out, resist the temptation to play it safe and instead try this faux hawk for wavy hair. The sides of the hair are smoothed and pinned back to create the mohawk shape up top down the middle.
19. Side Parted Pixie
When riot girls need to be professional, this asymmetrical pixie saves the day. The off center part emphasizes the unusual cut, and straightened hair creates a heavy side bang.
20. Victory Roll Mohawk
How edgy and unique is this mohawk featuring vintage victory rolls? Black riot girls with naturally curly hair will find it easier to style, but it's sure to look stunning on any woman.
21. Mullet with Baby Bangs
While the mullet was traditionally a men's look, it's gaining popularity for women, especially those looking for a punk hairstyle. Add a complementing dark color like forest green and baby bangs to truly give off the riot vibe.
22. Green Spiked Pixie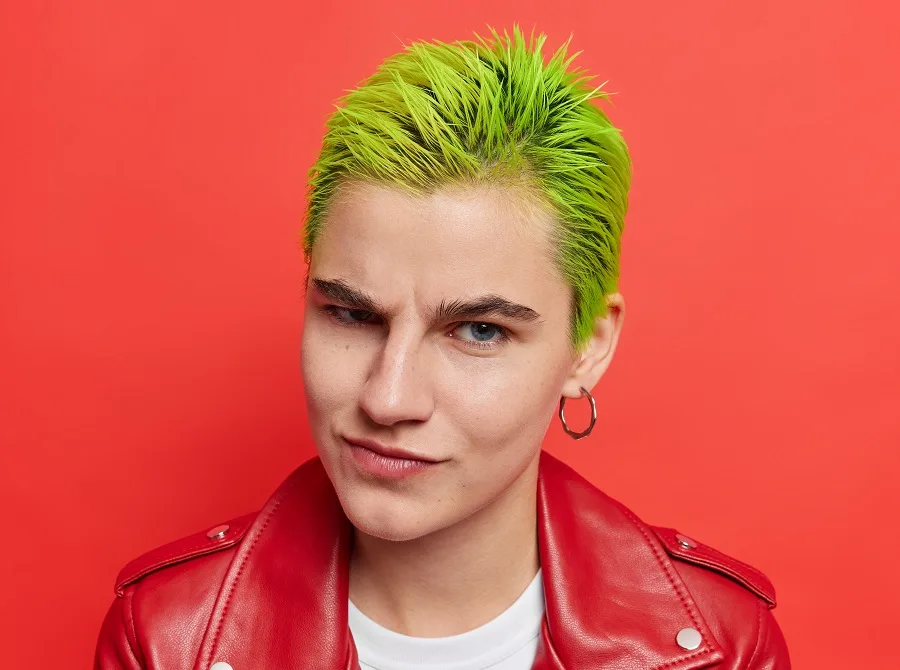 Truthfully, this bright lime green would be awesome whether you have a buzz cut or a spiked pixie. For women who can't resist an eye-catching style, this is the perfect punk cut for short hair.
23. Liberty Spikes
If you're used to riot girl hair already, a liberty spiked mohawk will be no feat for you. Try out these three spikes in a bright color like electric red. For character, consider leaving a couple long strands near the ears.
24. Short Victory Roll Undercut
A bald undercut is sure to catch everyone's eye and make you feel cool. Create bold contrast by making short victory rolls in the top half of your hair. Bonus points for using a girly pink coloring.
25. Side Swept Bangs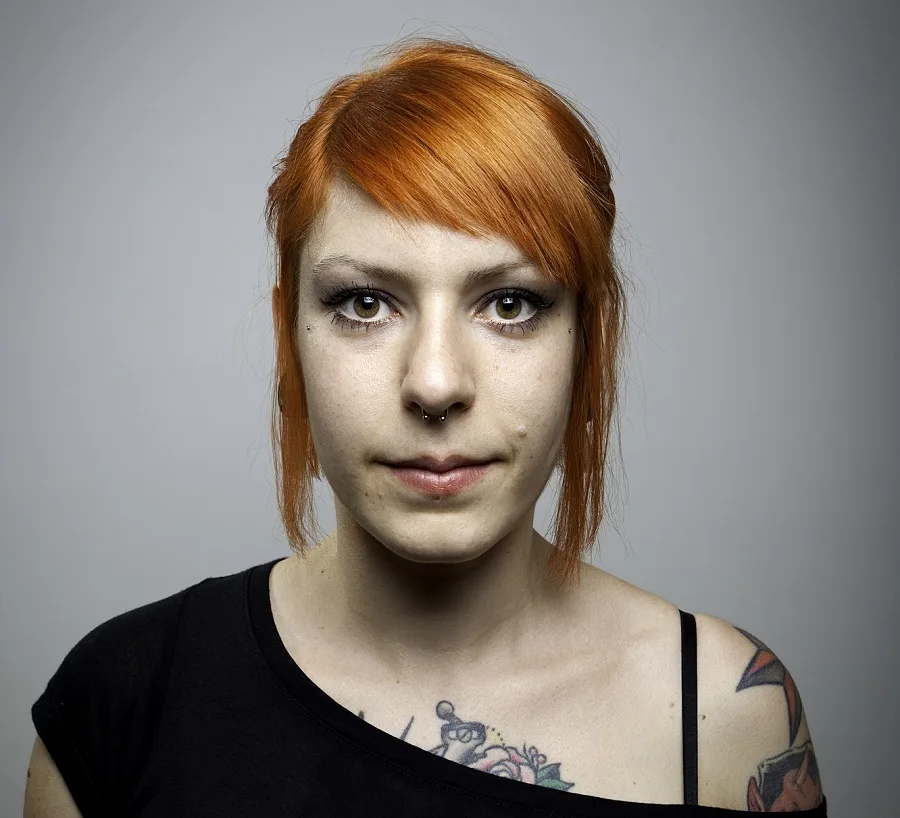 If you choose to rock a razor cut or choppy bob or pixie, adding side swept bangs will put another spin on it. Light-skinned riot girls will appreciate the flattering from a bright orange coloring.
26. Blonde Mullet
Light blonde is another hair color that will flatter women with light skin. Try it on a punk straight mullet with baby bangs. To emphasize short layers, curl them or tease with a gel and your fingers.
27. Purple Ombre Bob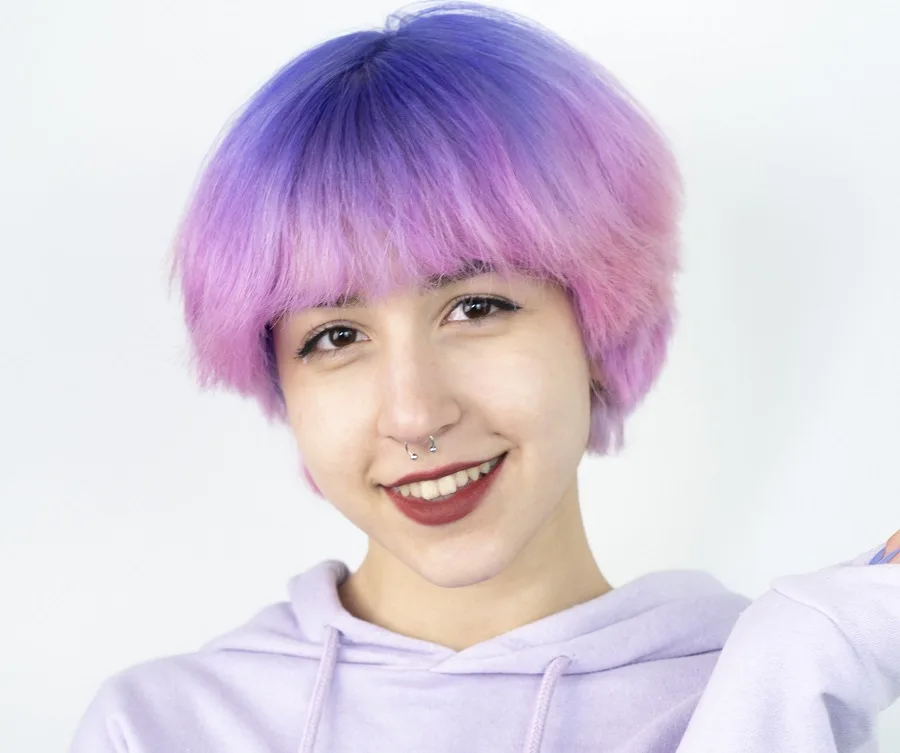 If you're a riot girl frustrated with thick hair, nix it with a short layered bob. Give it a feminine but punk touch with a pretty purple ombre.
More Amazing Short Punk Rock Hairstyles
Every day, new fashion trends are evolving be it clothes, hairstyle, and accessories. What truly speaks volume about a person's personality and style is their hairstyle. Most people have adopted the punk lifestyle and love to sizzle their hair with versatile colors and style in a way that makes them uniquely stand out among the rest.
If you're one of the individuals who love trying out various rebellious hairstyles and wish to channel your inner boldness, these short punk rock hairstyles are meant for you.
28. Blue Punk Mohawk with Fade
Look like a blue goddess with this dazzling punk rock hairstyle that is going to put you under the spotlight. The roots are dipped in dark blue hair color followed by spiky pastel blue hair that gives punk vibes. Add a hint of mint color on the faded sides and flaunt your hairstyle.
29. Mullet Hairstyle
Mullet hairstyle has made a huge comeback. Not only men wear this style, but women are found to rock the Mullet hairdo with confidence. The hairstyle is suited for certain face shapes such as oval and diamond shape. If you've got medium or thin hair, you can go for this punk hair look which is easy to maintain and doesn't require any styling.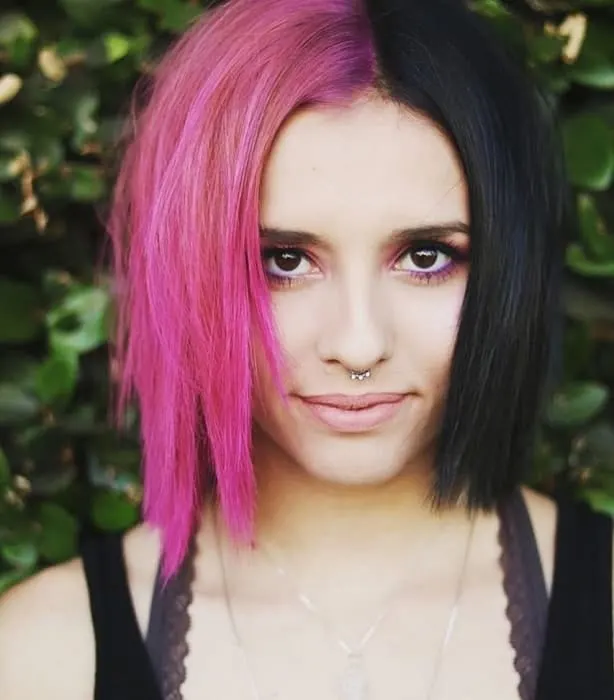 Why experiment with one color when you can do it with two? The dual colored medium bob haircut gives a daring punk rock star look that is indeed a head turner. The hot pink hair color embodies feminity, confidence, and energy. This versatile short punk haircut is a game-changer and meant for those who love to try spice up their hair with intense colors.
Looking for a perfect eye candy hairstyle? Tease your swirls with this quirky pink shade and look flawless. The short pink haircut looks super adorable and youthful which is perfect for summers to beat the heat. For short-haired lovelies, unleash the girl power in you with this punk girl hairdo.
Short silver hair isn't just grandma's hair anymore. You can easily pull off the style and look effortlessly chic with this sharp shag haircut dipped in silver. The face-framing bangs are a cherry on top that accentuates your jawline and hides a big forehead area.
This punk rock hairstyle is the perfect impersonation of Mohawk that is suitable for special occasions. It looks subtle and ultra-classy that gives an impression of a real rockstar. The hairdo requires effort and hairspray sessions, but the end result is worth it.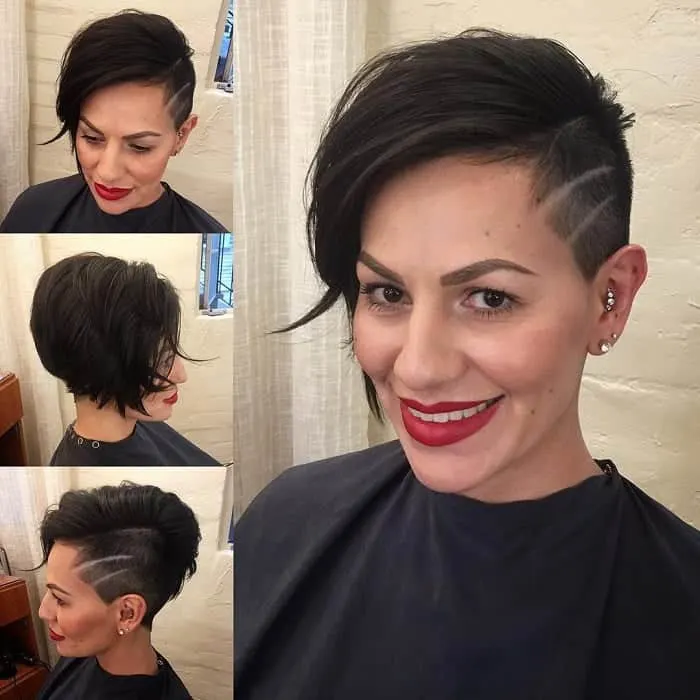 You can never go wrong with an undercut hairstyle. The shaved side compliments the pixie cut and makes you look ultra-chic. Look how beautifully the hair falls on one side, making it one of the age-defying short punk hairstyles.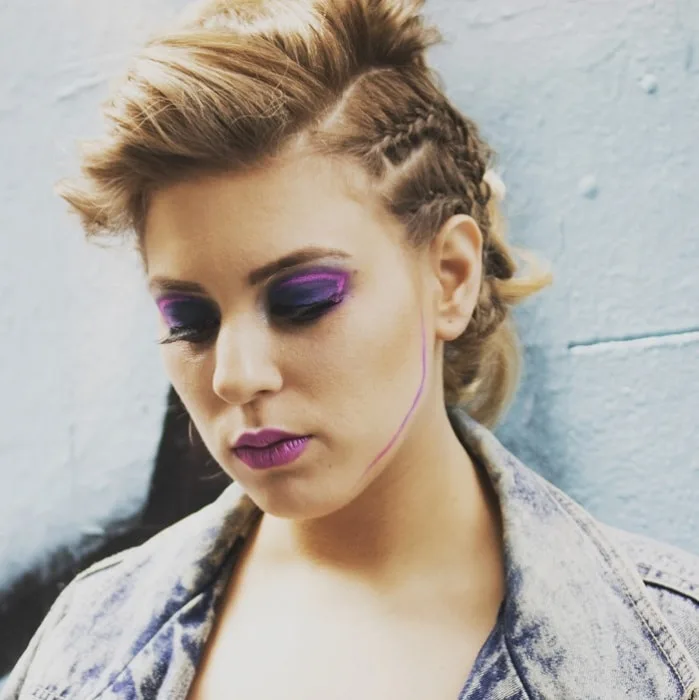 There are different ways to rock a faux hawk hairstyle. If you've got long hair and you're a fan of side braids, you'll love this hairstyle. Although it isn't an everyday look, you can wear it to your favorite punk concert. Complete the look with dramatic makeup and look like a hipster.
From spiked mohawks to messy masterpieces, short punk hairstyles run the gamut. With the correct styling, a simple crop can become punk rock. For those who love to experiment their hair with different styles and aren't afraid to break the monotony, try out these punk rock hairstyles that will make you fall in love with your hair forever. How punk are you willing to go?