Pair your bangs with nice long layers and you'll have a cut that is bound to suit your face shape. If you have medium to long hair and you're bored of your hairstyle, it may be time to get bangs.
Bangs were the go-to hairstyle nearly a decade ago. Now in 2023, they're making their way back to women's hairstyles!
Trendy Long Layered Hairstyles with Bangs
Long layers with bangs can come in many different forms. To make it easier for you to decide which haircut to get, we put together a list of the best haircuts we could find.
1. Long Dark Layered Hair with Bangs
While the layers on this long haircut add shape, the long bangs are piecey and somewhat wispy, sure to not be too overwhelming whether you wear your hair down or up.
2. Asian Long Layered Hair with Bangs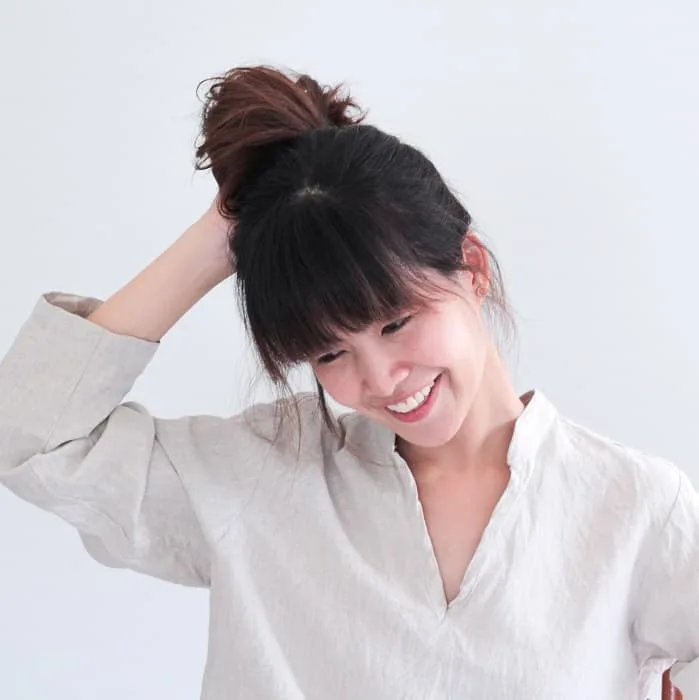 For busy days or even to add a punch of polish to a dressier outfit, gather your long layered hair into a high bun.
3. Long Fine Hair with Layers and Bangs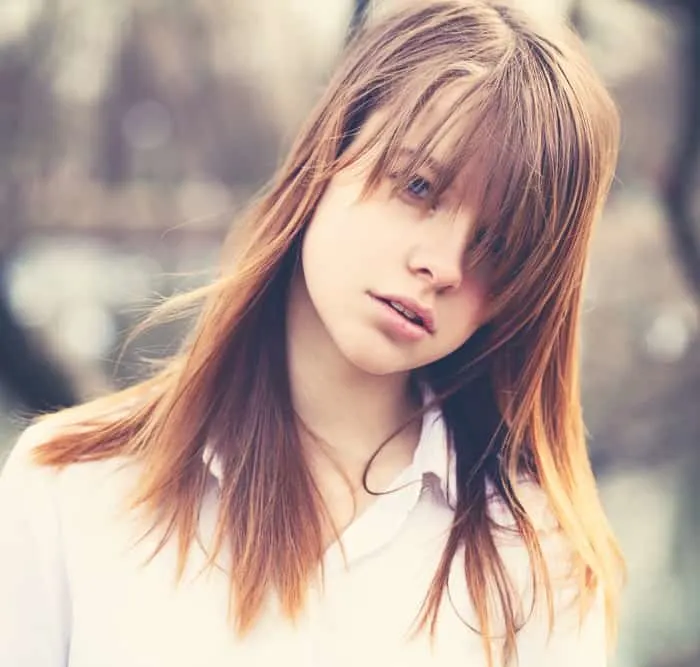 Layers are a great strategic technique to making fine hair look fuller. Leave it loose over the shoulders and add a side part.
4. Long Layered Blonde Hair with Bangs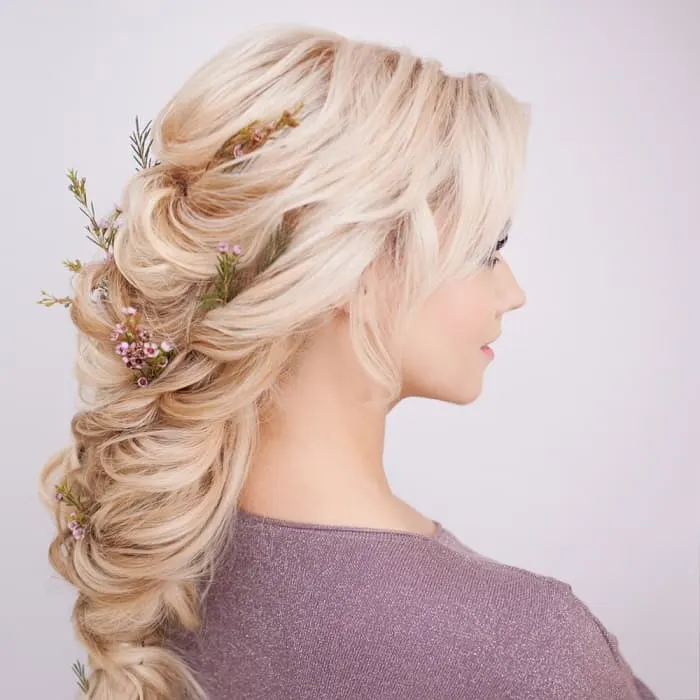 For a fabulous hairstyle for a wedding, form a thick low braided ponytail with long layered hair. The blonde hair color and pieces of colorful flowers combine to make an Elsa braid.
5. Long Highlighted Hair with Layers and Bangs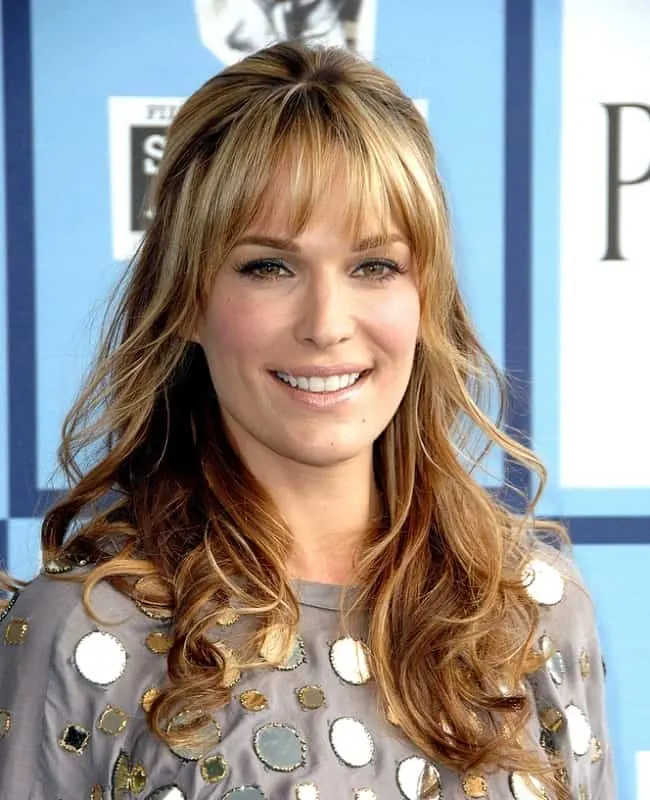 For this chic updo, gather just the top half of your long layered hair into a loose ponytail.
6. Long Layers with Bangs for Oval Face
To frame an oval face, add long layers beginning at the cheek. Worn up in this glam straight ponytail with bangs brushed straight, this style is super chic.
7. Long Layered Curly Hair with Bangs
Layers on long curly hair is the best way to rid hair of bulkiness. Combine the style with soft curly bangs and this is a look you'll love running your fingers through.
8. Long Layers with Bangs for Black Girl
What Black woman doesn't love their natural curls? Keep them healthy and luscious with long layers.
9. Long Layers with Bangs for Round Face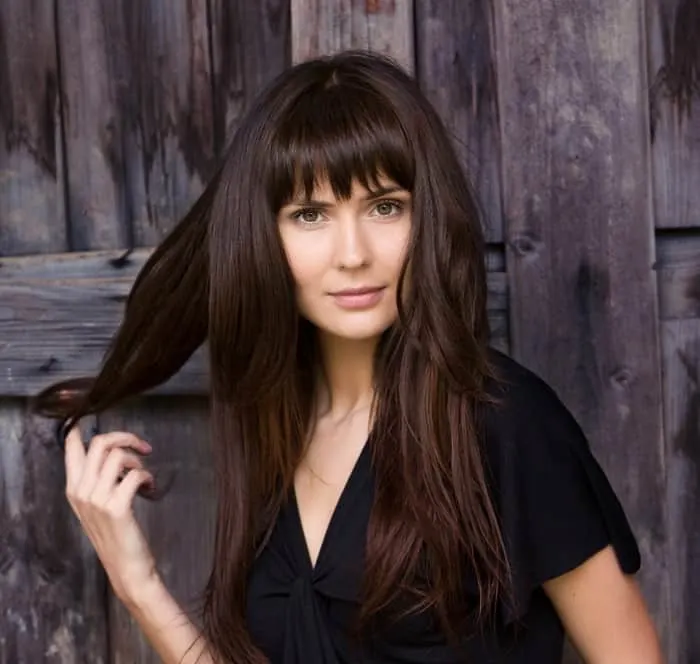 Make a round face a little more narrow by adding long layers. When worn down, the layers will frame the face, and the piecey bangs keep the overall look light.
10. Long Layers for Thin Hair
The key to adding layers to long thin hair is starting them lower down. Straight bangs contrast with soft curls on this blonde highlighted hairstyle.
11. Blonde Straight Layers
The way the layers in this long blonde hairstyle blend into long straightened bangs that graze the eyes is so seamless and subtle. Their thin wispiness is what makes the perfect soft hairstyle.
12. Curly Brunette
Long layered curls make a brunette mane look fuller and thicker. They also enhance the shape of curls, turning them into perfect ringlets. Straight bangs swept to the side stand out with help from a bright red headband.
13. Middle-Parted Bangs
When you're in a hurry, gather up your long hair into a messy bun. Let short, piecey bangs lie along your temples for a soft touch. Avoid tucking them behind your ears and instead just part them in the middle.
14. Pigtails and Bangs
For a more playful hairstyle, opt for two low ponytails. Secure them loosely to better show off their layers. You can do this by parting your hair off-center and brushing your bangs to the side.
15. Short Straight Bangs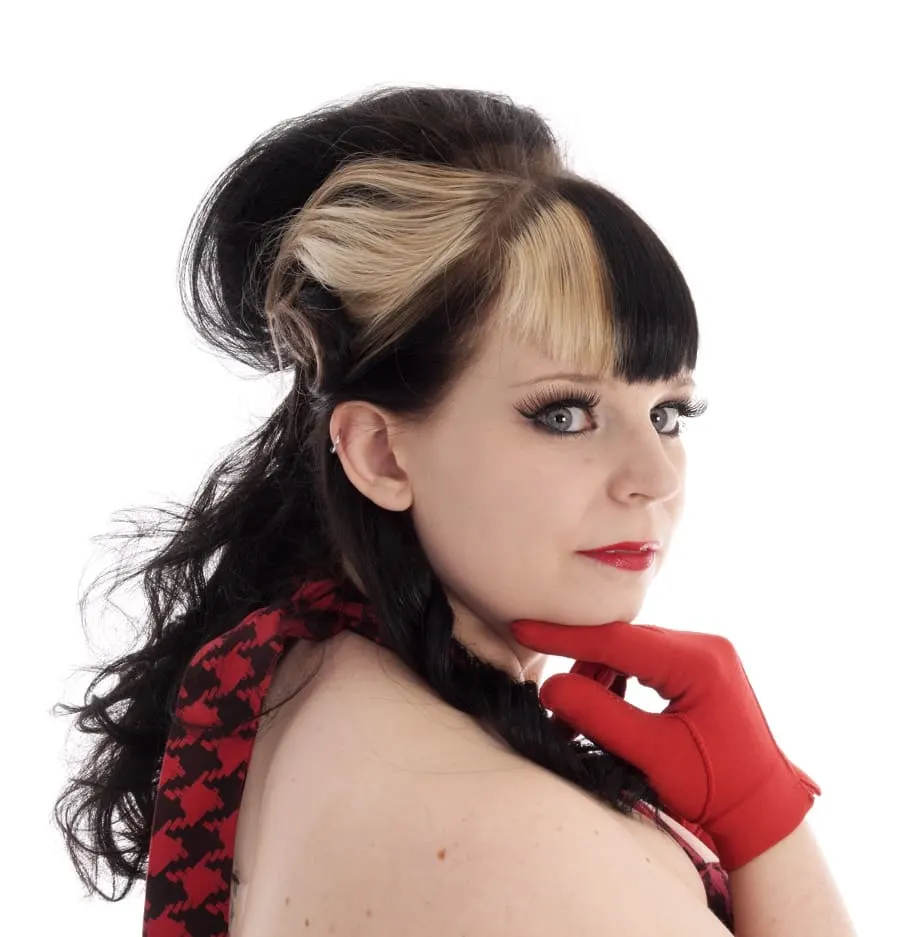 From the teased body, cute half updo, and short straight bangs in contrasting light and dark colors, this long hairdo is an instant edgy winner for any lady. At the crown, use lots of hairspray to get the height.
16. Pink Ombre
If you love fun colors, a bright pink ombre is a must try in long layered hair. Fill the body of your mane with luscious curls or waves, and pair it with straightened fringe.
17. Orange Highlights
The swooped shape of the long curtain bangs seen above flow beautifully with bright orange highlights. Let the color make your wavy texture pop. Wear it down and loose or up in a cute loose bun.
18. Medium Hair with Bangs
There's something classically chic about a brunette medium-length hairstyle with bangs. We prefer curtain bangs, since they're easy to style with fingers. Work a little product into layered hair to help the different lengths stand out.
19. Side Braid Updo
For those fancier occasions, gather long hair into a low twisty bun with a thick side braid. Pull the layers around your bangs loose and let them curl alongside your face. You can even tuck a few flowers into your bun for detail.
20. Thick Layers + Curtain Bangs
Feel like a supermodel just by asking your stylist to give your thick long hair layers. It will take out bulk, making it easier to style. Finish with a long curtain bang that is easily combed to the sides.
21. Red Straight Hair
Even older women can rock bold eye-catching colors. If you're not afraid to make a change, opt for medium or dark red. We recommend a bluntly-cut bang, straightened to match your mane.
22. Wavy Layered Updo
To make sure all your spirals or waves are seen at whatever fancy event you're attending, secure them in a loose updo that allows them to hang softly over your neck and shoulders. Keep bangs soft by arranging them with your fingers.
23. Blended Layers and Bangs
One of the easiest long hairstyles to maintain is one that needs only a middle part. Layered long hair is perfect since there is already a built-in shape. Make the best curtain bangs by starting the shortest layer at your eyebrows.
24. Highlighted Long Hair
For women who already have long blonde hair, you can make a beautiful update easily with a few light or white blonde highlights and long layers. Part hair in the middle or, to accentuate side bangs, off-center.
25. Long Shaggy Layers
Shag cutting can transform long hair into a more fun, slightly edgy style. The way the layers are cut gives the top half of the hair lots of body, and that carries over into the bangs. Just use your fingers to style it.
26. Layers and Straight Bangs on Updo
A wedding updo is dramatic with its long straight bangs that meet the eyebrows. The body of the hair is gathered up in a high bun with curls to hang loose.
27. Long Layers with Curtain Bangs
Looking for a super sexy hairstyle? With long layers and a curtain bang, straight hair looks part emo, part girl next door, and even better with a rich chocolate color.
28. Feathered Bangs with Layered Hair
A strawberry blonde color is just the thing to give long hair a youthful glow. Give it a diagonal center part and straighten hair to make bangs and layers wispy and flipped out.
29. Messy Updo with Layered Bangs
Layered bangs give a messy updo the soft vibe here. Gather all the hair up loosely in a bun or ponytail, leaving some tendrils loose around the ears and across the neck.
30. Long Layered with Balayage
Liven up your long hair with not just long layers, but blonde balayage. These soft beachy waves look great paired with straight bluntly-cut bangs.
31. Brunette Layered Hair with Highlights
Brunette hair takes on a whole new look with blonde highlights. Make the body a mix of straight hair and waves and go for a deep part to create the peek-a-boo look with side bangs.
32. Blue Bangs and Layers
If your current hairstyle is in desperate need of a punch of color, add a bright blue to the front sections of hair and bangs.
33. Rainbow Layered Hair
For a truly head-turning hairstyle, mix long layers with rainbow hair color. Straighten the hair and bangs for a rocker-emo vibe.
34. Blunt Bangs and Layered Hair
These blunt cut bangs are super short, stopping in the middle of the forehead. They pop with a turquoise shade while the rest of the hair is layered and black.
35. Space Buns with Bangs
Long layers may not be noticeable when hair is up in space buns, but long piecey bangs are. Wear them thick and cover the whole forehead or keep them wispy.
36. Long layers with Front Bangs
This haircut is immensely popular; the hair is cut in long layers that give it a very soft look with a very smooth transition, and the bangs are cut right in the front and are the apex of simplicity and elegance.
This look can be achieved by sectioning your hair by a length of two inches and then individually straightening them. Also, while straightening the bangs, carefully maneuver the straightening iron in a way that it faces towards your face.
37. Long Wavy Layers with Blunt Bangs
In blunt bangs the hair on the front is cut thick and straight across the forehead, this goes well with thick wavy hair making for a very classic look that screams of the 70s. These long layers with bangs are very easy to style.
Simply straighten the bangs and brush the rest of the hair in the natural direction of your waves. This style looks best when it's natural to put a very minimal product on your hair if using any.
38. Wavy Layers with Long Bangs
In this style, the long wavy bangs transition into the wavy layers seamlessly, to give a very elegant and classic look.
Ensure that your stylist knows to cut your hair in the natural direction of your wave, and the length of layers is slightly longer to ensure that the hair flows voluptuously.
Comb your hair and bangs in the natural direction of your waves, apply some volumetric mousse to help hold the look and add more volume.
If you're relatively new to bangs and aren't comfortable with them being directly in front of your face, these layers with side bangs are for you.
The hair features long hair that is cut in layers, effectively framing the face and the bangs should be cut so as to blend in with the layers when swept to the side.
To achieve this look, apply some volumetric mousse to hold the look in the direction your bang are swept in.
40. Long Layers and Arched Bangs
Arched bangs work well in softening the features of a square face, this is a very cute hairstyle and works well with square faces as well as oval faces.
The look requires very minimal styling, and the arched bangs transition into the longer layers very smoothly.
To style, this long layers with bangs look simply brush your bangs and hair towards your face in order to frame them around your face.
41. Long Layers with Colors and Bangs
This style is similar to the first one except it features colored hair, a style that'll really help you stand out, the choice of hair color is up to you and anything will go colors like red, purple, and silver. The level of creativity in this style is limitless.
42. Long Straight Layers with Front Bangs
Layers help define straight hair even more and will help shape the hair around your face, the front bangs compliment the look and to make the look a bit more dramatic ask your stylist to thin your hair a bit so that it falls very delicately, styling this hair is fairly simple.
After straightening your hair, straighten the bangs with straightener facing towards you and to ensure that the look holds a bit of setting spray can be used.
This bangs with long layers look is very classic and elegant, the length of the bangs is cut to a medium length with the rest of the haircut in long layers to create a contrasting look. To style this look, create a separation between your hair and bangs by combing the hair back.
Keep the hair in place using pins or a headband and let the bangs hang freely, for a more formal look the long layers can be tied up into a bun.
44. Long layers with Feathered Centred Bangs
If you're looking for the go ultimate girl next door the look, that'll get you by in any event be it formal or casual this long layered haircut with bangs is your answer.
Slightly wavy long layers with bangs that are cut thinner in the middle and flow into the layers at the sides. The haircut is very easy to style due to the nature of its cutting.
In this haircut the layers aren't cut as long, the layers in this cut are thin and sparse which makes them much easier to style afterward and still giving you the same amount of volume longer cut layers would, the bangs are cut to flow into the hair for a look that is low maintenance but very high reward.
46. Straight Layered Cut with Choppy Bangs
Most people would consider that choppy bangs only go well with short choppy pixie cuts but that simply isn't true.
Long layers with choppy bangs make for a very versatile look that suits most face shapes and is fairly simple to style.
Simply straighten out your hair and bangs, and use the setting spray in order to ensure that the look holds.
47. Choppy Layers with Short Side Bangs
These unevenly cut layers, contrasting with the short side bangs give off a very punk rock star look, the hair needs to be cut at 45% to ensure that it is edgy.
To achieve this style, straighten your hair while brushing it downward, and use hairspray to ensure that the look holds.
48. Layers with Bangs and Lowlights
To achieve the short bangs look, ask your stylist to cut bangs 1.5-2 inches in length depending on how short you want them, the long layered locks with the short bangs give off a contrasting look which is very edgy.
Short bangs can also help a rounder face seem slimmer and seemingly elongate the length of a small forehead.
49. Side Bangs with Long Layers
The key to great long layers with side bangs is ensuring that the bangs blend in well with the rest of your hair. Paired with the long choppy layers, the side bangs create an effortlessly chic look.
The key to styling this look is blow-drying your bangs properly, brushing them forwards while blow drying is absolutely essential towards achieving this look.
50. Peekaboo Bangs with Long Layers
Peekaboo bangs work brilliantly with long layered hair. The key to this haircut is ensuring that your stylist keeps the length of your bangs fairly long; if the bangs are cut too short, the look can't be achieved. The best look is achieved by sweeping the hair to one side.
While blow drying your hair, brush your bangs forward to give them more volume, and then brush them towards the side. Let your bangs dangle a bit freely. To touch up the look, use a bit of volumetric mousse.
51. Long Two-Layer Haircut with Side Bangs
While most modern haircuts feature multiple layers, having more layers isn't the only way to modernize your look.
The two-layered haircut offers a very minimalistic look, and with side bangs cut to smoothly transition into the layers, it gives off a very modern and chic look.
To style, blow dry your hair while brushing it forward to give it more volume, then brush it in its natural direction.
52. Long Soft Layers with Bangs
These bangs on long layers have bangs that are usually of a length that covers the eyes a bit. The bangs are cut in a manner that frames around the face and the long soft layers help give off a very adorable look.
It's very easy to style look, and the bangs can be either parted in the middle because of their length or swept to one side.
Best Bangs Hairstyles for Stylish Women
53. Long Flaring Layers and Side Swept Bangs
Flaring layers are typically layers that include several tiers, this partners incredibly well with the soft side swept bangs to give off a very modern and exciting look.
The hair is very easy to maintain and can be styled fairly simply. Blow drying the hair will give it more volume.
54. Tapered Layers with Middle Parted Bangs
In a tapered haircut, the hair is typically longer at the top and moves gradually shorter down the sides and back.
The look features bangs of a longer length because they have to be part of the middle. This look is especially suited for rounder face types because of its slimming effect.
55. Long Shaggy Layers with Bangs
If your hair is slightly naturally wavy, then this look is perfect for you. A no-fuss style that looks beautiful without even trying. Very easy to style and require minimum maintenance.
So, there you have it! 55 great long layers with bangs haircuts for you to browse through and choose your next look from.
Make sure you know what you are getting and you have the right equipment for what you want, for example, a correct-size blowout brush, a curling iron, a flat iron, and styling aids to achieve a certain look.