Thinking about getting a purple pixie haircut? Women worldwide have been obsessing over pixie cuts ever since the actress Emma Watson cut her hair years ago for the premiere of the last Harry Potter movie.
She inspired women worldwide to get this feminine, easy-to-maintain, and ideal go-to hairstyle for formal events. If you are thinking about a hairstyle that will sweep everyone off their feet, this is it!
Why Get A Pixie Cut?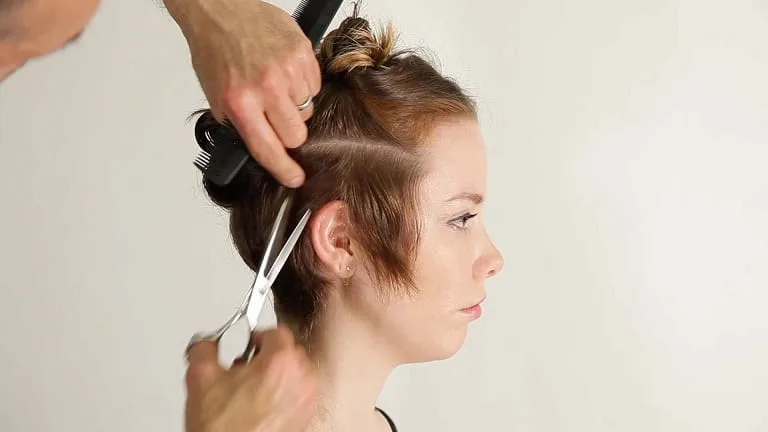 A lot of women believe that this cut is a lot easier to style since you can create a beautiful hairdo in less than 5 minutes. Its simplicity is ideal for workaholic women or those who are always rushing.
This haircut will allow you to dye your hair in many different bright & fun pastel colors. It can easily become super chic and fashion-forward.
Some women who have damaged hair will enjoy a change and should grow out their natural hair healthier & shinier after cutting it, and they can to that with a pixie cut.
How to Get Purple Pixie Haircut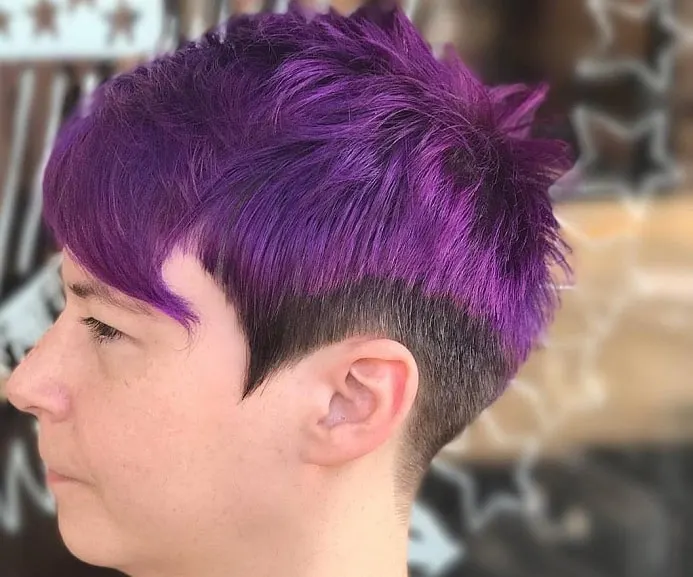 You will have to go to a professional hairdresser in order to end up with the best results for your desired purple pixie. Once there, they will go through 5 steps:
The hairdresser will work with damp hair and they will cut it to your shoulder length. At first, it might look uneven but don't worry, you will get to your pixie haircut in no time!
They will cut your hair by making a V-shape while giving you a slight angle. Know that pixie cuts are quite short and that you will be left with 5 centimeters of hair at each side, and no more than that.
They will follow your natural hairline while cutting the hair and will feather it around your ears. Some might do an undercut if they like that fearless and feathered out vibe.
After they are done cutting it is time for the coloring process. Your hair will have to get bleached (if you have darker hair) and you are trying to achieve that purplish hue. They will also use some toning shampoos to get the perfect color.
After your hair dye sets in place, they will blow dry it and leave you with your wanted hairdo. You can wear a pixie cut with some long bangs, side bangs, or you can use a bit of hair wax to style it.
Amazing Purple Pixie Haircut Ideas for Girls
Pixie is a popular choice for short hair lover women. With purple hair dye, it creates a super edgy look for girls and women. We've gathered the top 8 purple pixie ideas that you can adopt this year. Have a look!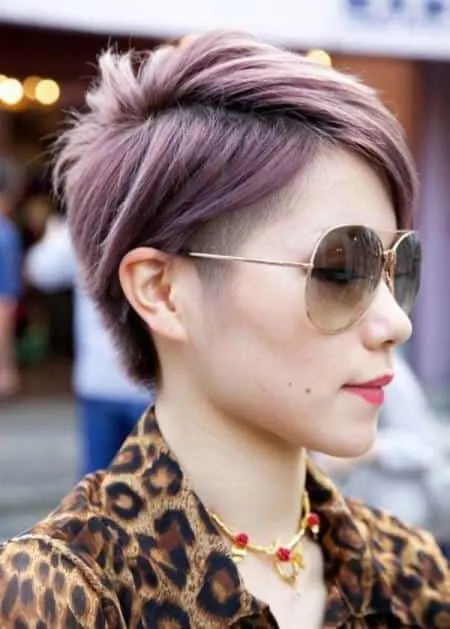 You can rock a short pastel purple pixie with a pair of glasses and some chic jewelry. This hairstyle with side swept bangs once paired up with the right accessories, will look very attention-seeking.
2. Violet Pixie with Pin Curl at Top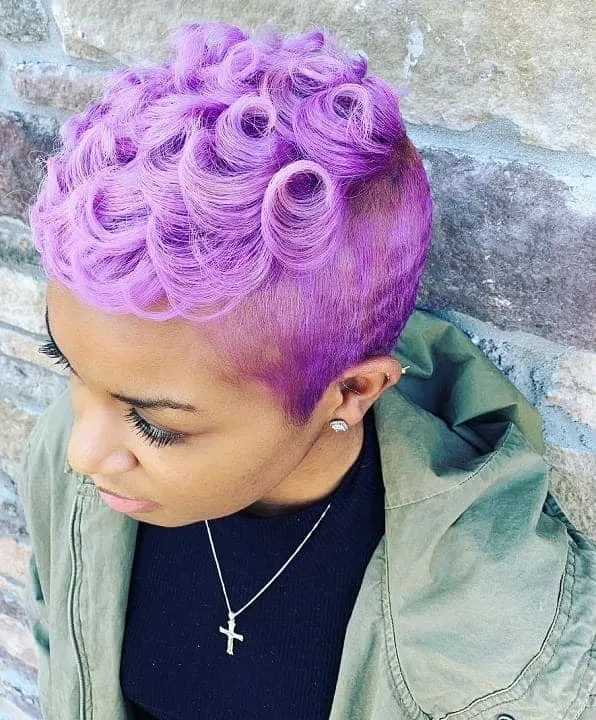 For women who are on the lookout for the most romantic and sensual hairstyle know that you can style your purple pixie cut with subtle yet feminine curls. This hairstyle is a great choice for an upcoming wedding or any formal event.
3. Dark Purple Pixie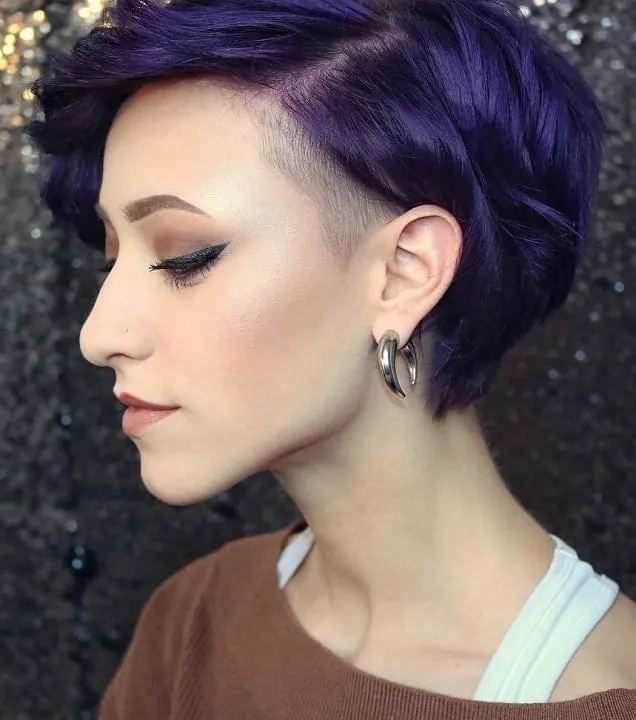 If you prefer devilish options and like the look of an undercut, this short purple pixie look is for you. It has a lot more volume on the right side while its left side is slightly shaved and styled.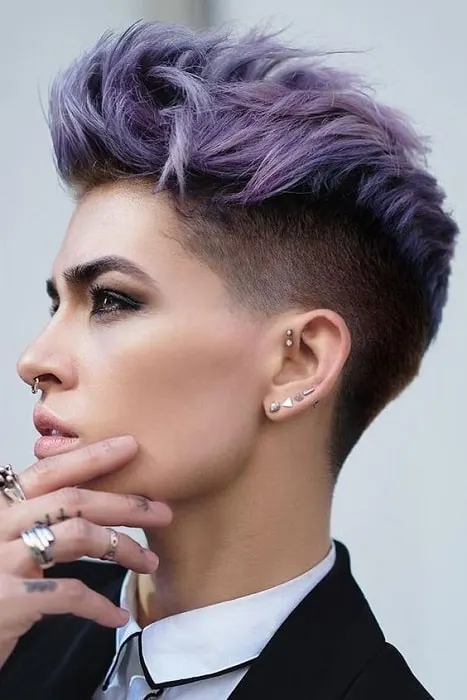 Women who are getting ready for the summer and who want to have a lot more freedom and comfort with their hair will love this purple pixie cut with a nape undercut. It is easy to maintain, as well as a style since all it demands is a bit of hair wax.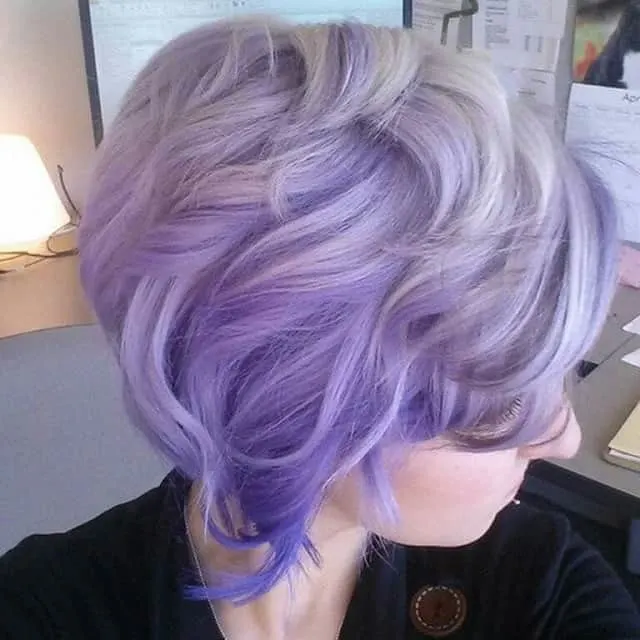 If you are still not ready to fully transition into one color you can wear your pixie bob hair the ombre way. This way you will be able to tell whether you really like the outcome.
Pastel purples have never looked this good! If you are someone who prefers seamless and more wearable hairstyles you are going to love this one because you can wear it freely to work, the office, or even a big meeting.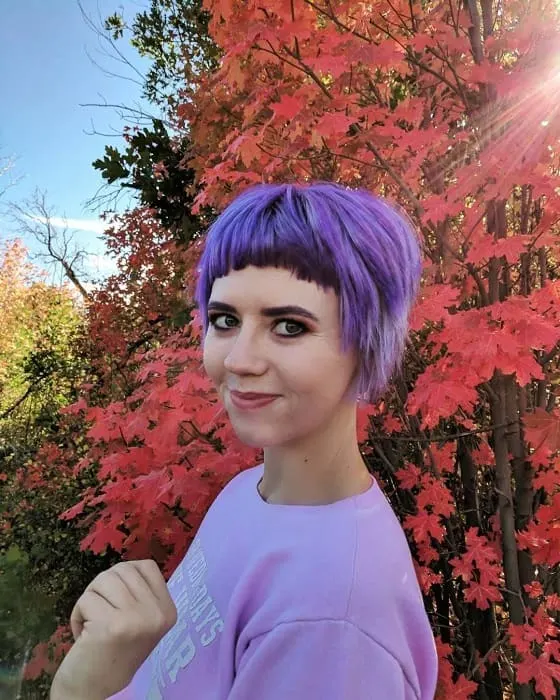 Moms who are super busy and who don't want to spend way too much time on their hair & hair color will look super lovely in this everyday perfect purple pixie.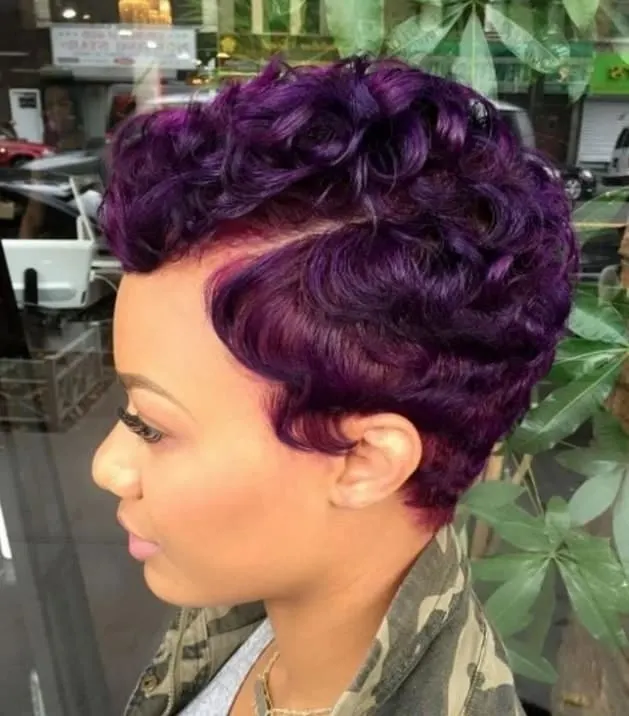 A bit of that devilish and reckless vibe can look so great once paired up with feminine curls. Women will enjoy styling this purple hairstyle with a curling wand.
You can and should enjoy a feminine and vibrant purple pixie style as soon as possible. If you prefer innovative and girly hairstyles embrace the well-known Emma Watson hairdo and show it off whenever or wherever!