Ombre hair color is taking the hairstyle world by the storm. Initially, this hair coloring technique was created to reduce the hair maintenance for women with dyed locks whose roots were growing too quickly. But then it evolved into something much grander. Girls all over the world are testing different hair colors and experimenting with combinations. If at first, the popular mix involved dark top and light ends, nowadays, any colors go. You can experiment with different shades of one color or go for several completely different hues to create an amazing contrast. You can leave just the very top dark and make long blonde tresses, or create a color change in the middle of your locks. Anything goes.
Learn from These Ombre Hair Color Creations
All women love to experiment. The ombre hair color technique offers them a new and exciting way to do just that. An ombre can be created by mixing any two colors or attaching hair extensions. The imagination can go wild. If you are not a fan of outrageous styles, you can go for more classic options. If you want to make a statement, you can mix several wild colors. If you've always wanted to see how a certain hair color suits you but were afraid to dye your whole head, an ombre offers you a chance to do a color test. Take a look at these magnificent ways you can go about an ombre hair color.
1. Subtle blonde ombre
This subtle blonde ombre is created by mixing sandy blonde and sun-kissed blonde hues. Take a look at how most of the hair is dyed one color and less than half of the bottom part features a different shade.
Chestnut Brown Hair Color Ideas
2. Ombre on a stacked bob
Creating an ombre on a stacked bob is a hard task since the gradual transformation from one color to another can take some time. But the overall result will be truly impressive no matter which colors you pick.
3. Ombre with highlights
If you choose the classic ombre hair colors such as dark brown and blonde, you can make your image even more unique by making a few blond highlights on the dark part of your ombre.
4. Auburn and light blonde
Dark auburn hair color looks especially wonderful with light blonde hues. If you have long locks, you can make the auburn part end near your neck line and make the rest of your tresses blonde.
5. Redhead experiment
Red ombre hair color is just what you are looking for when it comes to making an impression. Use darker burgundy, cherry, and ginger shades on top and light red or fiery ginger on the bottom.
6. Cherry and light auburn
This is another beautiful combination of red colors. Dark burgundy on top looks almost black while light auburn on the bottom is close to blonde. The combination has an extra oomph the classic ombre might be lacking.
7. Light brown extension
When you are creating an ombre, there is no need to follow some strict rules. For example, you can extend the top hair color a little down your locks to make an impression of exquisite highlights.
8. Three levels
Who said that an ombre should only mix two colors? You can go ahead and experiment with as many as you wish. Consider making the darkest level on top, then go on to lighter middle level and complete the image with blonde ends.
9. Crazy obre hair colors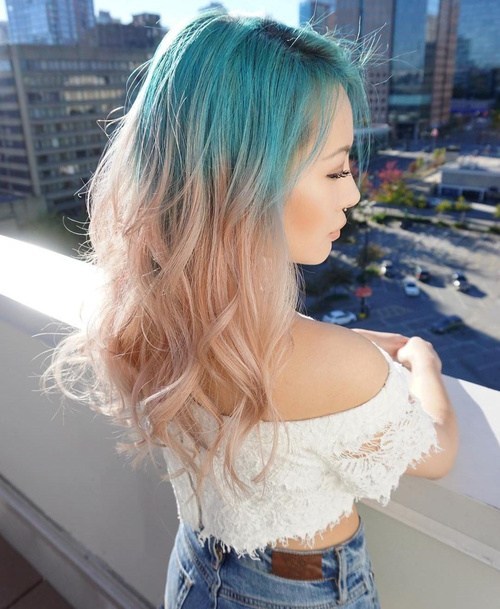 Enjoy an image change with an ombre hair color that features outrageous hues. There is no limit to where your imagination can go when choosing the shades for the top or bottom of your amazing ombre.
10. Caramel with blonde hues
Caramel hues act as a great transition color for three level ombres. The top can be brown or auburn, the middle is caramel and the bottom is light blonde. The result is amazing!
Unique Caramel, Violet & Cinnamon Colors for Your Hair
11. Highlighted ombre
This ombre hair color looks amazing on girls with dark tresses. The highlights are created to make an impression of dark locks inside and blonde hair on the outside. The dark strands are visible on top only.
12. Patchy transition
Ombres look amazing when you use three absolutely different colors. Consider using black or dark brown on top, auburn or red in the middle and sandy or light blonde on the bottom.
13. Partial ombre
If you want to keep as much of your natural color as you can, you can go for a partial ombre. Just like the partial highlights, only the bottom parts of the front strands are color. The rest of the hair stays natural.
14. Black, blonde, and auburn
Black, blonde, and auburn are the ombre hair colors that always look great together no matter what length your hair is. Experiment with the way you arrange the levels and enjoy the results.
15. Burgundy and sun-kissed blonde
Burgundy and sun-kissed blonde are a great combination for an ombre. You can experiment with the length of the top part even if your hair is not too long. You can resort to coloring just the ends if you wish.
16. Dark brown and butterscotch blonde
Mix dark brown hair color and butterscotch blonde shade to create a stunning ombre. If your hair is short, then you can color just the top and add some highlights. You will look fabulous!
17. Extravagant approach
If you have a short pixie, it doesn't mean you should forget about ombre hair color. Consider dyeing the very top part and the bangs any color you choose. Go for extravagant shades to make a statement.
18. All shades of blonde
If you are naturally a dark blond, you can make a truly impressive ombre by lightening up just the bottom part of your hair. Shades of blonde such as ash and walnut mist look wonderful together.
19. Brown, red and rose
Brown, auburn and red are a popular color combination for girls who like Ombres. Make your hair even more unique by adding an unexpected color on the very bottom. Rosy red is a good choice.
20. Black, auburn, and blonde
If your hair is naturally black and you want to make it lighter, create a three level ombre hair color transition with auburn and blonde shades. Start coloring your locks auburn at the eye level and go down to make blonde ends.
21. Just the top
High ombres start with growing roots. It's actually one of the easiest ways to create a natural ombre but it takes some time to do it. Don't be afraid of just letting the roots grow. You'll get a great result.
22. Cherry and ginger
Cherry and ginger auburn mix is a wonderful way to outline your facial features. Keep the cherry on top and just above the ears and then apply fiery ginger on the rest of your locks for amazing contrast.
23. Black and light brown
There are many outrageous ombre hair color ideas out there but if you want something subtle, there are also a few to choose from. Natural black on top and light brown on the bottom look stunning.
24. Chocolate and caramel
This tasty color mix will make your hair look fabulous. Use chocolate brown or auburn on top and caramel blonde on the bottom. If your hair is long enough, let the chocolate hue end near your chin.
25. Caramel and blonde
If your natural tresses are light, you can take full advantage of the caramel and light blonde mix. This combination looks very natural and some people won't even see and ombre here.
26. Black, brown and blonde
Gradual color change is one of the main advantages of an ombre. If you are going for 3 colors, make sure that the transition is soft. Going from black to blonde is bold but you can do it.
27. Oh, the roots of ombre
Every girl with dark hair who always wanted to be a blond knows all about the fast growing roots. Thankfully, the ombre style allows you to let your roots grow without constant touch-ups
28. Brown, auburn, and blonde
Brown, auburn, and blonde are a wonderful color combination for women with light skin tones. Use a darker auburn hue to outline your facial features and then change to blonde near the ends.
29. Black and bluish Ombre Hair Color
While blue ombre hair color might seem outrageous at first, a closer look can reveal an innovative solution. If you are afraid of drastic changes, use a temporary hair dye to enjoy the effect.
30. Brown and sparkling amber
Sparkling amber blonde is a great way to make your brown mane looks special. You don't need to make a high ombre, coloring just the tips will do. Perhaps you'll like to add some highlights too.
31. Brown, hot toffee and blonde
Brown and blonde are the classic colors for an ombre. But inserting a third shade in the middle will make your hair shine even brighter. Consider such interesting color as hot toffee.
32. Burgundy, ginger, violet and blonde
If you are ready to go for a red color mix, there is nothing that can stop you. Start with simple blonde on the bottom and go up to explore such appealing shades as burgundy, violet, and ginger.
33. Brown bangs – the brilliant ombre style
When you are thinking about a way to go about ombre hair color, don't forget that bangs play a huge role. Just by dyeing the bangs, you can completely change your image.
34. Butterscotch and light blonde
Different shades of blonde look amazing in an ombre. If you have natural black or dark brown locks, then you need to choose the darkest shade of blonde to use on top. Butterscotch will do.
35. Black and caramel ombre
While black and caramel might not seem like a great combination, in reality they can make you look fabulous. Try this mix and you will see the new and improved look your hair will get.
36. Flaming front
Girls with black or dark red hair can turn to flaming bangs. It's a smart way to go about an ombre without dyeing too much of your locks. You can even use highlights to make the bangs look more impressive.
37. Ash hues
Ash blonde hues look great coupled with sun-kissed blonde colors. Start with ash blonde on the very top and then quickly change to sun-kissed blond near your chin level.
38. Dark brown and rosy caramel

Dark brown or black top can be diversified by caramel ends. But you can add a special zest by creating subtle rosy red highlights. This unique image will definitely turn some heads your way.
39. Dark chocolate and blonde

Dark chocolate hues are another way to go about creating a classic ombre hair color. Allow your imagination to run wild with the top dark hues and the bottom blonde ends will complete the picture.
40. Auburn, blonde, and black

Dark auburn is a great way to go about the top part of your ombre. It's a wonderful hue that looks great with blonde while covering up the black roots that grow at a fast pace.
41. Brown and beeline honey

Brown and beeline honey look great together. You can experiment with different interesting shades of blonde to use with brown. Blonde and brown is always a great combination.
Light Brown Highlights on Dark Brown Hair
42. Long ombre

In most cases, the top ombre hair color ends near the chin level or even higher. But if you've got long tresses, you can experiment with a long ombre and start the second level near your shoulders.
43. Black and purple
If your locks are naturally black, you can enjoy the black and purple combination. Go for dark shades of purple to create a very interesting yet not too extravagant look that you'll love.
44. Golden rose hues
Golden rose hues are perfect for a light ombre. You can start with light auburn, go on to blonde ends and add some golden rose highlights.
45. Silvery tresses
Silver is the shade not many women are brave enough to try. But if you made a decision to stand out of the crowd, you can go further to create this amazing ombre. Give it a try!
Ombre hair colors vary greatly. These 45 ombre hairstyles are only the tip of a huge iceberg. Start your ombre experiments and you'll love the way your hair starts to shine. Use as many different colors as you wish to create your own unique image.