Asian bob haircuts have been in the market for quite some time now. Asian women prefer it because it is so simple, straightforward, and definitely easy to maintain.
It is one of those hairstyles that will never go out of fashion, and that can always look high-end on everyone!
Best Asian Bob Hairstyles
When you are off to your hair salon and unsure of what you want to do, make sure you get an Asian bob cut!
Wondering how to rock it and what style to go for? We've listed the top 25 Asian bob options down below!
1. Bob with Highlights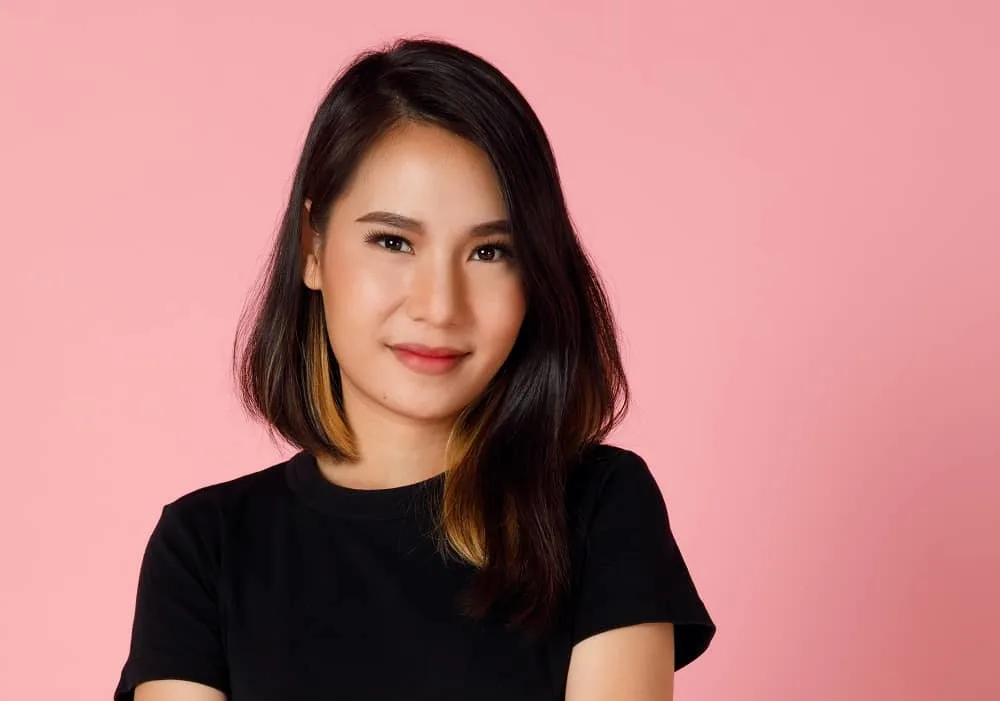 For your brunette hair, add a fun pop of color by adding a couple accent highlights to the underside of your asymmetrical bob. This Asian hairstyle is great for women wanting to bring a bit of lightness to their hair.
2. Straight Bangs with Glasses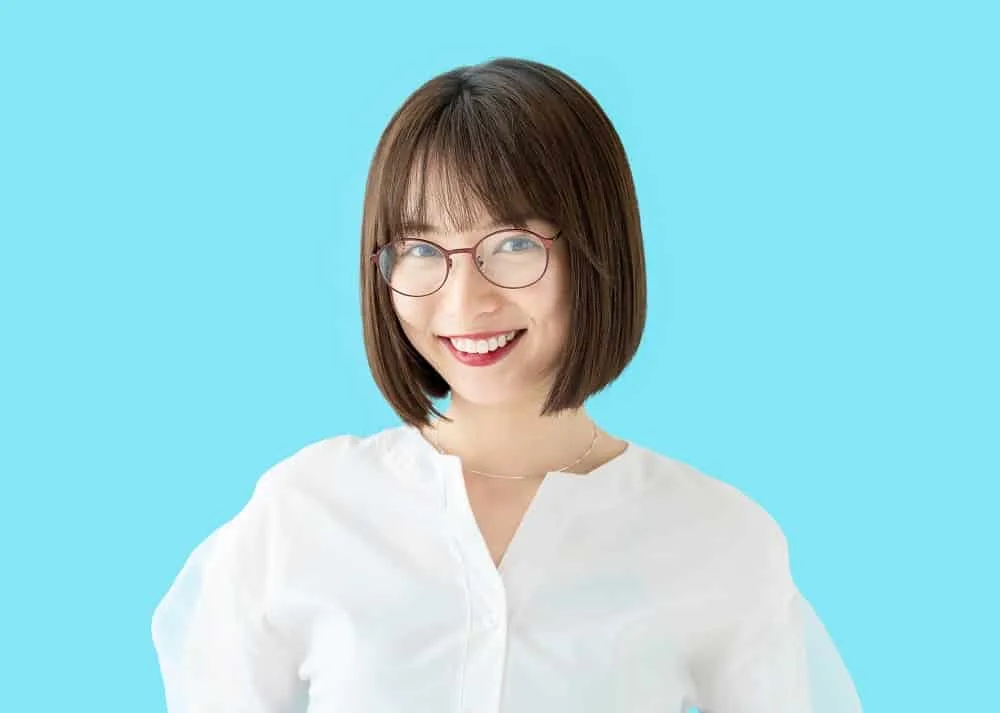 If you're using your Asian asymmetrical bob haircut to help with framing your face and you wear glasses, consider adding long straight bangs.
They'll require some touching up with a flat iron every morning before you head off to work, but it's one chic style!
3. Wavy Bob with Side Bangs
Give some fullness to your Asian asymmetrical bob by either using a curling iron to create waves or curls, or scrunching in a curl cream to just the bottom half of the hair. A short side bang will contrast nicely and flatter any face shape.
4. Ombre Asymmetrical Bob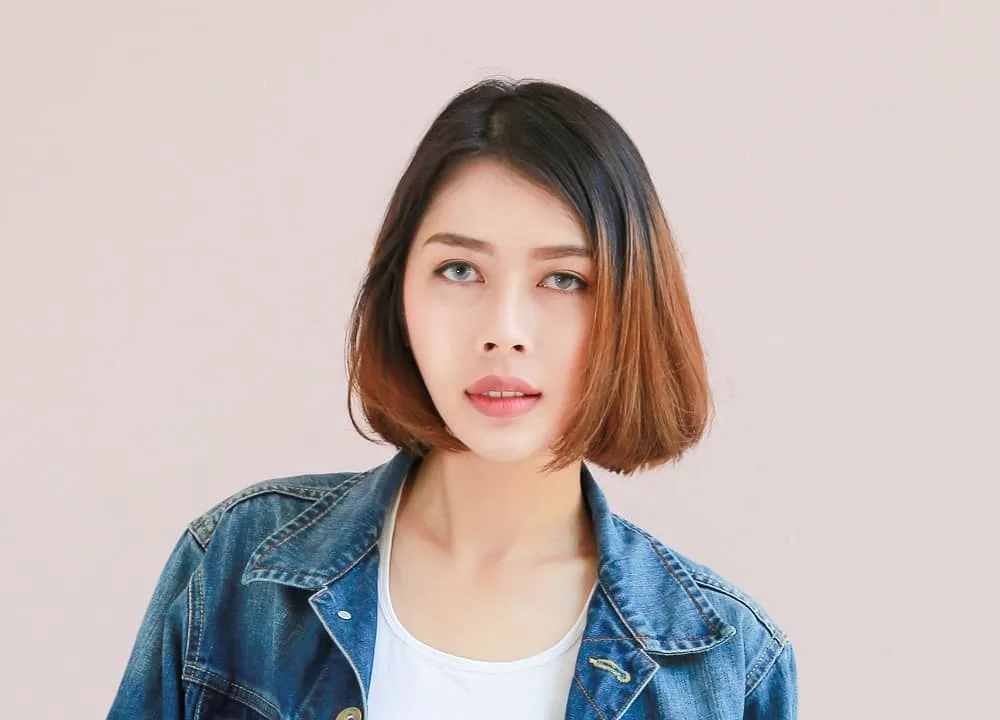 Asian women tend to have brunette hair and pale or very light skin. This means you'll look great with an ombre asymmetrical bob featuring a light color like this blend of light brown and red.
5. Wavy Bangs and Pigtails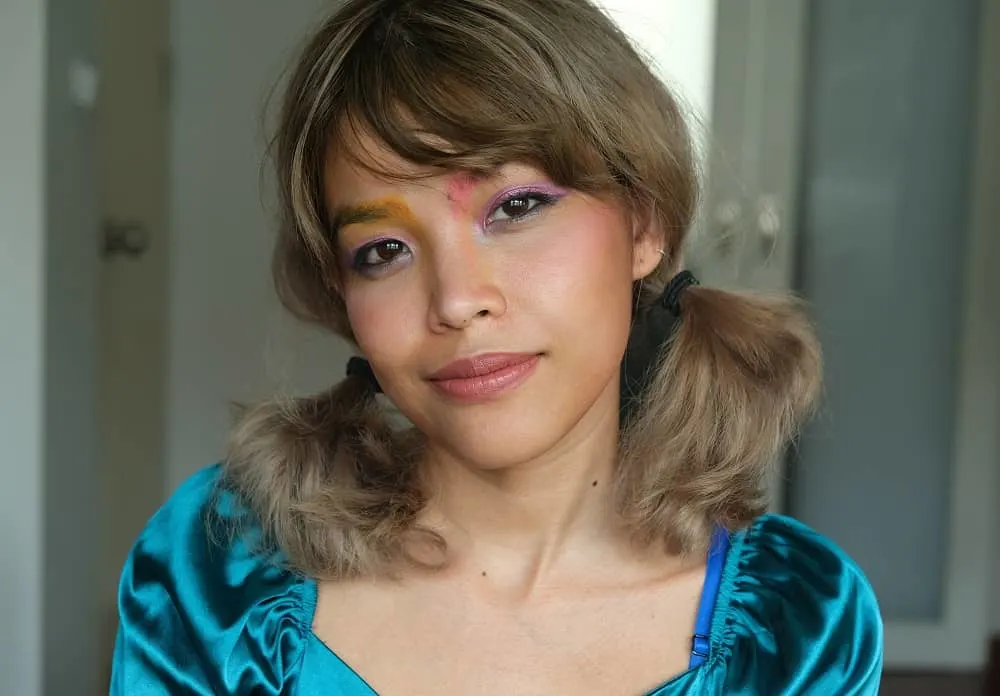 If your hair is on the thicker side, dress up that Asian asymmetrical bob by creating two low, wavy ponytails toward the front of the face. Pair with wavy bangs for softness.
6. Braided Asymmetrical Bob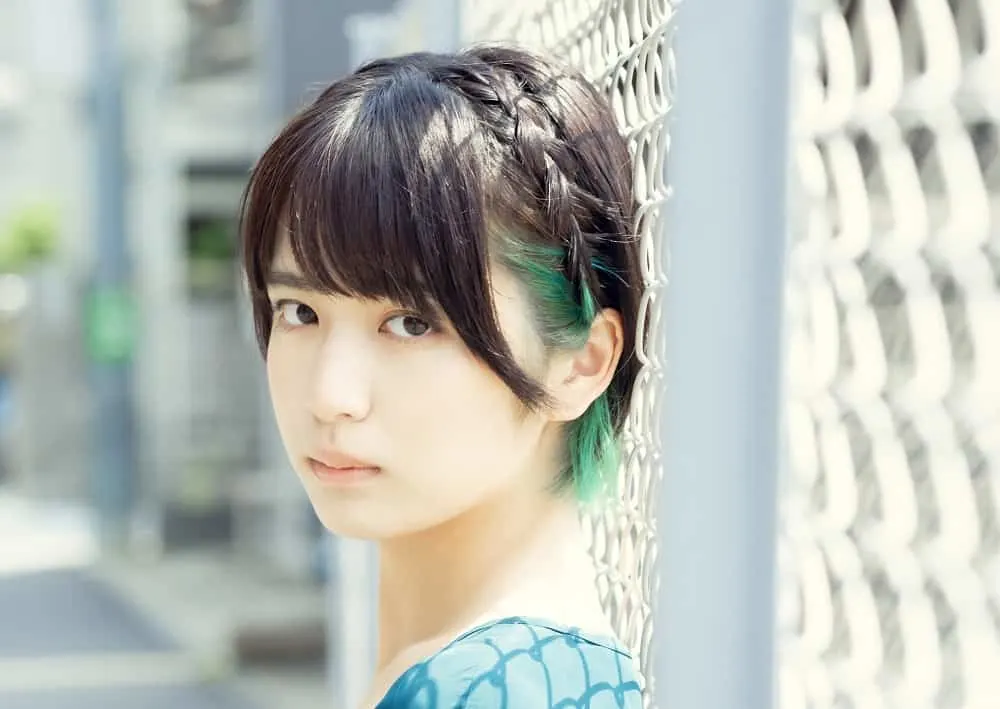 Need a dressier hairstyle for a special occasion? Your Asian hair will look beautiful with a couple braids added near the front of the face. A pop of vibrant color, like bright green, is another way to dress up your asymmetrical bob.
7. Asymmetrical Bob for Round Faces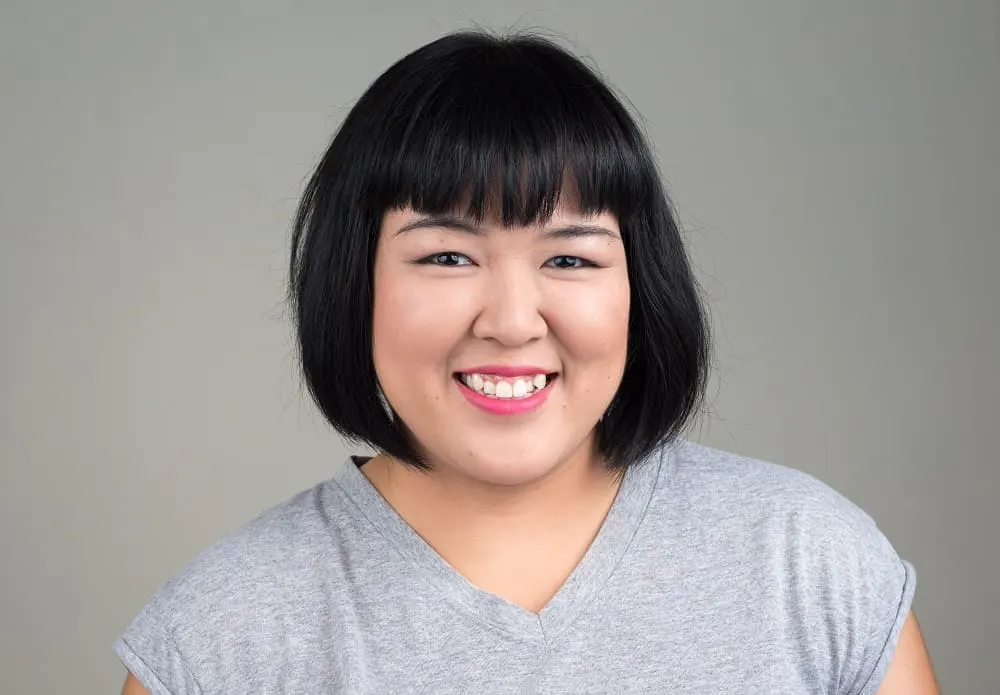 If you're an Asian woman with a round or especially curvy face, an asymmetrical bob with short straight bangs is a great haircut option for you. The bangs will help balance the roundness in a flattering way.
8. Headbands and Asymmetrical Bobs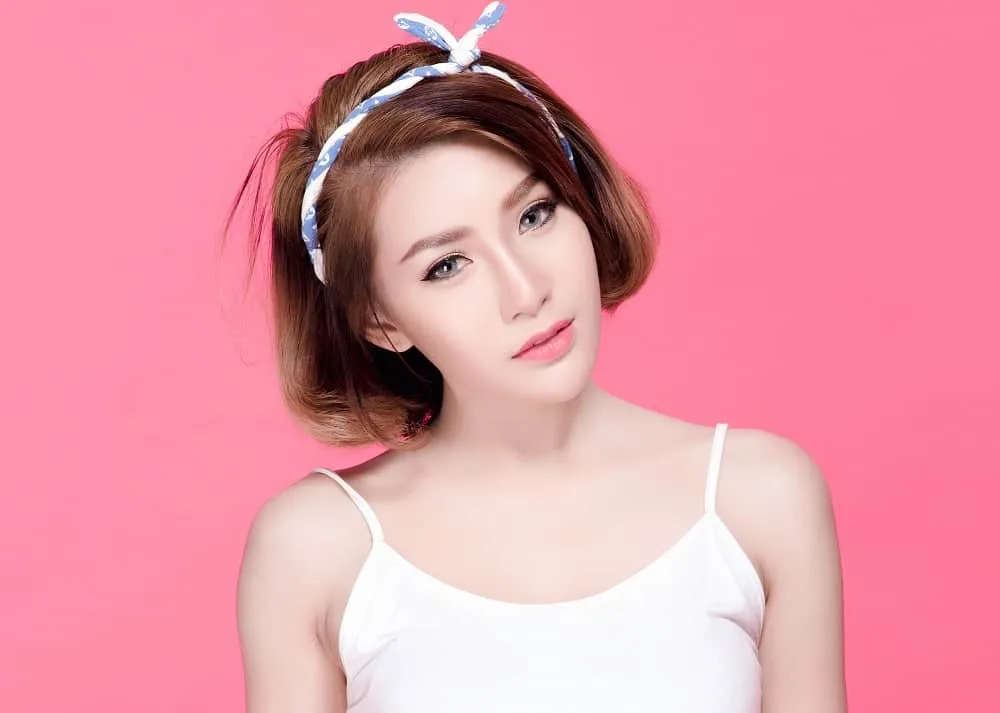 Breathe a little punch of personality into your asymmetrical bob by utilizing accessories! Asian women can easily pull of funky hairstyles like the one above, which features a textured headband styling up an unevenly parted bob.
9. Long Layered Asymmetrical Bob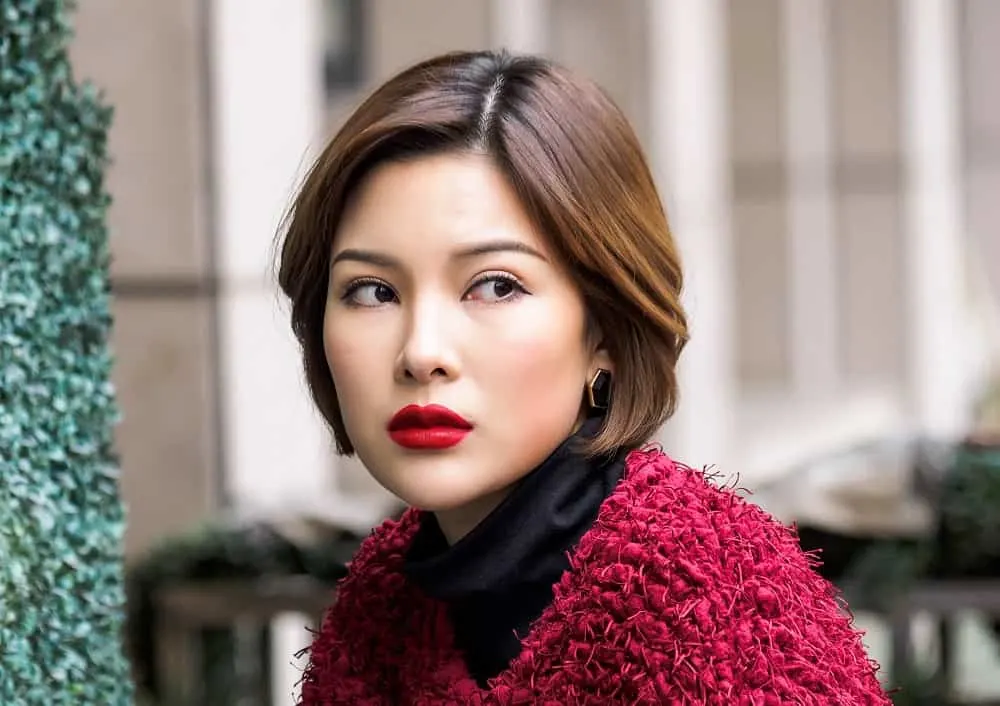 A combination of light red and blonde highlights will make the long layers on an Asian woman's asymmetrical bob look absolutely lovely. Wear your hair straight for a chic look you can wear confidently to work.
10. Short Layered Asymmetrical Bob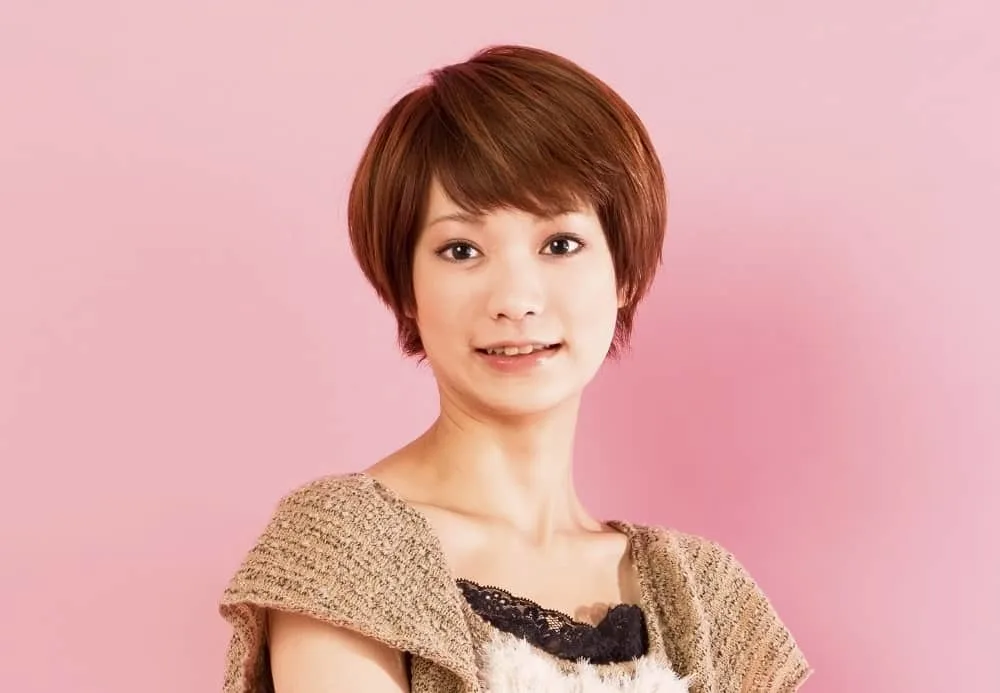 Trying to give your hair a fuller appearance? Ask your stylist to cut in short layers, especially near the top. The choppy texture will be instantly noticeable, and it also gives an asymmetrical bob a bit more shape.
11. Bob with Bleached Ends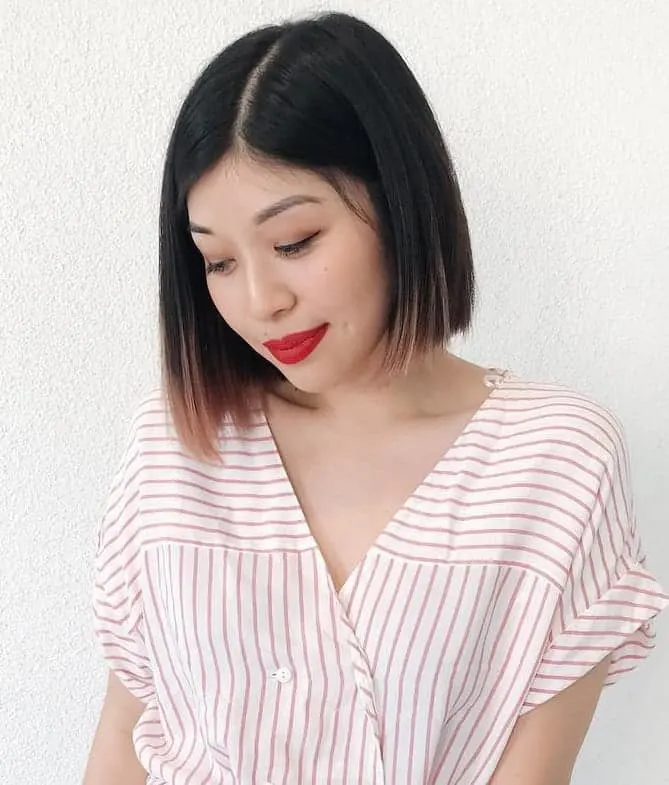 A short bob with some defined and bleached-out ends will make your hair look super fierce and classy! If you want to switch up your natural hair color make sure you bleach out the ends and enjoy this chic Asian bob.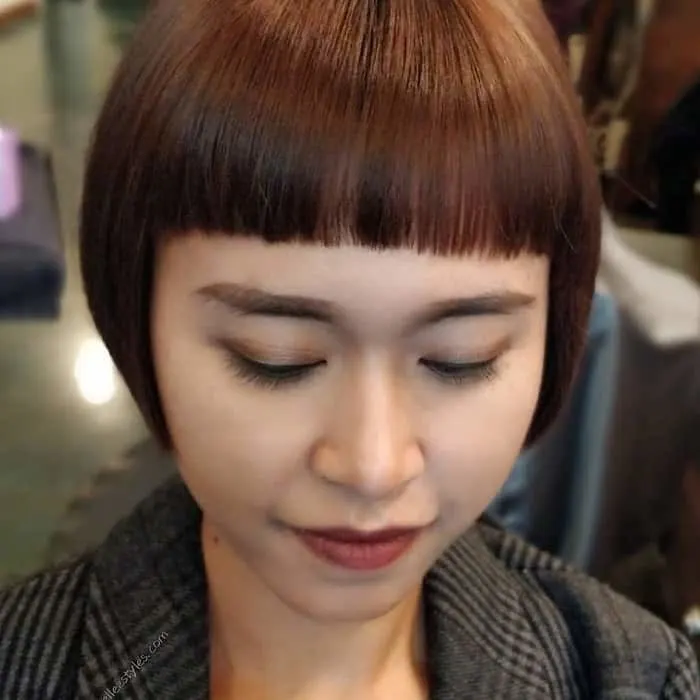 If you want to stand out in the crowd, know that a short Asian bob cut is the way to go! This style is very low-maintenance since it is short, and all you have to do is get regular haircuts in order to maintain it.
13. Chic Bob Cut with Baby Bangs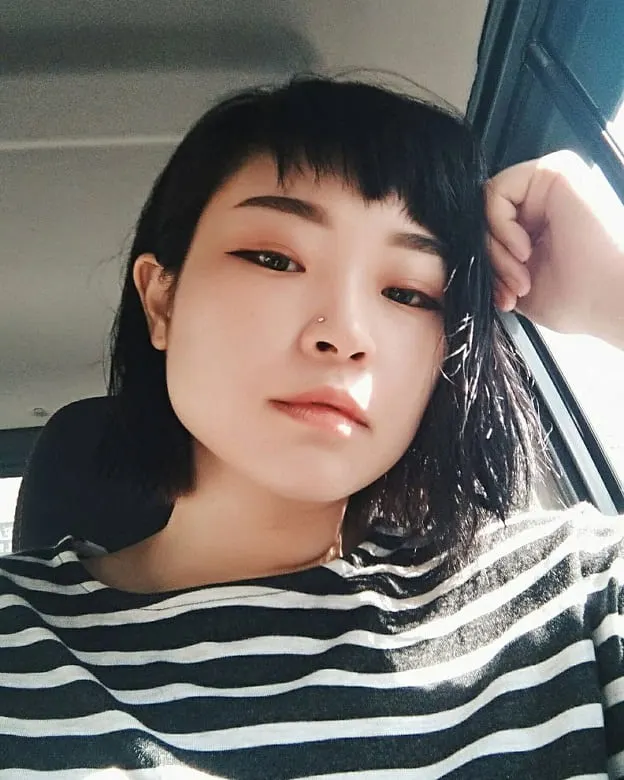 This bob haircut usually suits Asian women who are on the go and who are always trying to get their things done on time.
If this is your first time experimenting with a bob haircut, get this wavy style since it is unique and playful!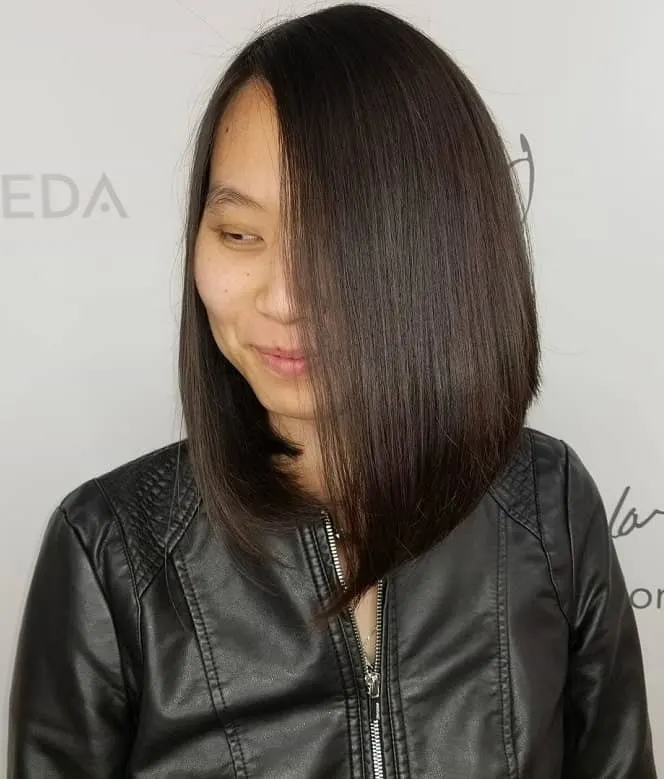 If you think that you've seen it all then you are not ready for this Asian bob haircut! It is a sleek bob with fringe bangs and a whole lot of attitude.
Women who prefer to wear bold makeup & clothes should definitely wrap their entire look with this haircut.
15. Bob with Highlights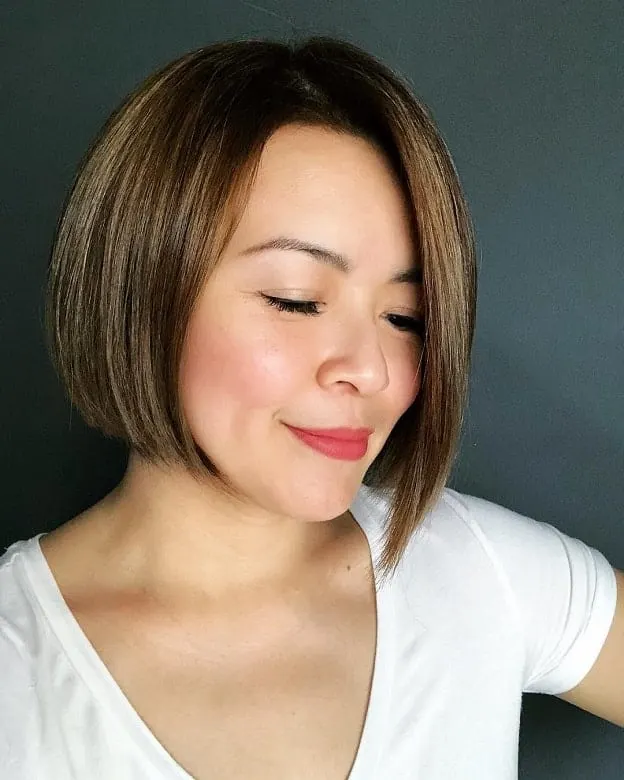 An Asian bob with highlights is feminine & playful, ideal if you are trying to stand out and look presentable. Also, everyone loves when girls can rock bleached hair, especially if it is as sleek as this bob cut!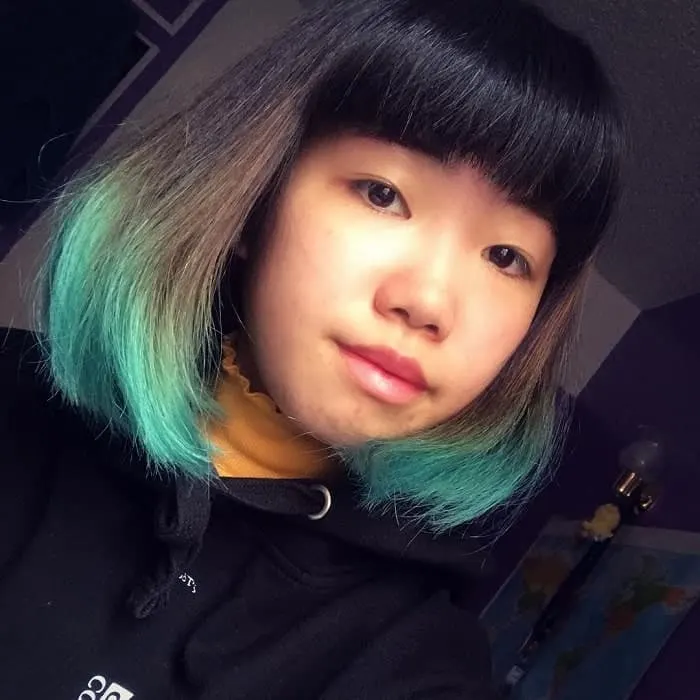 An Asian bob haircut with green ombre adds glamour to every woman, no matter her face shape. If you are on the lookout for an everyday easy-to-style option, this is it! Just make sure you blow dry your ends inwards and you will be set for the day!
17. Textured & Choppy Bob Haircut
Women who have just turned 30 will look so feminine with this Asian bob cut. It is voluminous, textured, covered in highlights, and very spikey.
It can be worn to formal and casual gatherings, just don't forget to finish off the look with some jewelry and bold makeup.
In order to achieve a bit of definition make sure you add texture to your hair with some hairspray or mousse. This medium-long Asian bob haircut is ideal for women in their 20s or those who prefer longer styles.
19. Beautiful Wavy Bob
This Asian bob cut will look the best on those who are not ready to chop off a lot of hair, but who still want a seamless bob. This style is still quite voluminous and ideal for everyday life events.
20. Sleek Bob with See-Through Bangs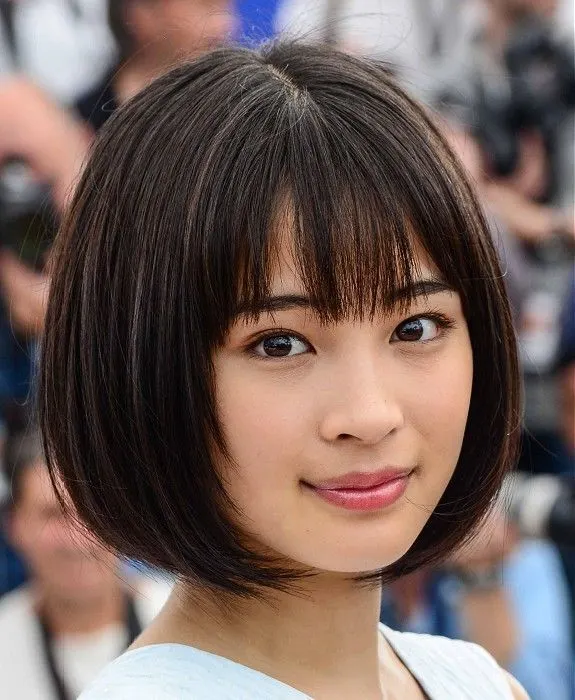 French bangs will always be in style, just make sure you are okay with styling and straightening them on an everyday basis.
Also, these will give you a defined face, a smaller forehead, and a whole lot of confidence! A perfect bob for Asian women.
21. Bob with Middle Part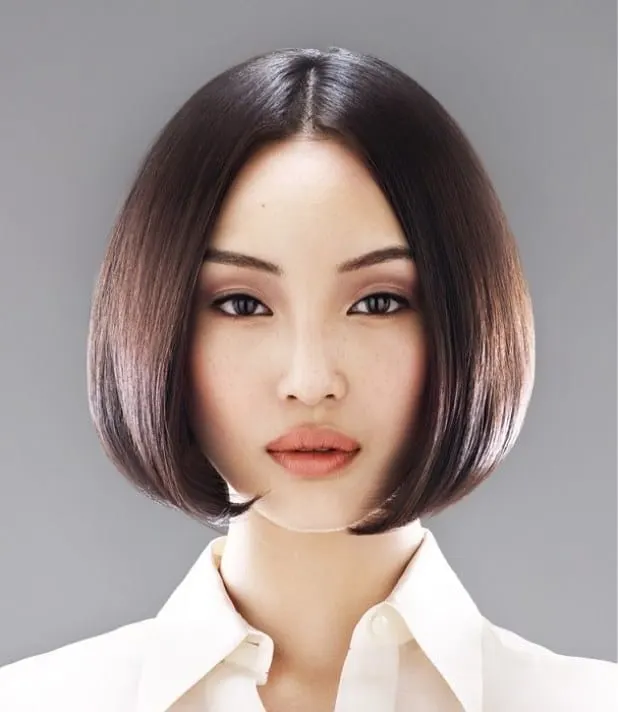 A defined middle part creates the illusion of a symmetrical face. If you want to focus all the attention on little details and you think of yourself as perfection, this Asian bob will match your style.
22. Asian Bob with Side Part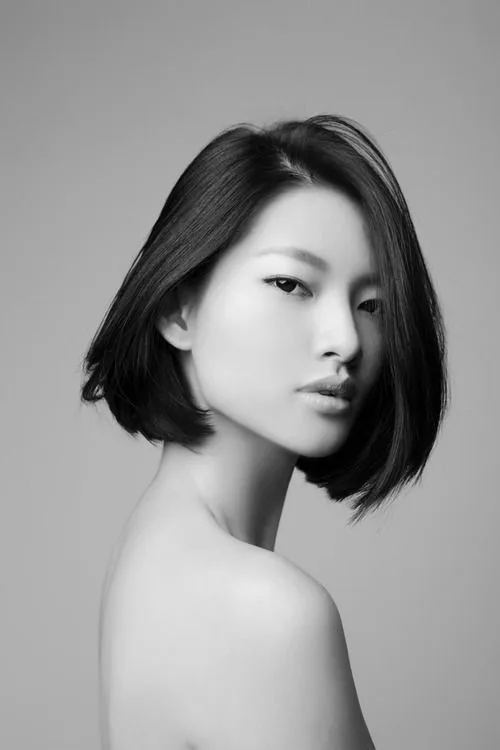 If you prefer a bit of length and you are into longer bangs this style will suit your personal preference. It is sleek and ideal for moms who are always on the go!
A shorter bob for Asian girls will be a lot easier to maintain, so keep that in mind before going to the salon. If you are a workaholic woman you might enjoy a simple & sleek design, such as this one.
24. Chin-Cut Bob with Side Part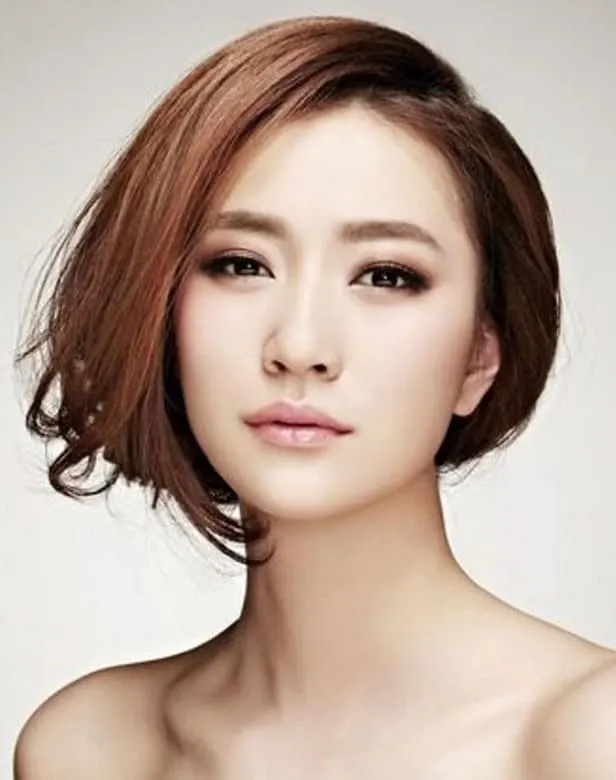 Once rocking this Asian bob haircut make sure you are ready to get regular cuts. In order for this hairstyle to always stay chic and unique, frequent haircuts are essential.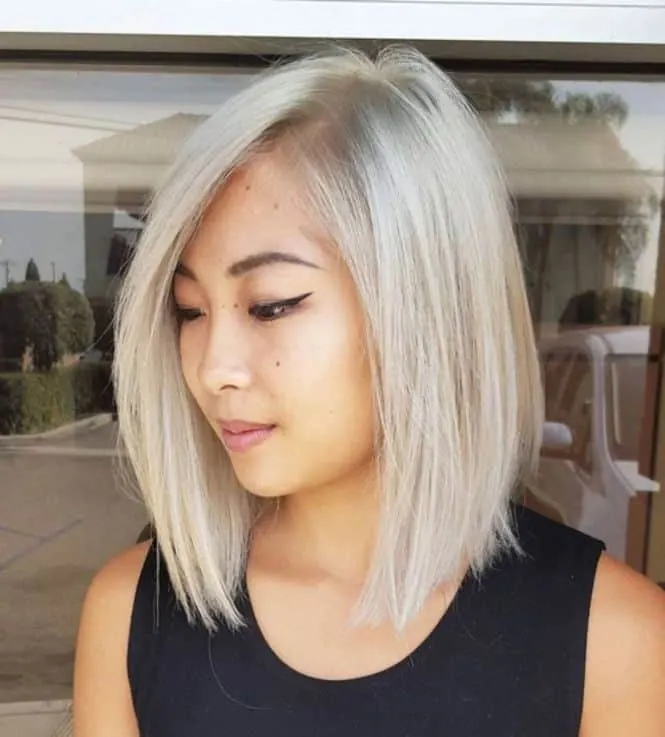 If you have bleached blonde hair know that pairing it up with an Asian bob cut is a bulletproof solution! Women who are still experimenting with their style will love something as brave and stunning as this.
FAQs
Which face shape is best for bob haircuts?
Every woman can rock a bob haircut, no matter her face shape. However, it is important to match this hairstyle with bangs, and the right length level. For instance:

Women who have a round face shape should get a bob cut with side-swept bangs. Women with square face shapes will enjoy a longer bob, 2-3 inches below the jawline. If you have a heart-shaped face get a longer bob that ends at the chin.

If your face is oval get long bangs and a lot more texture at the front. Women with long faces should get some waves and curls to their Asian bob haircut.
Which short hairstyles are suitable for Asian hair texture?
If you are an Asian woman you probably know how difficult it can be to style flat & thin hair.

In order to enjoy voluminous hairstyles, women should get a shorter hairstyle since it will emphasize their texture, and because it will give out an illusion of a defined & voluminous hairdo.

Ideal cuts for thin hair types are a bob haircut, pixie cut, fringe, shoulder length wavy hairstyles, and pageboy cuts.
Experimenting with a bob haircut can be so fun and different, especially if this is your first time cutting your hair short.
If so, you should get a unique hairdo, and try to do something which suits your personal style, as well as your face shape try styling an Asian bob haircut. Luckily for you, we have 25 different designs!
You May Also Like