Red hair color has become the ultimate charm and an irresistible color. Red hairstyles with bangs are getting popularity too.
Redheads are super rare (less than only 2% population of the World to be precise) and considered being bold and the beautiful. Men and women gawk at the redheads and it's no surprise the red color despite being the rarest, is so popular.
In the world of glamour and glitz, it is not difficult to get what you want especially while playing with your hairstyles.
Though red hair looks classy and chic, it is not an easy color to play with. People fail miserably at dyeing their hair red because of some obvious reasons. However, with the right choice of color and paying attention to the deets, you can wear this color as a star.
How to Dye Your Hair Red
Red is the color of power, strength, and energy and it is as rare as a snow flower in the desert. Thanks to the tints and dyes, you now can stain your hair red without a hitch.
But to do so, it's vital to know the procedure and prepare your hair the right way. Here's how you can dye your hair red by following these simple steps:
Analyze Your Skin Tone
The first step in hair dyeing is to analyze your skin tone, and it is essential for reds as the wrong hues of red can cause a dull and boring complexion.
To get the glow and a clear complexion, choose the shade of red just the opposite of your skin undertone i.e. if you have warm undertones, choose a cool shade of red and the other way round. This will help to flaunt you red hairstyles with bangs.
Choose The Right Shade of Red
This is the most crucial step while dyeing the hair is to choose the right color for your skin undertones.
You should always opt for the darker shades of red, such as, cherry ripe, medium auburn hair color if you have dark skin.
For fair skin tones, always go for bright red colors such as strawberry blonde.
For medium skin tones, choose medium shades of red like copper or auburn.
Bleach The Hair
Bleach the hair if you've got naturally dark hair keeping in mind that bleach is harmful to hair. Always follow the directions mentioned on the packaging of the bleach you are using, every product comes with different directions and guidance. For better results, keep the following points in mind while bleaching.
Always bleach your hair from the tips and not the roots.
Make sure your hair is completely dry before you bleach it.
Apply The Color
Never underestimate the power of a perfectly formulated toner. Bleach makes your hair brassy yellow or orange. Toner is an awesome product that neutralizes these tones on bleached hair with much natural-looking hair tone.
Toner is good for your hair as it brings shine and doesn't alter your natural hair structure. Whether you're using a boxed dye kit or a professional dye, similar rules apply
Divide and make sections of the dry, unwashed hair to apply the dye.
Apply the hair to each section individually but make sure to start from the tips and not the roots. Touch the roots after you've covered all other parts of your hair.
Watch The Following Tutorial to Learn How to Dye Hair in Red Color
Tips to Highlight Red Hair Bangs
Getting bangs highlights is the most lavish and unique way to add texture and volume to your hair. Red hair highlights add a youthful glow and change your appearance completely. Here are a few tips to highlight your red bangs.
Make sure that the highlights compliment your hair color otherwise, you will destroy the look.
Do not overmix them. Use natural colors with natural tones and bold colors with bold.
Amazing Red Hair Highlights for Asian Women
Best Red Hairstyles with Bangs
Here are 7 ethereal bangs styles for women with red hair.
The voluminous and dramatic tight curls look vivid and theatrical like it was made for a perfect curly red hair with bangs look.
One hairstyle that never goes out of style is the BOB. It is surprising how red hair bobs with bangs turns a typical boring and dull look into an impressive and intense one.
The half bun is the contemporary hairstyle that looks lovely on long, medium or short hair.
If you are a redhead, you can get this easy yet trendy red hair with bangs style as the pretty knot bun highlights your red hair and the bangs accentuate your eyes.
If you don't like your red hair getting in your way, you can always settle for long bangs as they add a soft and subtle look to the hairstyle.
Updo with long middle-part bangs is an ethereal hairstyle to wear on any occasion.
The middle-part bangs with red hair keep the look sophisticated and stay in place while the updo is perfect for women who want to make a statement. You can rock this hairstyle with hoop earrings and soft GLAM makeup.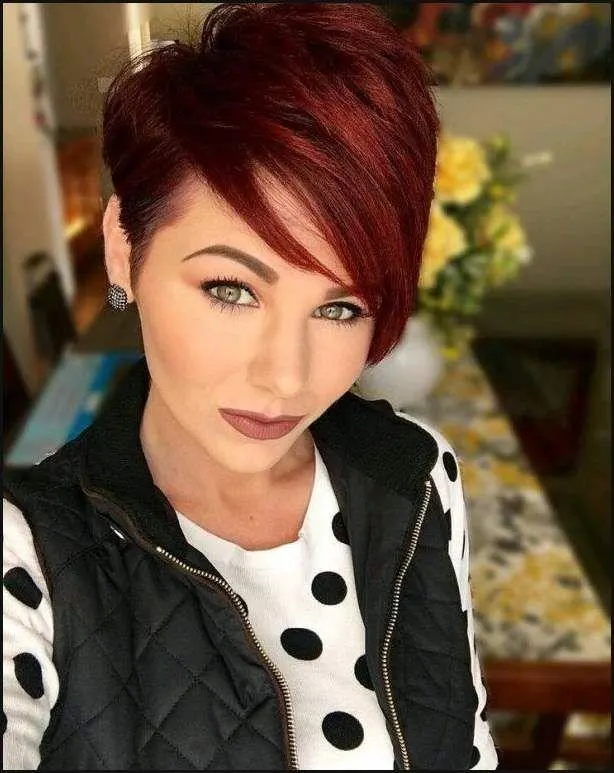 Red pixie hairstyle with bangs is something to settle for especially if you're looking to give your hair a gorgeous, edgy and shaggy makeover. With a pixie cut, you can go extremely short, add layers and extra texture to revamp the look.
The messy ponytail keeps your hairstyle subtle yet glamorous. This hairstyle with thick bangs enhances and transforms your appearance with flamboyance. This is the most flattering hairstyle for ginger red hair with bangs.
FAQs on Red Hairstyle with Bangs
Which skin tone compliments red color?
Red is the color that flatters all skin tones. There are different shades of red and each shade works differently for every skin tone.

All in all, red colors suit for every skin tone until and unless you know your skin undertones. Warm undertones go well with brownish shades of red while medium undertones complement medium shades of red, such as Burgundy.

However, cool undertones compliment every hue of red but avoid burgundy and wine red hair colors as they make you look pale and ghastly.
Copper & ginger hair color are the same?
Copper and ginger hair colors are the most popular hair colors in the range of red. Many people believe that they are the same, but that is not true.

Copper and Ginger colors are different on so many levels. Each color has its own charm, aura, and aesthetics. Copper red hair color is bright, rich and a perfect blend of orange and brown colors.

This color works best for fair, medium and golden-toned skin with blue, green or hazel eyes.
Ginger hair color is a spicy blend of red and brown colors that works best with fair skin and blue/green eyes.

Natural ginger heads have freckles and a pale complexion. The ginger hair color is the most natural looking red in the spectrum.
Red hair with bangs styles are considered being lively and bold look for women. Although redheads are precious and rare, you can take inspiration from these ethereal bang styles for women with red hair and get the most adorned and ravishing hairstyle by following some simple steps and guidelines.
You May Also Like