A Dutch braid on short hair is the best and fastest solution for women of all ages to look on-trend. We made sure to find a hairdo for literally everyone, starting with fun updos, and easy-to-copy styles. Check them out below and choose your favorite.
Cute & Short Dutch Braid Hairstyles
The following are the most trendy and popular short dutch braids styles for modern women.
No braid looks better for the milkmaid braid hairstyle than the fabulous Dutch. This is such a flattering hairdo, especially if you manage to make the braid big and eye-catching.
Ideal for: It is great Dutch braided hairdo for shorter hair because you have a chance to manipulate much better with the hair. Plus, it will be ready in only a few minutes.
How to Style: Start with your regular milkmaid mane, just make the braid be Dutch. Once you're done, use your fingers to pull off some strands of hair to make the braid bigger.
Add some Dutch braids for short hair in your chic space buns this season. If this hairstyle has been one of your favorites, it's time to upgrade it with the prettiest braids.
Ideal for: It's such a flattering mane for younger ladies. All teenagers love space buns, so this will be the perfect way for them to be different from others.
How to Style: First, do a middle part on the whole hair, starting from the front all the way to the neck. Start the braids all the way at the neck. This means that you will be braiding upside down. When you're done, put the hair in two buns.
3. Half-Up Braided Mane
All of us women know why half-up manes are so good. First of all, they are your best friend when you don't wash your hair. They give you the chance to let it down, without showing the greasy roots. Second of all, celebrities love them!
Ideal for: This Dutch braid for short hair is perfect for all types of occasions. You can do as many braids as you like and also get creative with the rest of the hair. It can be straight, wavy or curly.
How to Style: Elevate your short half-up half-down hairstyle with a Dutch braid in the front. If you want to amp things up, include more braids. Create beach waves on the rest of the hair to finish off.
Two braids are even cooler than one.
Ideal for: Great for really short hair, especially for women who are much more on the sporty side of looks.
How to Style: Divide the hair with a middle part and create two voluminous short Dutch braids. Tie them with hair ties on the bottom.
When you are in the need of a romantic updo, this is what we had in mind. Not all braided updos are good for short hair. You will be so happy that this one is.
Ideal for: If you have an event coming up, feel free to work this gorgeous Dutch braided short hair updo. It will be so flattering with your little black dress.
How to Style: Start braiding on one side and the front. Move the braid diagonally and put whatever's left in a messy low bun.
6. Braids Everywhere
The double Dutch braids on short hair are also upgraded with many small feed-in braids everywhere. This is a hairstyle meant for professionals because it takes time and skills as well.
Ideal for: Perfect for short hair, because it really gets the best out of the length of hair that you have. Believe us, everyone will be asking where you got the hairstyle done.
How to Style: Find a good hairstylist that will help you recreate the exact same look. It's much easier for a pro to do all this work. There are so many details that you might not be able to copy.
7. Double Side Dutch Braids
Instead of a single one, opt for two of these braids on the side. You can decide whether you'd like to put the hair in a low pony or leave it in messy waves.
Ideal for: The fact that you have short hair will not stop you from getting this chic mane. You will only need ten minutes to finish the whole short hairstyle with Dutch braids.
How to Style: Start braiding the Dutch braids on the sides. Make sure they are very closely located to one another. From here on, you can tie a low pony, or simply let the hair down. If you ever feel ready, you can add a third braid as well.
Have you seen a prettier updo recently?
Ideal for: All ladies who really want to spend time on their hairstyle will be intrigued by this cute mane.
How to Style: Begin with a Dutch braid and when you're all done, you can create that gorgeous bow in the top.
9. Single Dutch Braid for Short Hair
You can now agree that this Dutch braid is the best thing that can happen to short hair.
Ideal for: This mane is perfect for a casual day at the mall or a coffee with friends.
How to Style: Do a very relaxed braid and don't even worry about making it perfect.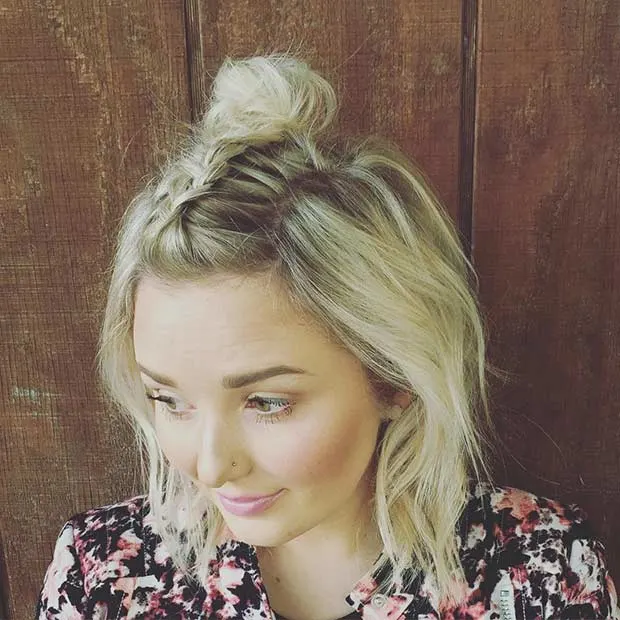 Your life will be so much easier once you try this Dutch braided short hairstyle.
Ideal for: Ideal for busy ladies who can't spend too much time on their hair but still want to look good.
How to Style: Start braiding your Dutch braid in the front. The last step is a messy top knot in the top.
There are so many ways to make a Dutch braid for short hair look unique. This mane is very simple, but also very much on-trend.
Ideal for: Great for short and medium hair, even for women with a fine type of hairdo.
How to Style: Do two Dutch braids in the front, and finish them off with two short messy buns.
These are the most flattering Dutch braid short hair looks that will be a huge trend this year.