When it comes to formal hairstyles for medium hair, some girls think that they don't have much to choose from. When you leaf through magazines or browse photos online, most of the beautiful hairstyles involve long tresses.
However, there is no reason to give up or run to get hair extensions. There are plenty of different ways to go about arranging your medium locks. In fact, medium-length hair is quite easy to make stunning without too much effort.
There is not much difference between long locks and medium tresses when it comes to formal hairstyle. All you need to do is choose the option you like best and ask your stylist to create it. There are a few you can make on your own too.
Amazing Formal Hairstyles for Women With Medium Hair
If you have medium hair, you don't need to get discouraged. There are many different formal hairstyles for the medium hair you can take advantage of.
Take a good look in the mirror and you will realize that medium-length hair is long enough to get creative with. If you don't know how to go about it, we have prepared a list of 40 medium formal hairstyles for women to browse.
Take a look at them and you'll realize how much you've been missing out on. Give at least one of the below formal hairstyles for medium hair to try something new.
1. One Sided Braid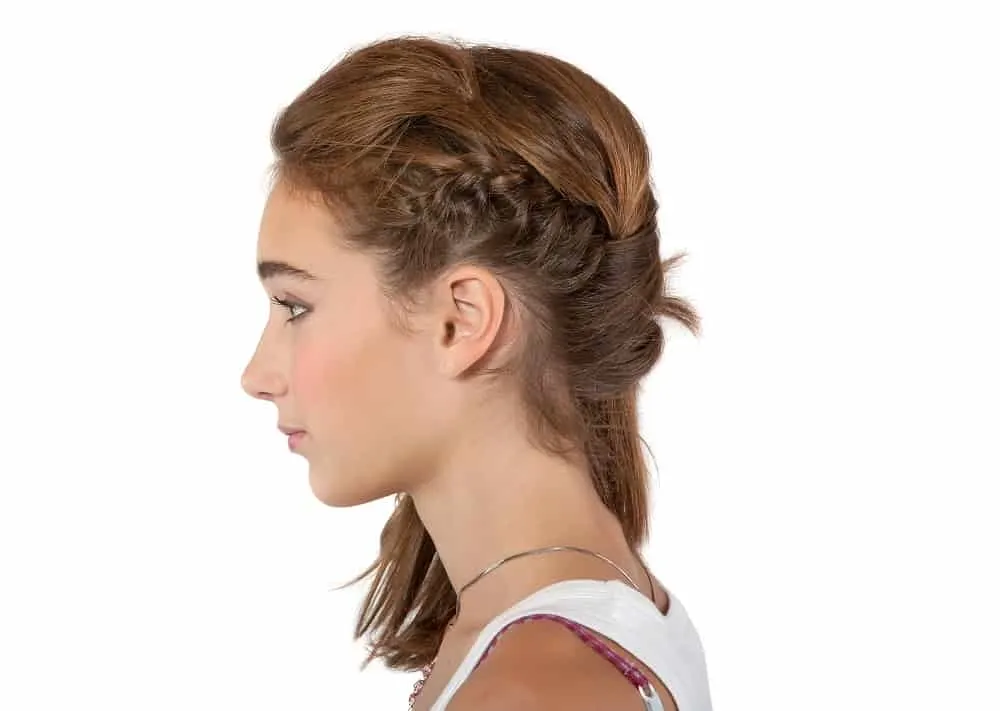 Need a formal hairstyle for medium hair that also expresses your personality? Go for a one-sided French or Dutch braid. Give the hairdo a twist and opt for a big bump for the top. To create it, tease the hair, then use another thick strand that you'll use to wrap it around the central part.
2. Loose Waves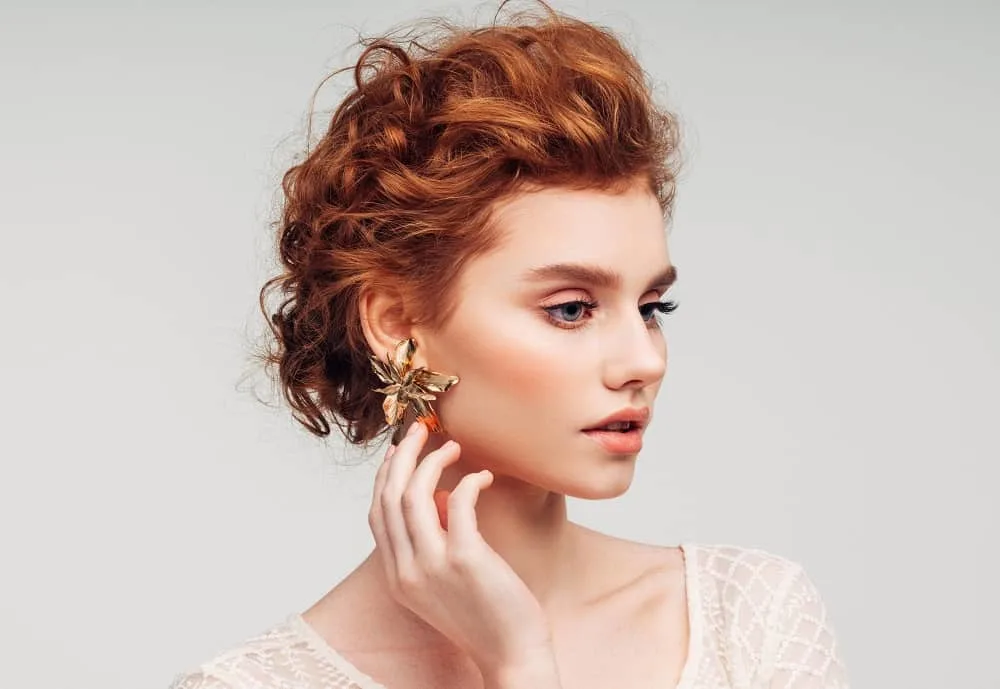 A formal hairstyle for medium hair can literally take all shapes and sizes, depending on the hair texture and structure. As a woman with naturally copper har and curls, a simple bun in the back can be considered formal.
3. Wavy Ponytail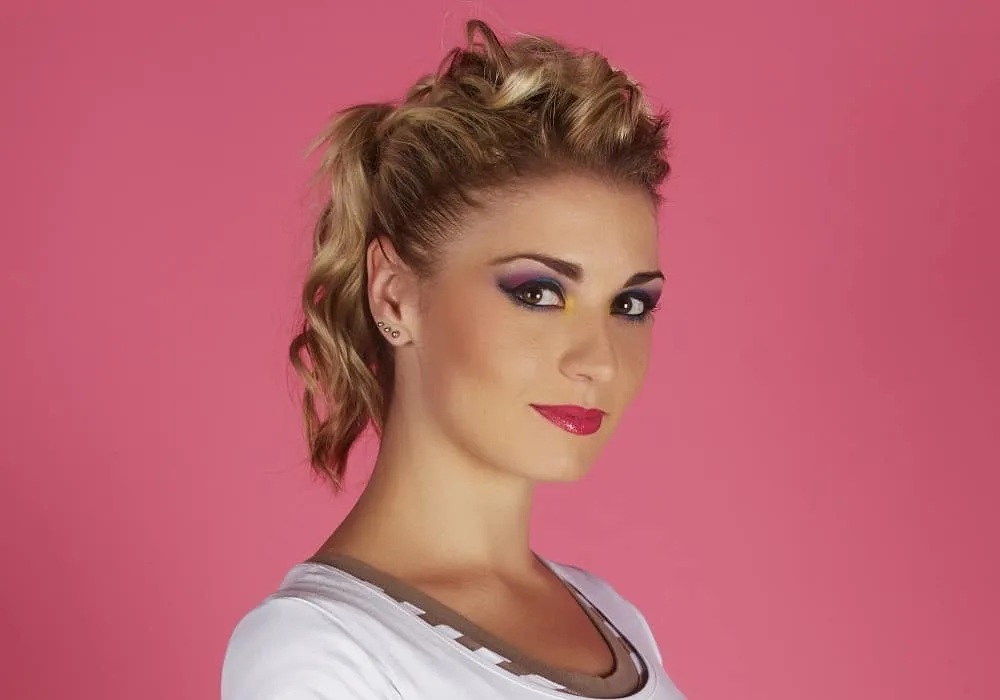 Simple waves can add so much value to any hairstyle, including a simple ponytail. Use a formal hairstyle for medium hair as a base and style it with a curler or even a straightening iron, creating waves, dimension and volume.
4. Retro Look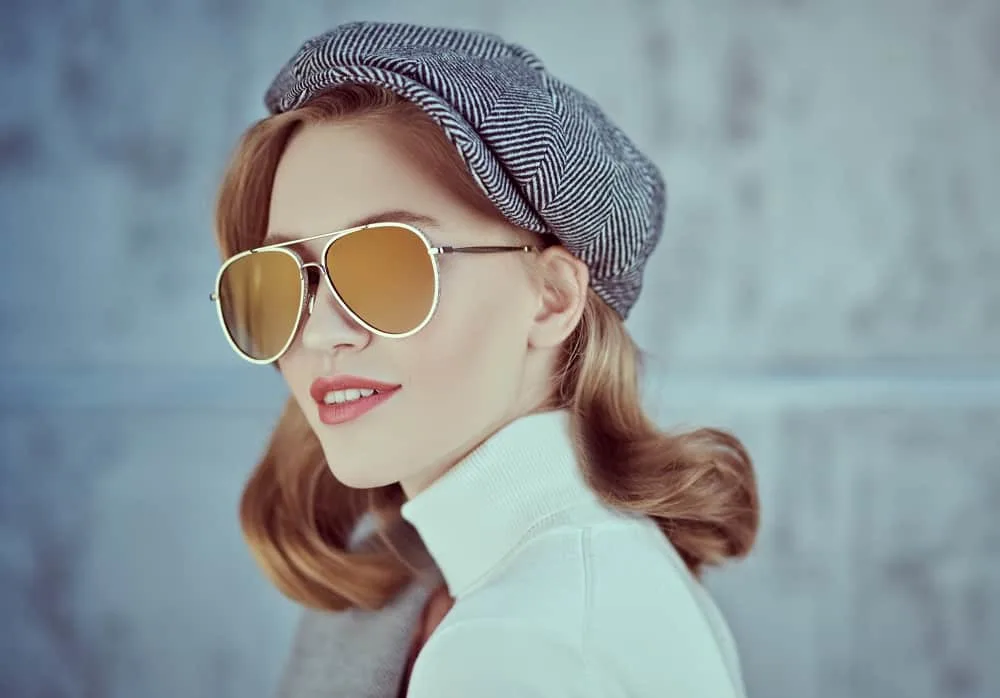 Such class and elegance and it can all be achieved with just some simple loose curls. Add a cap, and you got yourself a stunning retro look. Focus on the bangs and on the lower half of your hair.
5. Top Hair Bow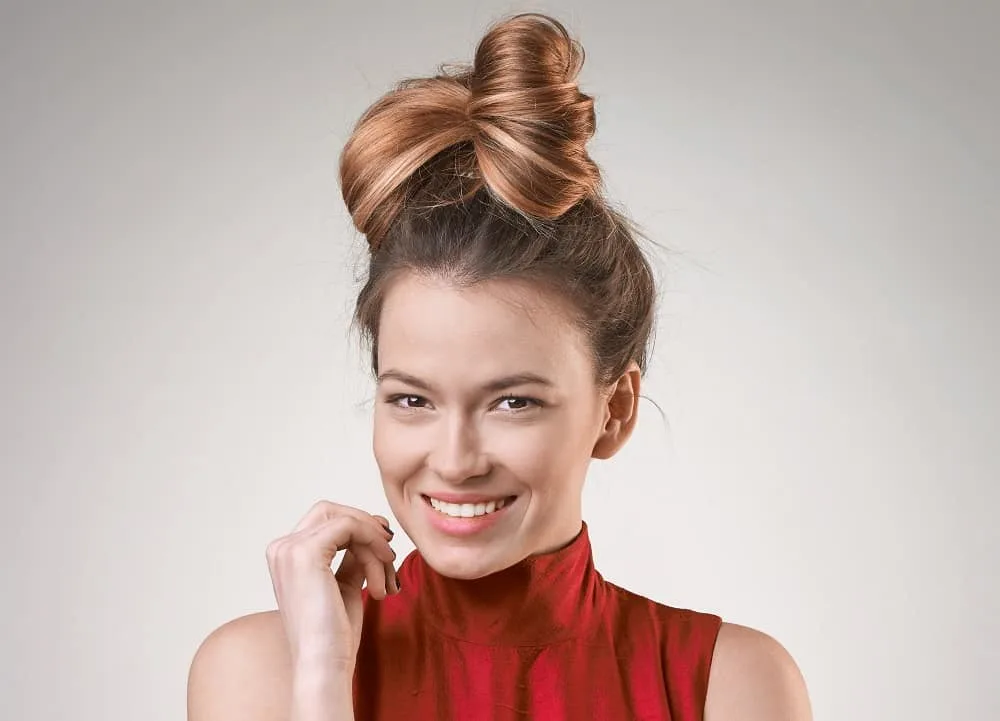 Formal events can have certain standards, and you have to find a look that suits you. And we all know that the search for the best hairdo can become a neverending story. Instead of struggle, this formal hairstyle for medium hair might save the day. So pin the hair on top and get it through a hair elastic. Make sure you create two bumps to resemble the bow.
Loose hairstyles are trendy and they are great for medium hair. Pull your locks up to make a low bun and use clips to keep it in place. Consider making the bun asymmetrical so it's visible in the photos.
7. Beautiful wavy formal hair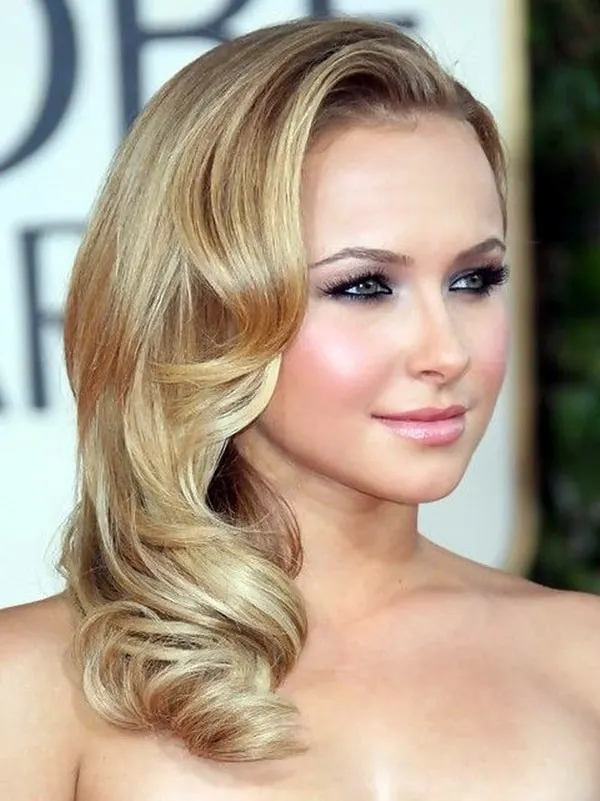 When you need to create a simple medium length formal hairstyle, waves can be a great way out. Wavy and curly hair always looks festive. You can add some zest by pulling the front strands backward.
Medium Hairstyles for Women with Round Faces
8. Formal wavy bun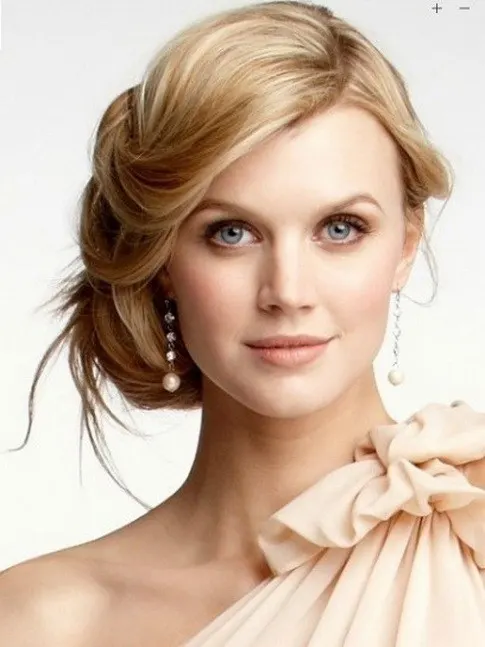 Before making a beautiful asymmetrical bun, consider making waves or curls. This way the bun will look more formal and will appear neater. Consider making wavy bangs and incorporating them into the hairstyle.
9. Half and half
Making waves all over your hair can make it appear shorter. So use a simple trick: curl just the ends. This way you'll achieve a beautiful formal style while keeping your locks as long as possible.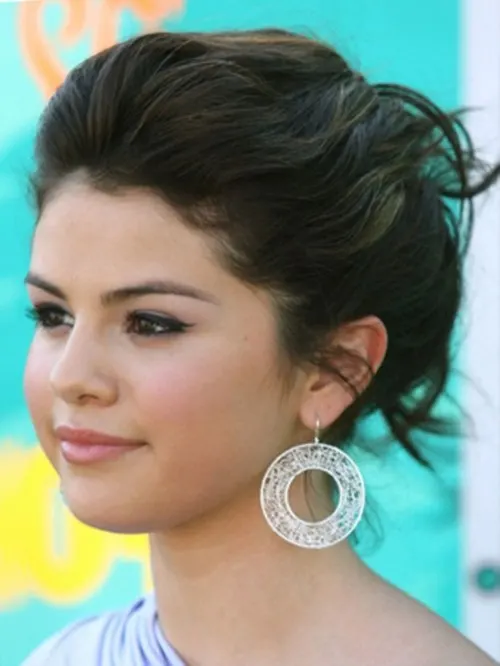 If you think that medium-length hair is not long enough to make a bun, you are absolutely wrong. Sweep your hair upwards and back and clip it together without actually twisting it. You'll make the appearance of a full-time bun.
Read related posts:
11. Loose strands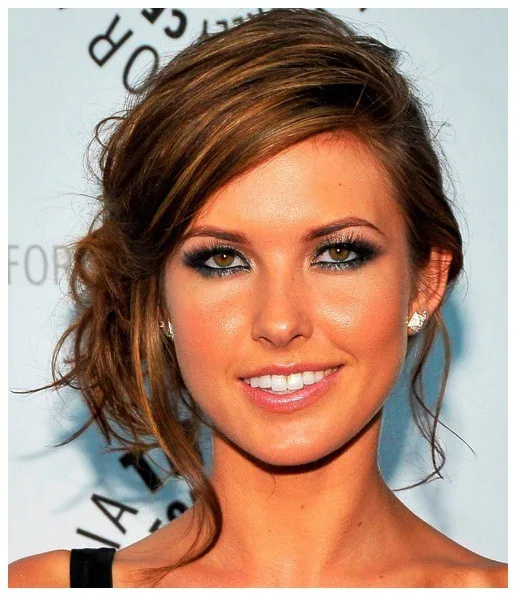 You can enjoy this easy-to-make women's medium formal hairstyle by sweeping the locks backward to create a low bun while leaving a few strands hanging around your face.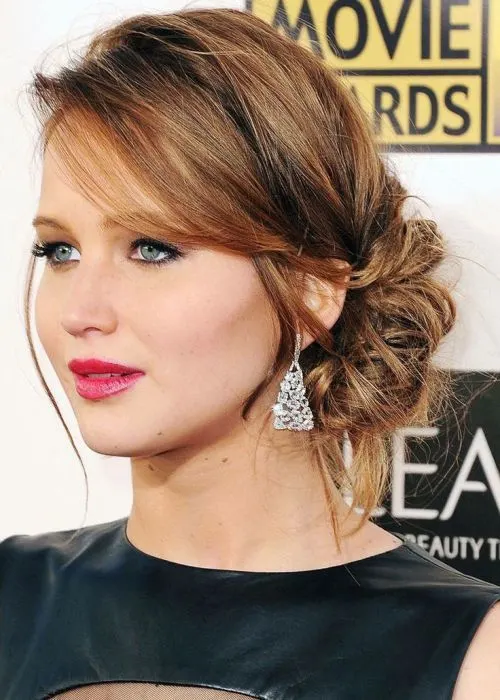 Curl the bottom part of your hair and arrange it into a low bun. Keep the rest of your locks straight and make sure to sweep your bangs to the same side your bun is on. You'll look gorgeous!
Haircuts and Hairstyles for Women Over 50
13. Straight bun
If you are after a more formal hairstyle, consider leaving your hair completely straight. A low straight asymmetrical bun is great for any occasion, including the ones where you must look respectable.
14. Medium Formal Weave
If you just must have a long hairstyle but your hair is medium, you can ask your hairstylist for a weave. Hair extensions can help you create the formal hairstyle you've always wanted.
15. Runaround braid
Runaround braid is a wonderful formal hairstyle for medium hair. It can be created on your own. Just make sure you don't make it too loose otherwise it will quickly lose its charm.
16. Large accessories
If your hair is not too long but you still want to make a great impression, consider using such large accessories as bands and hairpins. Just make sure they suit your formal attire.
17. Bun for formal occasions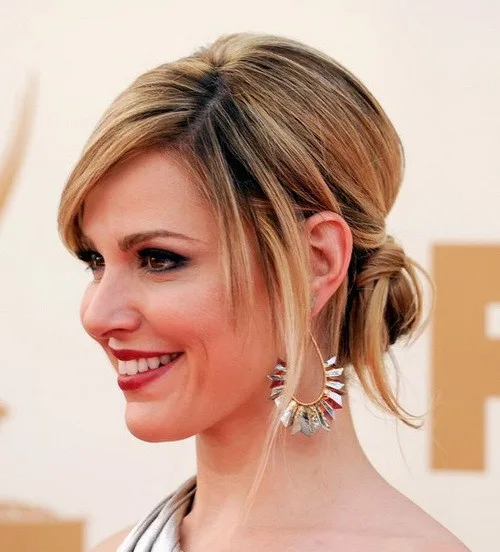 Don't underestimate the power of medium length bun hairstyles. They are created to make you look amazing. All you need to do is learn how to make it. Create a low bun and twist it a little to make half a bun.
Browse these high ponytail hairstyles
Any hair can appear long and voluminous if you learn how to lift it up. Ask your hairstylist to pull your locks up loosely and secure them with plenty of pins. It will look as if you have a huge mane.
19. Keep it down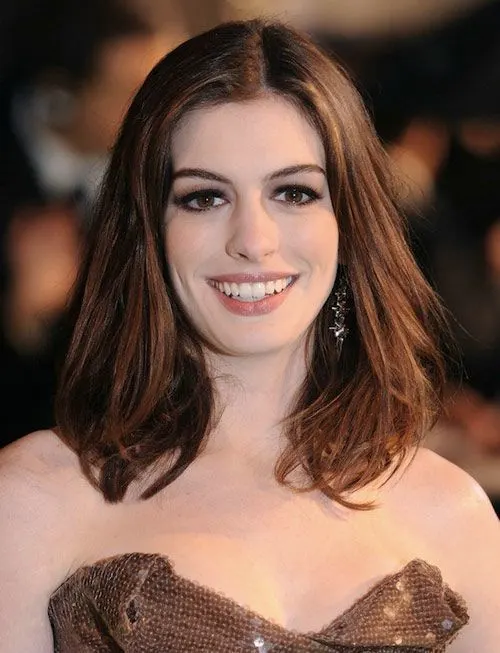 If your hair is straight, your best bet might be to just keep it down. Make sure to use some hair spray to keep your locks in place and go for periodic touch-ups. This simple approach is quite formal.
20. Nice waves
If your locks are wavy, achieving a neat formal hairstyle for medium hair might be difficult. That's why you need to get a flat iron and make the waves as neat as possible. Use some hair gel to keep them at bay.
21. Windblown look
While windblown hairstyles are not recommended for formal occasions, you can make at least some of your strands a little loose to appear more stunning. Leave one hanging near your face.
22. Amazing waves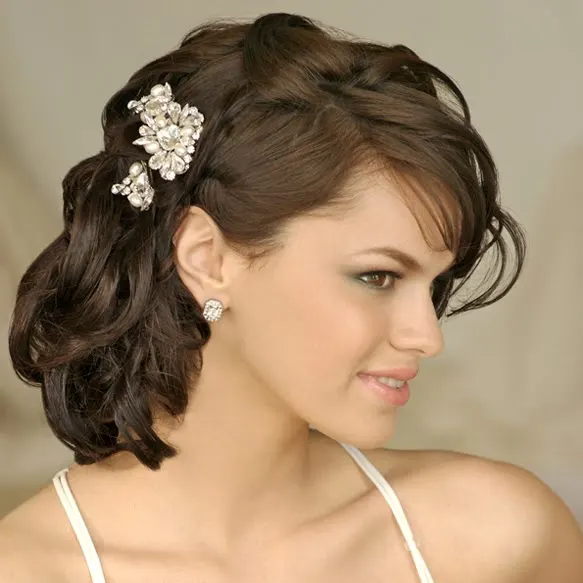 If you are going for a pageant or wedding hairstyle, you can try creating voluminous waves. Ask your hairstylist for keeping the hair curly in the back and wavy in front.
High hair can make you look a little outrageous, but if you use a smart approach, you can become a real star. Keep your bangs high while the rest of your hair is short and neat.
Artistic Medium Length Layered Hairstyles
24. Wild curls
Wild curls on top mixed with a tight ponytail in the back can be one of the greatest formal hairstyles for medium hair that you can enjoy on any occasion without frequent touch-ups.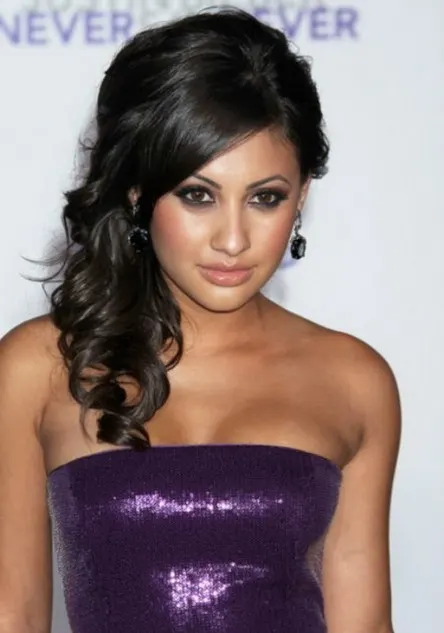 Sweeping your hair to one side can make you look gorgeous on the photos. Create a side ponytail and curl the strands to make it appear more voluminous. You can keep the rest of your hair straight for contrast.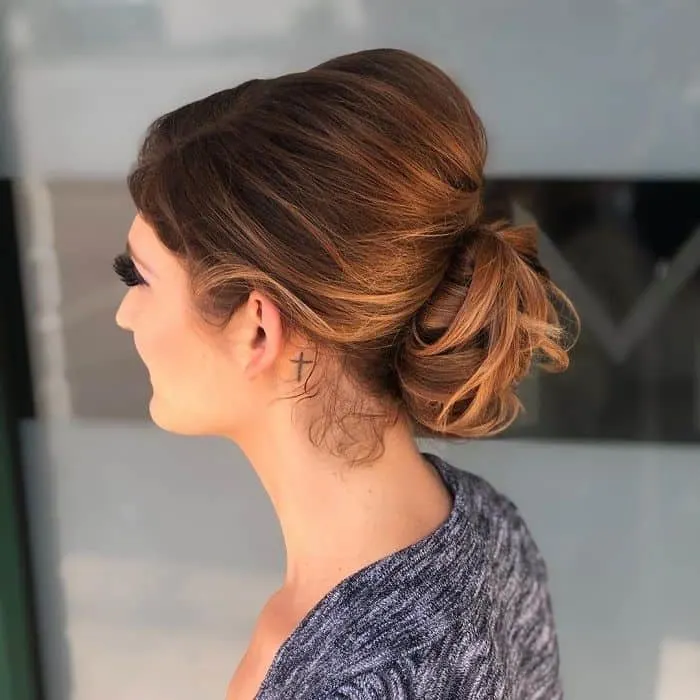 Bouffant is a classic formal hairstyle for medium hair that is still a hot trend in 2023. For this hairstyle, side part your hair and backcomb them low at the back of the head. In the end, round up all your hair into a stylish low bun.
Honey blonde hair is super fabulous and subtle waves running through the mid-length of the hair increase its beauty even more. All there is to do is that you have to take half of your top hair and tie them up into a half ponytail with a scrunchie.
28. Ponytail with fishtail hairdo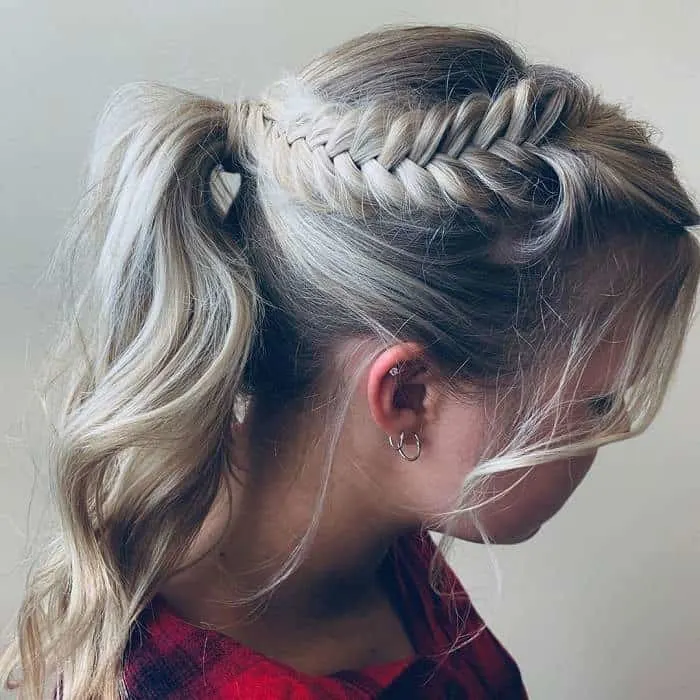 This is a two-in-one medium formal hairstyle which requires you to grab all your hair and tie them up in a ponytail at the back of your head. Leave some hair at the front and knit them into a fishtail that goes back to connect with the ponytail.
29. Lob hairdo with messy fishtail
For this hairstyle, part your hair into three parts. Leave the front hair as flicks, weave the hair after that part into a messy fishtail, and lastly, backcomb the back hair. Connect the fishtail with the combed back hair and secure them with pins at the back of the head.
French braids are one hairdo that goes well with every experiment you do with your hair. To achieve this hairstyle, divide your hair into two parts.
Weave the first part into a thick French braid and take it to the other side. Connect the braid with the remaining hair at the side to form a side ponytail. Style it with pretty white flowers to complete the look.
31. Braided messy updo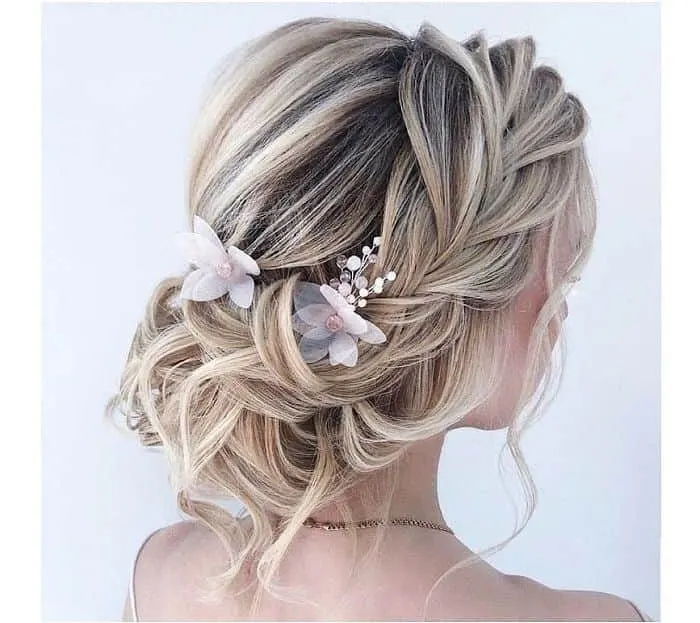 This is one of the most elegant formal hairstyles for women with shoulder-length hair seen this year. Braid a loose fishtail with the front hair and backcomb the remainder hair. Secure all the hair together into a messy low bun. Leave a strand of hair at the front and add some flowers at the back to sum up the elegant look.
32. Slick back twisted bun with front flicks
Ombre hair is ideal for this haircut with darker top hair and lower blonde hair for a stark contrast. To achieve this haircut, slick back all your hair into a low twisted bun. Leave front flicks on either side of the face and flaunt your look.
33. Two-tone wavy hair with vine headpiece
For a plain but flawlessly graceful look, put loose curls in your two-tone hair and leave them down hanging at the back. To add more style, bind a vine headpiece on your loose wavy hair at the back.
34. Half tied wavy medium length hair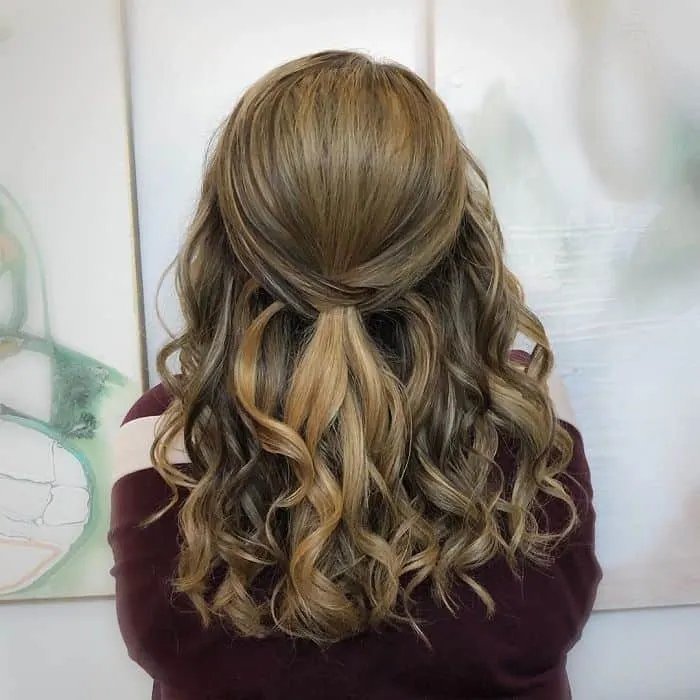 For all of you who have medium length hair, this medium formal hairstyle is for you. Put loose waves in all of your lower hair to start with the hairdo. Once you are done with the waves, tie half top hair into a stylish half ponytail.
35. Two-tone Twisted Hair Ponytail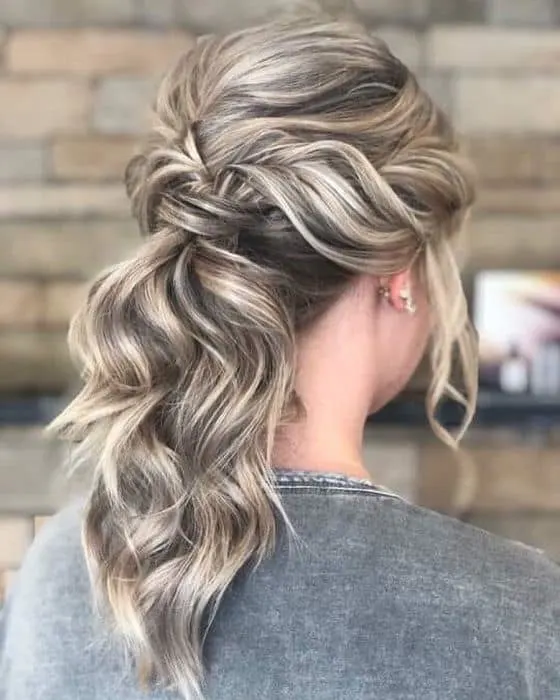 Having two-tone black and blonde hair is a fashion no other shade can beat. For this hairdo, twist your front hair all the way to the back of the head and tie them into a ponytail. Wrap a strand of hair on the headband securing the ponytail to finish the style.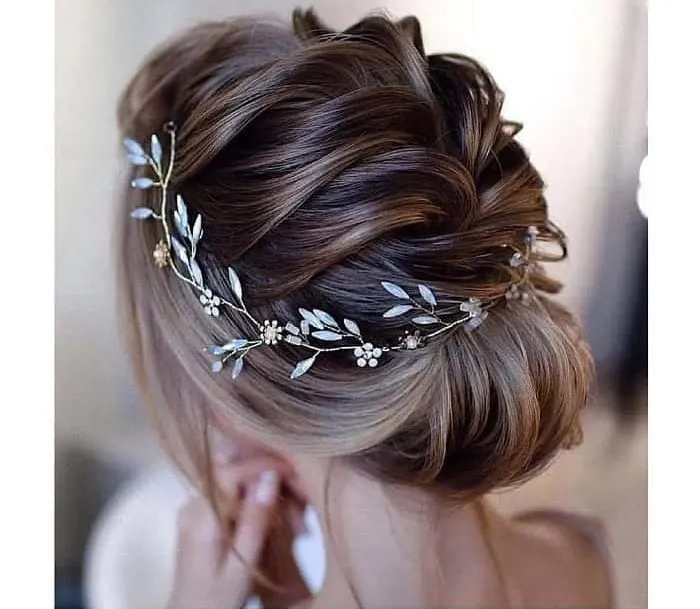 Formal hairstyles for women with medium hair have all the elegance incorporated into one hairdo. For this hairstyle, roll small section of top hair inward.
Take the side hair and combine them with the rest of the hair to form a low inverted bun. Leave a sleek strand of the front flick and finish the hairstyle by pinning a beautiful vine petals headpiece.
37. Graceful half clipped hair
For a graceful look, try this hairstyle at least once. This is a plain but tasteful hairdo which doesn't require a lot of mess. All there is to do for this hairstyle is to take your top hair and clip them at the back of the head. Leave the rest of the hair down, covering your shoulders and back.
A haircut which is low maintenance is always preferable to all the other hairstyles which require tons of styling products. If you want to get this look for your next event, try dyeing your hair a pearl blonde shade. Put beach waves to your hair for an extra-ordinary look.
To appear your very best, you should go for this medium formal hairstyle. To achieve this look, swoop all your hair to one side and divide them into two sections. Start by winding both the sections into a twisted side hairdo and end it by winding a thin thread of hair where the twists end to form a ponytail.
Side part your hair and you already have a whole new look. To include some extra style, take the hair from one side, weave them into a French braid and secure them at the back of the head. Put some loose curls for texture in the remaining hair hanging at the back.
Now that you know about various formal hairstyles for medium hair, you can stop being upset about your hair length. All you need to do is get some inspiration. We hope these options will allow you to enjoy your hair even more.