When it comes to formal hairstyles for medium hair, some girls think that they don't have much to choose from. When you leaf through magazines or browse photos online, most of the beautiful hairstyles involve long tresses.
However, there is no reason to give up or run to get hair extensions. There are plenty of different ways to go about arranging your medium locks. In fact, medium-length hair is quite easy to make stunning without too much effort.
There is not much difference between long locks and medium tresses when it comes to formal hairstyle. All you need to do is choose the option you like best and ask your stylist to create it. There are a few you can make on your own too.
Amazing Formal Hairstyles for Women With Medium Hair
If you have medium hair, you don't need to get discouraged. There are many different formal hairstyles for the medium hair you can take advantage of.
Take a good look in the mirror and you will realize that medium-length hair is long enough to get creative with. If you don't know how to go about it, we have prepared a list of 35 medium formal hairstyles for women to browse.
Take a look at them and you'll realize how much you've been missing out on. Give at least one of the below formal hairstyles for medium hair to try something new.
Loose hairstyles are trendy and they are great for medium hair. Pull your locks up to make a low bun and use clips to keep it in place. Consider making the bun asymmetrical so it's visible in the photos.
2. Beautiful wavy formal hair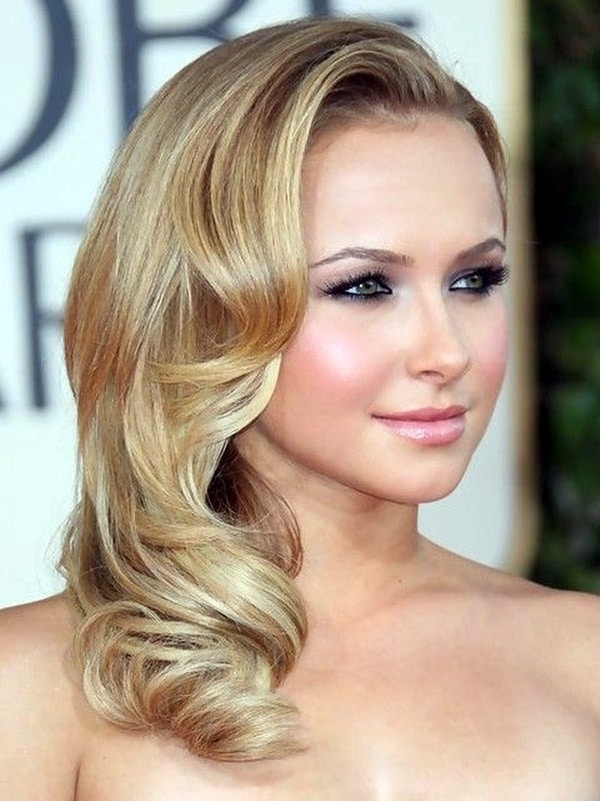 When you need to create a simple medium length formal hairstyle, waves can be a great way out. Wavy and curly hair always looks festive. You can add some zest by pulling the front strands backward.
Medium Hairstyles for Women with Round Faces
3. Formal wavy bun
Before making a beautiful asymmetrical bun, consider making waves or curls. This way the bun will look more formal and will appear neater. Consider making wavy bangs and incorporating them into the hairstyle.
4. Half and half
Making waves all over your hair can make it appear shorter. So use a simple trick: curl just the ends. This way you'll achieve a beautiful formal style while keeping your locks as long as possible.
If you think that medium-length hair is not long enough to make a bun, you are absolutely wrong. Sweep your hair upwards and back and clip it together without actually twisting it. You'll make the appearance of a full-time bun.
Read related posts: