Indian boys are aware of the latest hair trends and the hairstyles aren't that different from the western culture. When it comes to boys haircuts, one needs to be very careful and go for the style that will suit their face shape.
Best Hairstyles & Haircuts for Indian Boys
They say, "Life isn't perfect, but your hair can be." And we completely agree with that. In this era, we have countless hairstyles that males of all ages can sport. Style your hair perfectly with these hairstyles for Indian boys that we have handpicked just for you.
1. Medium Length with Short Layers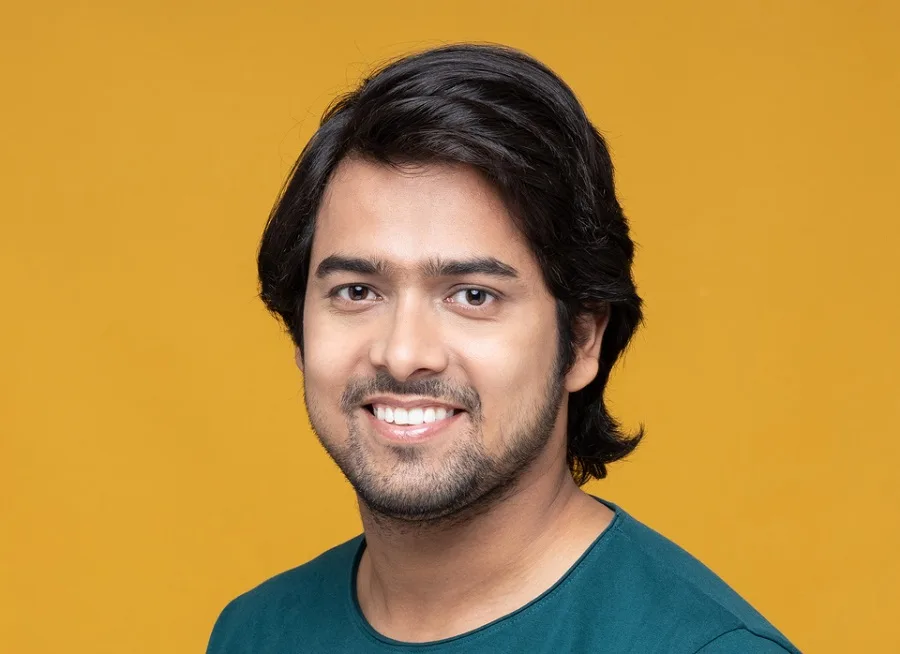 For hair that isn't short-short but also not neck length, have your hairstylist cut in short layers. Once you've combed in an off center part, comb most of the hair to one side. You'll see a ton of shape and volume thanks to the layers!
2. Short and Curly
If you have short curly hair, one easy hairstyle for Indian boys you can try is just cutting it to one length all around. The "bang" area is short so it doesn't get in the eyes. If you have any facial hair, that will help round out or frame your face.
3. Wavy Mohawk with Fade
This handsome take on a traditionally edgy mohawk features a thick wide section of hair in the middle. For Indian boys with wavy hair, just work in a bit of mousse to get the texture and sleek look. Adding a fade to the sides will define your face shape nicely.
4. Long and Messy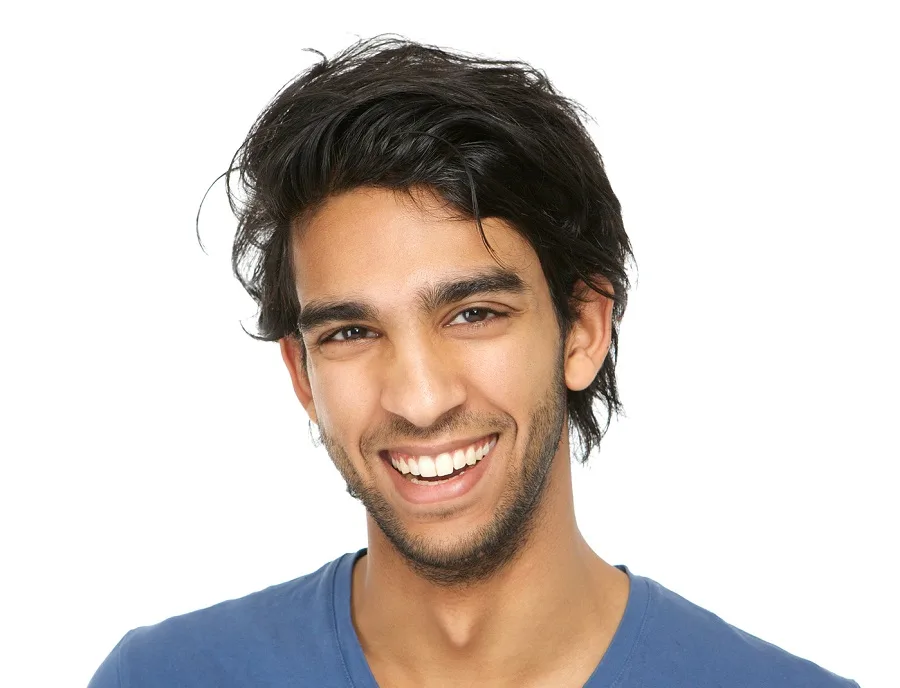 For a youthful Indian boy hairstyle, a little like bedhead can be cute! If you have mostly straight medium-length hair, you can use your fingers to comb in the shape you want. This will also keep it from looking too perfect. And we all know the key to a bedhead hairstyle is not making it look too neat!
5. Spiked Up Front with Fade
If you're still working in the office or just prefer a more professional-looking Indian boy hairstyle, consider this slightly spiky haircut. It's ideal for men with short hair, even if it's thin, because all you have to do is work in a little hair gel!
6. Flat Short Hair
For men who prefer a very low-maintenance haircut, opt for a short hairstyle. This one features hair about 3 inches in length all around and it's combed smooth and flat. No fancy styling needed for this handsome hairstyle for Indian boys!
7. Thick Wavy or Curly Bob with Middle Part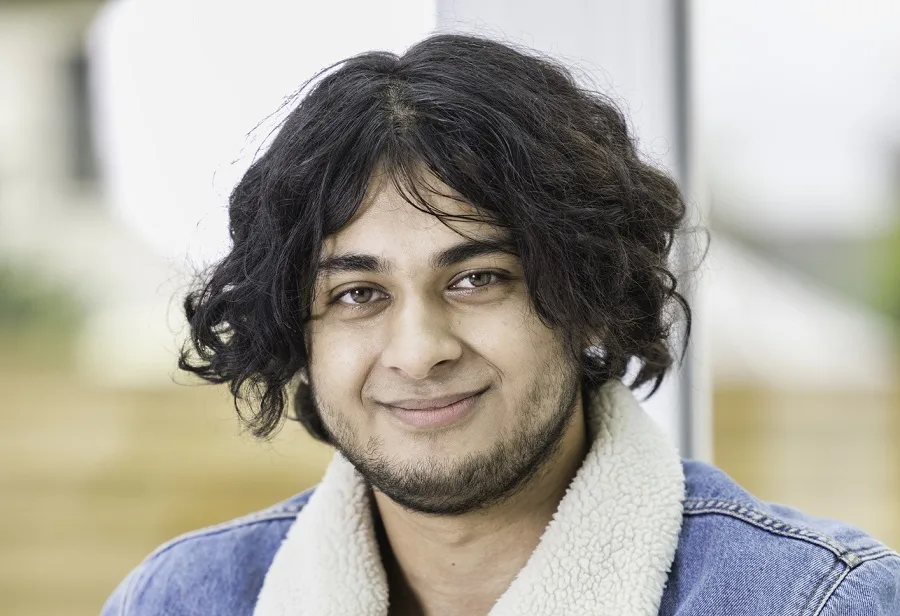 Consider yourself lucky if you have a thick head of wavy or curly hair! To show off that texture, a chin-length man bob with just a center part is all you need! If you have frizzy hair, you can even use a little hair product to contain that.
8. Platinum Long Hair
If you like playing with color and love statement hairstyles, a bold hairstyle for Indian boys is in order! Get it quickly by coloring all of your hair platinum blonde! You can wear it all down and loose or gather the top half in a half ponytail or man bun.
9. Faux Hawk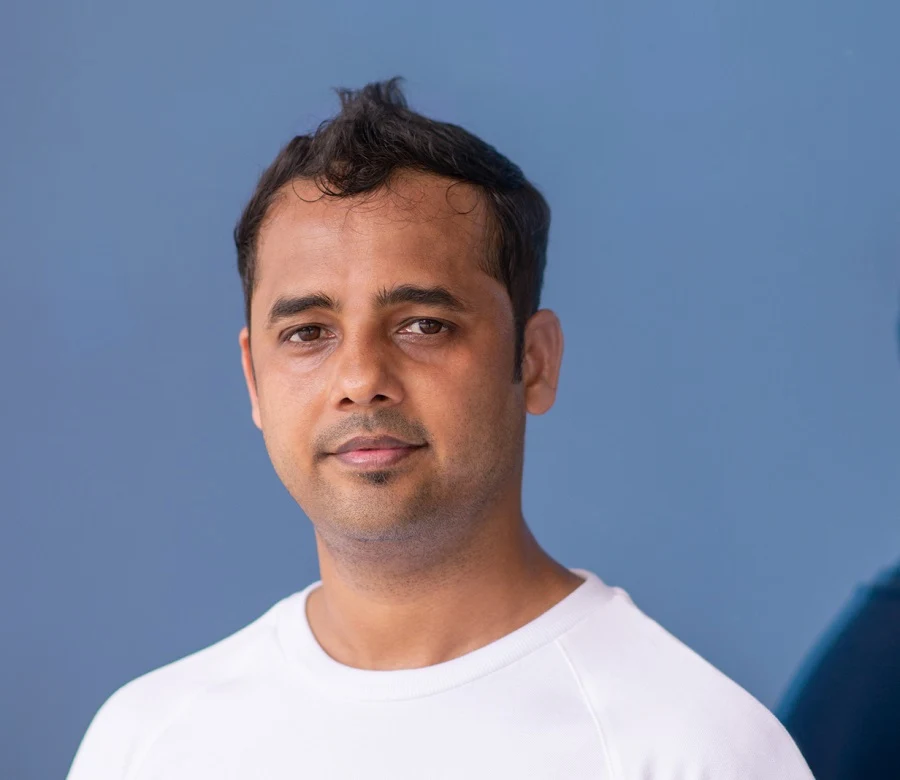 Like the way mohawks look but not sure you want to commit fully? If your hair is at least a couple inches in length, get this popular Indian boy hairstyle by using your fingers to push the hair toward the center, securing the mohawk shape with mousse.
10. Long Top Short Sides
A haircut featuring a long top and short sides is always a trendy look! Sides need to be at least an inch and a half shorter than the top to make sure it's noticeable. Tousle the long top with hair product for texture.
11. Messy Yet Chic Quiff
The quiff is all the rage these days and it can be styled in various ways depending on the length of the hair. Short and choppy quiff looks like straight out of a teen magazine if styled properly. Use gels or waxes to lock your hair in place while sleekly combing your hair from the sides to complete the look.
12. Faded Sides With Spikes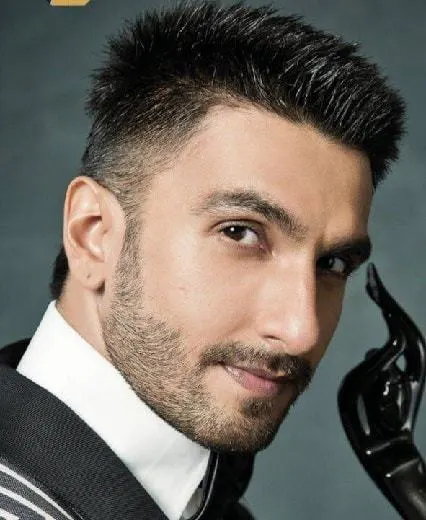 Look young and stylish with quirky spikes and faded sides. It is a low maintenance hairstyle that does not require a lot of products because of its really short length. All you have to do is wash your hair and comb it throughout the head. Voila! You are done. Indian boys can look great with this modern haircut.
If your personal style leans more towards the preppy and trendy side then this hairstyle is the perfect option for you. This hairstyle gives you a trendy and sexy appeal that no one will be able to resist. Use a little bit of gel to give your hair a wet appearance and lock it in place.
14. Classic Slick Back
One of the mostly see formal hairstyle among Indian boys. This classic slick back subtle pompadour never goes out of style. It is the ultimate gentleman hairstyle that can take your overall appearance from zero to 100. Set your hair with gel, pomade, or wax, whatever suits your hair and head out the door.
15. Buzz Cut with Beard
If you are tired of stylish your hair every single morning then it is about time to get a buzz cut. Buzz cut is a common haircut seen among the Indian boys of all ages. It is the most low maintenance hairstyle that you can rock everywhere. From work to parties to weddings, this hairstyle will get you through most events and occasions of your life with ease.
16. Hip Man Bun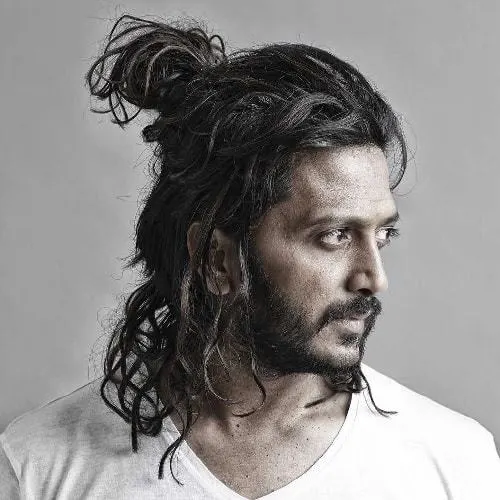 This year is all about long hair and sexy man buns. Depending on what kind of hair you have, you can tie your hair up into a bun whether it is silky and clean or rough and messy. A man bun will make you fashionably up to date with the least effort possible.
17. Hot And Messy With Fringe
Are you going for a soft and romantic look that is straight out of a Bollywood movie? Then look no further. You just need to get messy layers in your hair with a small amount of fringe that you can style in accordance with the occasion you are going to attend.
Long hair can sometimes be a hassle to manage. Tie your hair into a small low ponytail to keep the stray hair away from your face while still maintaining your badass style. This hairstyle has been loved by various celebrities throughout the world for obvious reasons.
19. Sun Kissed Quiff
Who said that men can't openly dye their hair? A sun-kissed effect on your quiff will make you look like the most loved supermodel of the industry. This Indian hairstyle for young boys can instantly add tons of glamour and style to their look without overdoing it.
20. Voluminous And Disheveled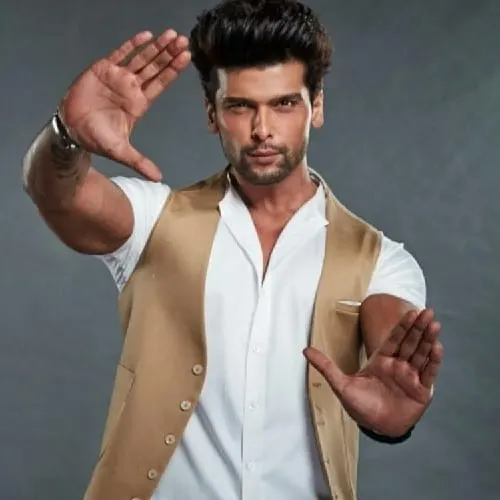 For a casual yet super attractive look, all you have to do is run a comb or hairbrush through your hair and brush your hair back, pulling it up slightly to give it a beautiful kind of volume, like in the picture above. This hairstyle gives a neat and carefree look all at once.
21. A Neat Pompadour
This year, bring back the classic 50s with this neat pompadour hairstyle. You'll find someone with this hairstyle in almost every Indian office! This combed back and neat hairstyle is perfect for guys of all ages. Pair this hairstyle with a classic modern cut suit and a high-quality watch and you are ready to make a statement with this polished look.
22. Boyish and Messy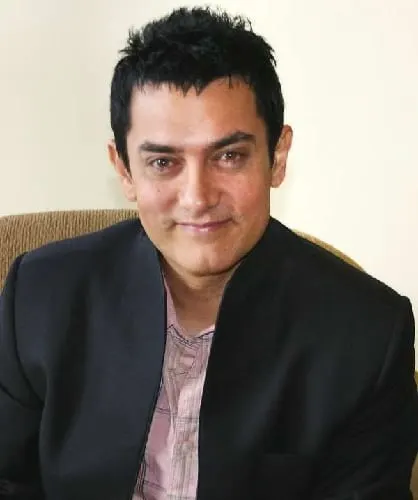 Don't want to look older than your age? No need to worry because this boyish and messy hairstyle will keep you looking youthful and stylish effortlessly. With choppy pikes and small layers, this hairstyle will have just the right amount of volume to make your look fashionably on point all the time.
23. Combed Back with Prominent Side Burns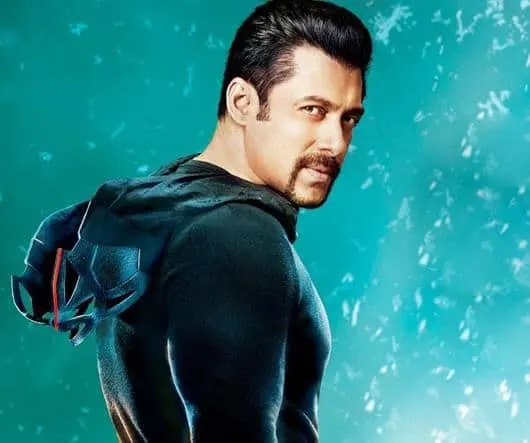 Sideburns are back among the young teenagers in India and are not going anywhere any time soon. This hairstyle is a dramatic upgrade for the neat pompadour hairstyle. Grow your sideburns and pair it with a classic hairstyle to turn heads everywhere you go.
24. All Curled Up
Curly hair is known to suit every face type and gives off a classy yet lively vibe. Curly hairstyles are suitable for almost every occasion whether it is a wedding, a formal office party or even a beach outing. Indian boys with curly hair can try this hairstyle. Curl up your hair and complete the eye-catching look for any event to have a good time without any hassle.
The crew cut is a timeless hairstyle that never goes out of style. It creates a clean and fresh vibe that makes this hairstyle perfect for work, school, college, and universities. This hairstyle is perfect for all age groups from pre-teens to teen to adults. Sport this hairstyle and look like a million dollar effortlessly.
26. Natural Wave
Give your hair a natural wave with the help of some styling tools and hair products. Sport these beachy natural waves to any occasion or event that you want. It one of the most wanted hairstyle these days throughout the globe.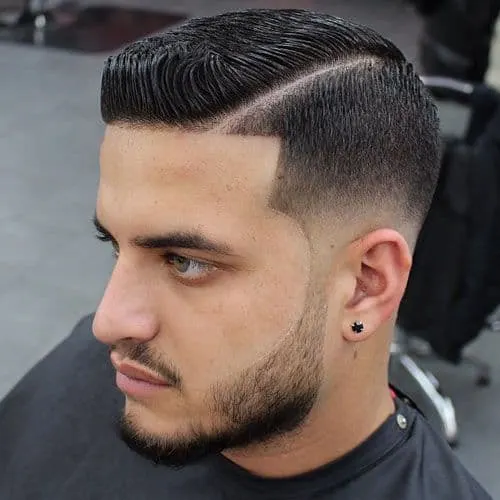 Don't shy away from having a prominent recession line because this is what is trending right now. Get yourself a clean geometric recession line that will give a modern edge to your hair. Pair that with spikes, a quiff, or a pompadour to complete the look.
This year, undercut has taken the Indian men's fashion industry by a storm. The undercut is the shorter length of hair on the sides and back of your head that is sometimes complemented with a design made with sharp razors. Get an edgy undercut and flaunt your hair.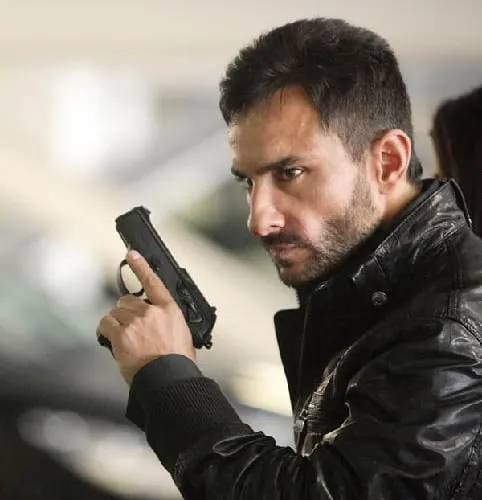 Short hair is always a good idea in warmer weathers like spring and summer. It is a military-inspired hairstyle that is sure to make you look neat and clean. This hairstyle does not require any styling, all you have to do is get out of the bed and you are ready to head out.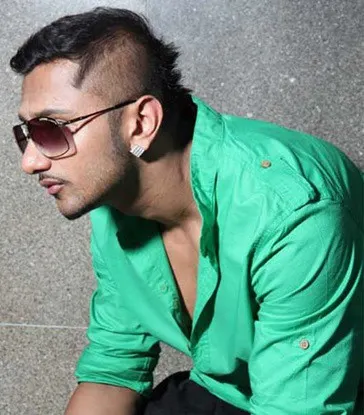 This punk hairstyle is all you need to transform your overall look and add some unmatchable edge to it. Those of you with a rebellious taste in fashion, this hairstyle is the perfect option for you. Style it to perfection using pomades, hair waxes, and a good amount of hairspray to seal that piece of art in place.
31. The Caramelized Boho
Stand out from the crowd with this caramel tinted, wispy hairstyle. Go for highlights a few shades lighter than your hair color and style them using a few styling products of your choice. With this hairstyle, no one will be able to take their eyes off of you, we bet!
32. Comb Over Quiff
This is one of the trendiest hairstyles among the boys in India these days because of its versatility. Whether to comb it over, style it towards the back, or spike it up, it will always make you look stylish and polished with minimal effort. For the plus points, it has been rated one of the sexiest hairstyle by women all over the world.
33. Curly Shag
Opt for this fun and casual Indian hairstyle for every day. It is good for men with square or oblong faces as it moves the hair away from the face and makes it look prominent.
34. Guy Next Door Hairstyle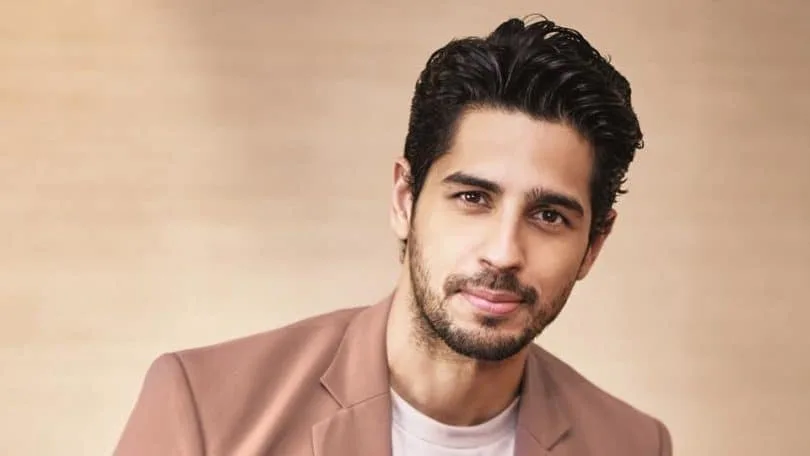 Sweet and flirty! This fun hairstyle is definitely going to earn you a lot of compliments around the block. The best part about this hairstyle is that you can style it in numerous ways.
35. Braided Rows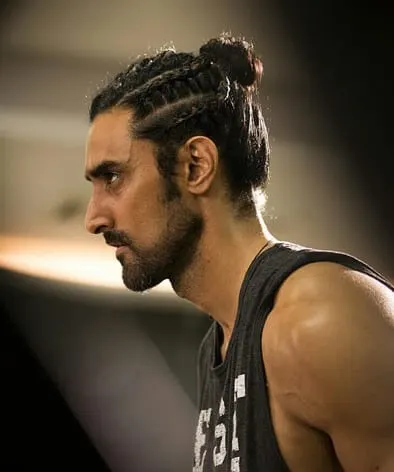 A dashing hairstyle for the boys in India. In the recent years, men have been gravitating towards braids a lot more than before. This braided bun is definitely going to give you're the modern yet masculine look you are looking for.
Never look dull or boring because of your hair as these Indian boys haircuts will freshen up your look in an instant. There are so many styles of haircuts available now which means there is something for everyone. All these effortless hairstyles for boys have been sported by various Indian celebrities confidently. So, what are you waiting for? Visit your nearest hair salon today to get your transformative look.