Kaley Cuoco's short pixie hairstyles are popular among girls, specially to those who watch 'The Big bang Theory'. When Kaley Cuoco first stepped on the scene, everyone was in love with her long, golden locks, but she shocked fans everywhere when she entered Season 8 of 'The Big Bang Theory' sporting a very short pixie cut.
While many fans argued their dislike of her new style, others embraced Kaley's edgy new look. During an interview with Ellen, Kaley stated that she'd always wanted to cut her hair and finally got the chance while she was filming 'Burning Bodhi'.
Since that drastic change, Kaley has rocked a number of chic short haircuts that have shown off her gorgeous features and won over our hearts. Here are 10 of our favorite short hairstyles by Kaley Cuoco.
1. Side Swept Bang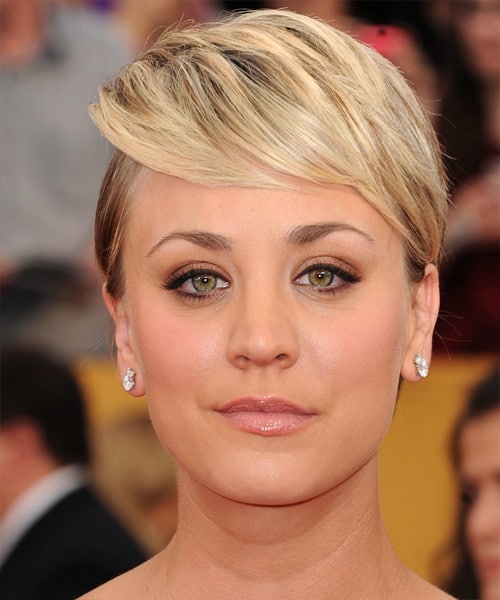 Cuoco is sporting a sleek, layered side-swept bang. The highlights and lowlights give the style some much-needed character as they complement her green eyes.
2. Kaley Cuoco's Wild 'n Wavy
While this isn't Cuoco's shortest hairstyle, this is a perfect alternative for women who are thinking of doing a cut that isn't as drastic as a pixie. This face-framing, tousled bob is playful, sexy and perfect for a night out on the town.
Katy Perry's Mesmeric Hair Color Choices
3. Playfully Pink
If you're looking for more of an edgy style, experiment with playful color. Cuoco's style is full of waves that give off a carefree, semi-bedhead look that's a perfect choice for a lazy day.
4. Tousled and Tapered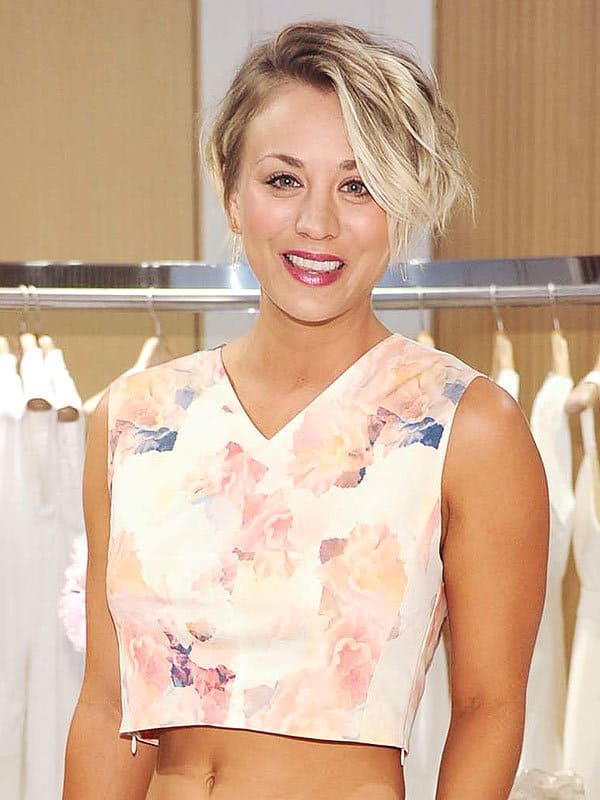 Kaley Cuoco's hairstylist admits to tapering her hair once she began entering that "awkward" stage of length. By keeping the back short, more of the focus is on the length that the hair is gaining in the front. In this style, Cuoco's roots are left their natural color while the bangs are highlighted with blonde. The bangs have been tousled in order to give the hair more height and volume, which is a perfect choice for those women whose hair is naturally wavy.
5. The Perfect Pixie
The layers that this pixie contains give the style an amazing amount of movement and character. This is one of Cuoco's shortest styles, emphasizing her cheekbones and further elongating her neck.
6. Sleek Bun with Shaved side
One of the more daring looks of Kaley Cuoco's short hairstyles, this sleek high bun with shaved side is perfect for any woman with the confidence to rock it.
7. Kaley Cuoco's Short and Sleek Hairstyle
Perfect for the professional businesswoman, this sleek short style features a side swept bang. The subtle layering takes the style from monotonous to marvelous.
8. Bobs Away
Cuoco's layered bob haircut frames her face perfectly in this style. One of the best things about this style is its versatility- being able to be styled both professionally and playfully.
9. Punky Pixie by Kaley Cuoco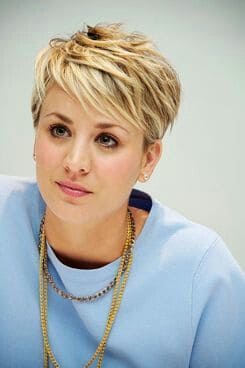 This pixie cut features a longer bang than usual, giving it a particularly funky look. The layers that are implemented gives the style such a tremendous amount of movement that we absolutely love.
Most Admirable Miley Cyrus Hairstyles
10. Short Shag
Not many women can pull off this shaggy haircut well, but Cuoco rocks it effortlessly. This face-framing midi bob has been tousled to give the hair a carefree look that's both playful and sexy.
More Celebrities to get Hairstyle Inspirations: