Facial hair certainly adds a lot to your overall style. If you have grown bored of the more traditional facial hairstyles that most people make use of, then it might be time to try something a little bit different – combine a short beard with a cool long mustache!
One look that is starting to gain traction among young people is having a shorter beard that is accompanied by a longer mustache. It definitely makes you stand out in a good way, and it can be a fun style that will give you the youthful look that you're desiring.
How to Style A Short Beard and Long Mustache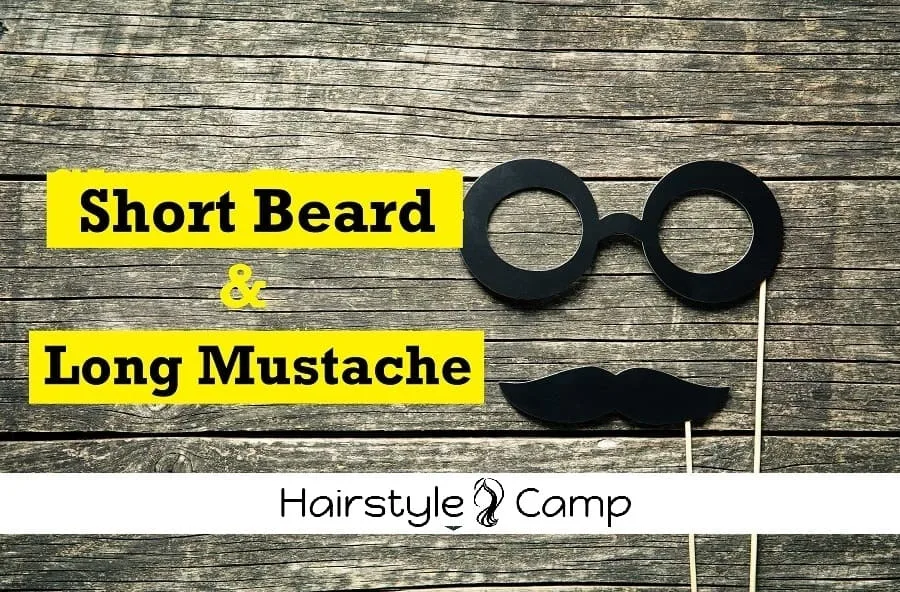 Before moving forward with this style, you need to understand how to style short beard with a long mustache. It actually is not going to take too much work for you to look really great with this style.
With a little bit of style preparation, you will be feeling confident walking out of the door each morning. Take a look at this simple step-by-step guide that will teach you everything you need to know about pulling off this style.
Keep Beard Relatively Short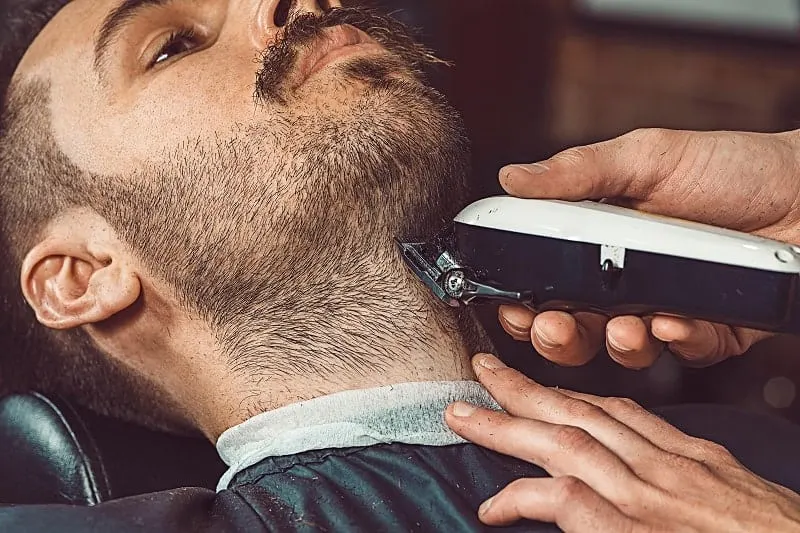 This style is going to require that you keep your beard relatively short. You can go about this in a couple of different ways. Many people choose to keep their beard very close to the face when achieving this style. Your beard can either be just a little bit more grown out than stubble or you can keep it at around 2 cm of growth.
It should be easy to maintain your beard since you are keeping it so short. You will not really have to do much to your beard each day aside from using your beard trimmer to keep it at the appropriate length.
Depending on how fast your beard grows, this could necessitate that you trim your beard very frequently. This is an essential part of styling the short beard and a long mustache, so do your best to keep your beard very short and tidy.
If you are looking for different beard styles that'll match your mustache – we published some blog posts that you'll find helpful. No matter you're a Westerner, Asian or African-American guy looking for a beard style or if you're specifically looking for beard styling ideas like a blonde beard, circle beard, Balbo beard, ducktail beard, curly beard, faded beard; here are some beard styling ideas for you.
These short hairstyles are perfect with a beard and if you're an Asian man, try these Asian beard styles
Trim Mustache with Scissors
You will be allowing your mustache to grow out much longer than your beard with this style. Depending on how far you want it to grow, you may have to give your mustache some oil in order to promote the proper growth.
Mustache oil gives your facial hair the nutrients that it needs to grow strong. Most people who want to go with this style are interested in pulling off at least a minor handlebar mustache, so you will want it to be able to grow out a fair bit.
In order to keep your mustache grown out to the right length, you will need to trim it with scissors. This part can be tricky for some people. Use your best judgment to keep it symmetrical, and do not be afraid to use a ruler so that you can keep things looking perfect. A small pair of beard & mustache trimming scissors will be appropriate for this.
You should be able to allow your mustache to be several centimeters longer than your actual beard for this style. Some people even have the mustache portion of this facial hairstyle go several inches longer than the beard. It really is up to you. As long as you are styling it properly, it should look really nice.
Comb and Style Mustache with Wax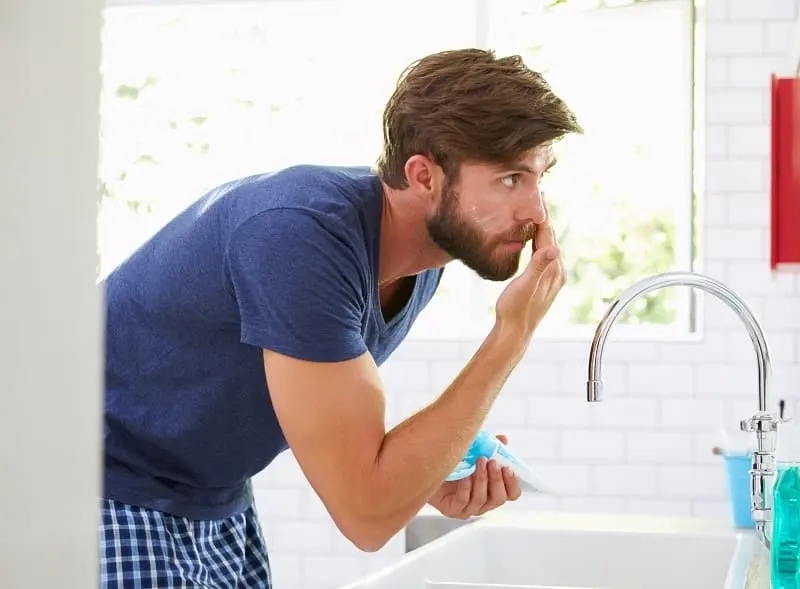 Growing a classy short beard and long mustache can make your look manlier than ever. Of course, you need to comb out your mustache to keep it looking nice. Using a small comb, you will need to comb it out in the morning before styling it to your liking.
Styling the mustache is going to involve using some mustache wax. You need to give your mustache a bit of hold so that it does not look wild and out of sorts.
Just a bit of mustache wax should be fine to style things very well. A little dab will be enough to give your mustache a bit of a hold.
You can have your mustache stick straight out toward the sides of your mouth or you can have it curl ever-so-slightly like many people enjoy doing. Decide which way is going to look best and go for it, as the wax will make it easy to style things to your liking.
At this stage, if you feel like a mustache won't look good on you and want to get rid of it, here are some articles for you:
Go Out and Greet the World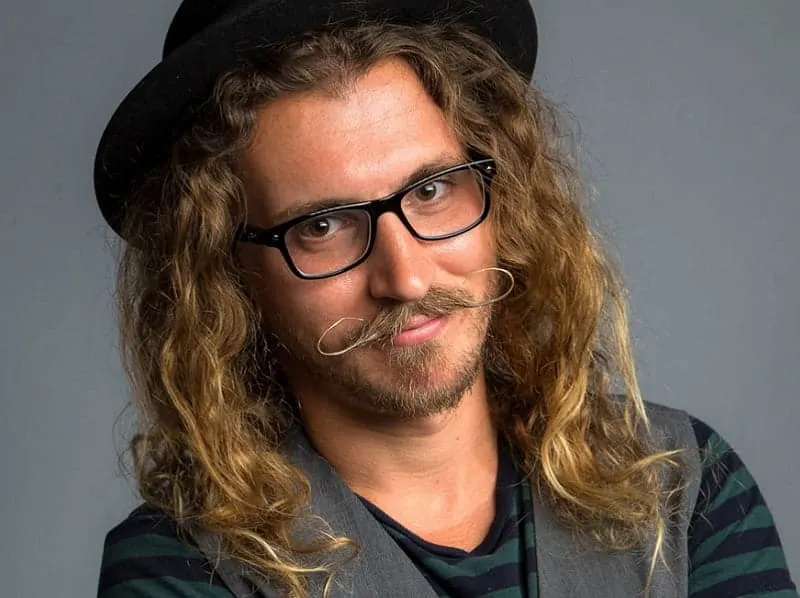 With this done, you are completely ready to go out and greet the world. Your new facial hairstyle should not be too tough to maintain, and it will look fantastic.
The toughest part of this style is keeping the mustache trimmed to a length that you like with the scissors. As long as you are willing to put in the effort, this will be a very fun facial hairstyle that will keep you feeling confident.
Short Beard and Long Mustache Combos
Here are some short beard and long mustache styles to give you some inspirations.
1. Extra Long Ends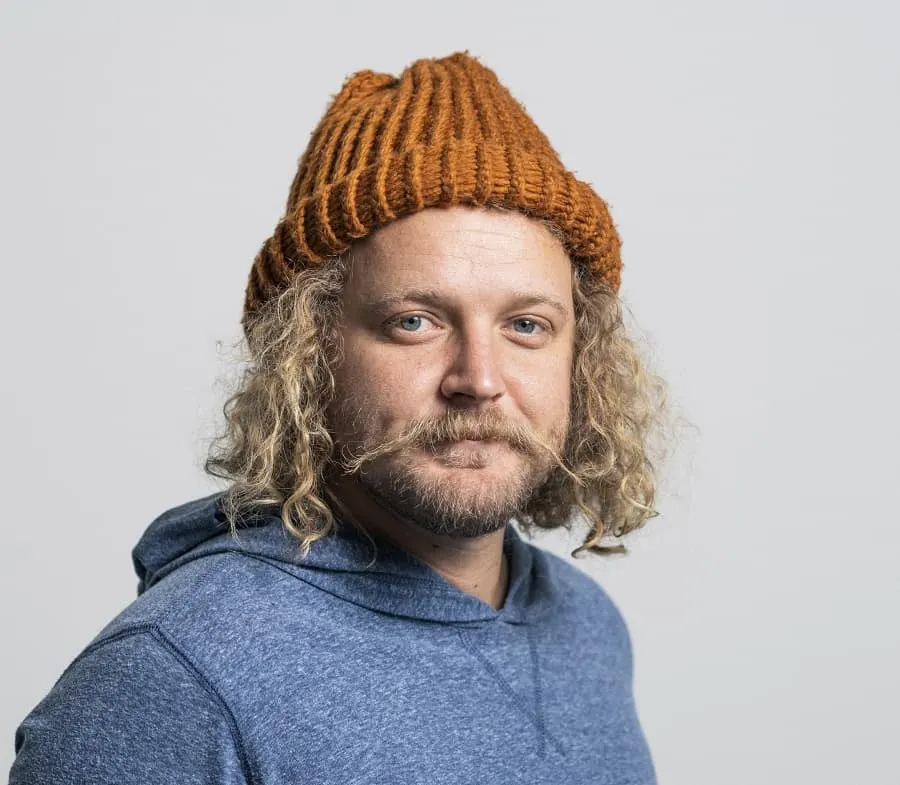 Consider this lampshade mustache that resembles a chevron but has angled edges grown out a few inches to be twisted out using some styling wax. This style is ideal for naturally blonde men who can opt for a rugged facial stubble and shoulder-length curls to complete the look.
2. Walrus Mustache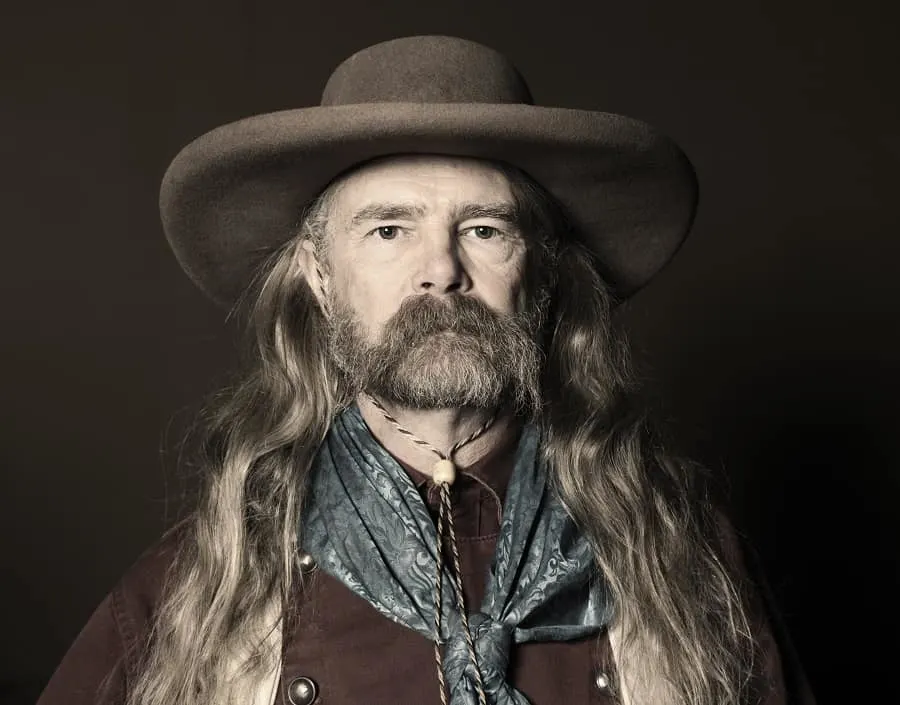 The walrus mustache from the 19th century is characterized by bushy strands falling over the lips. Grow out it for five to six months and trim it into a rounded shape for a walrus trademark. A long mane and thick beard top off the cowboy look.
3. Horseshoe Shape
A look mostly rocked by sturdy bikers, this mustache has vertical extensions emerging from the corners and ending at the jawline while resembling an upside-down horseshoe. A soul patch along with the barely-there beard accentuates the look but requires some effort to maintain.
4. Van Dyke Beard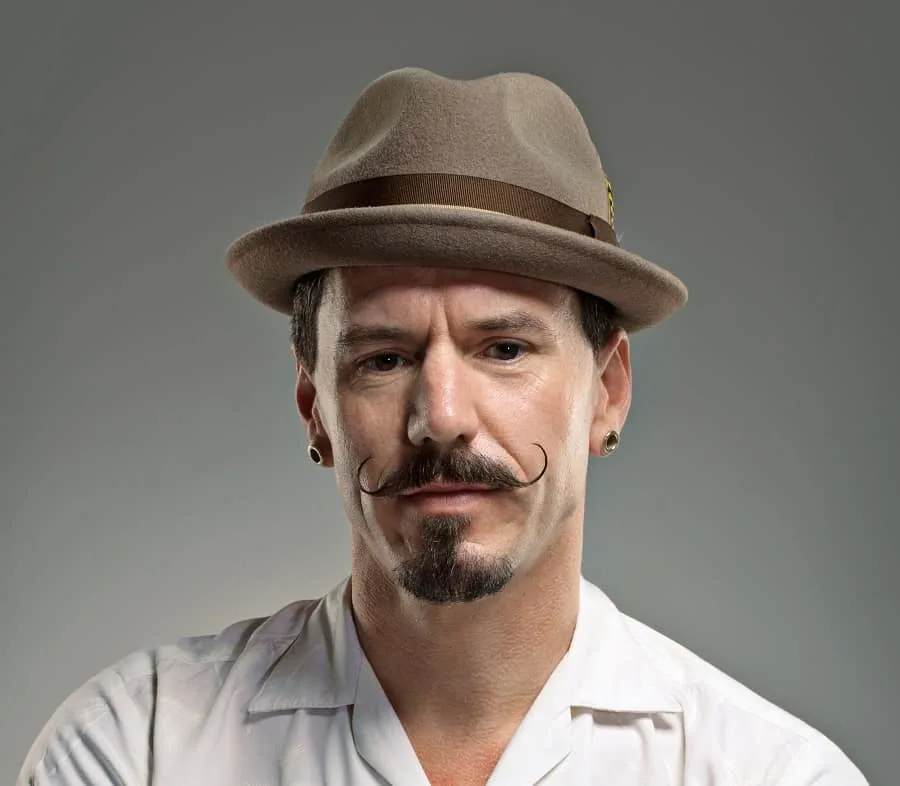 Another short beard and long mustache combo is this style inspired by the 17th-century painter Antony Van Dyke. It features a well-trimmed mustache with pointed ends along with a soul patch and short goatee. This style works perfectly for men with patchy facial hair growth.
5. Thick and Bushy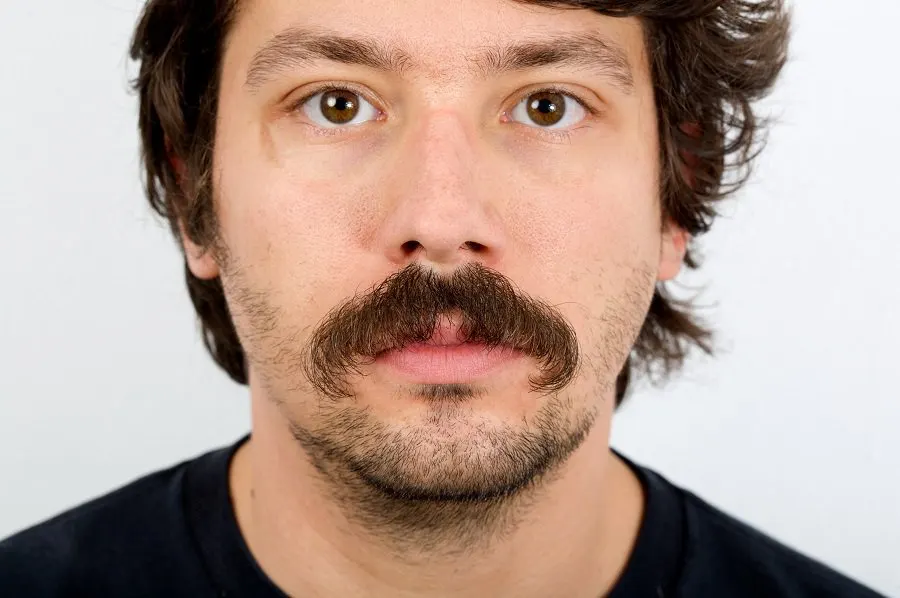 Men with naturally thick mustaches can consider this style. The cowboy look has thick strands falling on the lips with the longer ends bending inwards. Pair it with a light beard or go for a shaved face. Your choice!
6. Spanish Look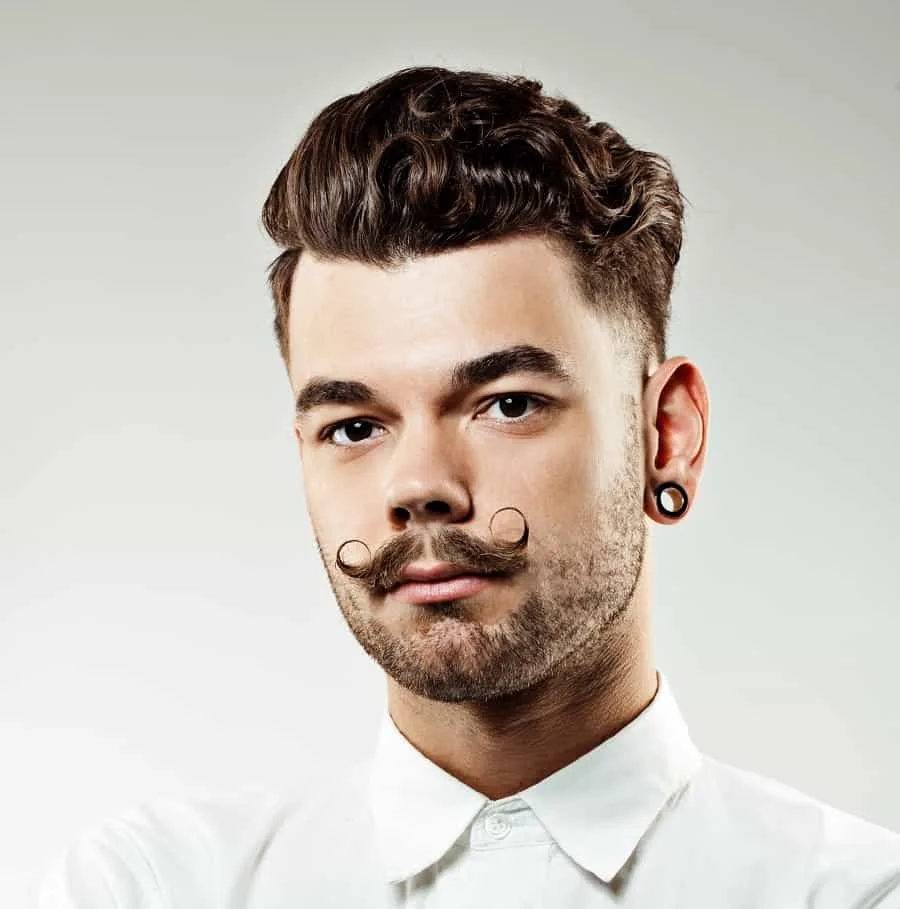 Another type of mustache ideal for both young boys and elderly men is this classic one inspired by the Spanish style. The strands are neatly trimmed and center-parted with longer ones along the edges that are twisted into perfectly round pointy ends. Complete the look with a short rugged beard.
7. Friendly Mutton Chops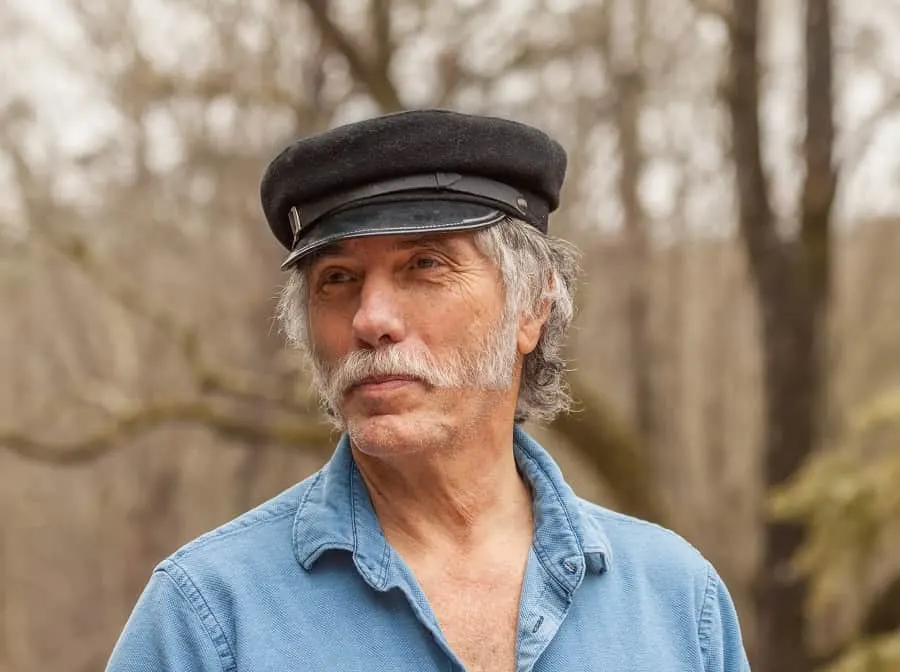 Men over 50 can express their bold side with neatly trimmed friendly mutton chops that are basically outgrown sideburns. Grow out the facial hair a few inches and shave half of the face smartly across the lips. A tousled hairstyle goes well with this debonair look.
8. Anchor Beard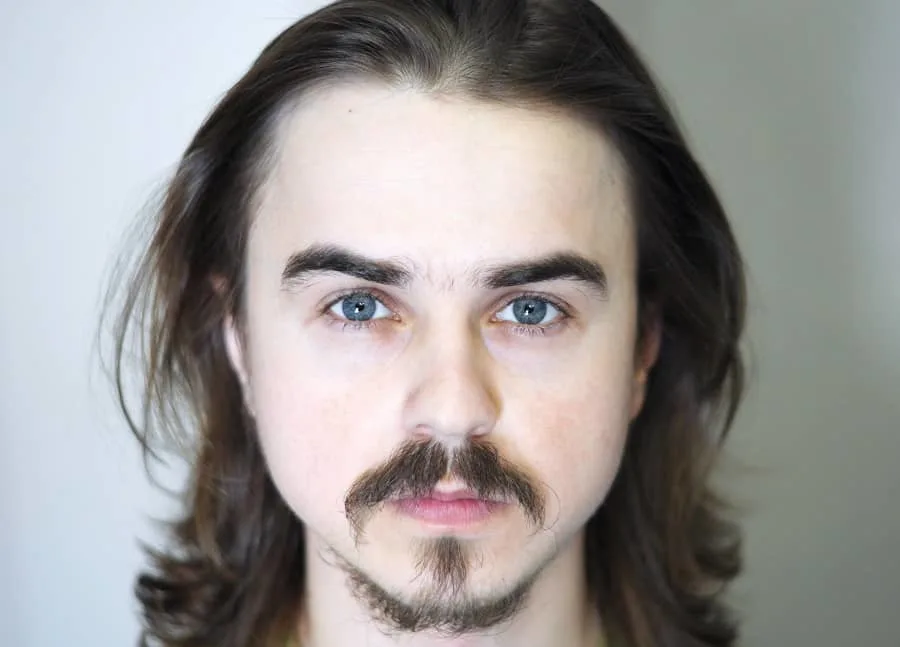 Anchor beard has remained popular in the past and is trending again these days. The easiest way to achieve this look is by growing out the hair for a few weeks and shaving it sparing the mustache, chin strap, and soul patch. This style looks chic on young boys.
9. Long Mustache + Soul Patch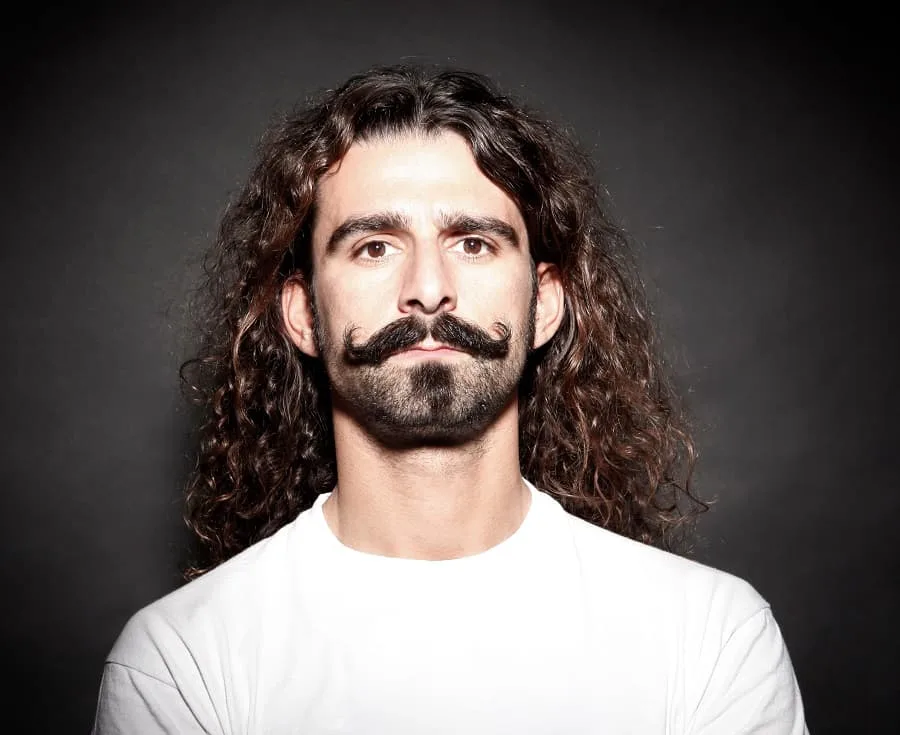 Give yourself a fresh makeover by combining a short beard style with long mustaches. This stylish look features thick strands lying above the lips with long pinched ends and a soul patch standing against the shorter beard. Finish off with a long curly mane for a ruffled appeal.
10. Keep It Natural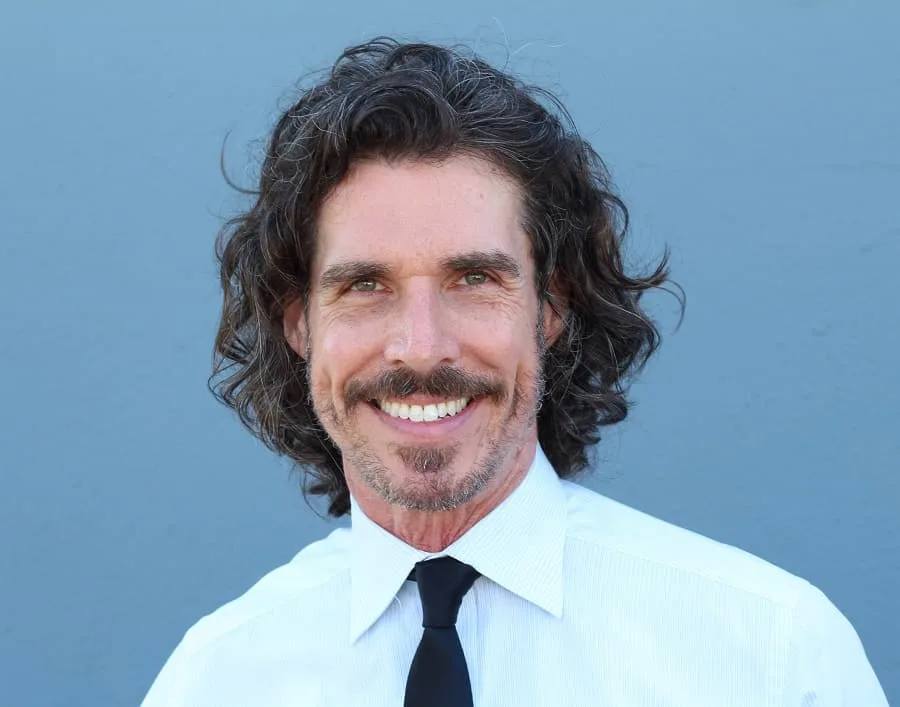 Give yourself a fresh makeover by combining a short beard style with long mustaches. This stylish look features thick strands lying above the lips with long pinched ends and a soul patch standing against the shorter beard. Finish off with a long curly mane for a ruffled appeal.
11. Extended Goatee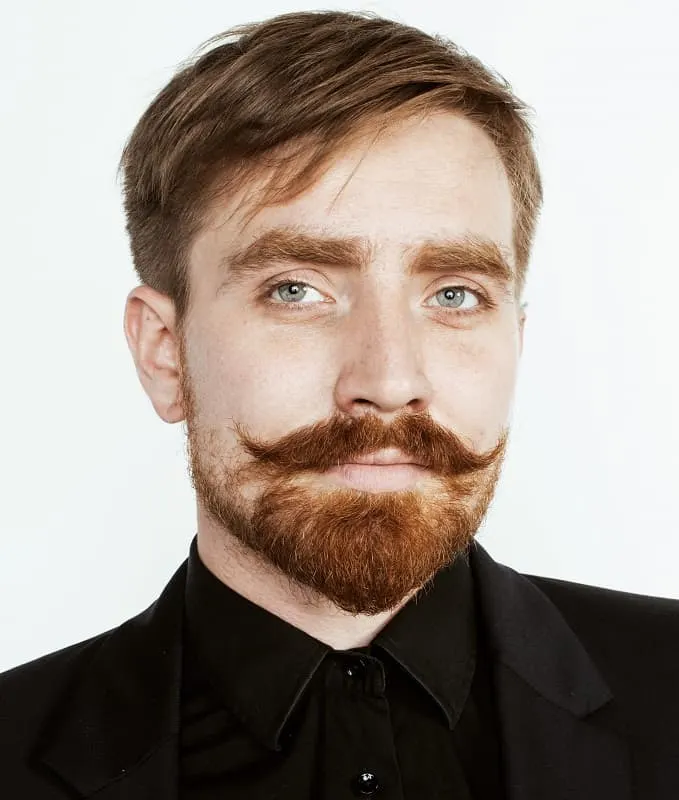 Ginger heads can take part in the short beard and long mustache trend too while keeping all the eyes on them by growing a handlebar mustache with pointy ends and accentuating it with a sharply extended goatee. Finish off with a classic side-swept hair look for a masculine charm.
12. English Mustache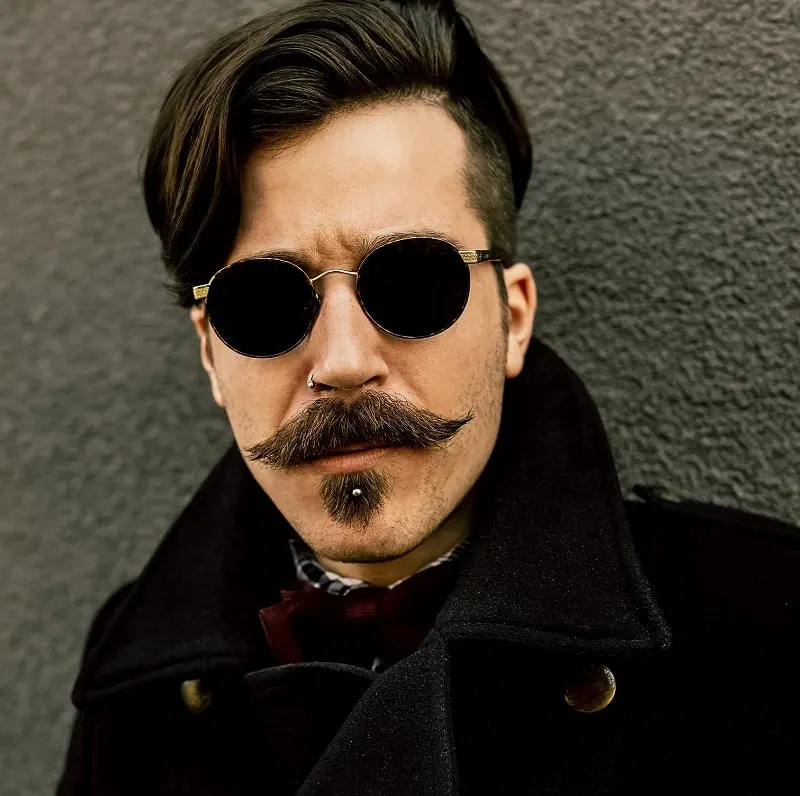 The English-style mustache imparts a classy and elegant appeal to the face. It is parted in the middle and extends along the sides with sharp ends. The whiskers are long but neatly styled with extra precision. The short soul patch tops off this chic look flawlessly.
13. Edgy Circle Beard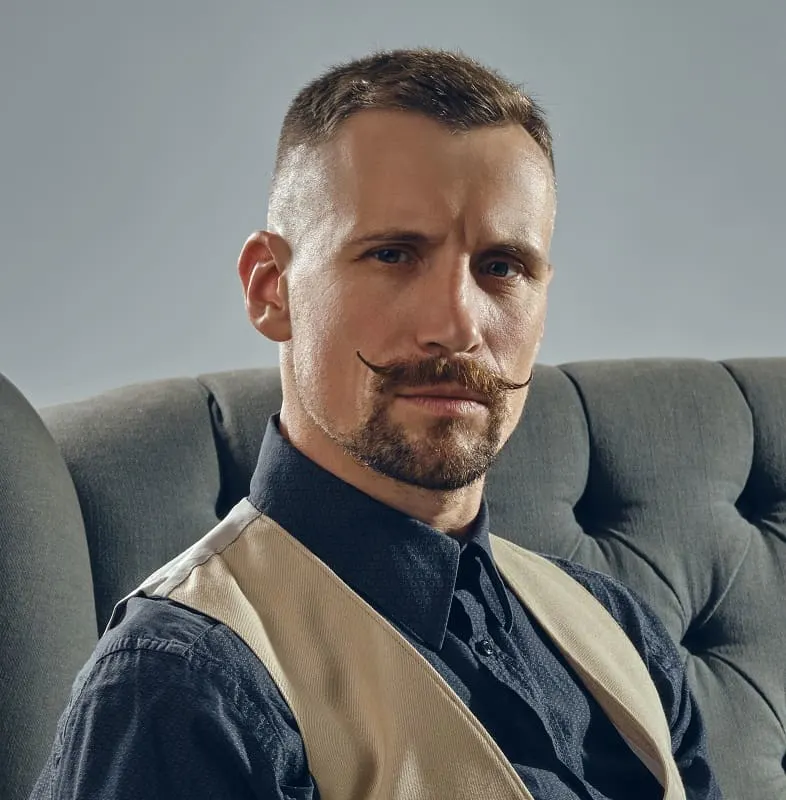 Turn around some heads with this classic edgy look that gives off army vibes. Opt for a circle beard with neatly shaved sides accentuating the hairstyle and long sharp handlebar mustaches. Use some styling product to create the pointy ends on the mustaches.
14. Hungarian Style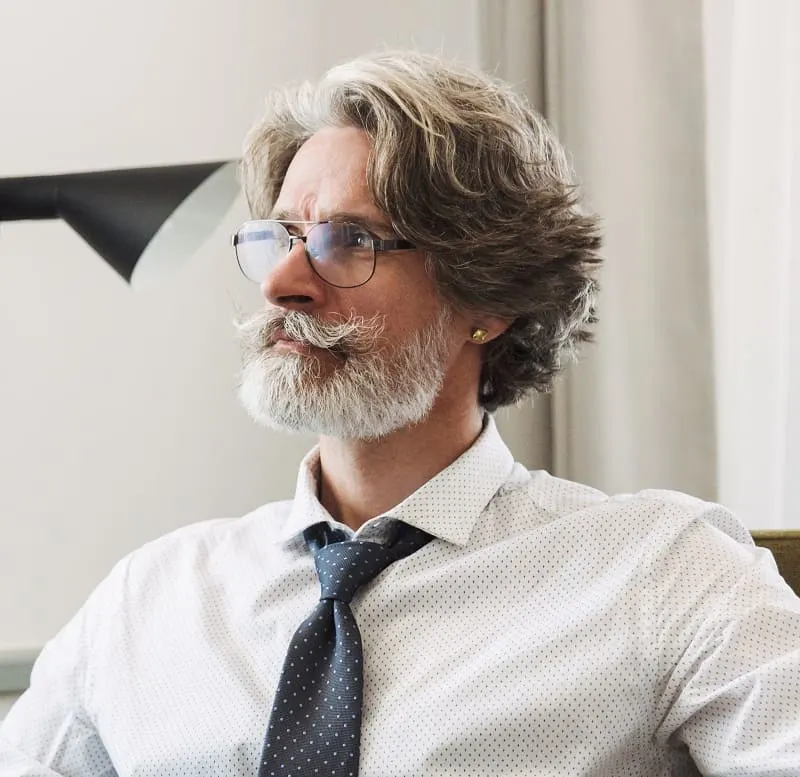 This style is suitable for middle-aged men with a square face shape. Grow out a short boxed beard with a Hungarian-style mustache. This look requires some time and patience to reach its full stature but is worth the wait. Top off with a layered curtain haircut.
15. Pointed Ends + Chin Curtain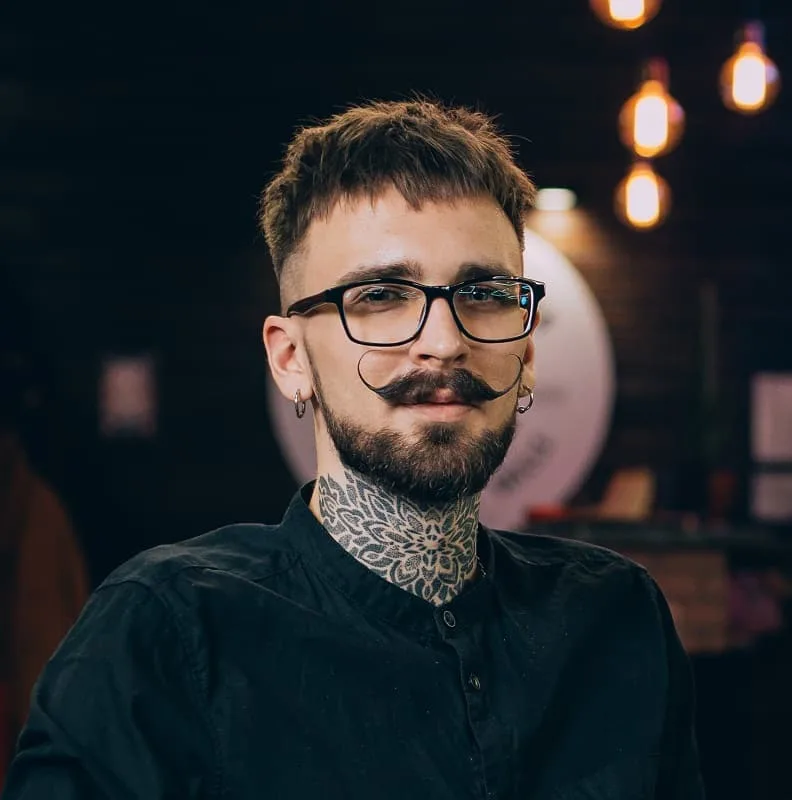 Here is another idea to style a short beard with long mustaches. It is characterized by a short facial stubble extending from one sideburn to the other covering the chin and jawline. Complete the sassy look with Spanish-style pointy mustaches and a short textured haircut.
16. Messy Appeal
Most Asian men take pride in their messy and unkempt looks. Recreate this tousled style by going for a bushy walrus mustache and a thick but short beard for a rugged masculine appeal. Although messy this look requires regular shaping of the mustaches.
17. Chevron Mustache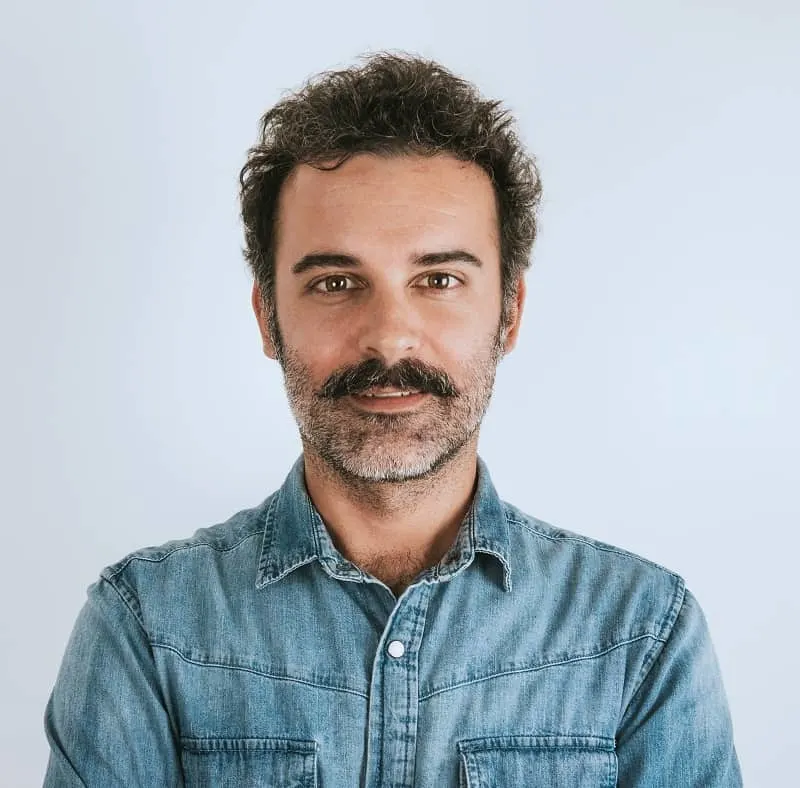 Thick and coarse facial hair is ideal to achieve a chevron mustache. Although simple it requires months to achieve this look. The mustache is trimmed regularly to keep the strands from falling over the lips. Pair it up with an unkempt facial stubble and the look is done.
18. Musketeer Appeal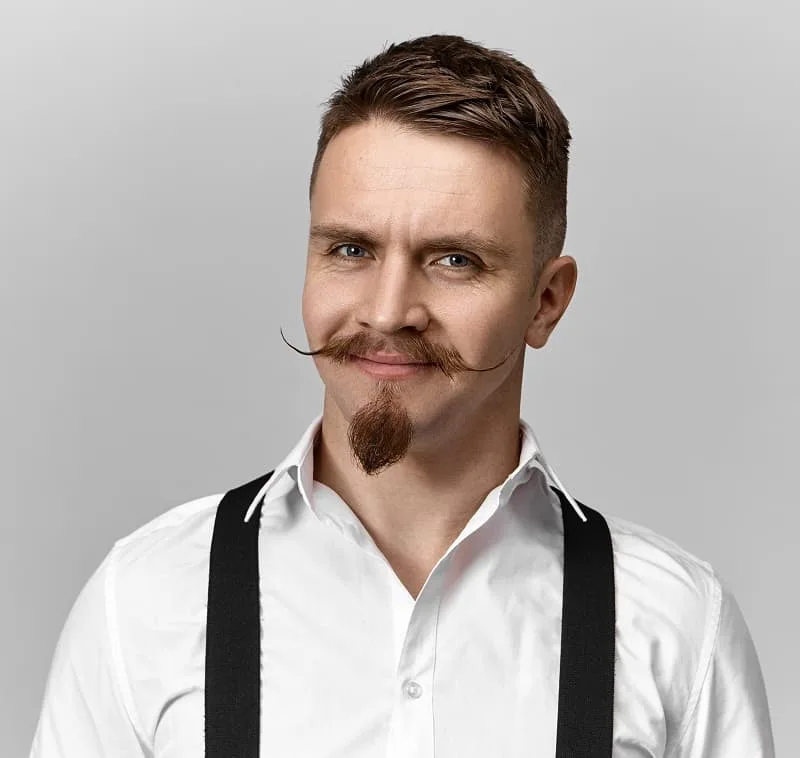 Reminding of the 1920's the musketeer beard has a refined appeal to it and is impossible to ignore. Shave the entire face sparing an oval-shaped goatee with thin mustaches having pointed ends floating out of the face. Put the look together with a short haircut.
19. Handlebar Shape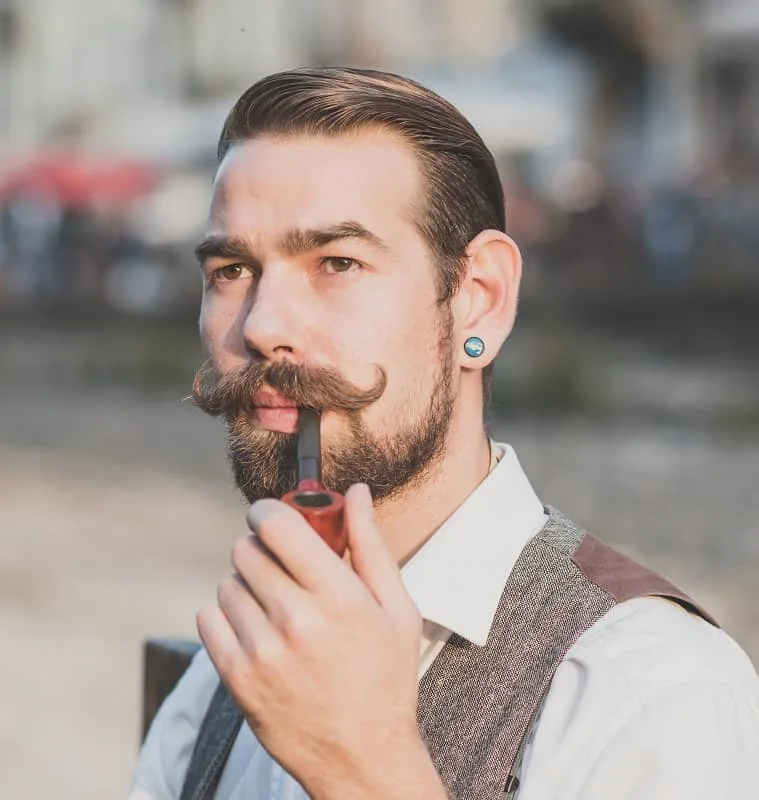 It is impossible to ignore this mustache style while considering the best short beard and long mustache combinations. Resembling the bicycle handlebars this bushy mustache has curled-up edges and looks perfect with a neatly trimmed Klingon beard. A slick comb-over hairstyle sets off this look.
20. Long Mustache + Thick Beard

Here is a look that suits a chubby face. Take your time to grow the beard and mustaches. Pinch the ends creating a handlebar shape while the facial hair is left unkempt to keep up with the undone appeal.
21. Modern Dali-Inspired Look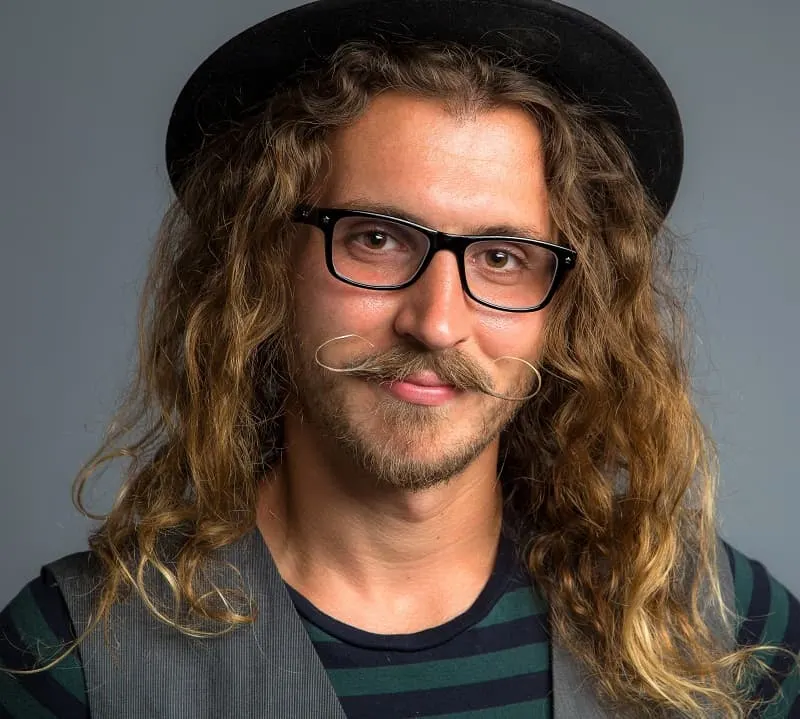 This look is a modern twist to the edgy taches of the 20th-century painter Salvador Dali. It features pencil mustaches with long handles at the ends that are twisted inwards into circles instead of being tilted towards the cheekbones.
22. The Beardstache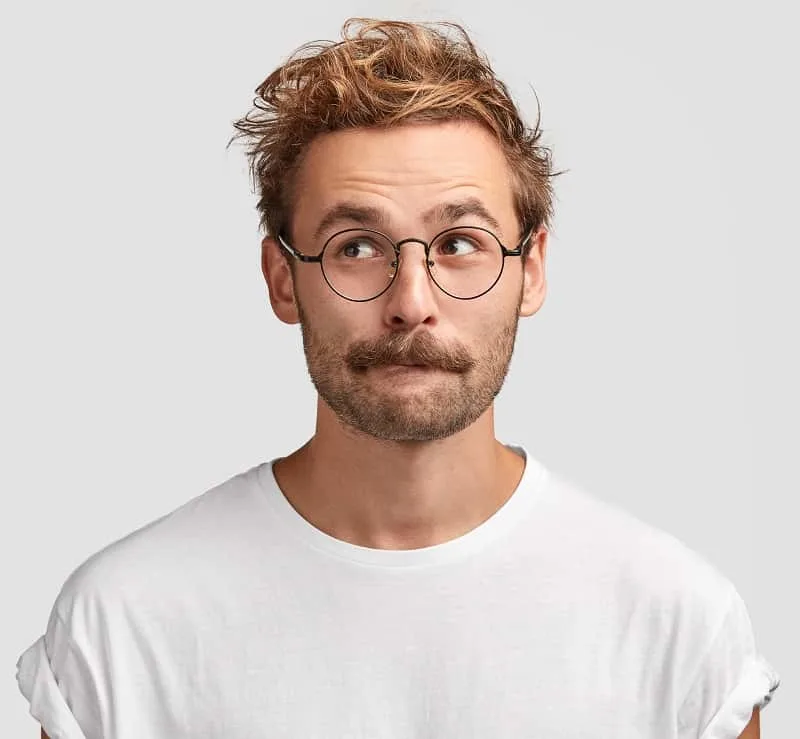 The beardstache is featured by an extra short boxed beard coupled with a painter's brush mustache that has a curve on its underside. Keep the mustache clearly defined from the beard by trimming it short on a regular basis. Round spectacles finish off this carefree look.
23. Pyramidal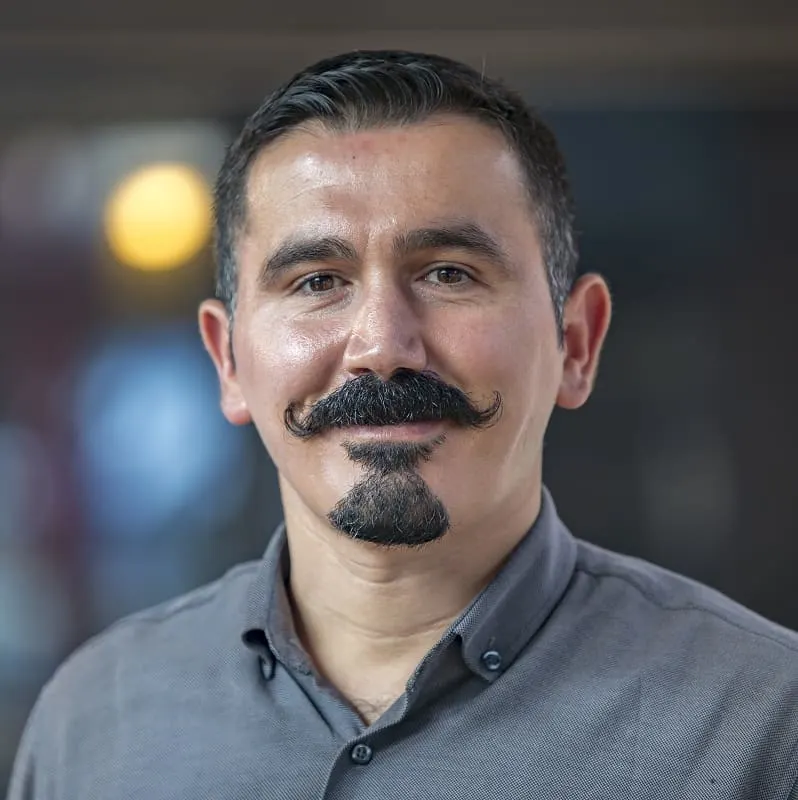 This mustache lies close to the paintbrush one but its angled ends make it resemble a pyramid. The long ends are curled up and paired with a neatly shaped out short goatee. The remaining face is shaved neatly with a cropped haircut for a tidy appeal.
24. Thin Pencil Mustache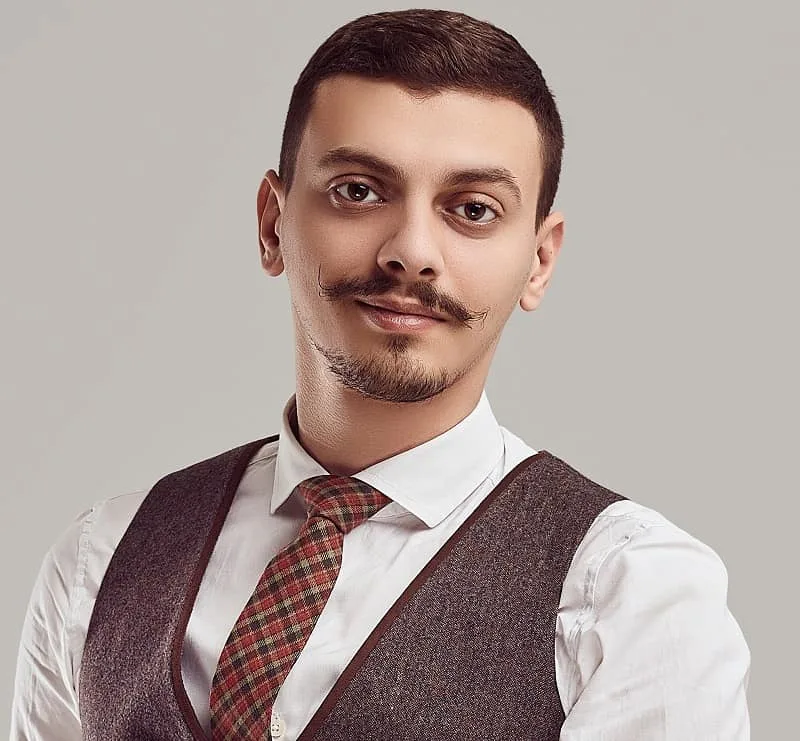 Boys with thin and patchy facial hair can opt for pencil mustaches with pointed ends along the edges. A short and sleek haircut with a light anchor beard tops off this edgy look. Shave the remaining face or opt for a light stubble depending on your choice.
25. Gunslinger Mustache + Long Goatee
Get noticed from a distance with this gunslinger mustache that oozes out style. Let it grow and pinch the ends for a pointy appeal. Opt for a long goatee to accentuate the taches. This look is also perfect for those facing the issue of a patchy beard.
Some More Long Mustache and Short Beard Style Ideas