Viking beard was first originated from a region known as Scandinavia. Basically, a Viking beard is a well-groomed long beard style that the ancient Vikings used to grow for a warrior and braver look.
The Untold History of Viking Beard
Viking beards got the popularity in 8th to the 11th century when the Vikings raided Europe and North America. They grow the long beards in order to bear or to protect their face from harsh coldness, as long facial hair keep the face warmer.
At that time, the Vikings keep their beard rough and dirty because of the lack of time in grooming the beard. Now in this era where everyone wants to get an eye-catching appearance, if you want to grow a Viking beard, you need to maintain it on regular basis, as rough looks do not get as much attention as the polished and classy looks get.
Here, we will explore the striking ancient and modern combination of Viking beard that the current generation will surely love to grow for a bolder look.
How to Grow a Viking Beard
Growing a Viking beard effectively includes the following steps;
Decide Beard Length
It is a first and important step when growing a beard. You can grow the Viking beard long, medium or extra-long. Decide the length carefully according to your body, age, and hairstyle as these three factors determine whether the beard will suit you or not.
Eat Healthy Foods
Growing a Viking beard requires a lot of patience. If your facial hair growth is slow, accelerate it by consuming a healthy diet. Include the vitamins, protein, iron, and zinc in your diet plan. Vikings used to consume a healthy meal that's why they had long and thick hair as well as the beard.
Trimming Beard
Once you achieve the desired beard length, trim the beard in order to maintain its length as well as its shape. Go to a professional to avoid any mistake while trimming. You can also learn how to shape your beard here.
Using Beard Shampoo
Wash your beard with a good quality shampoo after two to three days. Shampoo will keep your beard moisturized and soft. It also gives a fragrance to your beard as well. Styling the Viking beard becomes also easy.
Combing
Comb your beard with the help of wooden comb in order to remove the tangles. Another benefit of combing is that it guides the beard which way to grow. Beard combs are smaller in size than hair combs so, use the comb carefully to prevent any breakage of facial hair strands.
Apply Beard Oil
Apply good quality beard oil or a bam in order to keep the beard soft. Beard oil keeps the beard clean and glossy. Always see the label while applying the oil in order to confirm its quantity usage according to the length of your Viking beard.
Styling
You can style the beard according to your interests. You can keep the beard free or can make the braids. You can wear beads or other accessories to add more glory to the beard.
Modern Ways to Style Viking Beard
1. Bold Viking Beard
Isn't it looking a coolest Viking beard? Surely, It is. Side fringe with taper fade and hard part hairstyle makes the men's beard more fascinating. You can keep the beard in round shape or a bit curvy for a sharp look.
2. Long Viking Beard
It is easy to maintain this beard style. You do not have to spend time in trimming or styling the beard. Just Comb the hair after applying balm or oil and you are done! Gray hair makes the Viking beard more graceful. A simple buzz cut or mid parted longer hair gives the long beard a very interesting look.
3. Bushy Beard
Bushy beard gives the thin facial hair a thick as well as a textured look. It is a medium length Viking beard. It does not need any grooming or a specific shape. Let the beard grow freely.
4. Modish Version
Give your full beard a classy and elegant look by changing it into a Viking beard. Keep the mustache and chin beard thick and long while the facial hair on cheeks kept shorter. You can give the beard a square shape or can make it pointed. Buzz cut and medium sleek hair are the perfect combinations to wear with this beard style.
5. Single Braid Viking Beard
It is one of the well-groomed Viking beard styles. It is the most common, simple yet stylish beard. Give a rope like shape to the beard by making a single braid. If you have thick beard, it will look awesome. This beard will suit a shaved head very well.
6. Blond And Short Viking Beard
Add more grace to Viking beard by applying honey blond. It provides an alluring personality to men. It is a bit longer than full beard but smaller than the medium length beard. It goes perfectly with a short comb-over or spiky hairstyles. You can blond the whole beard or can blond the mustache and chin hair only.
7. Viking Beard in Pony Style
If you do not want to spend time in braiding your beard, you can make a pony Viking beard style for a distinctive look. You do not have to tie the beard with elastic bands, rather than that you can wear ancient Vikings beads for the ornamental purpose of the beard. It gives you an imaginative look of invaders as well as reveals men's strong physique.
8. Thin Braid
Do you have thin beard hair but want a Viking look? You can achieve this look through a single thin braid also. If you think the thin braid is not looking attractive, you can wear Vikings beads for a stylish look. You can trim your mustache or can grow it longer covering your lips as well. Classic earrings or ear studs and long ponytail hairstyle with an undercut give you fiercer look.
9. Twisted Style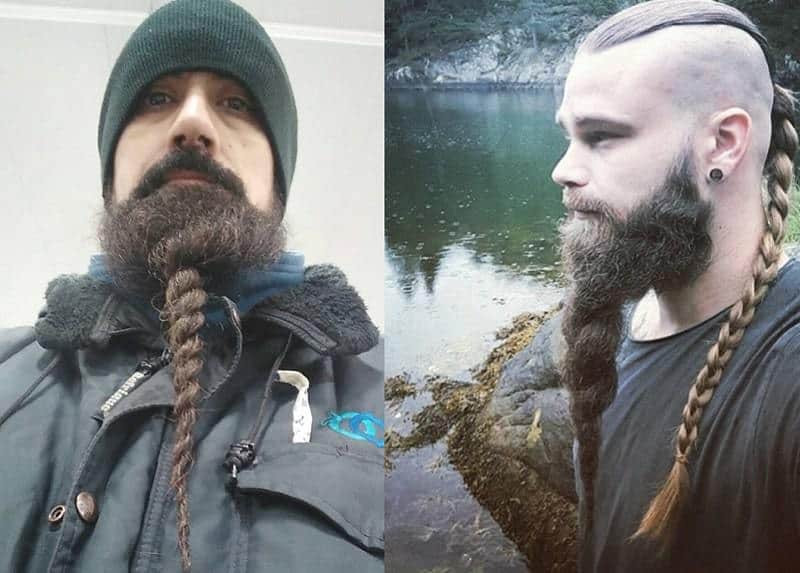 Are you one of those guys who find it difficult to make braids of their beard? The twisted Viking beard style is specifically for these guys. Divide the beard into two sections and start twisting the sections with each other. Long braided Mohawk for men is an impeccable combination to wear with the twisted long beard.
10. Chest Length Viking Beard
It is mostly square in shape. It looks good with short as well as long hairstyles. You can keep the beard black or can apply it reddish brown dye for a modish look. Trim the beard after fifteen days or one month according to your facial hair growth, to maintain its length.
11. Viking Beard with Colorful Baubles
It is an innovative idea to decorate your Viking beard for a modern and delightful look. These vibrant baubles look youthful and energetic. With this avatar, you will surely be going to stand out in the crowd.
12. Braided Viking Beard

A genuine beard look that Vikings used to wear many years ago. Longer hair and waist-length beard! Divide the beard into two sections and make braids of these two sections. Tie the beard's braids with the elastic bands. Keep the hair opened or make a ponytail.
13. Thick and Textured
It looks rough but gives you a rocking look. It needs a lot of maintenance. You may also find trouble while eating or drinking something as no one wants their facial hair to come into their mouth. If you can handle this wild look then, there is no harm in giving this Viking beard a trial.
Men's Hairstyles With Various Beard Styles
14. Polished Viking Beard
A beard that looks decent as well as cool at the same time. It fit on any outfit miraculously. Side swept or slick back hairstyle can complete the men's look with the polished Viking beard. It looks equally good with or without beard oil or a beard bam.
15. Bandholz Viking Beard
A well-groomed and round shape thick Viking beard is a smart choice to grow with a buzz cut, completely shaven or bald head. Apply a beard oil or balm for a glossy look.
16. Medium Rugged Length
Rugged beard with shoulder length or longer hair gives the men an interestingly mesmerizing Viking look for the modern age. Men with the discussed avatar and resilient attitude lead you toward the imagination that how Vikings would look like in ancient time.
17. Viking Beard with Side Fringe
Give an ancient rough Viking beard a stylish and presentable look by grooming beard on regularly and wearing an impressive hairstyle for its modern adaptive appearance. Side swept fringe or front bangs make the men's personality more intensive.
18. Waist Length Long Beard
To grow this beard requires a lot of patience as well as maintenance. The waist-length beard can get tangled very easily but to release these tangles might sometime become very irritating. Buzz cut or a completely shaved head is a clever choice to carry with this Viking beard as it gives you a balanced look.
19. Viking Beard with English Mustache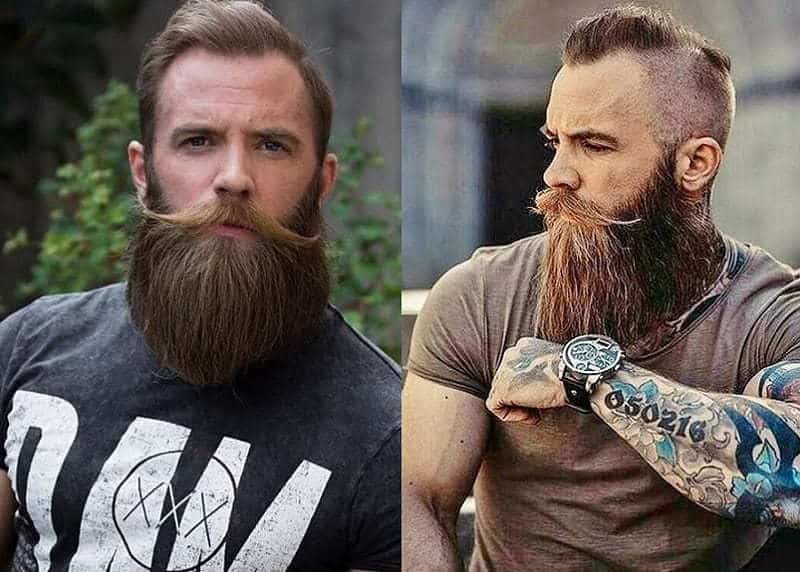 It is slightly of a ducktail shape but a relatively long and thick beard. You can blond the Viking beard for a trendy look. English mustache because of its length and texture suits well with the beard. Comb-over or an undercut hairstyle with sleeve tattoo provides an ultra-masculine look.
20. Salt n Pepper Version
If you want to try something different that will make you a prominent personality among the group of sophisticated people, why wouldn't you try this ravishing silver blonde and black color combination in your hairstyle as well as in your beard? This tremendous Viking beard will surely give you a shout out.
21. V-Shaped Viking Beard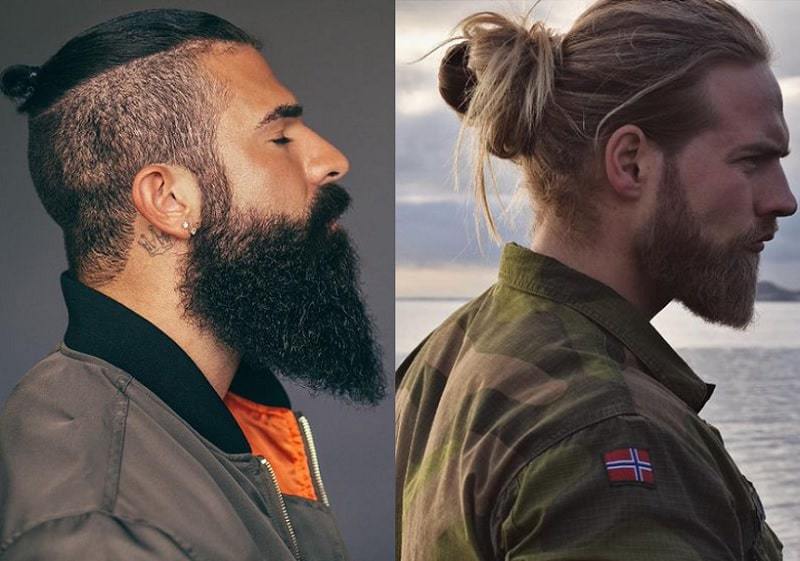 It is a classiest, simple, stylish, and easy to maintain beard style. Man-bun or a topknot with an undercut looks tremendous with v-shaped Viking beard. Our suggestion is to always go to a professional for perfect V-shaped beard execution.
22. Short Viking Beard
Not all Viking beards need to be extremely long, you can obtain that rebellious Nordsemen impression by keeping it in medium length and wearing a Goatee. For the hair, part it in the middle and let it fall messily on the shoulders.
23. Straight Beard with Man Bun
Your beard needs combing and nourishing just like your hair so if you are also using heated brushes or flat irons, make sure you previously spray it with a heat-protecting product. Give your beard a nice trim by defining the edges and keeping it shorter on the sides and cheeks, while the front is long and perfectly straight.
24. Viking Beard with Beads
To get this amazing Viking beard with beads, you will probably have to wait a few months, depending on how fast your facial hair grows. If the neck hair grows faster than the beard, you will need to trim it periodically, maintaining an even length.
25. Salt and Pepper Beard
Use the trimming machine to define the edges of your beard and give it the desired shape. For the mustache, use a balm because it will keep it from becoming wispy. As for the beard, using oil is more recommended because it will not only give you that softness and shine but keep your skin nourished and prevent flaking.
These all aforementioned Viking beard styles are not just stylish but, innovative and classy also. You can try any of these if you want a bold and a warrior look. We recommend you to always go to professionals for a perfect styling of the beard.
Choose the most suitable haircut that will look awesome with a Viking beard. Hope we have succeeded to clear your all queries related to the Viking beard, its styling, most suitable hairstyles, and most attractive types of Viking beard. Let us know which one you are going to try!