Blue hairstyles are hot right now, with more and more men trading in their boring colors for something a little more fun and exciting.
Any man who wants a blue hair look needs to carefully consider the cut and style that will look best on him.
Coolest Blue Hair Color Ideas for Guys
Check out our funkiest blue hair looks that men who want an edgy look for this year can try wiout any doubt.
This is an icy and shocking look thanks to the use of both bold blue and white. The white tips perfectly accentuate the bold roots of this style, making it a look that is going to stand out in a crowd.
It's not for the faint of heart and requires regular upkeep on for the blue roots.
2. Dark Blue with Black Beard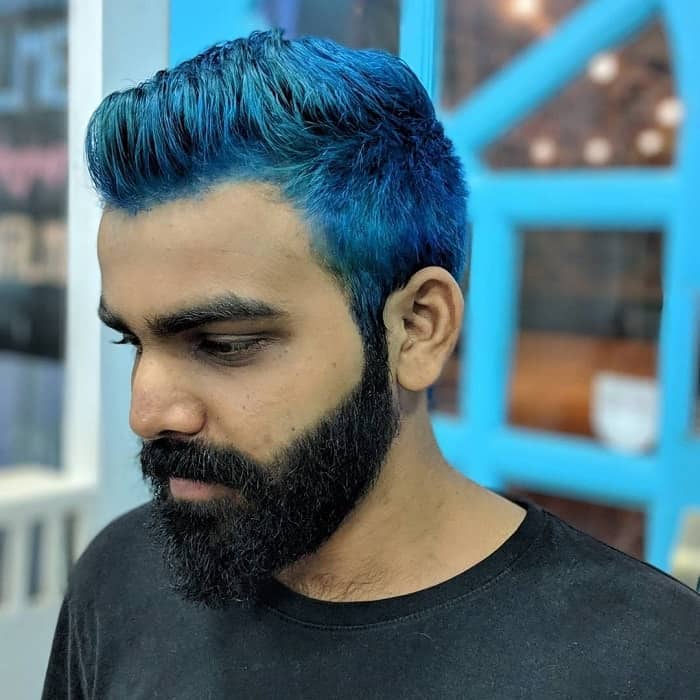 This dark blue hair looks great on men paired with the black beard. Since both of the colors are so bold and focused, this look is sure to attract attention.
It's important to pay attention to the sideburns so that the blue and the black mix seamlessly and make the look appear cohesive.
Guys who want something that is easy to dye and style will really appreciate this blue hair look.
Since just the top of the hair is dyed blue and the sides are cut short, this look is easy to style in the morning and can easily be shaved off, if desired. It's cute and effortless.
4. Midnight Blue and Short Cut
What really makes this look stand out is the deep midnight blue hair color. Unlike brighter blues that will attract a lot of attention, this darker color almost looks black in some light.
This means that it is going to be less of a distraction and will still allow guys with blue hair to show off their favorite color.
5. Super Curly
Curls add a ton of volume, depth, and interest to men's hairstyle, making it a welcoming change from straight blue hair.
The curls are dyed blue, while the shorter sides and black are left a natural dark black. This creates a fun contrast that most curly-haired men will appreciate, as it makes them look unique.
There's no reason why men who have longer hair can't dye their hair blue, although they will need to spend more time keeping up their style.
This man bun is a lot of fun and a great way to keep hair out of the face. A blue bun paired with a natural beard is a striking look on any bold man.
Some men want something that will be easy to take care of, which is why this blue haircut is such a great option.
The dark tapered undercut allows the longer blue hair on top to have a lot of movement, but still adds depth to the style. Keeping the undercut and beard the same color grounds the look.
8. Spiky Blue Mess
Not all blue hair has to be tamed, as this spiky fohawk look clearly shows. It's a bit messy, which is a lot of fun for men who want hair color that will help them stand out in a crowd.
By using plenty of product to add movement and volume to the hair, men can achieve a unique look.
A fade makes the hair on top of the head really stand out. This fade is paired with a full and spiked top, which makes the look a lot of fun.
The bright blue color is bold and in your face, which means that it is sure to attract a lot of attention.
10. Aqua Blue Top with Bald Fade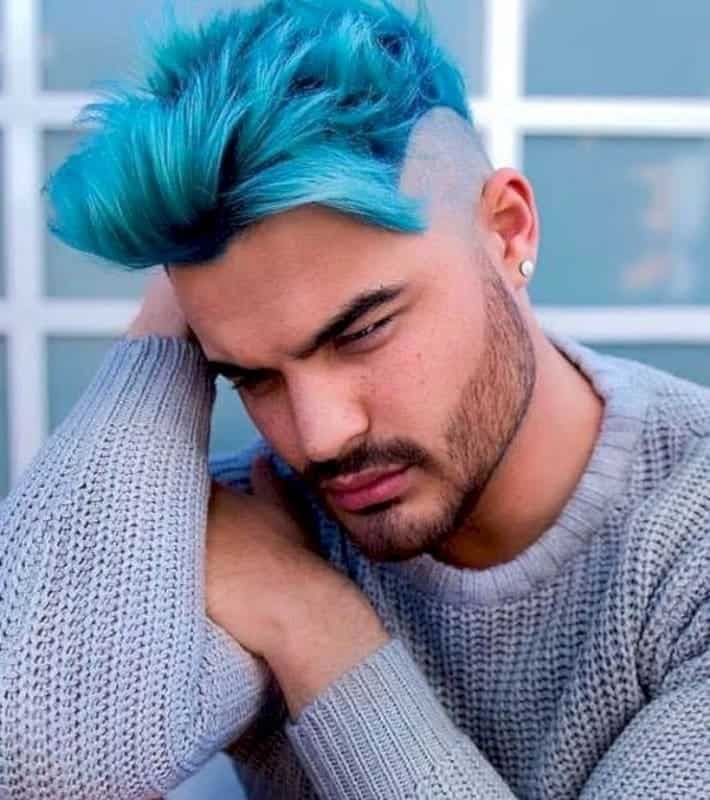 Bright aqua blue is perfect hair color for the confident man, but can be overwhelming. Pairing this bold color with a high bald fade helps to even it out.
The fade goes well above the ear, and the longer hair on top has plenty of movement and volume thanks to the use of product.
11. Long Blue Locks with Dark Roots
One of the easiest blue hairstyles for men is to simply grow hair out longer and then dye it blue.
This look doesn't take a lot of effort and can easily be switched up by tucking the hair behind the ears or pulling it back from the face. Regularly touching up the roots is key.
A touch of blue at the front of this icy white pompadour is a lot of fun. The blue is just on the front of the style, which means that it can only be seen from certain angles. A great fade on the sides and back of the head helps to finish the look.
These fun blue hair colors and styles are great options for any man looking to improve the way he looks and how he feels about himself.