A suitable beard style with a matching short hairstyle can entirely change how a man looks in T-shirts, jeans, or a suit.
There was a time when men had little interest in fashion. However, due to social media influence, things have entirely changed, and some men have become just as sensitive about their looks as females of this era.
Men's Short Hairstyles With A Beard
Each beard style is different and unique in its way. Therefore, you have to select a suitable beard style depending on your face shape. Here, we have compiled 50 manly short hair and beard style combinations to look awesome.
1. Electric Green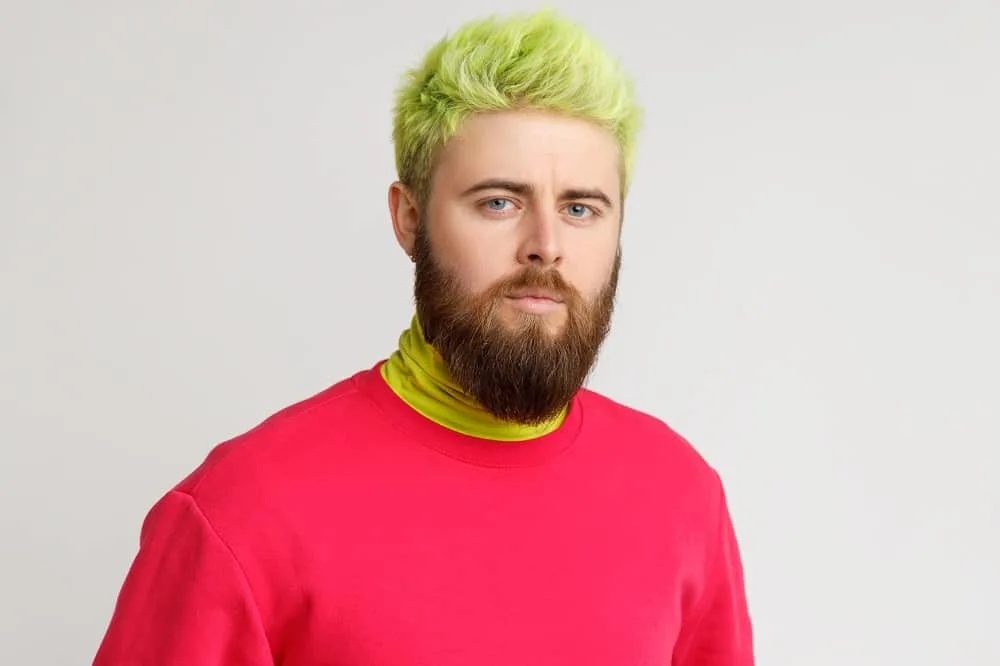 If you're matching a short haircut with a short beard, the least you can do to stand out is color your hair a funky shade to match your playful personality! A vibrant electric green will convey an eclectic personality.
2. Wavy Hair with Trim Beard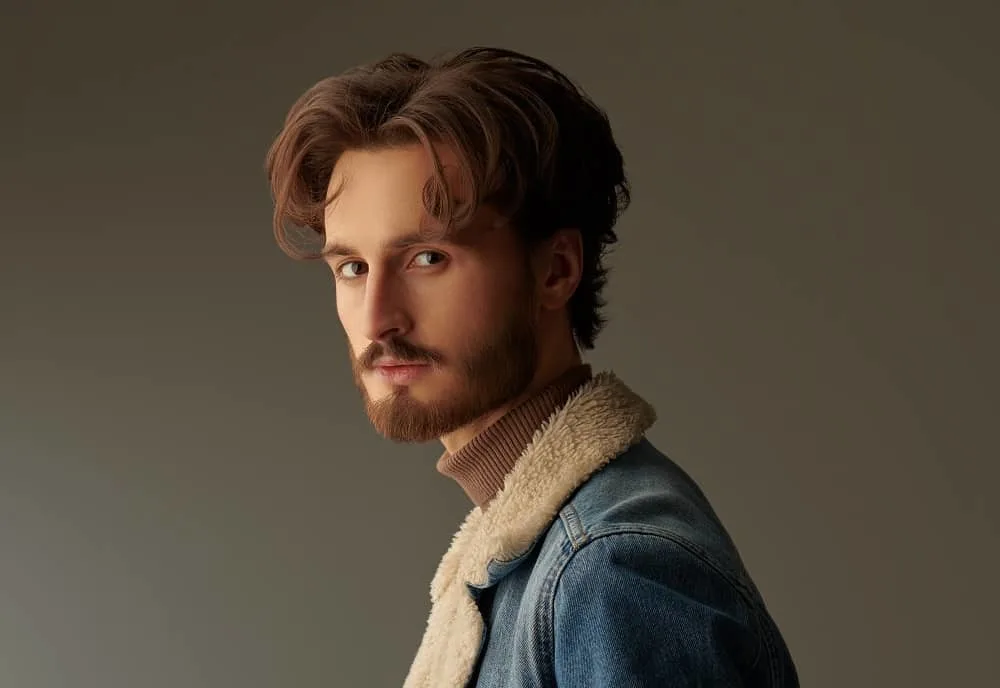 If you're a younger man with medium-length hair with a wavy texture, consider keeping your beard short and trim. This hipster style seen above combines a piecey textured top with a neat beard. Perfect for the office!
3. Handlebar Mustache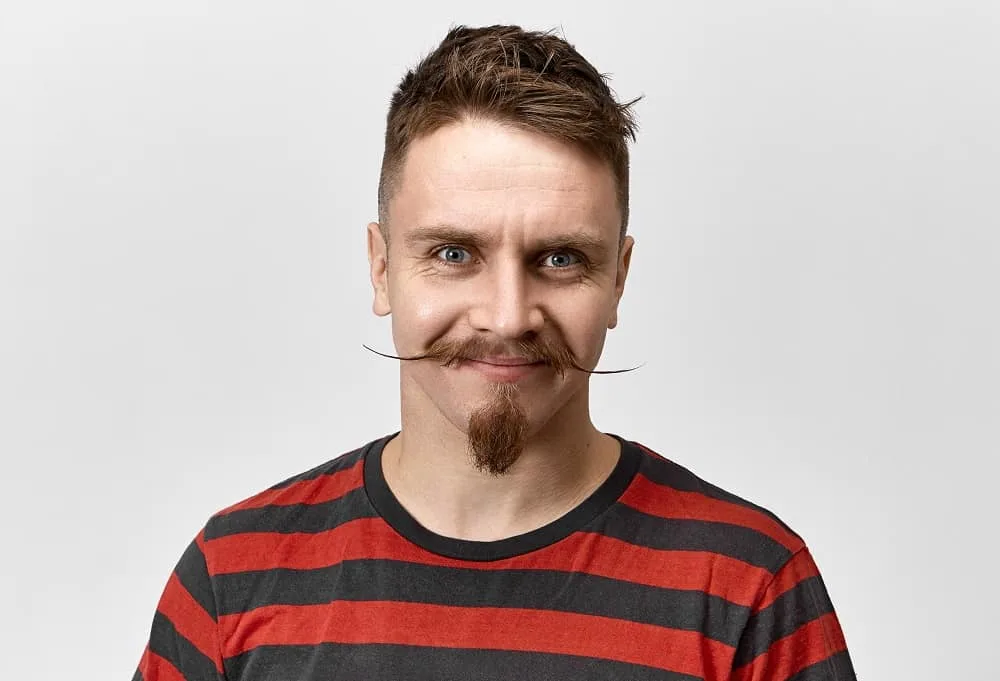 Rocking short hair with a high fade? That edgy, trendy top needs an equally edgy short beard! To put your own spin on the beard area, consider going for a handlebar mustache. This thin one is minimal but still noticeable!
4. Grey Fade and Beard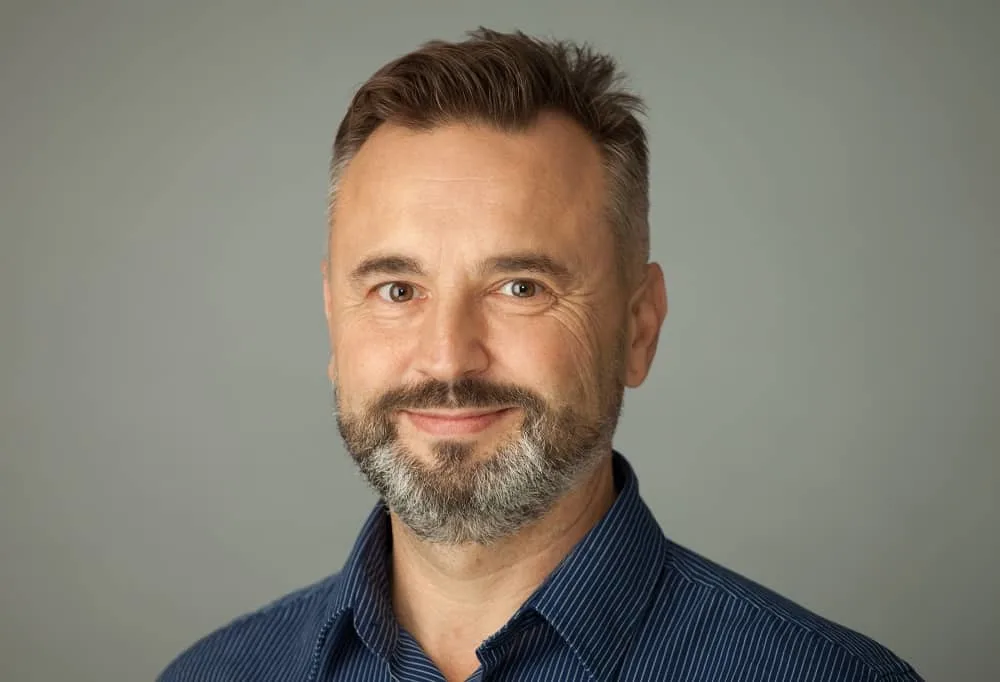 For older gentlemen who still have a nice thick head of hair, you can embrace those grey or white hairs by just showing them off on a short haircut with a fade. The top hair is colored here, but the grey sides nicely match a scruffy grey beard.
5. Wavy Hair with Short Beard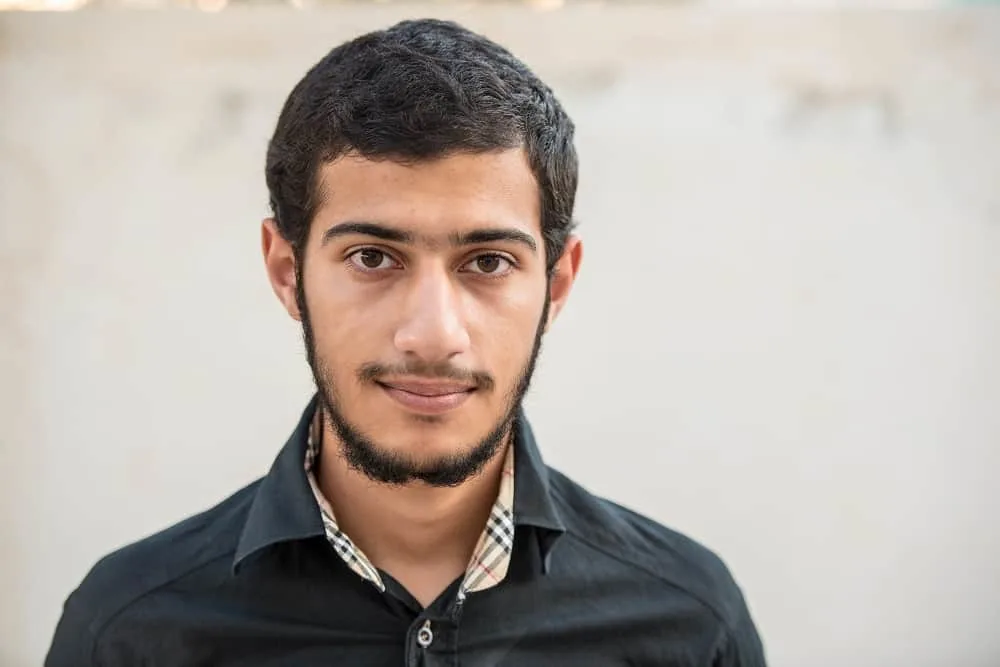 Short stubble and a short mustache pair nicely with a wavy short haircut. Brush the hair to one side for a neat, dressed up look. Keep the beard all one length and clipped to just line the jawline.
6. Thick Beard for Older Men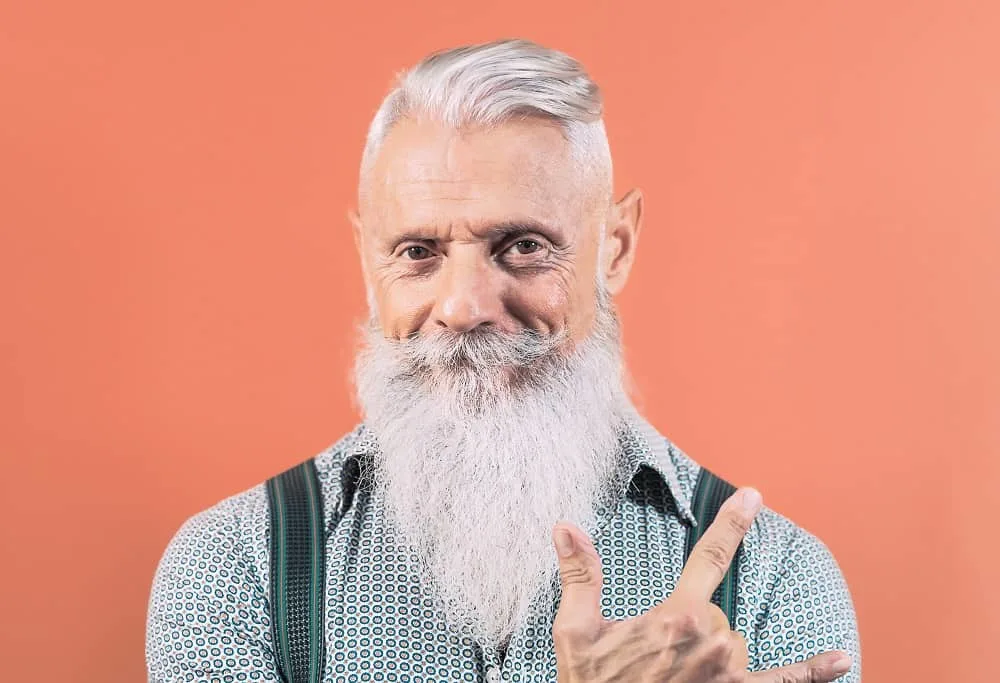 Compared to some others, this thick white beard is actually pretty short. It's a great option for older men embracing the white hairstyle. This look is very suave with its combed back top, high faded sides, and short beard with handlebar mustache.
7. Thick Curly Hair and Goatee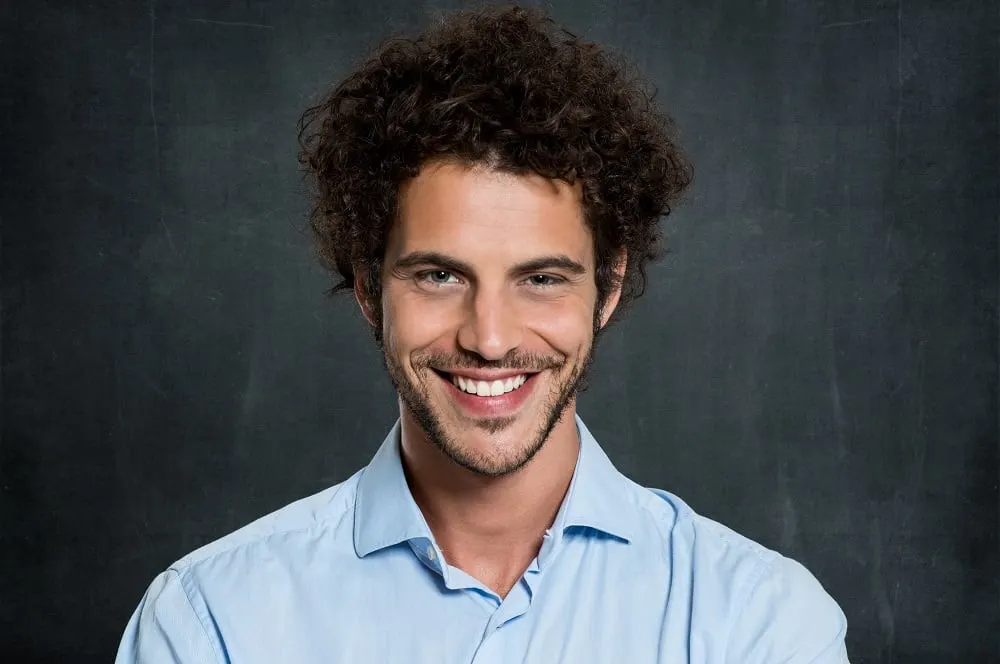 Men in their late 20s and early 30s ideally want a short beard and short haircut that reflects their age and professionalism. This style is a handsome option for men with thick curly hair. The goatee is short and manageable.
8. Blonde Buzz with Full Beard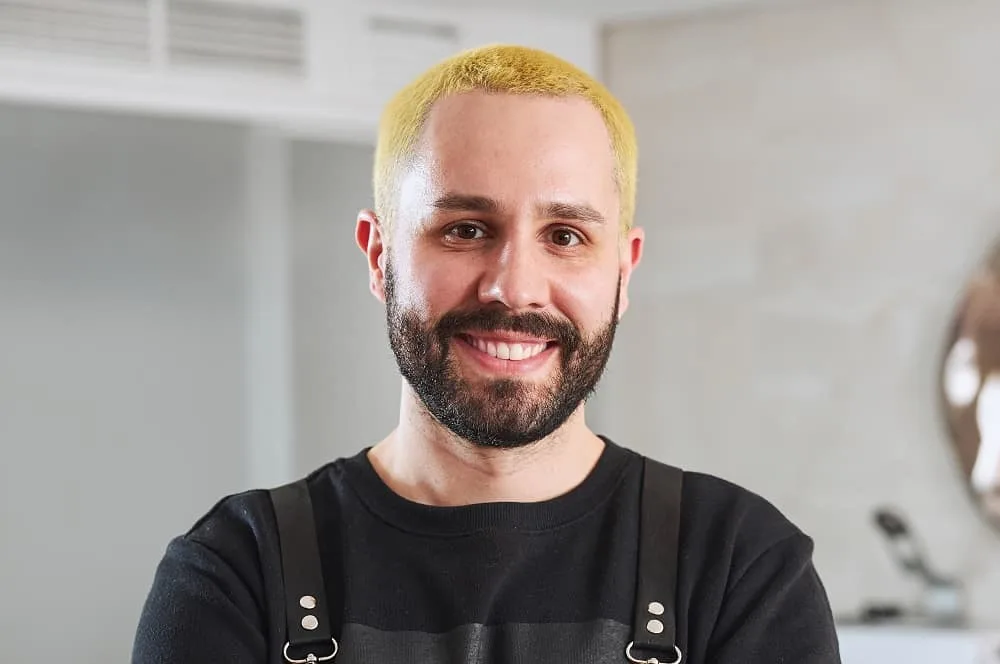 Love a good contrasting hairstyle? Consider going with a low-maintenance short buzz cut and going with a yellow-blonde hair color! The light hair color will contrast in an edgy way with a dark-colored full beard.
9. Anchor Beard and Coiff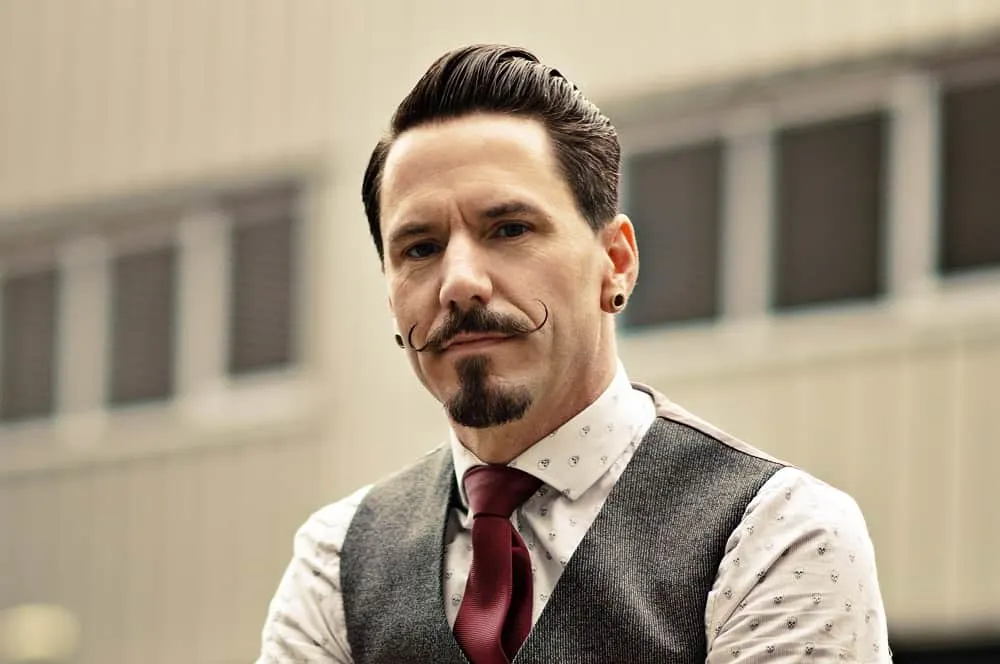 For men who prefer a dapper hairstyle, a coiff is a must! The swooped, voluminous hairstyle is smooth perfection and very classy with a medium to high fade for definition. Give your look a slightly vintage feel with an anchor beard and thin handlebar mustache.
10. Textured Hair and Short Beard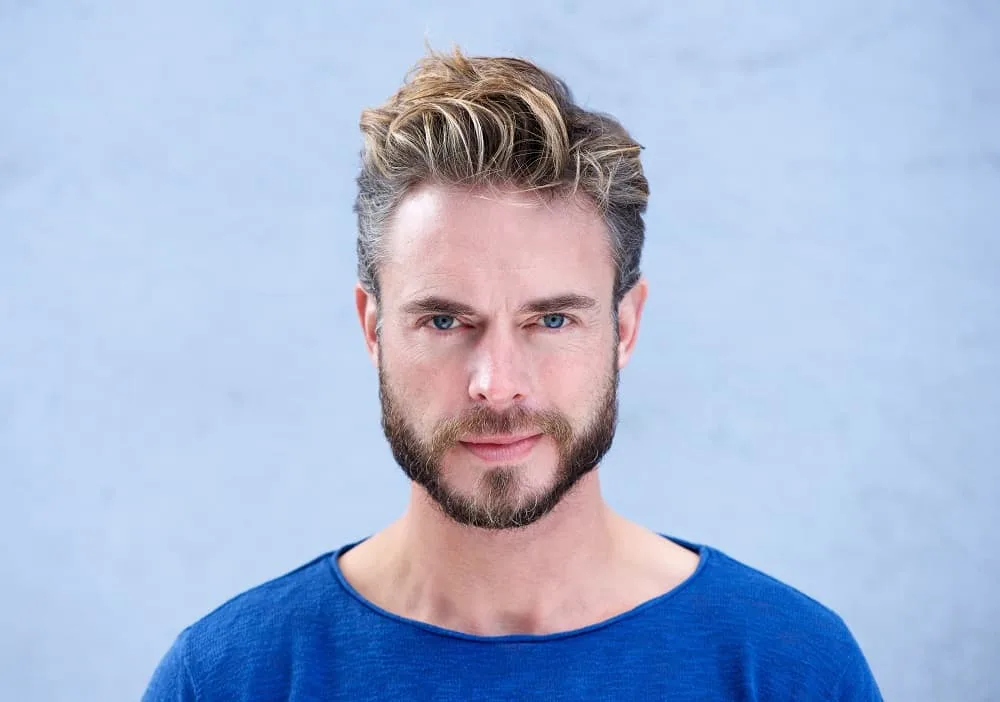 Short hair with a surfer vibe to it is always in! Get it easily with blonde hair color and a few lighter or darker blonde highlights. A medium fade isn't as much maintenance and will still help to define your face shape. This textured hairstyle is spiked up and a perfect match with a light blonde short beard.
11. Buzz Cut with a Beard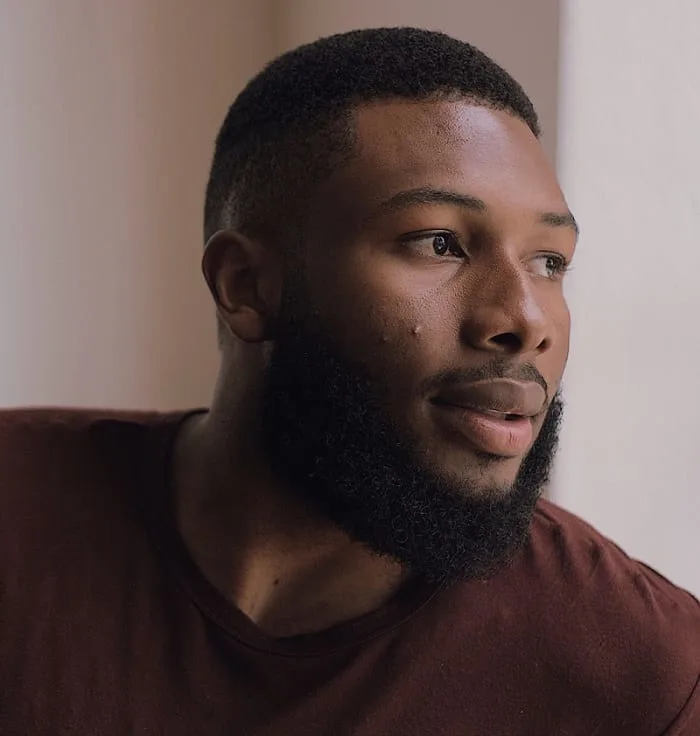 Buzz cuts are ideal for African American short curly hair and create a stunning look if completed by a beard. Define the edges with a razor cut to highlight the squared hairline.
12. Short Side Parted Haircut with Beard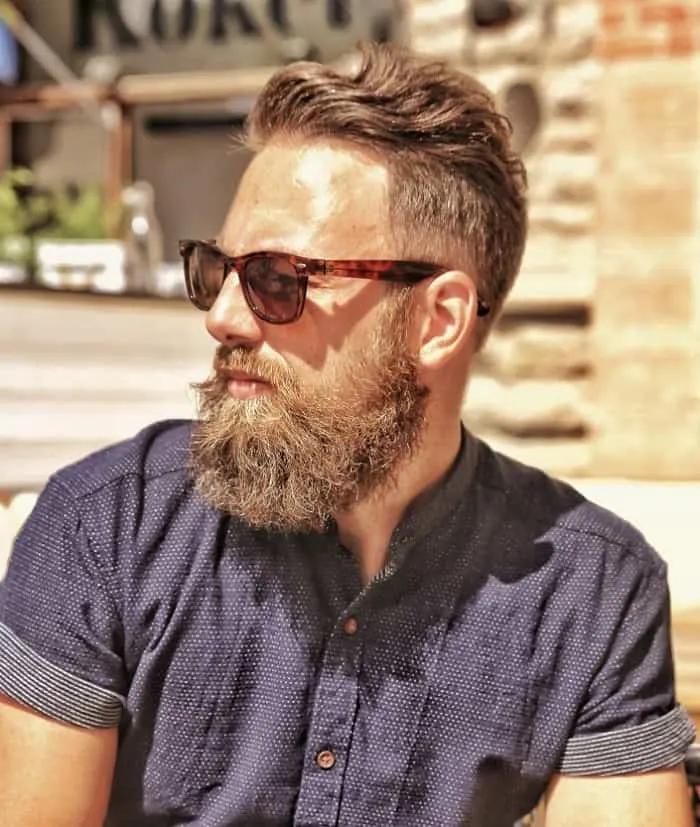 Style your short thick hair by creating faded tapered sides and a sided comb-over for the wavy top. The hairstyle looks so perfect with a rich beard and a short mustache. Complete the look with a pair of sunglasses.
13. Short Haircut with Short Boxed Beard
A buzz cut is a very short haircut that you can easily pair with a beard. It is quite a low-maintenance look that will suit any man who doesn't want to spend an eternity in front of a mirror. Keep in mind that the haircut is an excellent choice for square and long faces.
14. Short Mohawk with a Beard
Black men look gorgeous with short hair and beards. Opt for a very short mohawk and keep a mustache to frame your mouth. Your big smile will certainly conquer every girls heart.
15. Indian Hairstyle with Beard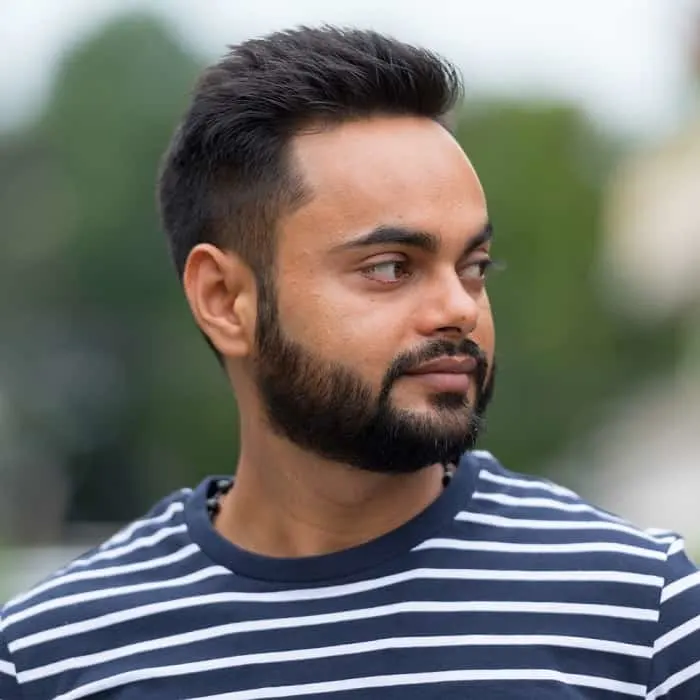 For Indian men, short hair and beards are great combinations that can look so stylish and chic. Go for tapered sides and a long top that can be arranged with some hair spray. Groom your beard frequently to maintain that pitch-perfect shape.
16. Faux Hawk with Short Sides and Beard
A short hair with a beard is a perfect mix and match for round faces. The lifted top elongates your face, making you appear slimmer and the beard draws all the attention on the lower side of your face.
17. Fringe Up Hairstyle with Medium Beard
A short hair is a great match for a medium trimmed beard. It will create exceptional framing for your face, and you will look so cool and sexy. Style the top upwards and run your hand through it to get that messy appearance.
18. Side Parted Hairstyle with Mustache and Beard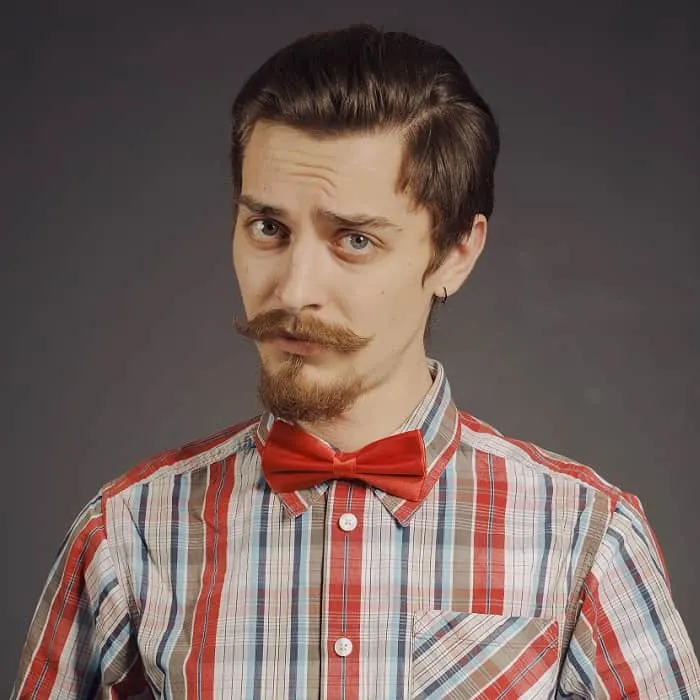 This hairstyle is ideal for all those guys who want to look young but with a retro touch. A Van Dyk beard and a mustache with lifted tips are just what you need to get that vintage vibe.
19. Combed Over Mohawk with Ducktail Beard
A hair that matches the beard shape is a real piece of art. For this look, you need to shave the sides of your head and wear your mohawk on your back. If you're feeling rebellious, you can anytime lift it because it will marvelously suit your ducktail beard.
20. Messy Hairstyle with Long Beard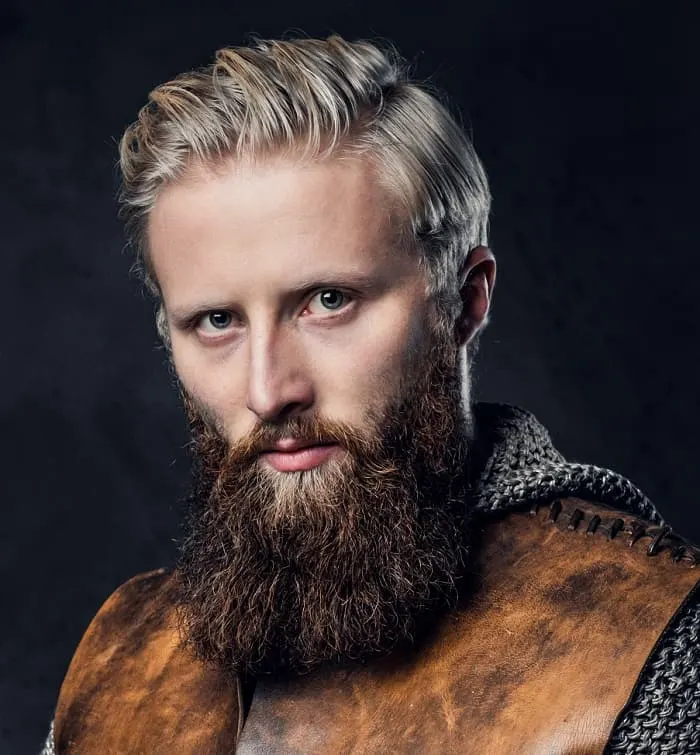 Pull off a dramatic look by going for a blonde hairstyle for your hair and a rich long beard. Before you decide to grow it, remember that it needs a lot of commitment. You will have to moisturize your skin every day and comb and style it with wax.
21. Buzz Cut X Natural Beard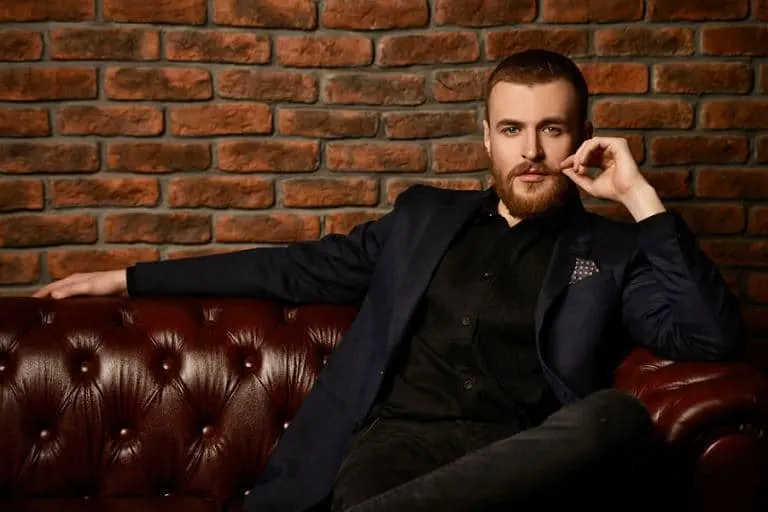 The big natural beard can only be accentuated in one way; the buzz cut. Choosing a buzz cut implies that you will spend just a little time on your hair and more on your beard.
There are numerous advantages accrued to this beard cut. You save money used for the regular shaving of the grown-out beards and also the one you spend on hair products. It gives you that look of a badass boss that nobody wants to mess up with.
Though keeping this style of beard fresh is demanding, for some men is a joy to have constant maintenance of their beard rather than long hair on their head. This is because their beard is the most dominant feature and therefore all the focus is on it.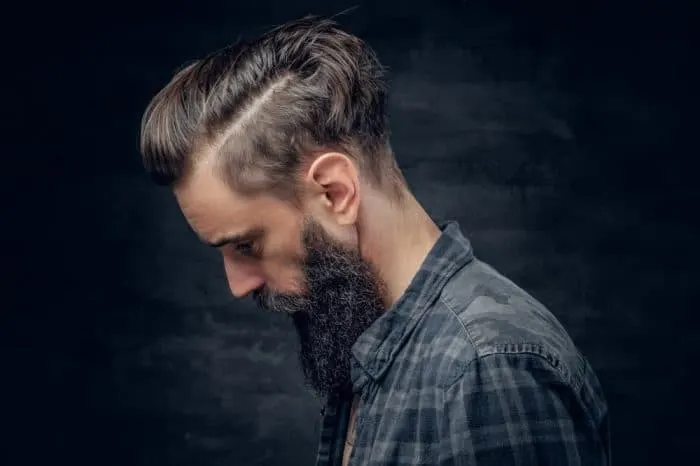 This look has been branded "hipster look" by some people. However, does that really have any meaning? This is a perfect option for those men aspiring to have short hair with the long beard.
Styling a razor fade side part with a box beard gives you an excellent counterweighted facial balance. Rocking a big beard gives you an opportunity to style your hair higher embracing a pompadour haircut without necessarily looking like a cartoonist.
The box beard complements the added height. Besides, the faded part along the head gives the face an appealing jaw structure regardless of the grown-out beard.
23. Short Sides and Short Back Beard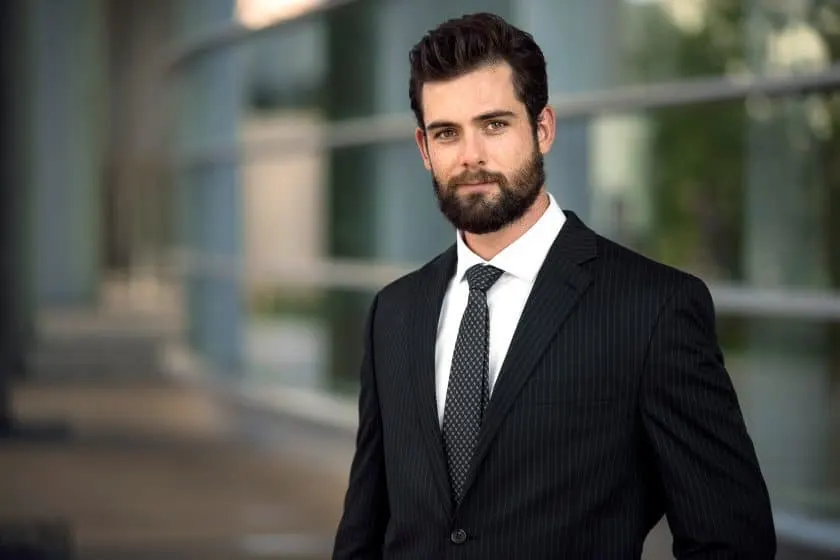 Maintaining the length of both your hair and beard needs a lot of energy and dedication than you think.
However, the combination of this duo, gives you a professional look, making it an ideal style for office workers. Showcasing your ability to style your facial hair well is an indication that you possess proper organizational skills and you have a sense of responsibility compared to someone with a clean cut.
This is because keeping short beard and hair neat requires a lot of maintenance and effort. People have an inherent nature to trust men who can take proper care of their general appearance.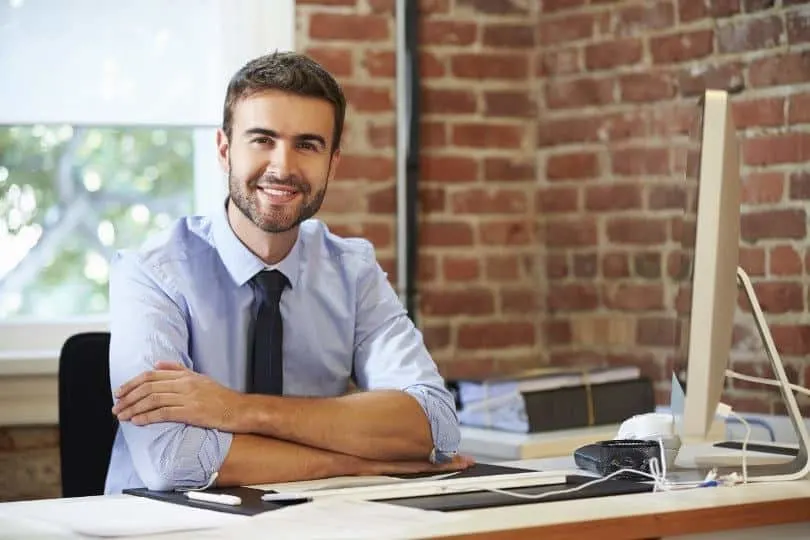 This is one of the effortless beard styles for men with short hair. It is nicely augmented with a gorgeous side part hairdo and gives you a more masculine look when compared to a clean-shaven beard. To rock this look, you must make sure that your hair is on point.
By supplementing neat side part hairstyle with a stubble, you are revealing that the development of stubble is a sentient decision.
However, if you let your hair messy with stubble, you give an impression of someone who is lazy rather than sharp. If groomed well, this is an ideal style for office men, and it is not such a serious look, so you can pull it too for the weekend.
25. Mustache/Stubble Natural Short at The Back and Sides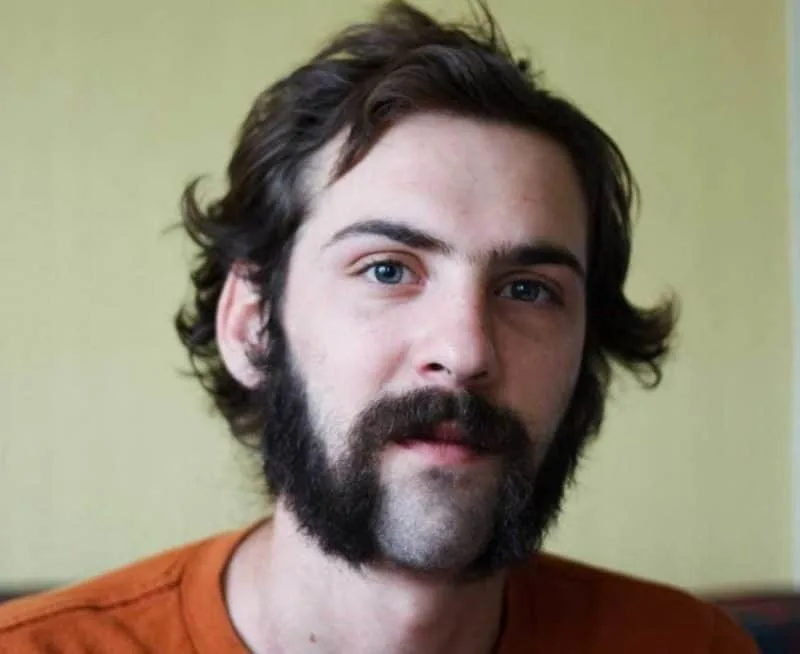 When mustache disappeared two decades ago from the beard's fashion, many people thought it would never come back. Well, there is no doubt that the mustache has made a big come back, astonishing everyone. With Movember trending now, there is a possibility that most many will be rocking their Mo into 2021.
Many men with short hairstyles with beard are afraid of growing a mustache. By opting for the stubble focus, will not be aimed directly at your mo. Stubble disorients any differentiation between the clean skin and mustache.
Going for a fade of the equal length as the stubble gives you an excellent dark frame for the face. It provides a way for the change from the hairline to the front to be extra fluid minimizing your mustache.
26. Viking Beard and Pompadour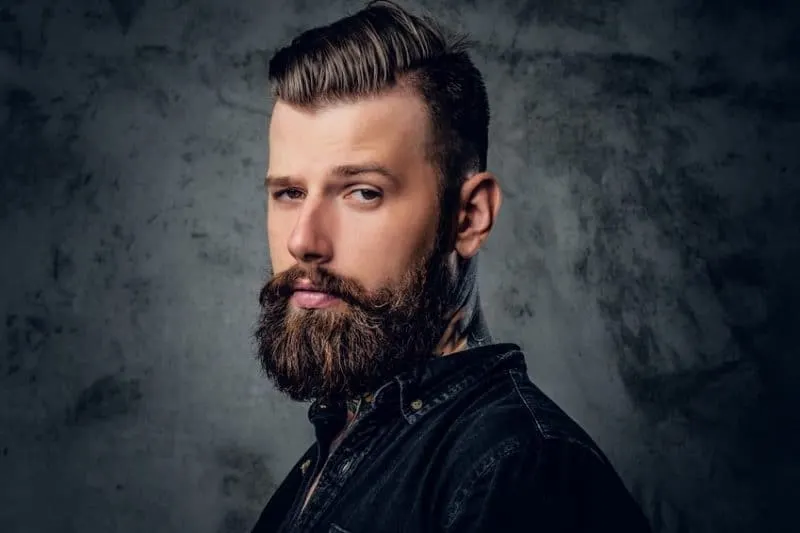 The Viking style has tremendously influenced the men's grooming. Why the haircut is subjugated by man buns, for the men wanting to have Viking style with short hair, they can achieve it by having their hair slicked back.
Having your hair at the sides of your head shaven and leaving elongated at the middle accentuates the dimension and allows substantial growth of the beard, producing a clear line from the top head all the way to the end of the beard.
You can make the shape of the beard angular by holding it with a beard balm. It can take you long to have a long hair for a man bun, so this is an ideal combo for you to rock Viking look.
Great on style, less on effort, the goatee has continued to be the best choice for the intellectuals, rock stars and all men with a rebellious streak.
Generally, it encompasses all the styles that feature hair slightly above the lip and the other on the chin, sometimes taken to serve as a frame for the mouth. To be brief, it is an artistic, chic and villainous twin of the beard. It is suitable for short hairstyles with beard trimmed evenly.
28. Full Beard with Handle Bar Moustache
Beards with handlebar mustaches are not popular styles as they make men look more casual and imperial, and few people prefer this appearance. However, when you pull it off, you will be sure to steal the show.
It's an ideal beard style for men with short hairstyles. It is suitable for old folks, and the younger generation may find it uncomfortable to wear.
A nicer dialed down, and a collectively less lumberjack design of a full beard, this short hair with a beard which is also short is much understated, more versatile and suitable for office guys-ideal for you if you want to impress your boss who is phobic of short hair with a long beard.
A short beard looks great alongside a suit during an eight-to-five and also during the weekend at the pub. A well-chopped beard looks great on most shapes of faces, although you may need to alter the angles to show off your best features and hide the worst.
Not extra short, no too long with thick area coverage, the classic beard is ideal for the men who are dedicated to facial hair. Note that it is not suitable for every man out there. Our advice is that you get a youthful hairstyle to match this beard style which will make it possible for you to give this style a modern meaning.
Otherwise, you can opt for a side part with a stout hold pomade to give it the right vintage approach.
31. The Beardstache
Featuring somewhere between the full beard and the stubble, the beardstache is a fusion where the hair mustache is retained fuller and elongated the rest of the hair below the lower lip is shaven. You can also consider it as a version of muttonchop beard.
Just like driving is a rite of passage, so do growing beards. Nevertheless, it is not as simple as it seems. It requires a lot of maintenance and care. Dedicate your time looking after it to get the best look you need.
33. Old Men Short Hairstyle with Full Beard & Handlebar Mustache
Suitable for a narrow chin. This beard style for old men is one of the mainstream facial hair and trendy grey beard haircut today. You need to be careful with the outfit you wear with it.
34. Patchy Beard Styles
The trick to rocking this beard style with short hair is taking a very short shave on the beard or letting it grow to a short length to have a more stylish look.
A very special short hairstyle with a stubble beard that can snatch any girl's dream! This is ideal for the men who don't have much fuller facial hair but want to be in the beard bandwagon club.
36. Bushy Beard and Short Faded Hair
Bushy beard is suitable for the men who want to add more texture and enhance the shape of their face. Also, if you're going to make your jawline too dominant, this is right beard style for you.
It is one of the typical beard styles for men's short hair of all time. Requires low maintenance and you can wear it the length you want. Its rugged appearance makes it preferred by most men.
This was a super common beard style back in the 1980's. Since then, it is still popular. It is somewhat cleaner than stubble, but again, have that rugged badass look.
39. Long Hipster Beard & Side Part Hair
This is undoubtedly the hottest beard style in 2023. It combines the popular undercut and short haircuts to create the balance of the two textures.
40. Van Dyke Beard & Thin Curly Hair
It was named after Anthony van Dyck, a renown Flemish painter. The cheeks are shaven entirely leaving only mustache and goatee.it is one of the men's short beard style for short hair we can't get enough of.
Short Hairstyles to Try With Your Beard
Nowadays, the beards are synonymous with style and are a sign of coolness. Therefore, every male wants to experiment with one or two facial hairstyles. Luckily, there are countless styles to choose from. We'll see how you can style your short hair with a cool beard.
41. Medium Pompadour With Full Beard
This short full beard for men with short hair is suitable for working-class guys who like full beards but still need to look professional at the workplace.
42. Short Faded Spiky Hairstyle with The Full Stubble Beard
The fades have become part of beard styling nowadays. This fade style matches well with the short fade hair, as the kinks are kept short.
43. The Italian Look
Choose this beard style if you are confident enough to pull it off.
44. Spike Hairstyle with Bushy Beard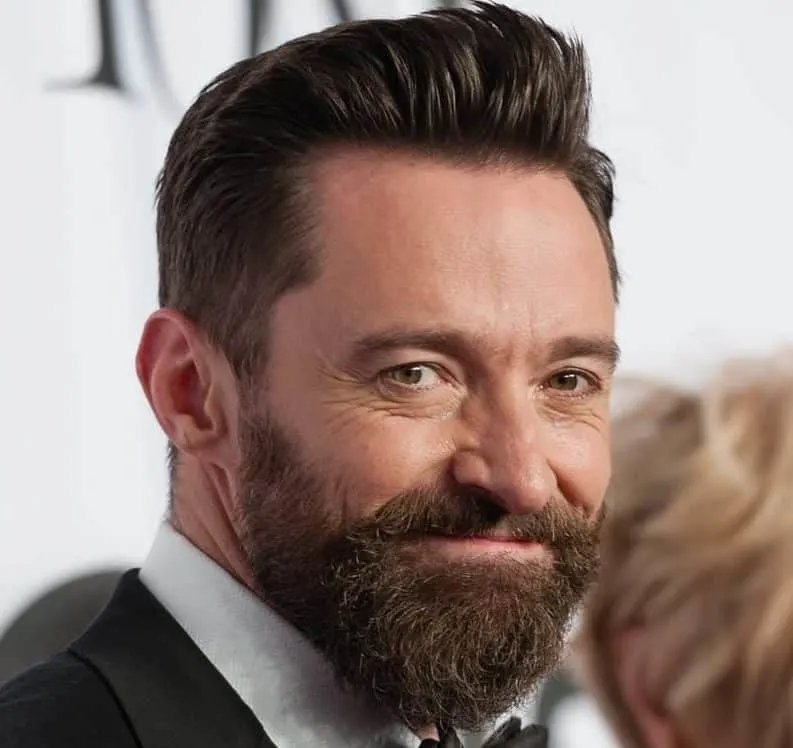 Some a little bit of buzzes on this short hair with long beard style changes the full beard into a gorgeous and bold look as shown below. The subtle mustache makes the style cuter.
45. Wavy Side-Parted Hair With Short Full Beard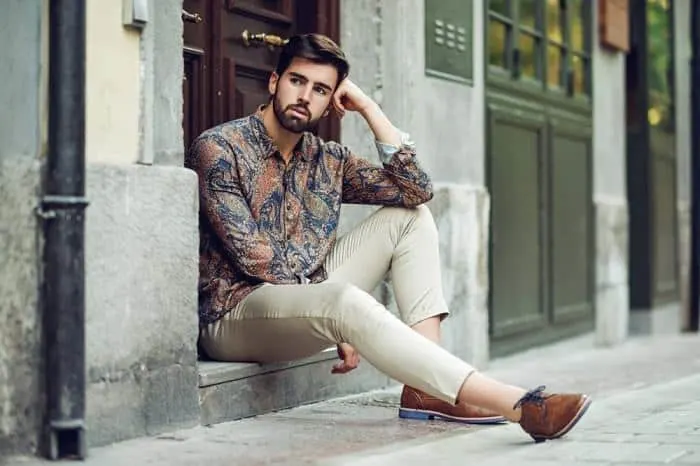 Another amazing beard style for short-haired men. This is an edgy, clean and more youthful beard haircut that needs careful trimming to perfect it.
46. The Blonde Hair & Bearded Look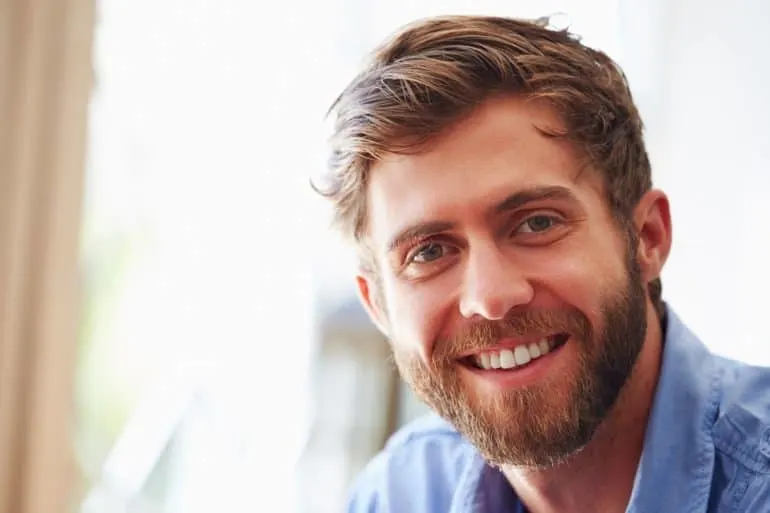 This is one of the casual beard styles which you can go for a week without bothering them. It is ideal for men either with short or medium hair.
47. Bold and Thick
This is a pretty popular short hair with a bearded look nowadays. The robust and bold look showcases a very confident appearance.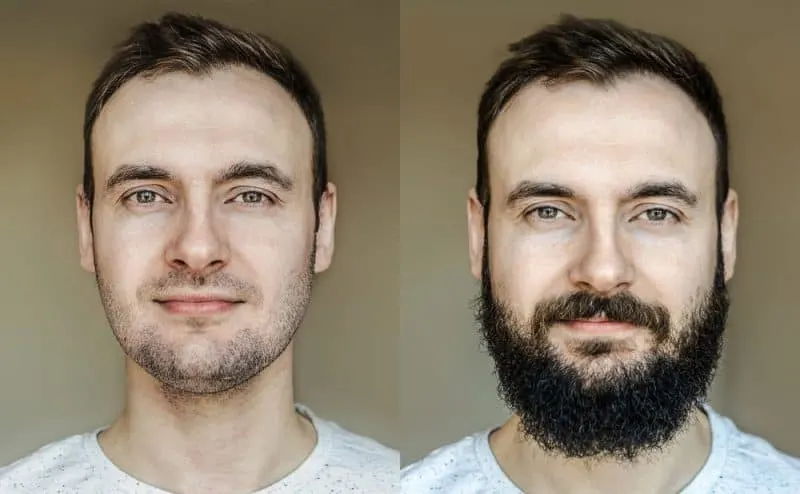 It resembles short and tapered, but this has an extra fleshed out appearance at the front. Works best with short hair. Allow the sideburns to grow out untouched into a healthy beard without the fade.
49. The Uniform Hair & Beard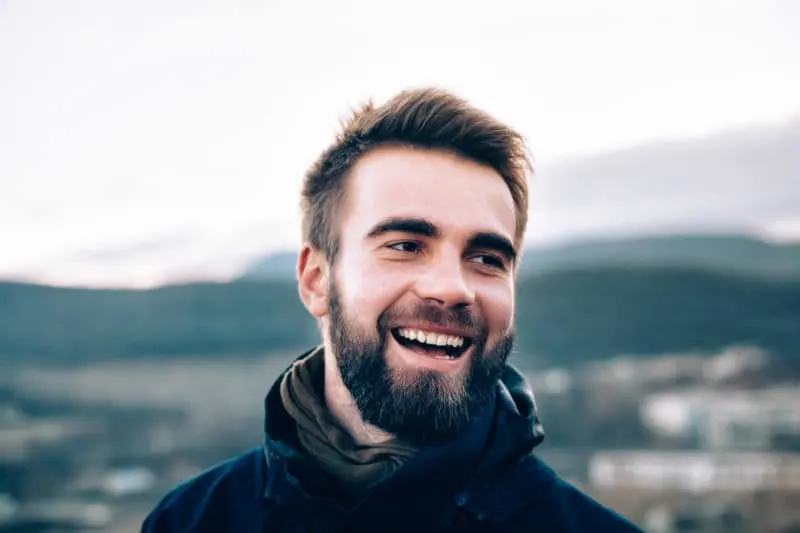 The name tells everything about this facial hairstyle with short hair. The style has the same length throughout. It is indeed not one of the extended beards.
50. Sexy and Short Goatee With Short Spiky Hairstyle
Any man can pull off this modern, sensual beard style that looks incredibly charming and draws the attention of all the pretty women.
So, there you have the above beautiful beard styles for men with short hair and different face shapes and sizes as well. Whether you want to imitate a workplace professional or a Hollywood actor, there is bound to be a beard style that will help you get there.
We hope this beard guide has pointed you in the right direction or given you some ideas for matching your short hairstyle with the beard for an appealing look.