For many people, gray hair looks outdated and is something that must be concealed, but did you know that it can also look fun and playful?
Yes, it can be! All you need to do is add a splash of color and you instantly get a cool new look!
If you want your gray hair to come to life, check out our ideas for gray hair with blue, lavender, and pink highlights below.
Gray Hair With Blue Highlights
Gray hair with blue highlights is a trendy mix of mature gray and fun blue shades. It's a cool look that combines natural gray with a splash of color, making it both classy and playful. Whether light or dark blue, the contrast with gray really pops!
1. Gray Bob + Turquoise Highlights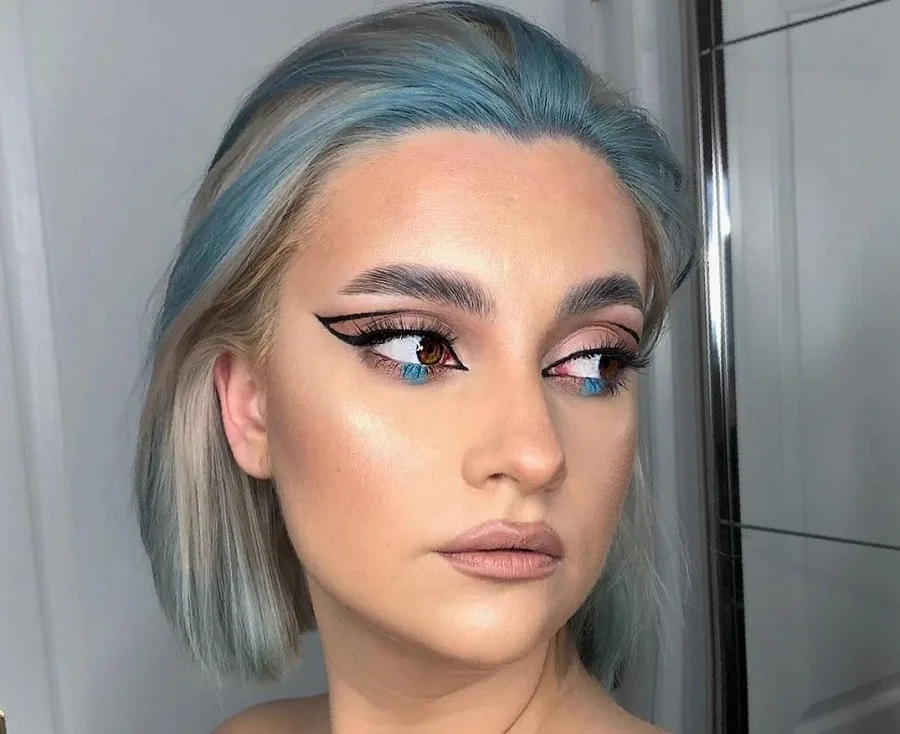 Blue-gray hair is a combination of two cool-toned colors that perfectly complement one another. Just take a look at this grey-turquoise duo which looks both fun and ethereal.
The best part is that the turquoise highlights look amazing on all skin tones, so this is quite a versatile option.
2. Short Wavy Hair + Shades of Blue Highlights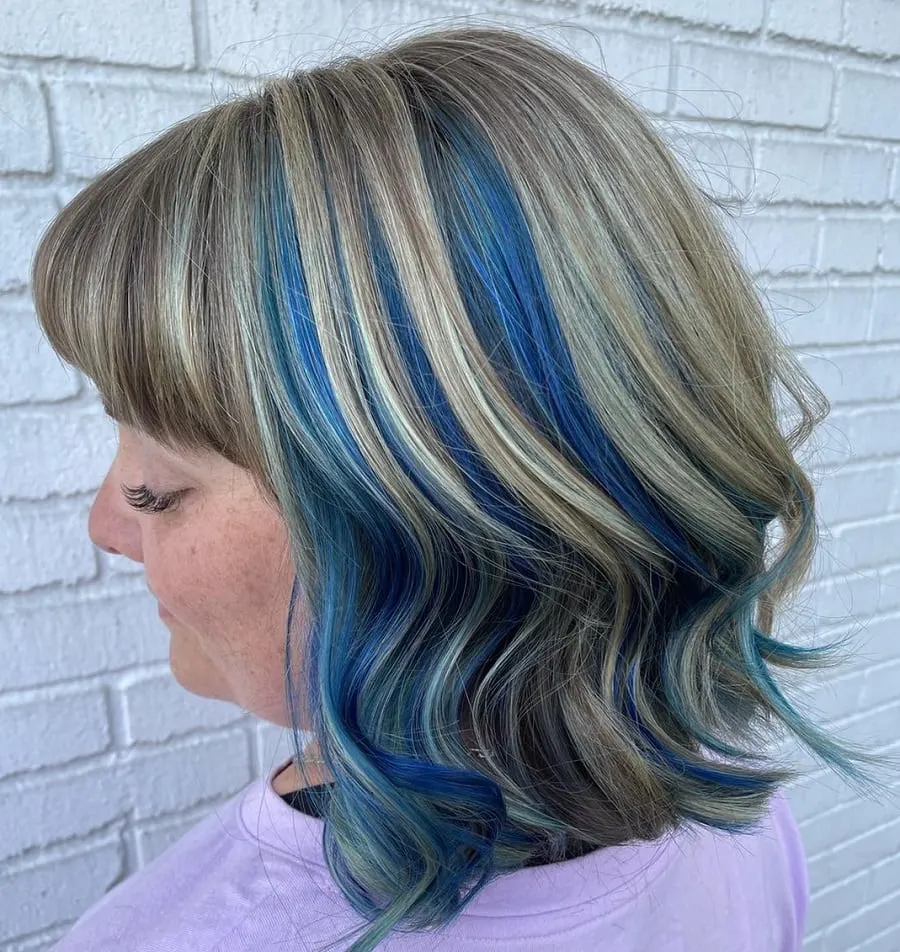 But if you can't choose between the different shades of blue, here's one peg that's giving you permission to go for all blue shades imaginable.
Just take a look at how eye-catching the combination of midnight blue, cerulean, and pastel blue highlights is. It's definitely a show-stopper!
3. Layered Platinum Gray + Dark Blue and Purple Highlights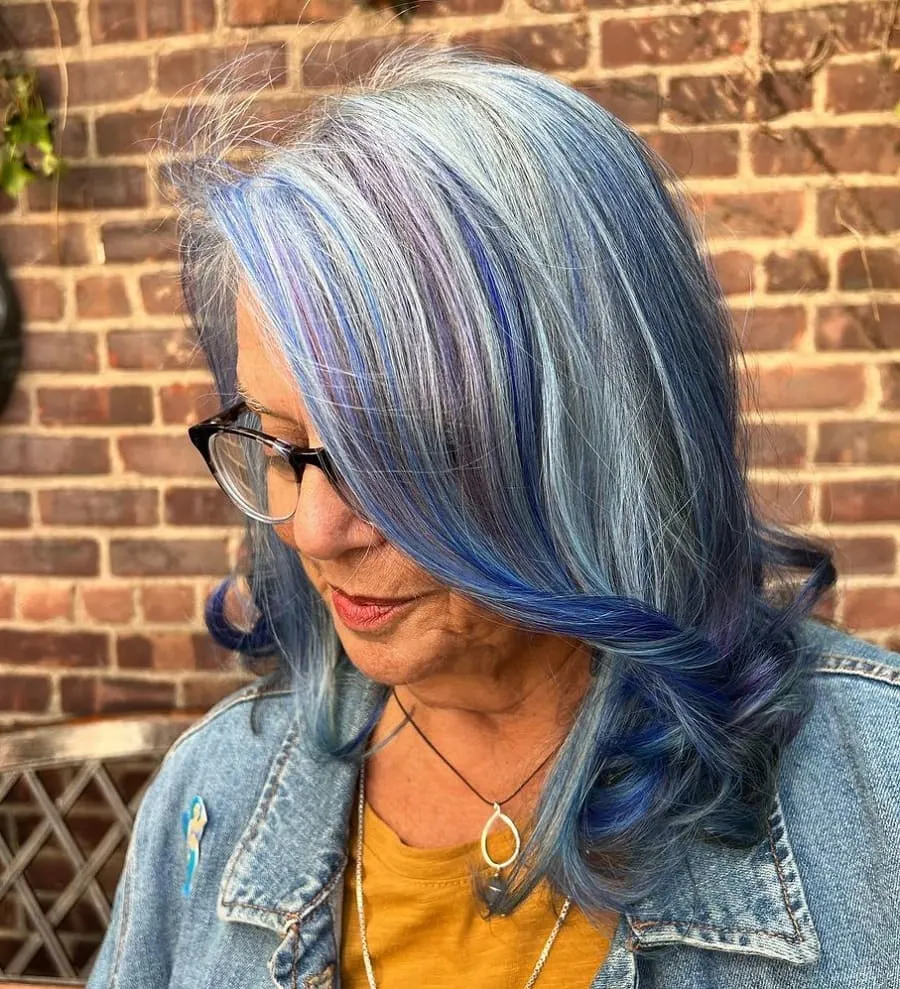 If you want to add more flair to the blue and gray duo, then purple is your next best bet.
While blue and purple are not considered complementary colors in the color wheel, they still look oh-so-good together because of their richness and vividness. Your gray hair is the perfect canvas for such beautiful shades.
4. Silver Lob + Aqua Highlights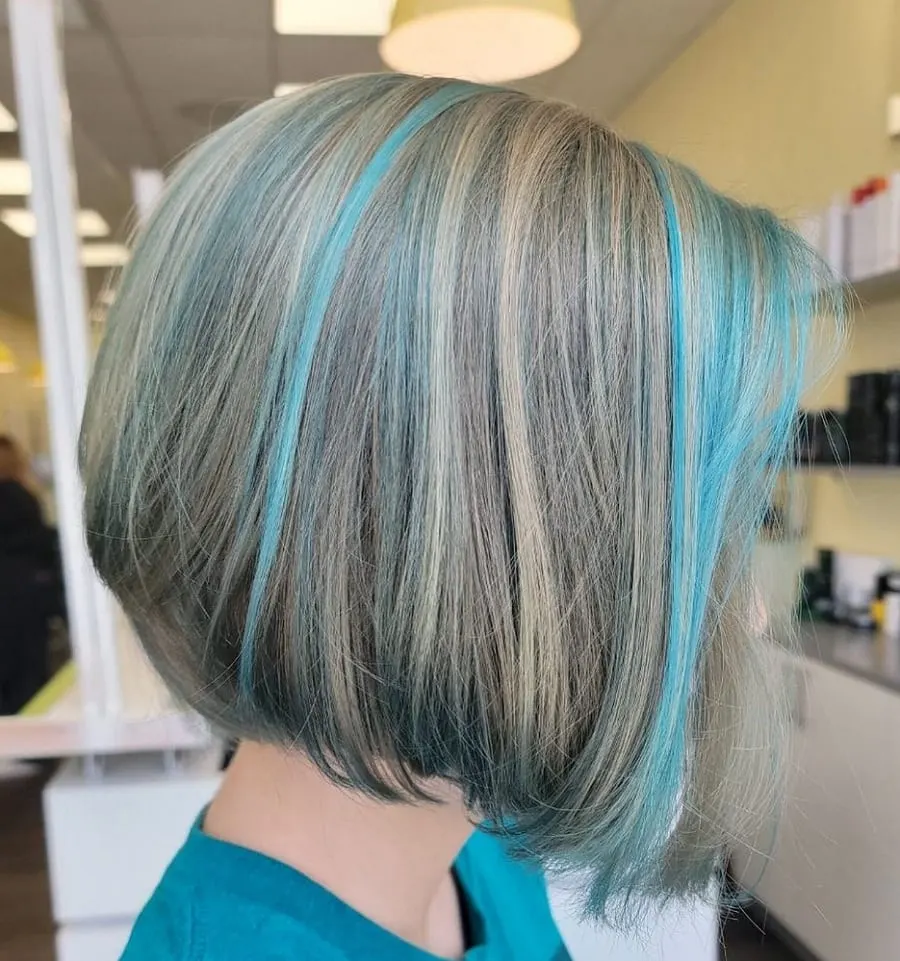 Are you ready to be the next cool girl in town? If so, aqua blue is the perfect cool-toned shade for you. This eye-catching pastel blue shade is the perfect way to add a dramatic flair to your already gorgeous silver locks.
5. Dark Gray + Midnight Blue Streaks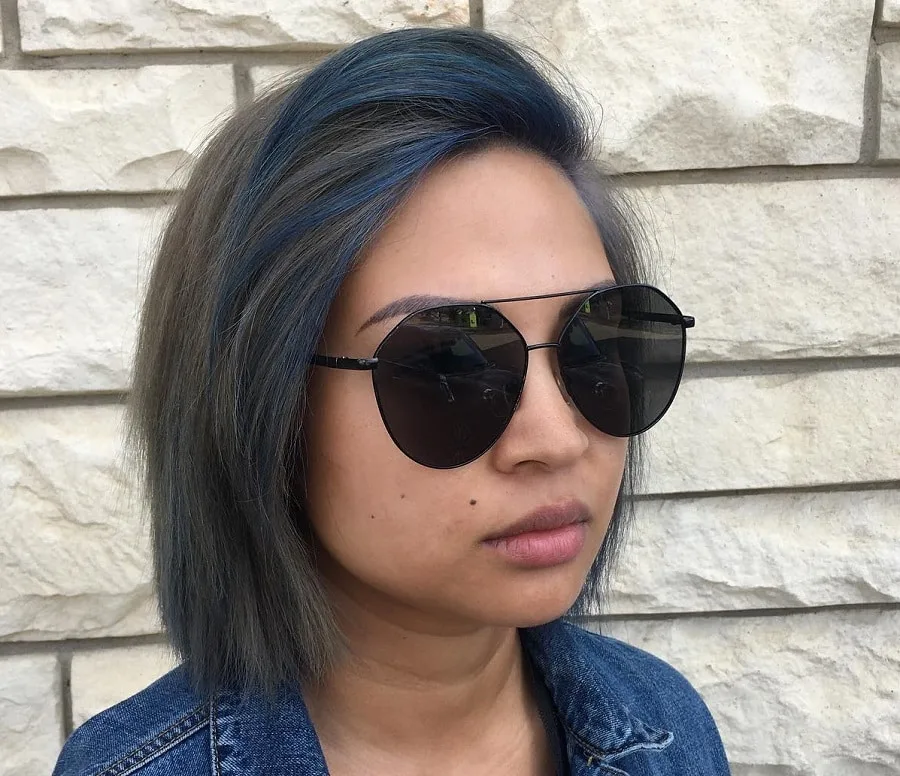 And if you want to stick to the darker side, then you should definitely pair your dark gray hair with a gorgeous midnight blue shade.
Midnight blue is definitely a striking color that would stand out amazingly on dark hair. It also complements a warm skin tone pretty well.
6. Salt and Pepper + Light Blue Highlights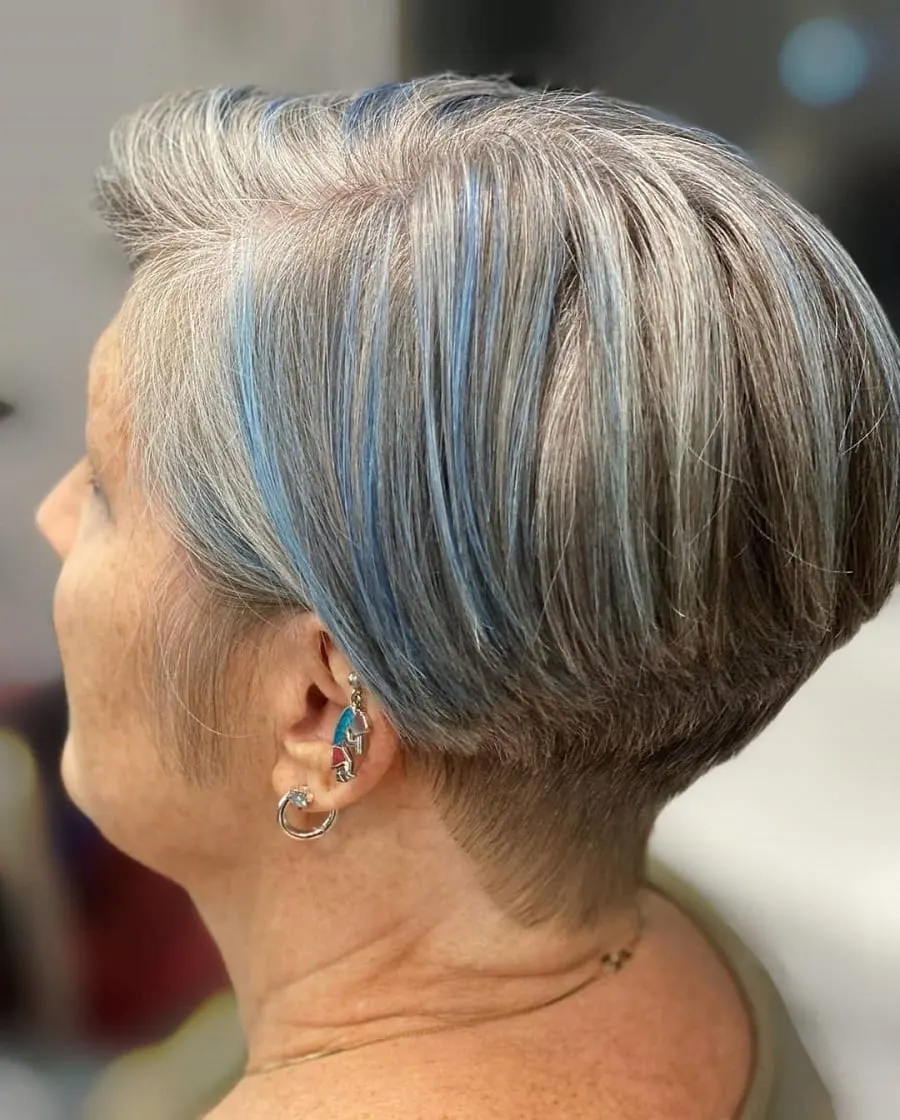 Is your salt-and-pepper hair already boring you? The simplest way to spice it up is to add a pop of blue color to it.
If you have a cool complexion and you want it to stand out, adding highlights in a light blue shade is definitely the way to go.
7. Gray Balayage + Blue Burst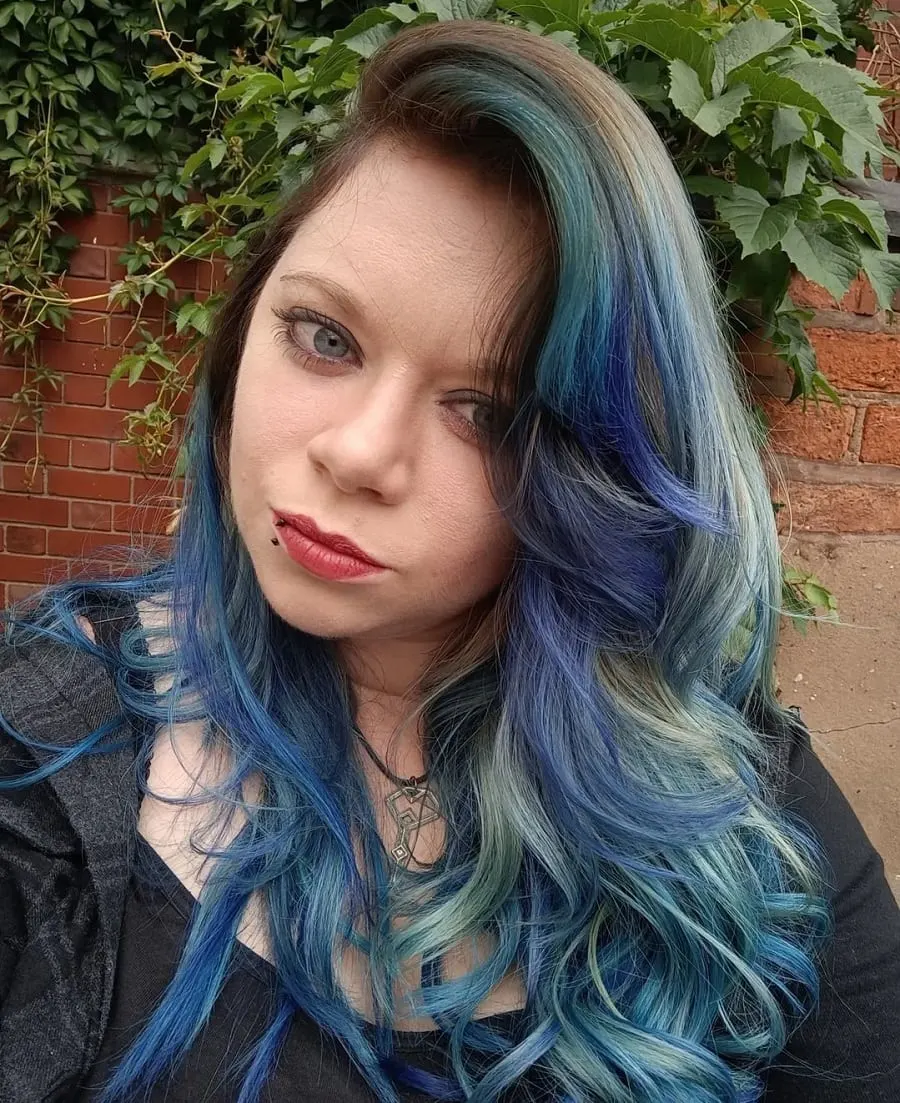 On the other hand, we highly recommend going for the balayage if you want a more obvious and eye-catching look. And while you're at it, take it as an opportunity to play with different blue shades.
Pro Tip: Focus all the highlights in the front part of your hair to enjoy face-framing benefits.
8. Blue Highlights on Tips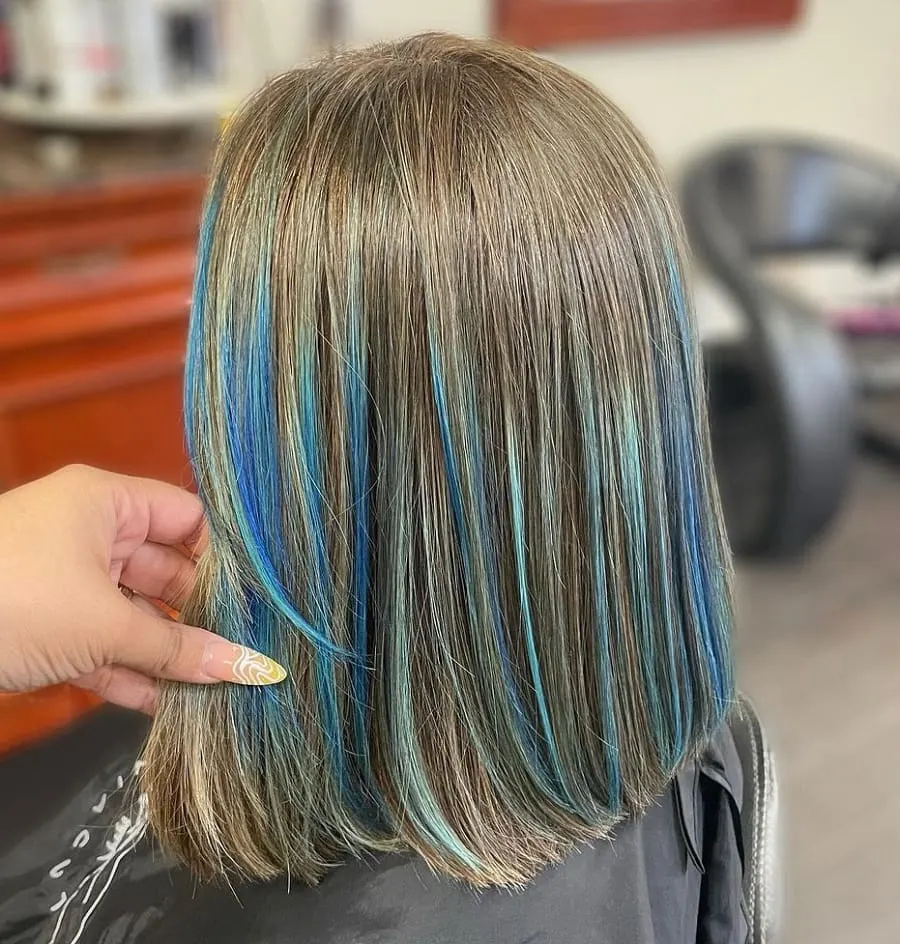 Are you fascinated by the blue shade but don't have the heart to go full-on blue hair?
Here's the best solution: colored tips! These dyed blue tips would totally transform your look without the dramatic change and high maintenance of an all-over color.
Gray Hair With Pink Highlights
9. Gray Pixie + Neon Pink Highlights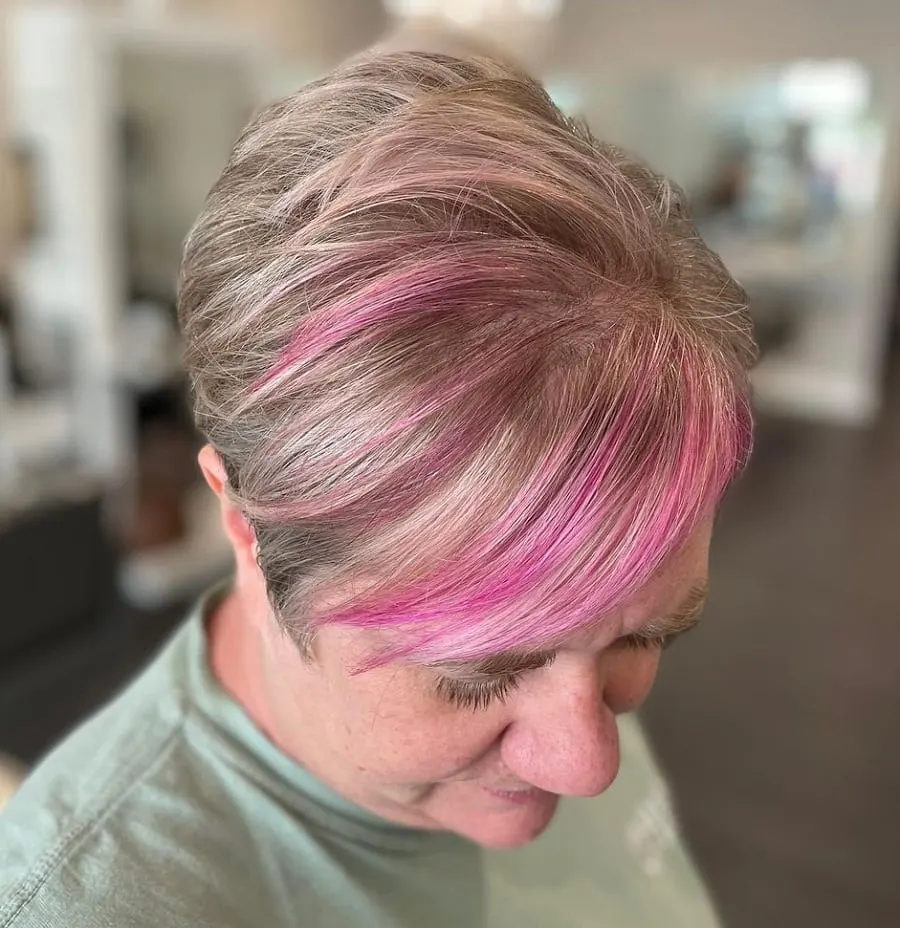 Add a feminine touch to your gray and pixie cut with a splash of neon pink highlights. This bright shade is fun, playful, and most of all, it looks extremely gorgeous on fair skin tones.
10. Pink and Purple Highlights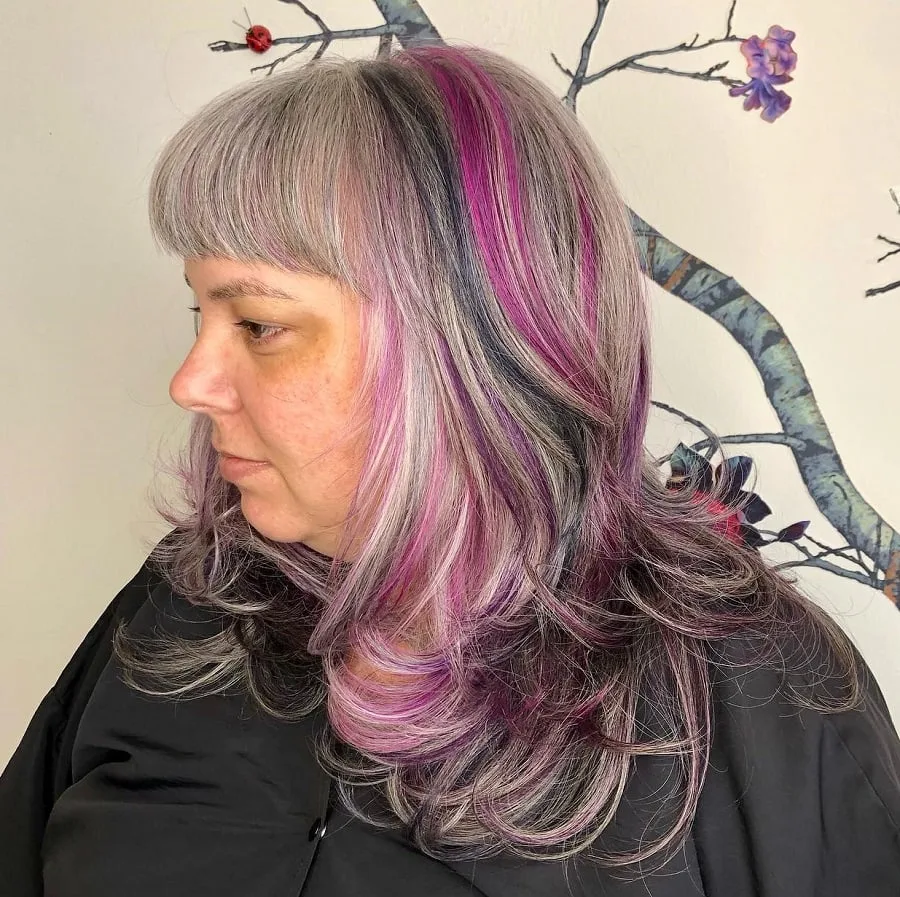 Is your salt and pepper hair already looking a bit like Cruella de Vil? Well, it's time for a makeover and that calls for a splash of pink and purple highlights all over your gray hair.
The addition of these brightly-colored highlights will make your waves stand out and make your look more modern.
11. Gray Waves + Pastel Pink Underneath
Business in the front, party at the back—this is what this hairstyle is all about! These peekaboo highlights will give your hair a colorful spin, but in the sneakiest and most mysterious way possible.
12. Gray Blending + Light Pink Babylights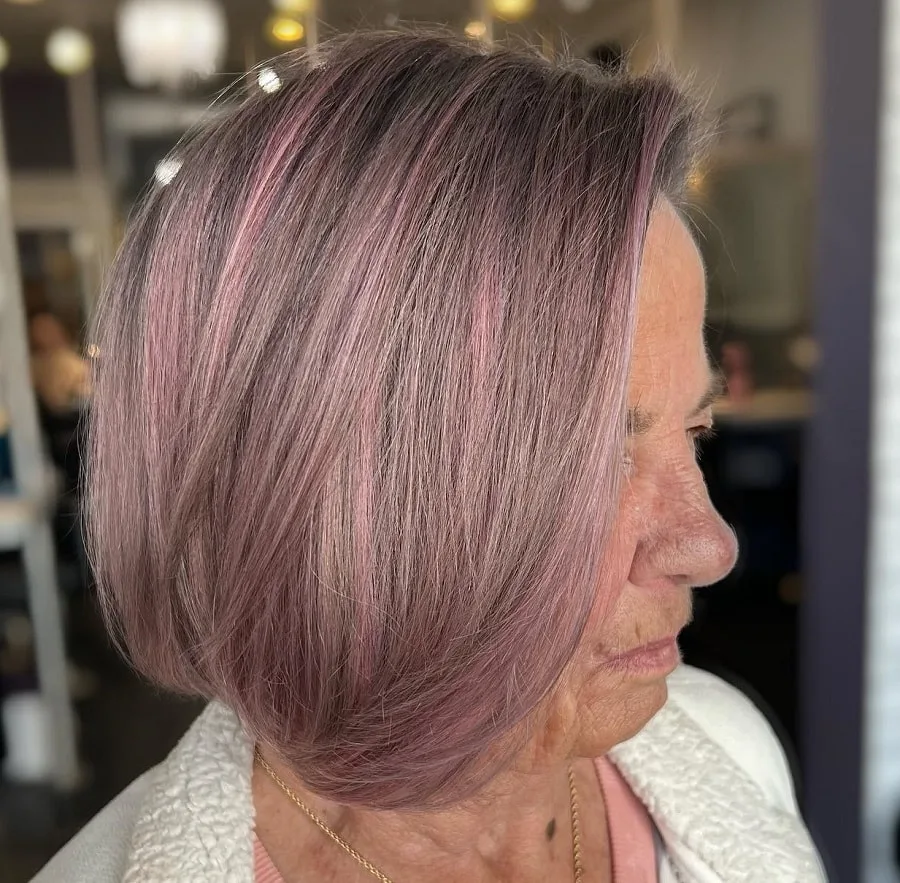 If subtle color is what you want, then babylights are definitely what you need to get.
And since subtleness is what you're looking for, you need a pink shade that would blend well with your light gray hair, and this light pink shade is the perfect option, won't you agree?
13. Dark Gray Hair + Magenta Highlights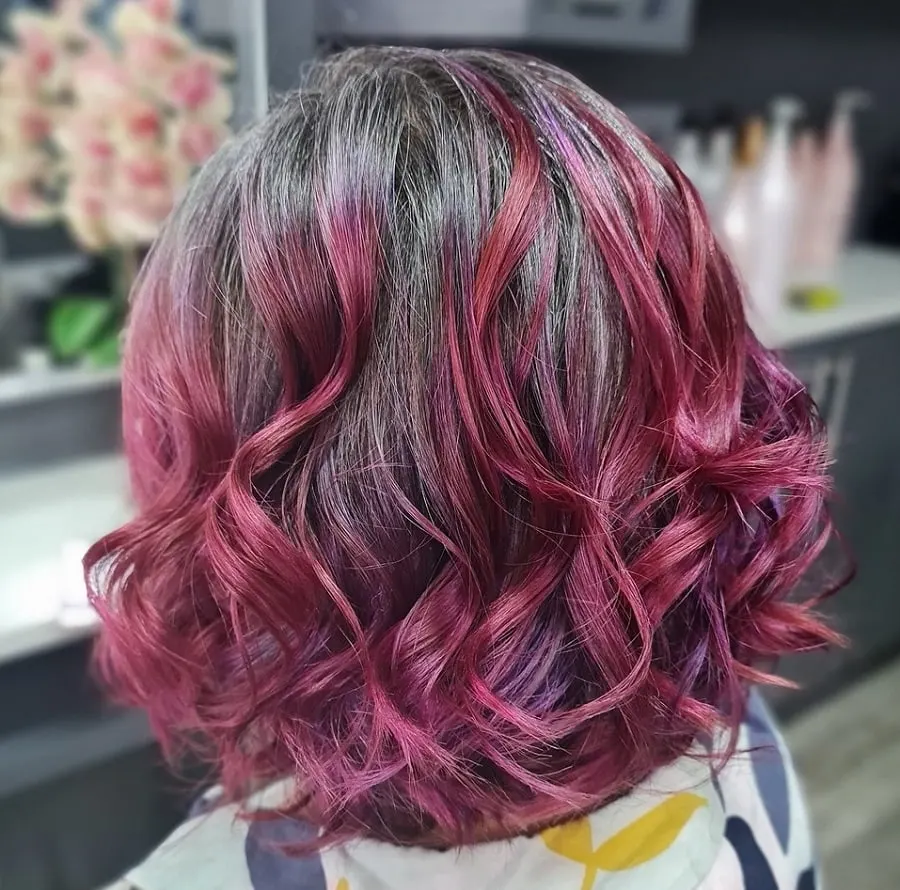 But if bright and loud is what you're looking for, then magenta might just be the color you're looking for.
This purple-pink shade comes in a wide range of shades, from light and bright to dark and rich. The latter is the perfect choice if you have dark gray hair.
14. Gray Asymmetrical Bob + Pink Highlights
Gray and pink are perfect together. Do you know why? Gray hair is known for having a lot of cool tones, so it desperately needs the warmth that this purple-pink shade can offer.
15. Light Gray + Pastel Pink Highlights
Make your platinum gray hair look extra dreamy with a few pastel pink strands here and there. These two icy colors make up the perfect Barbie hair combination and give your overall look a feminine touch and a softer appearance.
16. Fuchsia Pink Moneypieces
Are shocking colors your thing? We've found the perfect pink shade for you—fuchsia pink! These bright-colored face-framing highlights on gray hair will not just brighten your complexion but also slim down your cheeks for a more flattering look.
Gray Hair With Lavender Highlights
17. Light Gray and Purple Highlights
One benefit you get from dyeing your hair a metallic gray shade is that it opens up the possibility of enjoying a whole lot of other metallic colors.
Case in point: this stunning metallic purple takes this already-edgy hairstyle to a whole new level.
18. Platinum Gray Hair + Lilac Highlights
If you want to be the queen of icy hair colors, this gray-lilac hair is your best bet. But before you decide to go all-out ice queen, please take note that this gorgeous color combination works best on a cool skin tone.
19. Shades of Lavender on Dark Gray
Why settle for just one lavender shade when you can have two or more? If you want to blend gray in the most colorful way possible, add highlights in purple and lavender shades for a boost of depth, dimension, and texture your gray hair needs.
20. Lavender and Purple Highlights
Do you want to add color to your dark gray hair? We highly suggest purple!
The rich and deep purple color is the best shade to glam up your look. Its richness will brighten the complexion of women with warm skin tones.
21. Gray Layers + Lavender and Pink Highlights
Is lavender not feminine enough for you? If so, you may want to add a pink touch to it. The soft pastel look is the perfect way to add warmth and color to your cool and pale complexion.
This might just be the closest thing you can get to having unicorn hair!
22. Salt and Pepper Pixie + Purple Highlights
Salt and pepper look amazing on all hairstyles, but it looks extra edgy on a pixie cut. But if you want to make it more fashion-forward, add purple feathered highlights. Now, this is a gray hairstyle that screams fun and playful!
23. Lavender Balayage Highlights
If you want cool girl hair, this gray hair with lavender balayage is the hairstyle to try. It has the perfect length, the beautiful waves, and most of all, the gorgeous gray hair with the striking lavender touch. What more can you ask for?
Gray hair doesn't have to be boring. With these ideas for gray hair with blue, lavender, and pink highlights, get ready to transform your gray hair from drab to fabulous!