Getting old is a natural phenomenon, one that cannot be defied under any circumstances. But that doesn't mean one cannot try to look young and maintain an elegant personality throughout the old age. The foremost issue that the women get anxious about is their short hair. Interestingly, women over 50 tend to have short hair.
Instead of going through the enthralling procedures of long hairstyling, they like to keep them short, especially if they have thick hair. While some are worried they can't pull off long hair, some get worried if they can style their short hair beautifully or not.
There is no shame is getting old. The old age brings the women an auspicious chance to embrace more quirky hairstyles and experiment more often with their choice of styling. What women need to realize is that the embark of 50 years allows them to express themselves with your hair.
Lovely Short Hairstyles for Women Over 50 With Thick Hair
You can still pick out of the ordinary hairstyles and appear as gorgeous and teenaged as you once looked. There is a vast bunch of modern hairstyles for women over 50 that can make them feel good and look good. No wonder, you must be looking for short hairstyles that would be easy to carry and need low-maintenance.
Here you will find some of the classiest short hairstyles for thick hair. No matter your hair is thick, frizzy, straight or curly, one of the following will surely be the one for your beautiful hair:
1. Short Thick Hairstyle for Over 50 with Glasses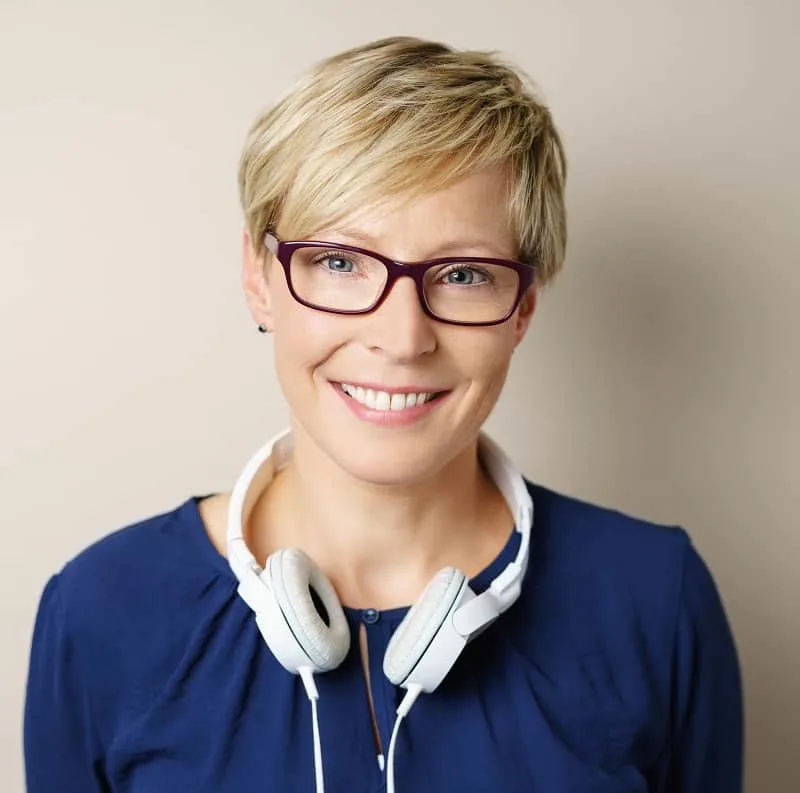 This blonde pixie is very similar to the short hairstyle Meg Ryan wore in You've Got Mail. It's easy to maintain, has layers for movement and texture, and looks great on older women.
2. Short Thick Hairstyle for Black Women Over 50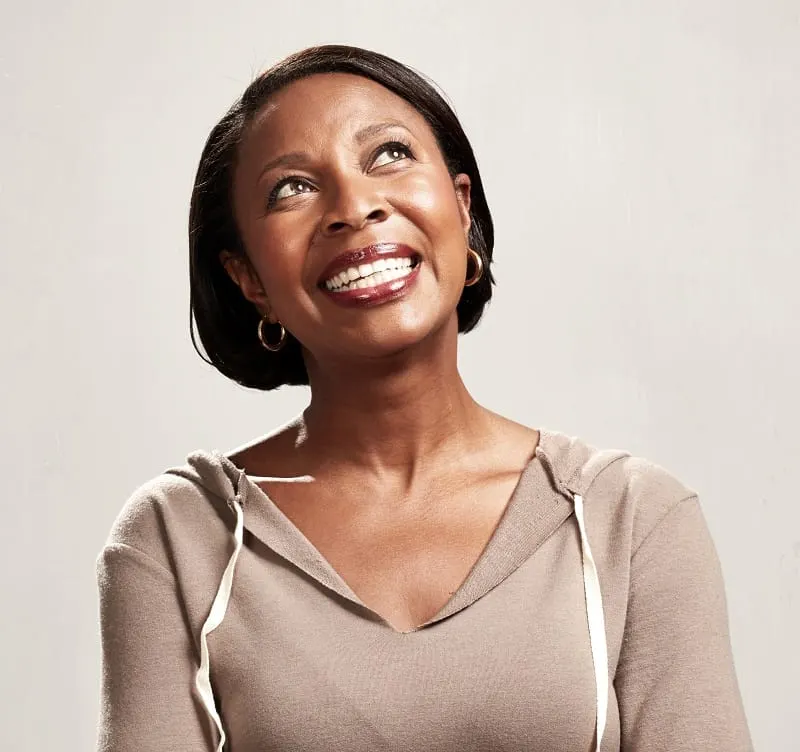 If you're a black women wanting a chic hairstyle for your thick hair, try a side parted bob with straight locks. It's another low maintenance look that looks great up in a pony or down.
3. Short Thick Hairstyle with Bangs For Over 50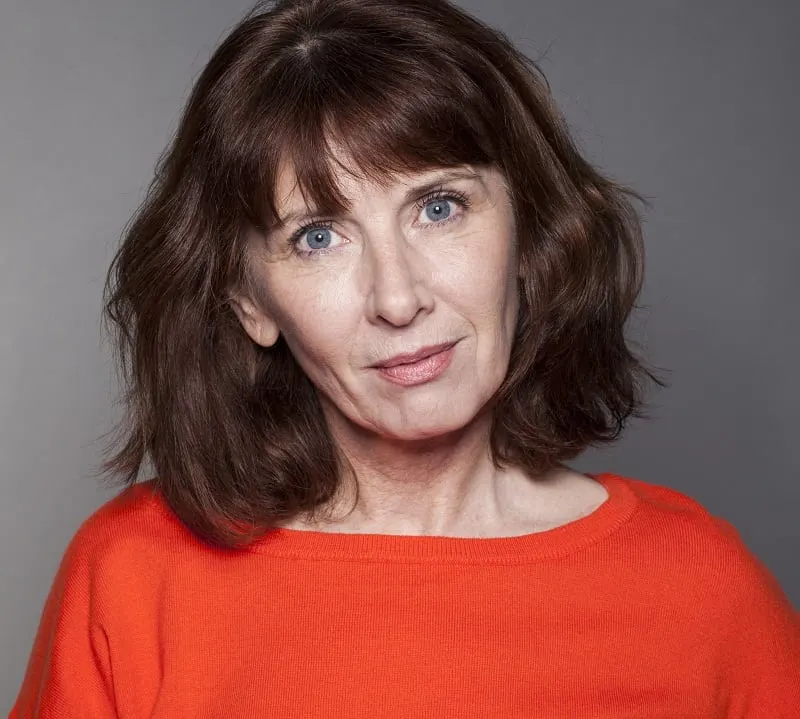 Count yourself lucky if your hair hasn't thinned out and you're over 50. Then, ask your stylist to chop hair to the shoulder, adding a wispy bang to frame the face.
4. Short Thick Straight Hairstyle for Over 50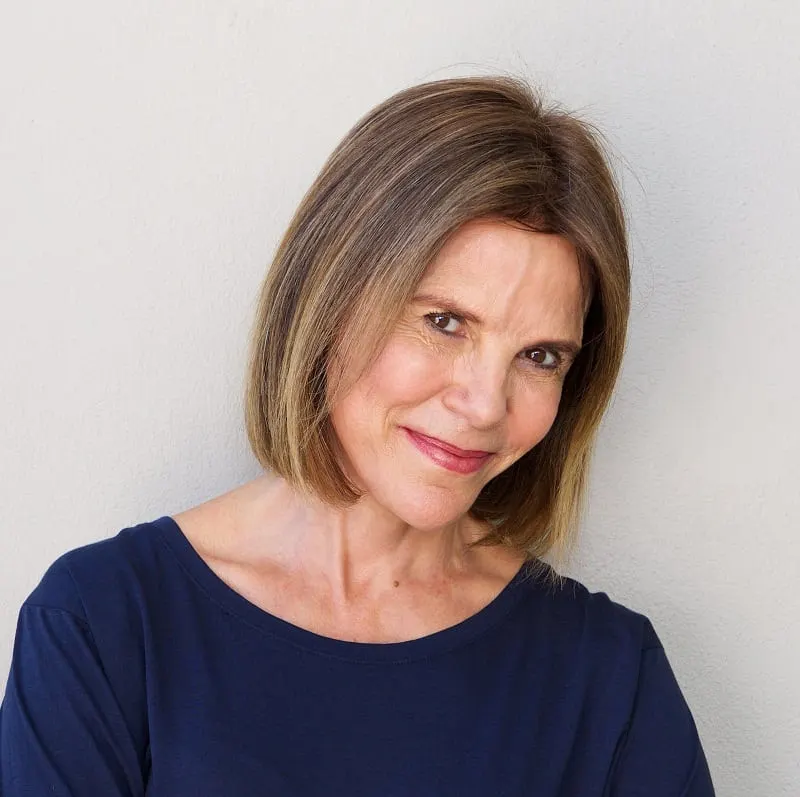 Blonde highlights are always a good choice, especially on a straight hairstyle for women over 50. Part it in the center and keep it bob length for chicness.
5. Short Thick Haircut for Asian Women Over 50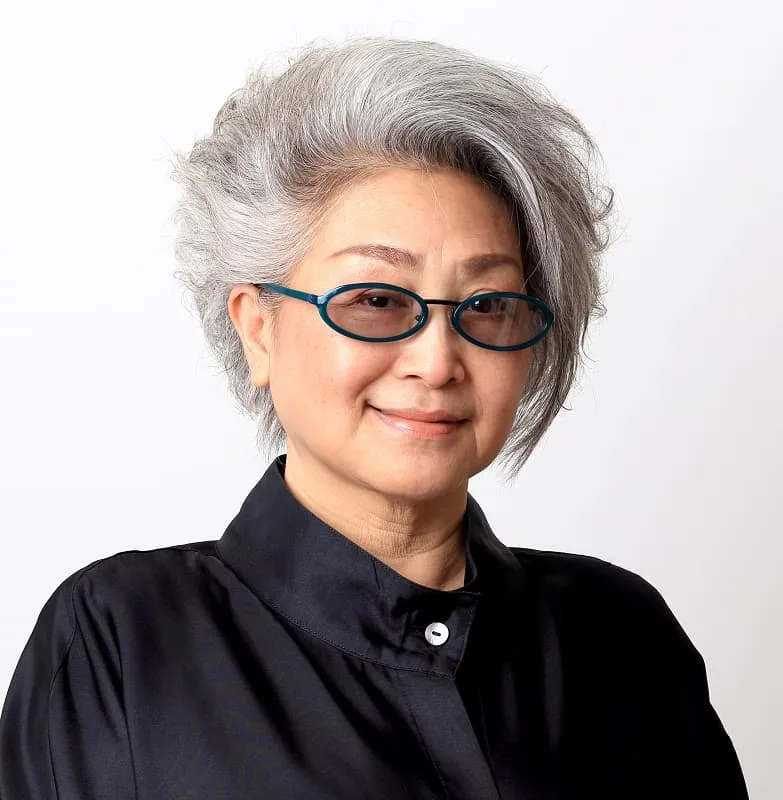 The best thing about thick hair is it's not short on volume. Asian women over 50 will love this long pixie whose waves flow in all directions and accompany a strait lock of hair on one side of the face.
6. Short Thick Curly Hairstyle for Over 50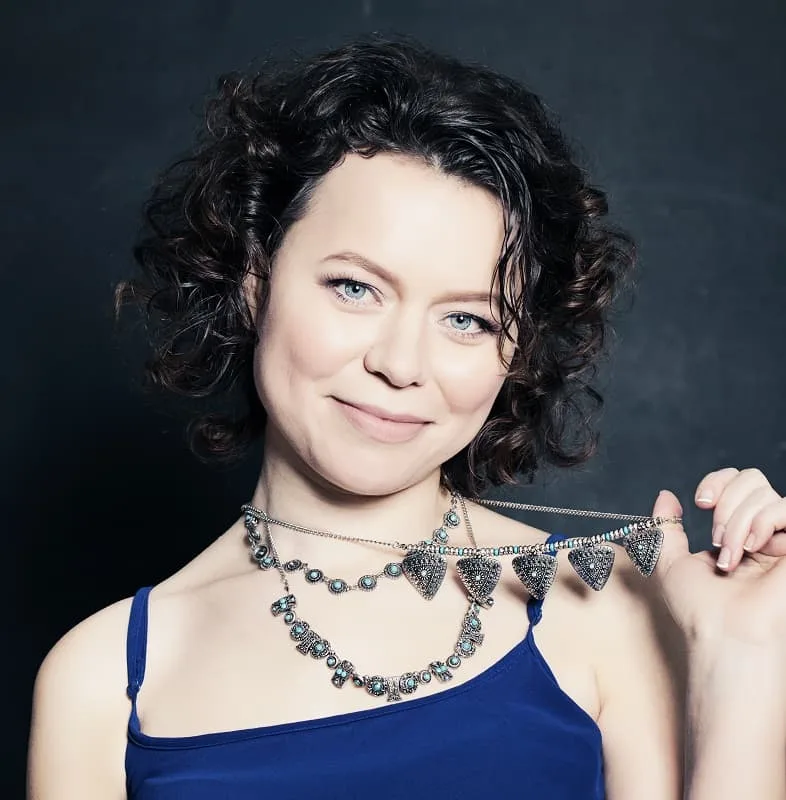 Thick hair is already tough to manage without it being curly. But a short hairstyle that tames your curls with a bit of product will make you love your locks again.
7. Short Ponytail for Over 50 Women with Thick Hair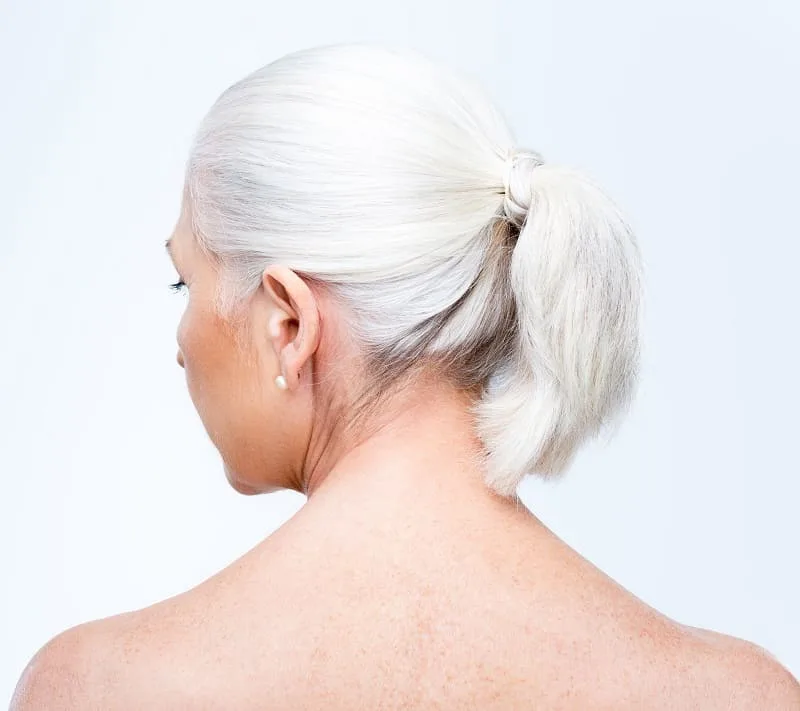 The ponytail will never cease to be a great hairstyle choice, even for women over 50. And if you have thick hair, all the better to control it in a classy pony.
8. Short Thick Haircut for Over 50 with Round Faces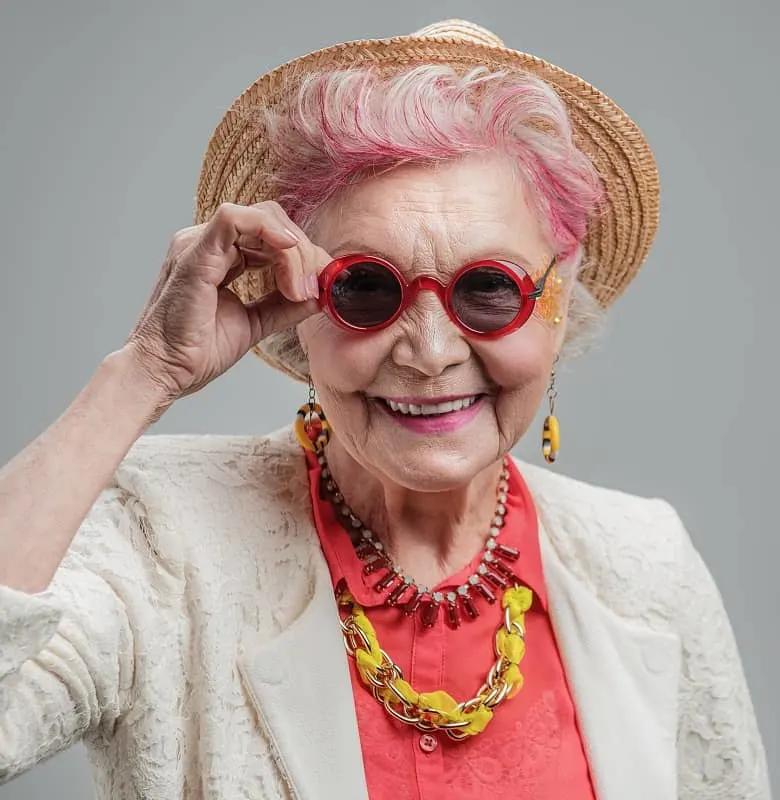 If you can't play with color on your thick hair as an older woman over 50, when can you? Add a tinge of pink to white or grey short hair for a little pop of color.
9. Short Thick Red Hairstyle for Women Over 50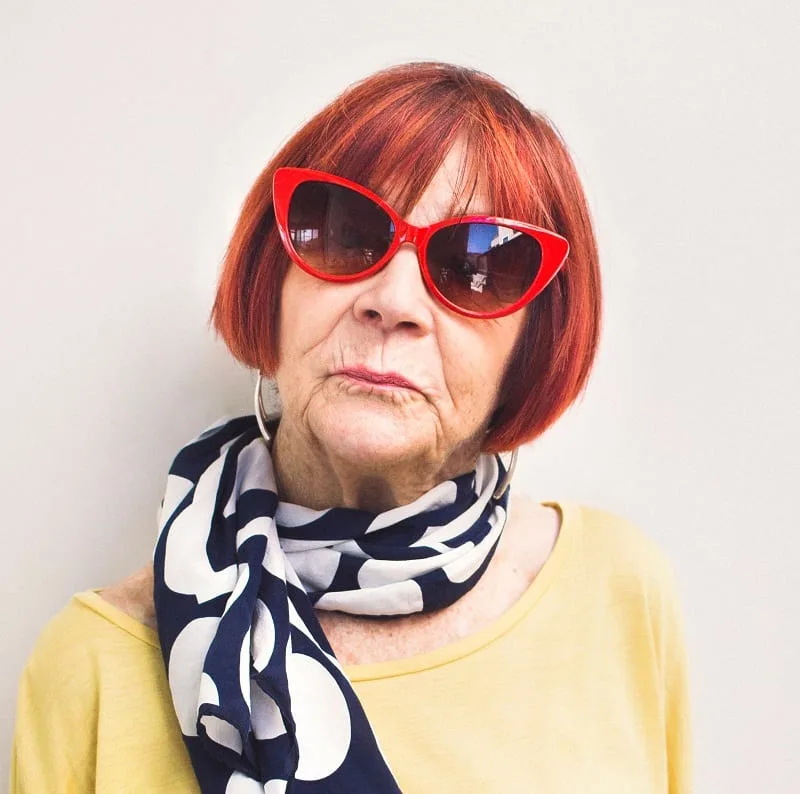 As we age over 50, we start to see less women with red hair. Bring it back on a straight short bob with piecey bangs. Pair the look with red sunnies and you're done!
10. Short Messy Thick Hairstyle for Over 50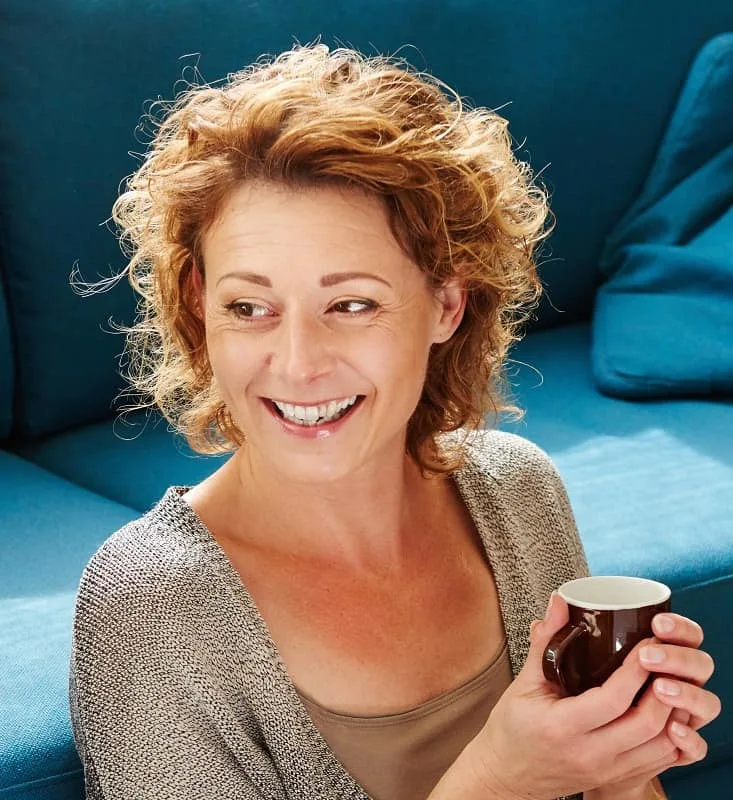 Messy curls on thick hair is a sexy look. Older women can rock it on short hair complete with blonde highlights. Use a bit of curl cream to keep your messy curls from being too crazy.
11. Short Updo for Over 50 Women with Thick Hair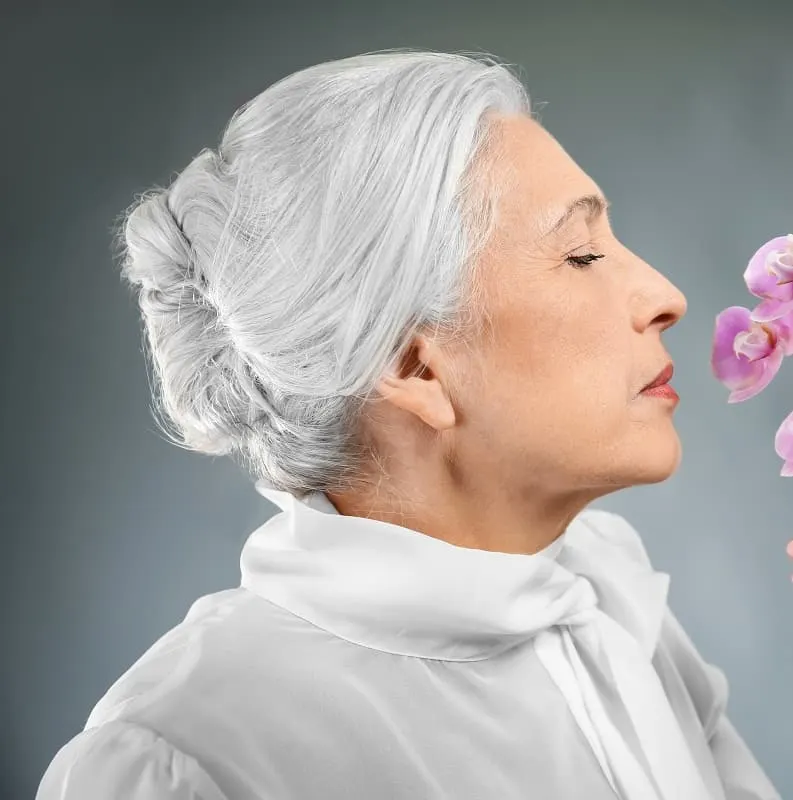 While wearing your short hair down is something you'll want to do as an older woman with thick hair, you can also wear it up and look just as cute. This coiled style wraps up hair neatly.
12. Layered Thick Hair for Women Over 50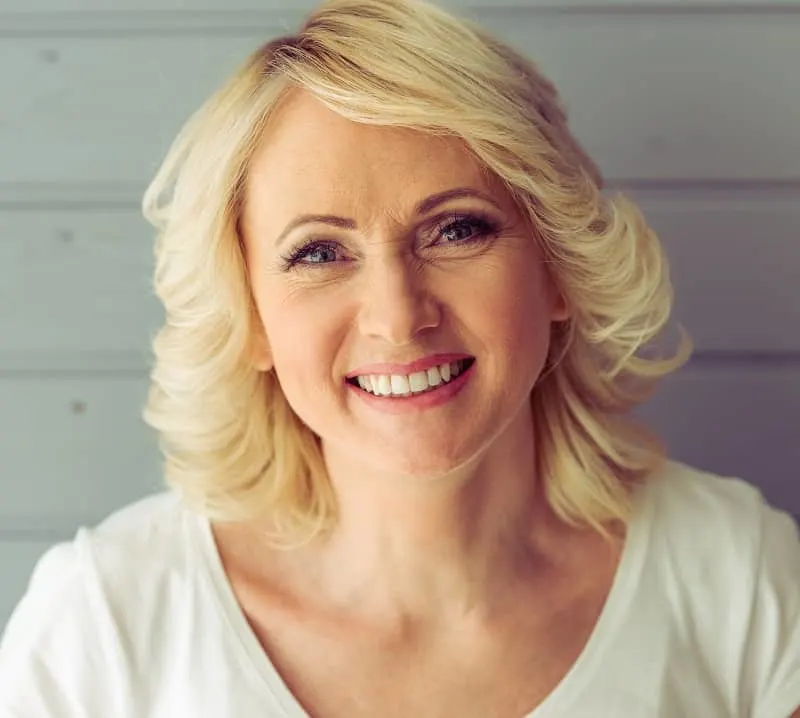 If you haven't tried layers on your thick hair, you're missing out! Especially on a short hair, layers add beautiful face-framing touches and the hair stuns in blonde.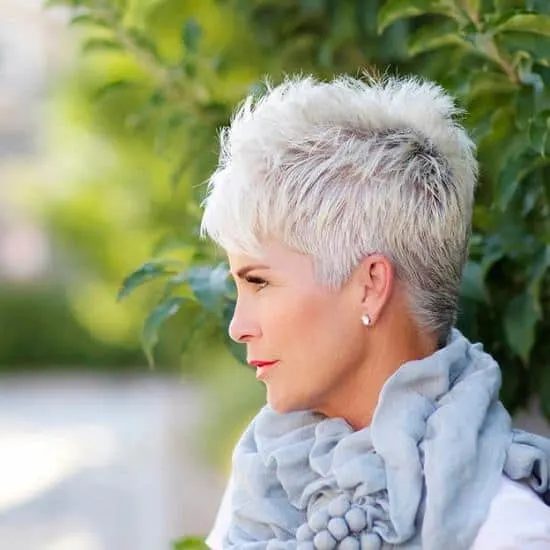 The most popular short hairstyle for women over 50 is a pixie haircut. Not only does it add a youthful beauty to the face, but also an ageless charm to the personality. It is a fabulous blend of choppy layers with a lot of texture.
14. Messy Short Layers for Thick Hair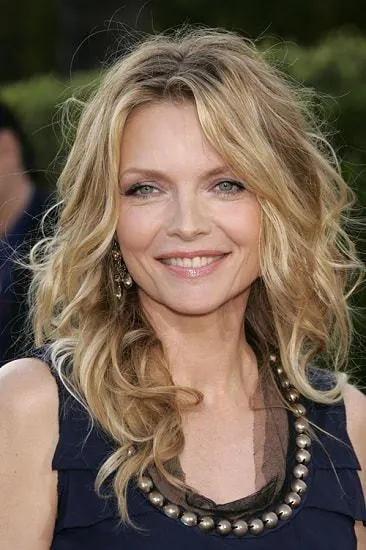 Have you looked at Kris Jenner's hairstyle lately? The way she pulls off a short messy layered cut with side-swept bangs is a stunning sight. You can get yourself this buoyant haircut too!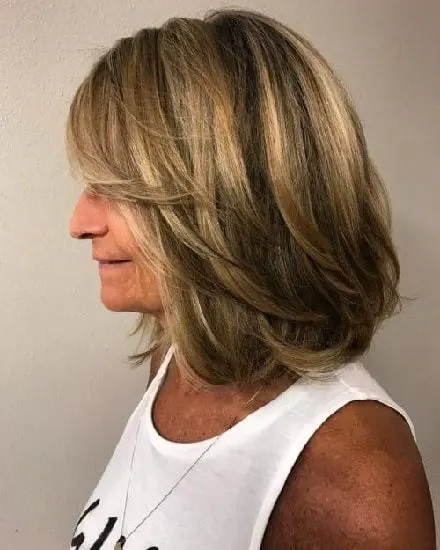 Who says you can't flaunt a bob cut with layers at 50 years of age? It is a wonderful choice of hairstyle indeed. It appears sophisticated and will make you look like an English rose. Blow-dry your hair and off you go to the parties.
16. Round layers with an angled bob
If you think your aging face needs a soft addition to it, then feel free to wear your hair in an angled bob cut with round layers. This is an effortless short hairstyle for women over 50!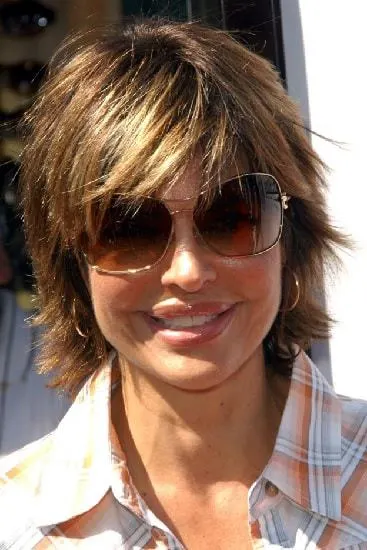 Ever thought of getting a classic shag hairstyle in your adolescence? If you couldn't get one then, now is the perfect time for you to go for it. Add waves to it for more texture.
18. Messy Curls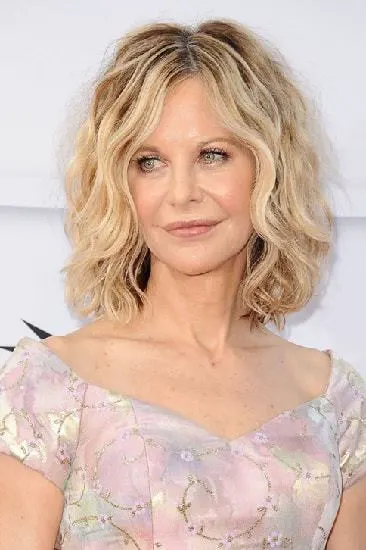 This short hairstyle is for all those women over 50 who have straight short hair and would love a carefree look. Don't want to go for haircuts, hair treatments, and hair dyes? Add messy curls to your hair and be a stunner.
Hairstyles for Women Over 50 to Freshen Up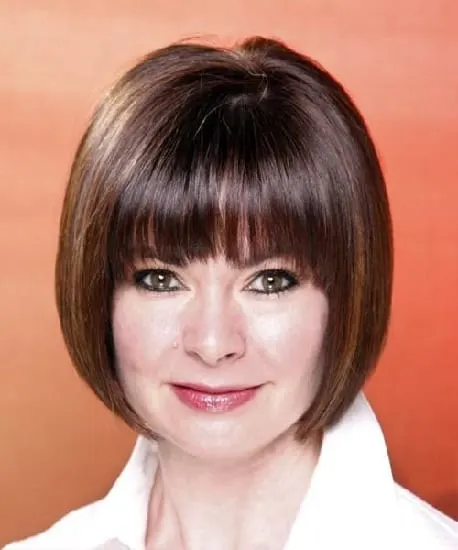 For women who wouldn't mind a young schoolgirl hairstyle should get a pageboy cut. You won't have to worry about accessorizing or tying your hair at all.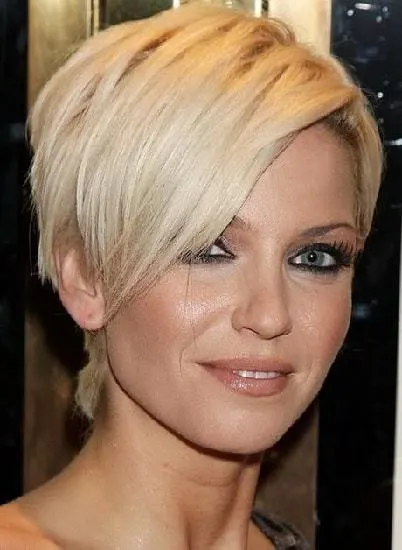 This is one of the best hairstyles for over 50 aged women with thick hair. Once you get this classy hairstyle done, your hair no longer appears thick. All you see is a sassy and trendy wedge cut.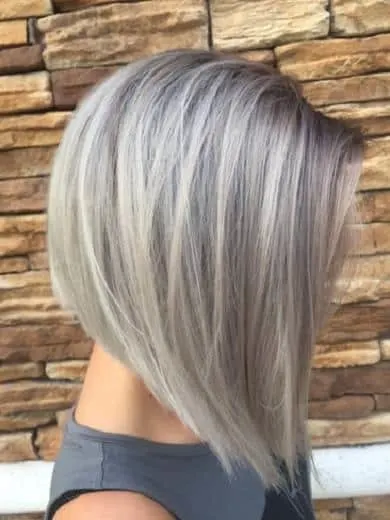 It may come as a surprise but inverted bob cut is a low-maintenance hairstyle and yet it holds a modern look. Curl your hair for a snazzier outlook.
22. Subtle waves
When nothing comes to your mind and your short hair is being a problem for you, add subtle waves to them. Tousle your hair a bit to achieve a messy finish.
23. Stacked layers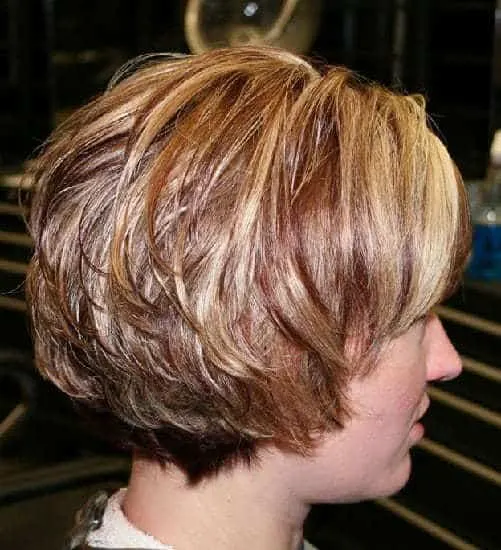 For women over 50 with an oval face shape, stacked layers is a chic hairstyle to go with. Use a brush to round the ends a bit and voila!
24. Spikes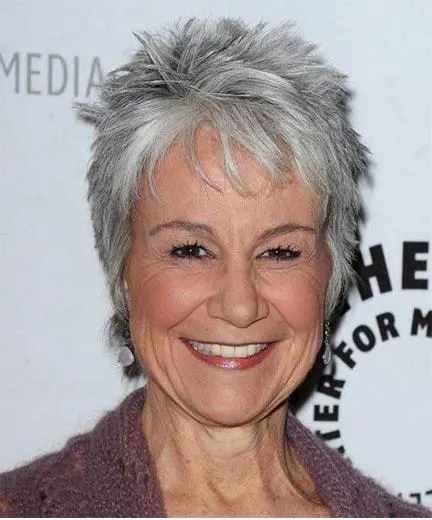 No matter if you have turned 50, there's still a child inside you. Let your inspirations swoon over you for a while. Simply style your short thick hair into spikes for a spiffy trendy look.
25. Bangs for Women Aged Over 50 With Thick Hair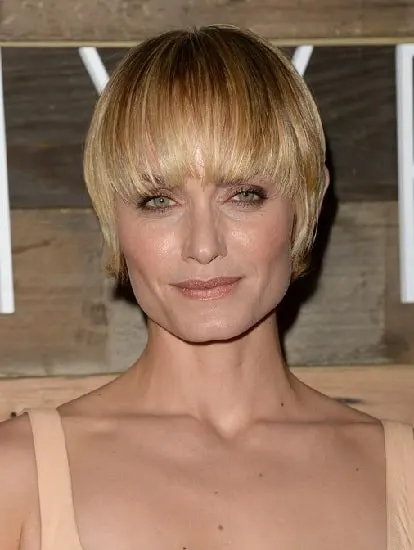 You can't defy the wonders that bangs do to your thick short hair. All you have to do is let them sit on your forehead effortlessly. The biggest of the advantage of getting bangs is that they take away the aging factor. It's true that they require regular maintenance but it's all worth it.
26. Slick Style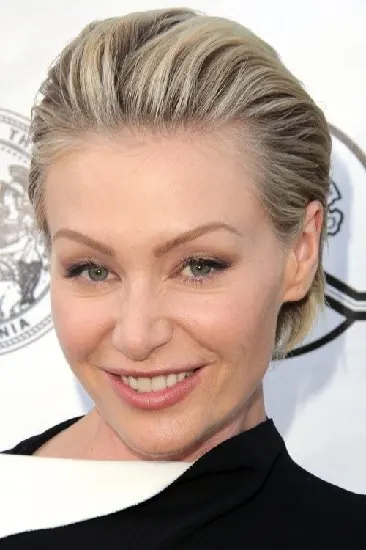 Let's suppose you're a high-flyer who has business officials to meet. You should wear a manageable and striking hairstyle like slicked back hairstyle for an exuberant and outlook.
27. Chandelier Bob
Don't let your age come in between your passion for looking modish all the times. Get yourself a chandelier bob cut, wear your hair down and exult in.
Short Hairstyles for Round Faces Over 50
28. Women's Pompadour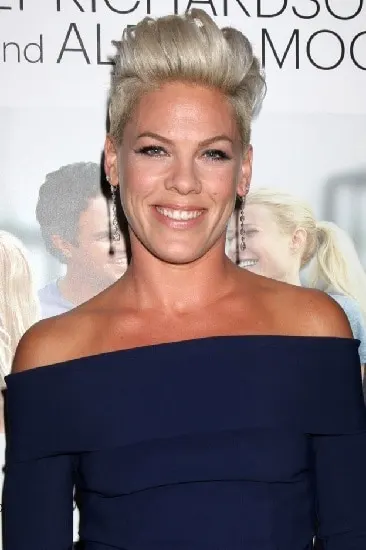 When in doubt, lift up your graceful thick hair into a pompadour. A perfect hairstyle for women over 50!
29. Puffs with more twists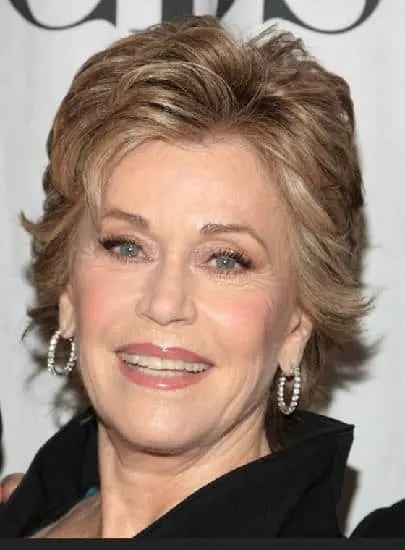 In case you want to wear a more contemporary hairstyle with a pompadour, then take small sections of your hair at the side and the back, twist them and tie them in a mess.
30. Half-tied straight hair
Being over 50, you think of making your life easier and easier. Here is how you can do the same when it comes to styling your short hair. Flat iron your hair first and the tie half of them. It's that easy!
The short hairstyles shared with you above are timeless and trendy at the same time, one of them is sure to become your go-to hairstyle for this season. Choose clean cuts with a soft look, and you'll be a beauty Queen! Keep in mind that there are no rules for hairstyling when you turn 50.
Whichever hairstyle makes you feel yourself, opt for that one. Embrace your gray hair, no doubt that color has its own charm. But at the same time don't hesitate to try on bold or ombre hair dyes or highlights like dark red or dark blue.
The key to pulling off a short hairstyle with thick hair is to look confident in wearing one. As of today, you can pick an on-trend short hairstyle or an outdated hairstyle from your grandmother's time; you will look absolutely gorgeous and youthful.