There is no doubt about it, red hair is special. As one of the rarest hair colors in the world, it can be difficult to find, but easy to create at the salon. When it comes to red hair, if you prefer a short haircut, bobs are the perfect playful yet sophisticated length that is appropriate for any age.
Below are the top 8 red bob hairstyles to give you some much-needed inspiration.
1. Long Bob + Red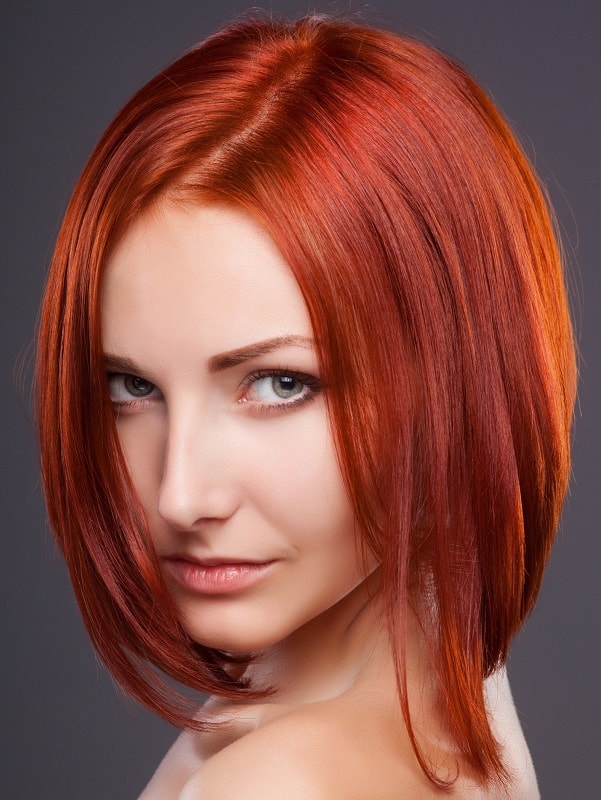 Also known as a lob, a long red bob is the perfect in-between length for the gal who doesn't want to cut her hair too short. Have your stylist feather the ends to incorporate some movement, though a blunt bob works just as well.
2. Asymmetrical Bob
Compliment a square jaw with an asymmetrical bob haircut. Regardless of the red hue that you choose, an asymmetrical cut will cup under one side of the chin, creating a slimming window that elegantly frames your face.
3. Red Bob With Weave
Instead of transforming your entire look, try a red bob weave instead. Weaves last for up to 2 months, so they are perfect for rocking a bob without a full-blown commitment. This bright red color is for the fun fashionista.
4. Feathered and Layered Red Bob
Add a little flair to your look with this feathered short bob dyed in red. Sweeping side bangs and long, spiky layers give this bob energy. Thanks to its short length, you're going to save time when styling in the morning. It's also perfect for framing a small face.
5. Choppy Asymmetrical Fringe
Bangs pair perfectly with the short length of a bob. Try choppy, asymmetrical bangs for a stand-out look. For something more classic, go for side-swept or smooth and feathery bangs.
6. Bright Red Sew In
To provide gorgeous contrast against dark skin, try a bold red-colored bob for black girls. This long, blunt-cut bob is not only elevated but very trendy today. Go for something bright for skin with cool undertones.
7. Red Bob with Highlights
A red highlighted bob hairstyle will instantly add depth and dimension to your locks. Darker lowlights in a rich maroon will achieve this effect, pairing perfectly with skin with yellow undertones.
8. Red Curly Hair
A curly bob is a perfect way to contain loads of ringlets in a style that is anything but flat. Create layers to add shape to your fiery bob.
There are so many different hues and lengths to consider when creating your red bob hairstyle. Show off your facial features and your hair's gorgeous texture in this bright and special color. How will you wear your red hair?
Related: