Women with naturally curly hair know that their hair can sometimes be difficult to tame, which is why it's so common to see women control their curly hair with headbands.
Since headbands come in so many different styles and designs, it's generally easy to find one that will not only fit your personality but also match the outfit and the activity that you have planned for the day. The next time you need to look your best and control your curly hair, try out one of these great headband hairstyles.
Beautiful Curly Hairstyles with Headbands
A headband is not only used for holding away the hair from the face but it can be used in doing different hairstyles also. Have a look at these lovely curly hair ideas with headbands:
1. Framing the Face
Curly hair can tend to have a mind of its own, which is why a headband is so important on a daily basis. Rather than fighting with clips that can easily be lost in long curly hair, women who want to tame their curls, but allow them to still have a body, can simply push the hair back from their face, allowing them to easily see and to enjoy a stylish appearance.
When a headband is used to push curls away from the face and allow them to fall down around the face and down the back, then the effect can be really pretty. This is a great way to style curly hair with headband for a fancy or important event, or even on a regular daily basis if the woman loves wearing her hair down and in a more natural style.
2. Control Short Hair
Short curly hair can be difficult to tame without using a lot of product, but a headband is a great option. No matter if the hair is cropped close to the head or down to the shoulders, shorter curly hair can easily be controlled with a great headband.
Since women with shorter hair won't have as much volume to control as women who have long hair will, they do need to make sure that they choose a headband that isn't too large, as it can easily slip down over the eyes.
Using a headband to push short curls away from the face is the best way to ensure that it doesn't get in the way. Since the headband is likely to be the star of the style thanks to the short hair, it's a good idea to invest in one that is fancy or jeweled, as this will ensure that it really stands out.
Gorgeous Ways to Wear Bandana with Short Hair
The great thing about curly hair with headbands style is that they are so versatile. While curly hair can look really elegant when worn down, pulling it back into a ponytail allows women to showcase the length that they have and still get a little more control over their locks.
When paired with a great headband, a ponytail with bangs can look classy and the woman can rest easy knowing that she won't have a lot of hair hanging in her face. To do this style correctly, women need to make sure that they leave a little body in the crown and top of their head or their full and curly ponytail may look a little out of place.
A ponytail holder that matches the color or the style of the headband is a good idea and will ensure that the entire look appears put together and thought out. The headband can be used to control any loose hair that tries to escape the ponytail, and the ponytail will keep the curly hair off of the back of the neck.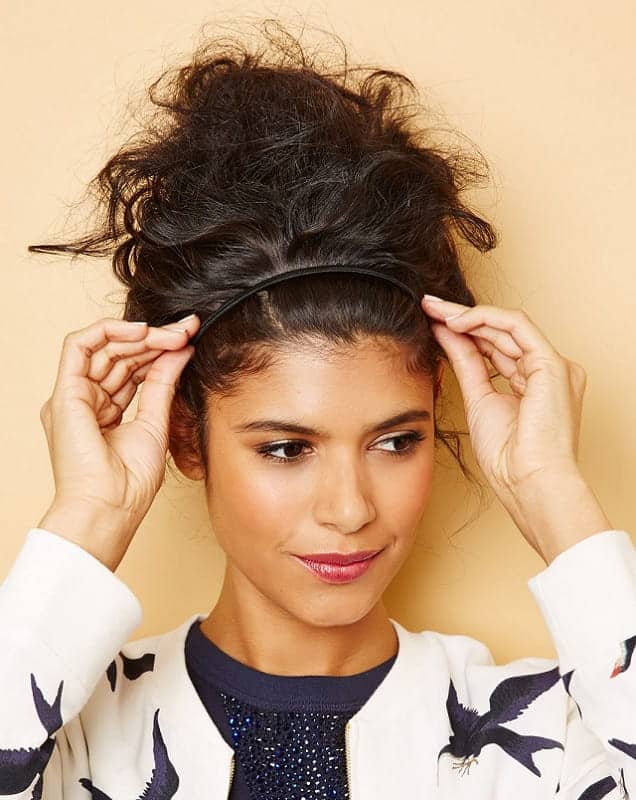 Women who have long thick curly hair can easily knot their curls up on the top or the back of their head, this is a great curly hairstyle to wear with a headband. The problem that a lot of women run into when they pull their curls back is that some of them will invariably slip out to curl around the face.
While this can be attractive, if it is not the style that you are looking for, then you need to use a headband. A headband is the best way to catch those loose tendrils and hold them back from the face, making the hairstyle look very sleek and defined.
When done correctly and when all other hair is pulled back as well, this can be a very elegant look, but it is also perfect for controlling curly hair when playing sports. For a fancy dinner, women need to make sure to choose a more glittery and ornate headband, while a simple design is a better option for going for a run or playing on a team.
As you can see, there are a number of great ways to wear your curly hair with a headband. Because curly-haired women have so many options when shopping and styling their hair, they have a lot of control over what their hair will look like and will be able to easily choose the style that makes them feel confident and looks great.