Women with naturally curly hair know that their hair can sometimes be difficult to tame, which is why it's so common to see women control their curly hair with headbands.
Since headbands come in so many different styles and designs, it's generally easy to find one that will not only fit your personality but also match the outfit and the activity that you have planned for the day. The next time you need to look your best and control your curly hair, try out one of these great headband hairstyles.
How To Wear a Headband with Curly Hair
Wearing a headband with curly hair is easier than you might think. Start by picking which headband style you would like to wear. Some people prefer a comb-style headband that pulls the front of your hair back, while others opt for a traditional headband.
Before putting your headband on, make sure you have styled your curls how you like them. You may want to put in serum or light oil to prevent frizz or dry curls, as the headband creates a voluminous hairstyle.
Once you prep your curls, you can put on the headband. If it is a stretchy or traditional headband style, you can put it on as you would normally. You can either pull all of the front hair back or leave out a few face-framing curls.
After you put the headband on your head, you can slightly shift the band's position until your curls are falling how you like.
If you are using a comb headband, you will want to ensure the band is in the position you like before fastening it in place. Trying to redo the placement of a comb headband can create frizz and tangles.
After the headband is in place, you can go about your day sporting a low-maintenance and attractive hairstyle.
Trendy Ways to Wear Headbands with Curls
A headband is not only used for holding away from the hair from the face but it can be used in doing different hairstyles also. Have a look at these lovely ideas to pair curls with headbands:
Framing the Face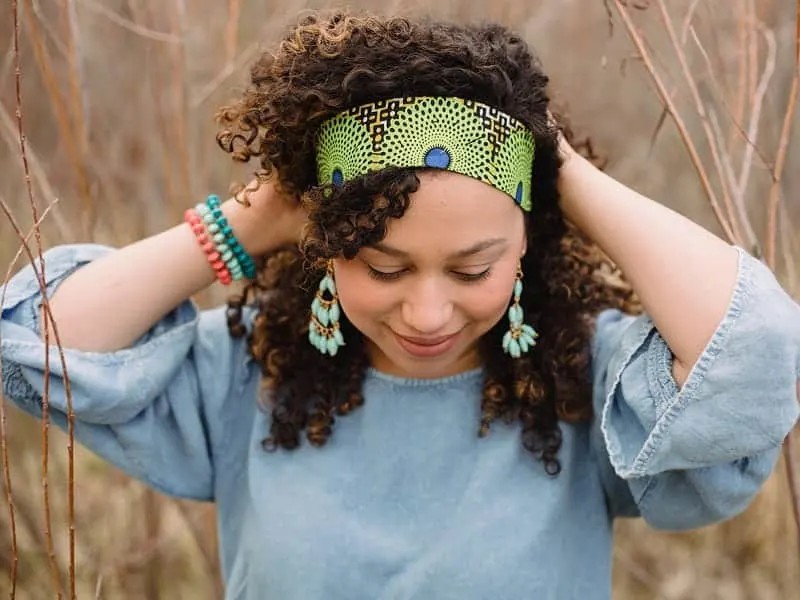 Curly hair can tend to have a mind of its own, which is why a headband is so important on a daily basis. Rather than fighting with clips that can easily be lost in long curly hair, women who want to tame their curls, but allow them to still have a body, can simply push the hair back from their face, allowing them to easily see and to enjoy a stylish appearance.
When a headband is used to push curls away from the face and allow them to fall down around the face and down the back, then the effect can be really pretty. This is a great way to style curly hair with a headband for a fancy or important event, or even on a regular daily basis if the woman loves wearing her hair down and in a more natural style.
Control Short Hair
Short curly hair can be difficult to tame without using a lot of product, but a headband is a great option. No matter if the hair is cropped close to the head or down to the shoulders, shorter curly hair can easily be controlled with a great headband.
Since women with shorter hair won't have as much volume to control as women who have long hair will, they do need to make sure that they choose a headband that isn't too large, as it can easily slip down over the eyes.
Using a headband to push short curls away from the face is the best way to ensure that it doesn't get in the way. Since the headband is likely to be the star of the style thanks to the short hair, it's a good idea to invest in one that is fancy or jeweled, as this will ensure that it really stands out.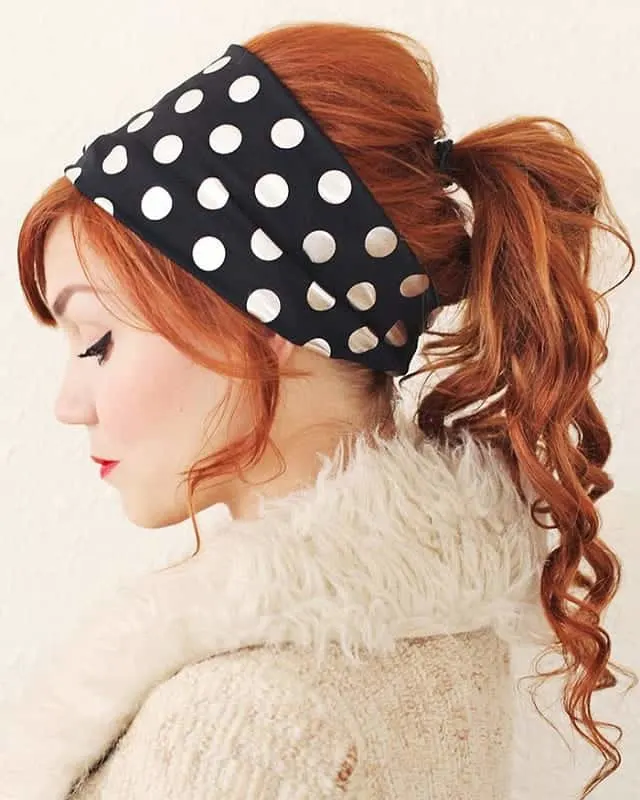 The great thing about curly hairstyles with headbands is that they are so versatile. While curly hair can look really elegant when worn down, pulling it back into a ponytail allows women to showcase the length that they have and still get a little more control over their locks.
When paired with a great headband, a ponytail with bangs can look classy and the woman can rest easy knowing that she won't have a lot of hair hanging in her face. To do this style correctly, women need to make sure that they leave a little body in the crown and top of their head or their full and curly ponytail may look a little out of place.
A ponytail holder that matches the color or the style of the headband is a good idea and will ensure that the entire look appears put together and thought out. The headband can be used to control any loose hair that tries to escape the ponytail, and the ponytail will keep the curly hair off of the back of the neck.
Women who have long thick curly hair can easily knot their curls up on the top or the back of their head, this is a great curly hairstyle to wear with a headband. The problem that a lot of women run into when they pull their curls back is that some of them will invariably slip out to curl around the face.
While this can be attractive, if it is not the style that you are looking for, then you need to use a headband. A headband is the best way to catch those loose tendrils and hold them back from the face, making the hairstyle look very sleek and defined.
When done correctly and when all other hair is pulled back as well, this can be a very elegant look, but it is also perfect for controlling curly hair when playing sports. For a fancy dinner, women need to make sure to choose a more glittery and ornate headband, while a simple design is a better option for going for a run or playing on a team.
Beautiful Curly Hairstyles with Headbands
We have compiled a list of 21 beautiful headband hairstyles with curls to make it easier for you to choose from.
1. Pineapple Updo
A pineapple updo can be regarded as the top idea to style curly hair with a headband. Dye the curls in a warm blonde hue and secure them up at the back to fall over the forehead as kinky bangs. Finish off the funky look by adding a headband.
2. Side Tousled
Those who like to keep it carefree can opt for this hairstyle. Style the curls in a low bun and add a colorful headband just behind the hairline. Pull out as many curls as you want from beneath it and tousle them on one side for an undone appeal.
3. Curly Mess
Flaunt those curls with confidence by styling them in a high ponytail and wearing a headband at the front with an oversized top knot. The curls falling along the sides of the face finish off this messy and laid-back hairstyle that is ideal for young girls.
4. Pushed Back
Middle-aged women can take part in the headband hairstyle trend too while flaunting their greys. Brush out the curls carefully and push them back with a headband keeping them away from the face for the entire day while they bounce beautifully at the back.
5. Kinky Afro + Headband
Go for a short layered haircut with those natural micro coils framing the face beautifully and push them a little backward with a headband matching the outfit. This look is ideal for black ladies with kinky afro curls on their lazy days.
6. Rock Star Appeal
Sway around like a rock star with this punk hair look. The long curly mane has a deep side parting. Accentuate it with a patterned headband with its oversized top knot falling over the face on one side. Complete the look with funky eye shades and hoop earrings.
7. Romantic Curls
Consider this romantic hairstyle to keep all the eyes on you. Style the long blonde mane in bouncy curls and top off the look by adding a bright red-colored headband with a jumbo bow at the top. This look is ideal for young girls.
Brides and bridesmaids can rock a delicate floral headband on their heads for an elegant appeal. This hairstyle features a long curly bob haircut with a dark to light ombre look. The loose curls are middle parted and fall gracefully along the sides of the face.
9. Keep It Simple
A headband comes in handy for women over 50 to tame their naturally curly hair. Go for a deva haircut and keep the curls from falling on the face by using a headband. The silvery grey curls look graceful when styled in this simple manner.
Here is another idea to style your beautiful curls with a headband. Show off your eyebrow-skimming curly bangs by shoving back the remaining long blonde curls and keeping all the attention at the front using an extra-wide headband. This cute girly look is ideal for young school-going ladies.
Black girls can style their shoulder-length curls on a day-to-day basis by detangling them with a side parting and adding a headband a part of which hides in between the fluffy curls. This hairstyle is low-maintenance as finger-brushing is enough to keep it in place all day long.
If your long blonde curly hair bores you, you don't have to straighten it and damage it by exposing it to high temperatures. Add accessories instead. A Headband that goes across the forehead is so trendy.
Ideal for: Round and oval-shaped faces.
How to style: Nurture your hair properly because curly hair tends to be dry. Cut the ends regularly. Avoid combing it while blow drying it because the curls could lose their shape. Then just add a headband so that it goes across the top part of your forehead.
Curly hairstyles with headbands from the roaring '20s will take everybody's breath away. This side part bob is one of the more simple ones that you can wear for a special occasion.
Ideal for: Heart and oval-shaped faces.
How to style: Divide your hair into smaller sections. Spray it with water to dampen it. Wrap small vertical sections around thin rollers. Wait for a couple of hours until the hair is completely dry. Remove the rollers and comb through. Use hair wax to style the curls. Then just add one of these retro headbands that are really popular in 2023.
Dreamy curls with highlights sound so romantic and sensual, but sometimes we need a practical solution to tame them to actually be able to enjoy beach time.
Ideal for: Oval and round-shaped faces.
How to style: Try to avoid the sun to avoid damage on your hair. Otherwise, just pull it backward and put on your curly hair with headband for a cute beach look.
Short curly hair can look so adorable with a nice headband as long as you make sure that it's not too wide so that it covers a large portion of the hairstyle and make its shape look less flattering.
Ideal for: Round and heart-shaped faces.
How to style: If your mushroom brown hair is not naturally curly you can always opt for a short perm if your hair hasn't been previously bleached or colored, or you can play with thin rollers or flat iron. Then add a cute, romantic headband. If you prefer, you can tuck your bangs underneath.
90's hairstyle trend is definitely back in 2023. Look for all your massive, colorful headbands because they will be a great detail for your curly hairstyle.
Ideal for: Square and heart-shaped faces.
How to style: Use a product for a wet look or medium beach waves to define the gorgeous, natural, shiny curls. Then add the headband. You can place it over a part of your forehead if you want to make it look less wide.
17. Colorful Headband
Who doesn't like adorable hippie looks with colorful, wide headbands? They are simple, relaxed and natural. This an on-trend way to wear your long loose curly hair with headband.
Ideal for: Square and round-shaped faces.
How to style: If your hair is naturally curly, there's no need to style it. However, if it is this long, you should definitely nurture it by using different products and oils. Also, cut it regularly to get rid of split ends.
You can be playful and try combining different styles for a great look. This double curly buns with a headband will, hopefully, inspire you.
Ideal for: Oval and square-shaped faces.
How to style: Tie a sleek, high, curly double bun and then just add a cute headband.
This headband hairstyle is another homage to the fashion of the 1920s. This time the curls are big and sleek.
Ideal for: Oval and heart-shaped faces.
How to style: Dampen your hair and section it. Use big rollers to create the curls and wait for a few hours. After you've removed the rollers, comb through your hair gently for a sleek look. Then just add the headband.
20. Big Curly Updo with Headband
If you like keeping your hair away from your face, but you think that a ponytail or a bun looks too messy, you can add a beautiful silken headband to make the curly hairstyle look more trendy and professional.
Ideal for: Oval and round-shaped faces.
How to style: Tie a voluminous, sleek, curly bun. Make sure that it still has the volume on the top for a more flattering shape. Then just add a headband. One of the most beautiful curly hairdo with a headband!
Finally, a hairstyle that goes so well with a headband is an afro. By tying a headband around your afro in a certain way, you can shape the afro to your taste. Even if the afro hides most of the headband, a little pop of color in your hair will still be a subtle, cute detail.
Ideal for: All face shapes.
How to style: Take proper care of your afro. You might think that an afro always looks the same and that there's not much to it, but you should definitely nurture it to preserve the quality of the hair and maintain your ideal length.
Frequently Asked Questions
Here are some of the most frequently asked questions about wearing a headband with curly hair.
Do headbands look good on curly hair?
Headbands can look beautiful on curly hair as long as you pick the right headband style and place it in a good position on the crown of your head. Headbands usually enhance the volume of your curls, so be sure to pick a headband that will help your curls fall at a flattering angle.
Should I wear a wide or thin headband with curls?
The width of a headband for curly hair depends entirely on personal preference. A wide headband will create more volume and may be helpful if you have thick or tight curls. A thin headband may be preferable for fine curls that can be easily crushed or weighed down.
Can I style short curls with headbands?
Short curls look adorable with headbands. A headband on short curly hair will produce a fun, spunky hairstyle that keeps your hair comfortably out of your face and is an excellent alternative if your hair is too short for ponytails.
Clips or headbands: which one is best for curls?
Many curly-haired people prefer clips over headbands, but you can use both on curly hair. Headbands sometimes flatten curls and create awkward shapes but can be utilized if you are aiming for a specific style. Clips are easier to use if you want to maintain curl definition and don't want to commit to the hairstyle fully.
As you can see, there are a number of great ways to wear your curly hair with headbands. Because curly-haired women have so many options when shopping and styling their hair, they have a lot of control over what their hair will look like and will be able to easily choose the style that makes them feel confident and looks great.