Even though short hair twists can seem like a non-innovative solution, many women tend to style their hair this way. Oh, trust us, short twists have many advantages. They are utterly stylish and convenient for many different occasions, and they suit all face shapes and hair colors.
How to Do Twists on Short Natural Hair
According to some hairstylists, twists can help your hair grow. Though it's difficult to maintain twists on short hair, there are many tested and proven ways for you to style your short hair with twists. Here is a step-by-step guide on how to make perfect short natural hair twists.
Start from Hairline to Nape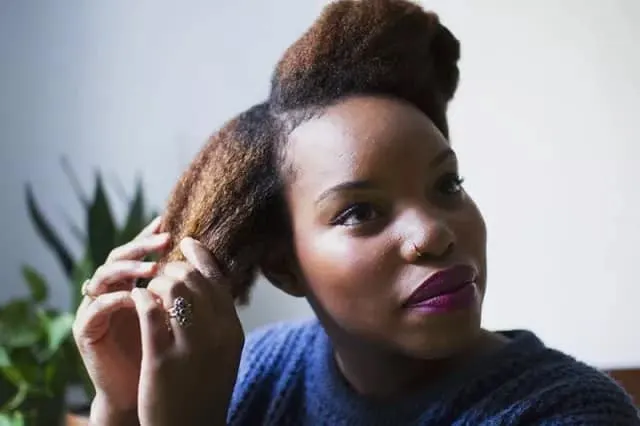 First of all, you should start by dividing your hair. The easiest way to do it is to make two sections – from your hairline down to the nape. Twisting now can be a much-relaxed thing to do. Many women have short thick hair, so this step should be crucial for helping them achieve the perfect twists.
Divide Sections
When you are done dividing your hair in two, now you should split it even more! Trust us, the more sections you have, the easier the twisting will be. Start with the hairline at the front – it is the best part of your hair to begin to work with. Don't forget to finger comb every section before start twisting.
Now, it is the time to divide the small section that you have chosen in the previous step and to start twisting. Divide it into two equal parts and just twist them around each other. You can twist with the hand-over-hand movement, but it would be much easier to use your fingers only.
As you continue to twist your sections of hair, you should incorporate other hair parts. You don't have to twist every hair section in the same direction.
Twist and Secure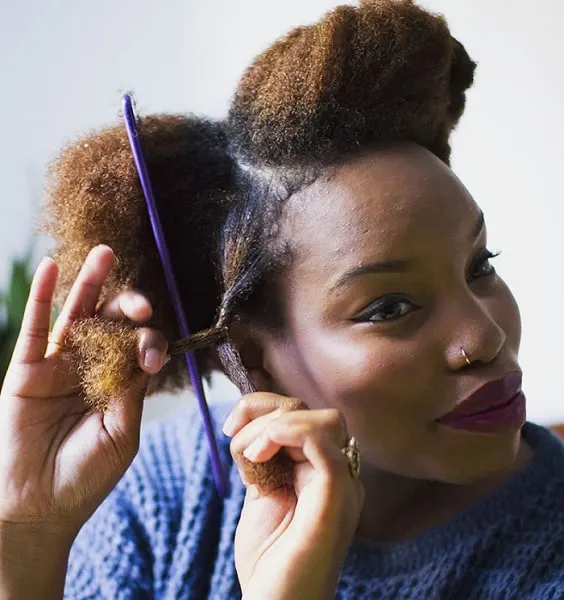 Don't Pull Too Hard. Be careful – don't be too harsh. Gently pull your hair, because the wrong amount of pressure can damage your hair. Repeat these steps over the entire hair.
Women with shoulder length hairstyles should secure their twists with butterfly clips of pins. Another option is to use oil or another holding agent. Make sure that the hair that is not attached to the scalp is secured. You surely don't want to do it all over again, don't you?
Now when your short twists are done, you can freely say to yourself – You rock, girl! There is no matter if you choose to wear your twists like an updo, for everyday occasions, or you are doing them just to protect your hair – they look pretty anyway.
Watch the Following Tutorial of How to Do two Strands Twists on Short Natural Hair
Amazing Short Twist Hairstyles
If you're in need of inspiration or you're curious about our favorite short twist hairstyles, let us guide you through our list.
1. Ombre Twist Bob
If you're looking to give your hairstyle some shape, go with a short bob featuring varying lengths of short crochet twists. To give it some color, we recommend a beautiful light purple in ombre.
2. Nubian Twists in Caramel
How gorgeous are these caramel-colored Nubian twists against dark skin? For Black women who prefer a thicker and fuller-looking hairstyle, opt for them. Their choppy cut means only a simple middle part is needed for styling.
3. Twist Updo with Bandana
For those days when you want those short twists off your neck, you can gather them up in a high updo and wrap it up in a bright bandana.
For those shorter pieces at the front, leave them out to soften the look.
4. Fluffy Red Short Twists
Are you a fan of bright, electric hair color? Why not choose a bold shade of bright red for your short twists? These short fluffy ones are gathered in a high ponytail; they're sure to catch everyone's eye.
5. Top Knot with Hair Cuffs
We love how a cute top knot makes a woman with short twists look like the girl next door. This protective style takes only minutes to create. Add a bit of shine with gold or silver hair cuffs placed throughout.
6. Short Twist Afro Mohawk
Feel like a queen instantly with this gorgeous afro mohawk styled with short side twists! Not only is the thick texture to die for, the light blonde color flatters any woman with dark skin.
7. Short Twists with Thin Twist Fade
The combination of the very thin and much thicker twists seen here are very pleasing to the eye. To give your face definition, make sure one or both sides feature thin twists. This unique style will no doubt become your favorite.
8. Short Kinky Twists
If you prefer a little more character to your hairstyle, you'll appreciate the kinked shape of these short twists for Black women. Since this bob already features plenty of style, it's truly low maintenance, requiring only a center part.
9. Thick Twists with Undercut
Truly give your natural hair a refresh by rocking a shaved undercut in the majority of your hair. A small section of short twists will give your look an edgy vibe. Remain neutral with black or brown color, or consider a few highlights.
10. Curly Twists with Highlight
The bright purple twists on this asymmetrical bob will truly pop against your dark skin tone. It's another beautiful style to display curly, kinky twists on.
11. Jumbo Twist Bob
Luscious and luxe are the two words that come to our mind when we see these jumbo short twists styled as a classy bob. Switching up your face dimension is easy – just make sure the twists are parted off center.
12. Asymmetrical Twists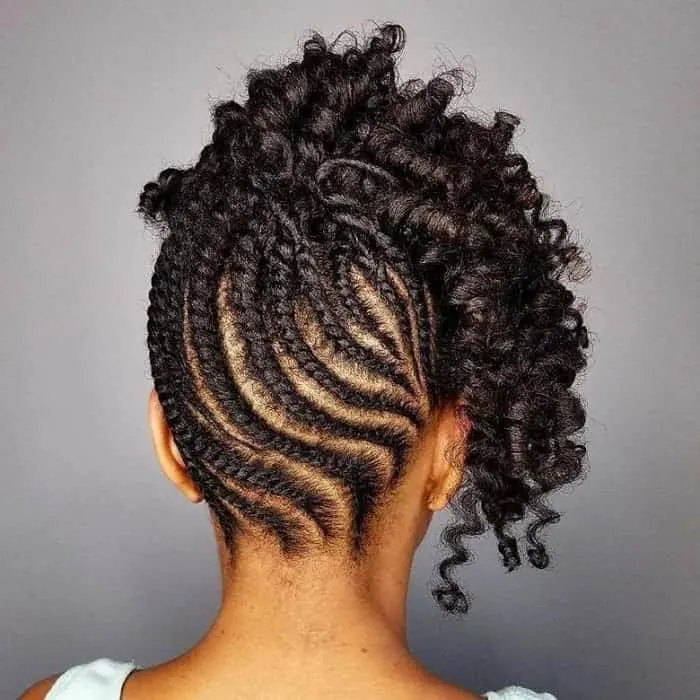 Asymmetrical is always in style! No matter if it is a skirt, top or hairstyle. Although you might need a bit of practice to achieve this lovely and quite glamorous two strand twist on natural hair, the result will absolutely leave everybody breathless.
Unlike other twist hairstyles on short hair, here you should start from the nape. Divide your hair into sections and make sure they are not parallel, but left asymmetrical.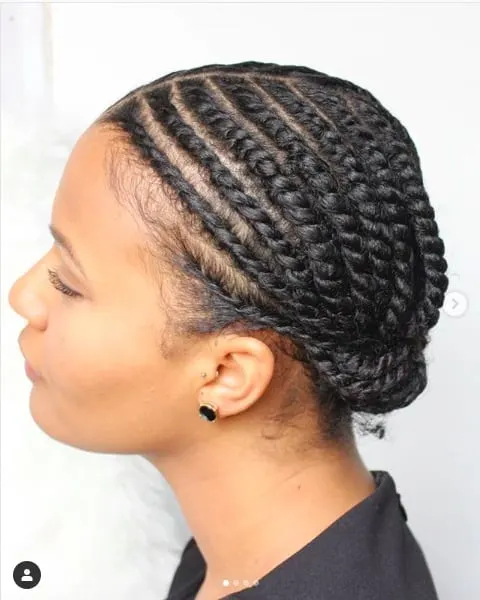 If you thought twists are not appropriate for special occasions or workwear, you were wrong, my dear. When done in a sophisticated way, you can wear them wherever you wish. Short twisted hair can be tucked in a French bun, even if it is twisted. These flat twists look very nice and modern.
You can wear earrings or a shiny necklace with this hair updo. It is perfect for both elegant occasions, as well as for workwear.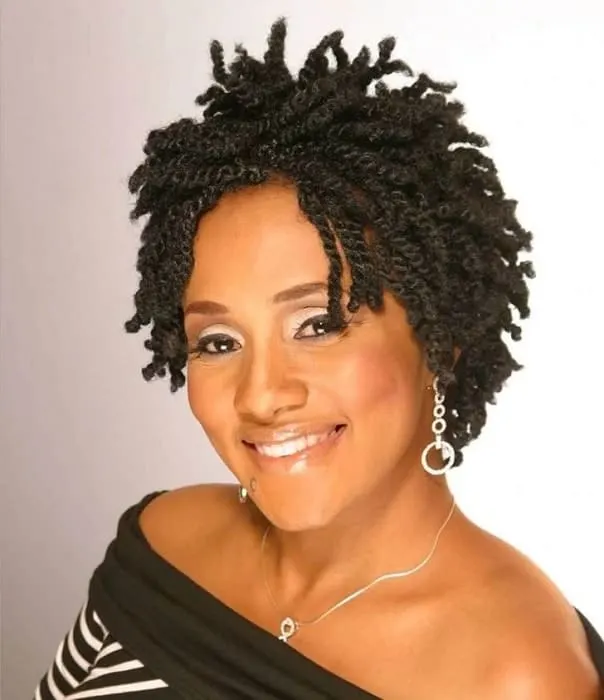 Two-strand twists are better than flat twists for ladies who like to have their hairstyle always in order.
The Pixie bob hairstyle is upgraded with a short kinky twist. Not only it last for days, but this hairstyle is one of those classic ones.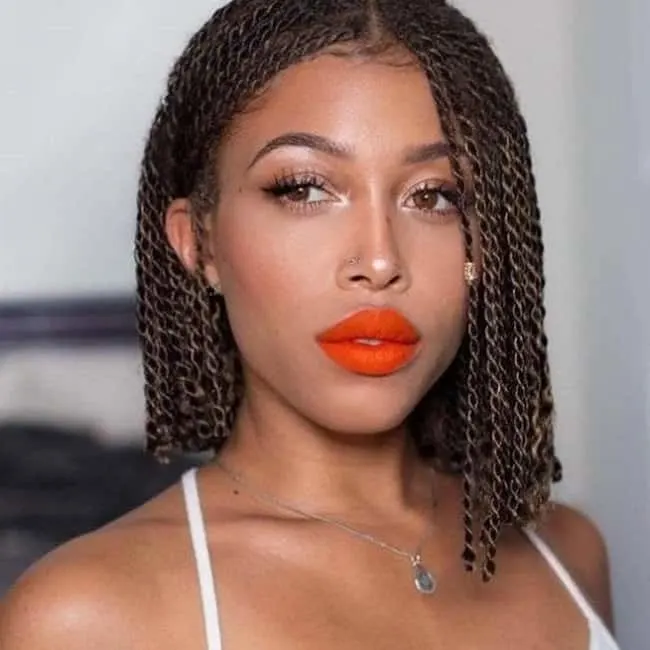 There are many types of twists, but we can surely say box and Senegalese are the most popular and certainly the most loved ones. If you are rocking the medium bob hairstyle, then you should think about upgrading it to the whole new level – with short twists! This hairstyle is everything you will need to look gorgeous every day.
16. Ready for Summer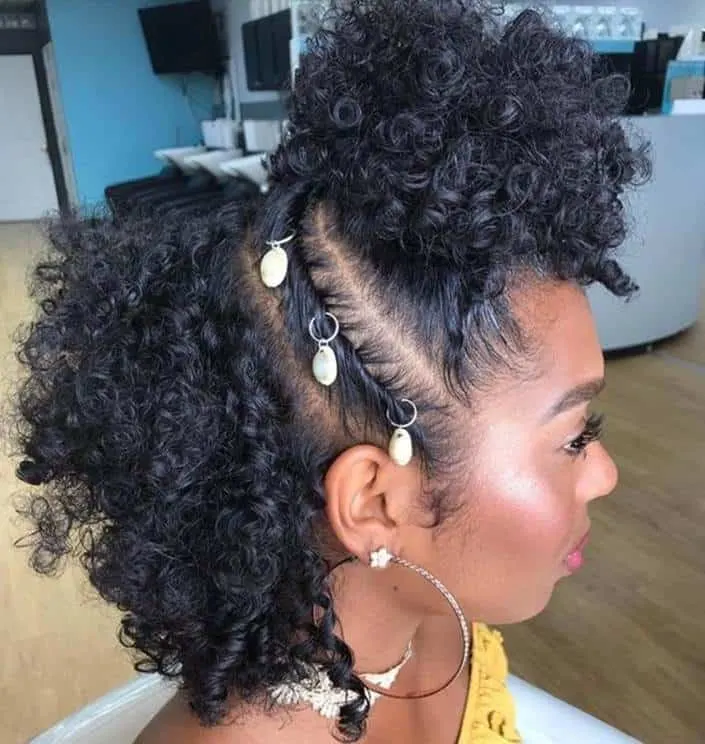 If you are ready to twist your short hair and prepare for a hot summer, then this is the right place for you to find inspiration.
The hair is divided into two, but not in the way you are used to seeing. Instead of horizontal, the sections are vertical and so chic. Hair accessories are the must-have for this summer!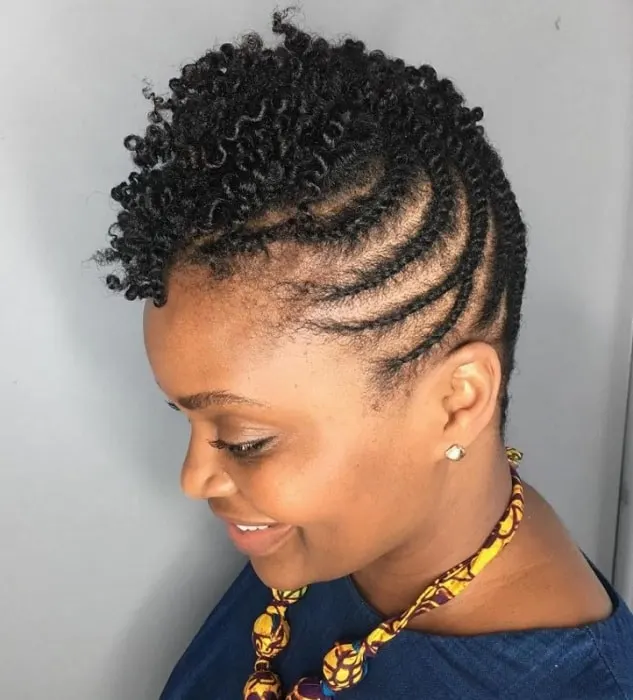 This mini twist hairstyle looks a bit different than others, but it is certainly not less attractive. Nevertheless, this short hair twist style is great for all elegant occasions.
This hairdo is perfect for all women with a classy and polished style. You should use a curling iron or a wand for your bangs and twist the rest of your hair, making kind of a headband.
18. The '90s are Back!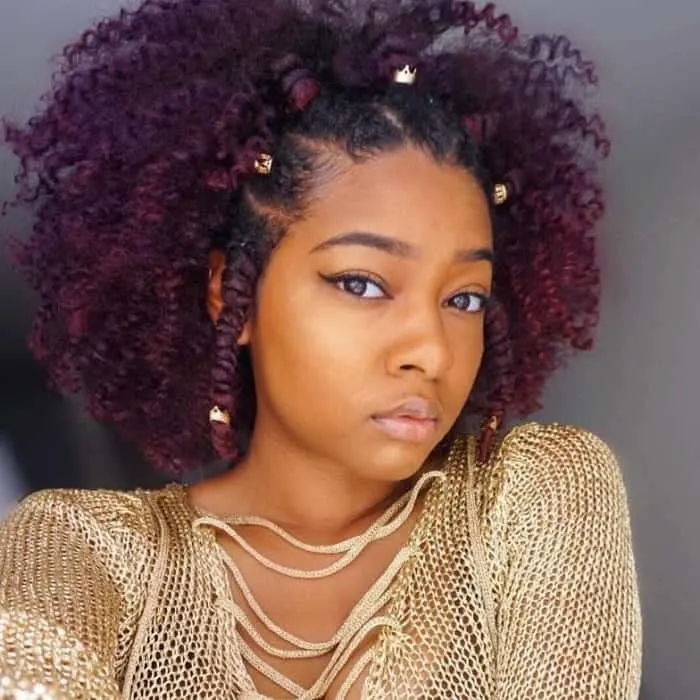 Oh, yes – the '90s are back not only in fashion and style but in hairstyle industry as well. Don't be afraid to show off some volume and to dye your hair in the unexpected shade. This Nubian twist hairstyle is perfect for the upcoming summer and days spent on the beach.
Twists are not the easiest hairstyle to make, but once your practice is on the peak, you will realize why they are so popular. Hopefully, you liked these short twist hairstyles on natural hair we have shown you here. They are both classy and modern, youngish and appropriate.