If you want to stand out in a crowd, unnatural hair color is a great way to grab some attention. Violet black hair is both subtle and unusual.
Violet Black Hair
Violet black hair will often only look purple when it catches the right light. This will make people turn their heads to look again. It's a great color for women who love attention.
Those who want a more overt hairstyle can choose a much lighter shade of violet. Although the darker color is often chosen by Emo and Goth women, it can also be worn by women from all walks of life.
With darker shades of violet-black, people may even need to look twice before they know what color it is. If you do want to try out this look, have a look at our list of the hottest violet black hairstyles.
Midnight Violet Black
This color is absolutely jaw-dropping! The black dye beautifully transits into those fabulous dark violet hues. If you have long hair, give your locks more volume with some well-defined waves that will gorgeously fall on your back.
Violet Highlights
Create a black hair base and use an electric overt violet shade to make your fabulous hair shine. Those highlights will make your hair stand out in any crowd, and those easy waves will give your hair more dimension.
Red Violet Highlights
Get yourself a long pixie cut and create a black base color that will later beautifully blend with your thin red-violet highlights. Create some waves for your bangs and top hair to make those gorgeous violet hues stand out.
Violet Balayage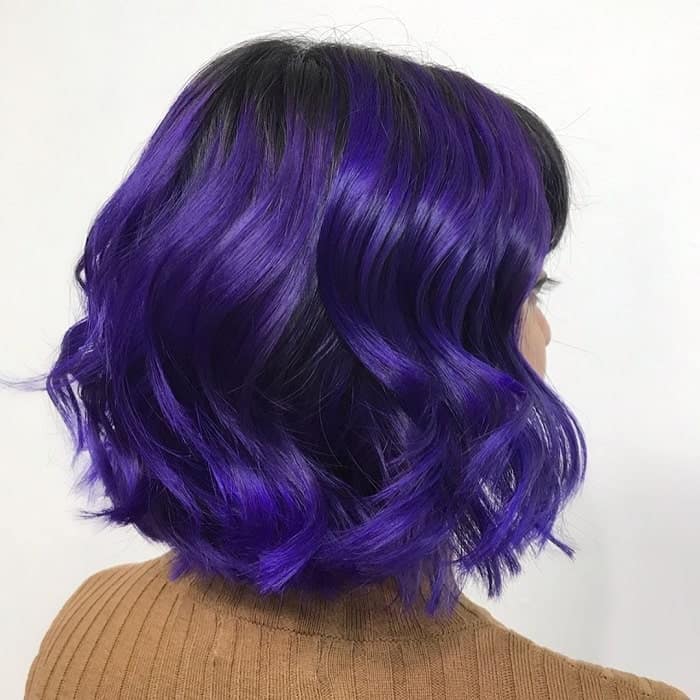 A long bob hairstyle with bangs is the ideal choice if you want a modern hairstyle. Choose an electric violet color and create a stunning ombre. Keep your bangs black, just above your eye-brows, and create waves for the rest of the hair.
Dark Violet Black Hair
A dark violet electric hair is so outstanding that everyone who sees your hair will feel the urge to compliment it. Create an ombre that starts close to your black roots and leave your bangs long.
Big Bushy Curls
Blonde and Purple Hairstyles to Get Your Kicks
Vivid Violet-Black
Violet Black Ombré Hairstyle
Blissful Past Purple Hair Color Ideas
Thick Hair with a Glamorous Wave
Sleek Hairstyle and Blunt Bangs
Highlights and Lowlights
Gorgeous Bold Waves
Super Long Violet Black Hair
Long Auburn Hairstyles to Look Aesthetic
Wear your hair in an unusual way by taking a chance on violet black hair. This hair color will help you grab the attention of hair enthusiasts!