A weave is an exciting way to change up your existing hairstyle. Weave ponytail hairstyles are an ideal choice for women who want to give their hair controlled length. You can add bangs if you want to add a little intensity to your style.
Weave Ponytail Hairstyles with Bangs
Bangs can help to bring intensity to any hairstyle, but they look great as part of a weave hairstyle with a ponytail. Bangs give the face more angles and help to create a really strong feature. They can also be used to draw the eye towards or away from particular facial features.
For example, heavy bangs can really help to draw attention towards the eyes. Alternatively, side bangs will take attention away from a heavy forehead.
1. Sleek High Ponytail Style
Weave ponytails with bangs have made a major comeback to fashion this season. This is a particularly lovely ponytail style with sleek bangs running down the sides of your face. You can have your hair dyed in any color of your liking and add some highlights to it to become more attractive.
2. Adorable Weave Ponytail Hairstyle

If you want a fun and youthful hairstyle then this weave ponytail is all that you need. The ponytail gets more styles with the ball-like formations made from hair. This goes especially well for women who have ginger hair.
3. Beautiful Ponytail with Heavy Bangs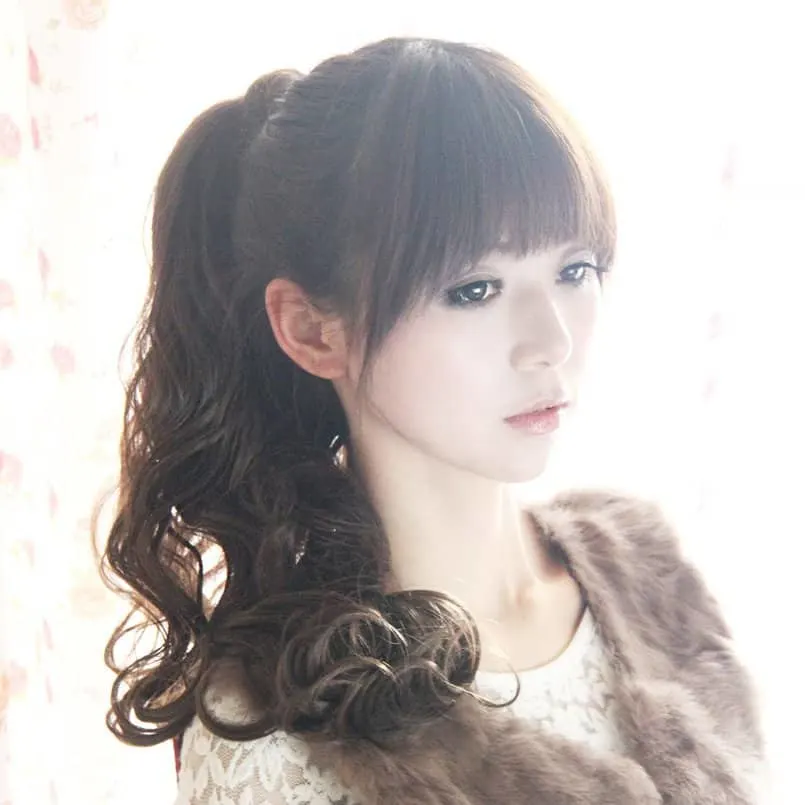 If you have classy natural curls and want to flaunt them then why not do it with style? This weave ponytail has thick curly hair with lovely sleek bangs which cover most of your face. This makes you look younger and livelier.
4. Dirty Blonde Hair with Fake Bangs
If you have long dirty blond hair and want to have a go at a ponytail then this weave ponytail hairstyle with bangs is best for you. The fake bangs at the forehead look classy and appealing while the high ponytail has an additional charm of its own.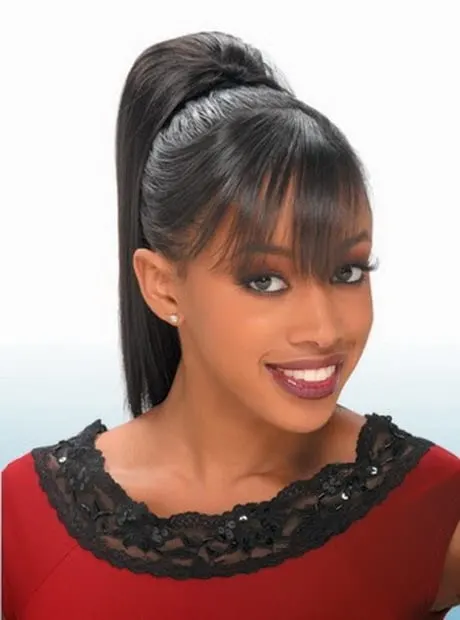 The beauties with shiny black hair will love this high pony as their features look sharper and prettier with this one. The bangs are swept to a side to give a more sleek and sophisticated look.
6. Violet Black Style in a Big Top Knot
Top knots have a class and attractiveness of their own which shines out more in black. Having a touch of violet in your black hair can help you pull off this lovely style like a true Hollywood diva and you will surely feel more confident with this.
7. Subtle High Chignon and Sideswept Bangs
This Asian inspired chignon is an impressive hairstyle to get this season as it neatly pulls the hair in a gentle chignon. The bangs at the front are thick and swept to a side due to which you look lovelier and readier to take on the challenges that come your way.
This is one of those weave ponytail hairstyles with bangs, which you can rock with long auburn hair. The bangs are stylish and modern as they grow longer at the edges, giving you a cool and dramatic vibe.
50 Creative Light & Dark Auburn Hair Colors
9. Weave with One-Eyed Bangs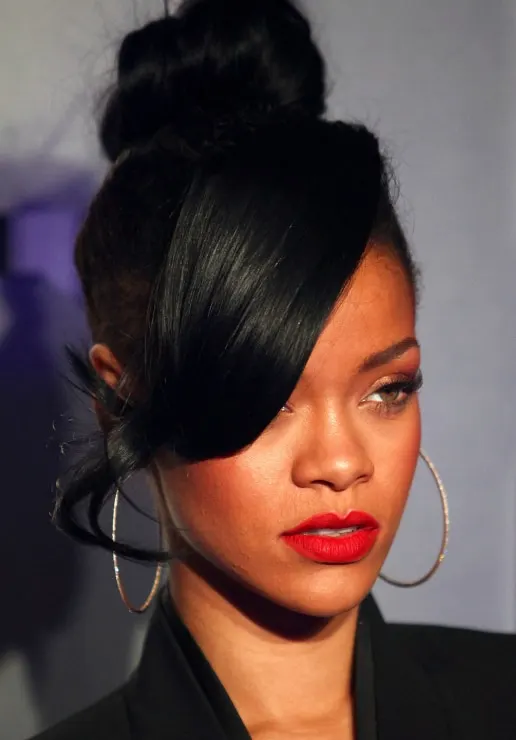 Looking for a hot and chic hairstyle? If yes then this is a nice style, to begin with since it has all the hair put into a neat weave bun at the top of your head except for the bangs. The bangs are long and cover one eye fully to make you look sharp and sexy.
10. Ponytail Weave with Heavy Bangs
Bangs are a great way to enhance focus on your face and head whenever someone looks at you. This lovely natural ponytail is best for young women who do not want to reset their hair after they have put effort on it already. The heavy bangs add texture to your hair while making you look more feminine and lovely.
Beautiful Bangs to Try With Curly Hair
11. Side Swept Pony
If you want to keep things natural and livelier then this side swept pony is great for you. It will work great for you no matter if you have straight hair or curly hair. The bangs are medium length and just skim the surface of your eyebrows.
12. High Braid Pony with Peek-A-Boo Bangs
This is a fun and stylish weave ponytail hairstyle having bangs as the ponytail is then braided to give it a cool trendy vibe. The long peek-a-boo bangs cover eye completely giving a mysterious and hot look to this impressive hairstyle.
13. Side Bangs with Wavy Weave Ponytail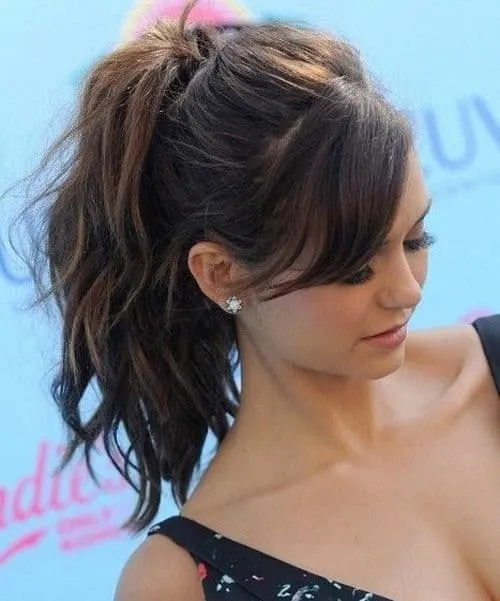 If you have reddish wavy hair and want to give it a less intense and friendlier hairstyle then you should consider trying this pony. The wavy hair is tied in a ponytail swept to a side while the bangs are in the same direction to complete this look.
14. Double Tied Pony
A double tied pony can go a long way in making you look fresh and all set even if you are having a bad hair day. The fun part is that you can let the bangs fall down your forehead naturally or sweep it to a side. It will work both ways!
15. High Messy Pony with Long Bangs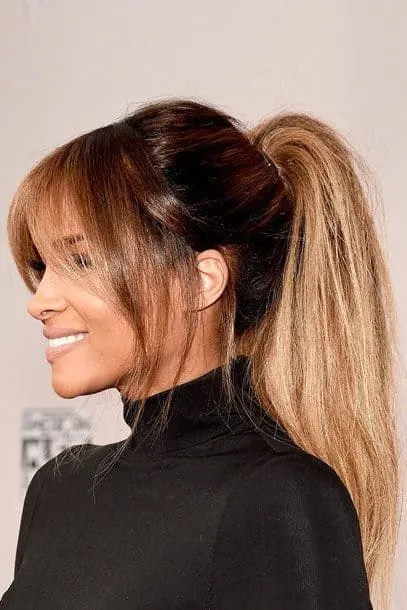 It is easy to make hairstyle, which influences on the way that you look. It has a very young and lively feel to it so you can try it whenever you want to change your hairstyle.
16. High And Glossy Dark Brown Pony
Why choose a boring weave ponytail hairstyle with bangs when you can have this stylish and fashionable one? The ponytail is sleek and smooth while the bangs are straightened to achieve that added sleekness.
17. Curly Ponytail with Bumpy Bangs
This black weave hairstyle is perfect for those who have large curly hairs. For those who are looking for weave pony hairstyles with bangs can try this great bumpy bangs. They suit perfectly for a great look with curly hairs.
Weave ponytail hairstyles with bangs look fantastic on women who struggle to grow long natural hair. On the other hand, a weave without bangs can also give a clean fresh style.