Wedding planning can be challenging and overwhelming whether you're a redhead or not. With thousands of decisions, from choosing color palettes, cake and dinner tastings, venue selection, and picking out your wedding dress and suits, that's a lot to tackle!
But one of the monumental tasks that help to tie your entire wedding day look together is choosing the wedding hairstyles for redheads.
And trust us, while many wedding planning tasks may seem mundane, selecting your wedding day hairstyle is not one of them.
So, to help you complete your bridal look, we have curated a list of the best wedding hairstyles for redheads.
Gorgeous Wedding Hairstyles For Redheads
Whether you're a natural redhead, your red locks are courtesy of your favorite salon, or your a DIY hair color queen, these redhead wedding hairstyles will have you looking your best.
And we made sure to include a mix of styles, from boho braids to short-hair wedding hairstyles, styles for long hair, and even for the edgy bride. This is your ultimate source for bridal hairstyles for redheads.
1. The Wedding-Worthy Braid
Straight, curly, wavy, curly, or natural—if there's one thing all hair types have in common, they look crazy good with braids. As a result, the simple plait has gained popularity again in recent years.
And stylists have responded by coming up with many fresh ideas for making it wedding-worthy, from delicate and romantic to traditional bridal hairstyles with a contemporary twist.
We love how elegant, sophisticated, and romantic this structured fishtail braid halo looks.
2. Dramatic Reddish-Pink Mohawk
This vintage-inspired mohawk with a side-swept large curl is divine for the edgy bride that dances to her own beat and makes waves everywhere she goes.
On your wedding day, it's essential to be yourself and show your personal style.
And this bride did precisely that! Her hair color, a stunning burgundy or reddish pink, and choice of wedding hairstyle are epic.
3. A Simple & Romantic Wedding Hairstyle For Redheads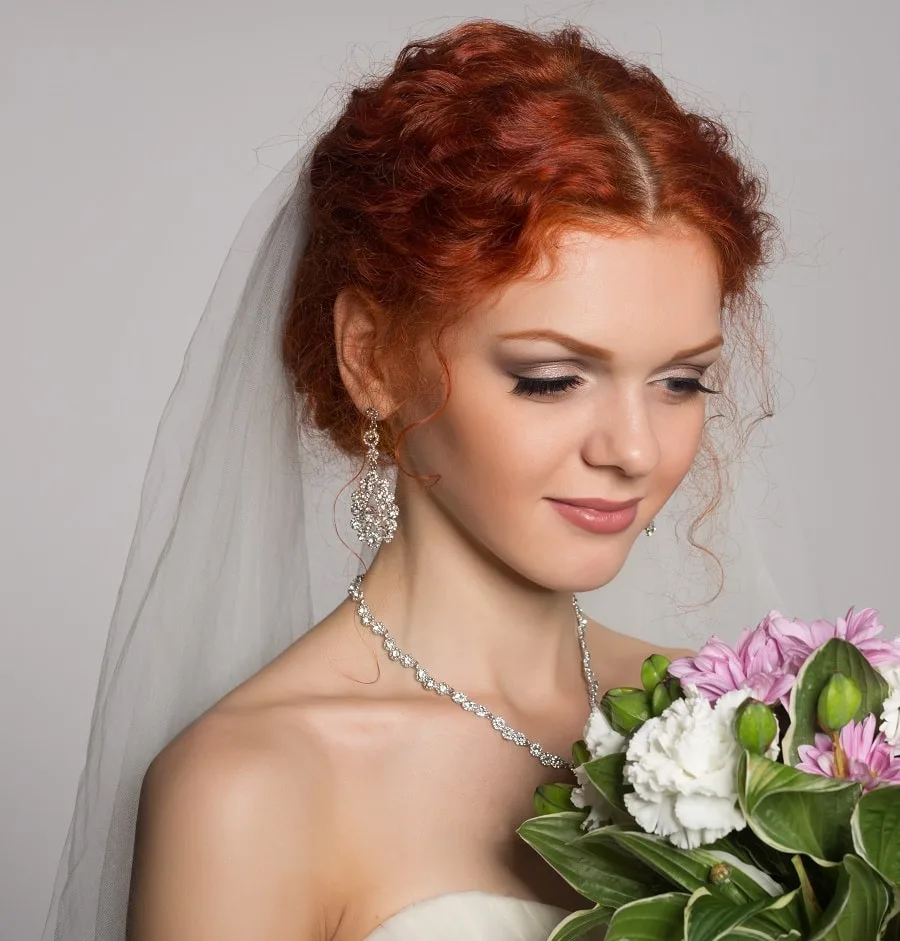 When you have beautiful red hair with a soft and natural loose wave, embrace it on your wedding day.
There is no reason to have a fancy wedding hairdo when your natural red hair is gorgeous. This is an example of a loose up-do, with the middle part and romantic wisps of hair around the face.
The simple and romantic red hair updo is accented perfectly with a delicate veil at the crown of her head.
4. Side-Swept Wedding Hairstyles With Long Curls
It may be a little more difficult for thick, red-haired brides to find their perfect wedding hairstyles. But now there's no need to look no further.
Side-swept locks with long curls with a structured yet tousled look are elegant and dreamy.
This redhead bridal hairstyle flows down the side of your neck and rests on your shoulder in an organic way that even Mother Nature would be jealous of.
Even short, red-haired brides should consider adding extensions to achieve this gorgeous wedding hairstyle style.
5. Super Soft Redhair Style For Fun Loving Brides
This sexy and short red wedding hairstyle allows the bride's pure radiance and confidence to shine.
A sassy pixie cut with soft waves and volume on top is stylish and fun. Add a beautiful earring and makeup for a stunning wedding day look.
6. Red Curly Hairstyle For Brides
Embrace your curly ginger hair on your wedding day by styling it naturally. The short, soft, delicate ringlet curls in this ginger wedding hairstyle frame the bride's face.
Accented perfectly, a majestic crown featuring blue, amber, and white stones creates a truly stunning look.
And we love the red lip and soft eyeshadow, allowing the bride's beauty to radiate.
7. Red Hair Bob For Wedding
What distinguishes this wedding hairstyle? The fact that it is straight and gleaming. This bob haircut is a stylish choice for any wedding, whether inside or outside, throughout the year.
With a hairstyle like this, your wedding photos will still be stylish years from now, and because it requires little upkeep, you can concentrate on other things (like cake and dancing).
Curled under ends and whispy bangs complete beautifully feminine wedding hairstyles for redheads.
8. Wedding Hair Bun For Redheads
If your style is sleek, simple, and sophisticated, you'll love this polished low bun with a delicate baby's breath accent.
Have you ever wondered what makes a bun different from a chignon? While a bun is more of a wraparound style, the bridal chignon refers to any low updo in which your hair is tucked underneath and in.
We adore how this bride's naked shoulders can be elegantly displayed because of her voluminous, flawless chignon. Indeed a beautiful and classy bridal hairstyle for women with red hair.
9. Incorporate Your Bouquet
Brides rocking down 'dos aren't the only brides who can wear flower crowns in their hair. Whether they are small, delicate flowers and greenery or more substantial, statement blooms, we adore the notion of incorporating florals from your bouquet into your bridal updo.
This redhead bridal hairstyle has beautifully loose pinned curls, a flower crown with greenery, and white and yellow flowers. This combination looks perfect with vibrant red locks.
If you're a redhead bride looking for a wedding hairstyle that is whimsical and ethereal, this is it!
10. Long Ginger Locks With Ivory Headband
Are you blessed with an oval face? This exquisite ginger hair is showcased in style with an off-center part, flawlessly coiffed loose curls, and a dainty bridal headband. This traditional redhead wedding hairstyle looks stunning with various gown necklines and bodices.
We love this ginger wedding hairstyle is romantic and perfect for outdoor or indoor events.
11. A Classy Updo For Redheads With Curls, Flowers & Veil
Double up on your accessories for a stylish and ethereal bridal look- flowers and a veil are the perfect touches. This romantic bridal hairstyle for redheads is a traditional updo with a modern touch.
Three strands of hair are rolled and swept to the side, and the back has a bun full of curls that are topped off by delicate flowers. The look is finished flawlessly with a sheer veil placed under the bun, allowing the bride's pure beauty to shine.
This is a beautiful curly bun hairstyle for any wedding.
12. VaVa-Voom With This Vintage Wedding Hairstyle For Redheads
Brides who adore the timeless, elegant looks first popularized by stars of the silver screen like Marilyn Monroe, Brigitte Bardot, and Audrey Hepburn frequently choose vintage bridal hairstyles for redheads.
Wedding hairstyles that have endured the test of time include enormous, voluminous Old Hollywood waves, victory rolls, and dramatic updos decorated with vintage pins and barrettes.
These styles also feel more special and formal because they differ from what you generally do daily. We love a vintage redhead wedding hairdo!
13. Barrel Curls & Rhinestone Tiara
Choose a wedding hairstyle that is traditional, understated, romantic, and timeless. This look's greatest asset is how easily it can be adapted to fit any wedding theme.
Medium-length, red hair styled with luxurious barrel curls for a fancy yet relaxed look. Add an elegant rhinestone tiara and boom! Perfection!