As any hair stylist extraordinaire will tell you, oval faces may be perfect for many hairstyles. If you are a bride with an oval, doll-like face, most hairstyles, even extravagant updos, will most certainly suit you. There are endless wedding hairstyles for oval face brides to choose from.
Oval faces are generally rather symmetrical. Whether you are going the DIY route or working with a stylist, one of these bridal hairstyles for the oval face in this list is most likely to be the ideal one for you to recreate on your big day.
1. Half Messy Bun With Jeweled Barrette
A messy bun works wonders with an oval face, especially if a bun-maker has been used or products that add volume to the main bulk of the style.
Since oval faces tend to be smaller, the messy bun can be used spectacularly with plenty of soft curls or waves, flowing bangs, and a large bun positioned higher up on the head.
Oval faces look beautiful if the crown area has been backcombed to add some extra volume at the roots or a volumizing root spray is used.
Tie the look together with a vintage barrette decked with gems, and don't forget your bridal veil can easily be adjusted in the main body of the bun before you walk down the aisle!
2. A Babys' Breath Tiara
For brides with long hair, having your hair open with semi-beach waves and a stunning baby's breath or wildflowers tiara center stage is a great bohemian wild child look.
It's perfect if you are getting married on the beach, on a ranch, or elsewhere in the wild!
The style will work for medium-length hair, so use a crimping iron and then comb through it to make the waves appear more natural.
3. Chic & Soft Beach Waves Textured Short Hair
For a bride with short hair who wants a natural, clean hairstyle without too many complications, there's nothing better than a half-casual open hair look with beach waves.
Be sure to add plenty of texturizing sprays and leave the last inch or so of your hair straight for a neat look.
Always have a hair coloring touch-up a week before the big day, so the color is fresh but not too new.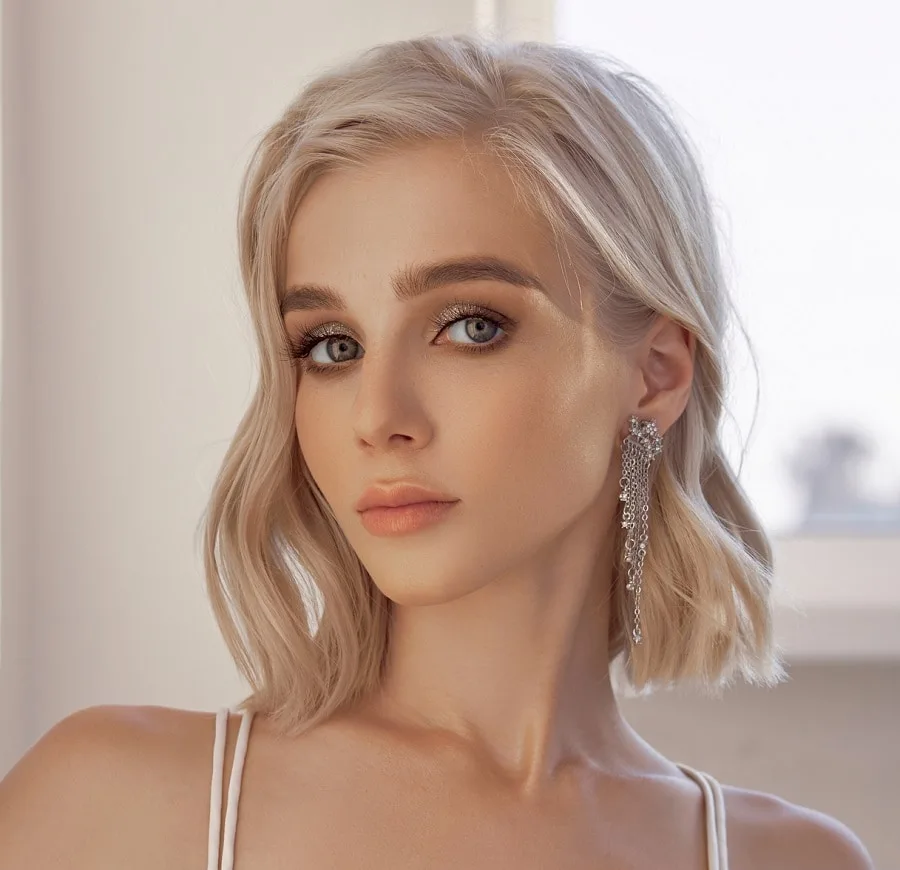 4. The Vintage Titanic-Inspired Hairstyle With Ringlets
If you are a fan of the movie Titanic and adored Rose's tight curls inspired from the early 1900s, with a half up half down do, then this hairstyle is the one for you.
It goes well with a vintage lace gown and both off-shoulder and high-neck dresses. It plays with the length of the bride's hair, so it is ideal for longer hair that can then be styled into tight ringlet curls.
Since it is a very doll-like hairstyle, it pairs well with an oval face shape. Pearl pins and fancy hair accessories like barrettes or even flowers like sprigs of lavender can be styled near the crown area, although it looks stunning on its own as well.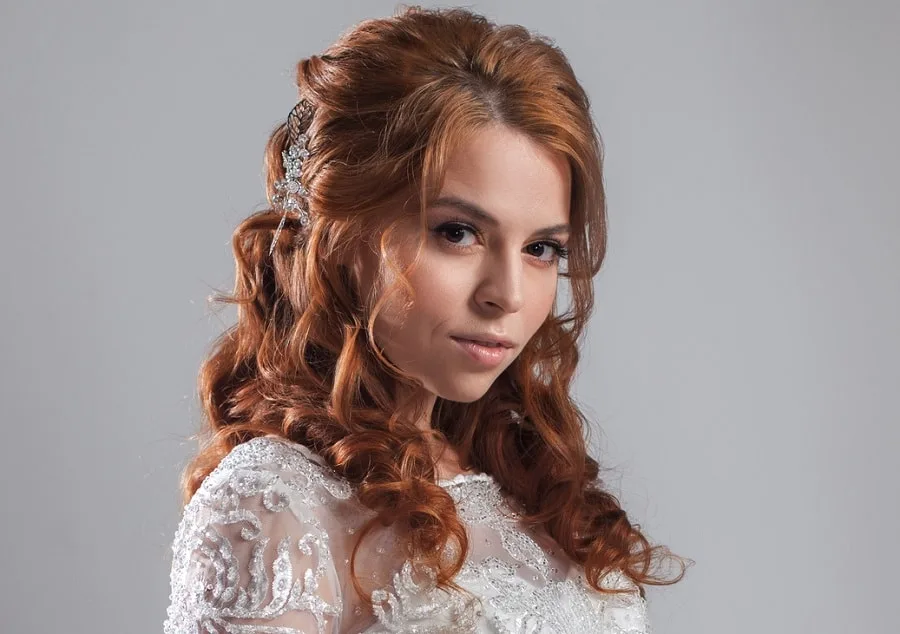 5. A Floral Enchantress Bun
A bun is a well-loved formal event choice, but in this shoulder-length bridal hairstyle, a traditional ballerina loose bun has been made ornate with a curated selection of foliage and seasonal flowers.
Its less-than-perfect appeal is great for outdoorsy or beach weddings and for weddings when it is warmer as it doesn't need to be held together with too many pins and hair spray.
6. The Absolute Princess Hairstyle
Every bride wants to feel like a princess on her wedding day, and this hairstyle is a Disney-inspired super regal moment that will make oval face shapes appear even more stunning.
The hair is extremely voluminous in this style with large perfect looking curls (no combing out curls in this one!) and significant backcombing in the crown area.
Unless you have naturally very thick hair with plenty of volume, you may need some extensions and products such as volumizing mousses and sprays.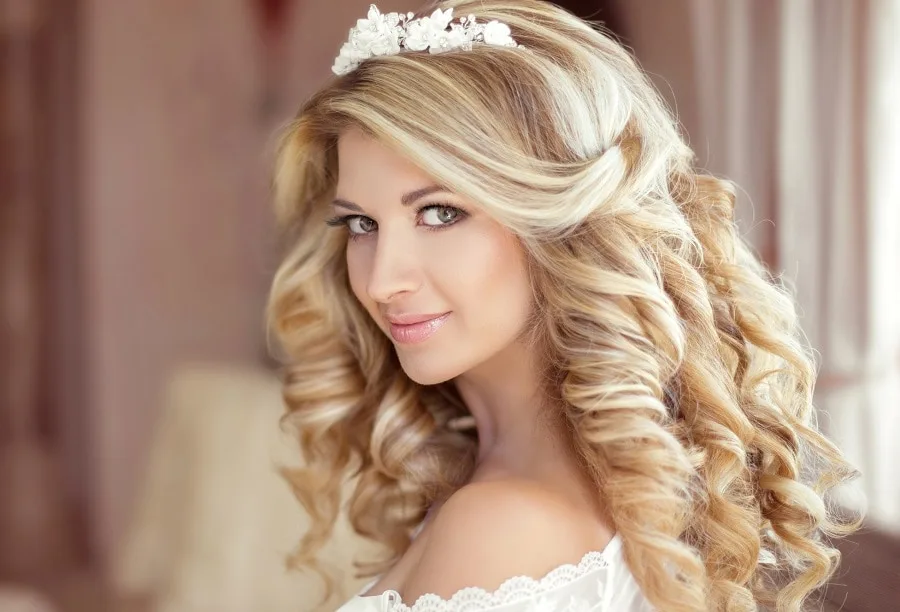 7. Retro Glam Updo With All The Fixings
If you have long, beautiful hair, choose a retro glam high updo with a few ringlets framing your face and white seasonal flowers adorning the back.
This wedding hairstyle can be made as ornate as you like with pins, pearls, or even a tiara, or it can be trimmed back to look messier and more casual to go with an elaborate wedding gown. Chandelier earrings work wonders with this hairstyle!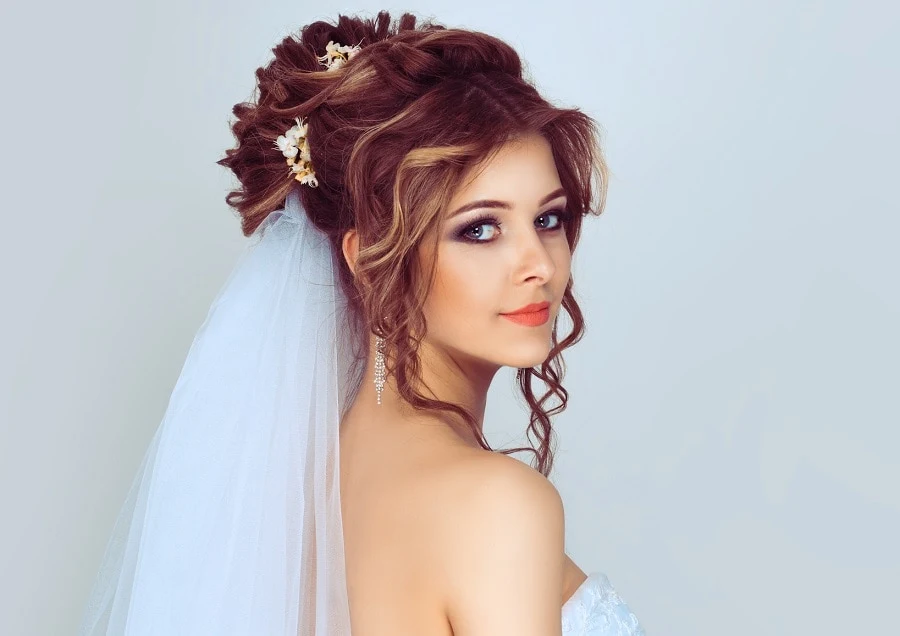 8. Natural Texture And A Flower Tiara
Rocking your natural hair texture is a way to express self-love on your wedding day. Instead of flat-ironing or undergoing chemical relaxants, apply your favorite serum and let your hair loose, styling it with a simple flower tiara you can make yourself!
This hairstyle is a sublime choice if you wear a veil that will cover most of your head or have shorter hair.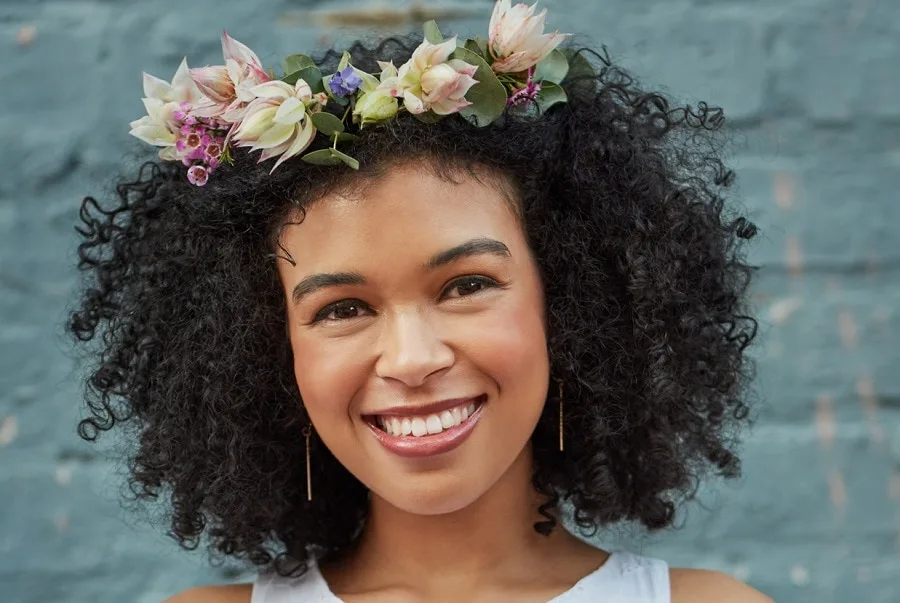 9. Dreamy Half Up Half Down Loose Curls With Bangs
This is a variation of the classic pin-up style with trendy bangs. The half-up, half-down concept allows the bridal veil to be attached nicely, and you can always have a smaller tiara or decorative comb at the back to make it appear more embellished.
10. A Fashionable & Trendy Bubble Ponytail For Long Hair
If you're a bride with a gorgeous oval face shape and long, lustrous hair, then a bubble ponytail is an effortlessly chic and modern hairstyle to adopt for your wedding day.
We absolutely adore these wedding hairstyles for oval face because it's fun, elegant, and trendy. It keeps the locks off your face or prevents them from blowing in the wind, and it looks sublime with a low-back or off-shoulder wedding dress.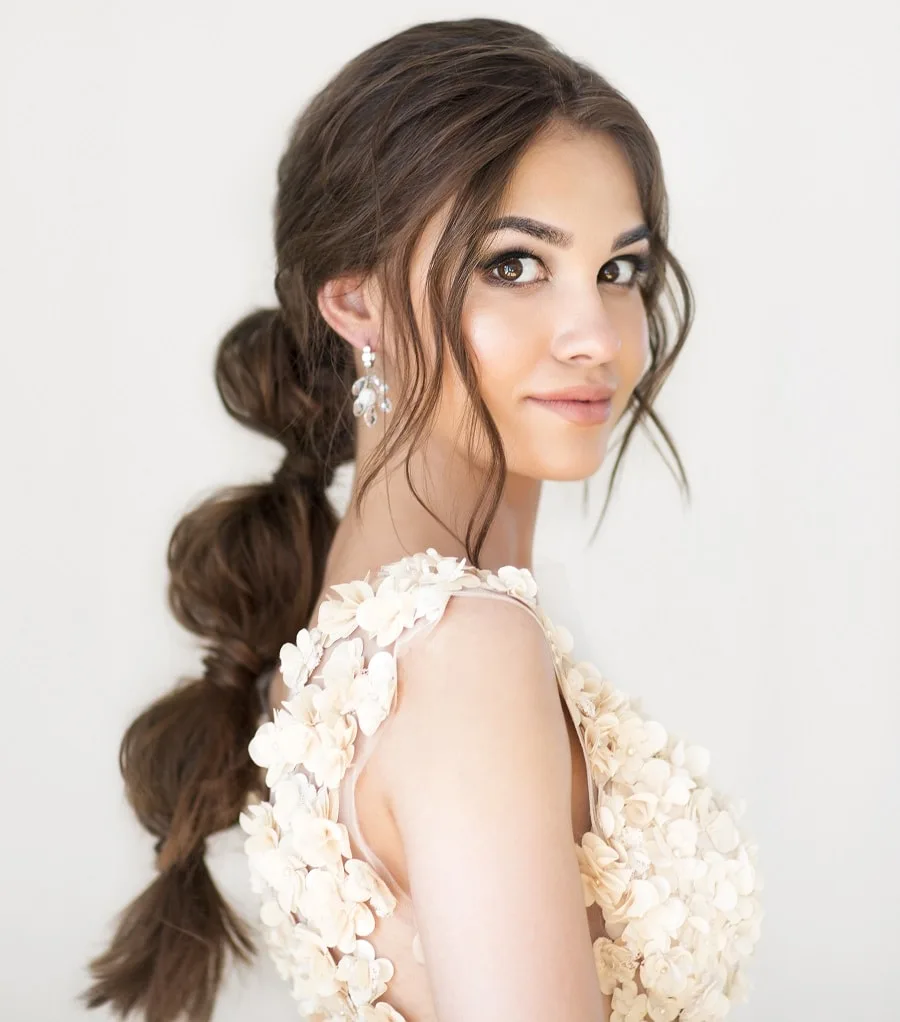 The perfect hairstyle is crucial to perfecting your entire bridal look, but it doesn't need to be filled with hassle and dread.
These wedding hairstyles for oval faces are inspirations for perfecting your look. But remember this, natural styles are in vogue, and brides everywhere are celebrating their own hair textures and how they can be most comfortable on the wedding day itself.
If you want your hair to blow in the wind like a movie or want it neatly tucked away in a convenient yet glamorous style, the choice is yours, as there is no right or wrong. There is only beautiful hair.