Having a dramatically short crop is a big decision and not one that you can come back easily from if you don't like it. The good news is that there is a plethora of fab and funky edgy styles available so you can choose with ease and be certain that your decision will make your tresses the envy of everyone!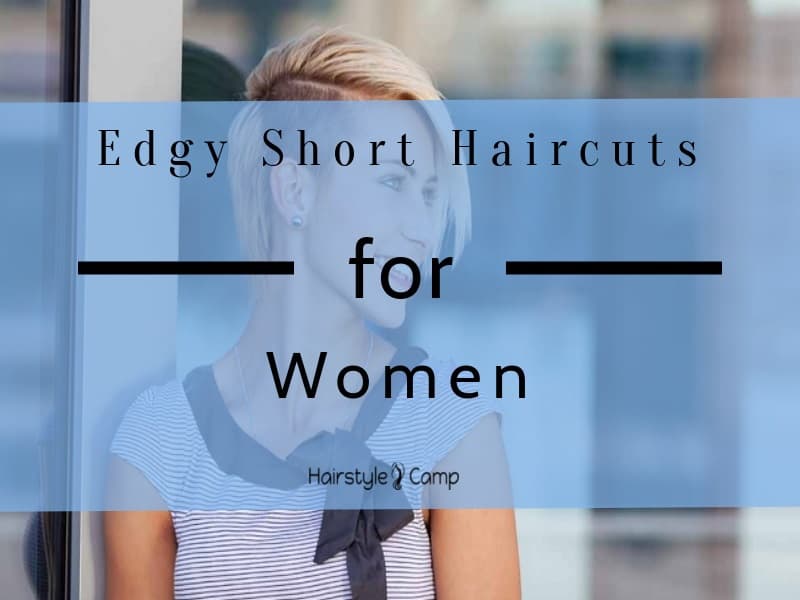 While short hair is often easier to style day-to-day, it doesn't mean that looking after your locks should be any less important than those who have long and flowing follicles.
There are however slight differences in how to care for shorter hair, so here is a rundown on the do's and don'ts!
How To Look After Edgy Short Haircuts
Whilst brushing is great for stimulating the production of natural oils in the scalp, overbrushing is very bad for the hair. Luckily if you have short cropped hair then you will find it is less prone to tangle.
When possible, put down the brush and use your fingers to style and add volume at the roots. Your hair will thank you for it.
With a clever chop, you will likely find you are in less need of heated styling tools. There will be occasions when you sleep awkwardly and wake up with odd kinks and curls, but where possible, give your head a break from the heat. You may very likely achieve the same results by using appropriate styling products or teasing with your fingers.
With short hair, when it grows you know! This means that if you want to keep on top of your look then you need to keep on top of your hairdresser's appointments. So, if you want to maintain your choppy locks then you may need to have a trim as often as every 3 weeks!
It may seem surprising but short hair actually requires more frequent washing than long, as it is inclined to become greasy. With a short 'do being more prone to dirt, you are encouraged to wash your hair more often. Use conditioning treatments to stop the hair drying out and rinse your hair using water that is as cool as you can handle to enhance shine.
So, if you're after flattering and flirty, the perfect pixie or short and sassy we've got them all covered.
Amazing Short Edgy Hairstyles for Women
If you are considering a short hairstyle but not sure what style will suit your hair type or face shape, then have a look through the following 25 on-trend short edgy haircuts for inspiration and speak to a good stylist who can provide top tips for your tresses.
1. Asymmetrical Cut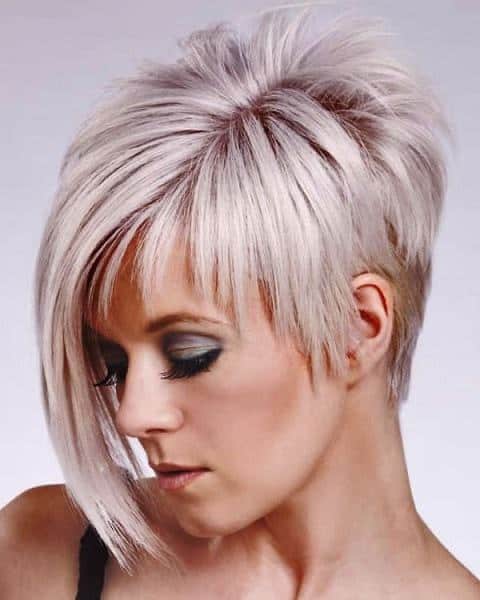 If you're looking for an edgy short haircut then an asymmetrical style can look trendy and very cool regardless of the length. This style has some serious attitude with its choppy layers and stacking at the back. Not to mention that cute graduated fringe. The long layer will also look very cool casually pinned back from the face.
2. Shaved Side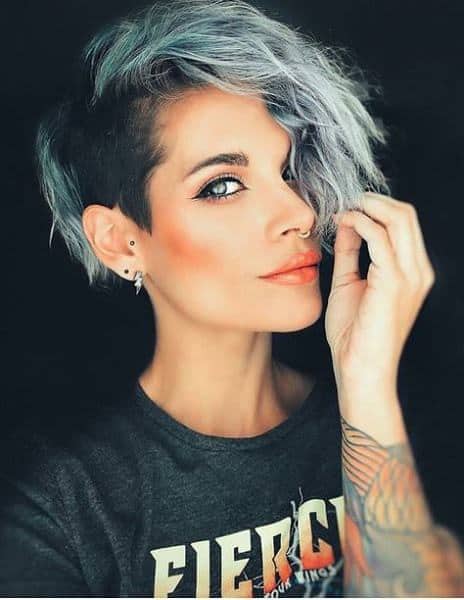 This is a very trendy and decidedly fierce hairdo. With the dramatic side part, tousled icy colored hair and shaved side, the darker roots make for a great contrast. This look would be great either styled poker straight, in relaxed waxes or with big bold curls. This hairstyle shows that short crops don't mean that hair cannot be versatile.
Brilliant Half-Shaved Head Hairstyles for Girls
3. Long Top Pixie
A cute pixie cut is always an adorable look but sometimes a super short cut is not for everyone. If you're looking a short edgy haircut but you would still prefer some length or are looking for a cut while growing out your short hair then consider a longer style across the crown of the head, a relaxed fringe and dynamic sideburns.
4. Punk Crop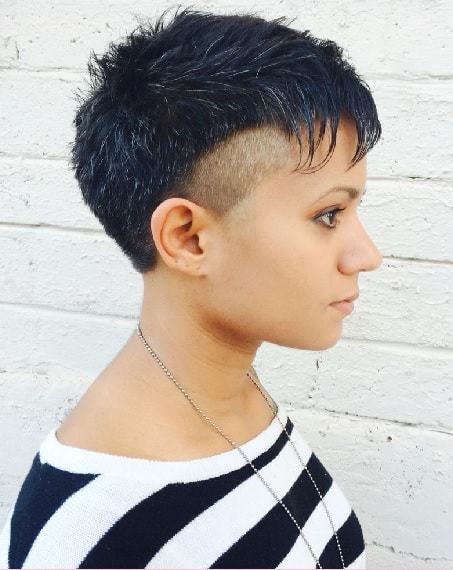 Shaved sections are a clever and instant way to add some drama. This is a slick, unique and quirky way to offset the shaved temple against an otherwise simple and almost conservative crop. Try adding further subtle edgy notes with clever color choices such as this electric blue hue.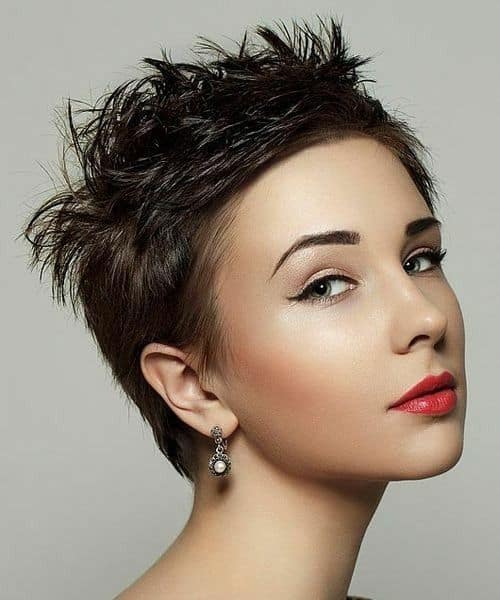 This super sharp cut coupled with a tousled and slightly messy style is perfect for anyone with dainty features or a petite face. By adding a pomade or wax to the lengths of the hair, you can very easily achieve a choppy and dynamic look.
6. Everlasting Style
This skyscraping do is ideal for women of any age who likes to live life on the edge.
The bold super short sides and towering quiff looks perfect in a frosty platinum blonde color. Easy to maintain – this short edgy hairstyle is a timeless and classic crop.
7. Bold Color
Adding bold panels of color to short hair is a great way to mix things up. Especially if you have a style, like this, with a thick and dense fringe section. By feathering the hair and thinning it out, before adding splashes of bold color, you can keep the length without it looking too heavy.
Plus, the color options are endless, so you can make your short haircuts with edge look as demure or punk as you like.
8. Bed Head
This two-tone trim edgy short haircut is utterly exquisite. If you're looking for the ultimate quirky short haircut, then look no further! By having the ends cut into a choppy pixie crop and using a wax or pomade to ruffle the ends, you can achieve a very easy and very strong and dramatic style.
9. Blunt Back
With a long-layered side fringe framing the face, this crop is all that more edgy and unique with the blunt and choppy sharp shaping around the nape of the neck. It adds a lovely sense of unusual structure and drama, and it enhances the volume at the crown.
10. Platinum Pixie Crop
Not everyone can pull off such a short and funky style – but those who can do it with aplomb! This crop takes women's short edgy hairstyles to the max! By styling the top of the hair up by blow drying or using a styling product, you can add texture and have a very chic look in next to no time!
11. Fauxhawk Hottie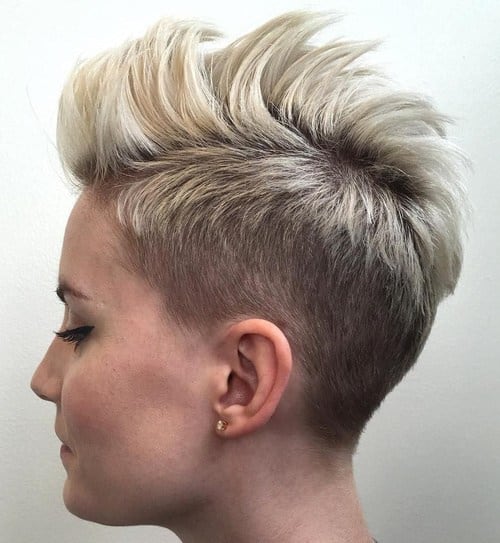 A full-on mohawk can be a big and bold move. If you are looking for something more mainstream but still want a short edgy haircut then a softer looking fauxhawk could be the answer you're looking for.
12. Pokey Pixie
Perfect for dainty and small faces, the pixie cut is a perfect pick for fine hair in need of a boost. By keeping the top longer, you can blow dry it up for added volume, definition and drama.
13. Caramel Coloring
You don't have to have crazy avant-garde coloring to achieve a short edgy haircut. This choppy crop is longer around the front and ears than at the back, with the clever choice of caramel coloring adding movement and volume at the roots and tips.
14. Versatile Vixen
This hairdo is almost a cross between a mohawk and a shaved-side hairstyle but what is appealing about it is its versatility. Despite there being very little hair remaining, you can still style to the side, create a dramatic fringe or go for a colossal quiff.
15. Cheeky Crop
This look is very feminine but with a modern and edgy air. A very low maintenance cut which is achieved by adding highly defined layers with a razor. The slight sweeping fringe and defined sideburns add to the over chic sense of simplicity.
16. Sleek and Sophisticated
With most short hairstyles with edgy end involving choppy and trendy layering, it is easy to forget that sleek and smooth also has it places too. This incredible style features a shaved side and rear along with a structured hairline.
It is set off by that ebony fringe that starts far back at the crown of the head and swoops to cover the face. This look can really only be successful with hyper-glossy hair in a bold color.
17. Young at Heart
Older women do not have to settle for old-fashioned styles. Go bold with an edgy bob or have fun with an asymmetrical fringe – the options available to you are very vast! But make sure you wear your hair with pride!
Short Hairstyles for Older Women
18. Flick
Creating clever and flirty flicks in hair does take a little bit of work but starting with a clever cut will help you massively. By blow drying the roots and backcombing for volume, you can create a billowing and energetic swooping waved fringe which is all out drama!
19. Side Bangs
Hip and edgy, this choppy crop with asymmetrical bangs is not only an easy look for anyone who wants a low maintenance style but perfect for those with very fine and sometimes lank hair who is after more shape and body.
Long Bob with Side Bangs Hairstyles
20. Fashion Forward
These brushed forward bangs may not be for everyone, but they certainly are a statement. With this short edgy hairstyle for women, there is no hiding with it being such a unique and quirky look so be sure of your decision before taking the plunge.
21. Bespoke Beauty
If an asymmetrical bob is a little too mainstream for you then perhaps you would favor a hairstyle that abandons all the rules! This 'do is utterly unconventional with its haphazard ends and bespoke coloring.
22. Two in One!
This is a great two-in-one women's short haircut! The shaved side allows for a highly dramatic side parting of cascading and colorful curls. If you are looking for something more conventional then the hair can be parted in the center and worn to cover up the shaved side.
If you have an edgy underhand alter-ego, then this could be the perfect 'do for you.
23. Blunt and Beautiful
You don't have to plump for this color palette if you want this cut – it looks super edgy either way! The blunt bangs frame the face beautifully and the short sharp crop can help frame a long face. Slight feathering around the cheeks softens the look a little but it still packs a punch!
24. Pretty in Pink
A mid-length bob is flattering for a variety of face shapes and a great choice for those who like to vary the daily style of their hair. With a very subtle asymmetrical cut and very fine layers, this look is set off by the relaxed curls and perfectly pretty pink palette. A perfectly dainty but still short edgy haircut for women.
This is a dreamy and feminine look but with an edgy twist. By maintaining the length at the front, it adds versatility for styling, but the chopped layers and tapered back is perfect for that quirky twist.
This edgy short look is perfect worn poker straight or slightly shaggy for a more relaxed style.