Short Grey ombre is one of the coolest and classiest hairstyles out there, as it has such a nice and positive vibe around it. Ombre style suits most hair colors, but there is no color, which owns ombre shading as perfectly as grey. No matter your age or personality type, you can rock grey ombre short hair easily.
Grey Ombre for Short Hair
Grey ombre is a raging fashion nowadays, so most women are experimenting with this one. Here are 7 best grey ombre short hairstyle ideas for women which you can try.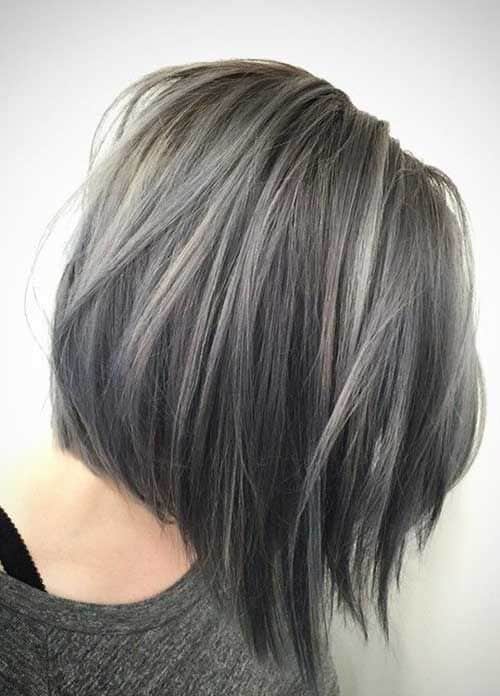 This short grey ombre hairstyle has lovely bangs to one side. The hair is short but not too short and seems fuller. It adds more detail and sharpness to your facial features as the hair falls along the side of your face very nicely.
The hair goes shorter towards the back of the head and there are distinct layers which make the overall look even cooler. It is a must try for a perfectly stylish look.
Pixie short hair looks perfect with grey ombre as all the details appear more vividly. The hair flying about in every which way looks stylish, young and carefree. The ethereal touch to the hair by grey ombre makes you look straight out of the pages of a fairyland book.
This short grey ombre bob is perfect for ladies over 50 who want to look sophisticated yet fashionable. The hair has natural bangs and gets longer as you go backward. The overall look is very gentle, simple and elegant.
If you want to have short grey ombre hair, but want to keep a hint of your natural black hair too, this is the best choice for you. The side bangs fall below the neck and merely touch the shoulders. The front is chopped short and the face is framed perfectly.
This grey ombre is particularly great for older women with short hair as they can look great with the sides of their heads shaved. You can even add a bit of pixie styling to it to avoid looking too intimidating. This one is an absolute stunner as it has so many details and features to it.
6. Shadow-Root Hairstyle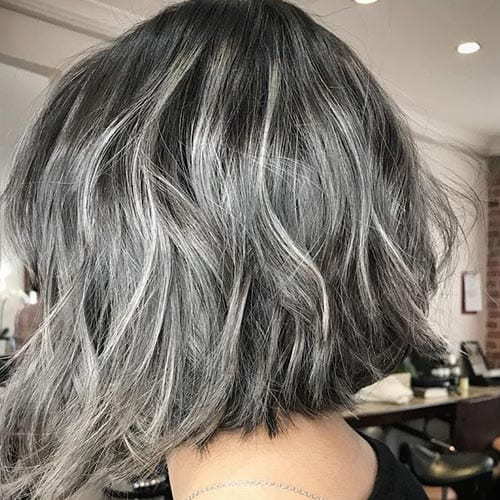 This shadow root hairstyle for short hair looks amazing with grey ombre as the front of the hair is slightly longer. Towards the back, the hair starts getting shorter and there are a lot of layers to it.
The lazy waves of this shadow root style are perfect for girls who love trying new and cool fashion trends. You can even add a dab of some other color to this one and look epic.
Stunning Short Ombre Hair Ideas for Women
7. Grunge Style
This grey ombre with short hair is a fun yet simple and gentle look which is perfect for young women. The hair falls down the sides of the face in gentle waves and has a darker shade of grey which helps in bringing out the eyes and other facial features more.