Asian men are known for creating a statement with their Asian fade hairstyles these days. The trendy and modern hairstyles are creating a bold statement in the industry.
Read on to find out all you need to know about these Asian fade haircuts to help you chose your next look. Let these hairstyles help you change your look and add more glamour to your personality.
How to Do Asian Fade Haircut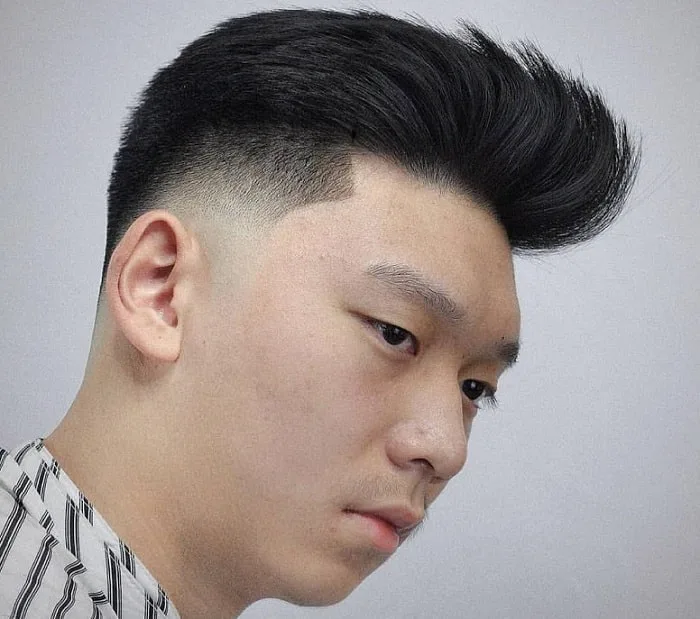 To get a perfect Asian fade haircut, there are a number of styles that a man can opt for. The basic idea is to have fade and super short cut on the sides while having longer hair towards the top. Here's how to go about it:
Step 1: Ask your hair stylist to start with a size 0 cut on the sides, until your ears. Remember, there's a difference between going bald and getting a size 0 cut.
Step 2: You need to decide from a short fade, medium fade, and long fade style haircut.
Step 3: Depending on the type of fade you have decided to go for, keep chopping off hair as you gradually move towards the top.
Step 4: The idea is to increase the hair length slowly as your love towards the top of the head.
Step 5: This step varies for all. Get it styled as per your style type, click black Asian comb over, fade cut, or spikey on a top fade or the colored highlights over the head.
Watch The Following Tutorial to Know about How to Do and Style Fade Haircut for Asian Men
How to Style Asian Undercut with Fade
The quirk of straight hair is quite efficiently used while styling Asian fade hair. It definitely has its own unique style. However, sometimes, the straight up sleek hair can get just too monotonous and boring.
There is no need to worry because your straight hair is straight up a boon, you can pull off the way you want. With the emerging time, there are a number of ways in which this could be accomplished.
Style your Asian fade haircut by using some styling products, like putty or pomade. Use this while your hair is damp. Then blow dry it while giving your hair the shape that it needs. Styling gel too is a very efficient way of aligning your hair.
Take a little of the gel on your hand and brush it through your hair. Depending on your hair cut backcomb or side comb your hair. An alternative to gel is hair wax, which is equally helpful.
Following Video Shows How to Style Asian Undercut with Fade for Men
Popular Asian Fade Haircuts
Style your Asian fade haircut the way you want. To finish the look, apply a good quality hair wax and you are all set. Check out the best fade hairstyles for Asian men below:
1. Faded Crew Cut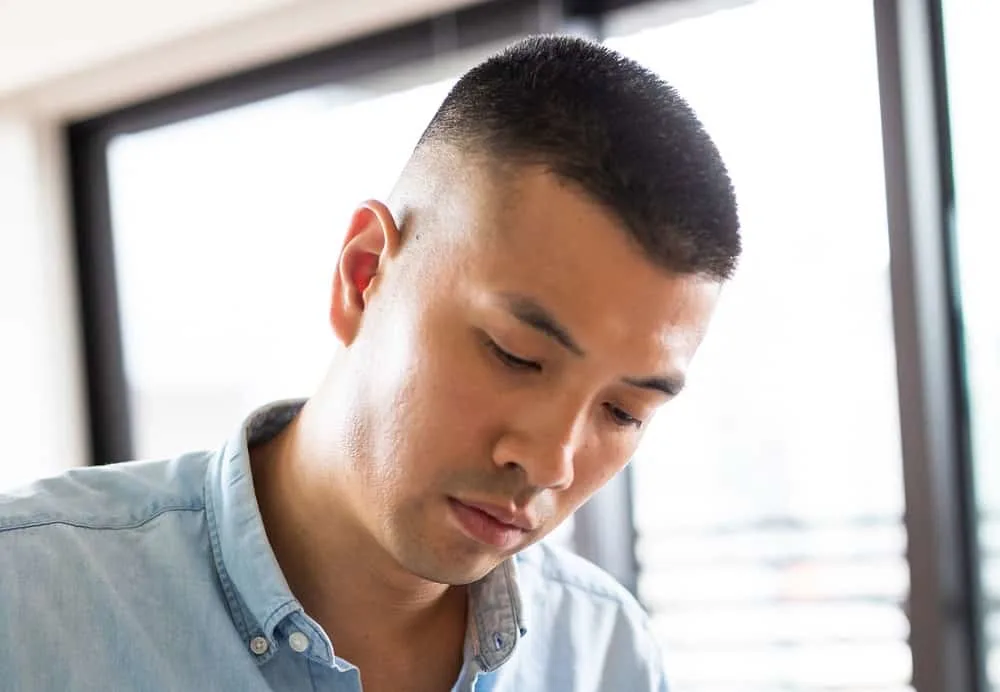 A crew cut is a common go-to for Asian guys wanting very short hair. Adding a fade lets you remain trendy whilst still making your hair short enough to not need to stylet every day. If you're very busy, then this could be your go to look.
2. Swept Back with Skin Fade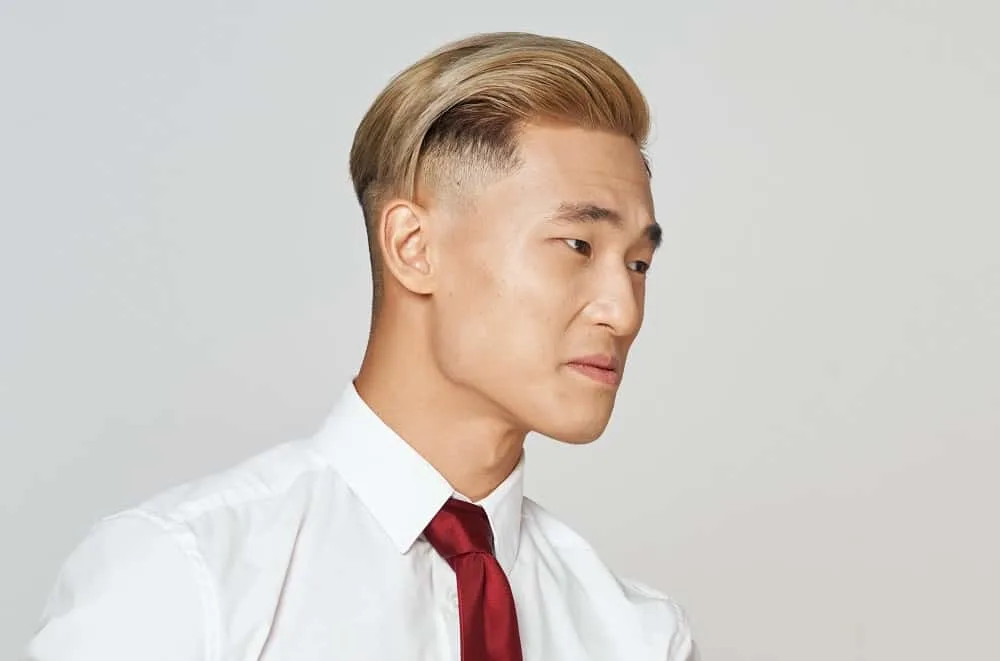 Blonde fade hairstyles for Asian men are incredibly eye-catching. The sides will show off your natural hair color while you sweep back an array of sleek blonde locks. It creates contrast that'll make you look desirable and admirable.
3. Soft Spikes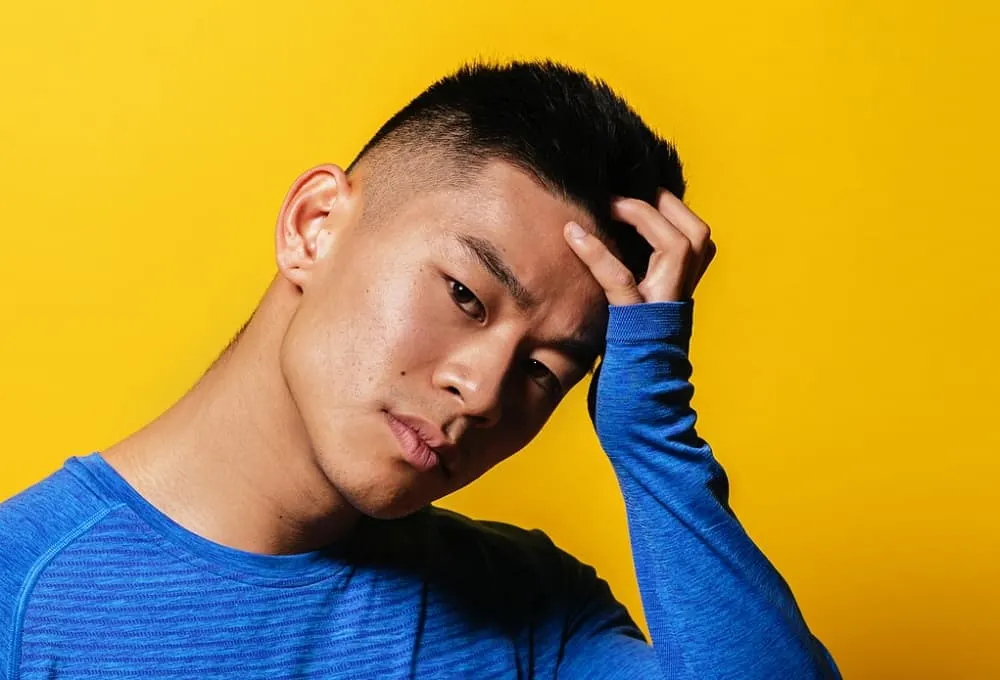 Fades are very manly, and you can make it even more masculine by wearing your hair in gentle spikes.
The textures should be fluffy but the ends of your strands should looks sharp and stick up at an angle. It also helps show some depth in thick, dark hair.
4. High Bald Fade + Long On Top
A high bald fade is pretty easy to maintain as you can shave the skin area with a razor when stubble grows back in. Keeping the rest of your hair long and swept to one side will create a haircut that draws the eye.
5. Bald Fade with Long Front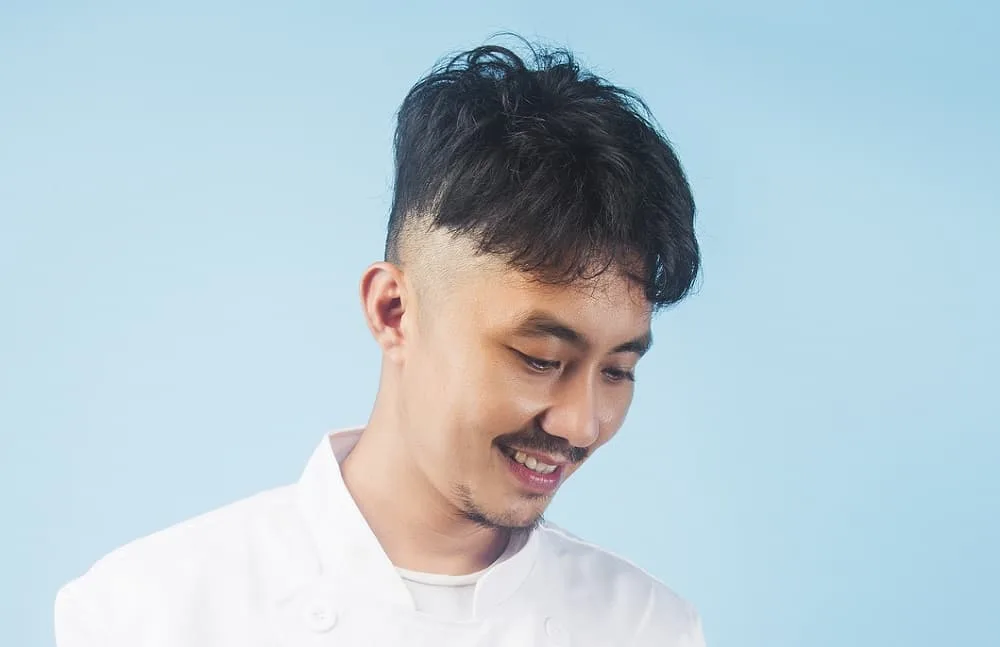 Do you want to hide your hairline? Grow the front of your hair long and brush it forward. Have a slight parting in the middle so there appears to be a gap in the hair covering your forehead. Add some soft facial hair to round out the look.
6. Short Tresses + Bald Fade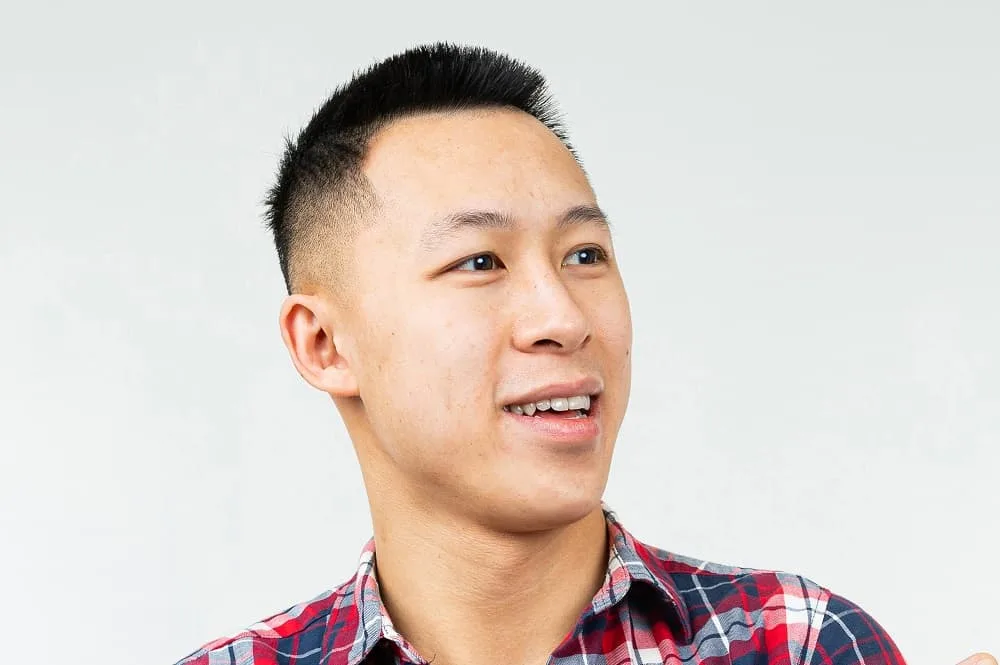 If you have the hair texture so your hair just stands straight up when it's short, then this could be a very easy look that you don't need to style each day. Getting a fade on the sides will prevent you from having a boring haircut.
7. Curved Line with Square Hairline
Are you looking for one of the sharpest looks you can wear? Get a curved line shaved in to separate your thicker hair from your faded sides.
Get part of the hairline squared with soft corners to help blend your look together.
8. Asian Pompadour with Line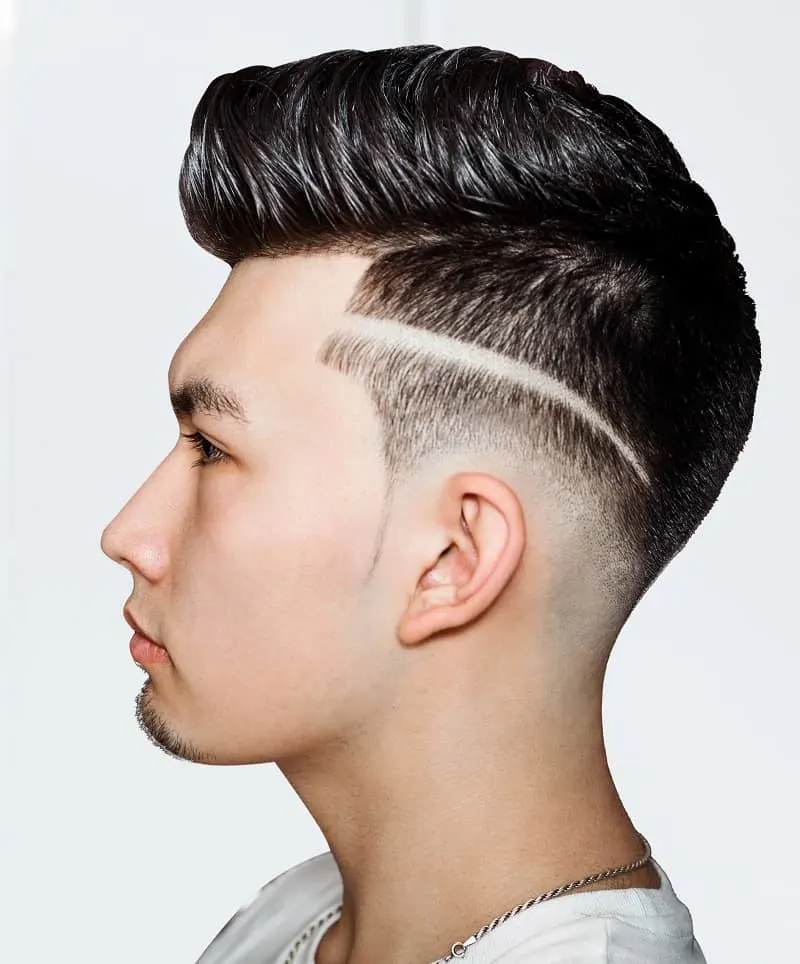 Here's another example of an Asian fade hairstyle for men that features a line in it. Again, it keeps you on trend.
The rest of your hair should be kept long and pulled upwards into a pompadour-like very slick look. It's a little retro-inspired while remaining modern.
9. Colorful Fluffy Hair
If you have very thick hair, then make the most of it. Create a fluffy texture and dye your hair lots of different colors to truly stand out in every room you walk into.
Your natural hair color will show through your gradual low fade with a curved hairline.
10. Easy Quiff Fade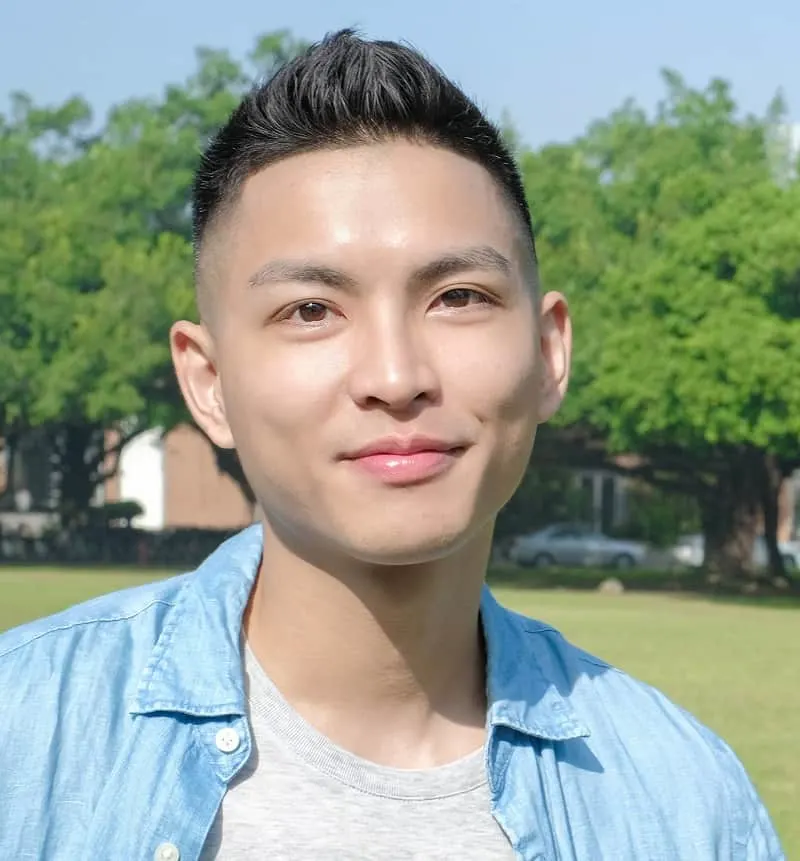 Just want something natural? Grow the hair on the top to medium length and style it up into a nice quiff that makes a peak at the front.
A high fade on the sides will keep you looking sharp. Looks like this make it very easy to show off your facial features.
If you like to keep it serious while keeping the charm, this is just the look for you! This Asian fade haircut gives you a robust look.
The hair is concentrated more on the top of the head giving you a very stern handsome look. It is a very classic and neat style that everyone should try at some point.
Got a forehead that's big? And, let me guess, you aren't quite sure how to cover that up? Then this fade haircut for Asian men is just the right one for you.
The fringes cover your forehead giving you an appealing look and enhancing your face cut giving you an even more masculine look.
Adding some color and a lot of volume to this Asian fade haircut adds a very pompous look to your personality.
This cool hairstyle gives you very much the appearance of the hot guy in town. A flawless fade haircut that ane be styled in any way you want.
Adding a sexy stud look, this Asian fade hairstyle adds a cool modern look. The hair color of this style is the major appeal to it.
With the cool undercut and blade used to give the look, this hairstyle will definitely have people's eyes on you. This hairstyle gives a cool looking sharp contrast.
One of the major advantages of Asian hair is its sleekness and straightness. That perfect combo has been used in this hairstyle.
Keeping the hair on a little on the rough edge, this hairstyle centers boldness and makes for a very groomed appearance.
Slay your hair with this cut. The major noticeable factor of this Asian fade haircut is that it gives you layers, involving, let's say a number of haircuts in one.
You can sure go for this look if you aren't quite convinced to go for all out of the way look. This haircut styles your hair while making you look like a gentleman. It's an extremely clean look and works really well with a little beard.
17. Swept Back Hair with Taper Fade
While keeping your hair density, this Asian fade hairstyle gives you a totally out of the way look. Styling the hair by combing it behind it pulls the hair together.
A little hair spray and you are set to pull that look just right. The tapering fade adds a lot of style to the haircut with blades used on the side just to attract the right attention.
18. Dramatic Look
This textured hair look is specially designed for very thick hair growth. While keeping the fringes and swept on the side, it gives a side edge appearance.
This look totally gives you the Korean appearance you so desire. Here, the quiff is carefully architecture. The cut is short yet stylish and is easy to carry with very less maintenance.
Keeping it longer on the front and parting it on the side is a classic old look which can never go out of trend. This is an ultra-high fashion look.
The texture at the end of the front hair adds a more vibrant outlook to your hair. The transition between the colors is yet another reason why you should pick this Asian fade haircut.
20. Funky Short Hair with Mid Fade
This fade for Asian men makes for a very short fade. The skin is much more visible. The smart haircut gives a very edgy look and stands out in any crowd. If you like to experiment with your looks, this one is highly recommended.
This high Asian fade works very well on men. As the blending starts on top and shortens at a much faster rate. Also, this is a great haircut to try during the summer.
21. Messy Hair with Low Skin Fade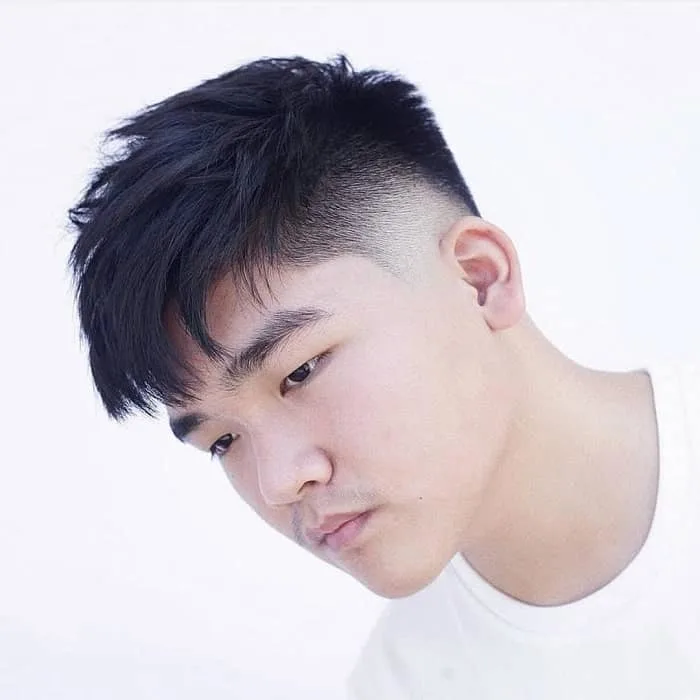 This fade haircut for Asian boys tapers down while maintaining the volume on your hair. This haircut is more of a mix between taper and skin fade. It gives a rawness to your look.
It's a great pick among men in between their 20's and 30's. It has a very individualistic appeal. The messy appearance of this haircut is straight on top the right reason why this hairstyle draws attention.
The Samurai topknot is quite an interesting hairstyle for Asian men with long hair. It gives you a fringed front look and also ties your hair in a top-notch fashion. You can always rock this look be it in a classic suit or casual jeans.
Its uniqueness draws a lot of attention. Looking hot never got easier. This Asian fade look will stand out in the crowd and give you your own distinctive identity wherever you go.
So what is the wait for? Go pick your favorites style from these Asian fade haircuts and give yourself a new look. These collections are of the best 22 haircuts which include every kind of possible hair fade.
Don't miss out on these haircuts. Work your charm with these simple, authentic, classic and quirky looks and let the magic of your charm begin.